Introduction
When putting together a gaming setup around a custom-built PC, grabbing the right gaming peripherals to accompany it is the next logical step in optimising the gaming experience. A new gaming mouse in particular is a great way to improve performance and ergonomics for long gaming sessions.
For the best upgrade to performance, wired gaming mice are still considered the best choice for their reliable connectivity and greater value for money. But with so many products available, which ones should you consider picking up?
In this buyers guide, we'll provide a list of the best wired gaming mice on the market right now, along with the key features to find the perfect choice for your needs.
Suggested Article: Best Gaming Mice to Buy Under $75
Our Recommendations
Now that we've outlined the key considerations when looking for a wired gaming mouse, let's move onto a detailed look of our recommendations. This list includes a range of products that vary in shape, features, and price point in order to provide an at least one option that should suit the needs of each type of gamer.
1. Razer DeathAdder V2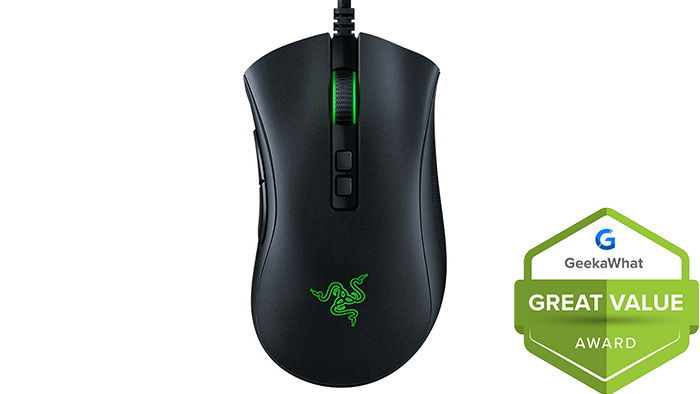 We're starting off our list with one of the best value for money deals on the market right now, the Razer DeathAdder V2. Available for a budget price point, this wired option has the performance required to compete with the best gaming mice on the market. On top of this, the DeathAdder V2 has an extremely ergonomic design that will feel comfortable for most gamers.
Alongside the ergonomic form factor, the design of the DeathAdder V2 has Razer's signature stealthy look, with a hint of RGB on the scroll wheel and base of the shell. This is a nice feature to have on this mouse in particular, as a lot of Razer's budget peripherals ditch the RGB lighting to cut costs.
Key Facts: Max DPI: 20,000 // Polling Rate: 1000Hz // Programable Buttons: 8 // Weight: 82g // RGB: Yes
In terms of performance, the standout feature is definitely the 20K DPI sensor, which is a pretty impressive inclusion for a mouse at this price point. Along with a 1000Hz polling rate for 1ms response times, the performance on the DeathAdder V2 is enough to go toe-to-toe with gaming mice that are double, or even triple the price. To accompany this fast performance, this mouse includes 8 programmable buttons for quick actions in the midst of battle.
After being blown away by the performance specs that are included in the DeathAdder V2, we've provided it with the illustrious GeekaWhat Great Value Award. If you want a solid design that has our stamp of approval, you can't go wrong with this wired gaming mouse.
Pros
High-performance DPI sensor
Lots of programmable buttons
Ergonomic design with RGB
Cons
Not a lightweight design
Not ideal for smaller hands
Buy the Razer DeathAdder V2 Pro on:
2. Glorious Model O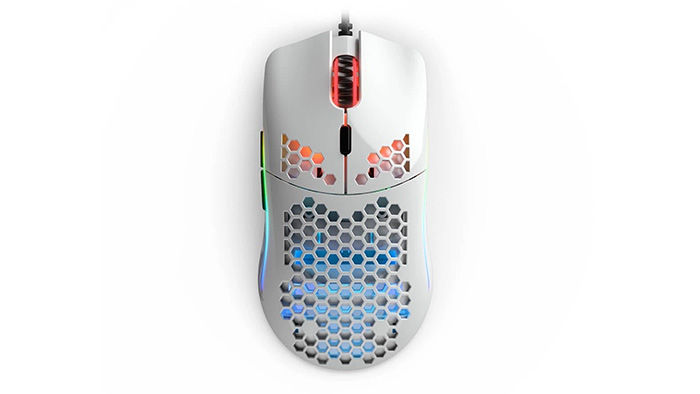 Next up, we have another gaming mouse that is a very popular choice amongst PC gamers, the Glorious Model O. As a brand that has built a reputation off of their gaming peripherals alone, Glorious products are a solid choice for gamers that are looking for a solid blend of performance and aesthetics for a price that isn't going to make your bank account scream too much.
The Model O is a prime example of this, as the honeycomb shell with a large dose of RGB lighting makes for a stunning design. But there's also method behind the look, as the hollow exterior combines with the slender shape to make this mouse weigh in at just 67 grams.
Key Facts: Max DPI: 12,000 // Polling Rate: 1000Hz // Programable Buttons: 6 // Weight: 67g // RGB: Yes
To make the most of the lightweight design, the Model O comes packed with a 12K DPI sensor and 1000Hz polling rate, offering solid performance in a range of competitive titles. Also, this mouse features a respectable 6 programmable buttons, which provides plenty of functionality without intruding on the surface too much, making accidental inputs less likely to occur. These features make the Model O a great choice for competitive gamers that want to add some flair to their gaming setup.
Pros
Lightweight design
Unique look with great RGB
Great for competitive gamers
Cons
Not the best software support
No detachable cable
Honeycomb shell not for everyone
Buy the Glorious Model O on:
3. SteelSeries Rival 5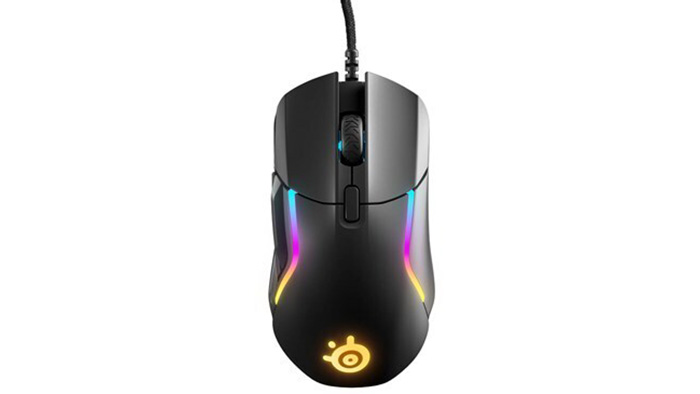 For those looking to dabble in a wider range of titles, then the SteelSeries Rival 5 offers a unique gaming experience that is suited to all-rounders. At first glance, this mouse like a typical gaming mouse thanks to the symmetrical shape. However, the increased height on the shell and additional buttons on the left-hand side gives the Rival 5 a unique shape that is suitable for all grip types.
The aesthetics compliment the Rival 5's distinct shape nicely, with an angular look that is highlight with strips of PrismSync RGB lighting along the sides and on the SteelSeries logo. Also, each programmable button has a separate shape and texture, which makes them easier to identify mid-game.
Key Facts: Max DPI: 18,000 // Polling Rate: 1000Hz // Programable Buttons: 9 // Weight: 85g // RGB: Yes
Usually, a mouse that includes this many programmable buttons for a reasonable price suffers some performance setbacks, but that's not the case here. Equipped with a 18K DPI sensor and 1000Hz polling rate, the Rival 5 packs enough of a punch to 'rival' the performance-based options on the market. Whilst the extra programmable buttons add some weight to the design, 85 grams isn't too heavy and is a worthy sacrifice for the immense versatility that this mouse gains because of it.
Pros
Extremely versatile design
Solid performance for the price
Suitable for all rounders
Cons
Non-detachable cable
Not very lightweight
Buy the SteelSeries Rival 5 on:
4. Logitech G502 X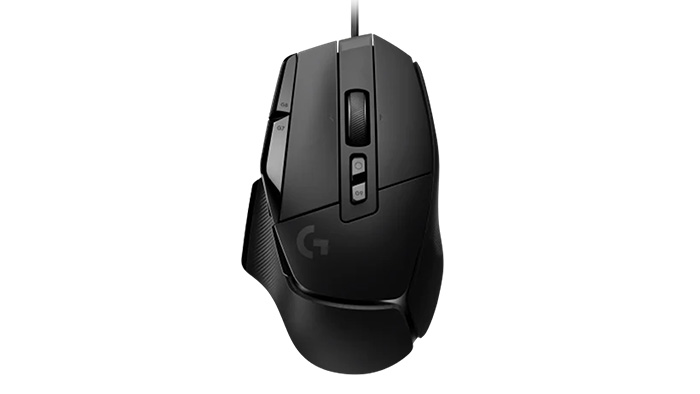 Moving onto another design that cater to all your gaming needs, the Logitech G502 X includes a combination of performance and functionality features. As the successor to the widely popular G502, many gamers knew what to expect from this gaming mouse, and it's safe to say the G502 X didn't disappoint.
Whilst there are plenty of definitive improvements from the previous model, the new look on the G502 X is up to interpretation. The redesign includes a refined shape that features two additional buttons, but removes the RGB lighting for a stealthier appearance. However, the G502 X design is still one of the best options on the market for all types of gamers.
Key Facts: Max DPI: 25,600 // Polling Rate: 1000Hz // Programable Buttons: 13 // Weight: 89g // RGB: No
When it comes to performance, the G502 X is leading the charge in this roundup with a whopping 25K DPI thanks to Logitech's HERO sensor technology. To match the massive DPI rating, this mouse includes a 1000Hz polling rate and 13 programmable buttons within a reasonably light 89 gram design. Whilst the added weight and buttons will hinders the competitive nature of the G502 X, it makes for a well-rounded design that is perfect for gamers that want a mouse that can do it all.
Pros
25K HERO DPI sensor
Lots of programmable buttons
Great for all-rounders
Cons
No RGB lighting
Fairly heavy for competitive games
Expensive for wired connectivity
Buy the Logitech G502 X on:
5. Corsair Scimitar RGB Elite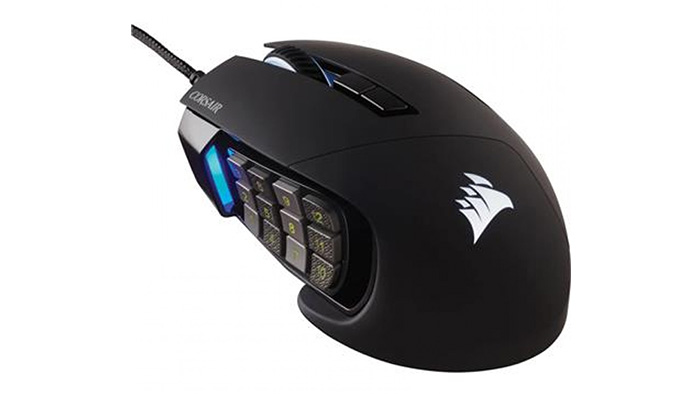 If programmable buttons are your main concern when looking for a gaming mouse, then the Corsair Scimitar RGB Elite is the pick for you. Gaming mice for MOBAs and MMOs are within their own sub-category, as they adopt a completely different look to other options on the market.
The most notable difference in a design like this one is the sheer amount of programmable buttons on the side. If this is raising alarms due to concerns with grip, then you'll be glad to hear that the Scimitar RGB Elite includes a slider that lets you to reposition these buttons to suit your preferred grip.
Key Facts: Max DPI: 18,000 // Polling Rate: 1000Hz // Programable Buttons: 17 // Weight: 122g // RGB: Yes
Surprisingly, this mouse features some impressive performance features. Packed with an 18K DPI sensor and 1000Hz polling rate, the Scimitar's stellar performance reduces the amount of physical movement required to operate this beast. This is particularly important considering the fact that this mouse weighs in at a hefty 122 grams, so good luck playing FPS games with this one! But for MMO and MOBA gamers, the Scimitar RGB Elite is an ideal choice.
Pros
Loads of programmable buttons
Corsair iCUE compatibility
Great for MMOs & MOBAs
Cons
Very heavy design
Hard to get a comfortable grip
Buy the Corsair Scimitar RGB Elite on:
6. HyperX Pulsefire Haste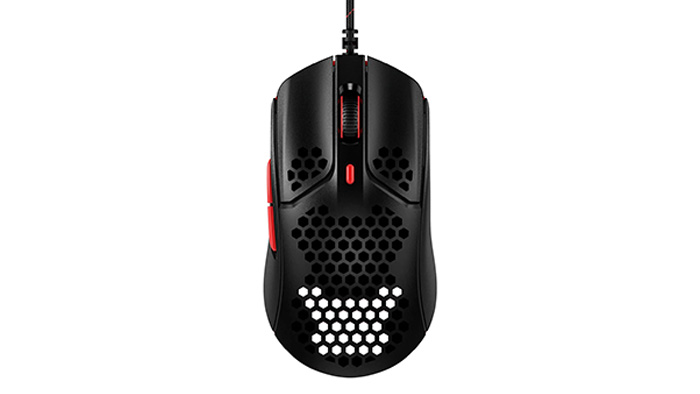 To round off our list, we have an option that is suitable for competitive gamers, the HyperX Pulsefire Haste. This gaming mouse is the lightest design to feature in this roundup, making it ideal for competitive gamers who like to throw their mouse around their desk with big sweeping motions.
In order to achieve the incredibly lightweight design, HyperX have utilised a hexagonal honeycomb pattern on the shell, which also compliments the RGB lighting underneath. The rest of the design features on the Pulsefire Haste itself are fairly straightforward, but the optional grip tape in the box is a nice touch.
Key Facts: Max DPI: 16,000 // Polling Rate: 1000Hz // Programable Buttons: 6 // Weight: 59g // RGB: Yes
With the Pulsefire Haste being a performance-based gaming mouse, it's no surprise to see that it features a solid 16K DPI sensor and a polling rate of 1000Hz. Whilst the DPI rating is outperformed by some of the other options on this list, the reduced weight makes up for the lower DPI, and even the most competitive gamers will struggle to notice a significant difference at this level. Taking into account that this mouse is available at an affordable price point, the HyperX Pulsefire Haste is a solid lightweight option for competitive gamers.
Pros
Very lightweight design
Solid gaming performance
Affordable price point
Cons
Better performance option available
Fairly dim RGB lighting
Buy the HyperX Pulsefire Haste on:
Benefits of A Wired Gaming Mouse
Before heading into our top picks, it's important to consider why a wired gaming mouse remains a viable option for gamers. Like many other gaming peripherals in recent years, wireless connectivity is gradually becoming the norm as the technology develops and becomes more affordable. Because of this, many gamers are converting to wireless gaming mice for the increased portability and freedom of movement.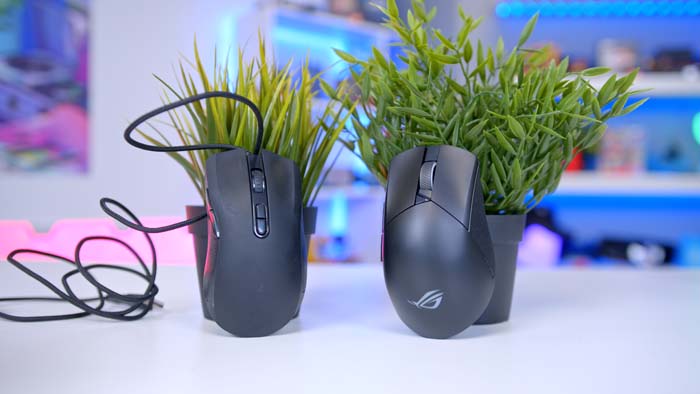 However, hardcore gamers are sticking to their guns by keeping the cables on their gaming peripherals, and there's good reason for this. Wired connectivity on a gaming mouse in particular still has a number of benefits due to the focus on price to performance.
The first advantage of wired connectivity is the greater value for money proposition. With most gamers unwilling to shell out lots of money on high-end peripherals, this limits the amount of features a mouse will include. This is especially true with wireless options due to the premium cost associated with the technology. As a result, opting for a wired mouse is a better choice for those looking to get the most features possible on a limited budget.
Another benefit of wired gaming mice is that they tend to offer more reliable performance than wireless alternatives, making it a better option for competitive gamers. Even the most high-end wireless gaming mice tend to suffer from latency and interference issues, which is something that gamers won't experience with a mouse that plugs into a PC directly.
Key Considerations of a Wired Gaming Mouse
If a wired mouse sounds like the right choice to fit your gaming needs, then there are a few key factors to consider. With the focus on performance, a lot of these features will influence the speed and accuracy of a mouse, but there are some ergonomic and accessibility features to consider as well. Here are the main features we suggest looking at before picking up a wired gaming mouse.
Weight
In terms of design, weight is arguably the most important factor on a wired gaming mouse. This is because the weight of a mouse has a significant impact on both performance and fatigue due to the amount of movement required whilst gaming. The general rule of thumb is that a lighter design is always desired, but this ultimately comes down to personal preference. Some gamers might like the added heft to help limit their movements, especially if competitive titles aren't on the radar.
Size & Shape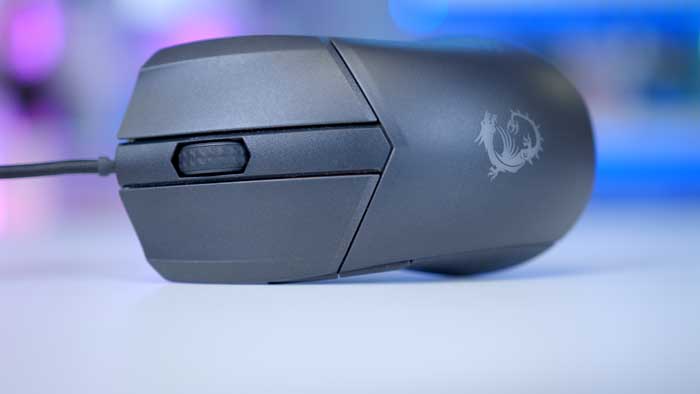 Other important design choices that can impact the ergonomics of a gaming mouse are the shape and size. Like weight, the best form factor for you will depend on personal preference, with personal grip types being the main influence. Manufacturers tend to tailor their products to one or two of the following grips: claw, fingertip, and palm. Not all products will specify which grip type they are targeted towards, so it is worth checking reviews to see if it will suit your chosen grip.
Programmable Buttons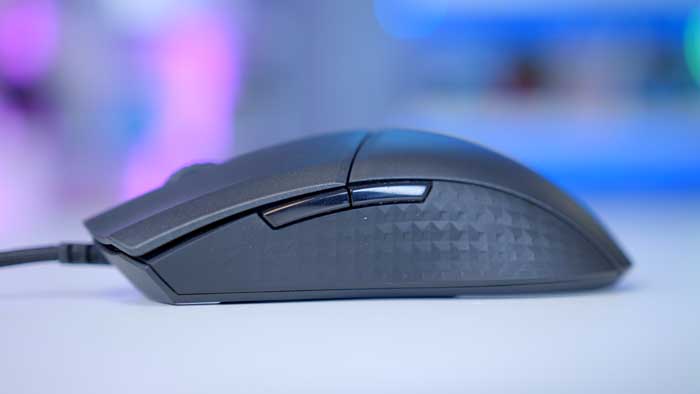 One of the most important additional features to look out for on any gaming mouse are programmable buttons. These buttons are a great way of adding convenient shortcuts for important gaming and productivity inputs. Whilst more buttons are better for MMOs or RPGs, the added weight and reduced surface real-estate could be a nuisance for FPS gamers. Therefore, it's important to note the layout of these buttons, along with how many programmable buttons are ideal for you.
DPI Sensor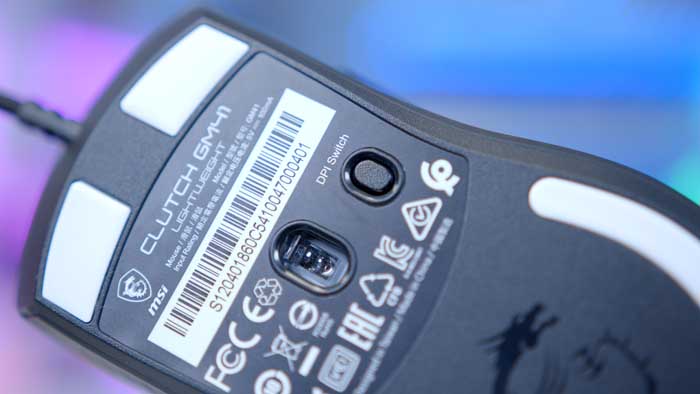 Any gamers looking for the best performance possible need to analyse the DPI rating of a gaming mouse in order to get the upper hand over the competition. Standing for 'Dots Per Inch', this rating indicates how far a mouse will have to travel to move the on-screen cursor. Because of this, a higher DPI is better for gamers as it reduces the mouse movement required, which lowers the risk of fatigue. But to get the best performance possible, high-quality DPI sensors should be paired with a button lets you switch DPI on the fly for greater accuracy and versatility.
Polling Rate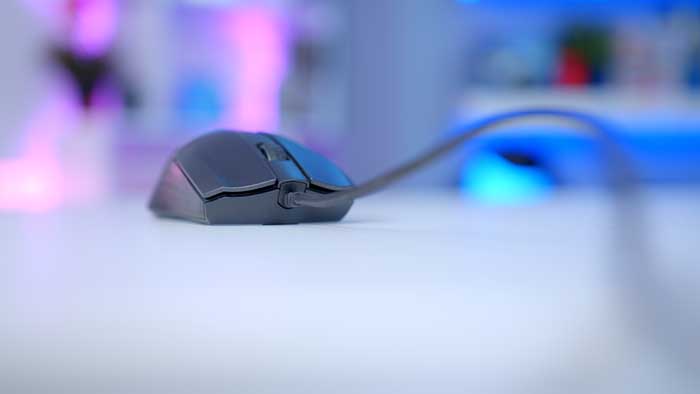 Another important performance-based feature to consider when searching for a gaming mouse is the polling rate. Measured in Hz, polling rate refers to how many times a mouse sends it on-screen location to the PC every second. This means that a higher polling rate enables faster reactions and smoother mouse movements, which is important for gaining a competitive edge. In a similar fashion to DPI, a higher polling rate leads to a better gaming experience. However, anything over 1000Hz is more than enough, as the rates above this point are hardly noticeable.
Software Compatibility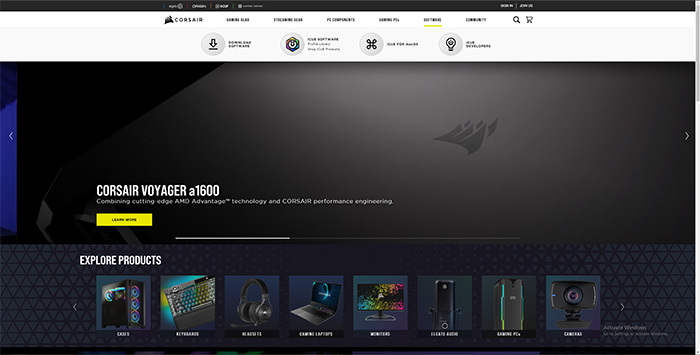 The final factor to consider is whether a gaming mouse is compatible with any software. Nowadays, most reputable gaming brands have their own software that allows you to adjust performance and design settings further on a range of their products. Software compatibility is usually more prevalent in gaming mice compared to other peripherals, meaning those on a budget are more likely to find a mouse that includes this feature. If this is something of interest, it might be worth picking up a mouse from a brand that you already purchased products from so you can sync up lighting effects.
Best Manufacturers
Wired gaming mice is a fairly broad search parameter for gaming products, which makes it difficult to pick out the best options from the sea of choices on the market. A good way to slim down your list of potential pickups is to stick to reputable gaming brands that are known to produce a consistently high quality in their range of products. Here is a list of the brands that we consider to be a reliable choice when looking for wired gaming mice: