Suggested Article: AMD X670E VS X670 Motherboards – Key Differences & What To Expect
Our Recommendation: MSI MEG X670E ACE
After a range of tests and analysis, we've concluded that the best motherboard for the Ryzen 9 7950X is MSI's MEG X670E ACE. This insane motherboard is one of the most feature-rich options on the market, providing consumers with a huge amount of connectivity, high speed USB options, and plenty of VRM power phases to handle a solid overclocking on the 7950X.
It is pricey, but if you're spending a significant amount of a 7950X CPU, it makes perfect sense to pair up this powerful processor with a motherboard that aligns closely with the features and design. This will provide consumers with a top-end system that isn't likely to be rivalled by many other systems.
All Motherboards in Our Testing Roundup
ASUS ROG STRIX X670E-I Gaming WiFi
Our Recommendations
1. Gigabyte X670 AORUS Elite AX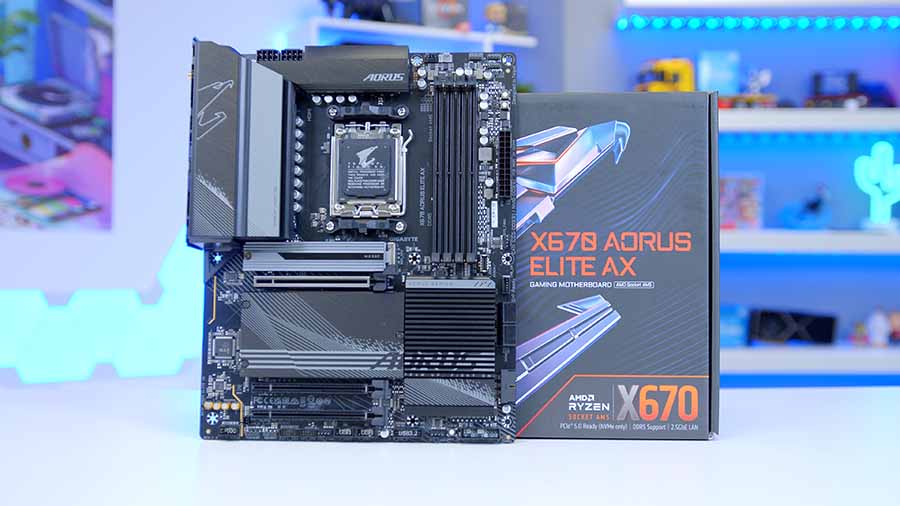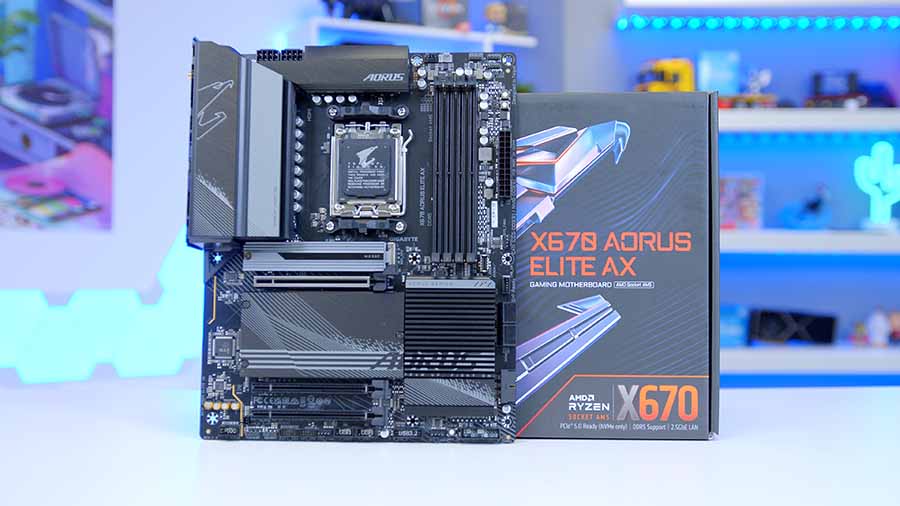 Gigabyte's X670 AORUS Elite AX is a slightly cheaper design providing consumers the option to maximise features while still being slightly price conscious. The X670 chipset is ideal for those looking to build a Ryzen 9 7950X system but with a slightly cheaper motherboard. You're still able to leverage solid overclocking support, and utilise strong, feature-rich motherboards, but at a fraction of the price in comparison to X670E options. The most standout features of the AORUS Elite AX are the overclocking support, for both RAM and CPUs, along with the competitive price point. This board is a perfect pairing for those with a 7950X as you'll be able to push your system to new performance heights.
In terms of pricing, the X670 AORUS Elite AX sits around the $300 mark, which I'd say is pretty reasonable, and about the most that you'd want to spend for a very capable motherboard. Unfortunately, the downside to the X670 AORUS Elite AX is the lack of PCI-E 5.0 capability on the graphics card front.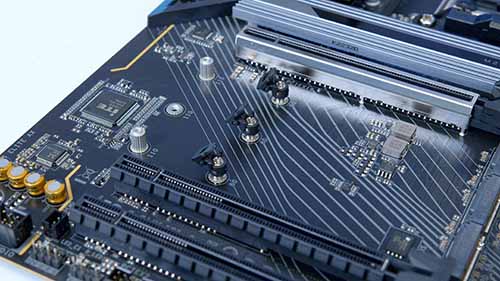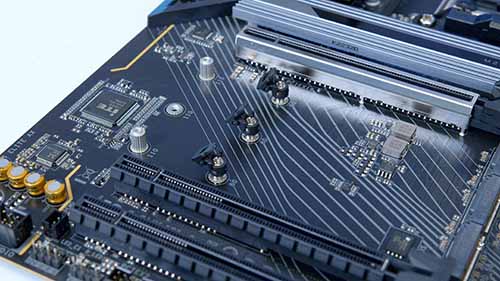 For those of you looking to 'future-proof' your system with some newer features for the next generation of graphics cards, this board won't be the best choice. However, considering the value-proposition of the X670 AORUS Elite AX, it is well worth considering for those being a bit more savvy with their purchases.
Buy the Gigabyte X670 AORUS Elite AX on:
2. ASUS Prime X670E-Pro WiFi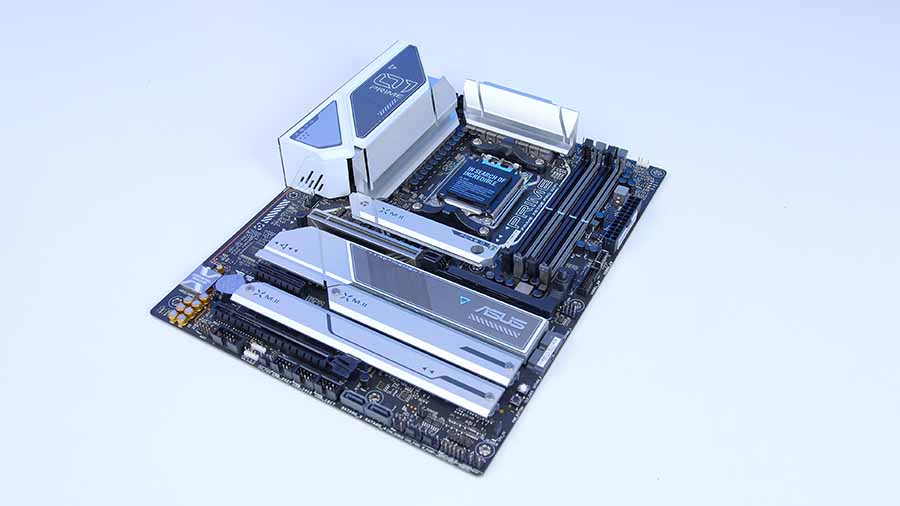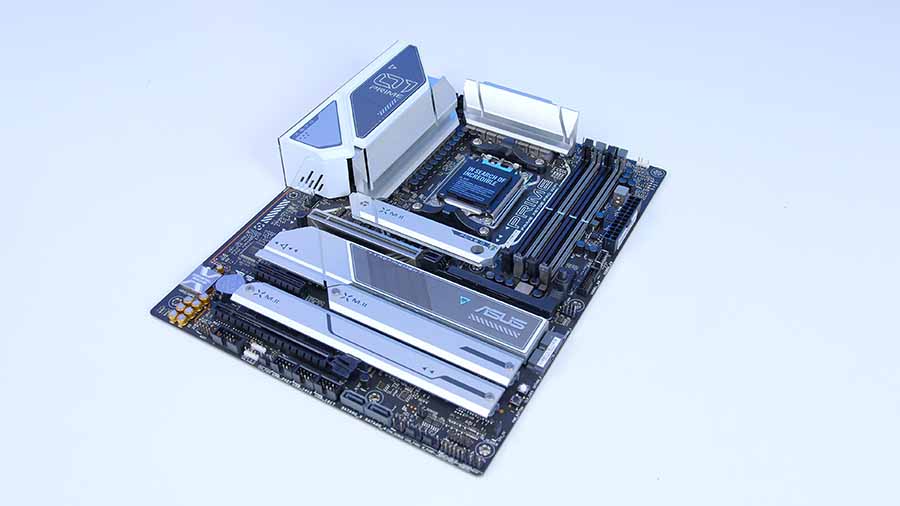 The ASUS Prime X670E-Pro WiFi offers more features compared to other chipsets, but remains as a cheaper choice in comparison to some alternatives. Equipped with numerous slots for SSDs, including one which is PCI-E 5.0 compatible. On the networking side you've got the option between WiFi 6E for those that don't want to do extra cable managing. Alternatively, you've also got access to 2.5 Gigabit LAN which will be perfect for games and file transfers! The most impressive area of the Prime X670E-Pro is the connectivity options. For those looking to build a Ryzen 9 7950X workstation system there are ten high speed USB ports on the rear IO of this board, designed to handle a multitude of accessories and peripherals.
There's also been some priority in minimising USB 2.0, so you won't see any of these cheaper, but lower speed options on the X670E-Pro. While I do like the Prime X670E-Pro, ASUS have made some odd choices in terms of the design and features.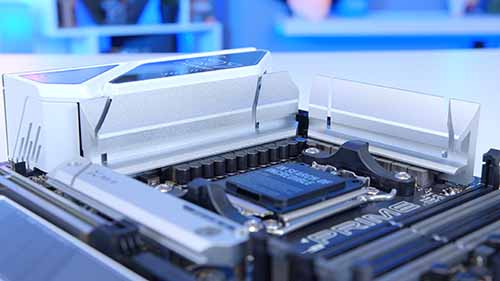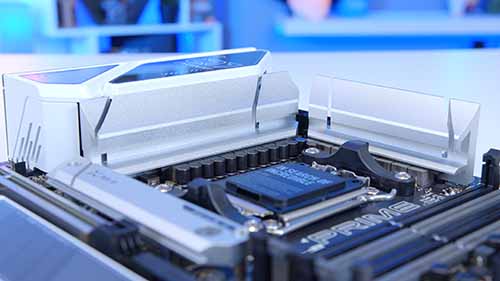 For example, the Gen3 slot on the board is odd, considering the rest are either Gen4 or Gen5. The overall aesthetic of the motherboard is pretty tacky as well, the weird grey but trying to be white theme doesn't look great. However, this aside, the Prime X670E-Pro is pretty feature-rich and is a solid option to pair up with the 7950X.
Buy the ASUS Prime X670E-Pro WiFi on:
3. ASUS ROG STRIX X670E-I Gaming WiFi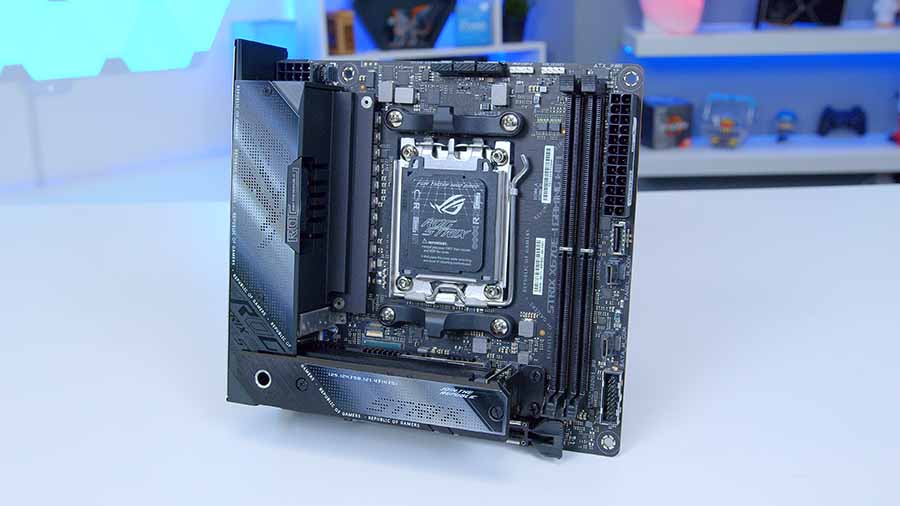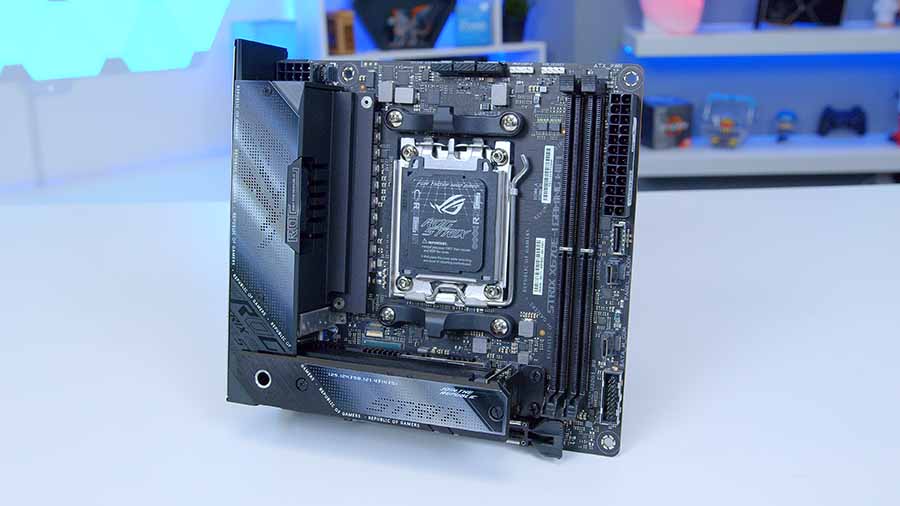 The ASUS ROG Strix X670E-I Gaming WiFi board is small form factor Mini-ITX option. The X670E-I offers a PCI-E 5.0 graphics card slot, along with both Gen5 and Gen4 M.2 options,which you can further expand using the included ROG FPS-II card. On the networking side, this board is equipped with super fast WiFi 6E, and 2.5 Gigabit LAN, removing poor connection during your games. And for the rear IO you've got a whopping seven USB 3.2 Gen2 ports, along with two of the latest USB4 ports, designed for blazing fast connection. Despite being a smaller board that isn't able to physically house that many expansion slots and headers, the X670E-I Gaming WiFi still packs a punch.
This is one of the strongest ITX motherboards, and impressively packs a punch. Consumers are able to further their slots and port options with the ROG FPS-II card, which is a cool inclusion from ASUS. Unfortunately, the biggest caveat to picking up this motherboard, understandably – is the price.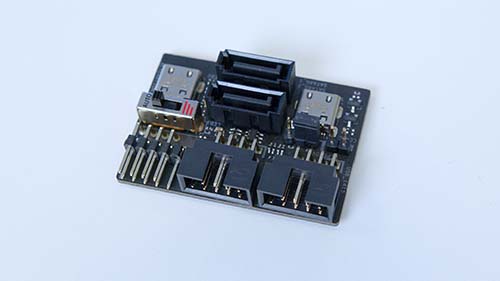 The ROG STRIX X670E-I Gaming WiFi comes in around the $500 mark, which is a lot of money just to spend on a board. But regardless of the cost, the X670E-I Gaming WiFi is one of the few Mini-ITX options that we'd recommend to pair up with the 7950X, and is worth considering for a small form factor build.
Buy the ASUS ROG STRIX X670E-I Gaming WiFi on:
4. MSI MEG X670E ACE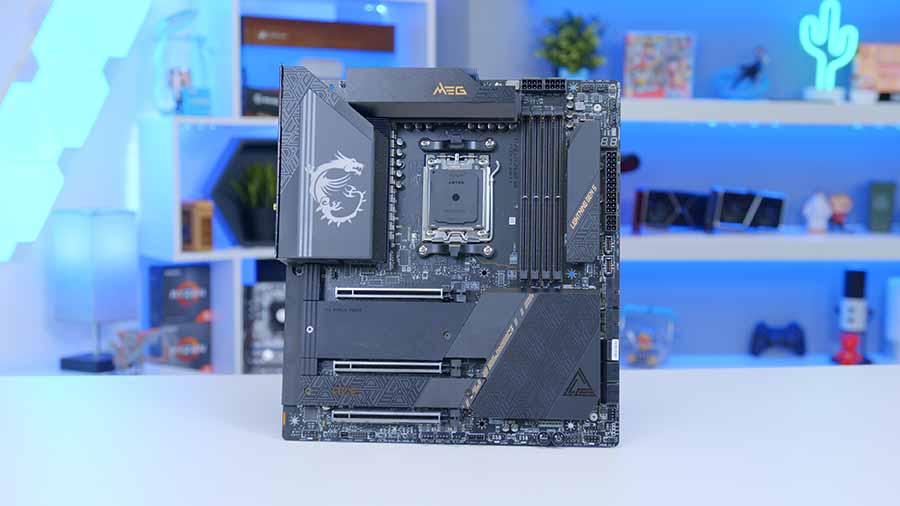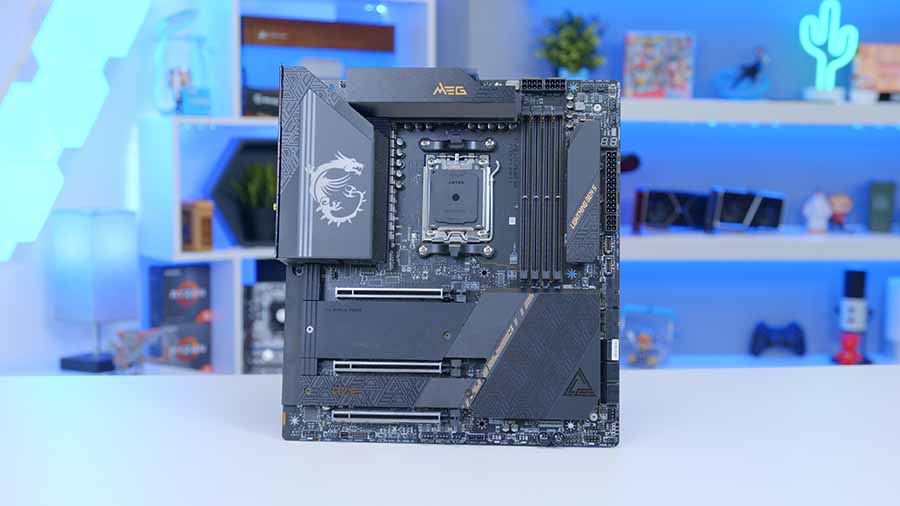 MSI's MEG X670E ACE is a personal favourite, the strong black and gold aesthetic is super sleek, and its topped off by the absolutely insane set of features versus the rest of the market. The X670E ACE is one of the best positioned boards for a 7950X PC build, due to its excellent connectivity options, which includes widespread PCI-E 5.0 for both GPUs and SSDs, crazy overclocking support and power delivery, and more USB ports than you'll ever really need. The X670E motherboard is one of the most capable options on the AM5 chipset besides the GODLIKE and a couple of other boards. For this reason, it is a perfect board for a top-end system.
There are a ridiculous amount of features here, and you're not likely to be disappointed based purely on the amount of connectivity options consumers can leverage alone. Much like the X670E-I motherboard, the MEG X670E ACE while being one of the strongest motherboards, is also one of the most expensive.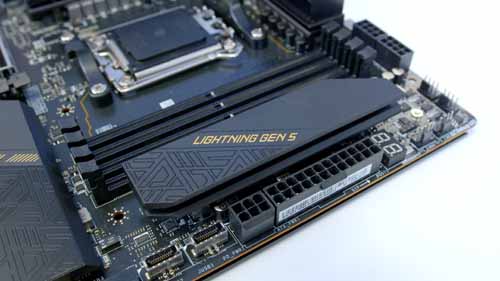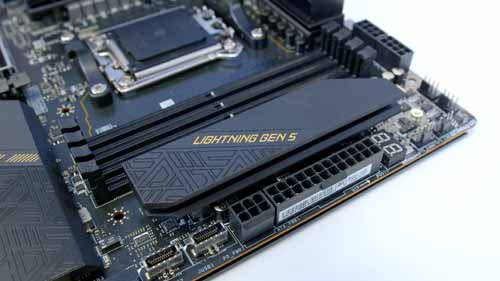 Sitting well over $700 from a number of different retailers, the X670E ACE is not a cheap board to pick up. But despite this, it is still one of the best options for a Ryzen 9 7950X PC build, especially if you're looking to push your CPU beyond its rated capability.
Buy the MSI MEG X670E ACE on: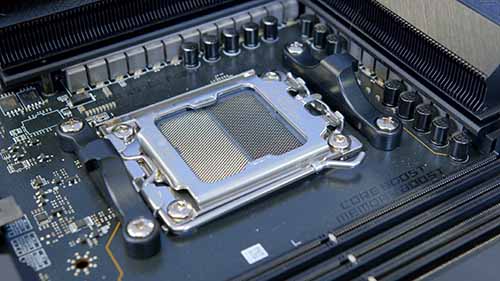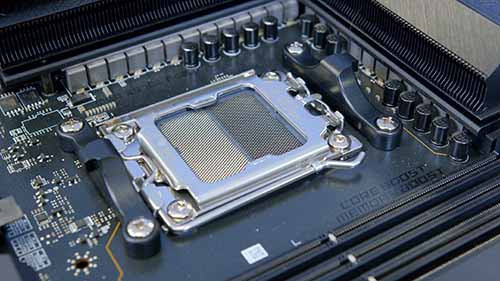 X670 and X670E motherboards are the best options for the 7950X due to their feature sets and strong overclocking capability. You'll be able to leverage widespread Gen5 support for both graphics cards and SSDs. And USB ports should primarily be high speed options too. VRM power phase delivery will also be at its peak, with X670E boards offering the best overclocking support for the 7950X.
How We Tested the Best Motherboards for the Ryzen 9 7950X
To determine which motherboard is the best option for the Ryzen 9 7950X, our writing and benchmarking team have come together to put all of the available board we have through the wringer. This involves benchmarking and analysing each option, and comparing them against alternatives from other chipsets. We also take a look at each of the features, so see if they match up with the capability of the CPU. The main factors that we take into account when testing and analysing motherboards are:
PCI-E x16 and x4 Slots
Rear IO options
RAM and CPU Overclocking capability
Size
Aesthetic
Pricing
Frequently Asked Questions
Is the Ryzen 9 7950X Good for Gaming?
In short – yes. The 7950X is one of the top-end CPUs available within the Ryzen 7000 range. Consumers can expect unhindered performance at high settings when paired up with the right graphics card.
What GPU Should I Pair Up With the Ryzen 9 7950X?
We would recommend pairing up a high-end graphics card from either AMD or NVIDIA with this CPU. A GPU like the RTX 4090, or AMD's most recent 7900 XTX would be a good pairing for gaming or a workstation system.
Do I Need to Purchase Low Latency RAM?
The biggest caveat to AMD's Ryzen 7000 platform is that you'll need to purchase DDR5 memory. CL40 kits should be relatively fine for gaming, but lower latency kits are effectively a requirement for workstations as the higher latency can hinder performance.
How Much Should I Spend on a Motherboard?
Ryzen 7000 motherboards are generally pretty expensive, but because this is a top-end CPU, we'd recommend being prepared to spend up to a maximum of $500 dependent on the type of build you're trying to put together.
Conclusion
Best Motherboard for the Ryzen 9 7950X: MSI MEG X670E ACE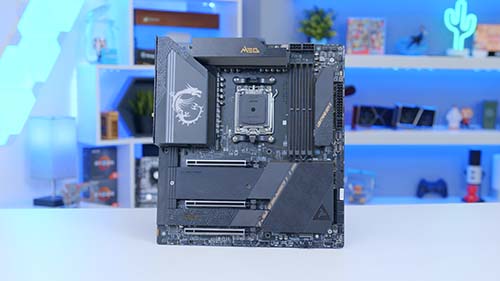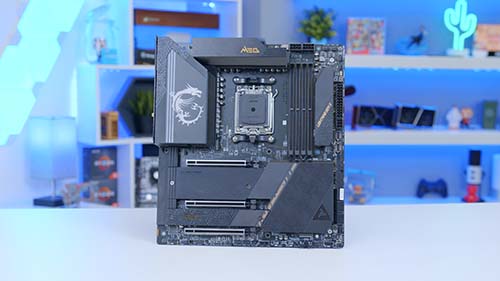 After testing and analysing each motherboard in this roundup, we've determined that the best board for the Ryzen 9 7950X is the MSI MEG X670E ACE. This board is one of the priciest options on the market, but it suits the top-end nature of the 7950X by providing a number of excellent features and connectivity options. Consumers should easily be able to push their 7950X beyond its rated capability and build an awesome PC with this excellent motherboard.
Check out our full review of the MSI MEG X670E ACE, or buy the MSI MEG X670E ACE on Amazon