Introduction
With several recent GPU releases entering the market, most readily available to by, in sharp contrast to recent years, we've put together the GPU roundup to end all roundups! From the cards to look out for, and ones to stay well away from, we've covered it all. We'll be featuring cards from both AMD and Nvidia respectively, with slightly more from team green due to the sheer amount of cards in their line-up, and the performance on offer. Intel fans, look away now, as we won't be recommending any of their GPUs currently, due to driver issues and early performance numbers that simply don't quite make the grade.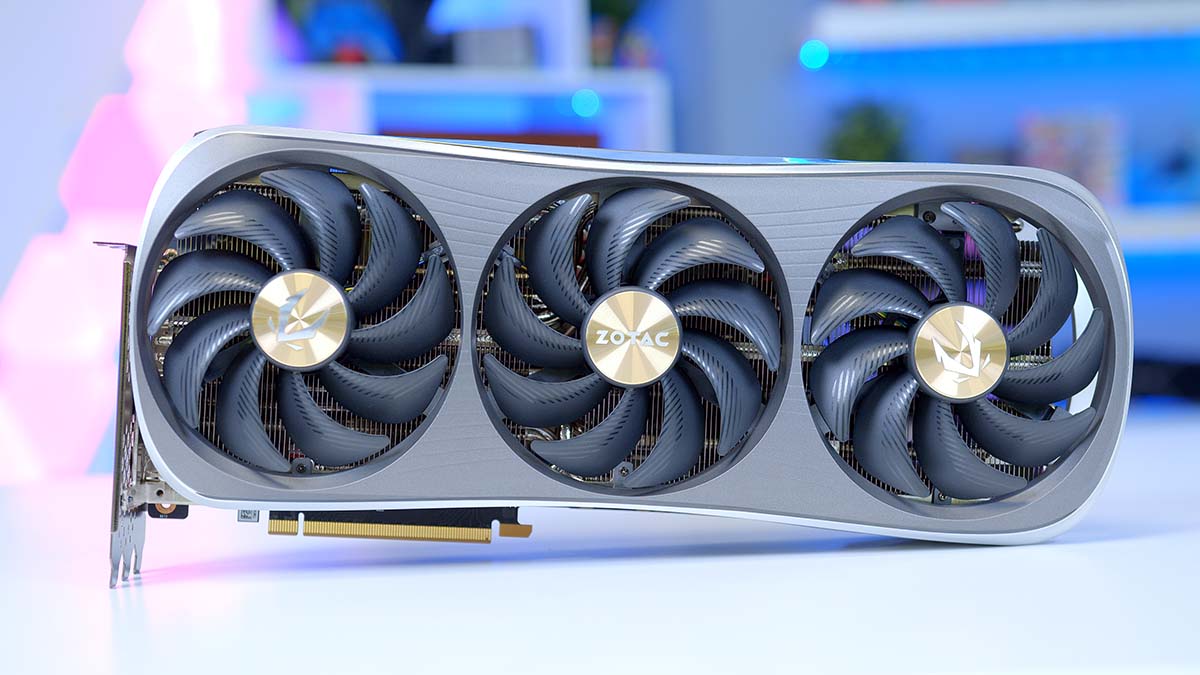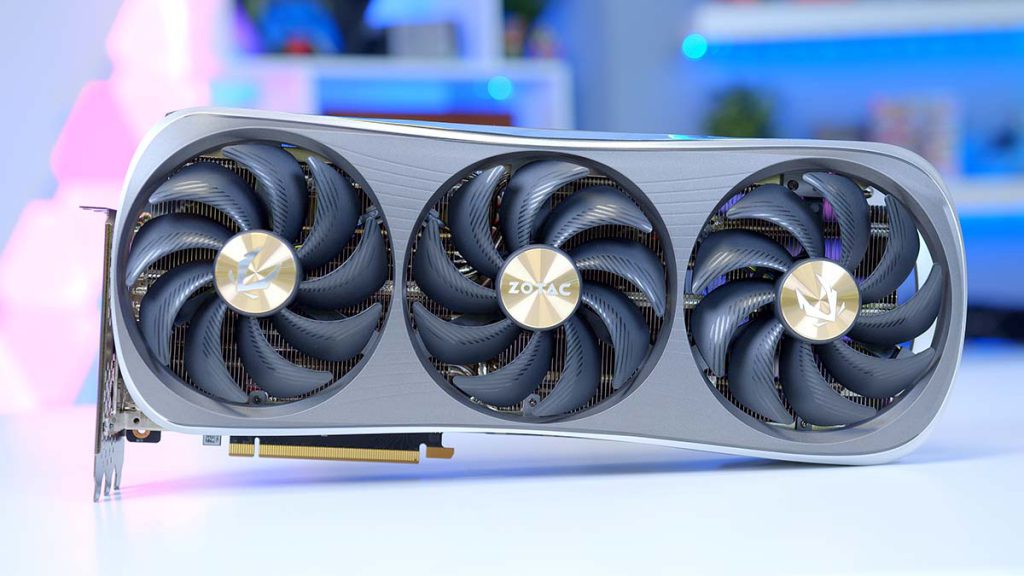 Suggested: Best CPU & Motherboard Combos Out Right Now!
Our Recommendations
Best Budget Graphics Cards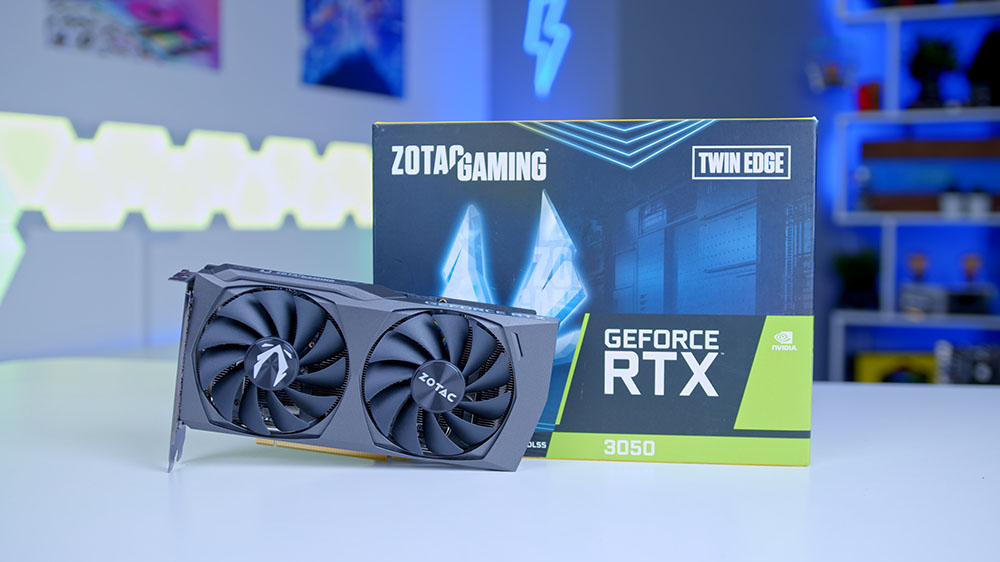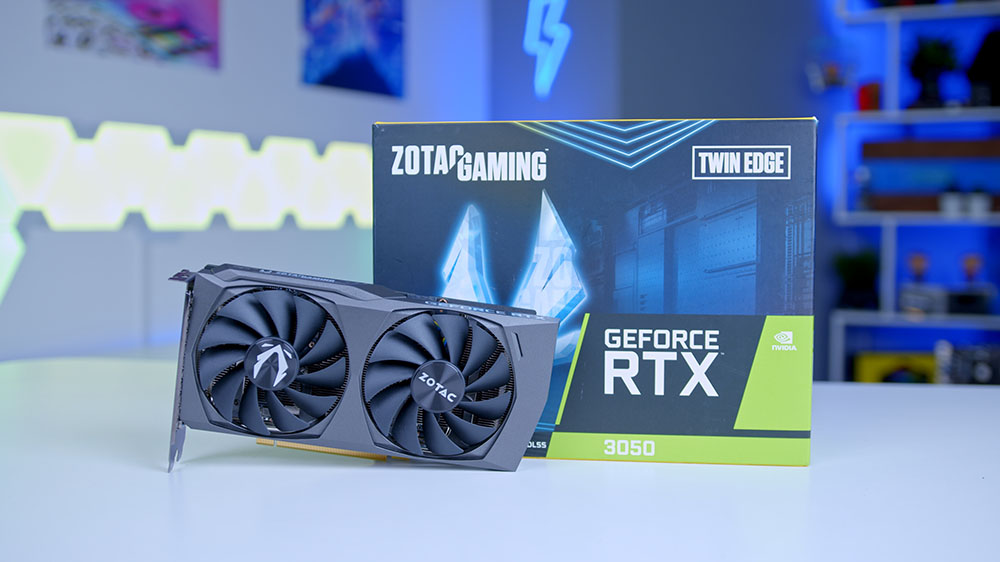 1. Nvidia GeForce RTX 3050
Roughly a year later and Nvidia's RTX 3050 is still the latest budget-oriented option released by team green. By no means does the RTX 3050 suffer in today's market, however. With support for both DLSS and even Ray-tracing, the 3050 is suited perfectly to gaming at 1080p 60 FPS and beyond.
Since its launch, the RTX 3050 has consistently impressed against its budget competitors, offering strong performance at a fraction of the cost. We found the RTX 3050 to consistently achieve over 100 FPS on average, let alone 60 FPS, not bad going for the baby RTX card!
With the market improving and the stock now readily available, for those looking to game at 1080p, you'd be hard-pressed to find a better alternative, especially given the MSRP.
Buy the Nvidia GeForce RTX 3050 on: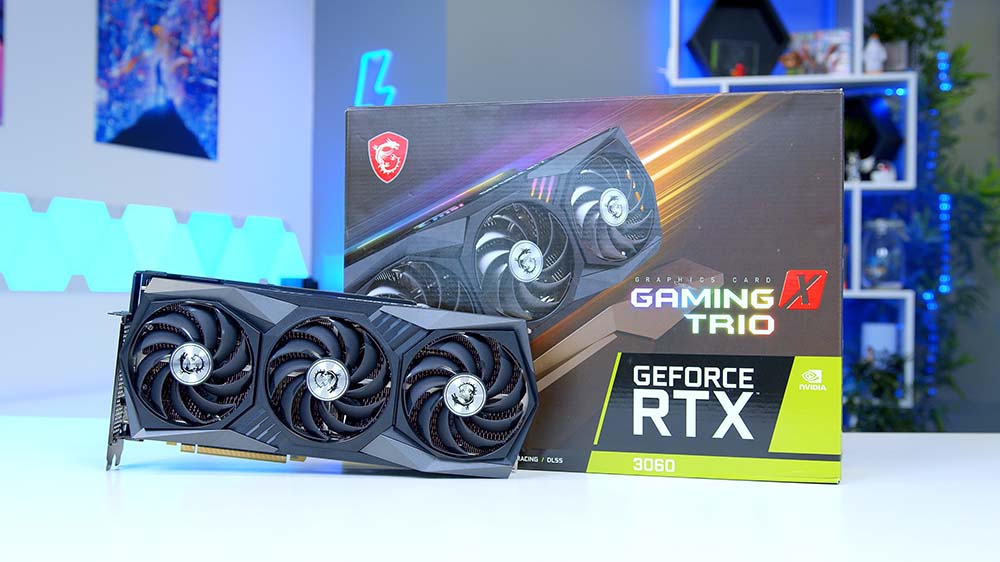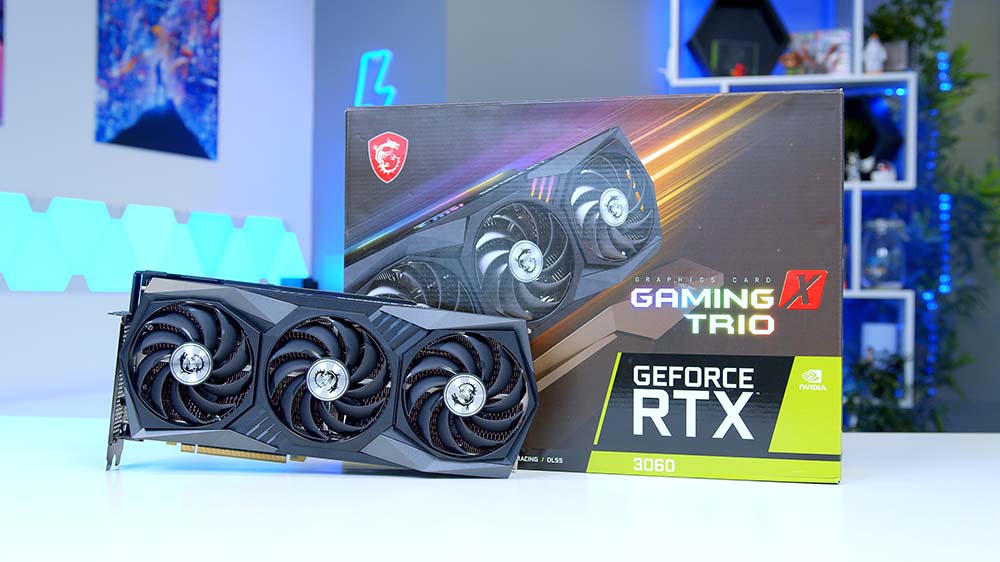 2. Nvidia GeForce RTX 3060
The RTX 3050's older brother the RTX 3060 is our next pick. The bigger and beefier card comes loaded with 12GB of VRAM as opposed to the 8GB that Nvidia tends to opt for on their budget options and offers performance improvements across the board.
The RTX 3060 offers a healthy performance boosts over the RTX 3050 and was for some time the so-called 'Budget King' on the market. Once again capable of using DLSS and Ray Tracing, with the occasional legs for gaming at 1440p too, it's easy to see why!
Admittedly, Ray tracing whilst compatible is not best placed on the more budget-oriented cards, with performance somewhat falling flat. Better saved for the bigger boys! Nevertheless, the RTX 3060 is one of, if not the best suited GPU for 1080p gaming.
Buy the Nvidia GeForce RTX 3060 on: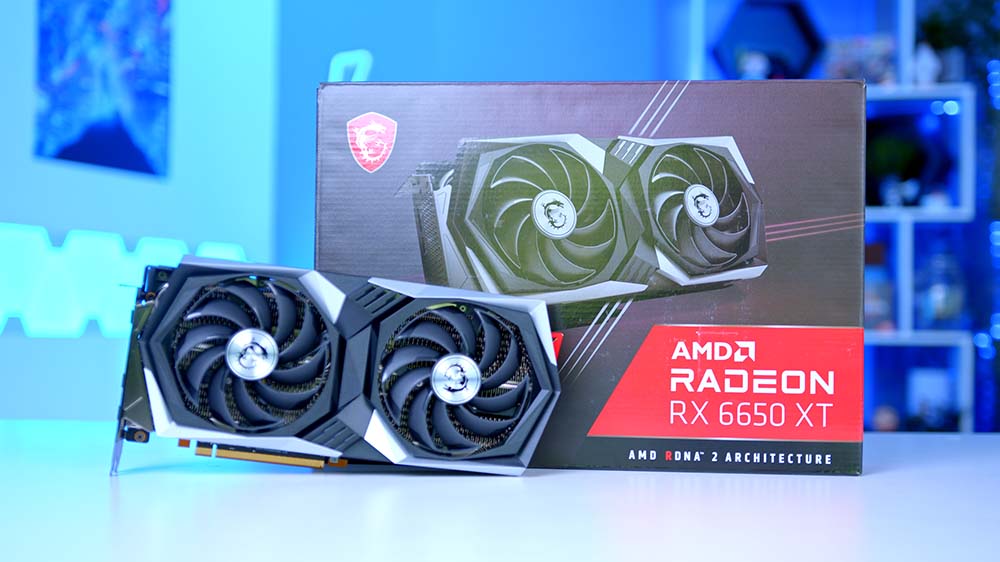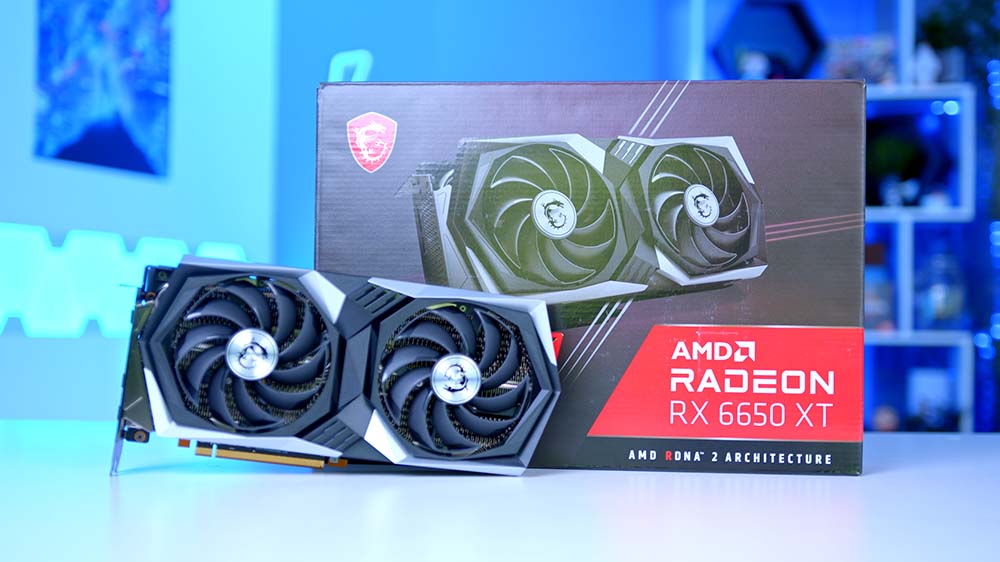 3. AMD Radeon RX 6650 XT
AMD's RX 6650 XT has quickly been becoming of my favourite GPUs in recent months. The strongest performing GPU of our budget picks, still remains relatively underrated in the grand scheme of things. With performance to rival and even beat the RTX 3060Ti at times it seems silly to place the RX 6650 XT in our low-end bracket.
The reason, Nvidia's DLSS offers a more refined and beneficial experience and allows the RTX 3060Ti to offer a stronger mid-range offering currently. That is not to say, however, that AMDs FSR hasn't come on leaps and bounds in recent times though. We found that with FSR enabled the RX 6650 XT was more than capable of playing at 1440p, proving just how strong some of the budget options on the market are.
Buy the AMD Radeon RX 6650 XT on:
Best Mid-Range Graphics Cards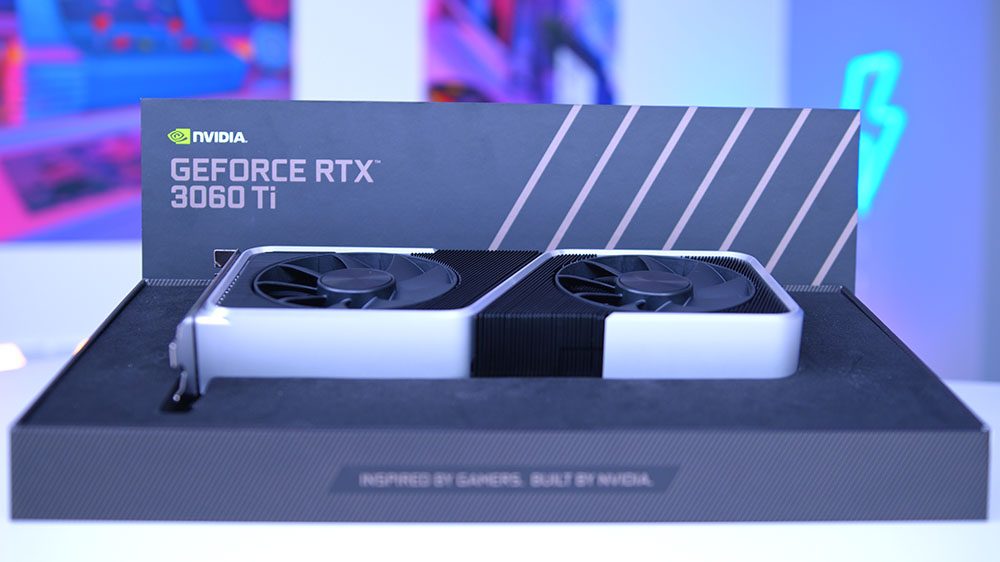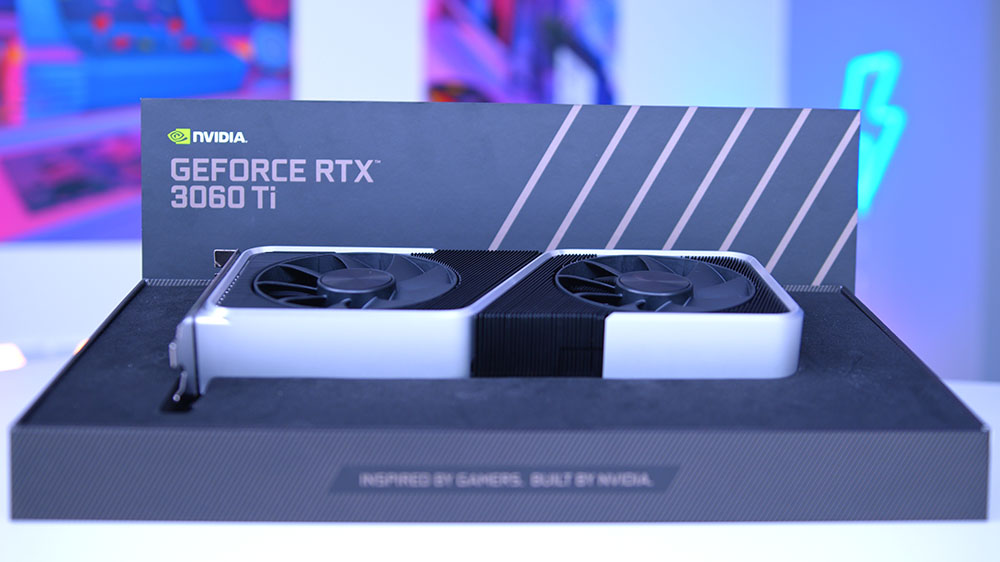 4. Nvidia GeForce RTX 3060Ti
Now it wouldn't be a GeekaWhat GPU list without the RTX 3060Ti now would it? Roughly two years on since its initial release and it is still an office favourite here.
The RTX 3060Ti remains to this day an all-rounder. Strong performance at both 1080p and 1440p whilst coming in at an affordable price point puts the 3060Ti in a position of being one of the best-placed GPUs on the market.
Since its release, the RTX 3060Ti has been known as a somewhat pound-for-pound king of GPUs, coupling performance to rival the big boys at a fraction of the cost.
The 3060Ti makes great use of DLSS too, consistently pushing the FPS into realms that the 3060Ti has no right to on paper. Throughout testing we were impressed with just how well the 3060Ti performs against some of the more powerful GPUs, never struggling or experiencing performance drops.
Buy the Nvidia GeForce RTX 3060Ti on: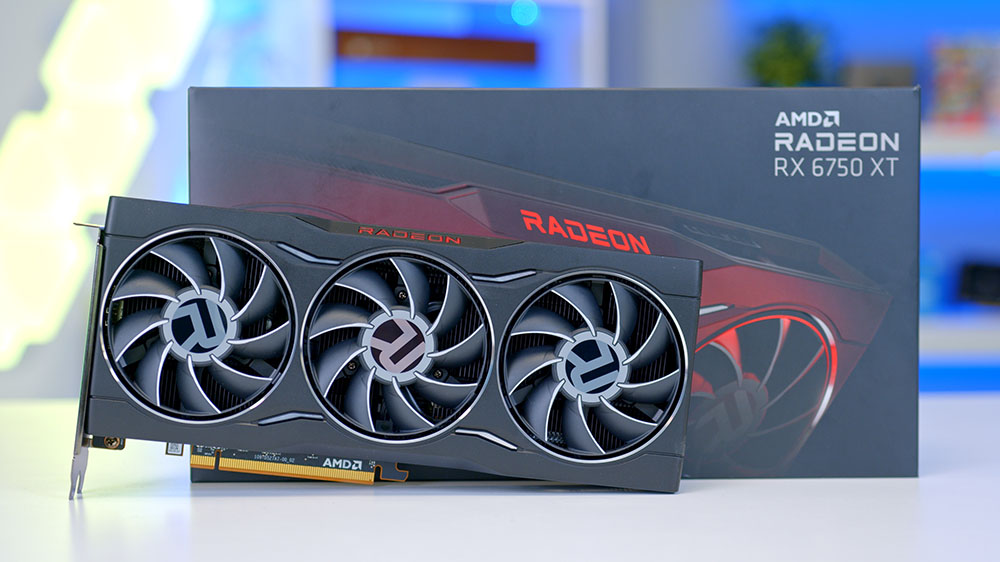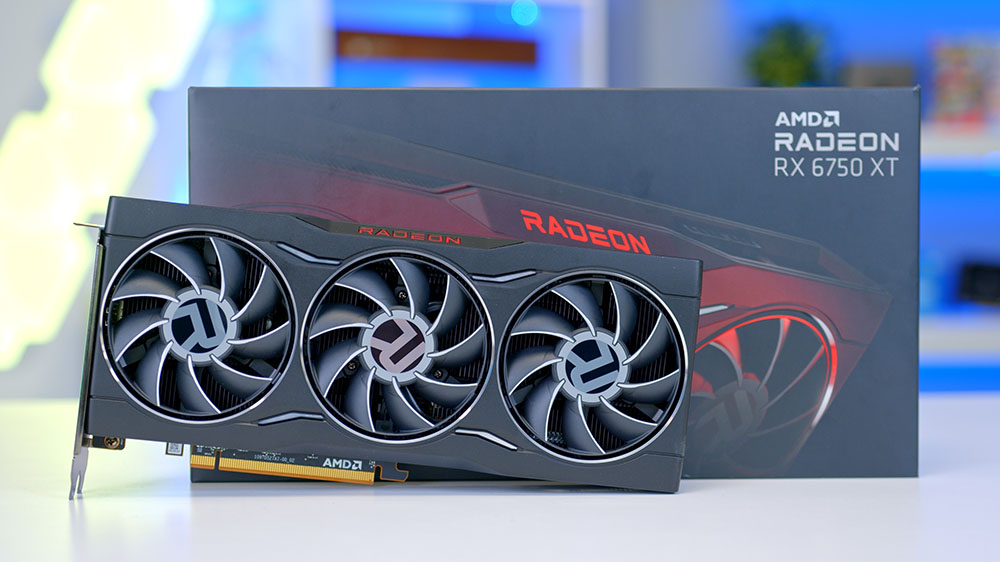 5. AMD Radeon RX 6750 XT
AMDs RX 6750 XT is another GPU that has grown on me in recent months. After a shaky launch for all of the '50' variants released, all 3 have gone on to be some of the stronger GPU choices on the market right now.
The RX 6750 XT in particular is now a standout performer amongst the mid-range GPUs. Boasting 12GB of GDDR6 memory and a healthy base clock of 2495MHz, the 6750 XT is no slouch and more than capable of running even the most demanding of titles.
1440p is the resolution the 6750 XT is most suited to, but that doesn't mean that this GPU can't perform at 4K too! We found that for games where ultra-high FPS aren't a necessity, the 6750 XT offered a more than playable experience, and is definitely worth considering if you're looking to save a few dollars.
Buy the AMD Radeon RX 6750 XT on: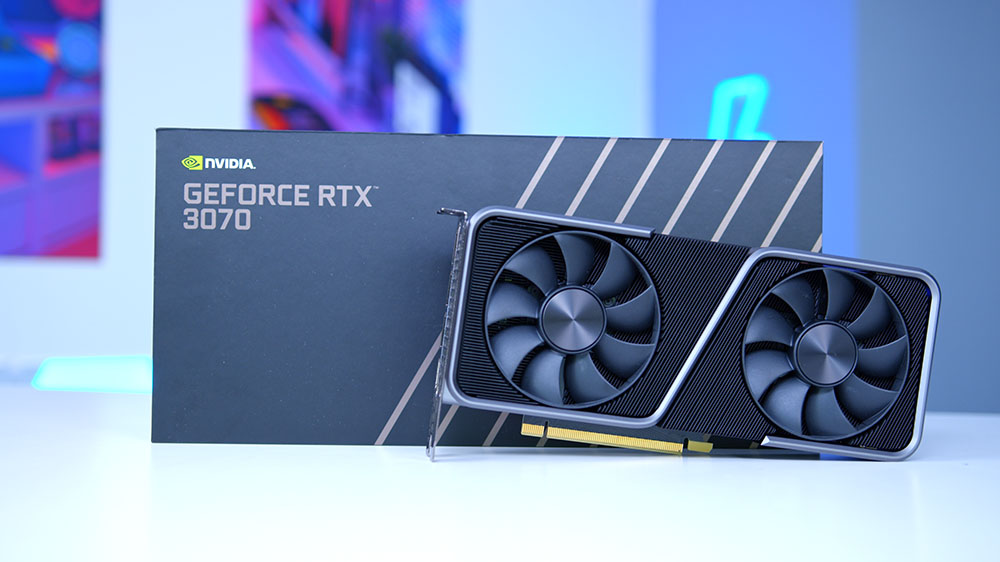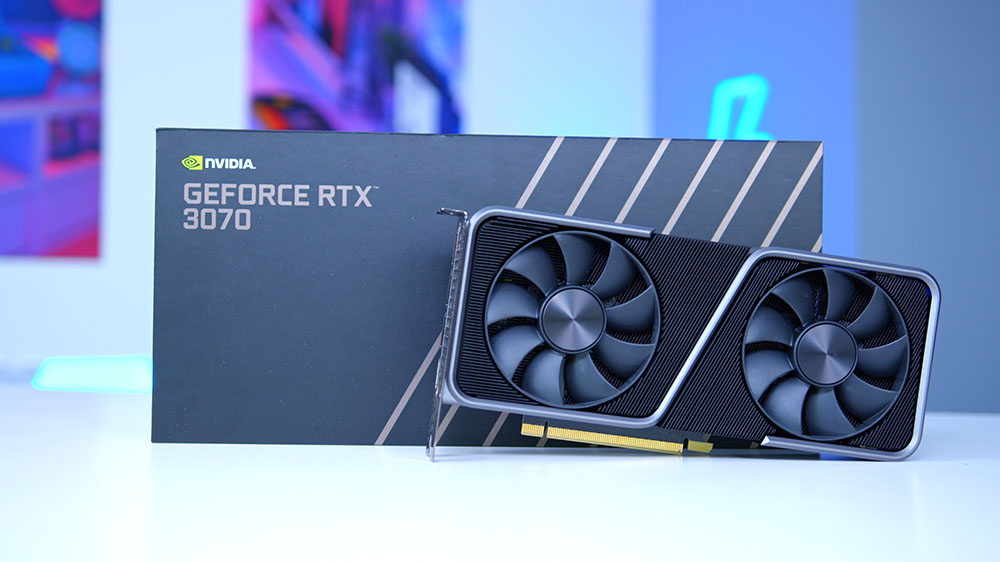 6. Nvidia GeForce RTX 3070
Nvidia's tried and tested RTX 3070 was one of the earliest RTX 3000 series cards to release. Over the last two years, we've become very familiar with the RTX 3070 here at GeekaHQ and have regularly used, featured and recommended the card.
The RTX 3070 remains one of the strongest 1440p offerings from Team Green, offering a substantial enough performance increase over the aforementioned RTX 3060Ti whilst only being a whisker away from catching its bigger brother, the RTX 3070Ti.
Built on Nvidia's Ampere architecture, the RTX 3070 makes great use of all of Nvidia's standout technologies. Ray Tracing in particular becomes all the more possible with the RTX 3070, with the RTX 3070 having enough oomph to utilise Ray Tracing at playable framerates.
Buy the Nvidia GeForce RTX 3070 on:
Best High End Graphics Cards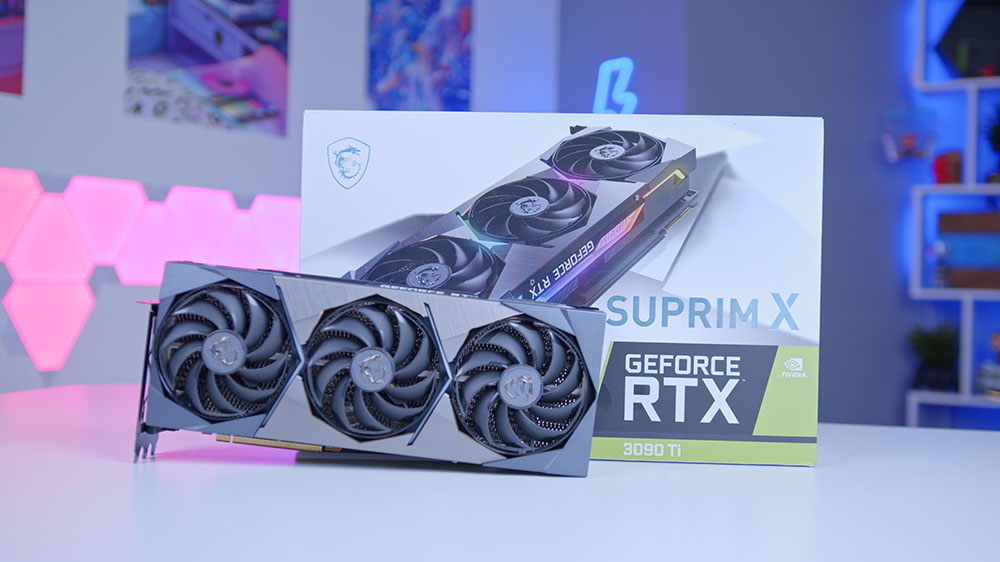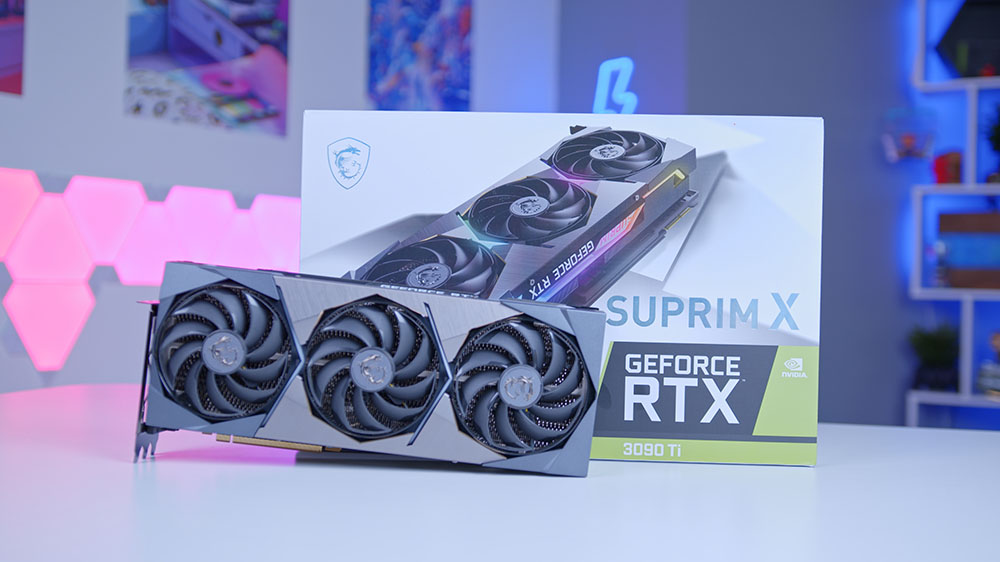 7. Nvidia GeForce RTX 3090Ti
The RTX 3090Ti offers chart-topping last-generation performance whilst still holding up relatively well amongst the new-generation heavy hitters.
Packed with 24GB of GDDR6X VRAM and coming with a boost clock of 1.86GHz, the RTX 3090Ti shows little signs of aging just yet and is still more than capable of running even the toughest of titles.
During our testing, we found framerates consistently to be in an around the 144FPS mark at 4K High settings. Great signs for those looking for that ultra-smooth gameplay experience. 4K resolution and 144Hz are more of a reality rather than a possibility with the 3090Ti, with the card making light work of a number of titles at 4K.
The RTX 3090Ti more than holds its own in a generation of newer GPUs, proving that newer isn't always necessarily better.
Buy the Nvidia GeForce RTX 3090Ti on: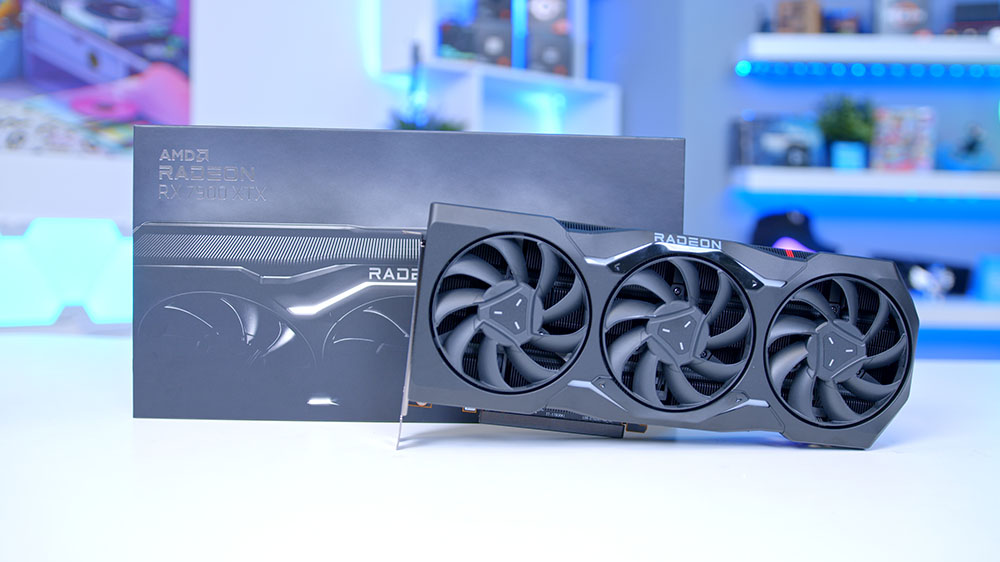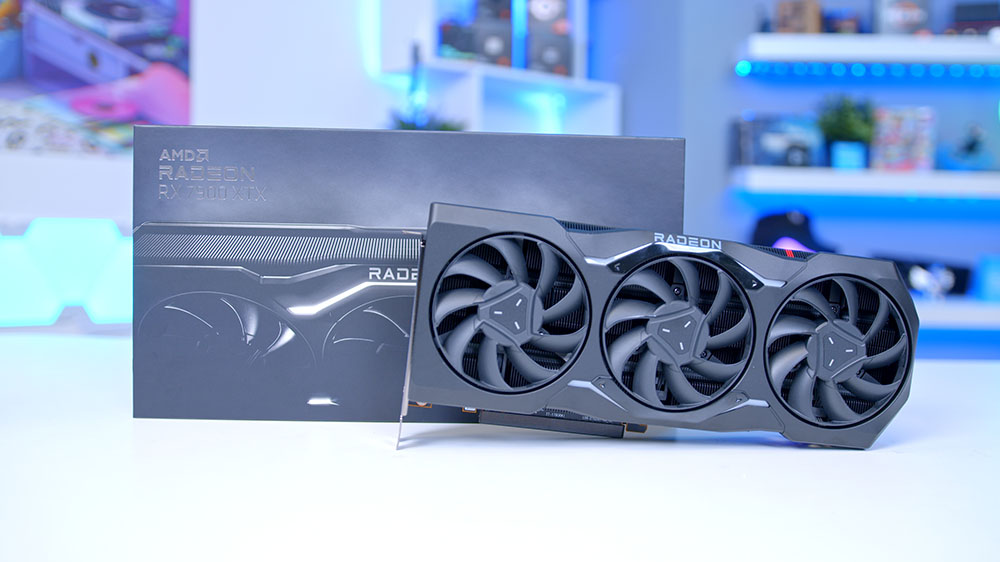 8. AMD Radeon RX 7900 XTX
My personal favourite of all the recent GPU launches towards the end of 2022, the RX 7900 XTX. Launching slightly after both the RTX 4080 and 4090 cards from Nvidia, AMD hit back and hit back strongly.
AMDs RX 7900 XTX slots itself right amongst the most powerful GPUs available right now but at a significantly lower MSRP. Coming in at $200 cheaper than the RTX 4080 and a whopping $600 cheaper than the RTX 4090, the 7900 XTX sits in a very strong position in the market right now.
We found the RX 7900 XTX to outperform the RTX 4080 in almost every game we tested at 4K. We were simply astonished during our testing at just how well the 7900 XTX performed, coupled with AMDs FSR and performance the 7900 XTX made lightwork of every challenge we threw its way. It even had some legs to rival the RTX 4090 in a select few titles. Impressive stuff!
The RX 7900 XTX sits at an ideal point in the latest-generation GPU market, combining next-generation performance at a fraction of the cost of its Nvidia equivalents.
Buy the AMD Radeon RX 7900 XTX on: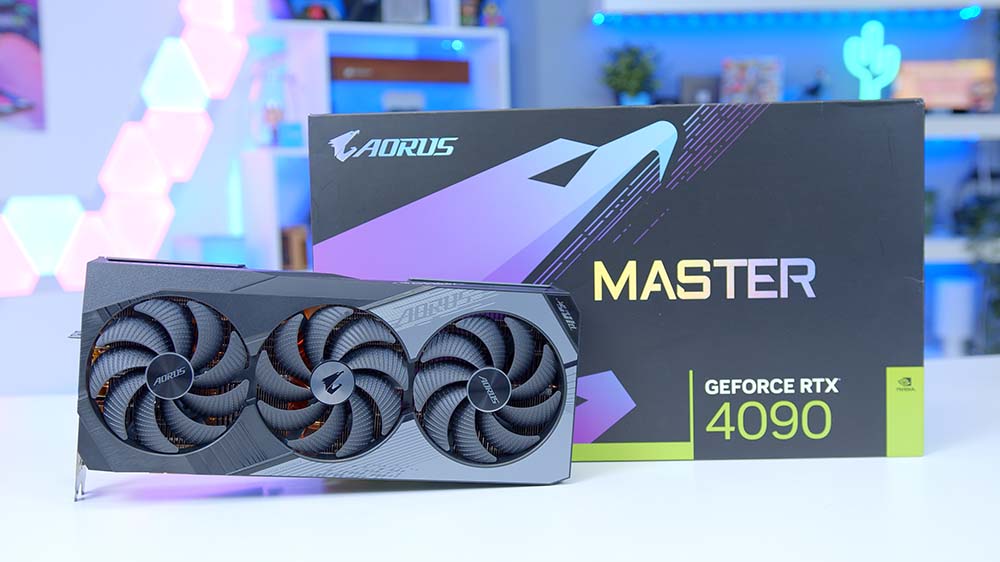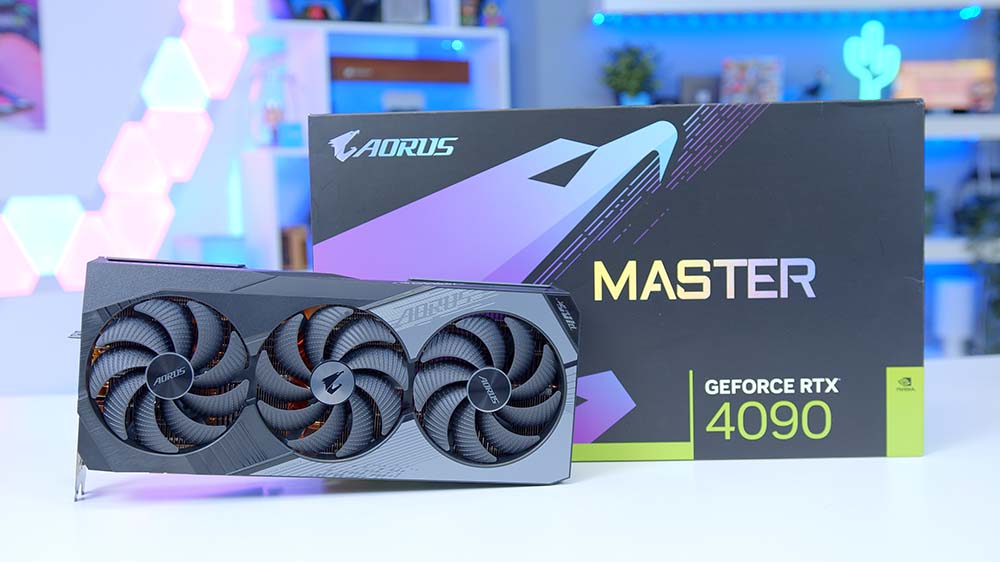 9. Nvidia GeForce RTX 4090
Nvidia really pushed the boundaries of what we first thought possible with the RTX 4090. The RTX 4090 is simply put the most powerful mainstream commercial gaming GPU available right now.
The RTX 4090 comes packed with 24GB of GDDR6X VRAM and is powered by Nvidia's latest and great Ada Lovelace architecture.
Nvidia's latest architecture is the main driving force behind the generational performance increase we see on the new RTX 4090. Improving upon both of their standout technologies, DLSS (now 3.0) and Ray Tracing and featuring the all-new Frame Generation, it's easy to see how such performance gains were possible.
For those looking to max out on visuals and performance with no compromise, the RTX 4090 sits in a league of its own currently. The only downside to chart-topping performance, however, is chart-topping cost, and this card is not cheap. A cool $1600 is needed to get your hands on a Founders model 4090 at MSRP, with AIB models exceeding this and getting closer to the $2000 mark, frightening!
Buy the Nvidia GeForce RTX 4090 on:
What is a GPU?
The GPU market is predominantly dominated by AMD and Nvidia, both of whom have held a duopoly of the market for some time. These base designs or 'Founders' models as they are more commonly referred to, are then developed into further SKUs by both Nvidia and AMD's AIB (Add-In Board) partners, the likes of MSI, Gigabyte and ASUS, to name just a few.
Nvidia or AMD?
On AMD's part, their cards tend to come as stock with higher VRAM allocations than their Nvidia equivalents, great for both gaming and editing alike. AMD also offer Smart Access Memory, meaning that if an AMD GPU is paired with an AMD Ryzen CPU (check compatibility), the CPU can access the full memory cache of the GPU. This feature can provide a healthy to boost performance, something which can be beneficial across a wide range of titles. AMD cards also often sit at much stronger price points than Nvidia GPUs, with this trend continuing through their latest releases too. AMD's RX 7900 XTX, for example, offers performance to rival and even beat the RTX 4080 but for roughly $200 cheaper at retailer suggested MSRP pricing. It should be noted these MSRP's don't always follow through, and that prices are subject to change on a retailer, region and model basis.
On the flip side, Nvidia offers stronger AI resolution scaling tech in the form of DLSS (Deep Learning Super Sampling). AMD does offer similar tech in the form of FSR (Fidelity Super Resolution) and until recently had been closing the gap in performance between the two technologies. That was until Nvidia released their latest and greatest DLSS 3.0, featuring 'Frame Generation'. Frame generation, compatible with the 4000 series line-up of GPUs, changed the game in terms of boosting performance through AI tech and provided a huge performance boost during our testing. GeForce Experience and the suite of Nvidia apps and programs are also more refined than that of AMD's offering, with drivers seemingly more consistent and programs more refined and generally less bloated.
GPU Comparison Table
The Benchmarks
We test all of our cards across a range of titles, from the likes of Apex Legends and Fortnite, to Spiderman Miles Morales and F1 2022, we test across a number of genres to dive deep into the nitty gritty of each GPUs performance.
Fortnite – 1080p Competitive Settings
Fortnite is as good a place to start as any! The ever-popular king of Battle Royale's has been a mainstay during our testing since its launch.
For the most part, the results were roughly as we expected but that's not to say that there weren't any anomalous results.
AMD's 6800 struggled and put in a very underwhelming performance, not only being outperformed by the 6750 XT, but even the 6650XT and not by small amounts either. Both of the XT cards averaged in excess over 25 FPS more than the 6800.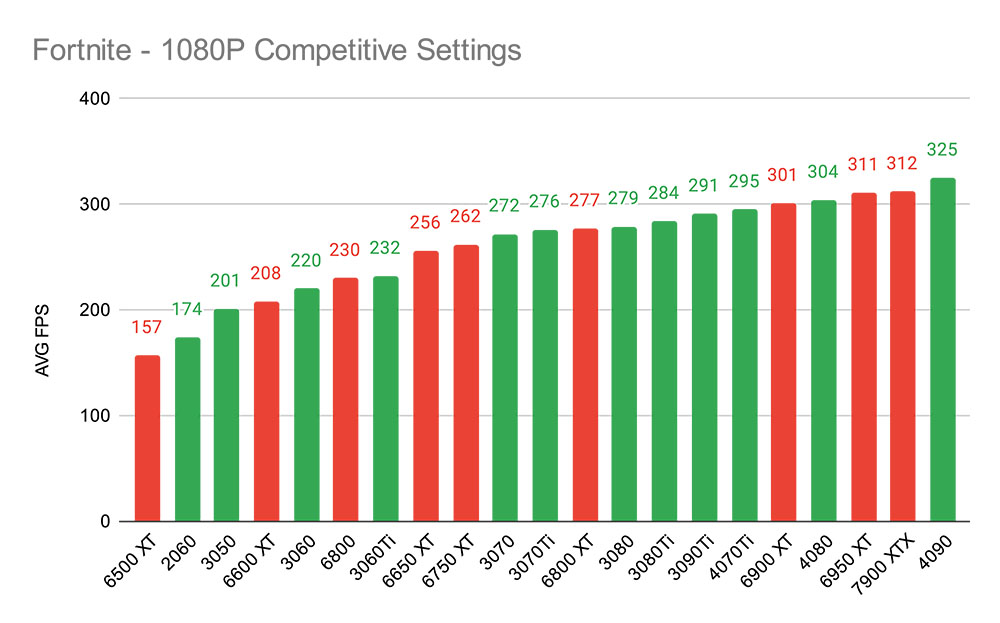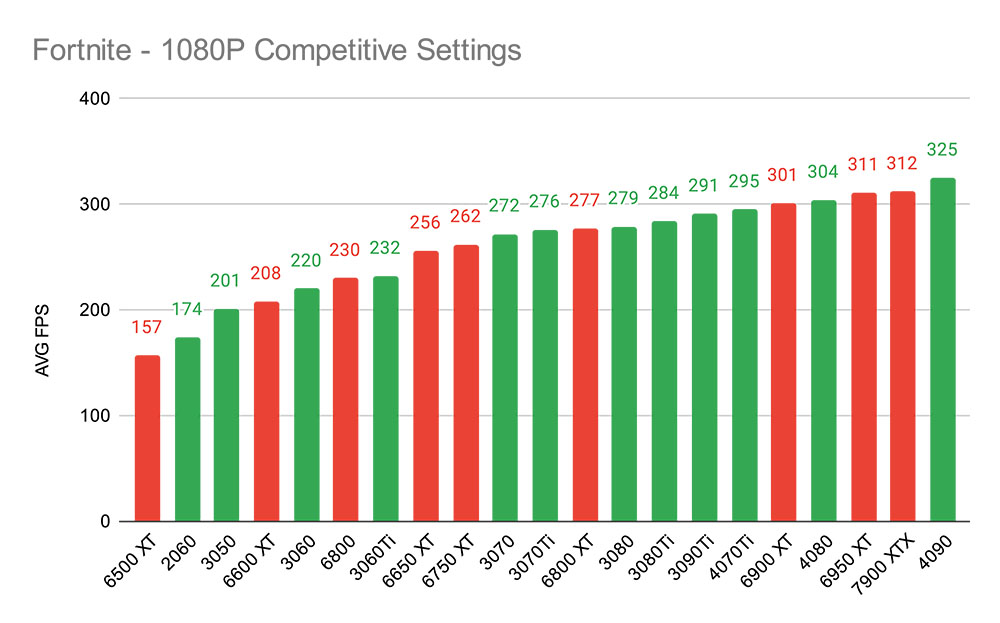 Elsewhere AMDs 6900 XT and 6950 XT both performed strongly, with the latter sitting just 1 FPS behind the brand new RX 7900 XTX, proving that newer isn't always better!
COD Warzone – 4K High Settings
Call of Duty's Warzone at 4K High settings was a much different story, however. A significant gulf in class became visible with a 130 FPS swing between the best and worst-performing GPU we tested.
Cards such as the 3070Ti and even the 3080 were unable to break the 100 FPS mark. Even the likes of the brand new RTX 4070Ti only just surpassed the same mark with a 109 FPS average.
The 4070Ti sits in an interesting spot, with all of the other new-generation cards (4080/90 and 7900 XTX) considerably outperforming it.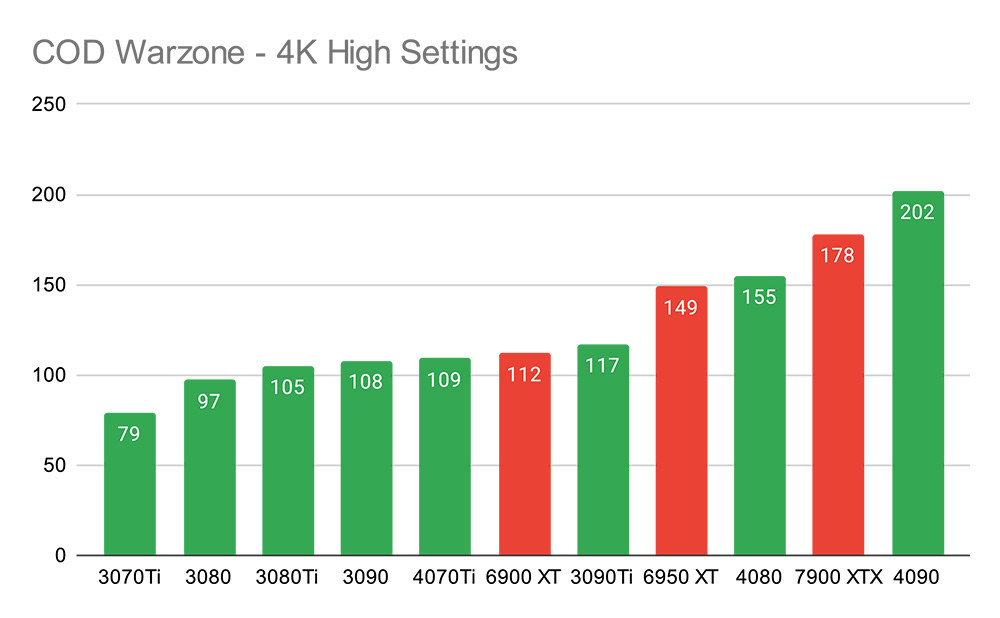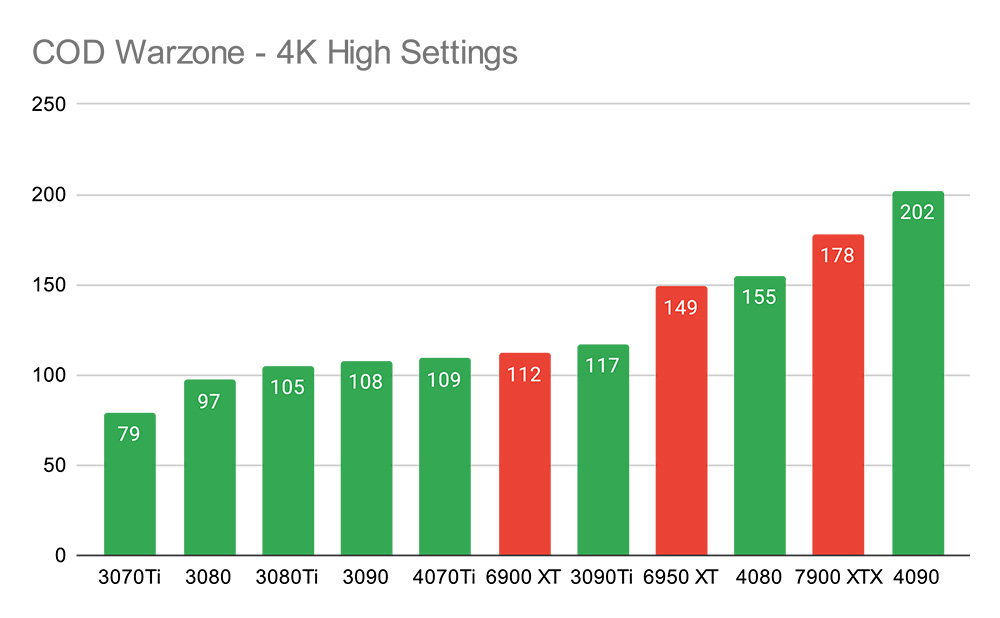 It begs the question of where the card belongs and whether the 4070Ti is better suited to 1440p gaming.
Once again the 6950 XT performed well, within touching distance of new generations cards once more. The 6950 XT offers a significant performance increase over the model it replaced, the 6900 XT – a card that consistently underperformed during testing.
COD Warzone – 1440p High Settings
At 1440p a number of the GPUs that struggled at 4K put on a much better showing. Every GPU we tested surpassed the 100 FPS mark with relative ease, with results aligning much more as expected. All except of course, yes, you guessed it, the 6900 XT.
Once again the RX 6900 XT averaged results considerably worse than we expected, beating out only the 6650 XT and 3060Ti (narrowly) is a longshot from where we'd expect it to sit. The 6950 XT, however, seems to rectify the issues plaguing the 6900 XT, offering almost chart-topping performance, losing out to only the RTX 4080, not bad!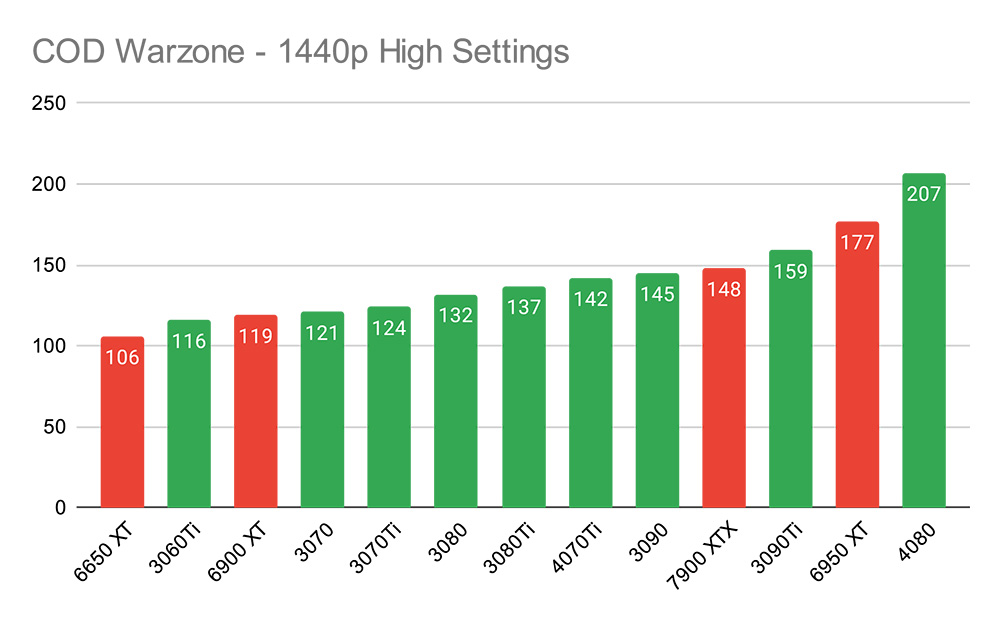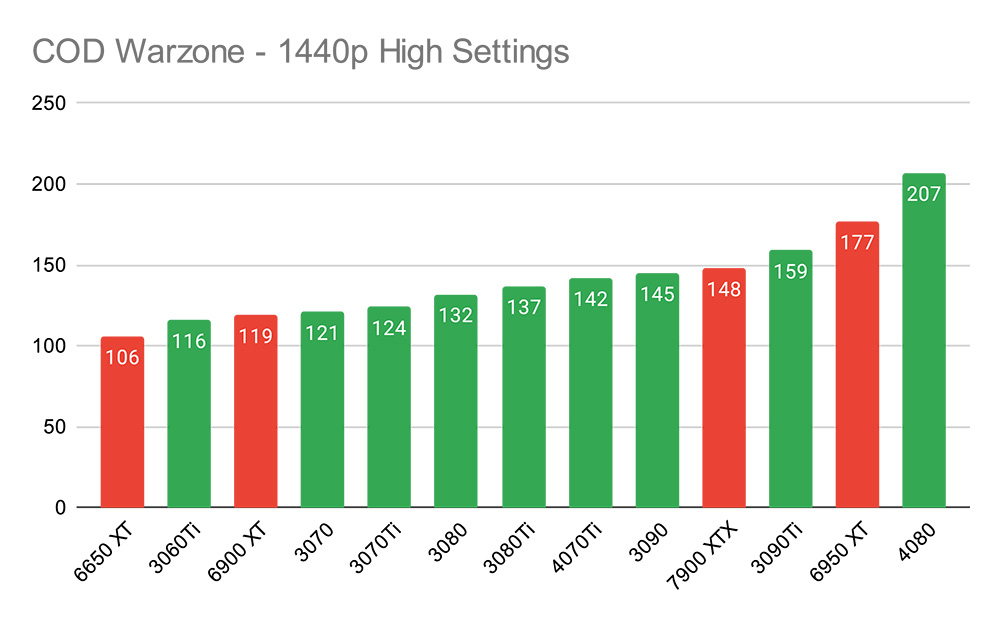 Apex Legends – 1080p High Settings
Apex Legends, rounds up the trio of battle royale titles we tested and offered results in line with roughly what we'd expect, finally!
The GPUs we tested seemingly sort themselves into two groups on our graph. The first half of our graph (6500 XT – 6600 XT) being the budget-oriented and entry-level GPUs. The second half (3060Ti – 3080) being geared towards performance, hence the considerable average FPS increase midway through the graph.
The 6600 XT in particular performed very well during testing and cleared the 144 FPS mark, proving that ultra smooth gameplay is still more than possible, even on a budget!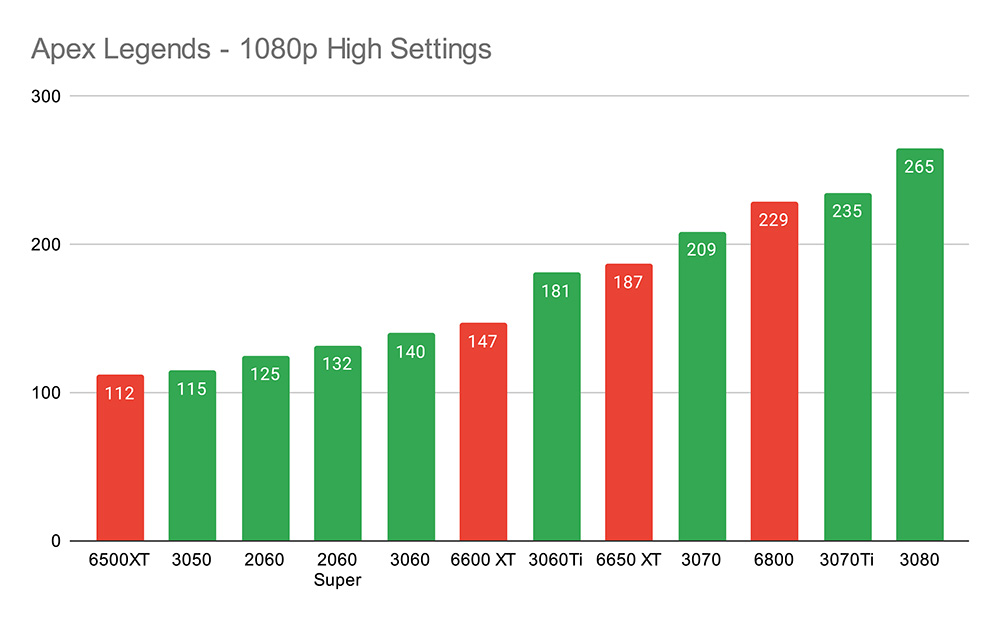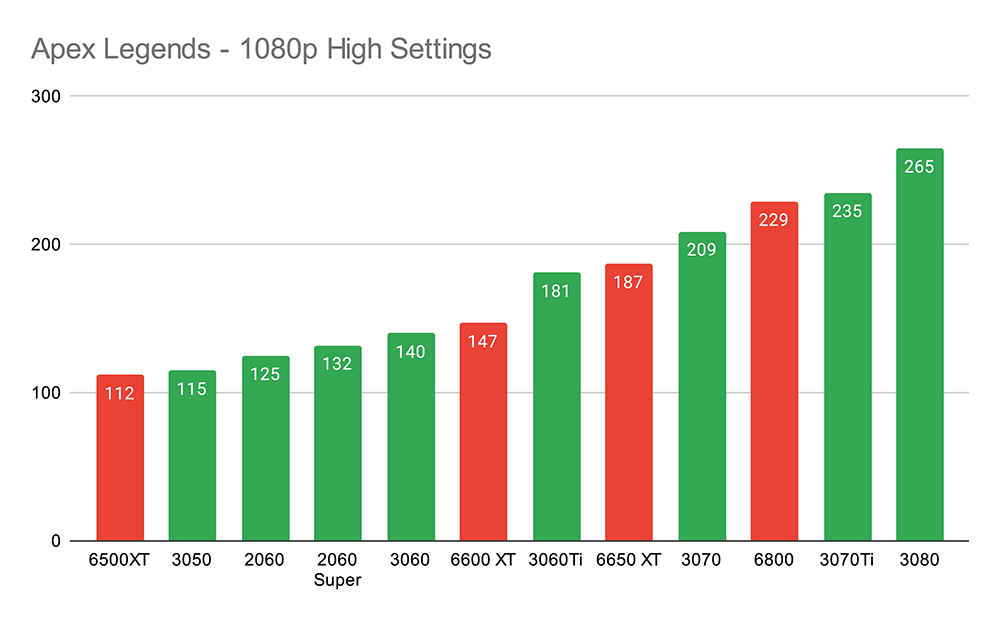 The 3060 to 6650 XT range (on our graph) is where we feel the sweet spot is for most looking to game at 1080p. The 3060 and 6600 XT are great GPUs capable of strong performance at 1080p, with the 3060Ti and 6650 XT building on these and having room to game at 1440p too.
Apex Legends – 4K High Settings
At 4K High settings, our results were fairly straightforward, the lay of the land was as we expected for the most part.
AMD's 7900 XTX was the standout performer beating out even the likes of the RTX 4090, mightily impressive stuff. The RTX 4090 and 7900 XTX both sit in a league of their own when it comes to Apex Legends at 4K. Both cards sit at over 30FPS more on average than any other GPU we tested.
It is worth noting that to achieve over 144 FPS in Apex Legends you need to 'uncap' the framerate in the games launch options.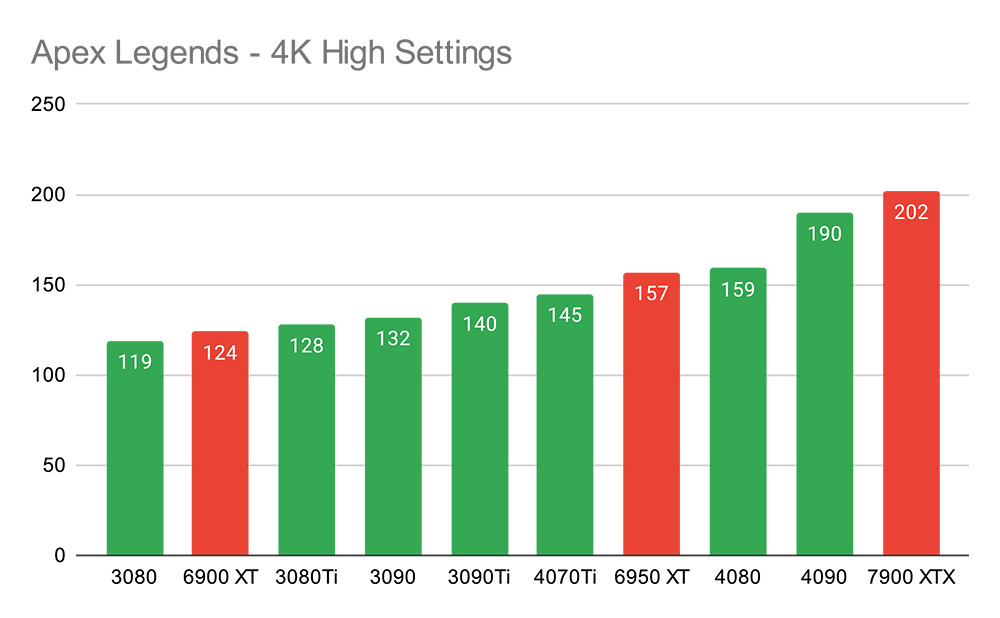 However only 5 of the 10 GPUs we tested are able to actively achieve such numbers, for those looking to game at ultra-smooth refresh rates with the highest quality visuals, a 4070Ti upwards is a must!