Introduction
The launch of Intel's 13th-Gen line-up was an overwhelming success, with Intel providing significant generational improvements when compared to their renowned 12th-Gen options. To get the most out of the Raptor Lake CPUs, users should look to pick up a Z790 motherboard, as this chipset is tailor-made to work alongside this generation of processors.
But just how do you know which board is best, and how do you break apart the good Z790 options from the bad? Let's answer that question by listing our favourite Z790 motherboards available.
Suggested Article: Z790 vs B760 Motherboards – Key Differences & Expectations
Best Z790 Motherboard: MSI Z790 Carbon WiFi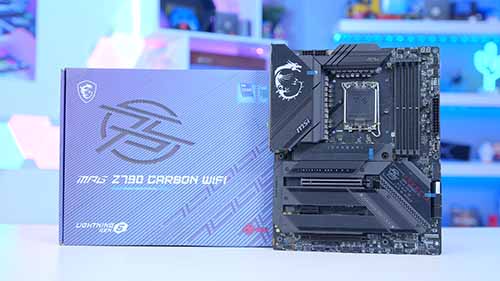 MSI's Z790 MPG Carbon WiFi takes the top spot as our favourite motherboard with a Z790 chipset. With strong connectivity features, solid overclocking support, and a sophisticated appearance, this design from MSI ticks all of the boxes.
On top of this, the Z90 Carbon WiFi offers these premium features for a price that won't completely shatter the bank.
All the Motherboards in Our Z790 Testing
ASUS TUF Gaming Z790-Plus WiFi D4
Best Z790 Motherboards
1. ASUS Prime Z790-A WiFi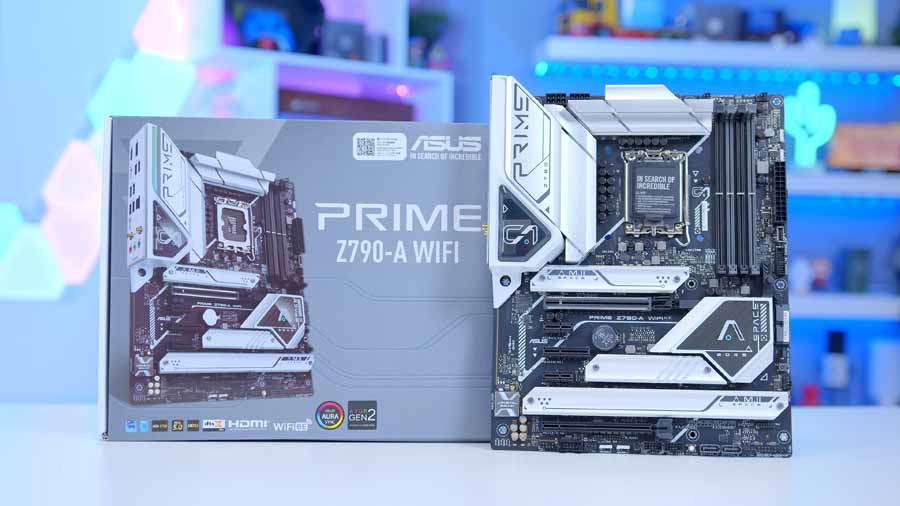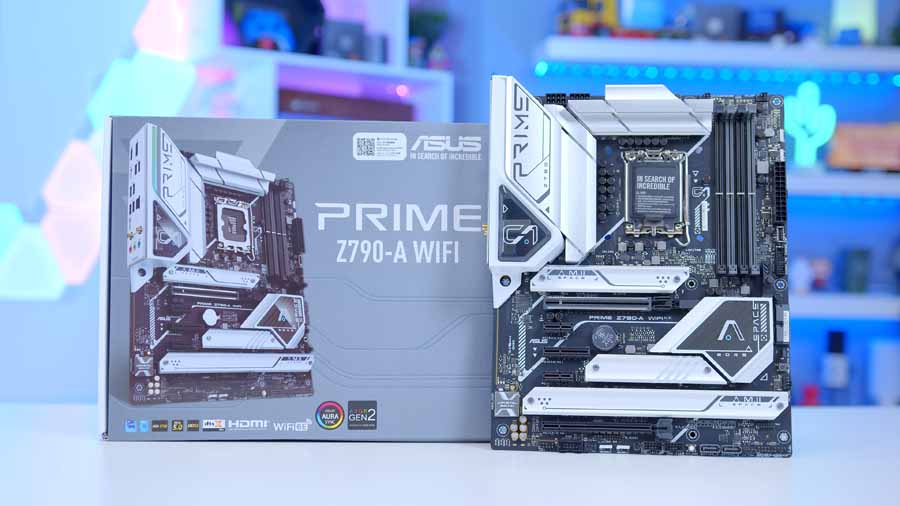 The Prime Z790-A WiFi from ASUS is one of the best affordable Z790 motherboards that you can buy. Sporting a PCI-E 5.0 slot for the next generation of GPUs and multiple PCI-E 4.0 M.2 slots, this motherboard is ready for the latest and greatest PC hardware. What makes this design even better is the black and silver colour scheme of the Prime Z790, which makes this an ideal pickup for anyone looking to build a white-themed gaming PC.
Despite being a more affordable Z790 in the grand scheme of things, the Prime Z790-A WiFi still looks to offer the best connectivity possible. For example, the ability to support DDR5 memory with up to 7200MHz transfer speeds gives users access to incredibly fast and responsive memory, leading to optimal performance in games and other demanding tasks.
Additionally, the rear IO features a bountiful amount of high speed USBs, including a 20GB/s Type-C port, along with WiFi 6E for those looking for a high speed wireless connection. This means consumers don't have to worry too much about which connections to use for each peripheral and external device, as most the included ports will be up to standard.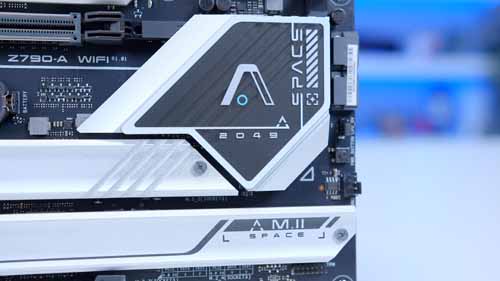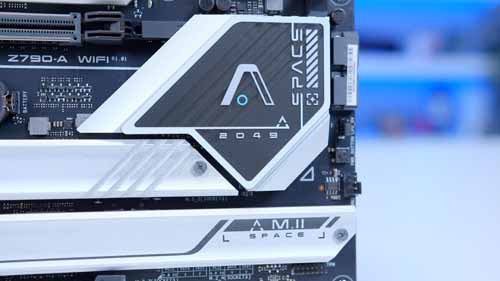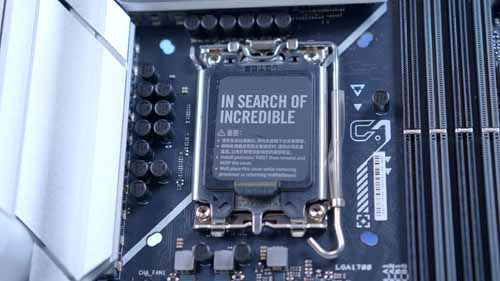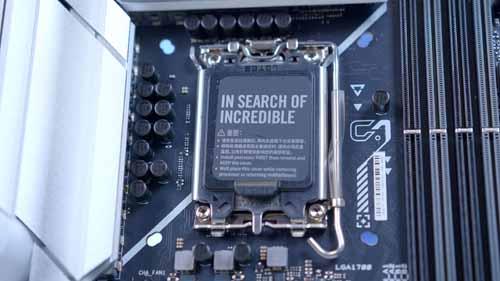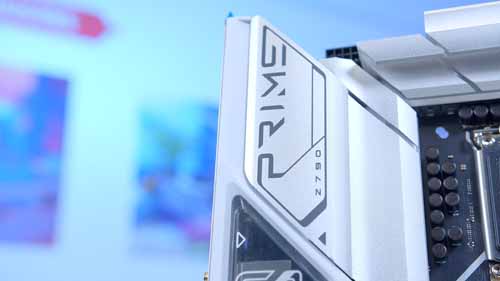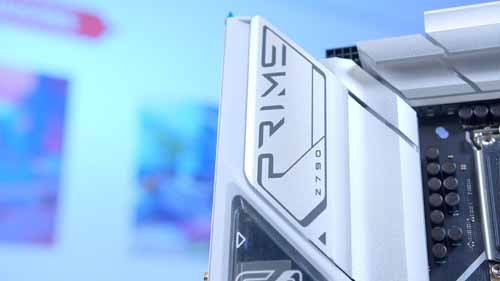 Naturally, ASUS are reserving their masses of next-gen USB ports and array of PCI-E Gen 5 slots for higher end boards, which constrains this design a little when it comes to getting connected. That's not to say connectivity is awful, but the spread of ports and slots will be better on the more premium designs. It's a similar story for the overclocking capabilities, with 14+1 VRM power phases not being enough to overclock a more powerful CPU like the Core i9 13900K. While you'll be able to squeeze some more speed out of an i5 13600K, don't expect to be hitting 6GHz on an Intel Core i9 chip anytime soon.
Where to Buy
Buy the ASUS Prime Z790-A WiFi on:
2. Gigabyte Z790 AORUS Elite AX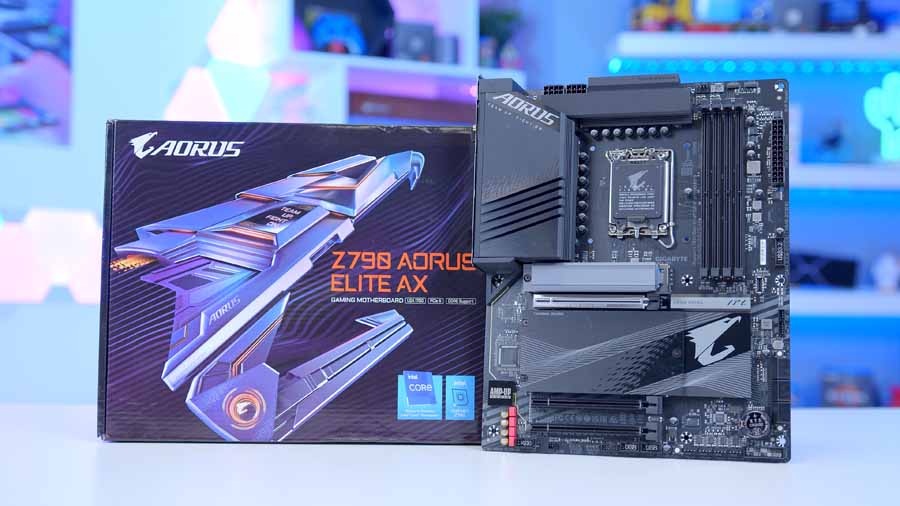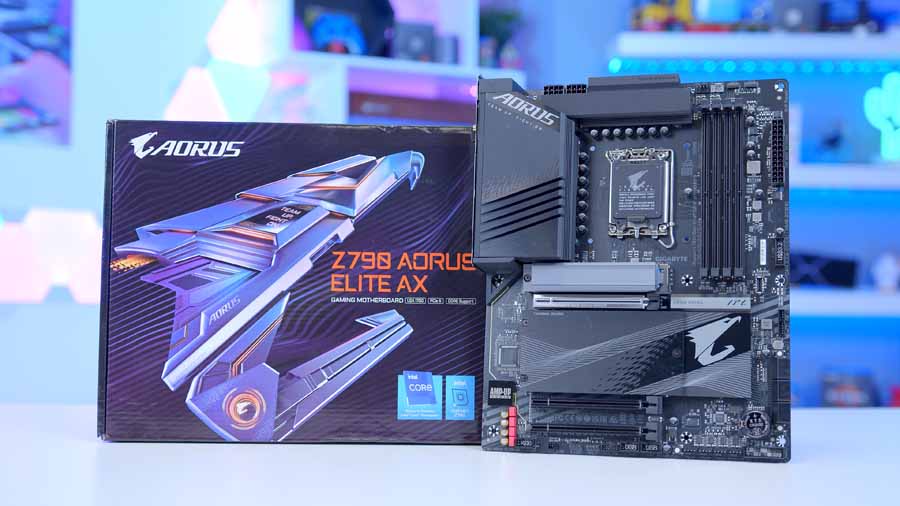 Gigabyte's Z790 AORUS Elite AX is one of the cheapest DDR5 motherboards that we've been able to review on the website. This board is loaded with features, from numerous PCI-E 4.0 SSD slots, to a high quality audio codec that provides crystal clear quality for all your audiophiles out there. If you're looking to build a relatively low-cost DDR5 gaming PC, we'd definitely recommend looking at this board from Gigabyte. It has an awesome design that suits many different build styles while sporting plenty of features for you to sink your teeth into.
With 16 + 1 + 2 VRM power phases, this motherboard is well equipped for some CPU overclocking, allowing users to push their 12th or 13th Gen Intel processor that little bit further. Also, the presence of WiFi 6E for next-gen wireless networking speeds, along with a 2.5 Gigabit LAN port, gives consumers plenty of flexibility when trying to connect to the internet.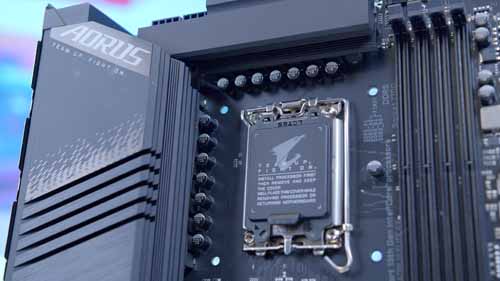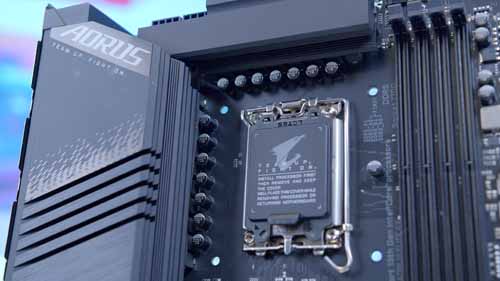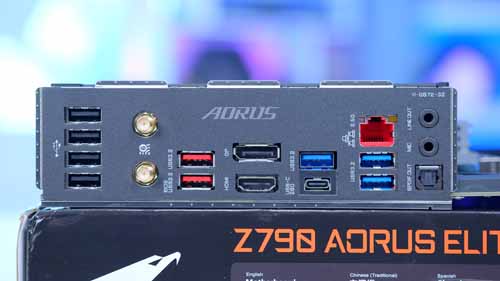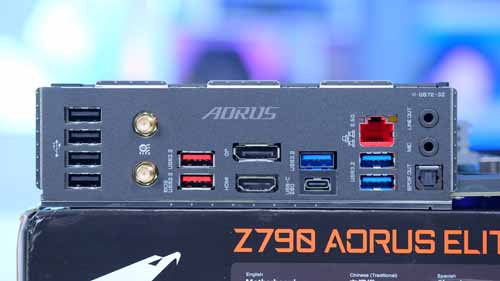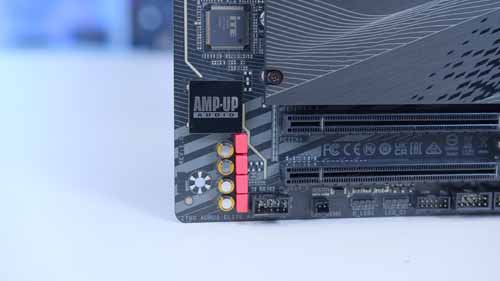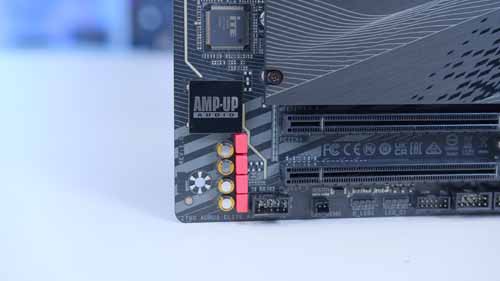 However, there are a few flaws to be careful of. For example, the large M.2 area in the middle of the board makes the bottom two x16 PCI-E lanes less practical, with room for only a pair of single slot cards. Additionally, we feel the M.2 heatsink design could be more visually appealing, as the grey colour not blending in particularly well with the rest of the relatively stealthy design.
Where to Buy
Buy the Gigabyte Z790 AORUS Elite AX on:
3. ASUS TUF Gaming Z790-Plus WiFi D4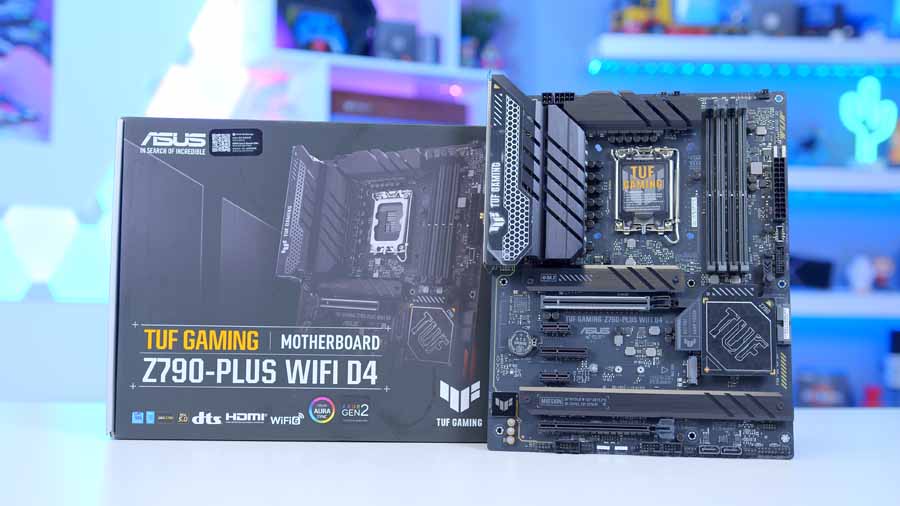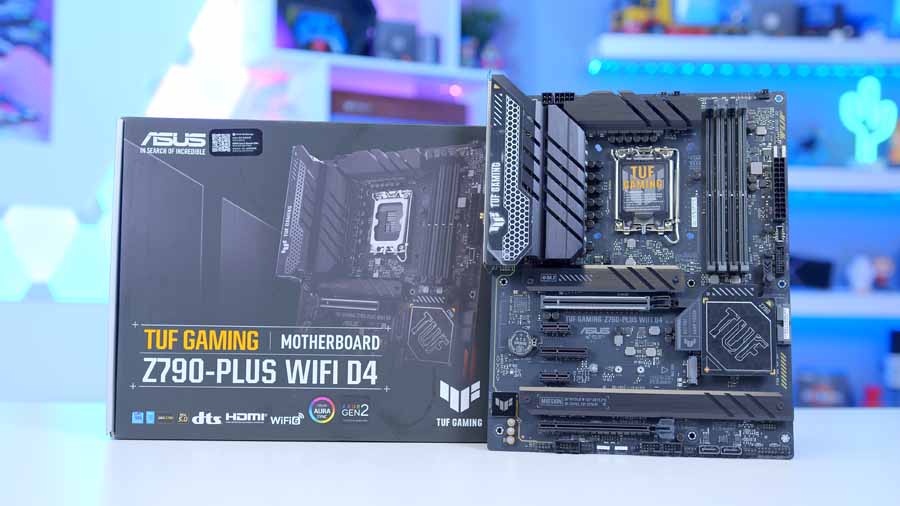 The TUF Gaming Z790-Plus WiFi D4 from ASUS is one of the best looking boards on the Z790 chipset. The industrial theme contrasts really well with the shades of yellow, I'm a big fan! Not only that, but this board has an insane amount of USBs. If you're looking for a motherboard that can handle an excessive amount of accessories and peripherals, this TUF board should be at the top of your shopping list.
This TUF Gaming design includes a good array of M.2 slots, as well as support for the inevitable PCI-E 5.0 graphics cards when they arrive. This allows users to fill their gaming PC with the best M.2 SSDs available, whilst also being well-prepared for more advanced components further down the line.
This board compliments ASUS' already strong Z790 motherboard lineup, providing a great mid-range option with more features than their PRIME motherboards, while coming in at a lower cost than more pricey options, such as their HERO range.
In terms of connectivity, the abundance of high-speed USB 3.2 ports means users will have no problems connecting lots of devices to this motherboard. Plus, the 2.5 Gigabit LAN ports and WiFi 6 module give plenty of options to stay online. We would have preferred to see WiFi 6E here (over standard WiFi 6), but for this you'll need to step up to a more pricey ASUS board instead.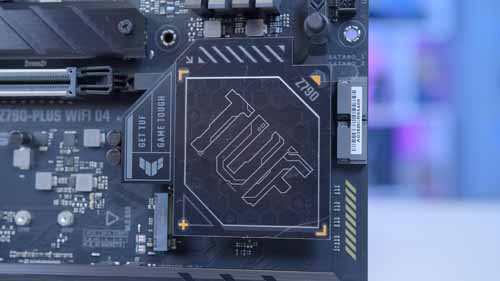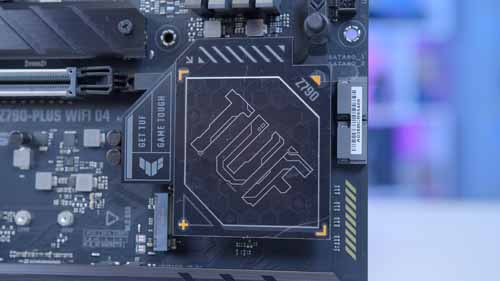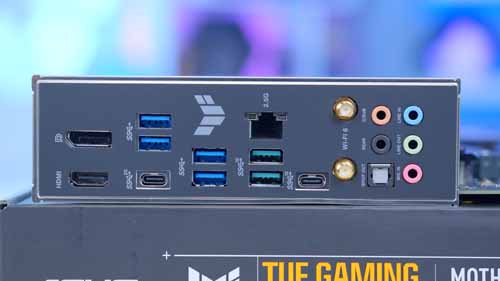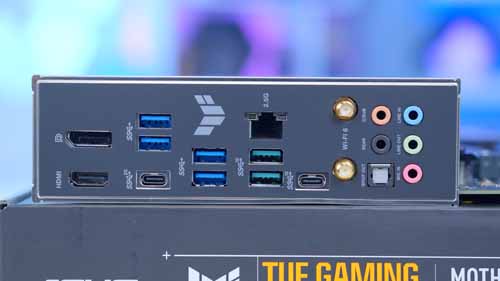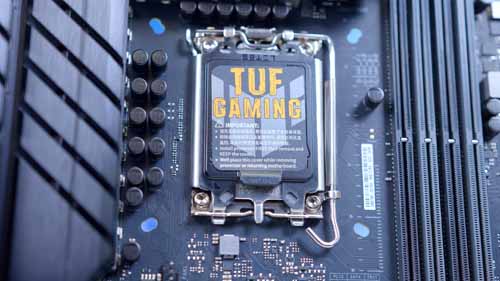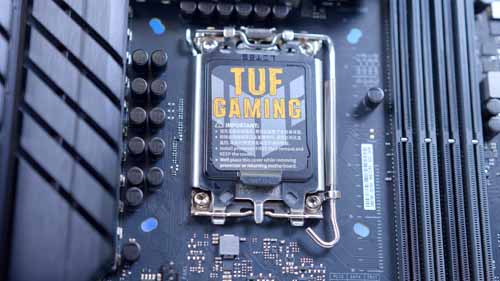 Unfortunately, the motherboard does look a little bare in some places. ASUS could have fixed this by reducing the amount of PCB exposure on this design, which would aid in both looks and cooling. And in regards to performance, the 16+1 VRM power phases will allow for modest overclocking, particularly on the i5 13600K, there are boards which provide better power delivery for the price.
Where to Buy
Buy the ASUS TUF Gaming Z790-Plus WiFi D4 on:
4. MSI MPG Z790 Carbon WiFi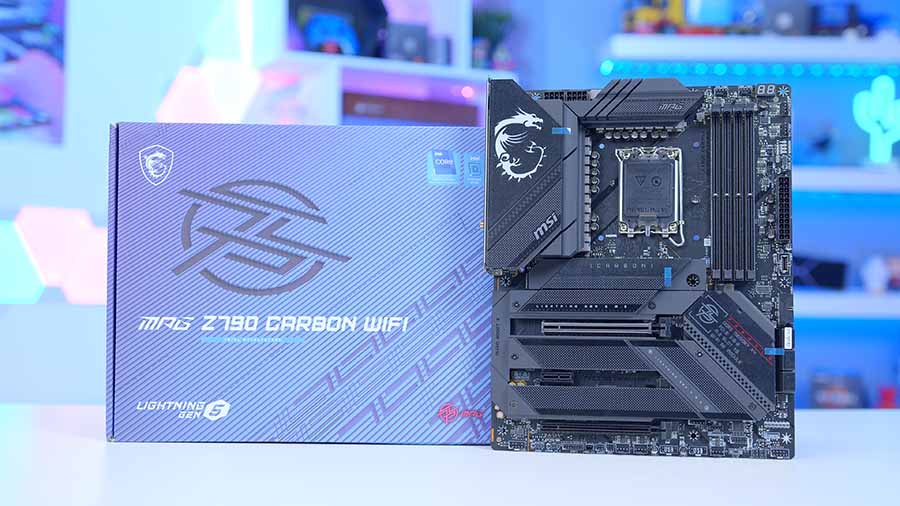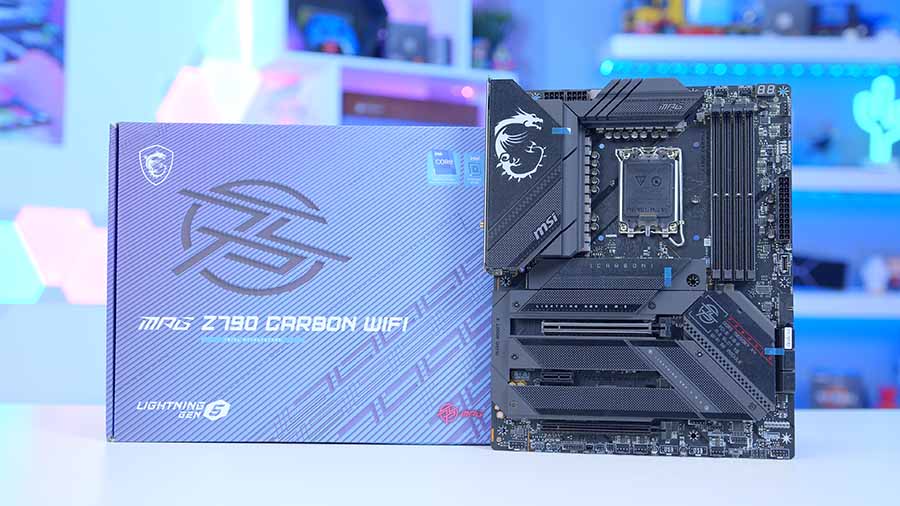 MSI's MPG Z790 Carbon WiFi is another DDR5 motherboard that we've reviewed in full, offering a wide range of features perfect for a mid-range or high-end gaming PC. This impressive motherboard also looks the part, with plenty of heatsinks about the design that help keep components cool and the board looking premium. With MSI's tool-less M.2 heatsinks, you can also install M.2 drives without needing to touch a screwdriver – a great quality of live innovation!
On the overclocking front, you've got a 22 phase power design with plenty of cooling on the VRMs to push your CPU to the next level. This board also sports two Gen5 slots ready for the next generation of graphics cards and storage.
Reinforcement to the very top PCI-E x16 lane helps to prevent GPU sag, and subsequent damage to the motherboard, while MSI's light-up dragon logo adorns the top of the IO and VRM cooling. This can be easily customised within the MSI Mystic Light software suite.
Finally, on the rear IO, you've also got access to a wide variety of high speed USB ports designed to bring optimal connectivity and transfer speeds when connecting a plethora of external devices to you system. From high speed USB 3.2 ports, to WiFi 6E and 2.5 Gigabit LAN, this motherboard is equipped with a range of tools that will result in an optimal user experience.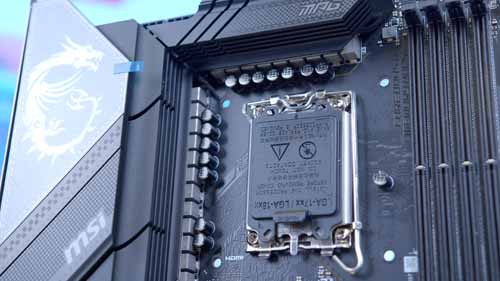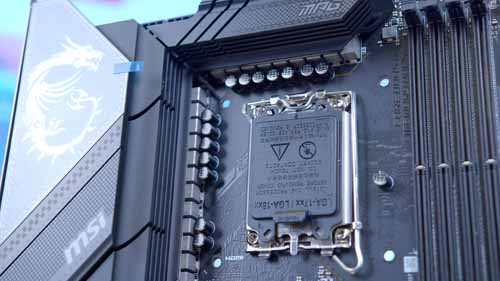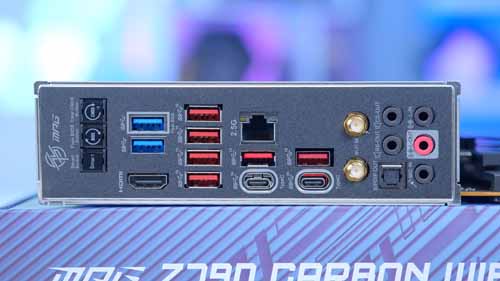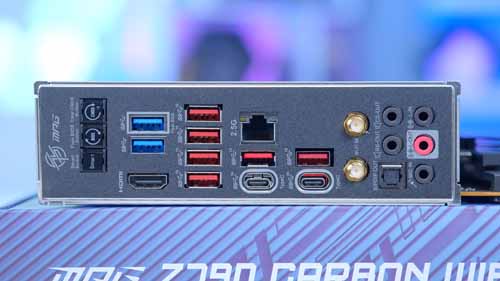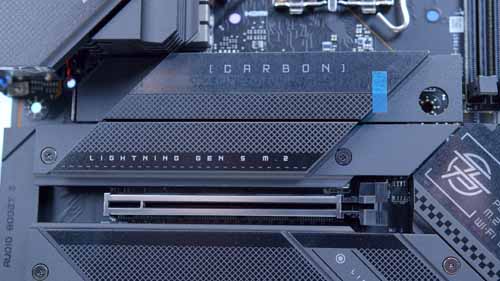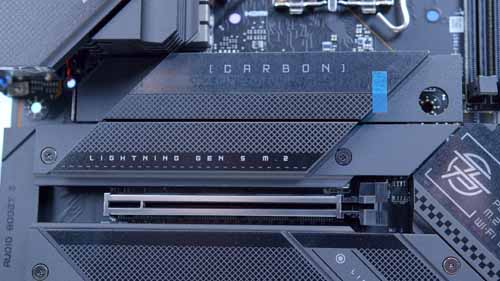 One of the biggest setbacks to this design is the limited number of PCI-E slots. With only two x16 slots and 1 x4 slot, room for expansions and upgrades to storage are fairly limited. Adding to this is the unorthodox layout, caused by the pair of M.2 connections above the PCI-E lane. As a result, the space to install a GPU is moved down by one slot, which can look out of proportion, especially in smaller cases.
Where to Buy
Buy the MSI MPG Z790 Carbon WiFi on:
5. MSI MEG Z790 GODLIKE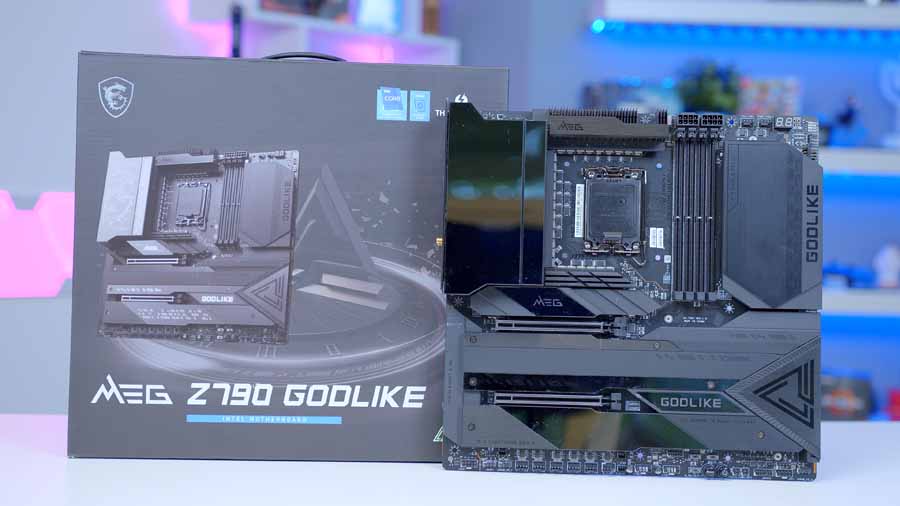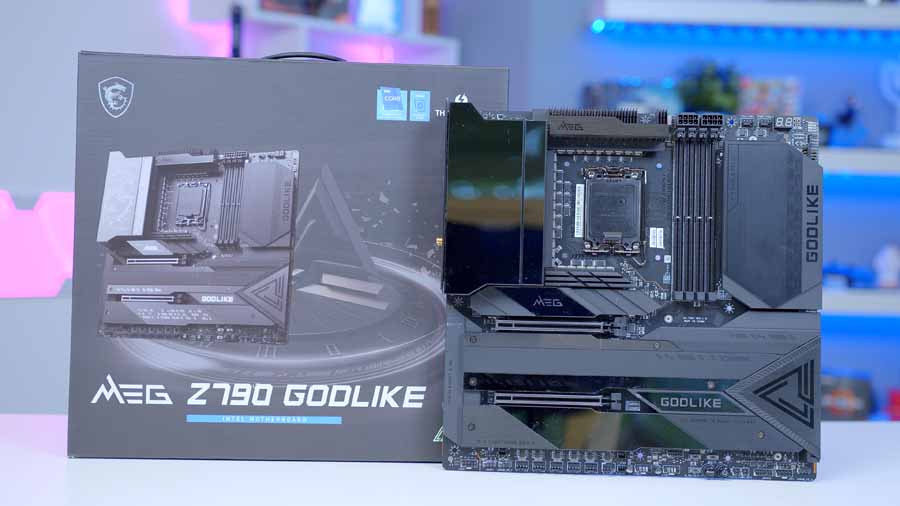 MSI's MEG Z790 GODLIKE is one of my favourite top-end boards, and though this board is rather expensive, you definitely get what you pay for. As a board with such a bold name, you'd expect nothing but the best from the Z790 GODLIKE, and MSI have done as much as they can to deliver such an experience. The design language of this board exudes 'high-end', with a splattering of RGB lighting across the motherboard and heatsinks.
In terms of features, the Z790 GODLIKE includes plenty of luxurious connections that will allow consumers to put together an extremely powerful PC that can run any gaming or productivity-related task with ease.
For example, the Z790 GODLIKE can support up to a whopping 192GB of DDR5 memory, which can be overclocked to 7800MHz. This lets users take advantage of the best DDR5 RAM kits on the market, which will undoubtedly result in very reactive and fluid gameplay, even when cranking up the settings.
As for the rear IO connectivity, the Z790 GODLIKE delivers a bundle of premium ports to plug into. WiFi 6E, 2.5 Gigabit LAN, PCI-E 5 and Thunderbolt 4 – you name it, this board has it! Combined with the support for high-end components like PCI-E 5.0 GPUs and SSDs, this board is perfect for a workstation or a high-end gaming PC build that will be accompanied by a plethora of luxurious peripherals and accessories.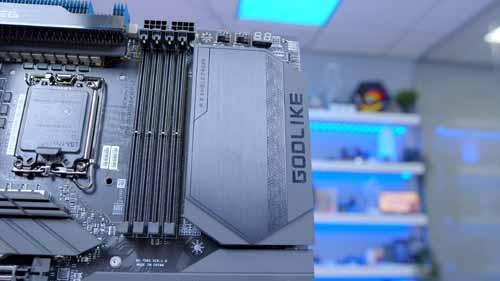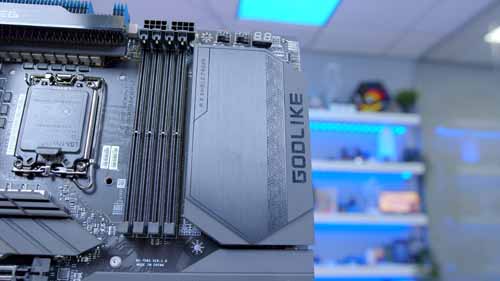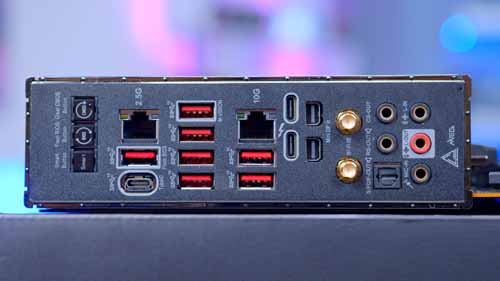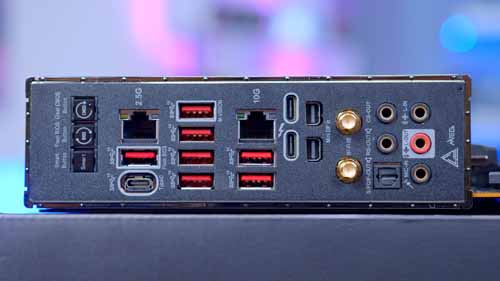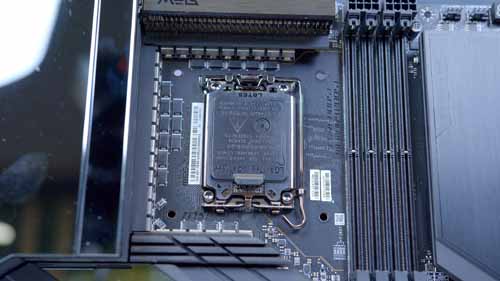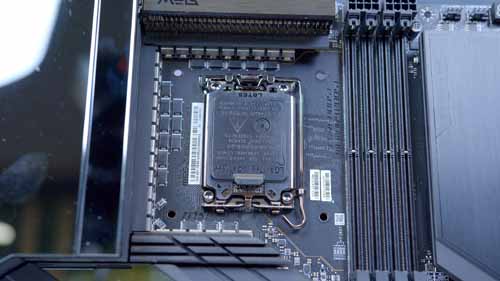 But even flagship motherboards are not all glitz and glamour, and the Z790 GODLIKE is no different. For one, this design comes with a rather extortionate price tag. To make the matter worse, the Z790 GODLIKE lacks compatibility with a lot of more affordable PC parts such as DDR4 RAM or more compact PC cases, mainly due to its massive E-ATX form factor. Because of this, the Z790 GODLIKE is a motherboard that is reserved for wealthy PC building enthusiasts.
Where to Buy
Buy the MSI MEG Z790 GODLIKE on:
Motherboard Compatibility
The myriad of chipsets and socket types can be a major point of contention for a first-time builder based on compatibility issues. Ensuring you choose the right chipset is important when picking of feature sets for your PC build, but it is also vital to choose a supported chipset, so you don't end up damaging your CPU and losing some money.
Fortunately, all of the new 13th-Gen CPUs are supported on the Z790 motherboards. And even better news, all of the 12th-Gen CPUs are supported on the Z790 chipset as well. So if you're looking to build a PC with a cheaper CPU, but with one of the new 13th-Gen motherboards, this is a viable option. But beware, these are the only CPUs that are supported on the Z790 chipset. Unfortunately 11th and 10th-Gen ranges are not supported because the CPU socket is entirely different. You can find a full Z790 CPU compatibility table below: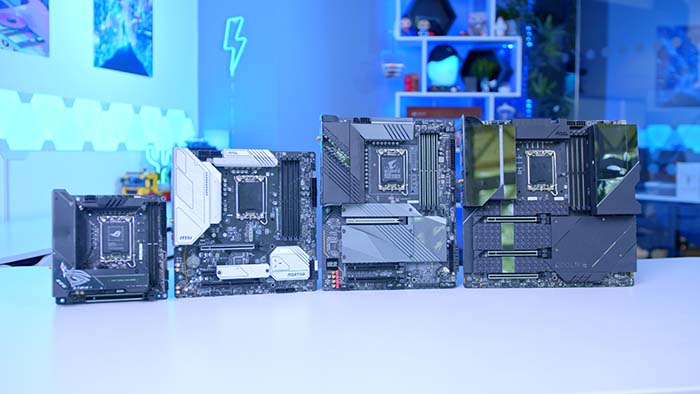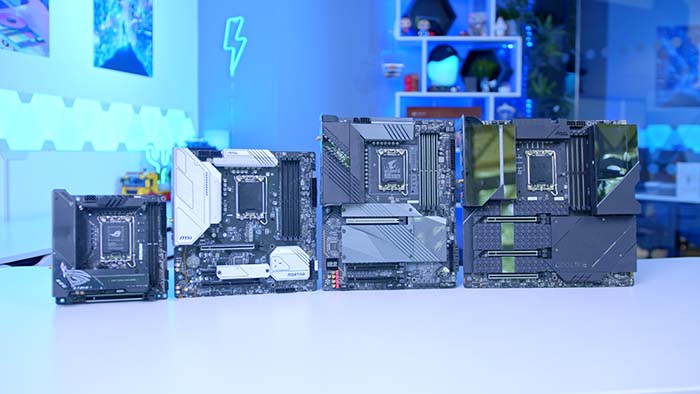 CPU Range
CPU Socket
Compatible Chipset
Intel 13th-Gen CPUs
LGA 1700
Z790, B760, H770

Z690, H670, B660, H610 (with a BIOS update)
Intel 12th-Gen CPUs
LGA 1700
Z790, B760, H770 (with a BIOS update)

Z690, H670, B660, H610
Intel 11th-Gen CPUs
LGA 1200
Z590, H570, B560, H510
Intel 10th-Gen CPUs
LGA 1200
Z590, H570, B560, H510
Frequently Asked Questions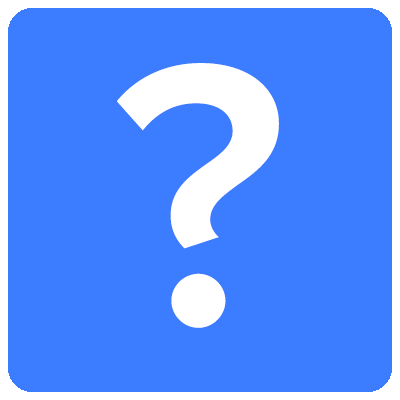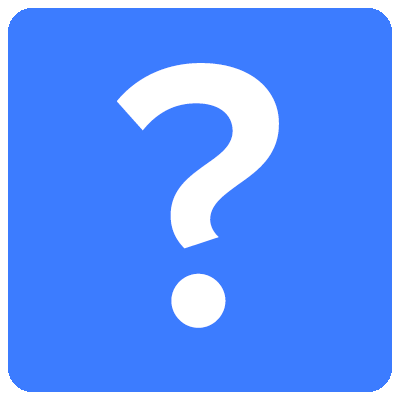 Is the Z790 Chipset better than Z690?
The Z790 chipset is an updated version of Z690 that brings a small amount of new features. The main difference is that Z790 suppors 13th generation processors out of the box.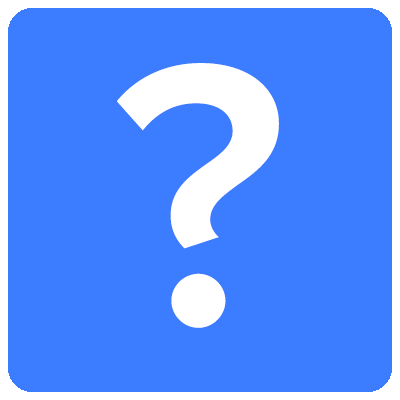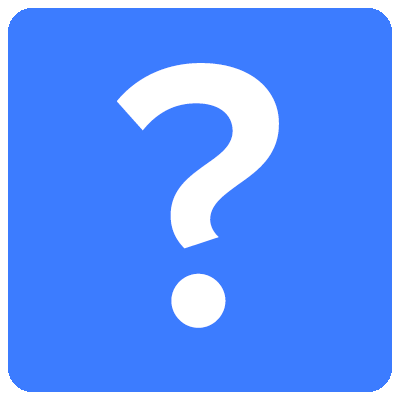 Do you need a Z790 Motherboard for 13th Gen Processors?
While Z790 support Intel 13th Gen, it isn't the only chipset to do so. Older Z690 designs also support 13th Gen chips with a BIOS update.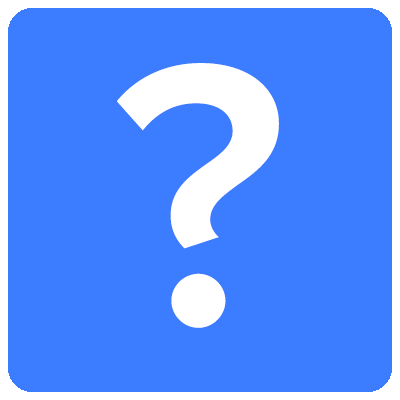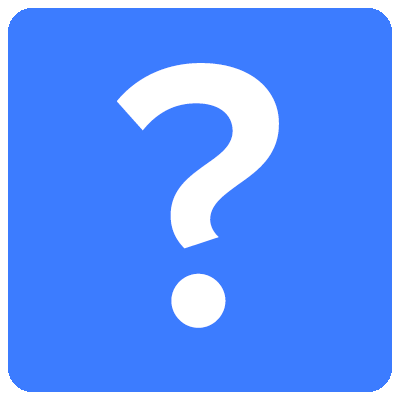 How much do Z790 motherboards cost?
Z790 motherboards typically cost between $250 and $400. Top-end designs can cost more for high-end overclocking and connectivity features.