Introduction
AMD's brand new Ryzen 3D SKUs have been announced, and we're very excited to see what kind of performance is on offer. AMD's V-Cache technology was a bit of an underdog during the Ryzen 5000 era of CPUs, and we've been hoping for AMD to announce further improvements with new SKUs.
Although the Ryzen 7000 launch was somewhat underwhelming, we're hoping that the new 3D variants could put AMD back on the map when it comes to gaming and workstation performance. However, for first-time builders these new 3D SKUs might be not be a well known commodity.
In this article we'll be delving into what exactly the Ryzen 3D variants are, and what the best motherboards are to pair up with this promisingly powerful CPU. We'll be delving into a range of options from more price-conscious choices, up to mid-range and slightly more expensive picks.
Suggested Article: AMD Ryzen 9 7900X Review – Architecture, Performance & Benchmarks
Our Top Motherboard Picks
AMD's brand new Ryzen 9 7950X3D looks to be an awesome high-end CPU designed to outperform it's Intel counterparts, and non-3D variants, but without any overclocking capability. All of the boards in this roundup are excellent top-end designs prioritising an excellent set of features, at varying price points.
1. Gigabyte X670E AORUS Master
👑 The best all-rounder motherboard for Ryzen 7 7950X3D.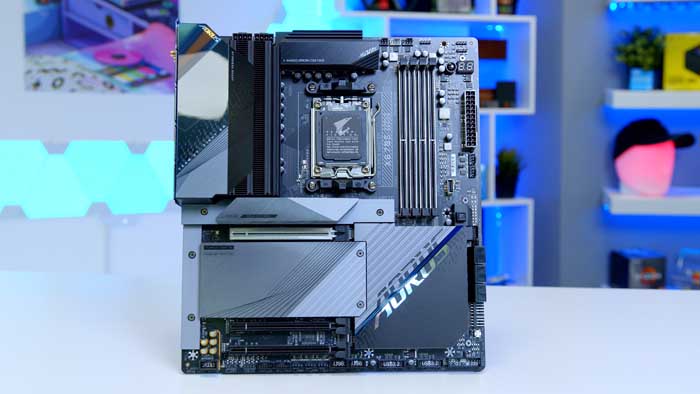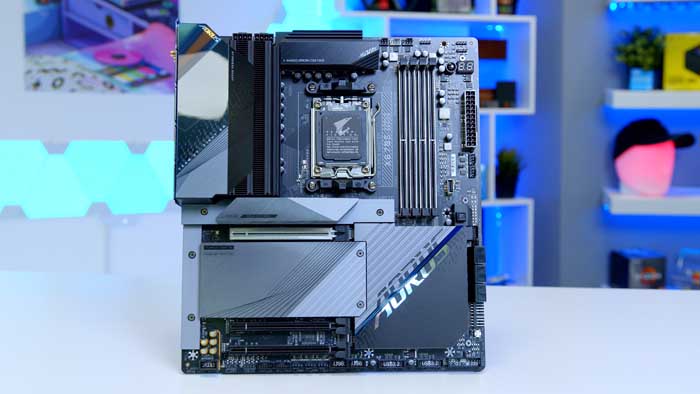 Introduction
Making a return as the first entrant in our roundup is Gigabyte's X670E AORUS Master. We've reviewed this motherboard in full before, and it is an awesome pick for a high-end build. This E-ATX design is a bit heavier on the heatsinks, but this covers up some of the PCB whilst also adding some depth to the board. RGB lovers also won't be disappointed, as the rear IO heatsink also offers a small RGB display which can be fully customised using Gigabyte's RGB Fusion software. Overall, this is a great looking board if you prefer a darker aesthetic with minimal RGB.
Features wise, you're absolutely spoiled for choice with the AORUS Master. PCI-E 5.0 is a mainstay here, with the primary GPU slot and two SSDs providing compatibility with the latest generation of speeds and bandwidth. This allows consumers to upgrade a range of components in the future when they release. Ports wise, the AORUS Master has it's fair share of high speed options, with USB 3.2 Gen2 making up the most of the rear IO. The majority of consumers are going to be pretty happy when it comes to the sheer amount of ports on this board.
Key Specs
| Key Specs | Gigabyte X670E AORUS Master |
| --- | --- |
| Form Factor | E-ATX |
| Supported Memory | 128GB DDR5 6666MHz |
| PCI-E x16 Slots | 1x PCI-E 5.0, 1x PCI-E 4.0, 1x PCI-E 3.0 |
| PCI-E x4 Slots | 2x PCI-E 5.0, 2x PCI-E 4.0 |
| Rear IO | 1x USB 3.2 Gen2x2 Type-C, 5x USB 3.2 Gen2, 4x USB 3.2 Gen1, 2x USB 2.0 |
| Networking | 2.5 Gigabit LAN, WiFi 6E |
Things We Like
PCI-E 5.0 support: For X670E motherboards, PCI-E 5.0 is somewhat of a standard inclusion, but the amount of slots available varies in each design. By no means does this design from Gigabyte include a ridiculous amount of PCI-E 5.0 support, but it does provide more than enough for gamers to experience high-quality gaming, whilst still leaving plenty of room for upgrades to future components as soon as they release.
Strong connectivity: In conjunction with the wide array of PCI-E slots featured on this design, the Gigabyte AORUS Master also contains plenty of connectivity options on the rear IO. On top of a choice between Ethernet and WiFi for online connections, this motherboard includes 10 USB 3.2 ports, one of which being a USB-C connection, meaning gamers should have no problems connecting their gaming peripherals into their systems.
Things We Don't Like
E-ATX form factor: The one major caveat of having such versatile connectivity options is that it normally leads to a larger form factor. That's exactly what's happened with this design, as the AORUS Master is an E-ATX motherboard, which may cause problems for gamers that want to keep their builds fairly compact. Whilst there are a number of PC cases that can house an E-ATX motherboard, they can take up a lot of room and often come with a much heftier price tag.
Lack of USB4: It is still fairly uncommon to see a motherboard that integrates a USB4 port into its feature-set, which is why it's not shocking to see that it is absent from this design. However, having such a high-speed cable for high-end gaming peripherals and even the potential for external displays is an easy way to elevate the gaming experience to the next level. Though we understand why it wasn't added, including such a feature would have greatly increased this motherboard's value to high-end gamers.
Summary
The Gigabyte X670E AORUS Master is a versatile motherboard that has more than enough features to satisfy the most demanding gamers out there, whilst also leaving space for future upgrades. Along with a very sophisticated aesthetic, this motherboard has plenty of PCI-E 5.0 support and a strong amount of USB ports on the rear IO, allowing gamers to connect components and peripherals to their heats content. Whilst the larger form factor might be a sticking point for some, this won't be a problem for most gamers looking for a motherboard at this price point.
Pros
Widespread PCI-E 5.0 support.
Bountiful set of rear IO.
Strong networking options.
Cons
E-ATX form factor can limit case choices.
No USB4 ports.
Where to Buy
Buy the Gigabyte X670E AORUS Master on:
2. MSI MEG X670E ACE
👑 The best high-end motherboard for Ryzen 7 7950X3D.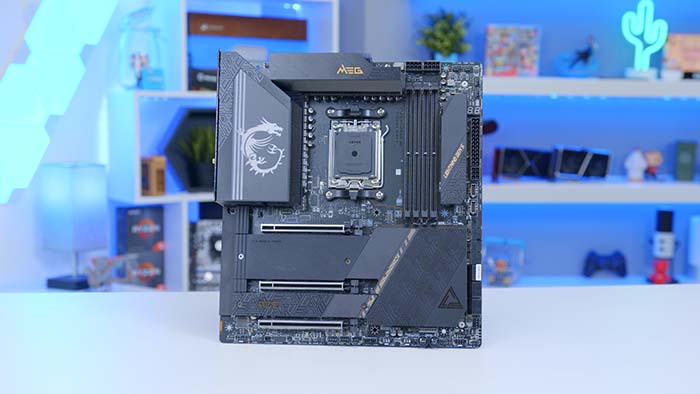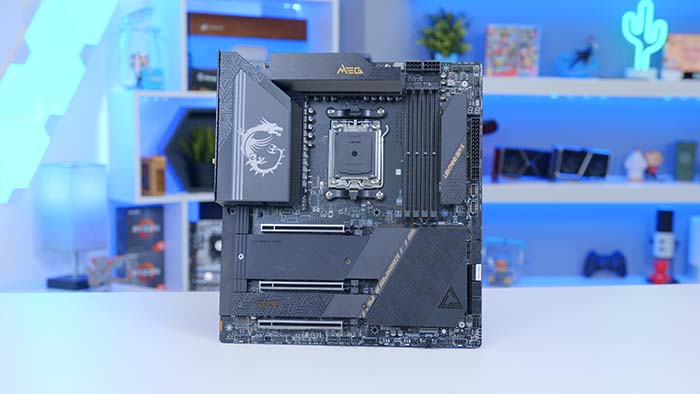 Introduction
MSI's MEG X670E ACE is one of those motherboards that you hear about or see in extreme PC builds, and this is why it has featured in our roundup. Ultimately, the majority of consumers probably won't want to spend this much money on a motherboard, but if you do, the X670E ACE from MSI will not disappoint. The board offers this awesome black and gold contrasting aesthetic which is reflected in various logos across the board, and patterns seen on the heatsink. If you're looking for a more minimalist and sophisticated design, MSI have definitely got you covered.
When it comes to features, I don't even really know where to start. The ACE is an E-ATX board, so it is on the larger side, but for that reason, there's plenty of space for a ridiculous set of features. Equipped with four PCI-E 5.0 x16 slots, three Gen5 M.2 slots (if you're including the add-on card that comes in the box), and an insane amount of USBs. This board doesn't have the most amount of USBs we've seen on a motherboard, but it does offer only high speed options that are rated up to 10Gbps and 20Gbps. Not to mention this board also has 10 Gigabit LAN ideal for content creators, or those that want to play games without a networking hitch.
Key Specs
| Key Specs | MSI MEG X670E ACE |
| --- | --- |
| Form Factor | E-ATX |
| Supported Memory | 128GB DDR5 6666MHz |
| PCI-E x16 Slots | 3x PCI-E 5.0 |
| PCI-E x4 Slots | 1x PCI-E 5.0, 3x PCI-E 4.0 |
| Rear IO | 2x USB 3.2 Gen2x2 Type-C, 9x USB 3.2 Gen2 |
| Networking | 10 Gigabit LAN, WiFi 6E |
Things We Like
Lots of PCI-E 5.0 slots: Those wanting a motherboard that is completely futureproofed will have no problems here, as the MEG X670E ACE is full of PCI-E 5.0 support, especially for graphics cards. With all three GPU slots supporting PCI-E 5.0, along with a PCI-E x4 slot for the inevitable Gen5 SSDs, this motherboard is more than prepared for the next generation of components, meaning this investment won't become outdated anytime soon.
Strong networking: There are a lot of great connectivity options included on the rear IO for this motherboard, but the one that stands out the most is the 10 Gb LAN port for high-speed wired connectivity. Normally reserved for large servers, this cable with provide consumer with extremely fast and reliable internet, which is great for those looking to use their PC as a workstation and gaming hybrid.
Things We Don't Like
E-ATX form factor: Just like the previous entry in this roundup, the luxurious connectivity comes at the cost of an increased form factor. Whilst the larger E-ATX motherboards won't be much an issue for most PC enthusiasts that will be picking up high-end components like this one, it could be an expensive mistake for those looking to make a compact PC build.
Very pricey: As one of the most luxurious motherboards on the market, the MEG X670E ACE comes with a price tag that is quite frankly ludicrous. Whilst there's no doubt that the features provided make this design one of the best options on the market, anyone shelling out this much on a motherboard would be able to get a high-end GPU or CPU for the same price. Therefore, this motherboard is only for those with plenty of money to spare.
Summary
As one of the most luxurious options on the market, the MSI MEG X670E ACE goes above and beyond to provide the ultimate gaming experience. Donning a black and gold look, this motherboard is packed with high-quality features for gamers wanting top-tier performance and connectivity when gaming or completing productivity tasks. Whilst the features and design reflect the premium feel of this motherboard well, the premium feel is also reflected in the form factor and pricing.
Pros
Sophisticated black and gold design.
All the Gen5 slots!
Ridiculous set of high speed USB ports.
Cons
Definitely one of the most expensive options.
No USB4 compatibility.
Where to Buy
Buy the MSI MEG X670E ACE on:
3. ASUS ROG STRIX X670E-E Gaming WiFi
👑 The best gaming motherboard for Ryzen 7 7950X3D.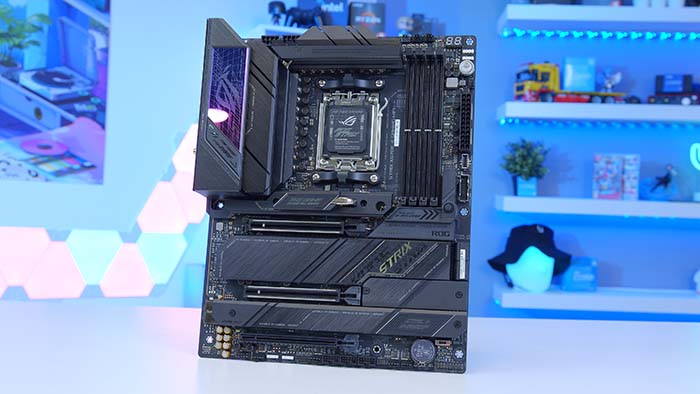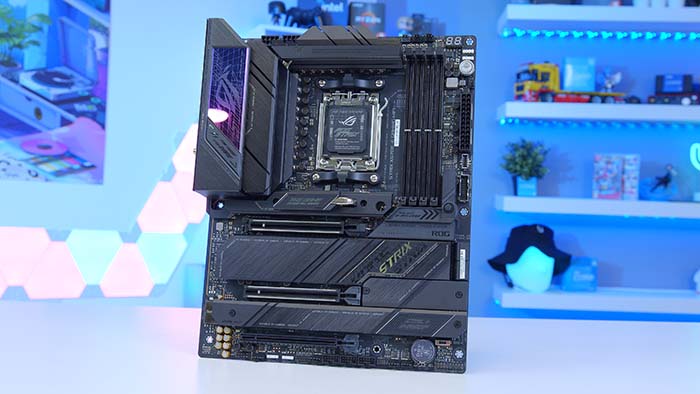 Introduction
Next up in our roundup is another insane motherboard, but this time from ASUS. The X670E-E is a motherboard that we reviewed in full during the Ryzen 7000 launch, and needless to say we weren't disappointed. ASUS have taken inspiration from their 'Dark Hero' range of boards, applying a similar aesthetic to this board. The ROG STRIX X670E-E has an all-black look, which has been taken up by a mass of heatsinks covering the majority of the PCB. This adds some extra depth, and better thermals for your SSDs.
Looking at the features, the X670E-E has a ridiculous amount of USB ports, with 13 in total. This is a gargantuan amount of ports, and is one of the few boards to house this many high speed ports for you to install various accessories and peripherals. Upgradeability front, consumers will be happy to know that this board offers multiple Gen5 slots, allowing users to install the new generation of components when they release. DDR5 RAM overclocking capability is relatively solid, with a max of 6400MHz using default EXPO or XMP settings.
Key Specs
| Key Specs | ASUS ROG STRIX X670E-E Gaming WiFi |
| --- | --- |
| Form Factor | E-ATX |
| Supported Memory | 128GB DDR5 6400MHz |
| PCI-E x16 Slots | 2x PCI-E 5.0. 1x PCI-E 4.0 |
| PCI-E x4 Slots | 2x PCI-E 5.0, 1x PCI-E 4.0 |
| Rear IO | 1x USB 3.2 Gen2x2 Type-C, 12x USB 3.2 Gen2 |
| Networking | 2.5 Gigabit LAN, WiFi 6E |
Things We Like
PCI-E 5.0 support: Having a motherboard with the ability to upgrade to future components will save PC enthusiasts a lot of money in the long run, which is why it's always a nice bonus to see PCI-E 5.0 slots on a design. This board from ASUS is no exception, as the ROG STRIX X670E-E has two PCI-E 5.0 slots for both GPUs and SSDs, providing enough futureproofing to support high-end components for years to come.
Gamer aesthetic: Whilst the designs on the other previous motherboards featured in this roundup will be appealing to gamers, they possess a more professional look than most gaming motherboards. However, the ROG STRIX X670E-E hones in on the gamer aesthetic with a darker base and ASUS ROG insignia on the heatsinks, which will blend in better with more conventional gaming PCs.
Things We Don't Like
E-ATX form factor: We're starting to sound like a broken record, but it's always worth mentioning when a motherboard possesses an E-ATX form factor to avoid disappointment later on. One of the main issues that a lot of consumers have with gaming PCs is size, causing compact cases to become more popular as a result. However, the large nature of this motherboard would make a compact PC impossible, making it a bad choice for anyone looking to keep the size of their PC to a minimum.
Lack of RGB: Despite featuring a look that is more appealing to typical gamers, this motherboard lacks the one thing that modern gamers love most – RGB! Whilst this design does feature some RGB lighting, it won't be enough to provide RGB lovers with the bright colours they are looking for.
Summary
Overall, the ASUS ROG STRIX X670E-E Gaming WiFi is another X670E motherboard that combines optimal performance with a vast amount of connectivity. Plus, the PCI-E 5.0 support and abundance of high-speed USBs on the rear IO ensures that this motherboard will last for a number of years. Though the lack of RGB would have provided a better aesthetic for gamers, this motherboard is a great choice for those wanting a high-end design that will fit perfectly into a gaming PC.
Pros
Gargantuan amount of USB ports.
Offers Gen5 compliance.
Dark aesthetic will blend in well with many builds.
Cons
Not much in the way of RGB.
No USB4 or 10 Gigabit LAN ports.
Where to Buy
Buy the ASUS ROG STRIX X670E-E Gaming WiFi on:
[adrotate banner="7″]
4. ASUS TUF Gaming X670E-Plus WiFi
👑 The best value motherboard for Ryzen 7 7950X3D.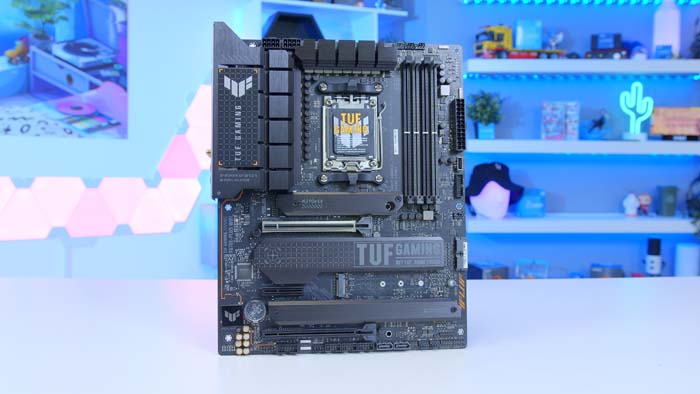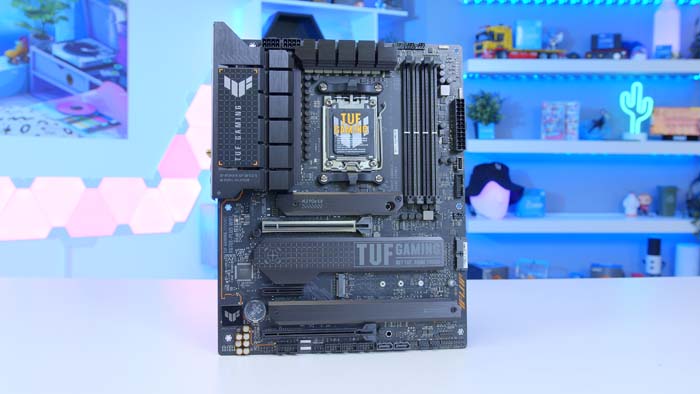 Introduction
Next up is another option from ASUS, but from their TUF range of boards. This is again, another motherboard that we've taken a look at in more detail, and this is a worthwhile option for the more price-conscious buyer. ASUS's TUF motherboard have always offered a fine balance between features and aesthetic. Consumers will notice that this particular board is more exposed and bare in terms of aesthetic, but what it lacks in design it makes up for in features. I'd say overall, the TUF Gaming aesthetic looks great, and the industrial theme looks awesome.
Features wise, the TUF Gaming X670-E Plus comes with integrated WiFi 6E allowing consumers to keep cable management to a minimum, but 2.5 Gigabit LAN is an option for those that prefer a more stable and wired connection. This board does have less PCI-E 5.0 compatibility with a singular slot for GPUs and SSDs, but this still offers some upgradeability for the future. USB ports are still very strong overall, offering less compared to other boards, but still providing a mass of high speed options to choose from.
Key Specs
| Key Specs | ASUS TUF Gaming X670E-Plus WiFi |
| --- | --- |
| Form Factor | ATX |
| Supported Memory | 128GB DDR5 6400MHz |
| PCI-E x16 Slots | 1x PCI-E 5.0. 1x PCI-E 4.0 |
| PCI-E x4 Slots | 1x PCI-E 5.0, 2x PCI-E 4.0, 1x PCI-E 3.0 |
| Rear IO | 1x USB 3.2 Gen2x2 Type-C, 4x USB 3.2 Gen2, 5x USB 3.2 Gen1 |
| Networking | 2.5 Gigabit LAN, WiFi 6E |
Things We Like
Great value: It's hard to consider any motherboard with a X670E chipset a budget option, but this board is probably the closest you can get. As the cheapest option on this list, the TUF Gaming X670E-Plus is hindered slightly by the reduced price point, but manages to keep up with the more expensive alternatives. Becuase of this, it is a great choice for more money-conscious PC gaming enthusiasts.
ATX form factor: As well as being the cheapest option in this roundup, this motherboard is the smallest thanks to its ATX design. This is going to be a major advantage for a lot of gamers, as ATX motherboards are the easiest designs to find a compatible PC case for. As a result, those upgrading their PC will be more likely to be able to use their pre-existing case, and new builders will have greater range of cases to choose from.
Things We Don't Like
Less PCI-E 5.0 support: The reduced size and pricing of this motherboard does restrict the amount of features that can be included in this design. For example, the PCI-E 5.0 slots for both graphics cards and storage are limited to a single slot, which limits the upgradeability of a gaming rig. Although, these slots still provides enough futureproofing to support at least one PC upgrade in a few years time.
Lower performance: Another limitation to this motherboard is the performance capabilities. The performance provided on this motherboard will provide a impressive 4K gaming experience, the connectivity provided makes it fall behind the more expensive alternatives. Even though these changes in performance will be marginal, it makes this board less ideal for those high-end gamers wanting the best performance possible.
Summary
This motherboard is one of the cheapest X670E motherboards that gamers can get their hands on right now, which makes it a great value choice for high-end gaming PC builds that don't have an unlimited budget. Despite the significantly lower price point, the ASUS TUF Gaming X670E-Plus WiFi packs enough of a punch to support components capable of providing one of the best gaming experiences available right now, as well as some headroom for future upgrades. Though this motherboard does sit below a lot of the more expensive options in terms of performance and upgradeability, it is an extremely valuable option to consider.
Pros
Lower price point.
Awesome industrial gaming theme.
Strong set of rear IO.
Cons
Gen5 compatibility is weaker.
Aesthetic and design won't be for everyone.
Where to Buy
Buy the ASUS TUF Gaming X670E-Plus WiFi on:
5. ASRock X670E Taichi
👑 The best motherboard design for Ryzen 7 7950X3D.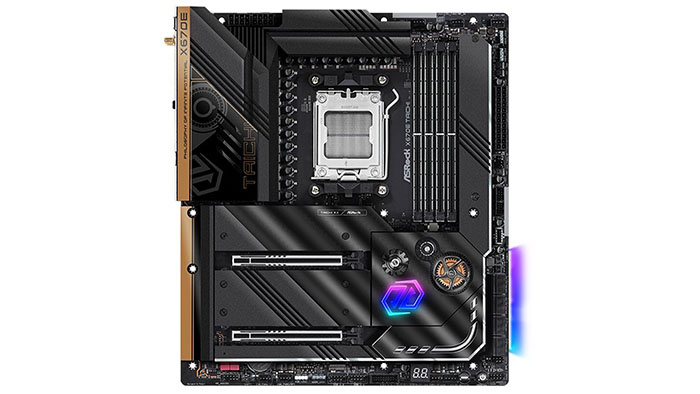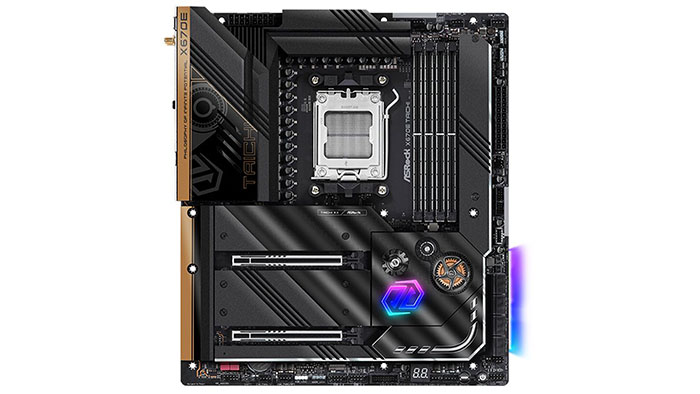 Introduction
For our final board we've picked out ASRock's X670E Taichi, a top-end board, designed with a high-end system in mind. Yes this motherboard is an expensive option compared to much of the other X670E options available, however, you get what you pay for here. ASRock have coated this board in a range of heatsinks, steampunk logos and RGB, making it perfect for those that have the aesthetic of their build in mind. The black and gold aesthetic also offers some nice contrast, adding some extra colour and flair to the board.
Features wise, this board has everything you could ask for. Strong RAM overclocking capability up to 6600MHz, numerous PCI-E 5.0 slots providing upgradeability, and much more. The X670E Taichi offers an excellent set of USBs including USB4, which can reach speeds of up to 40Gbps. This board also features some strong VRM power phases for those that want to change out to an overclockable CPU. Overall this is an excellent motherboard for enthusiasts or those building a high-end system, but this is definitely one of the pricier options out of the bunch.
Key Specs
| Key Specs | ASRock X670E Taichi |
| --- | --- |
| Form Factor | E-ATX |
| Supported Memory | 128GB DDR5 6600MHz |
| PCI-E x16 Slots | 2x PCI-E 5.0 |
| PCI-E x4 Slots | 1x PCI-E 5.0, 3x PCI-E 4.0 |
| Rear IO | 2x USB4 Type-C, 5x USB 3.2 Gen2, 3x USB 3.2 Gen1 |
| Networking | 2.5 Gigabit LAN, WiFi 6E |
Things We Like
USB4 connectivity: The feature-set on this motherboard is very strong in general, but the highlight inclusion can be found on the rear IO. On top of the typical USB 3.2 ports that appear on every X760E motherboard, the ASRock Taichi includes two USB4 ports. This allows any peripherals and external devices connected to these ports to benefit from the higher speeds and reduced latency possible with USB4, and also opens up the possibility of connecting displays via USB-C.
Stunning design: When spending a large chunk of money on a component for a PC build, it doesn't seem like a big ask to get a design that looks as good as it performs. Luckily for those with a focus on curb-appeal, ASRock motherboards always possess an aesthetic that is meant to add some wow factor to any gaming PC. This design in particular adopts a steampunk-inspired black and gold look illuminated by RGB lighting, perfect for those high-end gamers wanting to showcase their very expensive system.
Things We Don't Like
Pricing: Even though this motherboard has plenty of performance and design features to justify a premium price point, it is still an expensive choice reserved for only the most enthusiastic PC builders. Because of this, any high-gamers looking to save money should consider one of the more affordable options on this list.
E-ATX form factor: Yet another E-ATX motherboard to appear in this roundup, the larger form factor on the Taichi may cause some issues when selecting a case. Whilst this won't be a deal-breaker for most high-end gamers, it does restrict a system to a much larger case, which requires more desk space and money.
Summary
The ASRock X670E Taichi is one of the best looking motherboards on the market, and has the top-tier performance to match the stunning steampunk design. Equipped with multiple PCI-E 5.0 slots for both GPUs and storage, along with a rear IO full of reliable connections such as two USB4 ports, this motherboard has all the features needed to offer an optimal gaming experience for the foreseeable future. Whilst this does come at the cost of a larger E-ATX motherboard with a fairly high price tag, it is a great choice for Ryzen 9 7950X3D users.
Pros
Offers USB4 compatibility.
Strong PCI-E 5.0 support.
High RAM overclocking.
Cons
One of the most expensive motherboard options.
E-ATX design might restrict case choices.
Where to Buy
Buy the ASRock X670E Taichi on:
AMD Ryzen 'X3D' Processors – What Are They?
The introduction of AMD's 3D V-Cache did not see fruition until the earlier half of 2022. Although many enthusiasts might have heard about this technology in theory, the 5800X3D was the first mainstream desktop processor to integrate this cache successfully, making this CPU the king of gaming performance.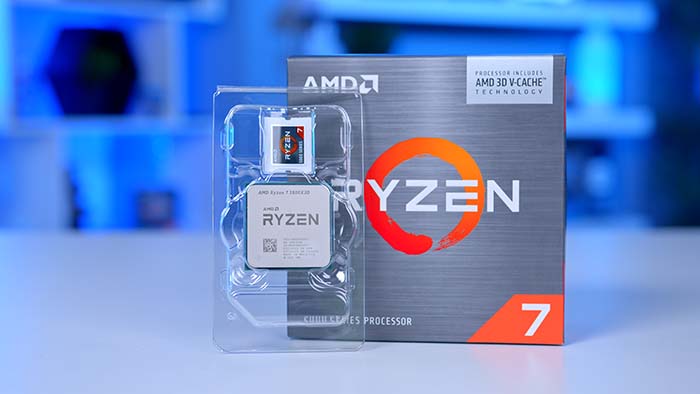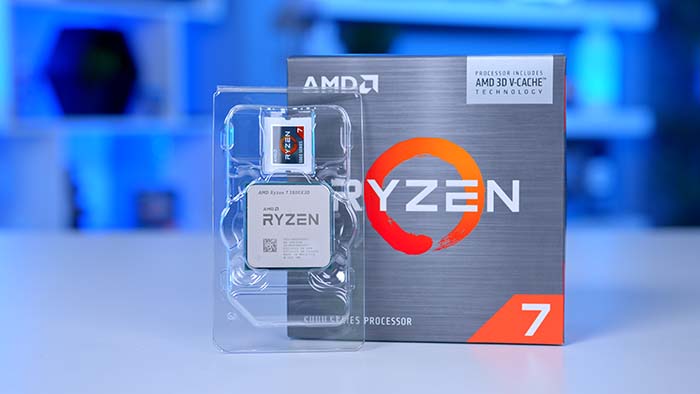 But what is the 3D V-Cache? Effectively AMD have created an extra layer of L3 cache which can hold more instructions for the CPU, resulting in less data being pulled from RAM. This significantly increases processing speeds, because the CPU can process all of these instructions much quicker by having more storage, which in turn will improve framerates, and load times. At the time, the 5800X3D was one of the only CPUs that offered comparative performance to Intel's top-end Core i9 12900K, which was mind-blowing considering the specs of this CPU.
When applying this technology to the Ryzen 7000 range, we could see some massive gains and benefits in performance. The biggest caveat to the Ryzen 7 5800X3D is that the temperature limitations on the V-Cache meant that it had a lower clock speed. This means that while strong in gaming, its performance did not follow suit in productivity applications when compared to other options. However, with the strong metrics that we've already seen from the Ryzen 9 7950X, it is highly possible this CPU could be a big hitter in games and workstation applications.
This doesn't mean that you should pick up one of the new Ryzen 3D SKUs straight away, because we don't know what this CPU has to offer as of yet. There is a possibility that they might not be great value, but if the Ryzen 7 5800X3D is anything to go by, we could see some incredible metrics. It is likely the Ryzen 7 7800X3D will be the big hitter in gaming performance, so we recommend keeping your eyes peeled when April rolls around.
Why X670E Motherboards?
Although AMD has some very strong offerings when it comes to their new chipsets, X670E motherboards will be the go-to option for a high-end and even mid-range builds. The X670E chipset makes no compromises or sacrifices when it comes to features, and thus, these boards will have all of the new slots, and ports that arrived with the AM5 platform. Arguably, we could've picked the B650E chipset too, but I imagine the majority of consumers who are looking to buy a Ryzen 9 7950X3D are probably planning on building a kitted out system with 'all the things'!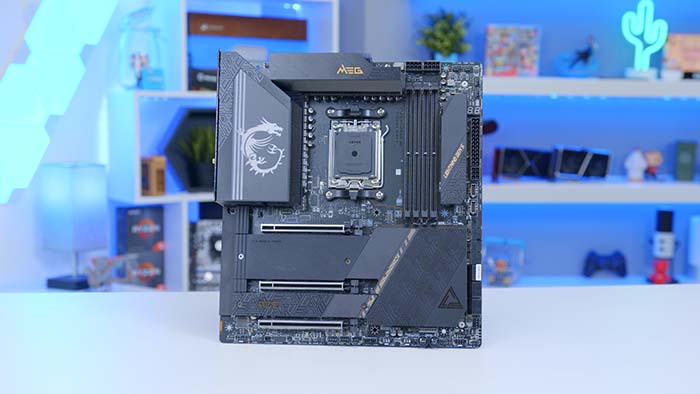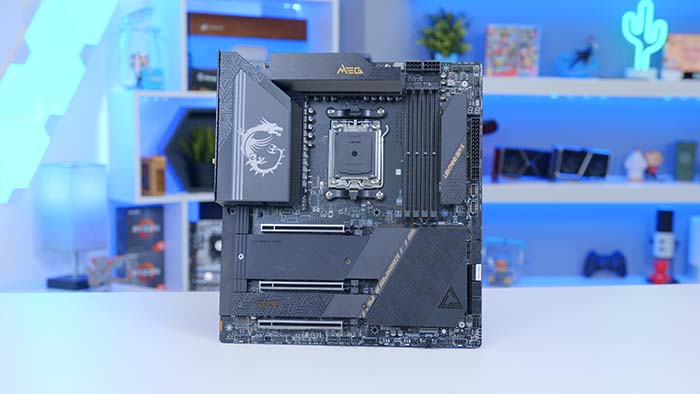 A small point I'd like to make though, is that we've avoided picking boards that have significantly higher VRM counts. This is due to the fact that the 3D SKUs do not have an unlocked core multiplier. Which essentially means you can't overclock the CPU. Although there are some boards on this list that are definitely more capable of overclocking, keep in mind that only RAM overclocking will be possible.
Why You Can Trust Us
Before heading into our recommendations, we want to let you know why you can trust our thoughts on gaming products. Our team of gaming hardware experts spend a lot of time with a wide range of products. During this time, we vigorously test all of the products that through our doors in a range of gaming and general day-to-day scenarios. If you want to know more about the GeekaWhat team, or want more information on our editorial promise, check out the About Us section.
How We Picked the Best Motherboards for Ryzen 9 7950X3D
Here at GeekaWhat HQ, we spend lots of time with a number of different motherboards for PC builds and in-depth analysis. During this time, we put these motherboards through a lot of different tests in order to gain a better understanding of the performance and practicality of each motherboard.
As soon as we're satisfied with the information we have on a particular product, it's time to decide whether it would benefit the average gamer's PC build. We then relay this information to our audience through YouTube videos and buyers guides like this one, where we also offer insight into our experiences with a certain product, along with suggesting what type of gamers would enjoy having it within their gaming setup.
When looking at motherboards specifically, the main factors we take into consideration are connectivity, compatibility, performance, and design choices. After considering all of these factors, we provide a general overview of how this motherboard will impact a typical gaming setup.
For a more detailed look at our testing methods, take a look at some of our reviews for X670E motherboards below:
[adrotate banner="7″]
Conclusion
After weighing up all of the choices on this list, our pick for the best motherboard to pair with the Ryzen 9 7950X3D is the ASUS ROG STRIX X670E-E Gaming WiFi, as this design offers a great blend of performance and connectivity at a price that won't completely obliterate the bank. Looking at the design and specs of this motherboard, it's clear to see it is designed with gaming in mind, which results in a board that will satisfy the current and future needs of gaming enthusiasts in the most efficient way possible.
Alternatively, the ASRock X670E Taichi is a good choice for PC enthusiasts that don't mind spending more for some slight improvements to connectivity and aesthetics.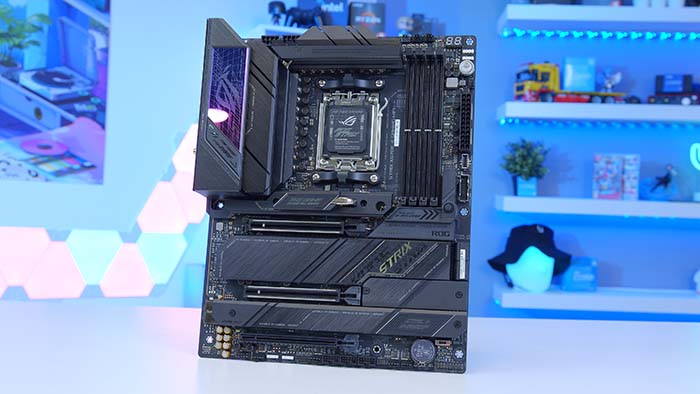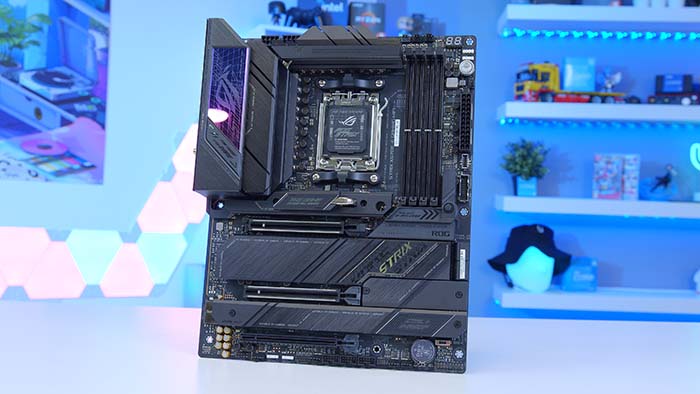 Frequently Asked Questions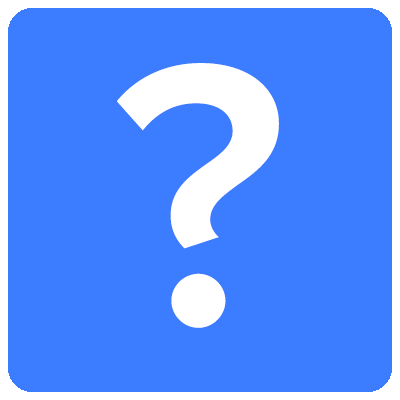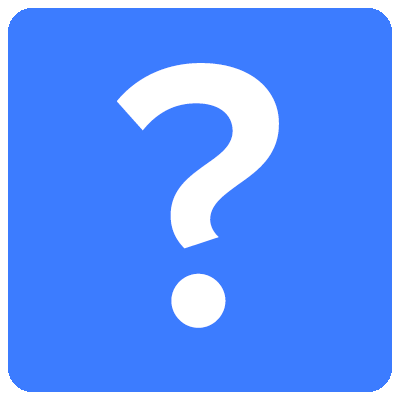 What is the difference between AMD Ryzen 9 7950X & Ryzen 9 7950X3D?
The Ryzen 9 7950X3D is essentially an mid-gen upgrade of the Ryzen 9 7950X that adds another layer of L3 cache to the CPU to create 3D V-cache. This results in boosted clock speeds in gaming scenarios, leading to higher framerates and smoother gameplay on the 7950X3D.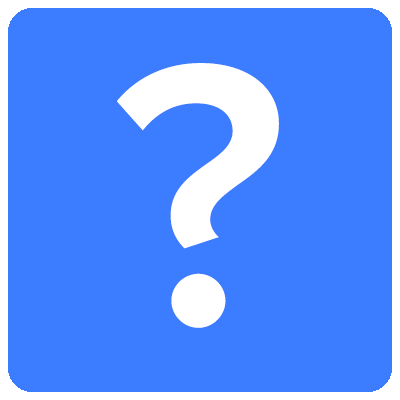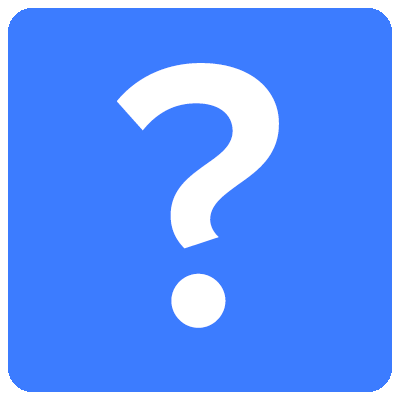 Is the Ryzen 9 7950X3D good for gaming?
The Ryzen 9 7950X3D is simply one of the best processors that you can buy for gaming right now, especially for an AMD-based system. This means that gamers should have no issues running all the latest titles on 4K high settings.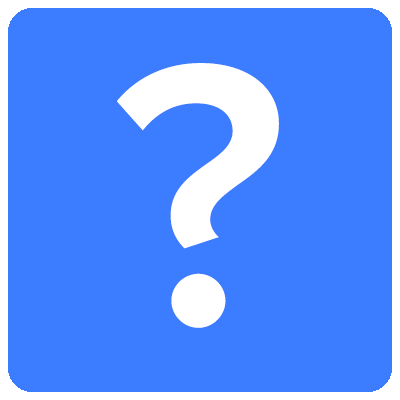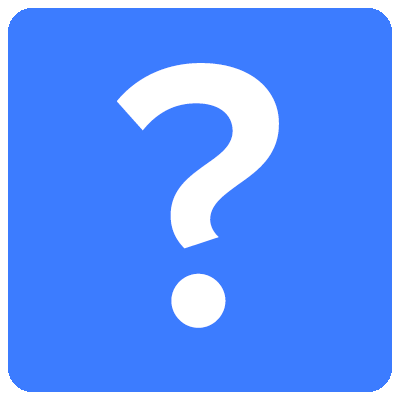 What motherboard chipset is best for the Ryzen 7 7950X3D?
To get the best performance possible from the Ryzen 7 7950X3D, we suggest pairing it up with motherboards containing a X670E chipset, as these boards provide the best connectivity for high-end components, resulting in an optimal 4K gaming experience.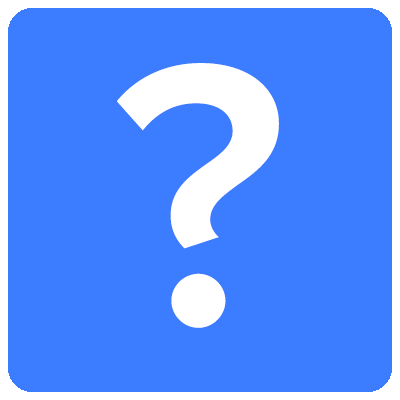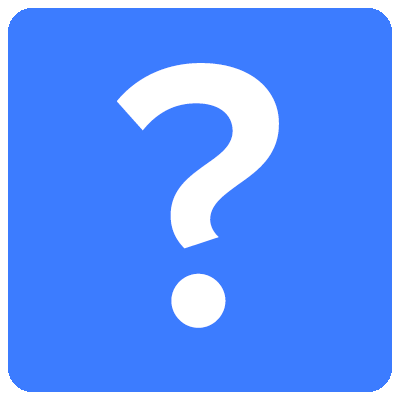 How much money should I spend on a motherboard for the Ryzen 7 7950X3D?
Because this CPU is one of the most expensive options on the market, consumers should be prepared to spend at least $400 on a motherboard to support it, along with other components required in a high-end gaming PC.