Introduction
One of the biggest caveats to AMD's AM5 platform was the significant price hike that came with the upgrade. Consumers are expected to purchase a brand new generation of RAM, a rather pricey CPU, and a motherboard to house all of the aforementioned components. But what are the options if you're trying to be a bit more price conscious with your PC build?
With the majority of AMD's newest motherboards sitting at rather high price points, in this article we'll be taking a look at options from AMD's cheapest chipset. We've rounded up the best B650 motherboards to buy, we'll be taking a look at a number of options at varying price points with a plethora of features.
Best B650 Motherboard: Gigabyte B650 Gaming X AX
During our testing we found Gigabytes B650 Gaming X AX to be the best B650 motherboard. With strong memory overclocking capabilities, combined with a strong price point and a healthy amount of connectivity options both for USB and internet connections, the Gigabyte B650 Gaming X AX offers the best value for money in our opinion.
The B650 Gaming X AX motherboard will fit right a home in a wide variety of Gaming PC Builds.
Suggested Article: AMD Ryzen 5 7600X Review – Architecture, Gaming Benchmarks & Thermals
All B650 Motherboards in Our Testing Roundup
ASUS TUF Gaming B650M-Plus WiFi
ASUS ROG STRIX B650-A Gaming WiFi
Our Recommendations
1. MSI MAG B650M Mortar WiFi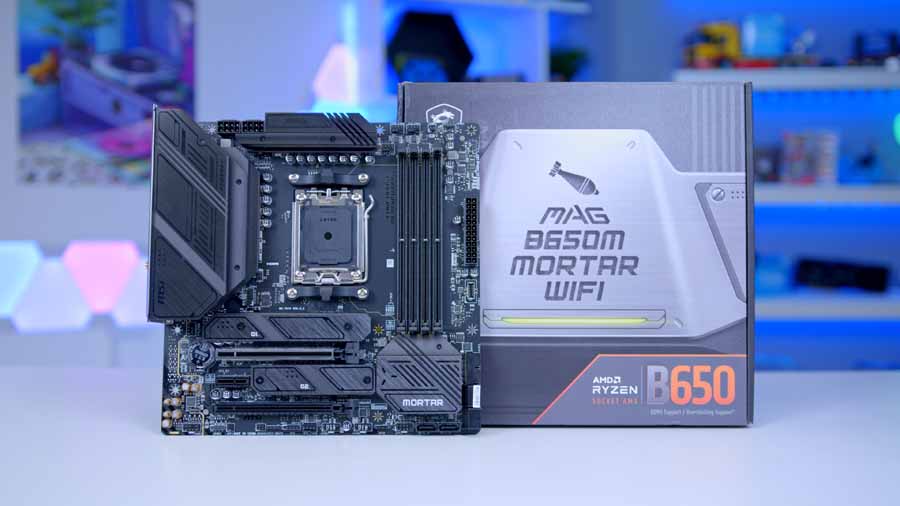 One of the best B650 motherboards is the MAG B650M Mortar WiFi from MSI. This is a motherboard that we've reviewed in full during the launch of the B650 chipsets. Overall, the MAG B650M is an excellent mid-range offering sitting at a much stronger price point than its $239 MSRP. Although the MAG B650M doesn't offer much in terms of RGB, this particular board has an all-black aesthetic that will suit a variety of builds, and is relatively easy on the eyes.
Despite sporting a Micro-ATX form factor, MSI have crammed this board with plenty of slots and ports the rear IO in particular is made up of entirely high speed slots.
Consumers will be able to make use of NVIDIA's and AMD's latest graphics cards too, with MSI's MAG B650M supporting all of the current-gen options from AMD and NVIDIA with the dual PCI-E 4.0 slots. The MAG B650M Mortar doesn't lose out on RAM support, still capable of housing 128GB DDR5 memory, very impressive given the Micro-ATX size.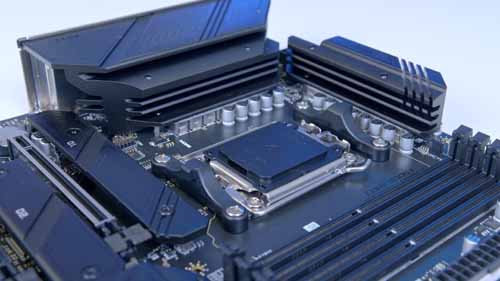 MSI's MAG B650M Mortar doesn't support PCI-E 5.0. Although the roll-out of Gen5 components has been relatively slow, those looking to best future proof may need to look elsewhere. Elsewhere, we love to see motherboards that strike a balance between form and function, but MSI's MAG B650M Mortar offers a much cheaper bare aesthetic that won't be popular with all consumers.
Buy the MSI MAG B650M Mortar WiFi on:
2. ASUS TUF Gaming B650M-Plus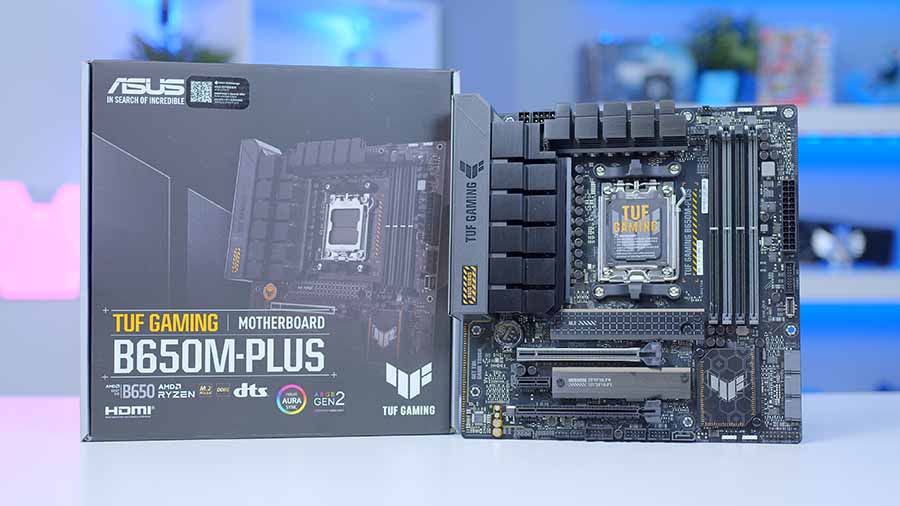 With support for up to 192GB of RAM and a Gen5 slot, those looking to upgrade in the future are covered with this motherboard. With an MSRP of $239, the TUF Gaming B650M-Plus sits at a solid price point for a Micro-ATX board with Gen5 capabilities.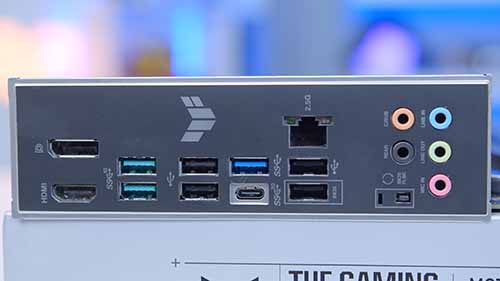 ASUS TUF B650M-Plus however, doesn't support WiFi 6E. Whilst not a huge deal breaker for most, we found other B650 motherboards on the market to have WiFi 6E capabilities for a similar price point. RGB is another area where the TUF B650M-Plus falls flat, again whilst not a necessity, consumers looking to custom colour match their Gaming PC builds will need to look elsewhere.
Buy the ASUS TUF Gaming B650M-Plus on:
3. Gigabyte B650 Gaming X AX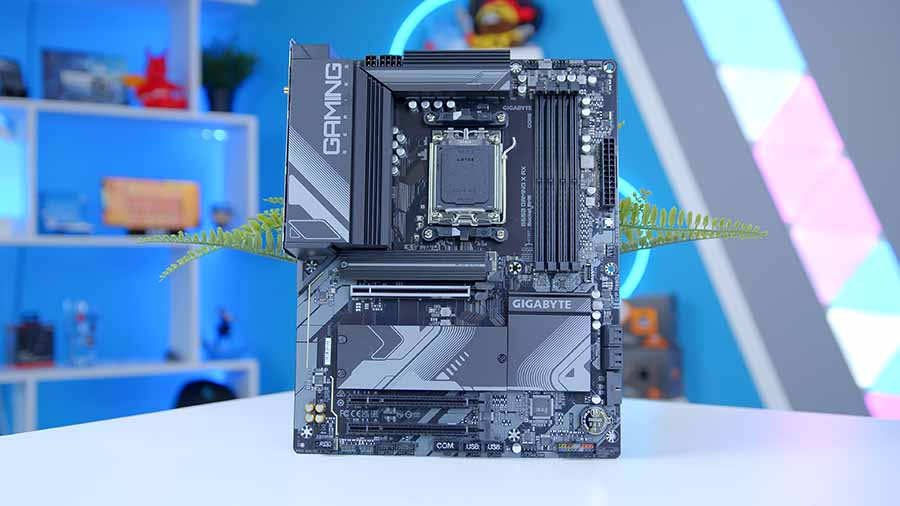 Gigabyte's turn to battle for the title of best B650 motherboard, their challenger, the B650 Gaming X AX. Consumers will immediately notice the variety of heatsinks covering the PCB adding some extra flair, whilst also providing great thermal output for any SSDs that are installed. Again, this board isn't particularly heavy on the RGB, but I'd argue that most consumers will be pretty happy with the aesthetic of this board, as the black and grey design should blend in with a variety of different styles.
The Gigabyte B650 Gaming X AX offers some nice quality of life features for the consumer. With 3 PCIe 4.0 M.2 connectors, and EZ-Latch GPU slot quick release and WiFi 6E compatibility, the B650 Gaming X AX ticks a lot of boxes.
Memory overlocking on the B650 Gaming X AX is an are which is particularly strong, with support for up to 8000MHz whilst also capable of housing 192GB of RAM.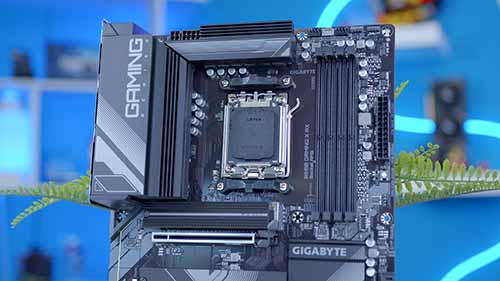 Whilst offering some great features, the B650 Gaming X AX does have some missing. The lack of a secondary Gen4 x16 PCI-E slot will be sorely missed for any users looking to double up on GPUs in their PC build. Whilst we are fans of the aesthetic here at the GeekaWhat offices, the RGB enthusiast among us will need to go elsewhere for a board with additional customisability.
Buy the Gigabyte B650 Gaming X AX:
4. ASUS ROG STRIX B650-A Gaming WiFi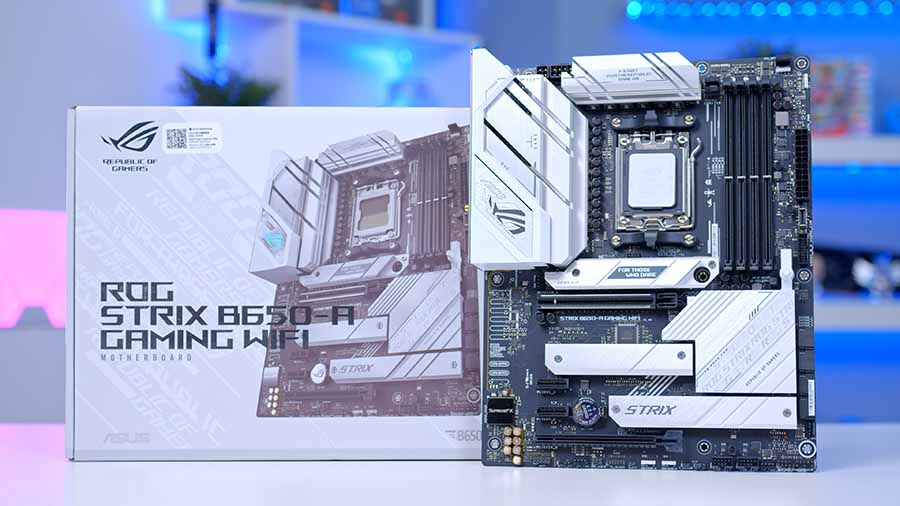 The ASUS ROG STRIX B650-A Gaming WiFi is the second ASUS feature in our best B650 motherboards list. The ASUS ROG STRIX B650-A Gaming WiFi is our most expensive option on the list today, with an MSRP of $279 but does more expensive mean better product. Thanks to its ATX form factor the ROG STRIX B650-A Gaming WiFi is able to house not only 2 Gen4 x16 PCI-E slots, with 2 Gen4 x1 PCI-E slots but also 3 M.2 PCIe slots, 1 being Gen5 and the other 2 being Gen4.
WiFi 6E is again an option with the board also featuring an additional 2.5G Ethernet port on the rear IO.
The ASUS ROG STRIX B650-A also features a host of USB connectivity on the rear IO and whilst this is bulked out somewhat by a number of USB 2.0 connections, there is still a healthy amount of USB 3.2 options. The RGB enjoyers will be pleased to see some feature on the board, with Aura sync compatibly another plus.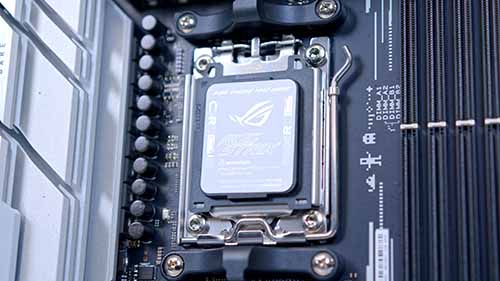 However, with this STRIX B650 Motherboard being priced higher than the rest of our options given the ASUS premium, we did expect to see slightly more bang for your buck when it comes to memory overclocking. Whilst 7600MHz is pretty quick, there are cheaper B650 motherboards on the market with higher overclocking capabilities.
The rear IO featuring so many USB 2.0 ports and singular 2.5G Ethernet port also feels slightly underwhelming given the expensive pricing of this B650 motherboard, and feel that for the price upgrades could have been made. The price of this board is definitely high compared to other options that have roughly the same capabilities, for the extra money we struggle to see what you gain aside from some RGB at times.
Buy the ASUS ROG STRIX B650-A Gaming WiFi on:
Chipsets & Motherboards – What Are They?
Contrary to popular belief, a Motherboard and Chipset are separate things. Whilst a Chipset is a permanent feature on a motherboard, capabilities vary with other PC components and need to be taken into account. The Chipset controls communications between the CPU, RAM, Storage solutions and a number of other peripherals whilst the Motherboard is the PCB built to house all of these components, hence its name. We have an article detailing all you need to know about motherboards and what a motherboard is.
Different chipsets have varying component capabilities so its important to make sure your motherboards chipset compatibility marries up with that of your CPU for example. For specific details on components, always make sure to check the manufacturers website.
Motherboard Compatibility
As a general rule of thumb, the longevity of AMD's platform tends to last longer compared to Intel CPUs. AMD's previous generation of Ryzen retained the AM4 socket for around five years. CPU manufacturers tend to bring out CPU refreshes whilst keeping under the same generation of CPU, allowing for consumers to still upgrade their CPU without having to upgrade their Motherboard necessarily. Choosing the right CPU can be tricky but with a bit of research it can be made much simpler.
There does eventually come a cut-off point for some older generations however, as the older motherboards BIOS eventually no longer support the new generation of CPUs. But for the most part, consumers have plenty of upgradeability across the entire platform with all compatibilities located on manufacturer websites.
CPU Range
CPU Socket
Compatible Chipset
Ryzen 7000
AM5
X670E, X670, B650E, B650
Ryzen 5000
AM4
X570, X470*, B550, B450*, A520
*Beta BIOS may be required
Ryzen 3000
AM4
X570, X470, B550, B450, A520
Ryzen 2000
AM4
X570, X470, X370, B450, B350, A320
Ryzen 1000
AM4
X470, X370, B450, B350, A320
Motherboard Pricing
Pricing varies across Motherboard models. Like many other components, manufacturers tend to release options ranging from more budget oriented models up to more expensive High end ranges. As expected each of these Motherboard and chipset models come with their own benefits and caveats. AMDs range of B650 Motherboards sit at the budget end of the spectrum, coming in a strong price points as a result of a lack of premium features.
Whereas, their X670E range of motherboards tend to have all of the bells and whistles you'd associate with paying for the premium option; Gen5 PCIe slots, strong memory overclocking, fleshed out rear IO options and flashy aesthetics, you name it, its likely got it covered.
| | |
| --- | --- |
| Motherboard Chipset | Cost Estimation |
| X670E | $400+ |
| X670 | $300+ |
| B650E | $250+ |
| B650 | $200+ |
These prices are a rough estimate based on US prices, and may change based on country. Price may also change subject to availability.
Frequently Asked Questions
Is B650 better than B650E?
Unfortunately not. The B650 chipset is designed to bring a budget entry point to the Ryzen 7000 platform. B650E motherboards are better when it comes to features, but they do come with a significant premium.
Are Ryzen 7000 Motherboards Compatible with DDR4 RAM?
No. AMD decided to make the shift over to DDR5 with the release of the AM5 platform, cutting out DDR4 entirely.
Which CPUs are Best for the B650 Motherboards?
B650 motherboards are the more budget-friendly chipset with some mid-range and higher-end options. These boards will be best paired with the Ryzen 5 and potentially Ryzen 7 options.