Introduction
When working on a gaming setup within a tight budget, it's important to make every cent count by knowing how much you can spend on components without sacrificing too much in terms of quality and performance. A great way to save some money is with budget gaming mice, as they are often cheaper than other peripherals.
Due to the vast amount of gaming peripherals on the market with varying price points, it is easy to get distracted by the more expensive mice and keyboards. This often leads to consumers paying more than they need to for their peripherals, wasting money that could have been more useful elsewhere.
In this buyer's guide, we'll be going through some of the best budget gaming mice you can buy for under $50, along with some advice on how to get the best gaming mouse to suit your needs.
Suggested Article: Best Mechanical Keyboards Under $50
Our Recommendations
Now that we've gone over the key considerations for budget gaming mice, it's time to give a detailed overview of our top picks for the best gaming mice under $50. Working within this price point, we've picked a list of gaming mice with a range of different shapes, sizes, and features in order to include at least one option that will fit the individual needs of each gamer.
1. Logitech G203 Lightsync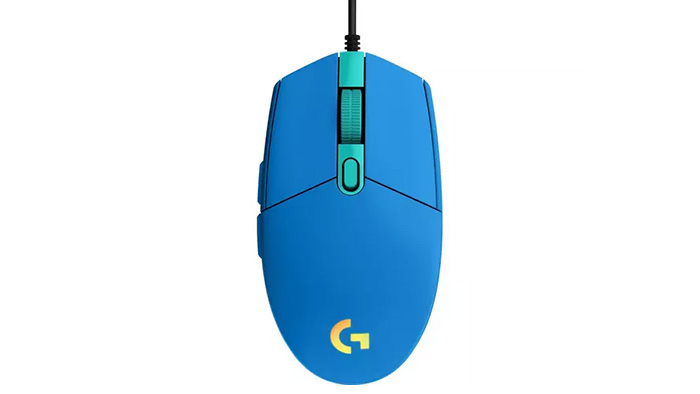 Starting off with one the cheapest options on this list, the Logitech G203 Lightsync. Pitched as the entry-level option in Logitech's G series of products, the G203 has a simplistic design that is meant to provide a focus on general gaming performance that caters to the needs of most gamers. Despite this, the G203 still manages to provide a unique look thanks to wide range of colour options, along with the inclusion of Lightsync RGB lighting, which can be customised via the Logitech G Hub software. This range of customisation within the design makes the G203 a standard choice for budget gamers, as most gamers will be able to grab a variant that suits their needs.
Key Facts: Max DPI: 8,000 // Programable Buttons: 6 // Weight: 85g // Connectivity: Wired // RGB: Yes
In terms of specs, the Logitech G203 Lightsync is a wired mouse that is equipped with 6 programmable buttons and an 8K DPI sensor. Whilst the number of programmable buttons and wired connections is up to par with some of the best options under the $50 mark, the DPI rating on the G203 is significantly lower than some of the other choices on this list. However, the 8K rating will be more than enough performance to offer most gamers with a smooth and satisfying gaming experience.
Similarly, the weight and shape of the G203 does not offer optimal performance for specific gamers, but instead opts for a more general design that appeals to the essential needs of a wider range of gamers. The overall weight of 85g sits between the lightweight and heavier mice on the market, and the slim, rounded shape is suitable for all grips. This makes the G203 a great choice for entry-level gamers, as it provides the key features at a very affordable price.
Pros
Extremely cheap
Great RGB lighting
Available in a range of colours
Cons
Low DPI rating
Not ideal for specific use-cases
Not for competitive gamers
Buy the Logitech G203 on:
2. SteelSeries Rival 5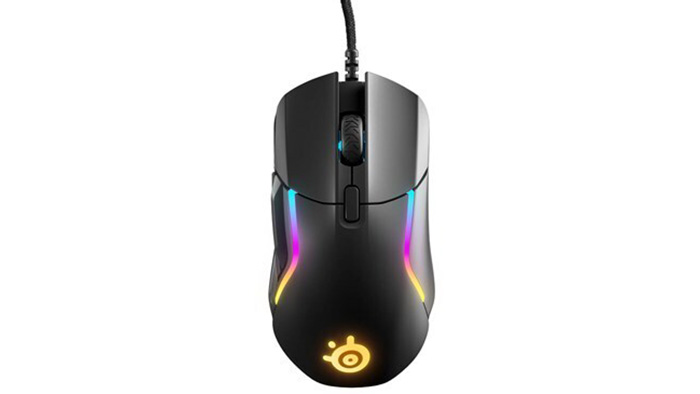 Next up, we have a gaming mouse that sits at the higher-end of out $50 price point with the SteelSeries Rival 5. This mouse is designed to work with game genre versatility in mind, which gives the Rival 5 a unique look that adapts the conventional shape of gaming mice. These modifications allow this Rival 5 to include more programmable buttons whilst remaining fairly lightweight and easy to move around, making it an ideal pickup for gamers that want one gaming mouse to dabble in a number of different titles. Despite the additional buttons, this mouse remains pretty ergonomic thanks the extra buttons being located on the side for easy access that will feel familiar to most gamers.
Key Facts: DPI: 18,000 // Programable Buttons: 9 // Weight: 85g // Connectivity: Wired // RGB: Yes
Although the added buttons does alter the weight of the Rival 5, it remains at a respectable 85 grams and includes a 18000 DPI sensor to reduce potential fatigue from larger mouse movements in competitive titles. Plus, this sensor is adjustable, leading to greater precision during specific moments.
In terms of design, the Rival 5 is a wired mouse that features a matte black look with customisable PrismSync RGB lighting on the logo and along the sides. Those struggling for funds could opt for the more budget-friendly Rival 3 instead, but we believe the extra features on the Rival 5 is worth saving up for.
Pros
Versatile and innovative design
Offers good performance for price
Great for all-rounders
Cons
Cable doesn't detach
Expensive for a budget choice
Buy the SteelSeries Rival 5 on:
3. Corsair Katar Pro Wireless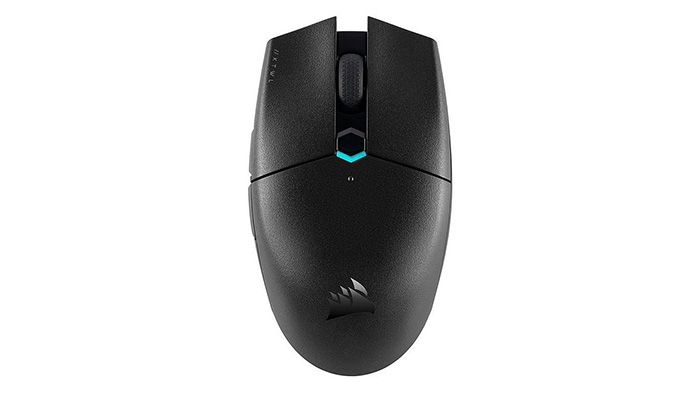 If you are looking for a budget mouse that offers some more freedom and portability, then Corsair's Katar Pro Wireless could be the mouse for you. As a wireless gaming mouse, the Katar Pro offers more flexibility than the wired options on this list, but at the cost of some weaker performance features. Connecting to devices through either Bluetooth or Corsair's Slipstream USB receiver, the Katar Pro can be connected to multiple devices at once with little latency issues. Unfortunately, this mouse doesn't include a wired connection option, which makes it less versatile than other wireless options on the market.
Key Facts: DPI: 10,000 // Programable Buttons: 6 // Weight: 96g // Connectivity: Wireless // RGB: No
The lack of a wired connection isn't the only sacrifice made in order to make the Katar Pro wireless. For example, the use of swappable batteries increases the weight to 96g, making it a less ideal choice for competitive gamers. Despite this, the Katar Pro still includes some decent performance features for the budget pricing, such as a reasonable 10K DPI sensor and 6 programmable buttons that can be tweaked in Corsair's iCUE software.
Design-wise, the Katar Pro limits the RGB lighting to achieve a stealthier design that will blend in with most gaming setups. On top of this, the smaller form-factor increases portability, and makes it a great choice for claw and fingertip users.
Pros
Wireless connectivity
Decent performance for price
Corsair iCUE compatibility
Cons
Lack of RGB lighting
No wired connection
Not for competitive gamers
Buy the Corsair Katar Pro on:
4. HyperX Pulsefire Haste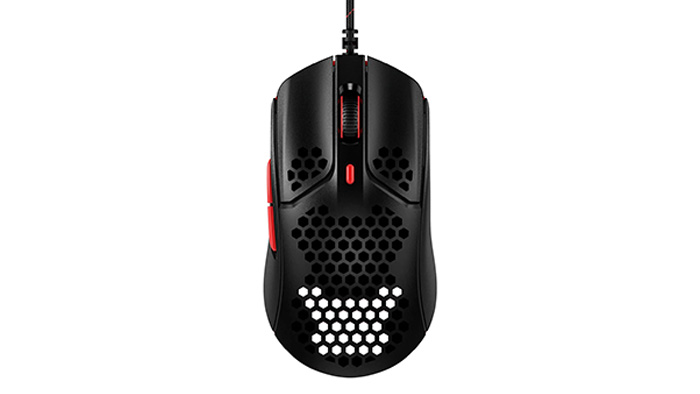 For all the competitive gamers looking to save some money on a high-performance gaming mice, it's worth taking a look at the HyperX Pulsefire Haste. This wired option is purposefully made to satisfy the demands of competitive gamers by including plenty of features that optimise performance. Mainly thanks to the hex shell design and streamlined amount of features, the Pulsefire Haste is incredibly light, weighing in at just 59 grams. This means the mouse glides across a desk with ease, making it easy to control for quick and precise mouse movements – perfect for competitive scenarios.
Key Facts: DPI: 16,000 // Programable Buttons: 6 // Weight: 59g // Connectivity: Wired // RGB: Yes
To match the lightweight design, the Pulsefire Haste comes equipped with a 16K DPI sensor, which should be more than enough to meet the demands of even the most competitive gamers. And whilst this mouse doesn't focus too much on features, it does include the standard 6 programmable buttons that appear on most budget gaming mice.
For more customisation, Pulsefire Haste users can receive access to additional settings through the HyperX NGENUITY software, including custom DPI settings, RGB, and the ability to record macros. In addition, this mouse comes packed in with some grip tape, which can be attached to the shell for additional comfort.
Pros
Extremely lightweight design
Great for competitive gamers
Customisation via software
Cons
No detachable cable
RGB is not very bright
Buy the HyperX Pulsefire Haste on:
5. Glorious Model O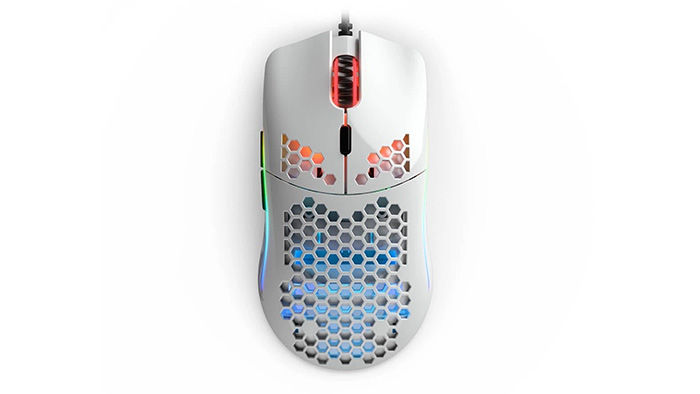 Moving onto a brand that has become a popular choice for gaming peripherals amongst enthusiast, our next choice is the Glorious Model O. Whilst Glorious offer a number of popular gaming mice, this product in particular is a fan-favourite due to it's blend of performance and design for a price that doesn't break the bank. With a choice of either a glossy or matte finish, the Model O will offer a look to suit the rest of your gaming setup. But what makes the design of this mouse truly stand out is the abundance of RGB lighting. With RGB located on on the scroll wheel, underneath the honeycomb shell, and along the side, the Model O will provide your setup with plenty of colour.
Key Facts: DPI: 12,000 // Programable Buttons: 6 // Weight: 67g // Connectivity: Wired // RGB: Yes
But this wired mice is not all about looks, as it also provides some solid performance for a budget option. Featuring a 12K DPI sensor and 6 programmable buttons, this mouse is a suitable option for competitive gamers looking to save some cash. This is supported by the 67g lightweight design, making the Model O easy to manoeuvre without building up too much fatigue.
When it comes to customisation, the Model O comes with an external software that can be used to adjust the DPI settings and alter lighting effects. The Model O does not excel in any category in particular, but instead provides great performance, design, and features, making it a great all-rounder for those on a budget.
Pros
Lightweight with lots of RGB
Solid performance specs
Great value
Cons
No detachable cable
Not the best software support
Buy the Glorious Model O on:
6. Razer Basilisk X Hyperspeed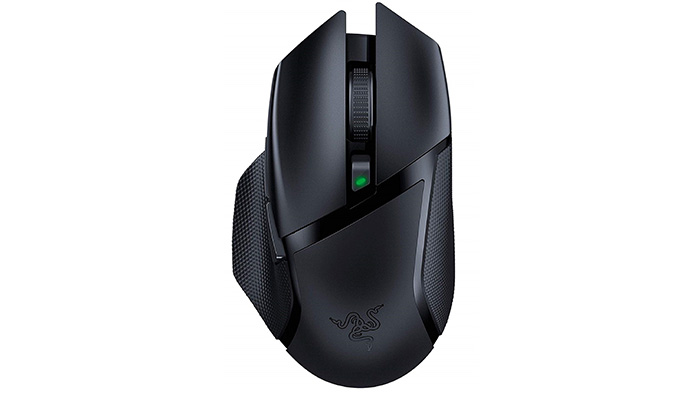 To round off our list, we have another wireless option, but this time with a unique design tailored towards a specific grip. Razer's Basilisk X Hyperspeed adopts an unconventional shape compared to the rest of the gaming mice on this list in an attempt to appeal to right-handed gamers – sorry lefties! Most gamers will be happy with the symmetrical shape of other gaming mice, but the shape of the Basilisk X Hyperspeed will provide better ergonomics for right-handers. This design will work best with a palm or fingertip grip, as the rest on the left side offers extra support that feels more comfortable during longer gaming sessions.
Key Facts: DPI: 16,000 // Programable Buttons: 6 // Weight: 83g // Connectivity: Wireless // RGB: No
Despite being the budget option within Razer's range of ergonomic gaming mice, the Basilisk X Hyperspeed offers some impressive performance features, especially for a gaming mouse with wireless connectivity. The 16K DPI sensor helps to reduce the range of movement needed to move the cursor, which comes in handy with the heavier design this mouse possesses.
The wireless connectivity is also a positive in our eyes due to the increased portability and versatility, but it does often come with a few caveats. However, Razer's Hyperspeed technology provides reliable low-latency performance that competes with most wired options, and the touted 450 hours of maximum battery life on the Basilisk X Hyperspeed makes it a great choice for all-day use.
Pros
Ergonomic design
Solid gaming performance
Great wireless connectivity
Cons
Lack of RGB lighting
Not suitable for left-handers
Buy the Razer Basilisk X Hyperspeed on:
Key Features of A Gaming Mouse
Before we take a closer look at our recommendations, it's time to take a deep dive into the key features and considerations when buying a budget gaming mouse. Whilst the smaller form factor and less complex design of mice suggests there is less variables to consider, there is still plenty of factors that can influence the performance and purpose of a mouse.
Weight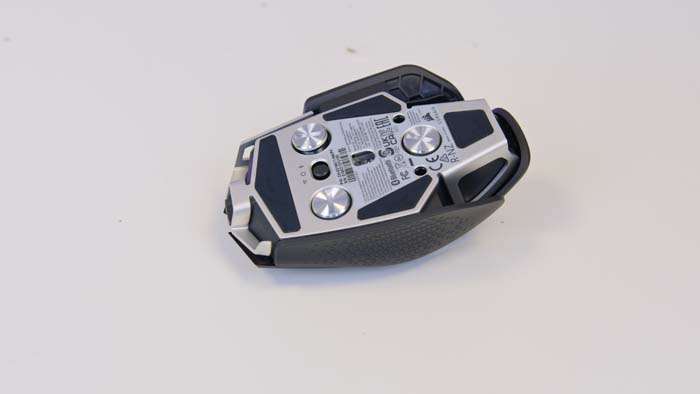 One of factors that is more important for a mouse than any other gaming peripherals is the weight. With the amount of movement required when using a mouse, getting a mouse that you can comfortably move around for hours at a time will reduce fatigue and help to improve accuracy. A general rule of thumb for gaming mice has been 'the lighter the better', especially for competitive gamers. However, lightweight gaming mice might feel strange to you, so be sure to play around with weights before making a decision.
Shape & Size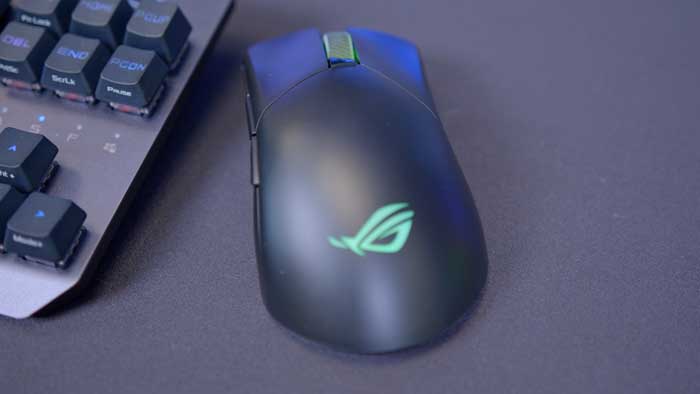 In a similar fashion to weight, the shape and size of gaming mice is a choice that will depend on your personal preference. Whilst hand size does play a role in whether a mouse feels comfortable or not, the main factor to consider is the type of mouse grip you use. Typically, gaming mice are designed to be used with either a palm, claw, or fingertip grip. Whilst some gaming mice will cater for multiple grips, they tend to target one type of grip style in order to improve the ergonomics for that type of gamer.
Programmable Buttons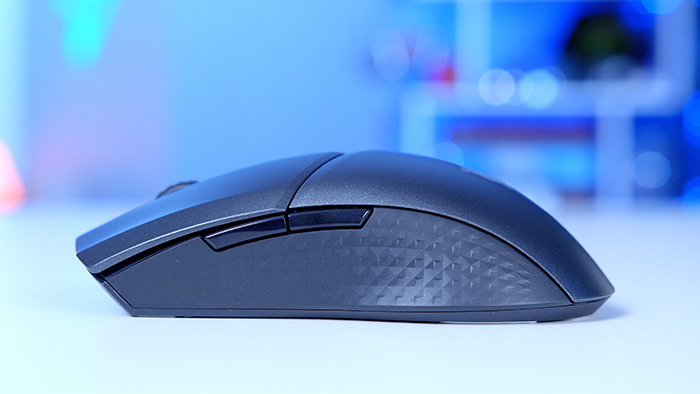 Moving onto one of the additional features that can be found on most gaming mice, programmable buttons. These inputs add some customisation options, acting as nifty shortcuts during both gaming and general day-to-day tasks. These buttons are more important in games that need quick access to menus or additional actions, such as MMOs or RPGs. However, gamers do need to consider how important programmable buttons are for their use-case, as these extra buttons often come the caveat of added weight and size.
DPI Sensor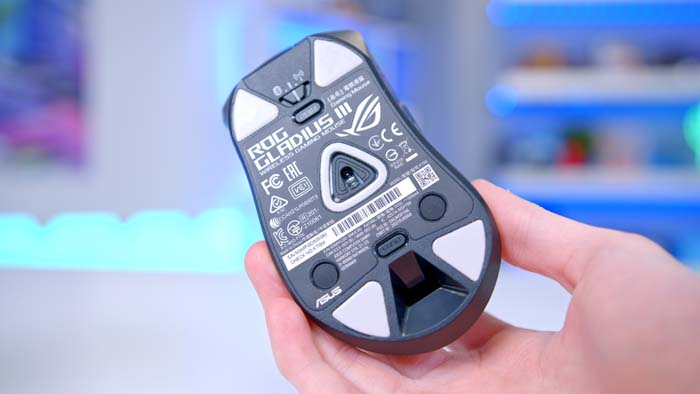 Perhaps the most important performance feature on a mouse is the DPI sensor. Standing for dots per inch, this sensor is what determines how far a mouse has to travel in order to move the cursor on the screen. For gaming mice, a higher DPI rating is considered better as it reduces the amount of mouse movement, resulting in greater accuracy and less fatigue. However, being able to adjust the DPI settings on the fly is just as important for accuracy and versatility.
Software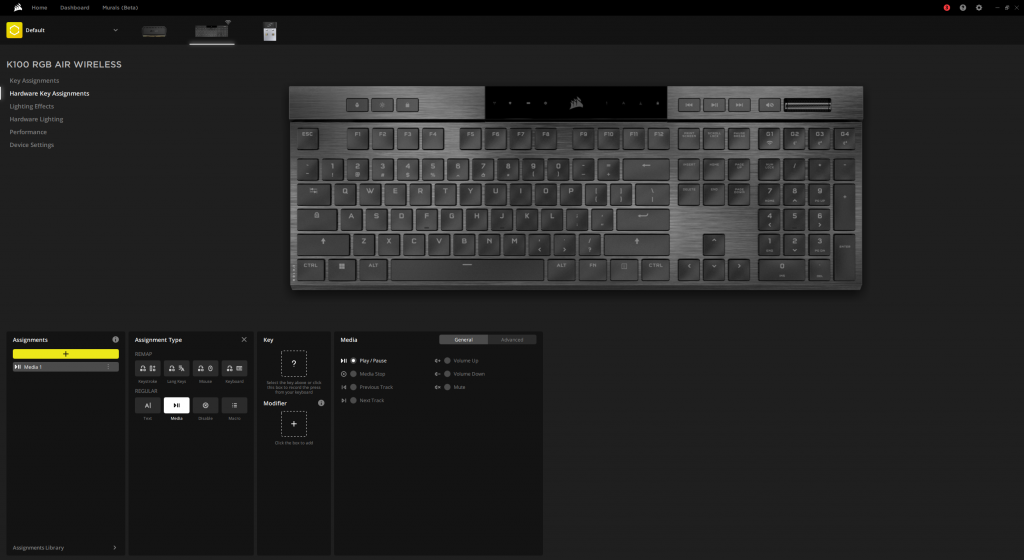 Compatibility with external software isn't the most vital inclusion for gaming peripherals, which is even more true for those on a budget. Despite this, you may be surprised with the number of budget mice that come with software support. This software unlocks additional settings and customisation options that are not available on the hardware itself. Companies like Corsair or MSI tend to have their own software for their range of products, so it might be more convenient to pick peripherals from the same brand.
Connectivity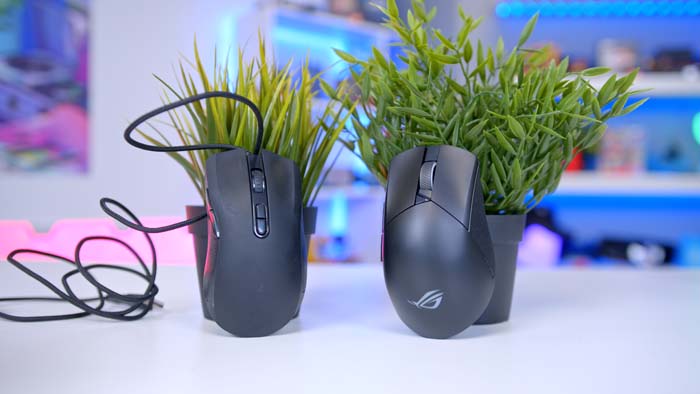 Last but not least, it is important to think about how your gaming mouse connects with the rest of your setup. When it comes to connectivity, the main choice is between a wired or wireless connectivity. Wireless gaming mice help to increase portability and reduce clutter, but struggle to provide the reliable performance of a wired alternative and are usually more expensive too. If you are looking for a wireless option, check out our full buyers guide for the best wireless gaming mice.
Best Manufacturers
With budget gaming mice in particular, it can be pretty difficult to find the diamonds in the rough, and more importantly, avoid the duds. One of the best ways to refine your search and reduce the amount of time researching is by choosing options from reputable brands that have proven themselves to be a reliable choice for a range of gaming products. Here is a list of manufacturers that we would consider when looking for gaming mice: