Introduction
In the current market, gamers are spoilt for choice as to which gaming peripherals to pick up for the ultimate gaming setup. However, with so many variables to consider, it can be surprisingly difficult to find a product that ticks all the boxes.
Gaming mice are a great example of this, as they often appear fairly simplistic at face value but typically contain a lot more under the surface. And with the crucial role that a mouse plays when gaming, picking the best choice to suit your needs will significantly improve the gaming experience.
In this article, we'll be testing a gaming mouse from MSI that looks to meet the demands of most gamers, the MSI Clutch GM51 Lightweight Wireless. We'll be analysing the design, performance, and features to forge a verdict of whether this wireless gaming mouse is worth considering.
Buy the MSI Clutch GM51 Lightweight Wireless on:
Suggested Article: Best Wireless Gaming Mice to Buy in 2023
Do You Need a Lightweight Gaming Mouse?
Unlike other gaming products, weight has a major influence on the gaming experience. This is especially true in gaming mice, as the constant movement required to operate a mouse in titles such as first-person shooters plays a crucial role in optimising performance and comfort. Getting the wrong weight on a mouse can drastically hinder accuracy of movements, as well as cause aches and strains during longer sessions.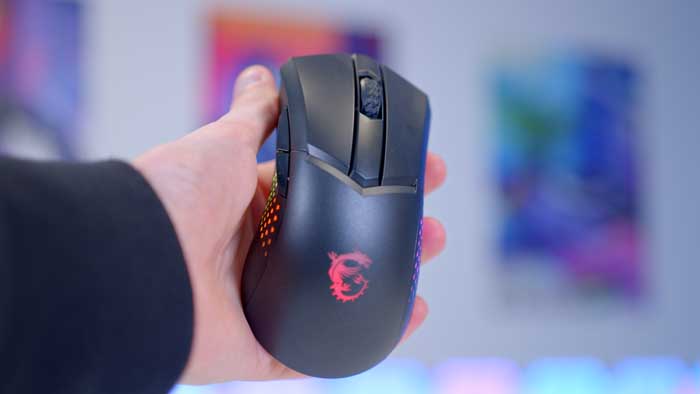 You may have heard a lot of brands and influencers talk about the importance of having a lighter design, with the general mantra being 'the lighter the better'. But realistically, the ideal mouse weight is purely down to personal preferences and whether you prioritise other features over a lightweight design. For example, many non-competitive gamers will prefer a larger design that includes lots of programmable buttons.
When looking for the perfect wireless gaming mice, our general advice would be to consider your playstyle you tend to adopt, along with the type of games you are planning on spending the most time playing. For example, competitive gamers wanting pinpoint accuracy when throwing their mouse across the desk will typically prefer the streamlined design on lightweight mice. On the other hand, casual gamers looking for a design packed with practical features may prefer a mouse that is slightly heftier.
MSI Clutch GM51 Lightweight Wireless Design & Aesthetic
Now that we've set the record straight on the importance of weight, it's time to turn our attention to the MSI's latest offering – the Clutch GM51 Lightweight Wireless. As the name suggests, this gaming mouse is a lightweight design that can connect wirelessly. We've previously been hands-on with another mouse from the MSI Clutch collection, the GM41 Lightweight Wireless. Our outcome with that mouse was generally positive, so we' we're excited to see what changes the GM51 brings to the table.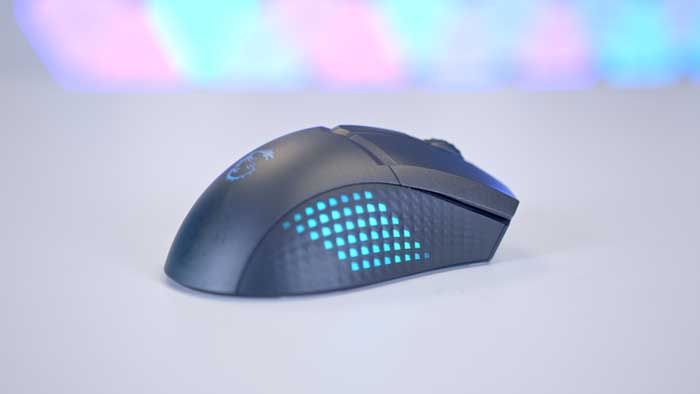 Despite being a lightweight model, this mouse possesses a bulkier shape than the GM41 alternative, making it a better choice for gamers that play with a more relaxed palm or claw grip. Additionally, the asymmetrical shape is targeted towards right-handed gamers, providing better ergonomics for those longer gaming sessions. However, this does mean lefties will be out of luck here, and the slightly uneven weight may take some getting used to.
But as the name suggests, the main focus for this design is to be lightweight and offer wireless connectivity. Weighing in at 85g, this mouse is not the lightest gaming mice out there, but will feel fairly lightweight compared to other wireless designs that possess a similar form factor. However, where this design truly excels is with the wireless connectivity, as the ability to connect through Bluetooth or 2.4GHz wireless makes this mouse an extremely versatile option that can connect to multiple devices at once.
Looking for an MSI keyboard to match? Check out our rundown on the MSI Vigor GK71 Sonic.
[adrotate banner="9″]
In terms of aesthetics, the Clutch GM51 Lightweight Wireless has a more elaborate look than other MSI gaming mice thanks to the heavy RGB lighting implementation. Featured on the logo and along the sides, these lighting effects are enough to brighten up any setup. Another distinct design choice that we're big fans of is the rubberised texture on the sides, which provides additional grip and comfort during tense moments.
Overall, the combination of the larger form factor and lightweight feel separates the Clutch GM51 Lightweight Wireless from the competition, and will be particularly beneficial to right-handed gamers that take a more relaxed approach. Whilst it won't be the best option for gamers wanting the lightest gaming mouse possible, the heavier design of the Clutch GM51 comes with practical benefits, whilst remaining light enough to glide across a desk with ease.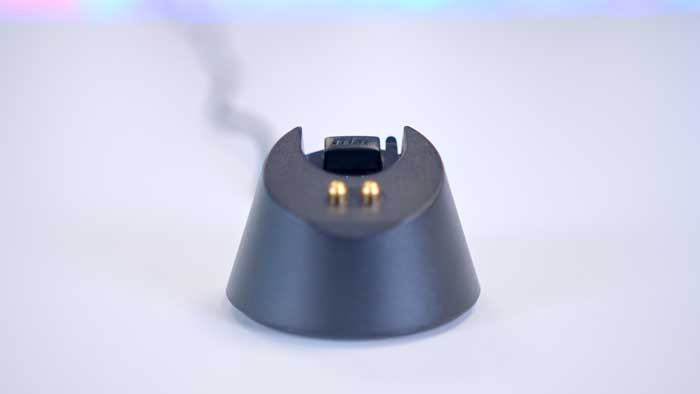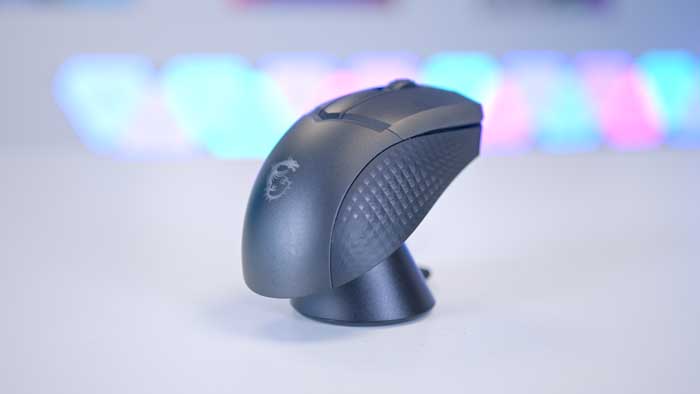 MSI Clutch GM51 Lightweight Wireless Specs & Performance
Whilst a lightweight design opens up the potential for improved performance and comfort, it means nothing if the features under the shell aren't up to scratch. Luckily, the specs on the Clutch GM51 are very promising, providing performance that is able to compete with some of the industry leaders.
For example, the 26K DPI sensor is higher than most options on the market, leading to more precise mouse movements that is perfect for competitive scenarios. Paired up with the 1ms response times and lighter body, the Clutch GM51 is set with all the gear needed to offer a top-tier competitive gaming experience. The DPI settings can also be adjusted on the fly with the dedicated DPI shift button or via the MSI Center. However, the DPI button is located on the bottom of the mouse, which makes in-game adjustments rather tedious.
| Key Spec | MSI Clutch GM51 Lightweight Wireless |
| --- | --- |
| Max DPI | 26000 |
| Weight | 85g |
| Switch Lifespan | 60 million clicks |
| Polling Rate | 1000Hz |
| Programmable Buttons | 6 |
| Connectivity | 2.4GHz, Bluetooth, and USB-C |
| Max Battery Life | 150 hours |
MSI Clutch GM51 Lightweight Wireless Performance Specs
To test the true performance of this mouse, we jumped into a range of latest and greatest gaming titles to see how it performs in the midst of action. On top of this, we also used it for general productivity tasks around the office – including this article! During our time using the Clutch GM51, we experienced minimal issues in both gaming and productivity based scenarios, resulting in a rather pleasant experience.
One of the most impressive features is how seamlessly this mouse can transition from one device to another thanks to the tri-mode connectivity. The ability to switch between devices at the flick of a switch was very useful over the course of our time testing this mouse, with the performance holding up on both Bluetooth and MSI's SWIFTSPEED wireless. As for battery life, MSI claim the GM51 Clutch can last for up to 150 hours on a single charge. However, we never reached a point where we drained the battery enough to push its limit, as the charging dock made it very easy to replenish the battery when not in use.
MSI Clutch GM51 Lightweight Wireless Features
Onto what is often considered the main selling points in any gaming product, the features. As gamers, we all enjoy picking up something a little different that will enhance the gaming experience, or just another way to show off something cool to our friends. Fortunately, the GM51 Clutch Lightweight Wireless has a handful of noteworthy features that will raise at least a few eyebrows.
RGB Diamond Lightgrips
In many ways, the star of the show in this design is the proclaimed 'Diamond Lightgrips' on either side, which adds an eye-catching dimension to MSI's latest wireless mouse. On top of the sparkling diamond-shaped lights, the rubberised grip feels very comfortable and secure. Another neat touch is that the RGB will switch off automatically when inactive, which helps to save on battery.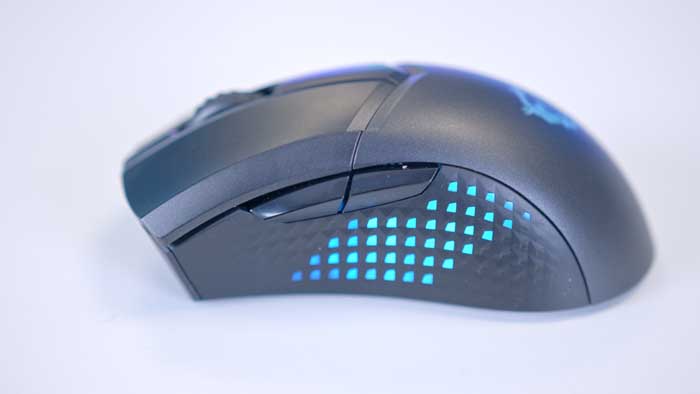 Wireless Charging Dock
Speaking of battery, the MSI Clutch GM51 comes packaged with the typical charging cable and USB dongle, as well as a dock that enables wireless charging. This is an extremely convenient feature that allows for quick and easy charging when the mouse is not in use, meaning there's no need to worry about running out of charge in the middle of a gaming session. But for those that don't want to use this feature for whatever reason can still use the included cable and dongle separately for traditional charging and connectivity methods.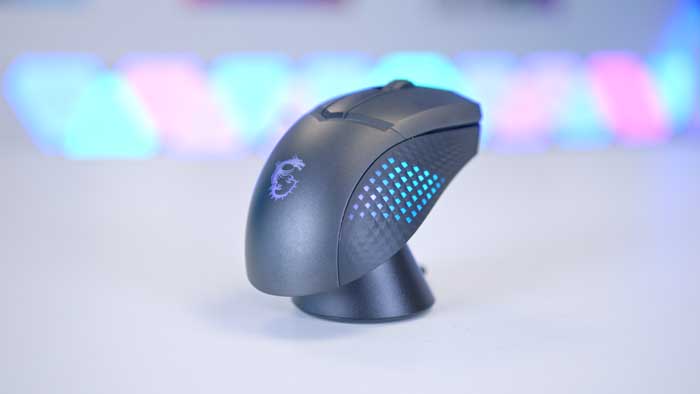 Programmable Buttons
The Clutch GM51 includes a total of 5 buttons, all of which can be reprogrammed to conduct specific actions with the MSI Center software. To support this customisation, this mouse can store up to 3 onboard profiles at once, letting gamers save inputs for their favourites games and switch between them. The only downside to this is the lack of ability to switch between these profiles on the mouse itself, as gamers will have to open up MSI Center in order to change to a different profile.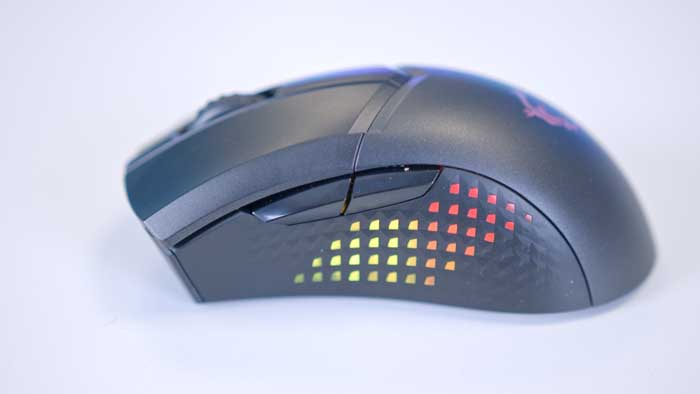 Tri-Mode Connectivity
One of the biggest strengths to this mouse is the wide range of connectivity options. Along with support for a traditional wired USB connecting, the GM51 can hook up to a PC wirelessly, through either Bluetooth or MSI's SWIFTSPEED 2.4GHz wireless. Anyone picking up this mouse will generally want to use the SWIFTSPEED connection for the more stable wireless performance and charging dock capabilities, but having Bluetooth included makes travelling easier, as it reduces the risk of losing the 2.4GHz USB dongle.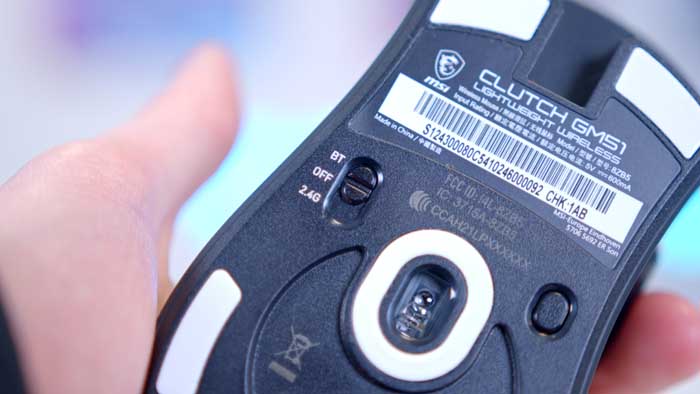 MSI Center Customisation
A bit of software compatibility on gaming peripherals is always a bonus, as it unlocks some additional settings and customisation options that cater to individual gaming needs. As an MSI product, the Clutch GM51 makes use of the MSI Center, allowing gamers to assign button configurations, set multiple onboard profiles, and adjust performance settings. Unfortunately, the software is fairly simplistic and less reliable than other options on the market, leaving us quite disappointed with the customisation options available.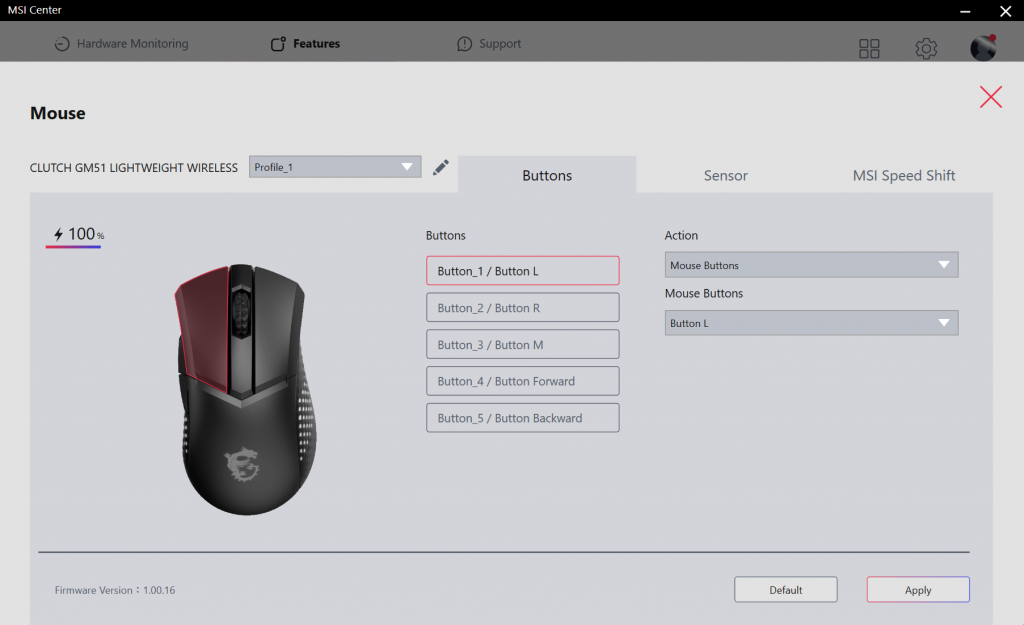 Alternatives
Whilst there are a few reasons why the MSI Clutch GM51 Lightweight Wireless would appeal to gamers, there are a few design choices that are bound to split opinions. In order to provide a solution to those issues, we wanted to offer up some alternative gaming mice that offer similar specs to the Clutch GM51, but with a few design tweaks that may fix those problems and lead to a more preferable gaming experience.
MSI Clutch GM41 Lightweight Wireless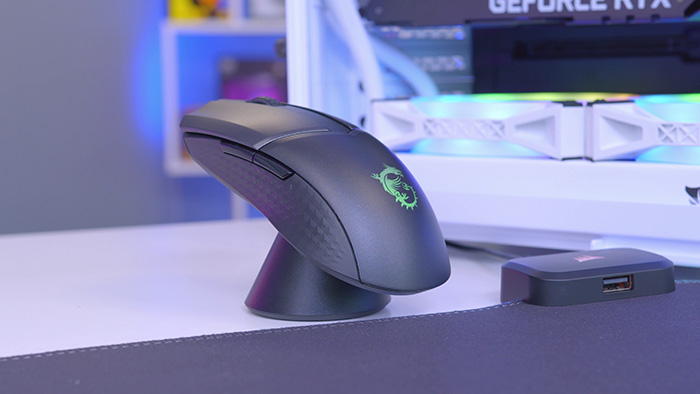 MSI's GM41 variant has a similar feature-set to the Clutch GM51, including the wireless charging dock. However, the slimmer and more symmetrical form factor will be a better fit for competitive gamers. Whilst there have clearly been some performance improvements with the release of the new GM51 variant, the specs on the GM41 will still be more than enough to satisfy the demands of most gamers.
Want to learn more about this mouse? Check out our full review.
Buy the MSI Clutch GM41 Lightweight Wireless on:
Logitech G Pro Wireless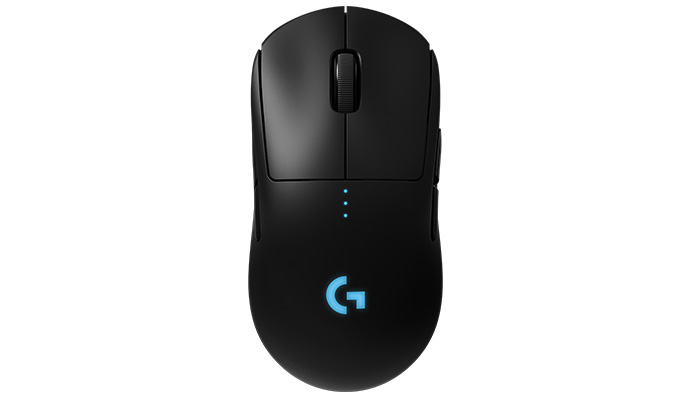 When it comes to competitive gaming, it's hard to overlook the Logitech G Pro wireless. This mouse is a great alternative for left-handers, as the symmetrical shape with programmable buttons on both sides means lefties won't be left at a disadvantage. Also, this mouse offers performance that slightly edges out the GM51 while still offering a convenient charging solution via POWERPLAY. Although, this won't come included in the box. For those with a little extra to spend, Logitech's PRO X Superlight revision of this design is also worth considering.
Buy the Logitech G Pro Wireless on:
Corsair M65 RGB Ultra Wireless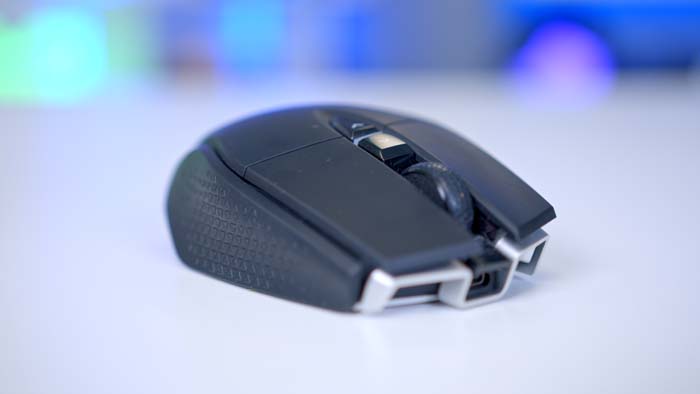 Another favourite here at GeekaWhat HQ which provides a similar gaming experience to the Clutch GM51 is Corsair's M65 RGB Ultra Wireless. As a wireless right-handed design, this mouse will offer a similar ergonomic grip to the GM51. However, the M65 is a heavier option that offers a more customised experience than MSI's latest offering. This is all thanks to the 8 programmable buttons, tuneable weights, and Corsair iCUE software compatibility, which is arguably the best gaming software out right now.
Buy the Corsair M65 RGB Ultra Wireless on:
Conclusion
MSI Clutch GM51 Lightweight Wireless Review
Features

Design

Versatility

Value for Money
Summary
Overall, MSI's latest wireless gaming mice does come up 'clutch' to provide a strong gaming experience that a lot of gamers will be able to appreciate, but a few flaws means the Clutch GM51 falls just short of being an elite competitor that disrupts the current leading options. It's clear that MSI were putting comfort and convenience first with the Clutch GM51, as this mouse feels great in the hand and offers extremely versatile connectivity. Calling this design lightweight is a bit of stretch given the current options on the market, but it's difficult to find a lighter mouse with the shape and quality-of-life features on the Clutch GM51. Also, the performance capabilities of this design are very strong, meaning this mouse can compete with the best wireless gaming mice available. 
However, there are a few hiccups with the design that limit the general usability, stopping this mouse from being an ideal choice for all gamers. For example, the shape and is definitely catered towards right-handed gamers and the uneven weight distribution makes the Clutch GM51 less ideal for Esports and other highly competitive scenarios. In addition, small changes like moving the DPI button to the top and improving the software support would take this mouse to the next level. A lot of these issues would be less problematic or would be much easier to take on the chin if the Clutch GM51 was slightly more affordable, but the higher price means this mouse needs to bring a bit more to the table in order to compete with other elite gaming mice available.  
But in general, most gamers looking for a comfortable and versatile gaming mouse with top-tier performance will be more than happy with everything that the Clutch GM51 Lightweight Wireless has to offer.
Pros
✅ Comfortable design with a distinct look
✅ Includes convenient charging dock
✅ Strong gaming performance
Cons
❌ Design not ideal for left-handed gamers
❌ DPI switch is difficult to reach
❌ Weak software customisation options