Introduction
Nvidia's RTX 4080 hit the market in turbulent fashion with mixed reviews, a discontinued 12GB SKU and power connector problems to compound its woes. Now, it has another problem – the new AMD Radeon RX 7900 XTX. Aimed to compete directly with the RTX 4080, is AMD's card capable of beating the Nvidia, 80-tier competition, or have AMD again run a close battle, but ultimately fallen a little short?
In this GeekaWhat GPU comparison battle, we'll be comparing the Radeon RX 7900 XTX to the Nvidia RTX 4080 to determine which GPU is best for high-end gaming. Testing a plethora of popular titles, AAA games and esports favourites, we'll be concluding as to which of these two powerful cards is the best pick.
Suggested Article: AMD Radeon RX 7900 XTX Review
GPU Versus Battle
AMD Radeon RX 7900 XTX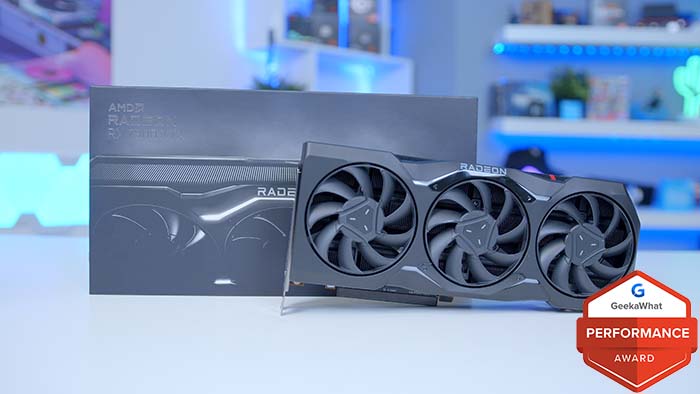 | | |
| --- | --- |
| Memory Capacity | 24GB GDDR6X |
| Boost Clock Speed | 2.5GHz |
| Ray Accelerators | 96 |
| Stream Processors | 6144 |
| TBP | 355W |
| Release Date | December 2022 |
| Price | Check Price on Amazon |
AMD RX 7900XTX Specs
RDNA3, the architect the 7900 XTX is built around, might just be AMD's biggest win in years. Initially announced back at the start of November, the GPU lineup looked like it would be strong, and, crucially, pricing was set out to be pretty favourable for consumers. Pricing that in todays market looks especially good given the rising prices of Nvidia's new GPUs.
The new Radeon 7900 XTX is AMD's top-end card in the new 7000 range, sporting impressive specs, and doing so at an MSRP $250 lower than the RTX 4080. This means that if AMD are able to demonstrate significant performance improvements, Nvidia will simply be left in the dust on price to performance metrics. The new RDNA 3 architecture sports the world's first chiplet design with increased performance in Ray-Tracing, and performance-per-watt compared to RDNA 2.
From out testing so far AMD have delivered on these big claims, the 7900 XTX sits on par with the RTX 4080 at worst, beating it modestly in most tests with strong levels or raw performance. Throw in Nvidia's Fancy DLSS 3.0 tech, with support for Frame Generation, and Ray-Tracing into the mix, and the picture changes a little.
That makes the 7900 XTX a strong bet, but one that comes with one or two caveats – the importance of which is entirely dependent on the games you're looking to play.
Looking at MSRP pricing, and this is where things start to lean in AMD's favour. We should note that pricing and availability will vary by region, retailer and depend on availability, and we can only use MSRPs as a reference point and guide. With this being said, AMD looks to be offering very competitive prices compared to Nvidia's most recent market entries, something which is sure to sway a good chunk of the market towards Team Red. The RX 7900XTX is an extremely powerful card, perfectly equipped for playing the latest titles at 4K.
Buy the AMD Radeon RX 7900XTX on:
Nvidia GeForce RTX 4080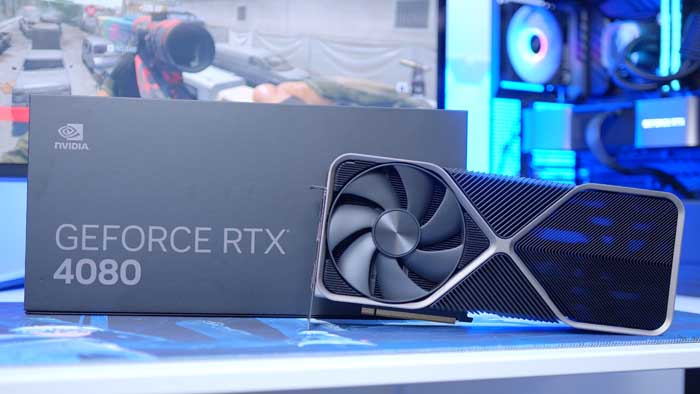 | | |
| --- | --- |
| Memory Capacity | 16GB GDDR6X |
| Boost Clock Speed | 2.51GHz |
| RT Cores | 76 |
| CUDA Cores | 9728 |
| TDP | 320W |
| Release Date | November 2022 |
| Price | Check Price on Amazon |
Nvidia RTX 4080 Specs
Nvidia's RTX 4000 graphics cards are the generational improvement that consumers have been waiting to see, and Nvidia delivered strong performance improvements. The RTX 4080 was one of two GPUs to launch first, showing the immense power of DLSS 3.0, improved ray tracing performance and a strong upgrade over the RTX 3080.
With impressive specs, including a 2.5GHz boost clock speed and nearly 10,000 CUDA cores, it is a card which stacks up very well on paper. The only problem with this card is its price – all of these features don't come cheap.
When comparing the RTX 4080 to the RTX 3080, you'll notice an immense $500 price hike on MSRP launch pricing for both SKUs, ushering in a new era of performance and cost with the Ada Lovelace architecture.
Hopefully the price is something which will improve over time, and competition from AMD will only help this cause further.
Performance wise, the RTX 4080 can pretty much handle anything. 4K doesn't pose much of an issue for the 4080, and productivity workloads are equally not much of a challenge. Nvidia have the best track record of any GPU maker over the last five years, with their SKUs consistently delivering strong performance at all resolutions, price points and frame rates.
Nvidia's software offering is also a notch above AMDs improving Adrenaline suite. With easy options to capture and stream gameplay, and the ability to optimise in game settings through GeForce experience, the 4080 is an intuitive card to use for the everyday gamer.
While we can hold out for a price drop on this card, it is still a very powerful GPU that holds up well at 1440p and, in particular, 4K.
Buy the Nvidia GeForce RTX 4080 on:
How We Tested the Radeon RX 7900 XTX and the RTX 4080
At GeekaWhat HQ we're extremely lucky to have a plethora of components come through our doors every month, from a myriad of different brands and manufacturers for us to test, assess, and review. For this reason, we've devised and put together a strong testing and evaluation method in order to ensure all of the components that we review perform as expected, and whether they offer good value based on their price tag.
Our testing procedure involves booting up the latest triple A and Esports titles from our benchmarking suite, whilst recording our in-game settings, so consumers can reach similar levels using the same settings. Once we're ready to hit record, we fire up MSI Afterburner, and NVIDIA's Frameview to monitor thermals, utilisation, and framerates to then get an average of each metric across the recording. We use two pieces of software two ensure that both applications are reporting the same data to minimise any anomalous metrics.
Our benchmarking suite consists of popular triple A games, alongside less intensive Esports titles, to offer a well-rounded set of benchmarks. We features games like: Fortnite, F1 2022, Apex Legends, GTA V, COD Warzone 2.0 and more. We always try to keep up with the most popular games on the market so that consumers can find performance metrics in their favourite titles.
Both the RX 7900 XTX and the RTX 4080 have been tested in a range of these games, alongside some workstation benchmarks to get a well-rounded idea of how they would fair in a productivity-based system. You can find more information about our testing and evaluation methods in the reviews we've provided below. You can also find all of our full gaming benchmark runs on our component testing YouTube channel – Benched.
RDNA 3 vs Lovelace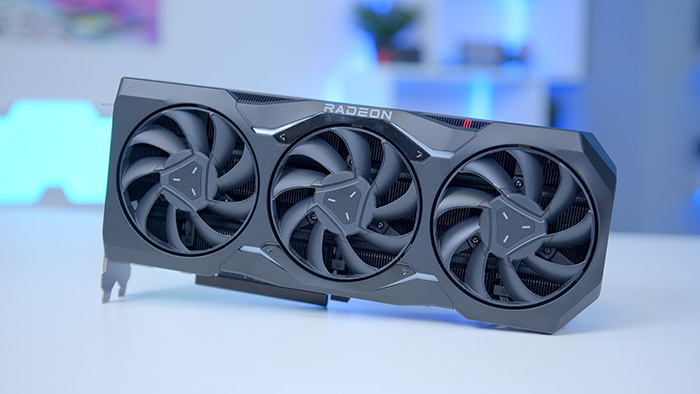 AMD RDNA 3 Architecture – Radeon 7000
The new Radeon 7000 cards were a surprising announcement towards the end of 2022, with AMD releasing their 7900 XTX and XT cards shortly afterwards. The new cards offered very promising performance with RDNA 3 sitting at the forefront of the design. This is also AMD's first chiplet designed GPU, which brings better efficiency and performance across the board. RDNA 3 brings with it, brand new AI accelerators, 2nd generation ray-tracing accelerators, in addition to a higher number of compute units making these cards ideal for a multifaceted gaming/workstation system.
Besides the hardware improvements, FSR also has seen a large boost with in-game quality rivalling NVIDIA's AI-backed DLSS. Although AMD don't have an answer to Frame Generation as of yet, we're yet to see some competition later this year. AMD have also expanded their suite of games quite significantly in the past year or so, bringing the competition to NVIDIA. AMD's RDNA 3 architecture is the answer to NVIDIA's most recent RTX 4000 range of GPUs, and as you'll see during our benchmarks, AMD have definitely brought the heat to NVIDIA.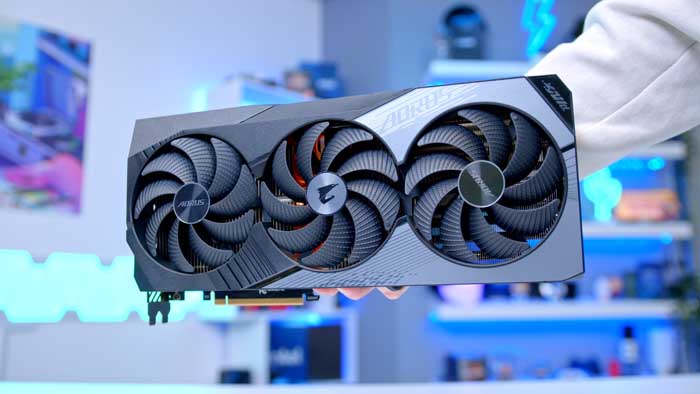 NVIDIA Lovelace Architecture – RTX 4000
NVIDIA's latest series of RTX 4000 graphics cards have seen big changes to the architecture from the previous generation, bringing massive leaps in performance overall. The new RTX 4000 cards have seen new RT, CUDA and Tensor, improving processing for gaming and productivity applications. Intense workloads such as video editing, 3D modelling, Ray-Tracing, and 4K gaming also have become less of an issue for these GPUs, due to the processing improvements.
NVIDIA's big pillar technologies DLSS, and Ray-Tracing have also seen huge jumps in performance too. DLSS specifically has been upgraded to DLSS 3.0 with uplifts to performance when resolution is upscaled. The AI-backed resolution scaler has also seen the inclusion of a new technology known as Frame Generation, where frames are quite literally redrawn in real-time reducing performance overhead. This drastically improves Ray-Tracing performance, especially with the increase RT core count seen on the new cards.
Our Favourite Radeon RX 7900 XTX GPUs
1. Powercolour HellHound Radeon RX 7900 XTX
👑The competitively priced option.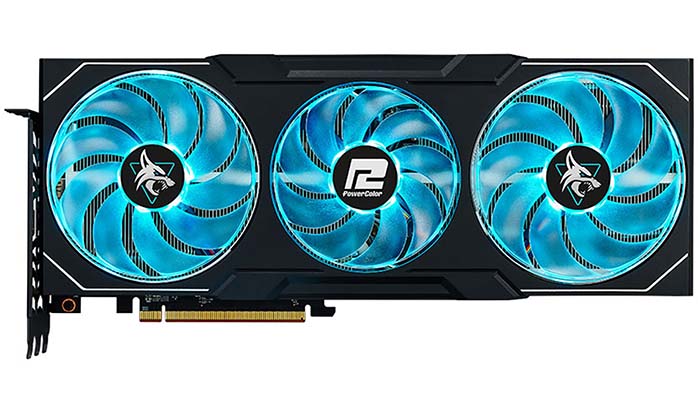 Introduction
First up is Powercolour's HellHound RX 7900 XTX. As you can probably imagine, the 7900 XTX is a rather popular card, and it can be quite difficult to purchase a reasonably priced one sitting somewhat close to the MSRP option. However, the HellHound 7900 XTX is actually one of the best priced 7900 XTX GPUs right now, making it a very competitive option compared to the rest of the market.
Design wise this model does look a little bit cheap, I feel that fans could be a little bit more premium, the added RGB is a nice touch. This model is also quite large offering a rather big heatsink which should help with keeping the 7900 XTX cool and quiet. Although this card isn't one of the best looking options, if you're looking to find the best price available for the 7900 XTX, the Powercolour HellHound version will definitely suffice.
Key Specs
| Spec | Powercolour HellHound Radeon RX 7900 XTX |
| --- | --- |
| Base Clock Speed | 1.85GHz |
| Boost Clock Speed | 2.52GHz |
| Ray Accelerators | 96 |
| Stream Processors | 6144 |
| Wattage | 355W |
Things We Like
Strong price point: The 7900 XTX is relatively well priced overall, but it can be difficult to pick this card up at MSRP. The Powercolour HellHound is one of the best priced options when comparing to the rest of the market.
Dual BIOS mode: The HellHound 7900 XTX features a built-in switch for a Dual BIOS mode which allows consumers to easily change between OC mode and Silent mode. This can improve performance, or ensure that your system stays quiet and focuses on longevity.
Things We Don't Like:
Card is quite cheap looking: Powercolour's HellHound version of the 7900 XTX is one of the cheaper models we've encountered in terms of aesthetic. If you're looking for a card with a great design, this might not be the best option overall.
Quite large dimensions: AMD's reference card is quite a small model compared to some of the RTX 4000 range, but the HellHound version of the 7900 XTX is rather massive which can restrict case choices if you don't have enough clearance.
Summary
The Powercolour HellHound variant of the Radeon RX 7900 XTX is one of the best priced options on the market right now. It isn't the best looking graphics card we've seen, but considering the price to performance metrics, I feel the majority of consumers will let this slide.
Pros
Excellent performance
Competitively priced.
Can switch between OC and Silent mode very easily.
Cons
Card doesn't look great.
Dimensions may restrict case choices.
Where to Buy
Buy the Powercolour HellHound Radeon RX 7900 XTX on:
2. Sapphire Nitro+ Vapor-X RX 7900 XTX
👑The best looking option.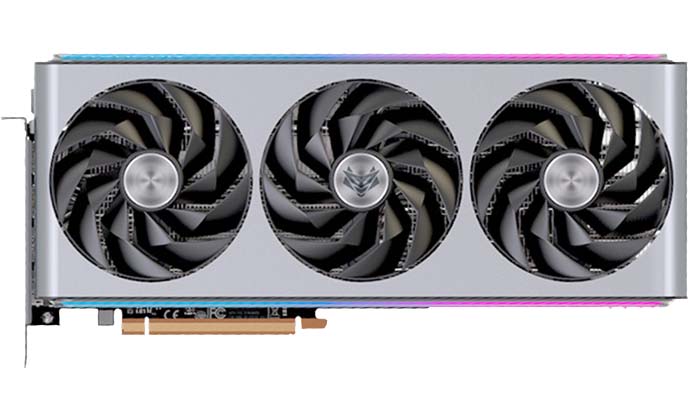 Introduction
Sapphire's Nitro+ Vapor-X 7900 XTX is a card that we've recommended before, because it is just awesome to look at. Graphics cards are one of the big components at the forefront of any PC build, and if you're going to spend a significant amount of money on it, it may as well look nice. And this is where Sapphire comes in.
Their Vapor-X 7900 XTX is one of the best looking cards from AMD that I've seen in quite a while. Gone are the days of cheap plasticky looking cards, now consumers can enjoy metal across the entire GPU, with excellent lighting and RGB options. This card is definitely a winner for us, and will be for many consumers prioritising aesthetic over functionality.
Key Specs
| Spec | Sapphire Nitro+ Vapor-X RX 7900 XTX |
| --- | --- |
| Base Clock Speed | 1.85GHz |
| Boost Clock Speed | 2.68GHz |
| Ray Accelerators | 96 |
| Stream Processors | 6144 |
| Wattage | 355W |
Things We Like
Awesome design: As we've alluded to above, the design of this card cannot go amiss. The front of the shroud features a flat satisfying silver, which wraps around the entirety of the GPU up until the back plate. And the fans offer a unique angular design, which also adds to the flair of the card.
Excellent RGB lighting: The top and bottom of the GPU have an RGB strip that stretches across the entire length of the GPU. This can be fully customised using Sapphire's in-house software TriXX, which allows you to change effects and colours to your heart's content.
Things We Don't Like
Rather expensive: The 7900 XTX is already an expensive card at MSRP, and as you can imagine, picking up an AIB model only increases that price further. The Sapphire Vapor-X is one of our favourite, GPUs, but this is definitely a pricey purchase.
Large dimensions: Much like the Powercolour HellHound edition, Sapphire have also created a rather large GPU. For those with a smaller case you may need to reconsider your options, as this GPU is rather massive.
Summary
Sapphire's Nitro+ Vapor-X 7900 XTX is one of the best cards that you can buy right now if you're a consumer wanting to put together an awesome looking build. But keep in mind, it will set you back a fair bit, as this GPU is rather expensive overall.
Pros
Awesome design and aesthetic.
RGB lighting looks great.
Solid thermals.
Cons
Very expensive.
The card is rather large.
Where to Buy
Buy the Sapphire Nitro+ Vapor-X RX 7900 XTX on:

Our Favourite RTX 4080 GPUs
3. NVIDIA RTX 4080 Founders Edition
👑The smallest and cheapest option.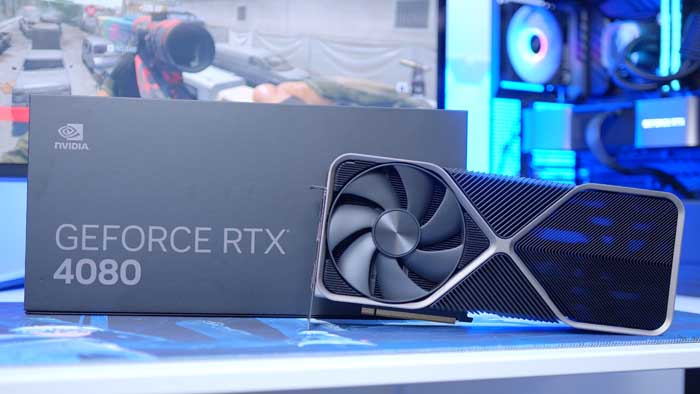 Introduction
Next up in our roundup is NVIDIA's RTX Founders Edition graphics card. Out of all of the RTX 4000 series GPUs we've got so far, the 4080 and the 4090 are the only ones to get Founders Editions. NVIDIA have actually significantly improved their Founders GPUs when it comes to thermals and performance, making them a very competitive options if you can get your hands on one.
Luckily the RTX 4080 seems to be very much in stock at MSRP on NVIDIA's website, so if you're willing to shell out the money for one, these cards are actually a great purchase overall. They're much smaller than the AIBs comparatively, provide great thermals, and are technically the cheapest option on the market right now.
Key Specs
| Spec | NVIDIA RTX 4080 Founders Edition |
| --- | --- |
| Base Clock Speed | 2.21GHz |
| Boost Clock Speed | 2.51GHz |
| RT Cores | 76 |
| CUDA Cores | 9728 |
| Wattage | 320W |
Things We Like
The cheapest RTX 4080: NVIDIA usually release a Founders Edition model card, which sets the price bar for AIBs to work off. This Founders Edition card sits at MSRP allowing consumers to pick it up for a somewhat reasonable price point.
Smaller in length: The biggest caveat to the new RTX 4000 cards, is that they are quite literally massive. However, the Founders Edition model is one of the smallest of the bunch which will open up some options in terms of case choices.
Things We Don't Like
Doesn't offer much in terms of design: Personally I'm a big fan of the Founders Edition cards when it comes to the aesthetic, but they're rather plain compared to other options on the market. It doesn't offer much when it comes to a unique aesthetic overall.
No RGB: Unfortunately the Founders Edition models don't offer any additional RGB lighting, which is a bit of a downside. So if you're looking to create a disco in your case, this won't be a great option.
Summary
NVIDIA's RTX 4080 Founders Edition is one of the best 4080 models that you can pick up right now. Make no mistake, this card is still very expensive as GPUs go, but it sits at MSRP, offers decent thermals, and provides strong performance all around.
Pros
Technically the cheapest option.
Excellent performance in high intensity workloads.
Good thermals.
Cons
Doesn't offer much for aesthetic.
Still a very expensive card.
Where to Buy
Buy the NVIDIA RTX 4080 Founders Edition on:
4. ASUS ROG STRIX RTX 4080
👑A GPU for RGB lovers.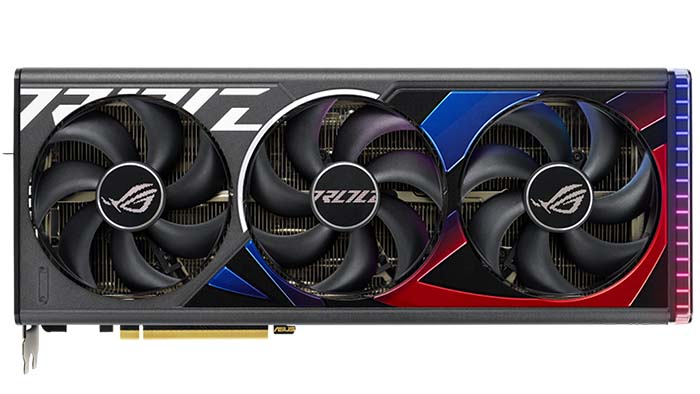 Introduction
For our last card of this roundup, we've picked out the ROG STRIX model from ASUS. ASUS are well known for creating awesome looking components that provide plenty of flair for a PC build. ASUS tend to take the 'go hard or go home' approach when it comes to RGB, hence why we've picked out this GPU as the best for lovers of RGB lighting.
The front of the shroud looks great, with the signature ASUS ROG branding popping up on the fans, and across the card. There's also metallic blue and red colouring on the front which makes this card really stand out. The side and top of the card is where you'll see all of the RGB lighting, making this ideal for a traditional mounted configuration, or even vertical mounting.
Key Specs
| Spec | NVIDIA RTX 4080 Founders Edition |
| --- | --- |
| Base Clock Speed | 2.21GHz |
| Boost Clock Speed | 2.53GHz |
| RT Cores | 76 |
| CUDA Cores | 9728 |
| Wattage | 320W |
Things We Like
Awesome design: The biggest standout feature of the ROG STRIX 4080 is the great aesthetic. As we've alluded to above, consumers can enjoy a GPU that stands out particularly well, and will look excellent in a multitude of different build types.
Great thermals: The enlarged heatsink and triple fan design of the ROG STRIX 4080 allows consumers to enjoy great performance with the added bonus of strong cooling keeping your build cool and quiet.
Things We Don't Like
Quite pricey: The RTX 4080 is already a rather expensive card to begin with, but the AIB models do push the price up quite high. Consumers can expect to spend a fair amount to secure this GPU.
Size may restrict case choices: The RTX 4080 is a rather big card, especially the ROG STRIX model. This card sits at around 357mm in length, which could cause some clearance issues if your PC case isn't big enough.
Summary
The ASUS ROG STRIX RTX 4080 is one of our favourite models of this particular SKU, offering a great all-round aesthetic, with customisable RGB, and strong performance. Definitely a worthwhile consideration for those looking to build a PC with a particular theme.
Pros
RGB and card looks awesome.
Great thermals.
Ideal for those prioritising aesthetic.
Cons
Very very expensive.
Gargantuan size.
Where to Buy
Buy the ASUS ROG STRIX RTX 4080 on:

Gaming Benchmarks
In this section, we'll be jumping into a plethora of gaming benchmarks selected from our full suite. Here we've provided some comparative graphs, so you can see performance metrics for current and older GPU options. As always, you can find our full benchmarking runs on the Benched YouTube channel, where we've tested a myriad of components in the latest games.
Spiderman Miles Morales GPU Winner – RX 7900 XTX
First up in our gaming benchmarks is Spiderman Miles Morales at 4K with DLSS/FSR enabled. AMD's Radeon RX 7900 XTX was able to output an impressive 112 FPS on average. This title is very demanding at a 4K resolution, so we were happy to see a metric well above the 60FPS mark. Overall the gameplay was very smooth, and we had more than enough frames to swing through the city without any problems. We weren't able to reach the 144Hz sweet spot in this title, but this won't be much of a problem for the vast majority of consumers.
Next up is the RTX 4080, which demonstrated extremely similar performance to that of the 7900 XTX. The 4080 lost out to the 7900 XTX by one mere frame, which goes to show how alike these cards are when it comes to performance. Again, we missed out on the 144Hz mark, but considering how demanding this title is at 4K, this isn't a deal-breaker for us.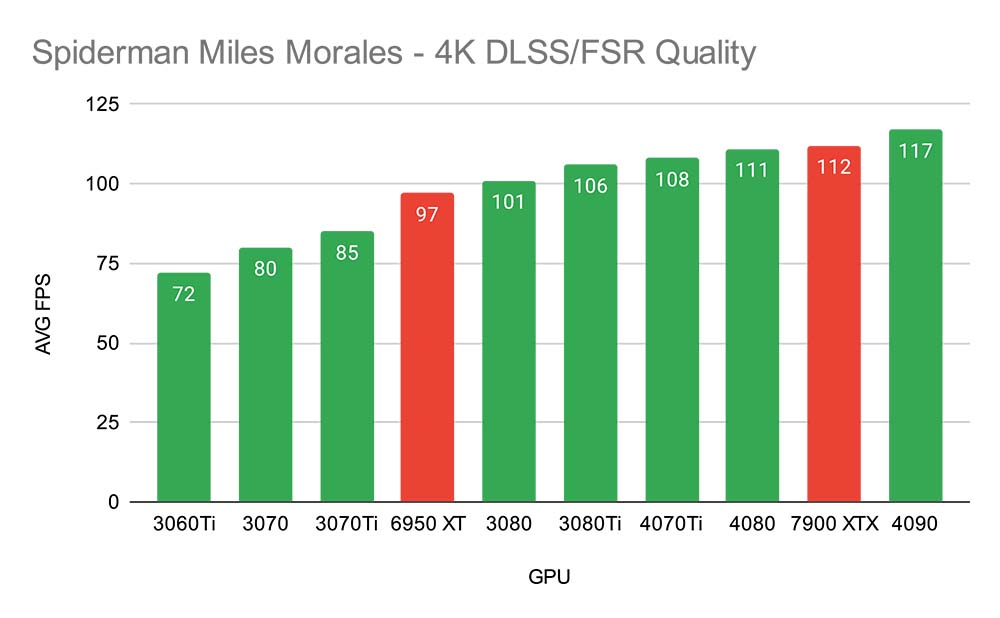 Fortnite GPU Winner – RX 7900 XTX
AMD's top-end SKU yet again wins the battle in Epic Games' hit title Fortnite, at 1080P competitive settings. We use this benchmark to see how well these cards perform in an Esports setting, where all the frames are important. The 7900 XTX was able to offer 312 frames on average, which is well above the 144Hz, and is perfect for those with crazy high refresh rate displays.
The RTX 4080 was in a very similar position to the 7900 XTX outputting 304 frames on average, losing out by eight in total. At frames this high the different would be entirely negligible, but it is still great to see that the RTX 4080 can still hold up well compared to the 7900 XTX. The 4080 is definitely still a winner as well, for those with monitors that surpass the 144Hz mark, such as 200Hz, or even 300Hz.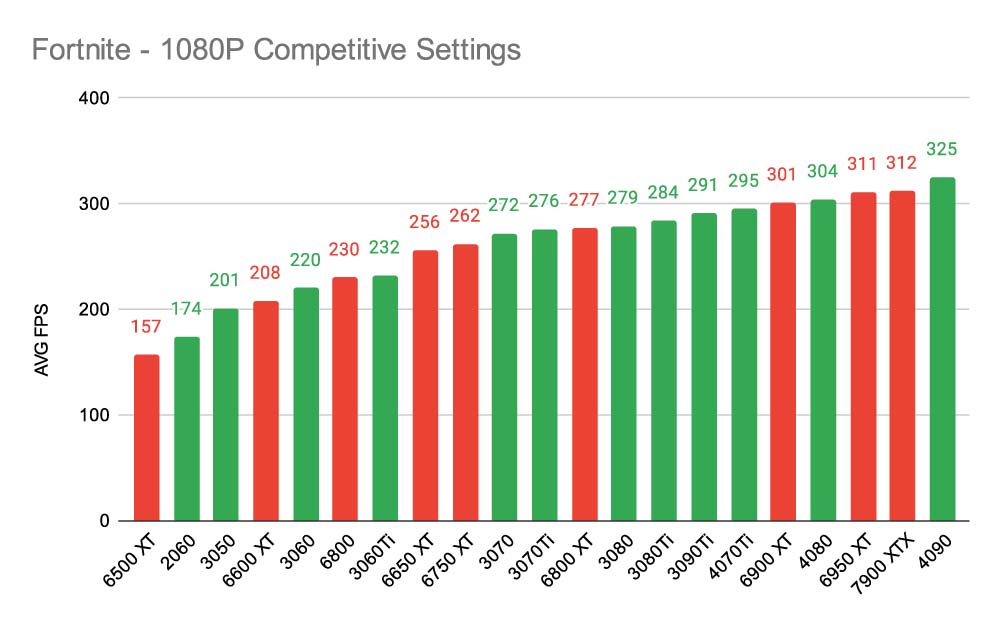 Battlefield 2042 GPU Winner – RTX 4080
The situation has shifted slightly in Battlefield 2042, with the RTX 4080 taking the win in this particular battle. The 4080 was able to output a strong 112FPS on average at 4K, which is great. We didn't see this card reach the 144Hz sweet spot, and this would be particularly ideal as Battlefield 2042 tends to be an intense title. But I imagine the vast majority of consumers would be very happy with frames this high at a 4K resolution.
Looking at the RX 7900 XTX, this GPU lost out to the RTX 4080 by a mere eight frames, outputting 104 in total. We weren't expecting the 7900 XTX to be able to reach a framerate much higher than the RTX 4080 as their performance is very similar, but regardless, it is still disappointing to see that we couldn't get to a high refresh rate. However, we'll give both of these cards the benefit of the doubt, as Battlefield 2042 is a very demanding title even when you're not playing the game at a 4K resolution at high settings.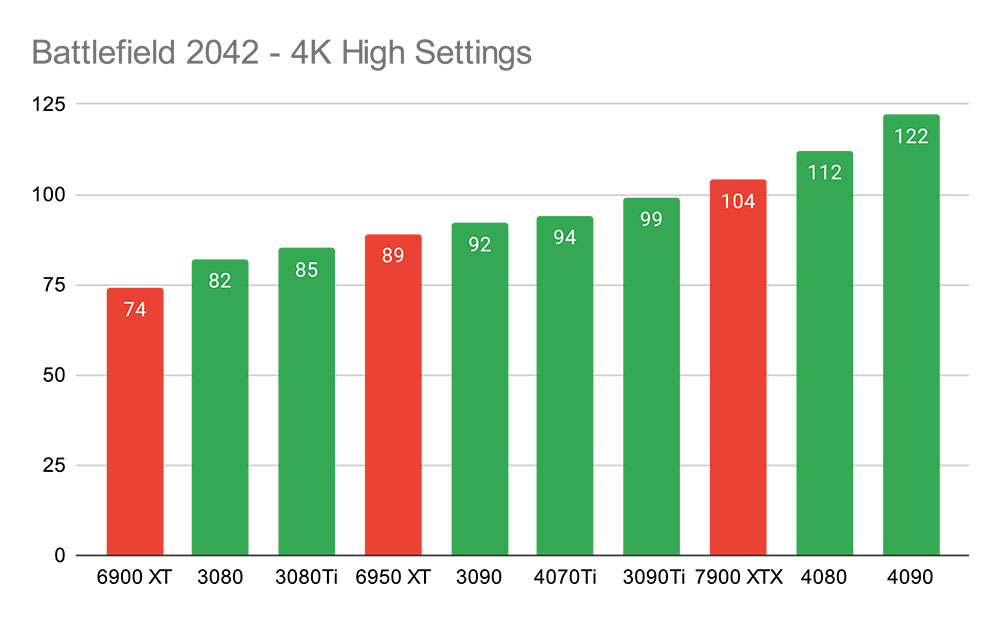 Apex Legends GPU Winner – RX 7900 XTX
For our final benchmark, we threw both of these cards at Apex Legends at a 4K resolution. The winner of this particular benchmark was the 7900 XTX outputting the most amount of frames we've ever seen in this game at 4K, with 202 FPS on average. This was insane to see, and is more than enough for consumers to enjoy buttery smooth gameplay without any hindrances or issues alongside a super smooth refresh rate.
The RTX 4080 still offered pretty strong performance overall in this benchmark, but it loses out to the RX 7900 XTX by about 40 frames in total. This is quite the jump in comparison, which definitely cements the 7900 XTX as a winner in this instance. However, consumers can still enjoy an incredibly smooth experience with a great refresh rate using the RTX 4080.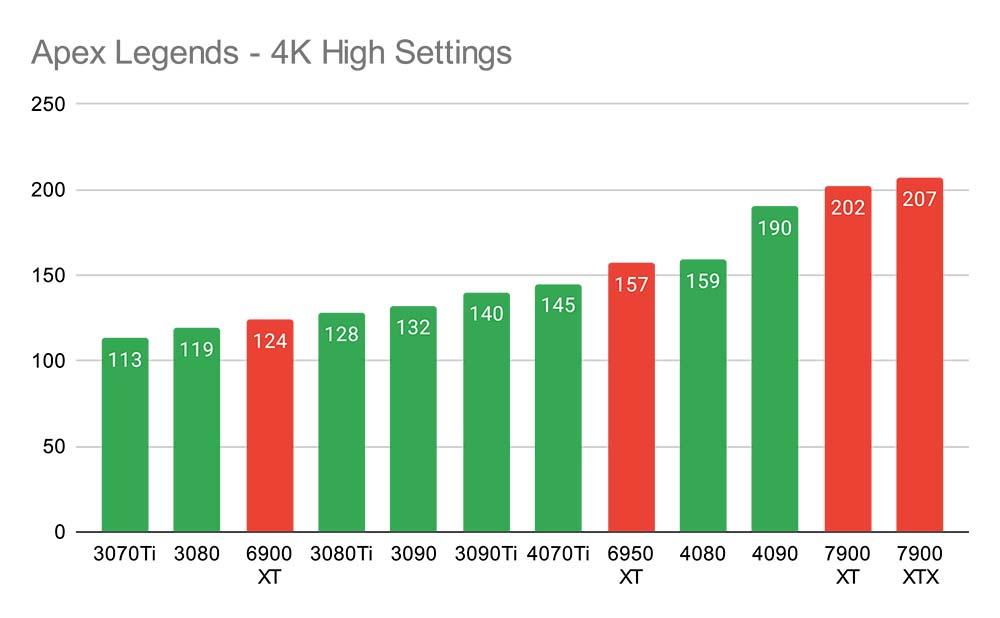 Conclusion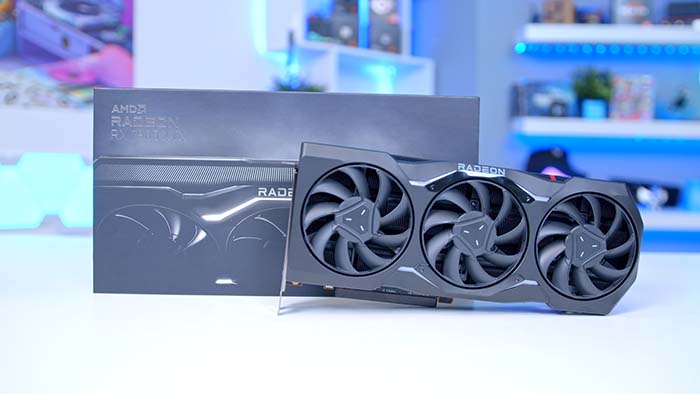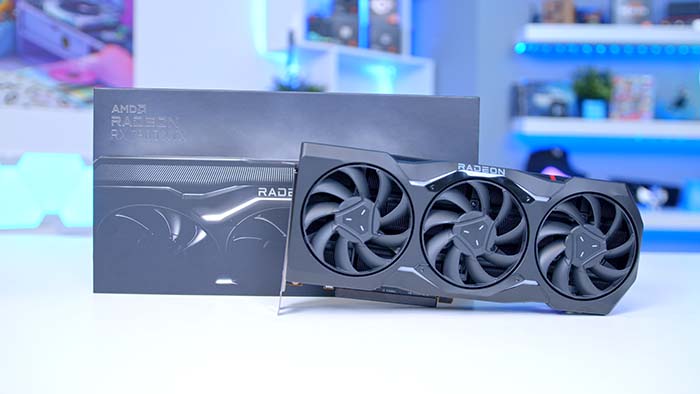 GPU Versus Winner – AMD Radeon RX 7900 XTX
So which of these GPUs is the winner, after this Versus Battle? The clear and decided victor is AMD's RX 7900 XTX. We were pretty excited to see what the 7900 XTX had on offer prior to its release, and needless to say, AMD have definitely brough the competition to NVIDIA. This card is effectively better than the RTX 4080 in every way, it is cheaper, offers better performance in the majority of situations, and I personally think there are better looking options in terms of aesthetic.
However, this isn't to say that the RTX 4080 is a bad GPU. If we look back at the benchmarks, the 4080 held its own in every title we tested with only marginal performance differences overall. Consumers can still enjoy incredibly smooth gameplay with this card at 4K, and users also get the added benefit of better Ray-Tracing performance. This card does fall flat when it comes to pricing (hence there being so many Founders Cards in stock due to unpopularity). But if you've got the money to pick up an RTX 4080, you definitely won't be disappointed.
Buy the Radeon RX 7900 XTX on: