Introduction
The time has finally come, we're back again with yet another product launch right at the start of the new year from Nvidia. After plenty of controversy and much delay, we've finally got our hands on Nvidia's rebranded RTX 4080 12GB card with a more appropriate name. The RTX 4070Ti offers quite impressive specs and will be an ideal card for those building a mid-range gaming system, but how does it compare against other options on the market?
Nvidia has been known to struggle with significant generational improvements in the past, so its worth comparing the new range of GPUs against much of the RTX 3000 series to see how much of a difference is on offer.
In this article, we'll be putting the RTX 4070Ti up against the RTX 3080 (a popular high-end card from the previous generation) to see where performance lies between them.
Suggested Article: Palit GameRock Premium Edition GeForce RTX 4070Ti Review
Versus Battle
Nvidia GeForce RTX 4070Ti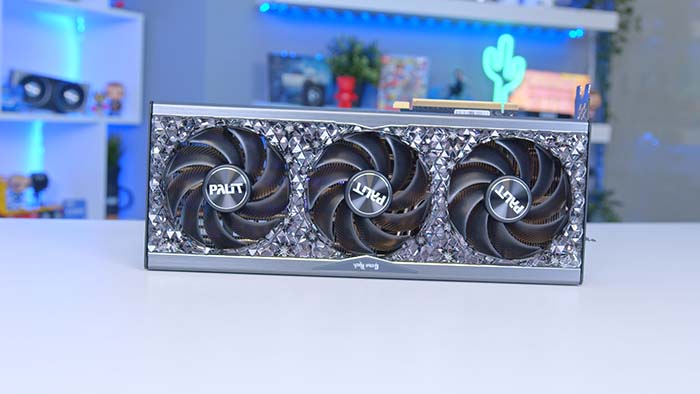 | | |
| --- | --- |
| Memory Capacity | 12GB GDDR6X |
| Boost Clock Speed | 2.7GHz |
| RT Cores | N/A |
| CUDA Cores | 7680 |
| TDP | 290W |
| Release Date | January 2023 |
| Price | Check Price on Amazon |
Nvidia RTX 4070Ti Specs
Nvidia's RTX 4070Ti is a somewhat controversial entrant in the market, as Nvidia were going to release this card as a variant of the 4080 SKU. After landing themselves in plenty of hot water due to this card using a weaker die, Nvidia decided to 'unlaunch' the card and come back to it at a later date with a rebrand. Today is the day that Nvidia are striking back with a new card that has a more appropriate name based on its hardware specs and performance.
Speaking of performance, the RTX 4070Ti sits where we expected it to, which is between the RTX 3090Ti and RTX 4080. This means the 4070Ti is more capable of 4K performance with consistently high framerates. Unfortunately, this GPU does fall somewhat flat when Ray-Tracing is enabled, but arguably the '70' cards haven't ever been geared towards such a high performance overhead. However, framerates can be improved when DLSS is enabled, at the small cost of increased latency alongside potentially reduced image quality. Nvidia's Frame Generation technology will also significantly improve framerates, but this technology isn't as widely available within games.
Moving onto pricing, after the official announcement at CES, Nvidia have attached a price tag of $799 to the 4070Ti, putting the value-proposition into question. We would only recommend paying around $600-$700 at maximum for this GPU. As AMD have proven, 'Moore's Law is not dead', and consumers shouldn't expect to pay a significant premium for a mid-range graphics card. Although we don't imagine Nvidia will lower the prices anytime soon, we might see Nvidia be more competitive in the current market after landing themselves in hot water. But if the RTX 4080 is anything to go by, Nvidia might struggle to makes sales on this new GPU without a lower price tag.
Nvidia GeForce RTX 3080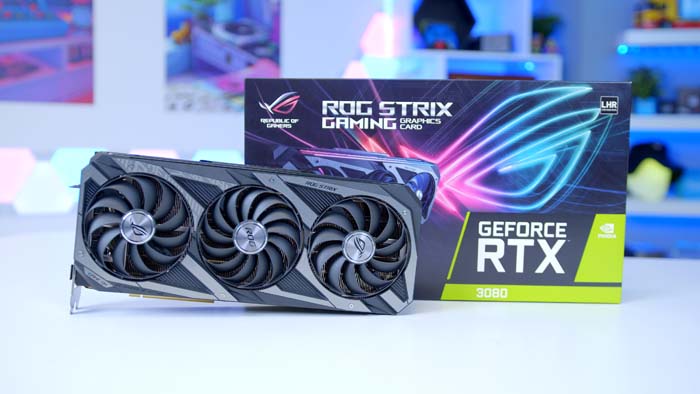 | | |
| --- | --- |
| Memory Capacity | 10GB GDDR6X/12GB GDDR6X |
| Boost Clock Speed | 1.71GHz |
| RT Cores | 70 |
| CUDA Cores | 8704/8960 |
| TDP | 320W/350W |
| Release Date | September 2020/January 2022 |
| Price | Check Price on Amazon |
Nvidia RTX 3080 Specs
Nvidia's RTX 3080 was the very first graphics card to launch within the RTX 3000 range. The new set of cards were advertised as heavy hitters in terms of performance and Nvidia definitely did not disappoint. Though there were concerns that early adopters may be losing out on performance, all of the RTX 3000 SKUs impressed the masses, and Nvidia's Ampere architecture would prove to be very popular in the current market.
Looking at performance, consumers can expect to have no trouble with games running at a 4K or 1440P resolution. The RTX 3080 is more capable of Ray-Tracing due to its increased RT core count, but framerates are dependent on how optimised the game is and whether DLSS is enabled. The RTX 3080 is also an excellent workstation graphics card, significantly reducing render or export times in a multitude of applications. DLSS will also improve framerates at higher resolution, especially as DLSS 3 becomes more widely available in a number of titles. Overall, the RTX 3080 is an absolute performance beast and consumers won't be disappointed with performance.
With concerns to pricing, the RTX 3080 is undoubtedly an expensive graphics card, and this is to be expected as per all of the '80' SKUs. However, we're expecting the price of this GPU to drop over time as the RTX 4080 becomes more saturated within the market. I'd argue that at it's current price, the 3080 offers a great value-proposition, providing consumers the ability to enjoy high framerates at 4K with minimal hindrances. As the price drops, the value of this card will drastically increase, and we imagine many consumers will jump at the option to pick up this card. Whether this GPU offers more value compared to the 4070Ti will depend on Nvidia's final price for their newest card.
How We Tested the RTX 4070 Ti and 3080
At GeekaWhat HQ, we're lucky to have a myriad of components come through our doors each month from a range of manufacturers and brands for us to test, and review. Because of this we've had to put together a concrete testing and evaluation method in order to ensure that all of these components perform as expect, and whether they offer strong value for money at their given price point. Our standardised testing procedure involves firing up a multitude of games from our benchmarking suite (which features the latest triple A and Esports titles), whilst recording the in-games settings we've used.
Once we're ready to record, from here, we utilise MSI's Afterburner to record thermals, utilisation, and framerates with Rivatuner. We also use NVIDIA's Frameview to ensure framerates remain the same across applications, and also to get an average FPS. Frameview offers percentile results that provide an average across the board that we can use for data entry.
Our full benchmarking suite consists of a plethora of popular gaming title, such as: F1 2022, COD Warzone 2.0, Apex Legends, Fortnite, and more. We always keep up with the most popular games on the market, to ensure consumers can find performance metric data in their favourite titles.
Both the RTX 4070Ti and 3080 have been tested in a range of these games, alongside productivity benchmarks to get a well-rounded idea of how these GPUs would fair in a multifaceted gaming/workstation system. You can find more information about our testing and evaluation methods in the reviews we've provided below. You can also find all of the full benchmarking runs on our component testing YouTube channel – Benched.
Lovelace vs Ampere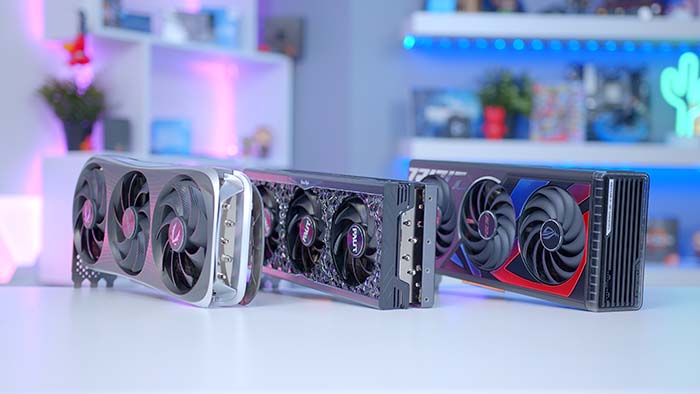 NVIDIA Lovelace Architecture – RTX 4000
NVIDIA's most recent RTX 4000 GPUs saw a big change to the previous generation's architecture, which has brought along evolved and improved performance to the table. These new cards bring a huge improvement to RT, CUDA and Tensor cores allowing consumers to enjoy unhindered gaming and productivity applications. This also means that more intense workloads such as Ray-Tracing, and 4K gaming becomes less of an issue for these extremely powerful GPUs.
Alongside the hardware changes, we've also seen drastic improvements to DLSS, with the new DLSS 3.0 showing it's face in certain games. The improvements reduce latency, whilst also increasing framerates when enabled. DLSS 3.0 also brought on NVIDIA's brand new Frame Generation technology which uses AI backing to redraw individual frames. Lovelace is the clear winner when it comes to performance improvements, contrasting to the previous generation's RTX 3000 cards. But as we'll talk about later on, Ampere cards are still definitely worth a consideration, which can't be said of all of the RTX 4000 SKUs we've seen so far.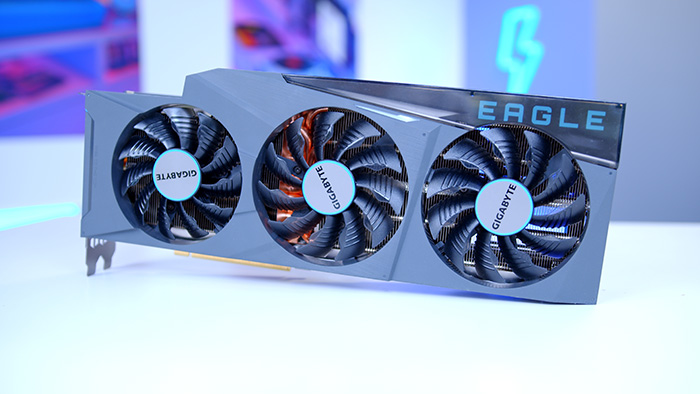 NVIDIA Ampere Architecture – RTX 3000
NVIDIA's previous generation Ampere architecture is effectively the main foundation for Lovelace-based GPUs. Ampere was the big hitter generation for NVIDIA bringing along gargantuan leaps in performance at the high-end and low-end, whether you're playing at 1080P or 4K. Much like Lovelace, RT, CUDA, and Tensor cores were given big improvements which allowed NVIDIA to create excellent multifaceted GPUs at a very reasonable price point.
Aside from the hardware, we also saw leaps and bounds with NVIDIA's DLSS technology, with the performance overhead being drastically reduced at higher resolutions. Ray-Traced games also saw big improvements too, with cards at the higher end offering strong framerates when Ray-Tracing was enabled. Although Lovelace cards are better when it comes to raw performance, most consumers and enthusiasts would argue that RTX 3000 was the 'golden age' of GPUs prior to GTX 1000 series cards. Lovelace has massively improved on the Ampere architecture, but this goes to show how good Ampere was prior to the release of RTX 4000 cards.

Our Favourite RTX 4070 Ti GPUs
1. Zotac Gaming Trinity RTX 4070 Ti
👑The cheapest AIB option.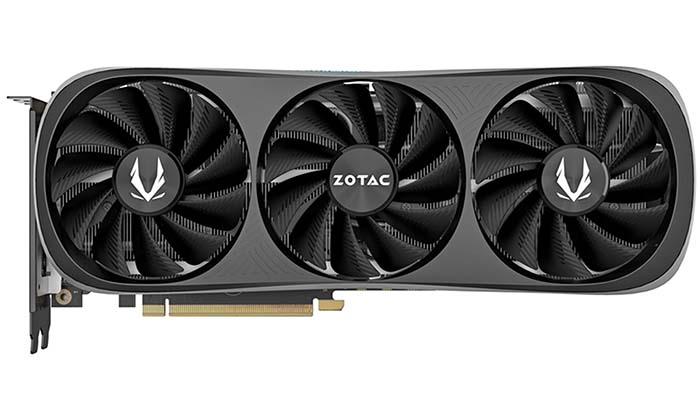 Introduction
Although the RTX 4070Ti is a rather controversial card, it is still an excellent performer when compared to the same SKU on the Ampere architecture. The biggest caveat is of course, the price, but if you're willing to shell out for this GPU, it is an excellent card overall, offering strong metrics at a 4K resolution.
The Zotac Trinity model is one of the cheapest options available for this particular SKU, fortunately sitting at MSRP. NVIDIA didn't release a Founders Edition card for this model, so consumers can only pick up AIB cards. However, I'd argue that you're getting much better value for money based on the alternative aesthetic, inclusion of RGB, and the fact that this model is likely to have better cooling compared to the Founders cards.
Key Specs
| Spec | Zotac Trinity Gaming RTX 4070 Ti |
| --- | --- |
| Base Clock Speed | 2.31GHz |
| Boost Clock Speed | 2.61GHz |
| RT Cores | 60 |
| CUDA Cores | 7680 |
| Wattage | 285W |
Things We Like
Available for MSRP: Although NVIDIA haven't provided a Founders Edition model, there are quite a few AIB options that you can still pick up for MSRP. This means you won't have to spend a fortune to secure a solid AIB model.
Good thermals: One of the major benefits to picking up an AIB model is often performance, or improved cooling. Zotac have gone with the latter, creating a triple fan design that brings plenty of airflow, and make it ideal for those prioritising thermals.
Things We Don't Like
Still gigantic: The lack of a Founders Edition model does mean that smaller cards tend to be a bit more scarce. The Zotac model is one of the smaller 4070 Ti GPUs, but consumers may need to consider case choices to ensure there's enough clearance for this massive card.
May require an ATX 3.0 power supply: If you're the kind of consumers that prefers minimal cable management, then this card will be a nightmare. All of the new RTX 4000 cards use the 16-Pin cable which requires either a new power supply, or the use of some rather gross looking adapters.
Summary
Zotac's Trinity Gaming RTX 4070 Ti is a great card offering solid thermals, a well-rounded design, and represents the strong performance that comes from the 4070 Ti. It is one of the cheapest options, and definitely worth a consideration for price conscious consumers.
Pros
Solid aesthetic.
Good thermals overall.
The best price point compared to other options.
Cons
Still a very expensive card overall.
Dimensions can limit case choices.
Where to Buy
Buy the Zotac Trinity Gaming RTX 4070 Ti on:
2. Gigabyte AERO OC RTX 4070 Ti
👑The cheapest AIB option.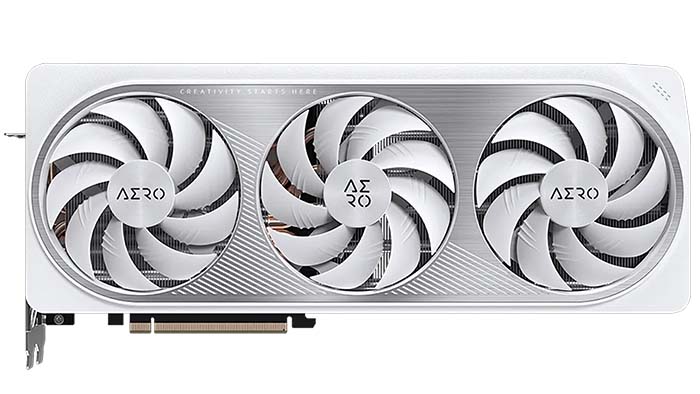 Introduction
Next up is Gigabyte's AERO OC 4070 Ti. Fully white components are somewhat of a rarity nowadays, especially GPUs. But we've seen a few white variations from each of the RTX 4000 SKUs, and expect more to trickle down as we get different editions of the cards in the future.
This particular model is mostly all-white, from the fans, and all the way across the entirety of the shroud, but excluding the backplate. We were a little bit disappointed to not see a white backplate, but considering how rare white cards are, this can be an exception to a degree. This card offers strong cooling capabilities, much like the Zotac model. We've also seen an increased clock speed which should offer some sleight performance bonuses when gaming, and potentially in workstation applications.
Key Specs
| Spec | Gigabyte AERO OC RTX 4070 Ti |
| --- | --- |
| Base Clock Speed | 2.31GHz |
| Boost Clock Speed | 2.64GHz |
| RT Cores | 60 |
| CUDA Cores | 7680 |
| Wattage | 285W |
Things We Like
Wow, a white GPU!: We all love to see a white graphics card, and Gigabyte have done us a solid by creating one. This one of the main components on display in any build, so why not get an awesome white one like the AERO OC, and make your build look excellent.
Active cooling: The AERO OC 4070 Ti model has active fans and cooling, to ensure that your system will remain efficiency and quiet when your GPU isn't under high utilisation.
Things We Don't Like
Non-white backplate: This might be petty, but I'm still a bit disappointed that the backplate isn't white too. This is a smaller criticism, but it doesn't make sense to me to have a mostly white graphics card, with a black piece that is going to be displayed the most if you mount it traditionally.
Large dimensions: Much like the Zotac Trinity model, this card also has equally large dimensions sitting at 337mm in length. You'll definitely need to look at your case options if you're picking up this GPU.
Summary
Gigabyte's AERO OC version of the RTX 4070 Ti is a solid card for those building an all-white PC. It offers strong cooling, a refined and modern design, along with a slight increase in clock speed offering better performance in certain situations.
Pros
Overall aesthetic is great.
Good thermals.
Slightly better performance.
Cons
Higher price compared to MSRP.
Isn't entirely white.
Where to Buy
Buy the Gigabyte AERO OC RTX 4070 Ti on:

Best RTX 3080 GPUs
3. PNY XLR8 Gaming REVEL RTX 3080
👑A cheaper but interesting design.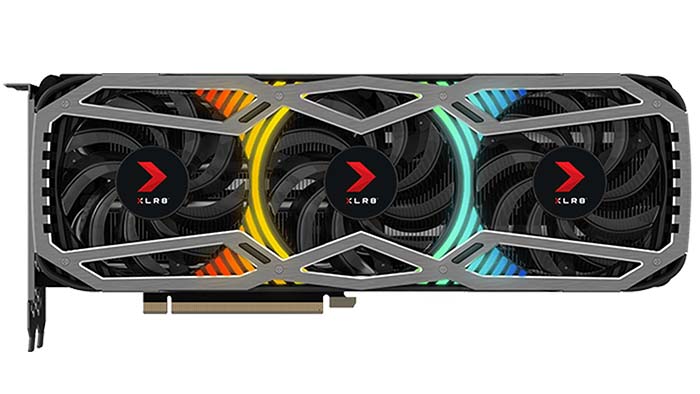 Introduction
PNY is one of those brands that you might be familiar with, but they only tend to pop up when you end up browsing the web for graphics cards. However, despite being a lesser-known manufacturer, they create very reliable and solid GPUs, hence appearing in this roundup. This particular model is one of the cheapest RTX 3080 GPUs right now, making it a worthwhile option for those looking to build a top-end system.
Design wise the PNY XLR8 has a unique industrial theme appearing across the entire GPU, including the front and the back. The front of the GPU shroud also has a rather different take when it comes to RGB, which I'm a big fan of. Triple-fan models also seem to be a bit of a commonality within this roundup, as the XLR8 is also a three fan design providing better cooling capabilities in contrast to the weaker but cheaper Founders Edition models.
Key Specs
| Spec | PNY XLR8 Gaming REVEL RTX 3080 |
| --- | --- |
| Base Clock Speed | 1.44GHz |
| Boost Clock Speed | 1.71GHz |
| RT Cores | 68 |
| CUDA Cores | 8704 |
| Wattage | 320W |
Things We Like
Excellent RGB lighting: The unique and non-traditional take on RGB lighting is a big winner for us. Although it would be nice to see some RGB fans, I think this card is ideal for those wanting to build a disco within their PC.
Great price point: PNY's take on the RTX 3080 is actually one of the cheapest models right now. The Founders Edition can be especially difficult to pick up, making this one of the next best options when it comes to price.
Things We Don't Like
Size may limit case choices: The RTX 3080 is unfortunately one of the 'big boys' when it comes to dimensions, and the AIBs arguably make this worse. The PNY version of the 3080 sits at a whopping 293mm, so clearance could be tight dependent on your case choice.
Can be difficult to pick up: Although the PNY RTX 3080 is a great option for the price right now, the Asian brand cards can be difficult to secure at times, so you may have to shop around if you're dead set on picking up this card.
Summary
PNY's take on the RTX 3080 is a refreshing and unique design, contrasting to other models we've seen. It offers a twist on RGB lighting, has strong thermal efficiency, and offers a slight boost to performance with an increased clock speed.
Pros
Very well priced.
RGB lighting looks great.
Good thermal efficiency.
Cons
Size may cause clearance issues.
Design won't be for everyone.
Where to Buy
Buy the PNY XLR8 Gaming REVEL RTX 3080 on:
4. Gigabyte Gaming OC Waterforce RTX 3080
👑The best cooled option.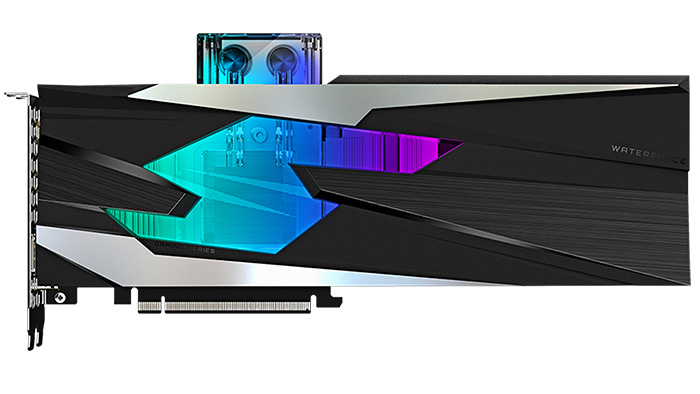 Introduction
Gigabyte seems to be making a reappearance on this roundup, but instead for an awesome looking water cooled model. You'll immediately notice the lack of fans on the Waterforce RTX 3080, and that's because there aren't any. Gigabyte have removed any form of shrouding and replaced it with a giant waterblock with their signature AORUS design.
I must admit, this card looks absolutely gorgeous. The RGB lighting and seamless block just looks great, and I imagine many consumers will be able to put together an outstanding water cooled build. This model is definitely pricier compared to the vast majority of the RTX 3080 range, but if you'd rather avoid taking apart your GPU and you want better cooling, Gigabyte has created this solution exactly for that.
Key Specs
| Spec | Gigabyte Gaming OC Waterforce RTX 4080 |
| --- | --- |
| Base Clock Speed | 1.44GHz |
| Boost Clock Speed | 1.8GHz |
| RT Cores | 68 |
| CUDA Cores | 8704 |
| Wattage | 320W |
Things We Like
A beautiful looking GPU: The aesthetic is the biggest thing that wows me about this graphics card. Gigabyte certainly know how to design an awesome looking GPU, and the RGB lighting is perfect for those that love pure flashiness.
The best cooling you'll see: Although there are many GPUs that offer strong thermals with three fans, they can't surpass liquid options. The Gigabyte Waterforce RTX 3080 is one of the best options on this SKU for cooling.
Things We Don't Like
Very very expensive: The price of this GPU doesn't quite reach the exorbitant levels that we've seen from the RTX 4000 range, but it is definitely an expensive option this needs to be stressed.
Doesn't offer a radiator: The biggest caveat to picking up this graphics card, is that you'll need to be creating your own custom water cooling solution, as this GPU does not come with a pump, reservoir, pipes or anything else required to set up a custom loop.
Summary
Gigabyte's Waterforce RTX 3080 is by far one of my favourite models when it comes to performance and design. Yes this model is pricey, and yes you'll need to spend extra to secure components for a custom loop, but this card will be well worth the hassle and expense once powered up and gaming.
Pros
Aesthetic is awesome.
Ideal for those prioritising thermals.
Strong boost clock will provide better performance.
Cons
Very very expensive.
Requires consumer to purchase and assemble a custom loop.
Where to Buy
Buy the Gigabyte Gaming OC Waterforce RTX 3080 on:
Gaming Benchmarks
In this next section of the article, we'll be delving into a range of gaming benchmarks from our full suite. Here we've provided some comparative graphs, so you can see the performance metrics between current and older GPU options. As always you'll be able to locate our full benchmarking runs on the Benched YouTube channel, where we've tested a huge range of games and components.
Battlefield 2042 GPU Winner – RTX 4070 Ti
First off in our benchmarks, we tested out the intense but popular title, Battlefield 2042 at a 4K resolution. The RTX 4070 Ti lead the fore in this benchmark with a strong average framerate of 94FPS on average. This is more than enough for a smooth experience, but not quite enough for a buttery smooth refresh rate, which is something we always look for within our benchmarking runs.
However, the RTX 3080 wasn't close behind losing out to the RTX 4070 Ti with 12 frames in total, putting our average at 82 for the 3080. This was still equally impressive, considering the leaps in hardware that we've seen between generations. Again, consumers can expect very smooth gameplay here, but we weren't able to reach a framerate high enough to enjoy a refresh rate too. Ultimately, Battlefield 2042 is a rather intense title when it comes to hardware utilisation, which is why we're seeing weaker performance compared to some other games.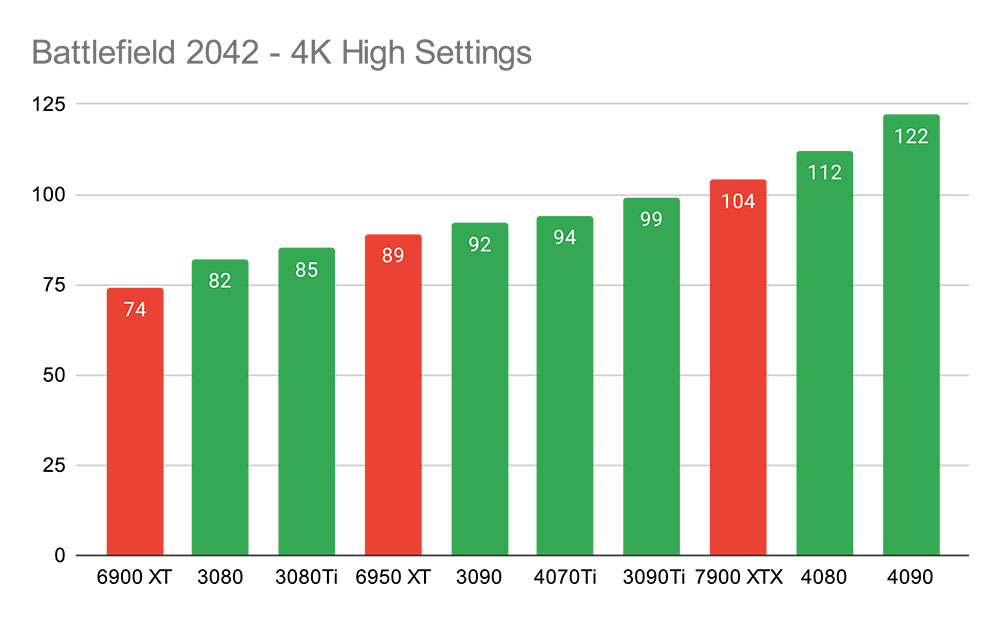 Apex Legends GPU Winner – RTX 4070 Ti
Next up is Apex Legends, here we saw the RTX 4070 Ti take the lead, which will be a recurring theme for much of this article. The 4070 Ti was able to output around 145 frames on average, which is just above the sweet spot for a 144Hz refresh rate, which we love to see. It seems the 4070 Ti is just able to reach that mark, but this performance will be dependent on networking latency and component compatibility. But ultimately, its great to see that NVIDIA's newest cards are able to perform well at a 4K resolution.
The RTX 3080 still lead a very strong show here, with an average of around 119FPS. Again, this isn't quite the performance that we need to see a smooth display and gaming experience. However, I imagine the majority of consumers would be very happy playing this game at around 120FPS at 4K. It seems that the RTX 3080 is definitely able to keep up with the performance of the 4070 Ti, despite the hardware and software improvements.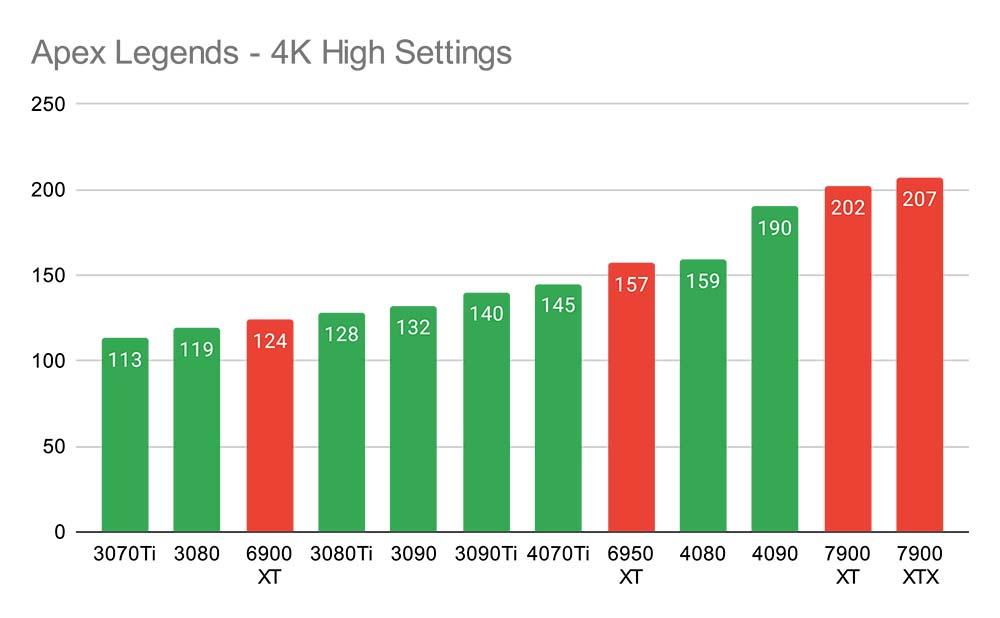 GTA V GPU Winner – RTX 4070 Ti
Yet again the RTX 4070 Ti sits towards the top of the graph, outputting 158FPS on average. GTA V is an older title, which is why performance seems to be somewhat diminished with the newer cards, but it is still interesting to see how these GPUs perform. We were pretty impressed with the performance of the 4070 Ti, offering frames just above the 144Hz sweet spot, which is perfect, as this game does tend to be a rather intense title in terms of the gameplay elements.
However, the RTX 3080 still held up very strong in comparison, only losing out to the 4070 Ti over a mere 13 frames on average. Ultimately, most consumers wouldn't really be able to notice the difference here. If we were at lower average framerates, the performance difference would be visible to a degree, but at metrics this high, either one of these GPUs is a great bet to play GTA V at 4K.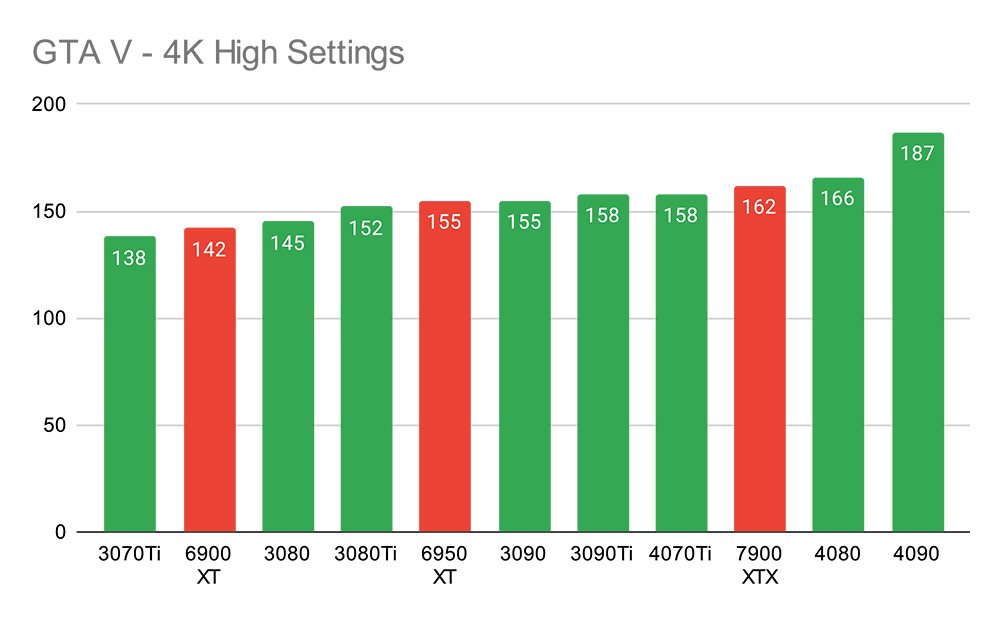 Fortnite GPU Winner – RTX 4070 Ti
For our final benchmark in this article, we tested the RTX 4070 Ti and 3080 in Fortnite at 1080P Competitive settings. These in-game settings give us more of an indicator for how these cards would perform in an Esports setting. As expected, the RTX 4070 Ti absolutely destroyed this game, offering up an average framerate of 295 FPS, which is insane. At frames this high, any performance drop wouldn't really be noticeable, but it is rather impressive regardless that the 4070 Ti was able to output a framerate at this level.
Next up is the RTX 3080, which still offered up very impressive performance metrics overall. The RTX 3080 only lost to the RTX 4070 Ti over 16 frames, which demonstrates how strong the 3080 is at a 1080P resolution. And again, at a framerate this high, the difference in performance between these GPUs would be negligible.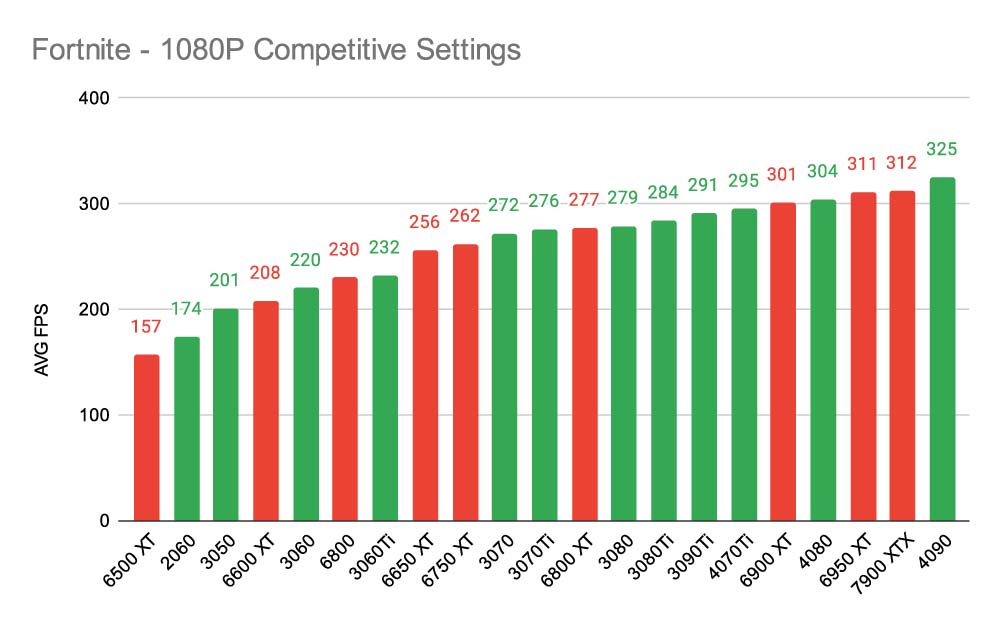 Conclusion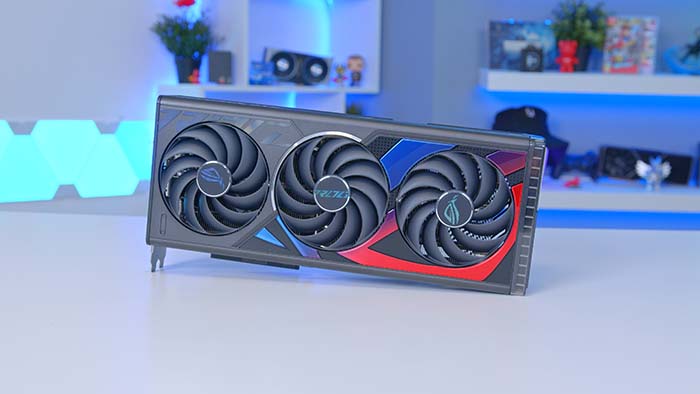 GPU Versus Winner – NVIDIA RTX 4070 Ti
So which card is the winner of the GPU Versus Battle? Well, if we look at raw performance, the clear winner is the RTX 4070 Ti, based purely on it's gaming prowess. However, if we look at value, the battle swings an entirely different way. The RTX 4070 Ti is definitely a strong graphics card that's for certain, but when we consider price to performance metrics, the 4070 Ti isn't great. There's been so much controversy surrounding the price point of this GPU, and consumers are right. This card is way too expensive for what it's worth.
The RTX 3080 on the other hand is a much better bet for people choosing between these GPUs. It comes in at a much lower price point comparatively, and you're still getting very similar performance overall, with a 5-10% performance loss, dependent on the title that you're playing. And considering the framerates we were able to reach in many titles, you probably won't notice this. If you've got the money, then the RTX 4070 Ti will serve you well as an awesome 4K graphics card. But for everyone else that doesn't want to spend $800+ on a GPU, the RTX 3080 is a much better offering overall when it comes to value.