Introduction
Nvidia's latest arrival is finally here, and we've got access to a number of the new cards from Team Green – meet the RTX 4090. A gigantic card (quite literally) that sports numerous next-gen features from Nvidia and brings insane performance to the high-end market.
But is this next gen graphics card any good? Is the 4090 all bark and no bite? And are some of Nvidia's slightly cheaper options a better bet for performance to save you some money? We'll be answering both of these questions in a GeekaWhat versus battle. We'll be taking a look at each of the cards, comparing them side by side, and jumping into some benchmarks to see if either of these cards cut the mustard.
Suggested Article: Nvidia RTX 3080 vs Nvidia RTX 3080Ti – Worth the Upgrade?
GPU Versus Battle
Nvidia GeForce RTX 4090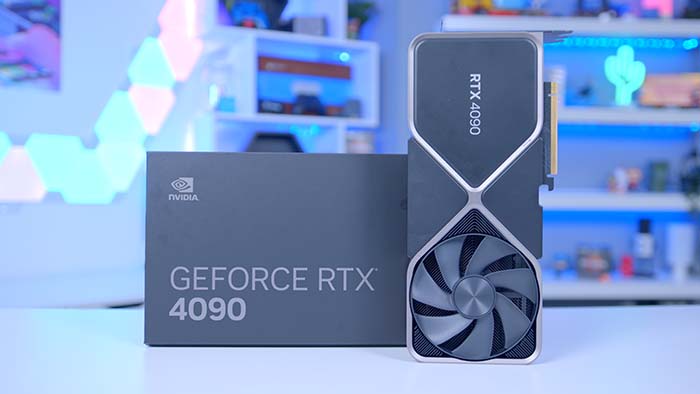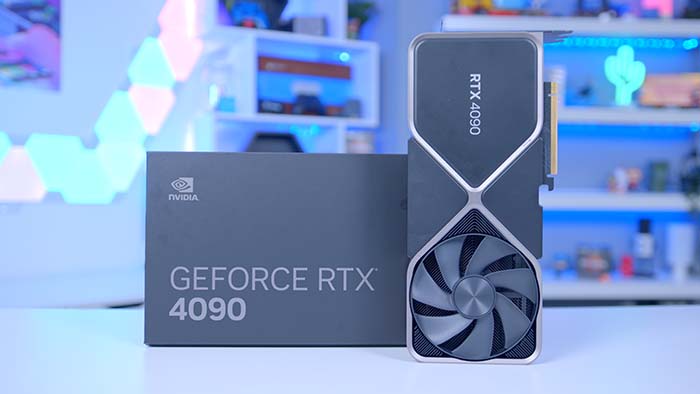 | | |
| --- | --- |
| Memory Capacity | 24GB GDDR6X |
| Boost Clock Speed | 2.52GHz |
| RT Cores | 191 |
| CUDA Cores | 16384 |
| TDP | 450W |
| Release Date | October 2022 |
| Price | Check Price on Amazon |
Nvidia RTX 4090 Specs
Nvidia announced the existence of their 4000 series cards not too long ago, and we've been working day and night to take a look at all of the new card varieties to see how they perform. Spoiler alert- they're excellent. The 4090 is a massive card, and to compliment its size the GPU is absolutely filled to the brim with powerful hardware. You've got access to brand new RT and CUDA cores (and there are a lot of them) combined with a super speedy 2.52GHz clock speed, this card is definitely kitted out to handle intense loads.
Performance wise, the 4090 is an absolute beast- as you'd expect. Ray-Traced titles maxed out at 4K are no issue for this card, especially when the brand new frame generation is enabled. This technology drastically enhances framerates and in certain titles, we can even see quadruple times the performance. Workstation applications like DaVinci Resolve pose no problems to the 4090 as well due to the dual 8th gen AV1 encoders, offering double speeds when it comes to exporting. Needless to say, if you want a card that does everything, the 4090 is a good choice.
However it isn't all sunshine and rainbows, as pricing becomes a much harder pill to swallow. The previous generation's 3090 was priced around $1200 MSRP, and the new RTX 4090 has been bumped up to around $300 more (dependent on your region). Although the performance increase is definitely excellent, I can't help but feel the price isn't great. I'm hoping that a potential 4090Ti doesn't see a drastic increase in price either, but only time will tell. Either way, the RTX 4090 is an incredible card if you're onboard with the price (and size) bump.
Buy the Nvidia GeForce RTX 4090 on:
Nvidia GeForce RTX 3080Ti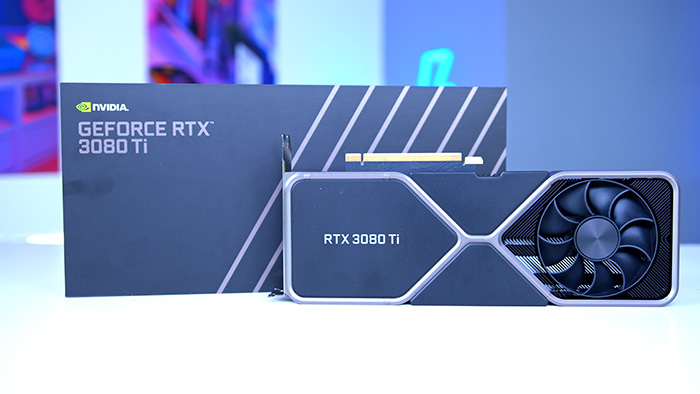 | | |
| --- | --- |
| Memory Capacity | 12GB GDDR6X |
| Boost Clock Speed | 1.67GHz |
| RT Cores | 80 |
| CUDA Cores | 10240 |
| TDP | 350W |
| Release Date | June 2021 |
| Price | Check Price on Amazon |
Nvidia RTX 3080Ti Specs
Nvidia's RTX 3080Ti launched close to a year after the original release date of the 3080, giving consumers access to even more horsepower. This card offers similar in-game performance to that of the RTX 3080, but workstation-based systems have access to more cores, which gives them better performance in applications like 3D rendering, or video editing. However, with the performance improvement comes a significant jump in the price to over $1000, as well as an increase in the overall wattage of your system.
In terms of the performance, the 3080Ti offers excellent metrics at 1080P and 1440P. 4K can become somewhat more of a challenge for the 3080Ti, but your mileage will ultimately depend on how high you've cranked your settings, and how well optimised the game is. We wouldn't recommend turning up your in-game settings to max, but you may find better performance with DLSS enabled. The 3090 and 3090Ti will be a better bet to max out your settings, but the 3080Ti still offers great performance in pretty much any other instance, especially in intensive workloads.
The price of a 3080Ti is definitely not cheap, but is more reasonable when compared to the likes of a 3090 and above. The 3080Ti was one of the first consumer GPUs to be priced over $1000. There was a lot of controversy surrounding the jump, especially when compared to the 3080. However, I'd argue that the 3080Ti is one of the better positioned GPUs in terms of playing your games at a higher resolution. Based on the price sitting much lower than the alternative options, especially when you consider the performance metrics.
Buy the Nvidia GeForce RTX 3080Ti on:
Our Testing Methodology
In order to test the variety of components, we follow a rigorous methodology that ensures each part can show off its maximum performance, in combination with providing fairness and sticking to our editorial promise. Any product will be put into a system that has similar performing components to reduce any bottlenecking, and these parts are benchmarked using games and synthetic applications that provide real-life context so you have an idea of what to expect.
As part of our editorial promise, we also make sure that any reviews or benchmarks are not amended by an external party or brand. This guarantees that any opinion is entirely ours and whether a component is good or bad, we will be honest about this.
Benchmarking Performance
All of the benchmarks that we conduct on CPUs and GPUs can be found from our very own YouTube channel – 'Benched'. All of the components we test are done within the latest triple A and Esports titles, which are supplemented with a variety of stats and graphs.
Apex Legends
For our first benchmarking run, we decided to test out the popular first person shooter title – Apex Legends. The 4090 here clearly dominated the game in this instance with an exceptional framerate of 190. The 3080Ti held a respectable average framerate of 128FPS, which unfortunately didn't quite reach the 144Hz sweet spot we would have liked to.
Battlefield 2042
In Battlefield 2042, the 3080Ti wasn't quite able to cross the 100FPS boundary. In our benchmarks, the 3080Ti reached a reasonable 85 frames on average, which is more than playable at 4K. The 4090 with DLSS enabled absolutely skyrocketed to 144FPS, which is perfect for providing buttery smooth gameplay. We were somewhat disheartened by the performance of the 3080Ti, but 85FPS is acceptable at these settings.
Fortnite
In Fortnite, we lowered the in-game settings down to 1080P competitive to see how high these GPUs could fly. The 4090 unexpectedly broke the 300FPS barrier, reaching a consistently high average FPS of 307. The 3080Ti wasn't too far behind with an average framerate of around 277. Both of the benchmarking runs we did were extremely smooth due to the high frame count, and minimal drops were experienced throughout.
Valorant
In our final benchmarking runs in the hit Esports title Valorant, the 3080Ti and 4090 stretched their legs here showing off the incredible performance achievable with an optimised game. Although there won't be much of a tangible difference between the performance offered from each GPU, these metrics were incredibly high with the 4090 blowing all of the other cards out of the water.
Conclusion
So where do each of these cards stand? Is the 3080Ti a better bet to save you some money, or is the 4090 a worthwhile upgrade for your next gaming PC? Our answer depends on use-case. The 4090 is an excellent card needless to say and in pretty much every scenario, it outperforms all other graphics cards available on the market right now. And although the 3080Ti definitely holds it's own by contrast, the 4090 offers a consistent performance uplift versus the older RTX 3000 card.
So does this mean that the 4090 is a definitive pick-up? No! As much as the 4090 is constantly pushing the boundary of good performance, whether you buy one will be down to your use-case. If you want to build a PC that absolutely dominates everything you throw at it, the 4090 is an obvious choice. If you're willing to settle for slightly weaker performance but perfectly playable, the 3080Ti is a better option and will save you some money in the long run. Either of these cards is worthy of a high-end build, but the price can be hard to swallow for the 4090 especially if you're not making use of card properly.