Introduction
Nvidia's latest arrival is finally here, and we've got access to a number of the new cards from Team Green – meet the RTX 4090. A gigantic card (quite literally) that sports numerous next-gen features from Nvidia and brings insane performance to the high-end market.
But is this next gen graphics card any good? Is the 4090 all bark and no bite? And are some of Nvidia's slightly cheaper options a better bet for performance to save you some money?
We'll be answering both of these questions in a GeekaWhat versus battle. We'll be taking a look at each of the cards, comparing them side by side, and jumping into some benchmarks to see if either of these cards cut the mustard.
Suggested Article: Nvidia RTX 3080 vs Nvidia RTX 3080Ti – Worth the Upgrade?
GPU Versus Battle
Nvidia GeForce RTX 4090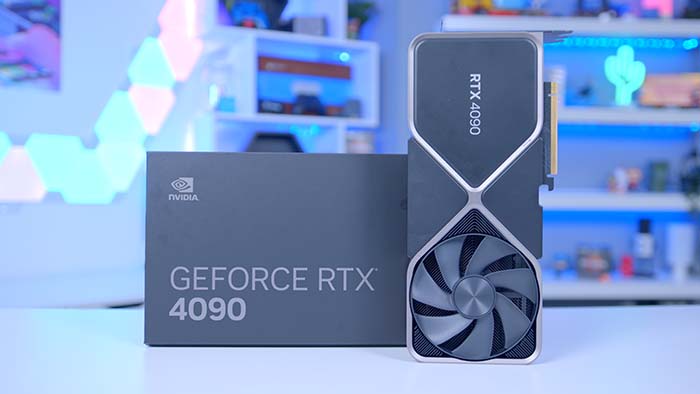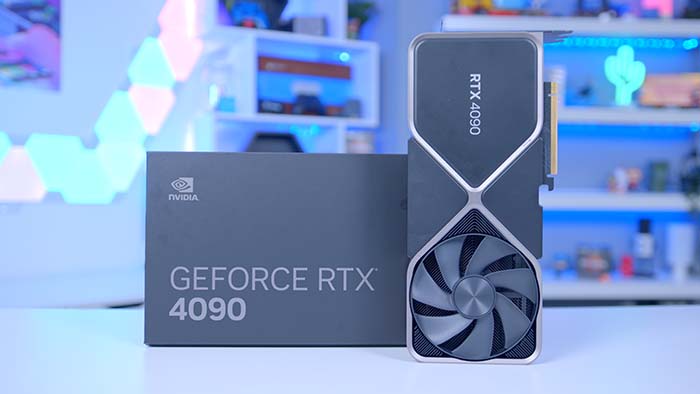 | | |
| --- | --- |
| Memory Capacity | 24GB GDDR6X |
| Boost Clock Speed | 2.52GHz |
| RT Cores | 191 |
| CUDA Cores | 16384 |
| TDP | 450W |
| Release Date | October 2022 |
| Price | Check Price on Amazon |
Nvidia RTX 4090 Specs
Nvidia announced the existence of their 4000 series cards not too long ago, and we've been working day and night to take a look at all of the new card varieties to see how they perform. Spoiler alert- they're excellent. The 4090 is a massive card, and to compliment its size the GPU is absolutely filled to the brim with powerful hardware. You've got access to brand new RT and CUDA cores (and there are a lot of them) combined with a super speedy 2.52GHz clock speed, this card is definitely kitted out to handle intense loads.
Performance wise, the 4090 is an absolute beast- as you'd expect. Ray-Traced titles maxed out at 4K are no issue for this card, especially when the brand new frame generation is enabled. This technology drastically enhances framerates and in certain titles, we can even see quadruple times the performance. Workstation applications like DaVinci Resolve pose no problems to the 4090 as well due to the dual 8th gen AV1 encoders, offering double speeds when it comes to exporting. Needless to say, if you want a card that does everything, the 4090 is a good choice.
However it isn't all sunshine and rainbows, as pricing becomes a much harder pill to swallow. The previous generation's 3090 was priced around $1200 MSRP, and the new RTX 4090 has been bumped up to around $300 more (dependent on your region). Although the performance increase is definitely excellent, I can't help but feel the price isn't great. I'm hoping that a potential 4090Ti doesn't see a drastic increase in price either, but only time will tell. Either way, the RTX 4090 is an incredible card if you're onboard with the price (and size) bump.
Nvidia GeForce RTX 3080Ti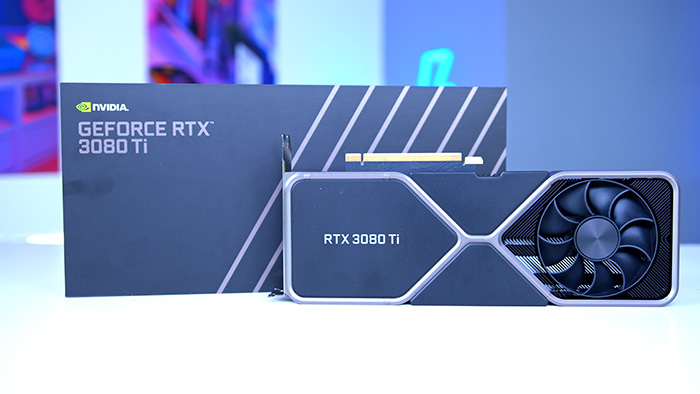 | | |
| --- | --- |
| Memory Capacity | 12GB GDDR6X |
| Boost Clock Speed | 1.67GHz |
| RT Cores | 80 |
| CUDA Cores | 10240 |
| TDP | 350W |
| Release Date | June 2021 |
| Price | Check Price on Amazon |
Nvidia RTX 3080Ti Specs
Nvidia's RTX 3080Ti launched close to a year after the original release date of the 3080, giving consumers access to even more horsepower. This card offers similar in-game performance to that of the RTX 3080, but workstation-based systems have access to more cores, which gives them better performance in applications like 3D rendering, or video editing. However, with the performance improvement comes a significant jump in the price to over $1000, as well as an increase in the overall wattage of your system.
In terms of the performance, the 3080Ti offers excellent metrics at 1080P and 1440P. 4K can become somewhat more of a challenge for the 3080Ti, but your mileage will ultimately depend on how high you've cranked your settings, and how well optimised the game is. We wouldn't recommend turning up your in-game settings to max, but you may find better performance with DLSS enabled. The 3090 and 3090Ti will be a better bet to max out your settings, but the 3080Ti still offers great performance in pretty much any other instance, especially in intensive workloads.
The price of a 3080Ti is definitely not cheap, but is more reasonable when compared to the likes of a 3090 and above. The 3080Ti was one of the first consumer GPUs to be priced over $1000. There was a lot of controversy surrounding the jump, especially when compared to the 3080. However, I'd argue that the 3080Ti is one of the better positioned GPUs in terms of playing your games at a higher resolution. Based on the price sitting much lower than the alternative options, especially when you consider the performance metrics.
[adrotate banner="7″]
How We Tested the RTX 4090 and 3080Ti
We get a multitude of components through our doors every month from a range of manufacturers and brands. Due to this, we've devised concrete testing and evaluation methods to ensure that all of these components perform as expected, and to see whether they offer good value at their given price point. Our standardised testing procedure involves firing up the latest triple A and popular Esports titles, whilst recording our in-game settings.
Once we're ready to record, we fire up MSI's Afterburner software to provide thermals, utilisation, and framerates with Rivatuner. We also use NVIDIA's Frameview to ensure that framerates are showing the same numbers across different software, and to also get an average FPS. Frameview provides percentile results that allow us to calculate an average across the board once we've finished our benchmarks.
Our benchmarking suite consists of excellent gaming titles such as Fortnite, Valorant, F1 2022, COD Warzone 2.0, and more. We always keep up with the latest and most popular games to ensure consumers can find framerates for the newest games available. Both the RTX 4090 and 3080Ti have been tested in a range of these games, alongside productivity benchmarks to get a more concrete idea of how these GPUs would fair in workstation system. You can find more information on our in-depth testing procedure in a number of reviews we've provided below. You can also find all of the full benchmarking runs on our component testing YouTube channel – Benched.
Ampere vs Lovelace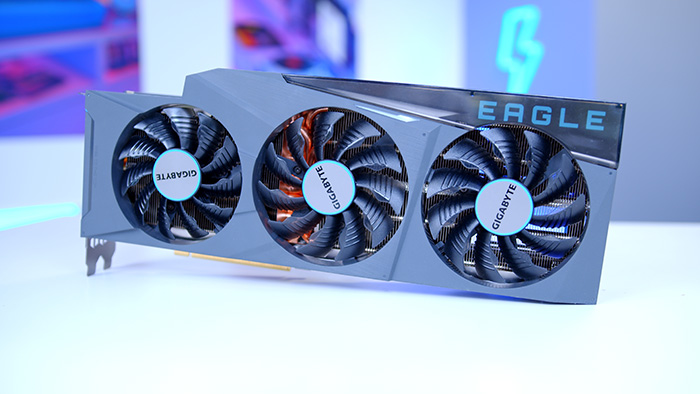 NVIDIA Ampere Architecture – RTX 3000
NVIDIA's Ampere generation of cards is one of the most popular generations of GPUs besides their older GTX 1000 series. Ampere brought a whole new set of features along with it, producing leaps and bounds in generational performance. Hardware wise, Ampere cards came with second generation RT cards, which significantly improved Ray-Tracing performance. We also got access to DLSS 2.0, which brings uplifts to performance at higher resolutions using AI upscaling.
Cards like the RTX 3080Ti also saw drastic improvements to raw and higher resolutions such as 1440P and 4K, due to the increased Tensor and CUDA cores. This allows consumers to enjoy games at increased fidelity without the performance hit we'd see with older cards. The Ampere architecture is older contrasting to NVIDIA's Lovelace GPUs, but it still holds up very well today. For the sake of the versus theme in this article, Ampere technically isn't the best architecture when looking at the modern day options because Lovelace improves upon Ampere hardware. However, Ampere cards are still incredibly competitive choices today.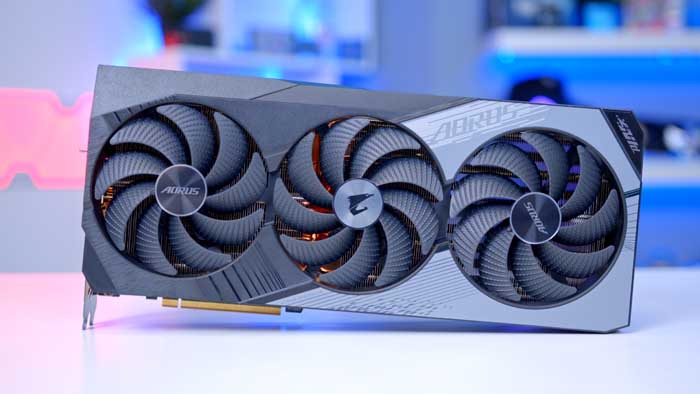 NVIDIA Lovelace Architecture – RTX 4000
Moving onto Lovelace GPUs, these cards are NVIDIA's most recent entrants in the market, the RTX 4000 range of cards. These graphics cards are heavy hitters when it comes to performance, significantly increasing all of the RT, CUDA and Tensor cores across the board. Ray-Tracing has seen further improvements, with all of the new cards offering excellent metrics without upscaling. However, DLSS 3.0 is one of the big selling points with this new generation with framerates skyrocketing in the newest titles contrasting to the previous generation's DLSS 2.0.
The improvements to DLSS reduces latency, increases framerates making it ideal for those that plan on playing games at a higher resolution. Frame Generation is also a big inclusion that came with DLSS 3.0, which further maximises framerates with AI-drawn frames. NVIDIA's Lovelace architecture is definitely the overall winner when we compare to Ampere, as the new cards offer extremely strong performance contrasting to their RTX 3000 counterparts. But as we'll discover later on, value is definitely a big consideration with the new RTX 4000 range of cards.
[adrotate banner="8″
Our Favourite RTX 4090 GPUs
1. NVIDIA GeForce RTX 4090 Founders Edition
👑The cheapest performance king.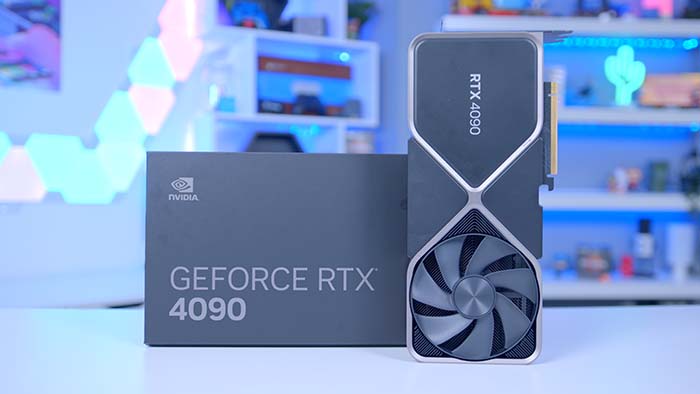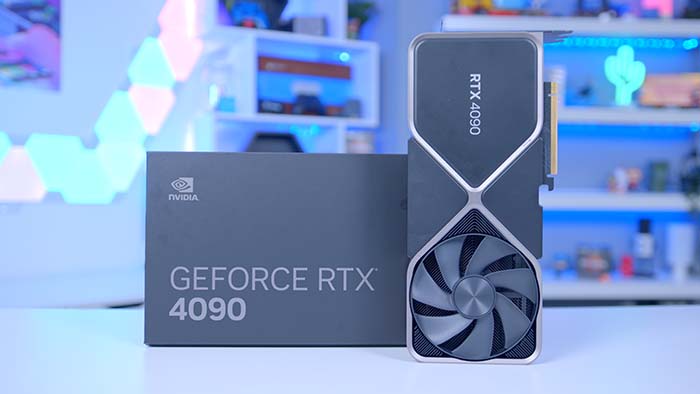 Introduction
For our first recommendation, we've picked out NVIDIA's RTX 4090 Founders Edition card. This was the first model to release within the RTX 4000 range and still stands as one of the most competitive options compared to the AIB models on the market. Consumers can expect to see incredibly strong performance across the board, especially at 4K with Ray-Tracing enabled.
This card is one of the cheapest options and does sit at MSRP, so consumers can pick it up for it's original release price. The Founders Edition also has exceptionally strong thermals despite the fact that it is effectively a reference model card.
Key Specs
| Spec | RTX 4090 Founders Edition |
| --- | --- |
| Base Clock Speed | 2.23GHz |
| Boost Clock Speed | 2.52GHz |
| RT Cores | 142 |
| CUDA Cores | 16384 |
| Wattage | 450W |
Things We Like
Excellent performance across the board: 4K gaming, Ray-Tracing maxed out, you name it, this GPU can handle it. The RTX 4090 suffers no hindrances when it comes to performance, hence why it is the current performance king.
Utilises PCI-E 4.0: The vast majority of consumers were expecting PCI-E 5.0 capable graphics cards with the new generation, but NVIDIA decided to keep their flagship card as PCI-E 4.0 capable, making it more accessible.
Things We Don't Like
Very expensive and rarely in stock: Due to the popularity of this GPU, the Founders Edition model can be particularly hard to get a hold of, so you could be waiting quite some time for a restock. And the RTX 4090 is definitely not a cheap option and is geared towards consumers with plenty of cash for a top-end PC.
Dimensions are huge: Quite simply, this card is massive. Even for a Founders Edition the RTX 4090 is huge, and you'll definitely want to consider your case choices when picking out this graphics card.
Summary
The Founders Edition model is one of the strongest choices within the RTX 4000 range of cards. It might not be ideal when it comes to aesthetic, but it is one of the 'least expensive' options contrasting to the AIB cards available on the market. Definitely a worthwhile consideration for those dead set on picking up a 4090, but want to get the best deal available.
Pros
Incredible gaming and workstation performance.
Can cut export times in half.
The cheapest option within the 4090 range.
Cons
Dimensions will restrict case choices.
Founders Card can be difficult to purchase.
Where to Buy
Buy the NVIDIA RTX 4090 Founders Edition on:
[adrotate banner="12″]
2. MSI Suprim Liquid X RTX 4090
👑A liquid-cooled beast.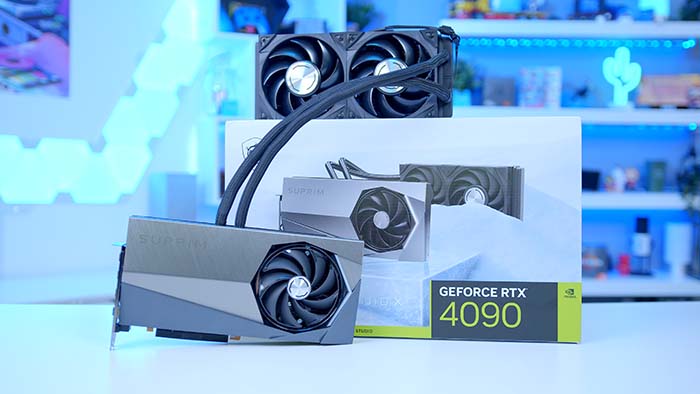 Introduction
MSI's Suprim Liquid X version of the RTX 4090 is probably the only card we would consider that offers a worthwhile upgrade for the price point. This particular model is liquid cooled, and thus, it comes with a 240mm radiator to keep thermals low and performance high. This is a pricier card, but if you'd rather avoid the hassle of liquid cooling your own GPU, MSI have done it for you.
The Suprim Liquid X has a slightly increased clock speed offering a marginal performance improvement, alongside incredibly strong thermals. This is one of the most efficient cards when it comes to heat dispersion, which will minimise any thermal throttling when intensity is cranked up in games or productivity applications.
Key Specs
| Spec | MSI Suprim Liquid X RTX 4090 |
| --- | --- |
| Base Clock Speed | 2.23GHz |
| Boost Clock Speed | 2.64GHz |
| RT Cores | 142 |
| CUDA Cores | 16384 |
| Wattage | 450W |
Things We Like
Excellent thermal capability: As previously mentioned, this card is excellent in terms of cooling capability. The Suprim Liquid X is one of the few options that can keep temperatures low when intensity rises, other than custom cooled options.
Slight overclock: The majority of AIB manufactured cards tend to have a slight increase in the clock speed to improve performance. The Suprim Liquid X does offer a marginal boost offering a few more frames, or improved performance in certain productivity applications.
Things We Don't Like
A very expensive model: As you can probably imagine, the inclusion of liquid cooling does bump up the price by a fair margin, so you'll need to be ready to spend a bit extra to secure this excellent, but expensive GPU.
Requires extra radiator space: The biggest downside to picking up this GPU, is that you'll need a case that can handle two radiators. The Suprim Liquid X comes with a 240mm radiator which will need to be installed alongside any other cooling options.
Summary
MSI's Suprim Liquid X model is one of our favourite options from the RTX 4090 range due to it's impressive thermal capability and performance metrics. Consumers will need to shell out a fair amount to secure this card, but if you're prioritising thermals, this GPU will definitely be worth it.
Pros
Excellent thermal capability.
Strong performance across the board.
Card length isn't huge.
Cons
Very very expensive.
Requires space for an extra radiator on top of CPU/case cooling.
Where to Buy
Buy the MSI Suprim Liquid X RTX 4090 on:
Our Favourite RTX 3080 Ti GPUs
3. MSI Gaming X Trio RTX 3080 Ti
👑A classic favourite.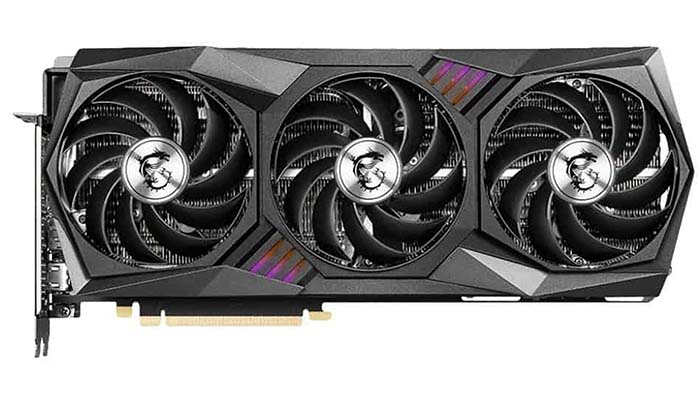 Introduction
Next up is MSI's Gaming X Trio RTX 3080Ti, a great model ideal for excellent thermals. MSI's Gaming X Trio models have been a mainstay in the market for quite some time, and are perfect for consumers prioritising thermal efficiency. The 3080Ti is a strong GPU when it comes to 4K gaming, and although Ray-Tracing performance can't quite outmatch the 4090, it still has great legs.
The Gaming X Trio model from MSI offers a three fan design increasing airflow and decreasing temperatures, even when intensity is cranked up quite high. It also offers a unique angular design with some minimal RGB located on the front of the shroud.
Key Specs
| Spec | MSI Gaming X Trio RTX 3080 Ti |
| --- | --- |
| Base Clock Speed | 1.37GHz |
| Boost Clock Speed | 1.77GHz |
| RT Cores | 68 |
| CUDA Cores | 10240 |
| Wattage | 350W |
Things We Like
Strong thermals: The Gaming X Trio won't be able to surpass any liquid cooled variants, but as it stands, the three fan design does help a fair amount in terms of thermal capability, making it a great choice for those prioritising low temperatures.
Unique design: The biggest benefit of picking up an AIB card, is that manufacturers put a spin on the aesthetic creating some unique styling opportunities. The Gaming X Trio has a rather angular design, with some light RGB on the front, which will look great in an all-black build.
Things We Don't Like
Pricier than MSRP: Although it can be difficult to pick up Founders Edition cards for MSRP, the biggest downside to AIB variants is the price. These cards are often more expensive than the reference version, which can be a bit of a kick in the teeth considering how expensive this card is anyway.
Weaker on the RGB front: Many of the AIB cards tend to offer strong lighting options allowing consumers to spice up their build. However, the Gaming X Trio is one of the weaker choices when it comes to RGB.
Summary
MSI's Gaming X Trio RTX 3080Ti is a classic favourite offering strong performance and good thermal capability overall. The design is pretty minimal all around, but will blend in pretty well with black and darker themed builds. Definitely a worthwhile consideration for the price conscious 4K gamer.
Pros
Awesome minimalist design.
Strong 4K performance.
Good thermals.
Cons
Still quite expensive.
Not much in the way of RGB.
Where to Buy
Buy the MSI Gaming X Trio RTX 3080Ti on:
[adrotate banner="9″]
4. ASUS ROG STRIX RTX 3080Ti
👑The RGB king.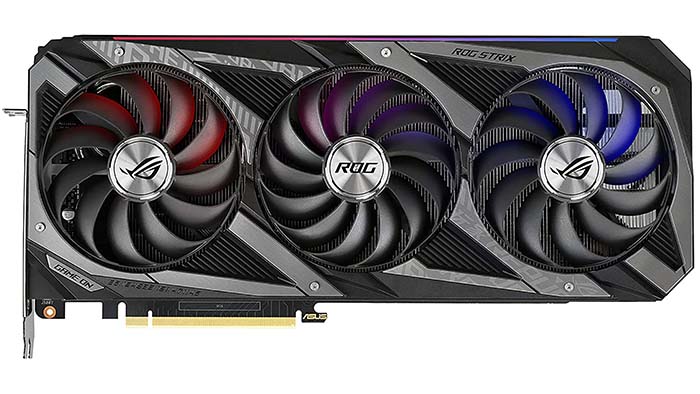 Introduction
The ROG STRIX model of the RTX 3080Ti is one of the best looking options out there, especially if you're considering RGB. The ROG STRIX has RGB lighting surrounding the fans, along with a lightbar that covers the top, and can be fully customised using ASUS' AuraSync software. This allows consumers to play around with a variety of lighting options providing different colours and effects.
This is one of the bigger models, so consumers will need to consider their case choices. However, the strong performance, good all-around thermals and excellent aesthetic makes this GPU a worthwhile consideration for those wanting to strike a balance of form and function.
Key Specs
| Spec | MSI Gaming X Trio RTX 3080 Ti |
| --- | --- |
| Base Clock Speed | 1.37GHz |
| Boost Clock Speed | 1.84GHz |
| RT Cores | 68 |
| CUDA Cores | 10240 |
| Wattage | 350W |
Things We Like
Excellent design and aesthetic: ASUS are well known for designing awesome looking components, and the ROG STRIX 3080Ti is no exception. This GPU will add plenty of flair to your build.
Great thermals: Much like the MSI Gaming X Trio card, the triple fan design on the ROG STRIX 3080Ti aids thermals significantly allowing consumers to game and work at reasonable temperatures.
Things We Don't Like
A pricier option: The ROG STRIX model of the 3080Ti from ASUS is one of the more expensive options consumers can choose, so this won't be a great option for the more price conscious buyer.
Rather large overall: AIB models tend to be pretty big, but the ROG STRIX 3080Ti sits at a whopping 318mm in length, putting it on par with some of NVIDIA's most recent RTX 4000 range.
Summary
The ROG STRIX RTX 3080Ti from ASUS is an excellent AIB card, geared towards those that want to spice up their build with some RGB lighting. It is pricier, but well worth it if you're prioritising aesthetic.
Pros
Excellent RGB lighting.
Good thermals.
Perfect for a top-end build.
Cons
Very expensive.
Size will restrict case choices.
Where to Buy
Buy the ASUS ROG STRIX RTX 3080Ti on:
Gaming Benchmarks
In this next section we'll be providing a range of gaming benchmarks from our full suite. Here we've provided comparative graphs, so you can see the performance metrics between current and older GPU options. As always, you can find our full benchmarking runs on the Benched YouTube channel where we've tested a huge range of games and components.
Apex Legends GPU Winner – RTX 4090
Our GPU winner for the hit title Apex Legends is the RTX 4090. This isn't to say that the 4090 is required to run Apex at a 4K resolution, but if you're looking to maximise your frames, this is definitely a GPU to consider. In this title, the 4090 was able to reach 190FPS on average which is more than enough to provide an incredibly smooth experience overall. Consumers with high refresh rate monitors will also be able to make strong use out of the high framerates achieved with this titan of a graphics card.
However, the RTX 3080Ti still held it's own in Apex Legends, with a solid average framerate of 128FPS. Although this isn't quite the same framerate that we saw in Apex, consumers will still be able to enjoy a relatively seamless and stutter-free experience with this amount of frames. The 3080Ti does take a hit when it comes to high refresh rate monitors to a degree, but those with a 120Hz display can still enjoy minimal tearing and smooth gameplay all around.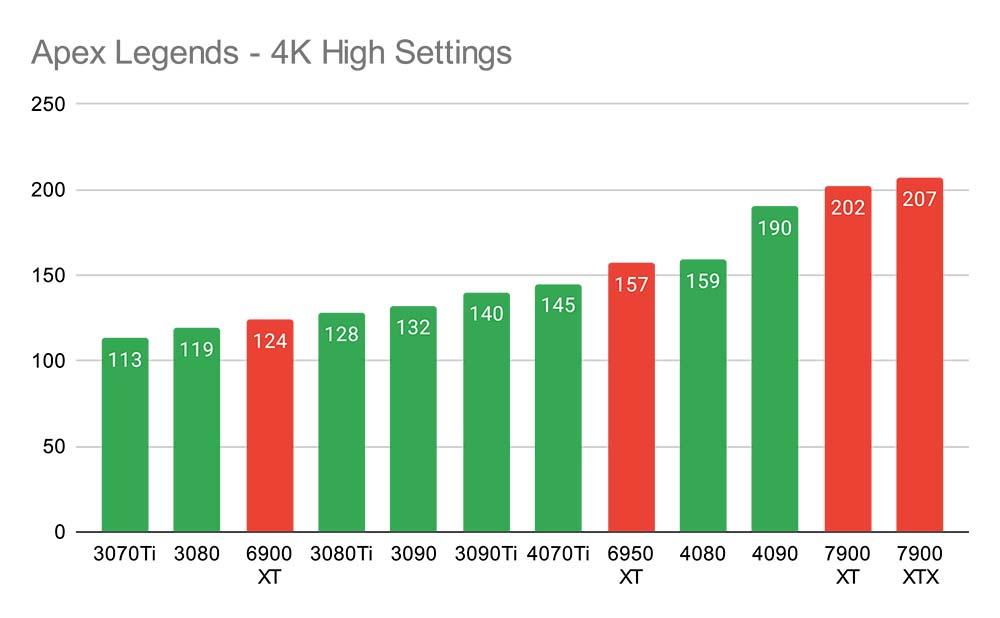 Battlefield 2042 GPU Winner – RTX 4090
Much like Apex Legends, the RTX 4090 yet again won in terms of performance in Battlefield 2042. This graphics card is a powerhouse when it comes to gaming and it definitely demonstrates it here. Although frames were slightly diminished compared to Apex, consumers can still enjoy a solid 122FPS on average at 4K in this performance hungry title. Battlefield does tend to be quite an intense game, especially at higher resolutions, hence why we're seeing a somewhat decreased performance level compared to other games.
Moving onto the RTX 3080Ti, consumers can still enjoy a relatively smooth gameplay experience here, with the 3080Ti offering up around 85FPS on average. This is noticeable weaker performance compared to the 4090, but as we've alluded to above, Battlefield tends to eat up hardware utilisation to no end. And because 4K has a fair bit of overhead as it is, consumers can expect weaker performance on older cards. But I'd argue that the 3080Ti definitely held it's own on this title, despite the odds stacked against it.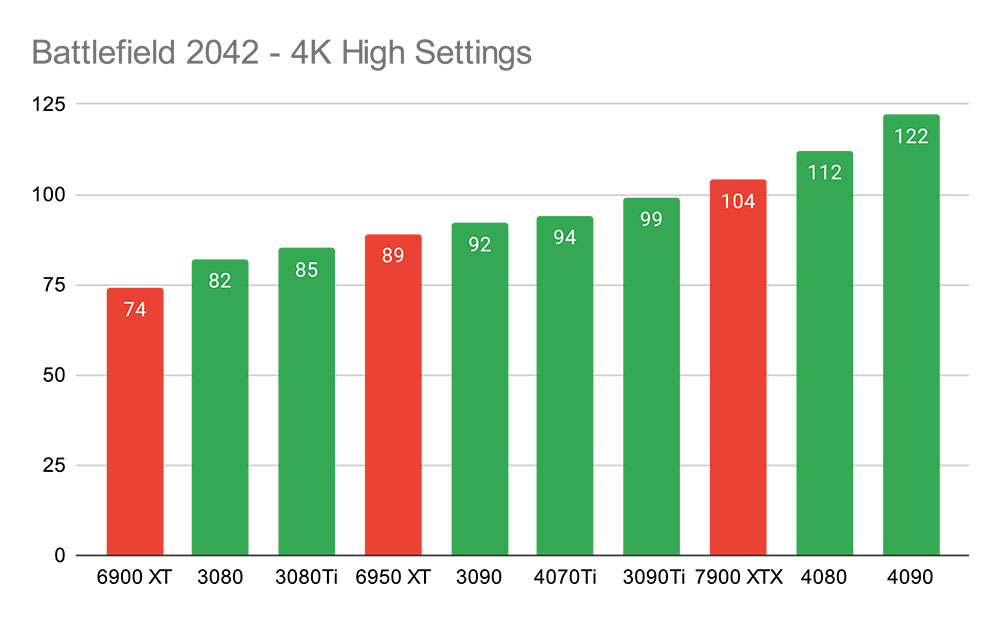 Fortnite GPU Winner – RTX 4090
Unexpectedly, in the popular title Fortnite, the RTX 4090 yet again won the GPU battle. In this popular but rather optimised game, the RTX 4090 was able to reach around 325FPS on average, which is the most we've ever seen with all of the graphics cards we've tested. Consumers can expect the smoothest of experiences with this card, with no frame dips, no stuttering, and a totally tear-free experience. Those with insanely high refresh rate monitors as well, will be able to see their monitors kick into gear, providing incredibly smooth visuals.
The RTX 3080Ti however, was not very far behind, leading the fore with 284FPS on average. Again, consumers can expect an incredibly smooth gameplay experience at 1080P, as these cards more than surpass the requirements for a game of this calibre. There is a clear advantage to having an RTX 4090 in this case, especially if you're looking to maximise your frames to the highest standard. However, the RTX 3080Ti has clearly shown it's capability at 1080P, providing more than enough frames for a high quality gaming experience.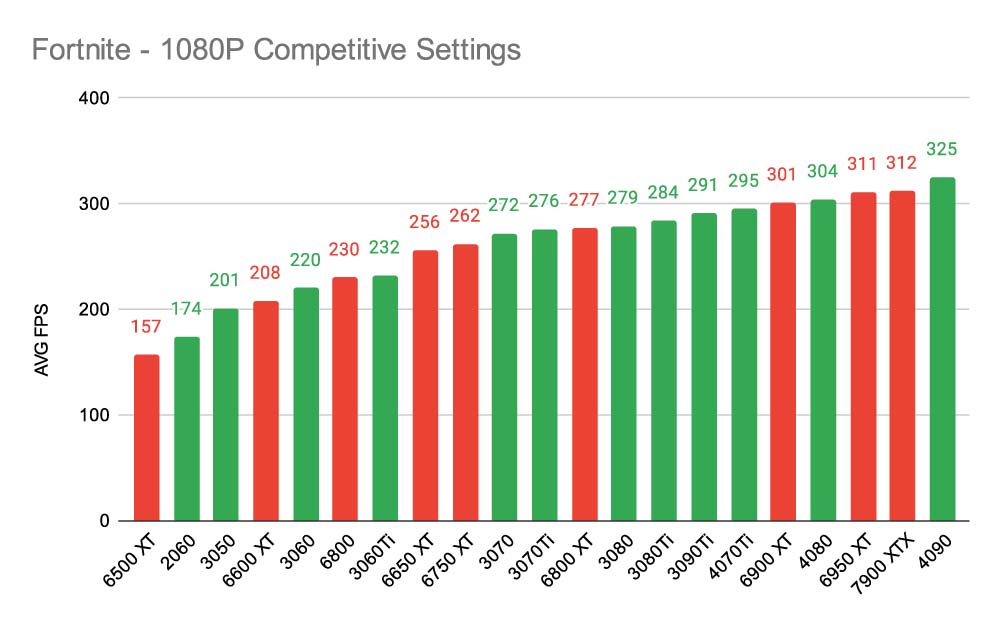 Valorant GPU Winner – RTX 4090
And finally, for our last gaming title, the RTX 4090 is yet again our winner of the GPU versus battle. There seems to be somewhat of a recurring theme here, but there is clearly a reason why the RTX 4090 is one of the best GPUs on the market, with this particular card offering up 502FPS on average in Valorant. Much like Fortnite, consumers can expect buttery smooth quality, with no tearing or any hindrances of any kind, besides your own skill level of course!
The RTX 3080Ti does see a rather large drop in frames here, but because our overall average is so ridiculously high, it will be negligible. The 3080Ti was able to output around 404FPS on average, which is again, more than enough for extremely smooth gameplay. Valorant is not a particularly demanding title due to the nature of it being an Esports game, hence why we're seeing framerates so high. But it is clear that the RTX 3080Ti can definitely hold it's own in demanding and less demanding games alike.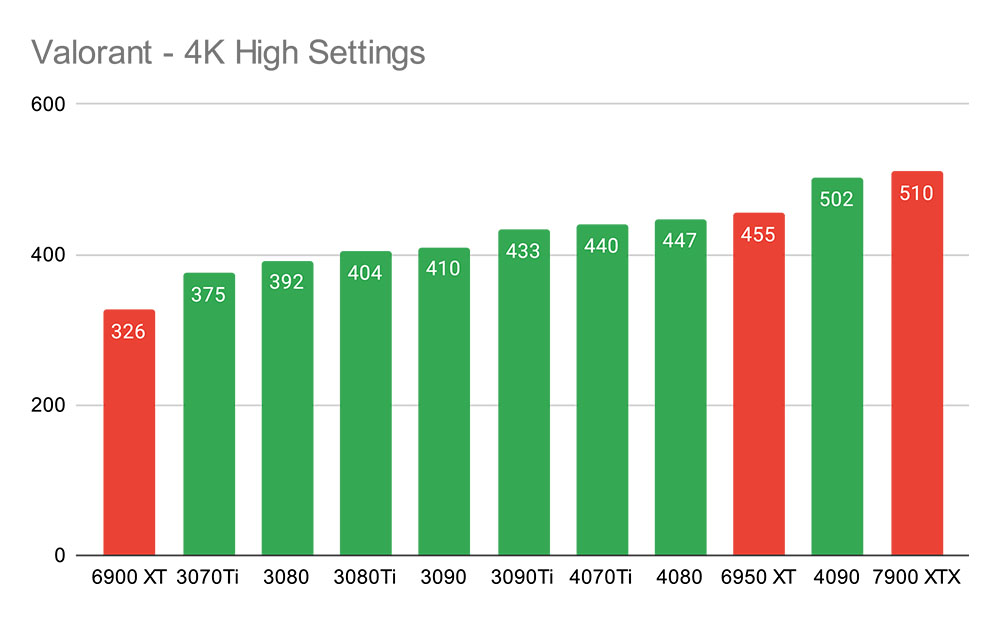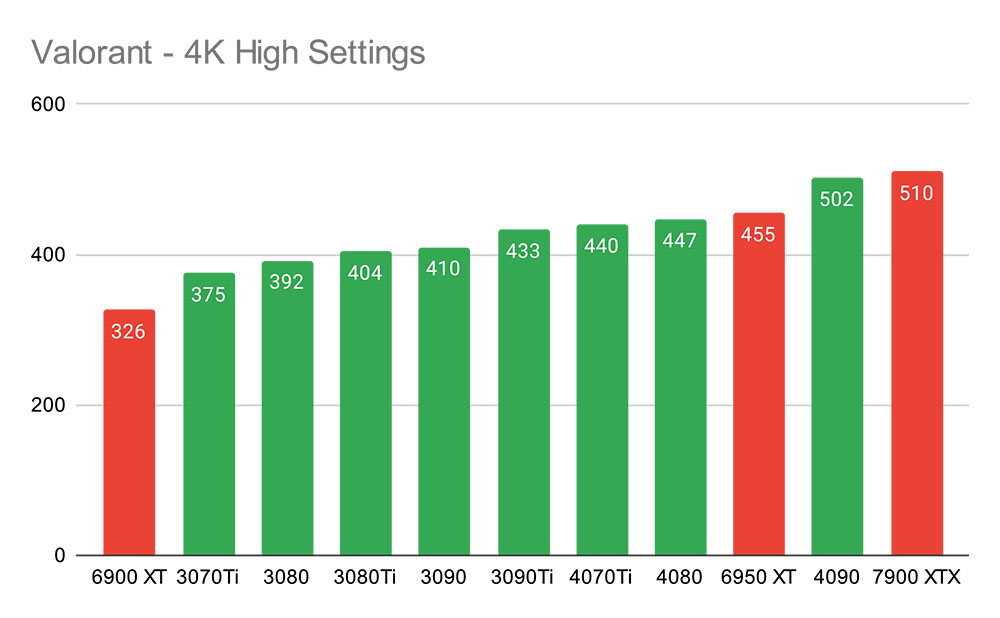 Conclusion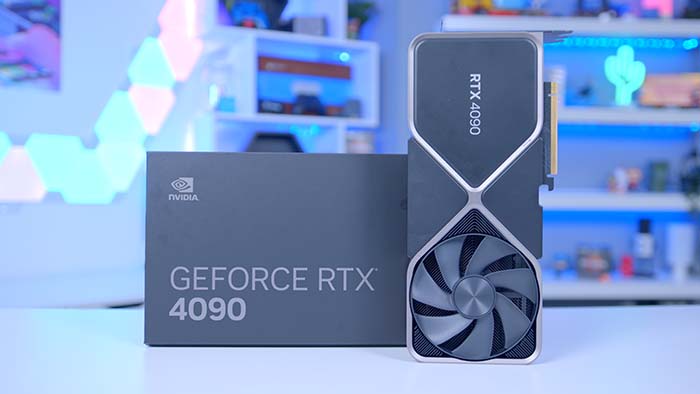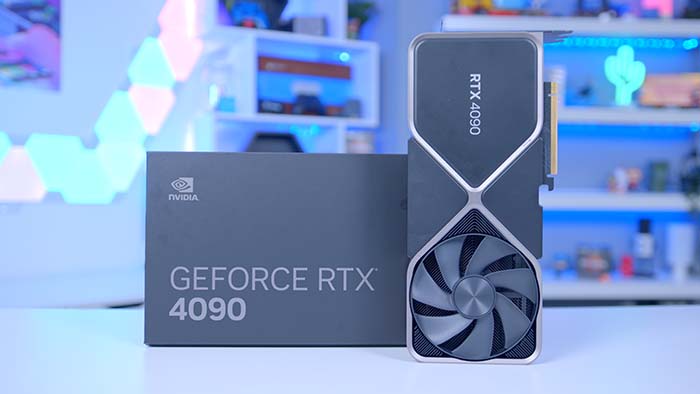 GPU Versus Winner – NVIDIA RTX 4090
It is very clear from all our benchmarks, and the available hardware, that NVIDIA's RTX 4090 is the clear winner when it comes to performance. This card surpasses every GPU we've ever tested, and provides framerates above and beyond what would even be considered a reasonable metric. But is it a GPU we'd recommend picking up purely to play these games – no, not at all! Despite the incredibly strong performance we've seen from the RTX 4090 it is both very expensive, and not designed purely for gaming.
This card would effectively be wasted purely for a gaming rig, as it has hardware built to handle high intensity applications designed for workstations. The RTX 3080Ti on the other hand, this is a gaming GPU. Yes the 3080Ti is rather expensive, but it offers a very impressive baseline for 4K performance, can easily handle modern titles at high settings, and has pretty good metrics when it comes to workstation applications. It won't be able to surpass the performance of the RTX 4090 that's for sure, but if you're looking for a slightly cheaper and still very powerful gaming graphics card, the RTX 3080Ti is definitely worth a consideration.