All prices subject to change, and correct at time of publication. When you shop through links on this site, we may earn a commission.
Newegg's Black Friday sales are offering a range of discounts on PC components and accessories throughout the week, leading up to the big day on the 24th November. However, an early deal that stood out to us is Samsung's 990 Pro 4TB SSD, which can be found for nearly $100 off its original pricing as part of the deals.
Whilst this M.2 storage is available at a discount in multiple capacities, the 4TB version of the 990 Pro stands out as the best deal by far, which isn't much of a surprise due to it being the variant with the highest capacity. Samsung first unveiled their 990 Pro storage back in August 2022, targeted as Gen4 SSDs that offer top-tier performance in games and demanding applications. The 1TB and 2TB versions were available on release, with the 4TB following later on.
Featuring write speeds of up to 7.45GB/s and write speeds of up to 6.9GB/s, this M.2 SSD possesses blistering speeds, resulting in very snappy gameplay and rapid loading times.
These speeds put the 990 Pro as one of the best Gen4 drives on the market, making it a great choice for a high-end gaming PC. Additionally, the 4TB of storage should be more than enough to hold all your favourite titles, as well as a number of media projects.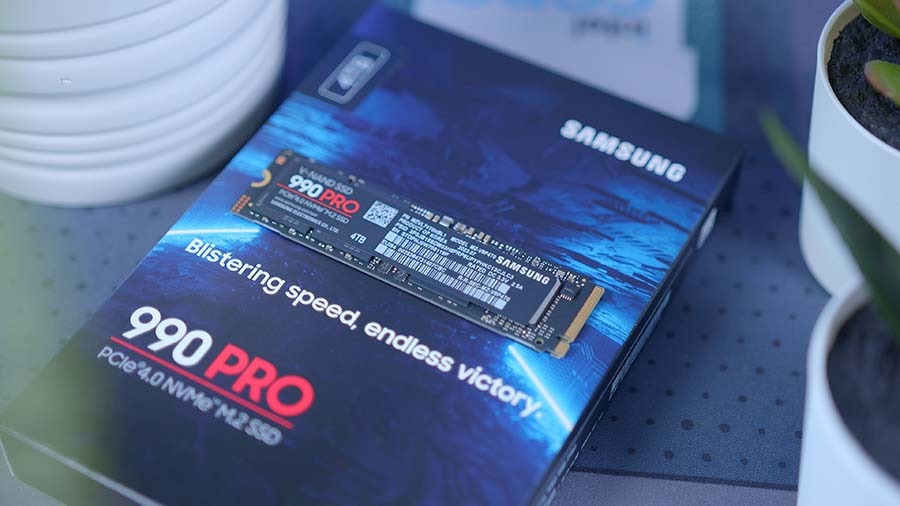 In our review of the Samsung 990 Pro 4TB SSD, the main gripe we had with this storage option was the excessive price point being too much for most consumers. However, this price drop on Newegg makes this M.2 storage significantly better value, which is bound to entice high-end PC builders looking to increase their system's storage capacity. Safe to say, with such a big upgrade to performance and capacity, you won't have to worry about having to clear up space anytime soon!
You can find this deal on the Samsung 990 Pro 4TB SSD below, along with pricing at a range of other retailers.
Buy the Samsung 990 Pro 4TB on: