Introduction
When putting together the ultimate PC build, the power supply is a component that can quite literally go unnoticed. However, the PSU is an essential part of any system, as it provides the rest of the components with the power needed to let them perform at their best. Because of this, it's vital for builders to pick a reliable and efficient PSU that will provide enough wattage to comfortably power the build in its entirety.
But when searching for the best PSUs on the market, there are a number of different variables to take into account including budget, form factor, efficiency, and modularity. Each of these factors can have a major impact on the value and practicality of a power supply. Because of this, we decided to test a wide range of products to create an extensive breakdown of the best PSUs on the market.
Best Power Supply: ASUS ROG Thor 850W Platinum
From all the PSUs we've tested, the ASUS ROG Thor 850W Platinum stands out as the best option when building the ultimate PC, gaming or otherwise. Along with incredibly efficient performance that led to this design receiving a coveted 80+ Platinum rating. The ROG Thor comes with a striking design that will be right at home in a top-tier gaming PC. Featuring RGB lighting and an OLED screen that allows users to track the power consumption of their PC in real-time, this PSU has everything you need to keep your parts on top form.
All PSUs in Our Testing Roundup
Thermaltake Toughpower SFX 1000W
The Best PSUs
1. Corsair CX650F RGB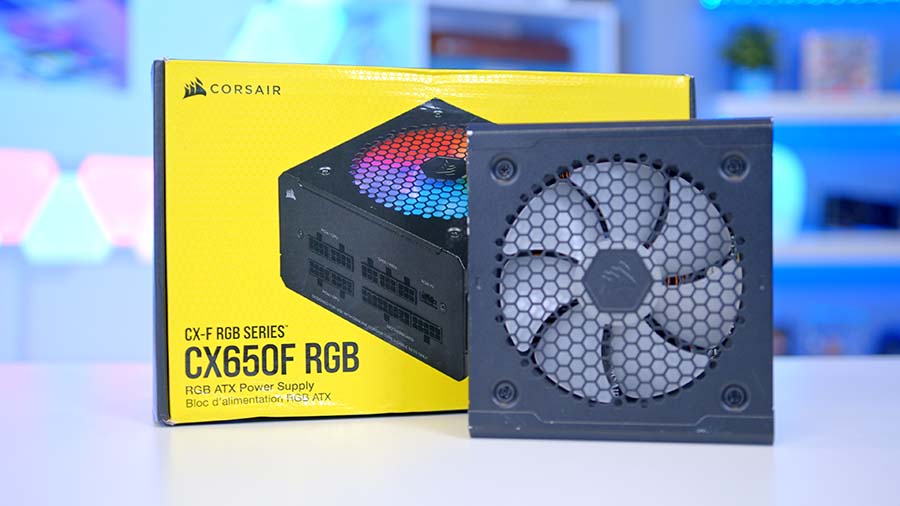 Corsair's CX650F RGB is one of the best power supplies on the market for budget builders, as it offers optimal performance and efficiency at an affordable price point, as well as having an extra trick up its sleeve.
Whilst there are some limitations with this PSU's budget approach, the CX650F RGB manages to provide users with a fully modular design for easy cable management, as well as an 80+ Plus Bronze efficiency rating, suggesting it can handle intense loads well. However, the most enticing part of this particular design is the RGB lighting on the fan, offering your system a splash of colour.
Most power supplies stick to a fairly simple design, as they are often covered by the chassis. However, the RGB lighting on this PSU should shine through most cases, adding an extra layer of colour and vibrancy that can often be absent in a budget-friendly gaming PC. Because of this, the CX650F RGB is a great choice for those on a tight budget.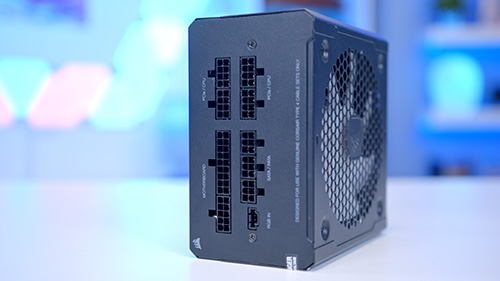 Buy the Corsair CX650F RGB on:
2. Cooler Master V750 i Gold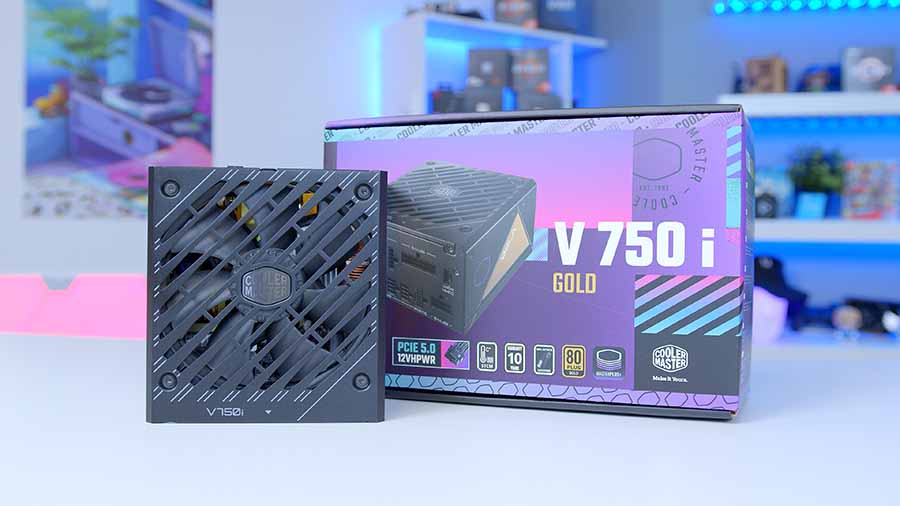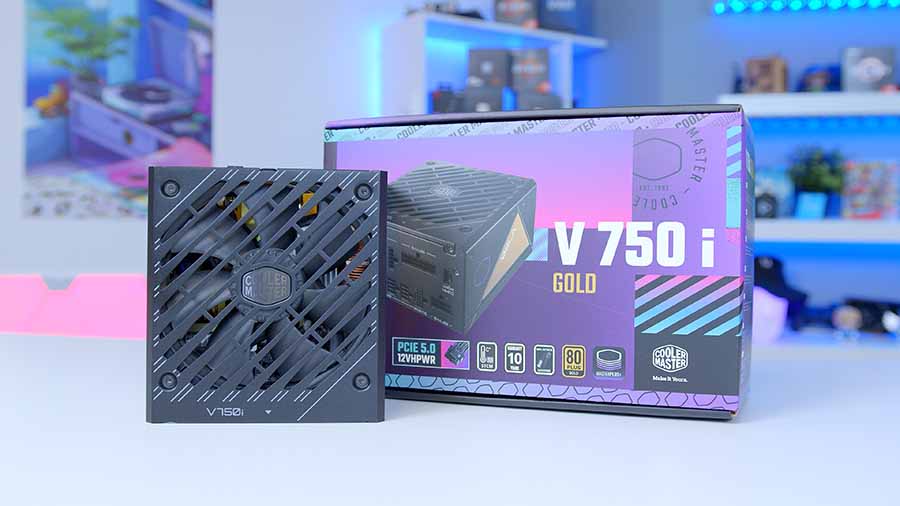 Out of all the 750W power supplies we've tested, Cooler Master's V750 i Gold stands out as the best choice, mainly for the efficiency and practicality of its design. With most PC builds equipped with modern graphics cards that require at least 650W of power to function, a 750W PSU is an essential pickup for budget and mid-range gaming PCs.
Awarded with an 80+ Gold efficiency, this PSU will have no issues running these systems, remaining cool and quiet in the process. To help keep the temperatures and noise levels down, the V750 i is packed with a silent 135mm fan, which will be able to handle demanding loads in a mid-range system without too much hassle.
In terms of practicality, the V750 i is fully modular, which means consumers can pick and choose which cables they want to connect, allowing for easier cable management. But arguably the most appealing aspect of this design is the PCI-E 5.0 support, as this unlocks the ability to connect GPUs with a single 12-pin connector instead of relying on multiple connections.
Whilst this design from Cooler Master is on the pricier end for a 750W PSU, the optimisation for the latest components and strong efficiency makes it a good long-term investment.
Original Review by Jay Harris: Cooler Master V750 i Gold Review – A Lower Wattage ATX 3.0 Option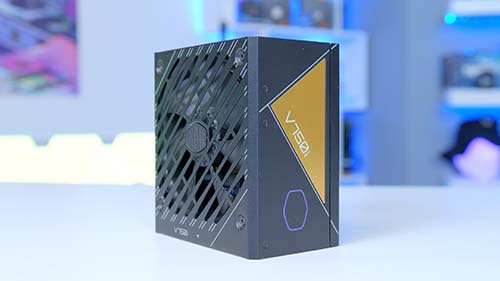 Buy the Cooler Master V750 i Gold on:
3. ASUS ROG Thor 850W Platinum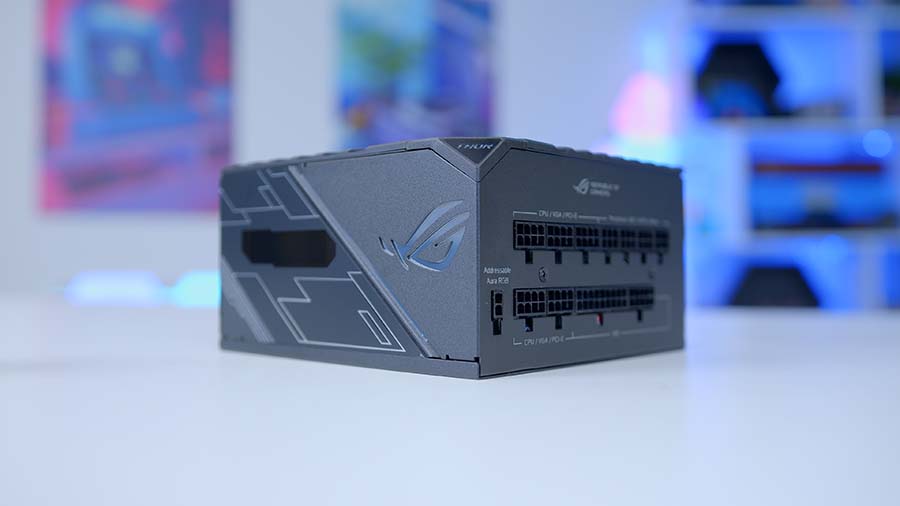 Builders looking to forge the best 1440p Gaming PC possible should look no further than the ASUS ROG Thor 850W. One area in which most PSUs are lacking is their appearance, but the Thor 850W doesn't conform to the simplistic design of other 850W power supplies, opting for a striking design that will elevate the overall appearance of your build.
But don't let the looks of this PSU take away from its excellent performance, as the ASUS ROG Thor 850W also has plenty of tools at its disposal to keep your gaming PC running at its best. Being awarded with an 80+ Platinum rating and an A+ Cybenetics Noise Level certification, this PSU will stay incredibly quiet in any build.
However, the main reason for picking up this power supply is for the RGB lighting and OLED display, which allows users to show off their PSU with pride. Unsurprisingly, these additional features come with a fairly hefty price tag, but for enthusiasts or PC builders that want their system to stand out, they'll be getting a PSU that boasts the performance to match its eye-catching design.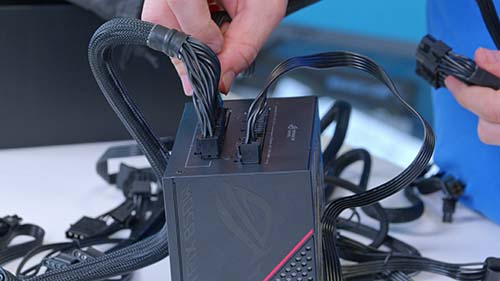 Buy the ASUS ROG Thor 850W Platinum on:
4. Thermaltake Toughpower SFX 1000W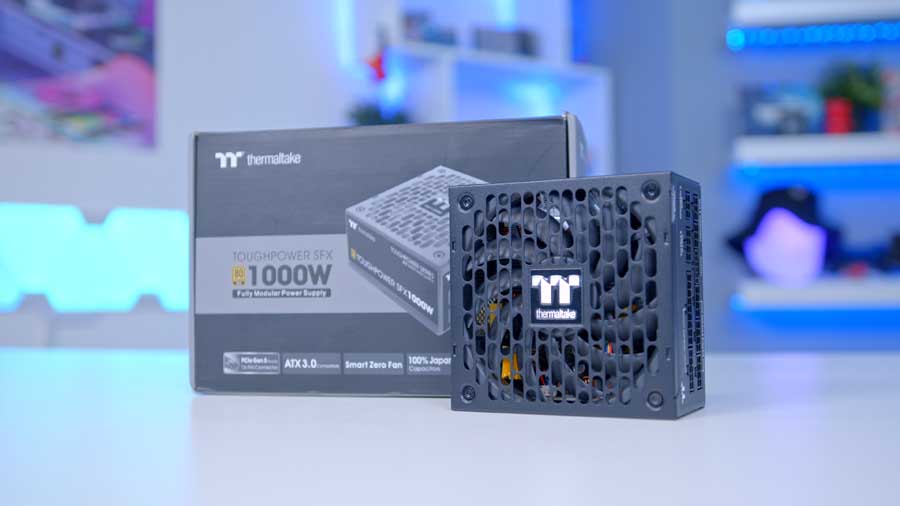 On top of this, the smart zero fan mode means the fan will switch itself off when the system load is less than 30%, minimising any background noise. The Toughpower SFX can also be installed in an ATX chassis, thanks to the included ATX adapter. Whilst this design will also set you back a fair amount of cash, the pricing of this design isn't bad, compared to other 1000W PSUs on the market.
Original Review by Jay Harris: Thermaltake Toughpower SFX 1000W Gold Review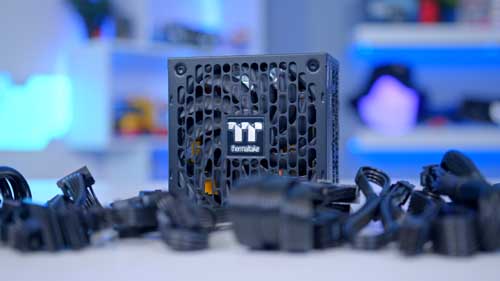 Buy the Thermaltake Toughpower SFX 1000W on:
5. Corsair RM1200x Shift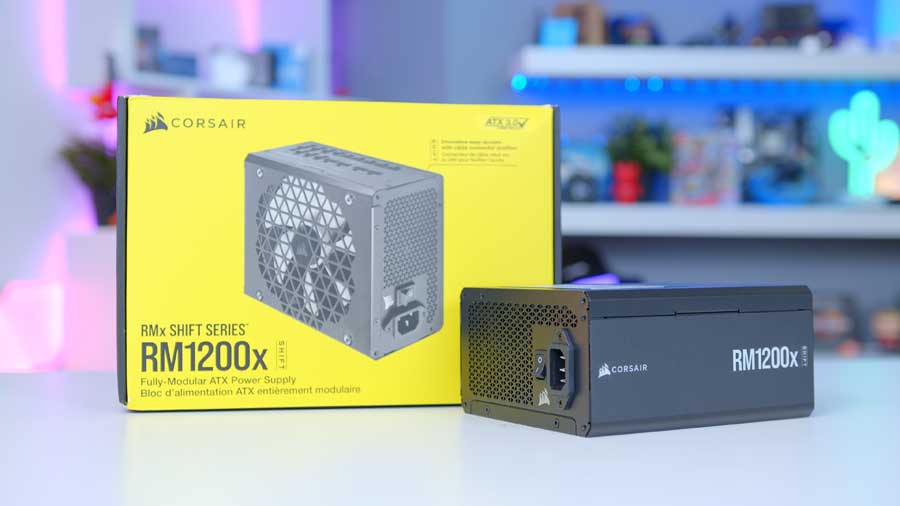 If you're a PC building aficionado, then Corsair's RM1200x Shift will be an appealing design to slot into a high-end gaming PC. This design takes the unconventional approach of placing all of the connectors onto the side of the PSU, instead of the back, which will make upgrades and cable management a lot easier.
Whilst the RM1200x SHIFT will be a bit niche for most consumers, there are still plenty of other beneficial features on offer. For example, the zero RPM fan mode allows this PSU to stay silent when under a lower load, which helps with the overall longevity of the design.
On top of this, the RM1200x Shift has been awarded 80+ Gold and Cybenetics Gold ratings, suggesting it is fairly efficient. It's great to see an innovative design that doesn't come at too much of a premium, but PC builders that are unlikely to make regular upgrades or changes to their system won't find the sideways cables to be very beneficial, making a cheaper PSU the better purchase. On top of this, some PC cases will struggle to provide the clearance needed for the connectors to sit in the side of the PSU, without risking technical issues that could damaged the connected components.
Original Review by Jay Harris: Corsair RM1200x SHIFT Power Supply Review – Sideways Cables!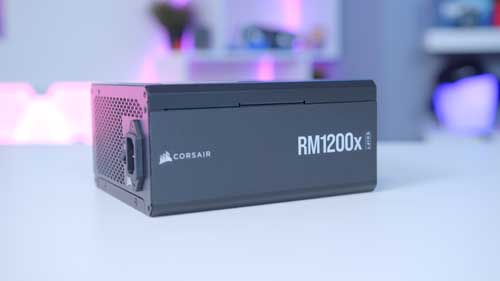 Buy the Corsair RM1200x Shift on:
6. MSI Ai1300P 80+ Platinum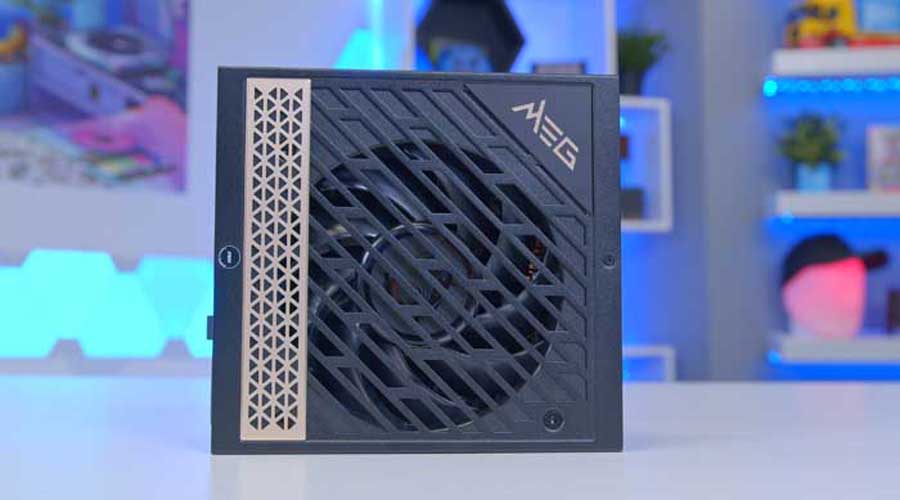 To match the luxurious nature of this power supply, as well as the builds it is likely to be slotted into, the Ai1300P sports plenty of gold accents throughout its design, which means this PSU will look great in cases that will leave the PSU exposed. Unfortunately, this high-end design comes with an equally high price tag, meaning that even most high-end builders won't be able to get their hands on this power supply.
Original Review by Jay Harris: MSI MEG Ai1300P PCIE5 Power Supply Review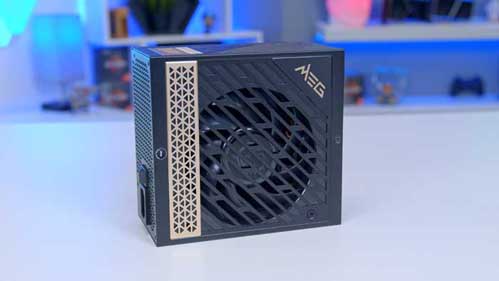 Buy the MSI Ai1300P 80+ Platinum on:
How We Tested the Best PSUs
To decide which PSUs are the best for each type of PC build, as well as an outright winner, we tested a wide range of power supplies from various manufacturers. During the testing, we analysed a range of different factors to determined whether a product would be worth considering for consumers. After splitting the PSUs into distinct categories to form a shortlist of the best options within each subclass, we then evaluated the leading designs to pick an overall winner. To do this, we took a range of various factors into consideration, including:
Efficiency
Noise Levels
Modularity & Form Factor
Design
Aesthetics
Features
Pricing
How Much Power Does My PC Build Need?
There are a number of ways in which you can find out the amount of wattage your PC build needs to operate without any technical issues. Perhaps the most accurate of these is to use a PSU calculator, which allows users to tally up the wattage of the components within their build and match it with an appropriate PSU. We'd always advise going at least 50W above the estimate provided, as this will accommodate for upgrades and spikes in power.
Alternatively, finding the recommend PSU requirements for the most demanding parts such as a graphics card is a quicker way to find a rough estimate of the power levels required to support your system. To save you from having to look for the PSU requirements of your particular GPU, you can find more details on how to find the right wattage for your PC build in our knowledge hub.
How Much Should I Spend on a PSU?
The amount of money you should spend on a power supply will vary depending on the features you want, as well as the power requirements of the components within your build. Generally, the higher the wattage on the PSU, the pricier it becomes. As a result, budget-oriented builders should try and stick to PSUs with a lower wattage.
However, there are other factors that can have an effect on the pricing of a power supply. For example, fully modular PSUs are significantly more than semi or non-modular designs. Additionally, a higher 80+ or Cybernetics efficiency rating often results in a bump up in price.
If you need some guidance on how much you should be spending on a PSU for your build, see the table below:
| Build Budget | GPU Examples | Recommended Wattage | PSU Budget |
| --- | --- | --- | --- |
| $800 or below | RTX 4060, RX 7600 | 550W | $50-$100 |
| $800-$1500 | RTX 4070, RX 7700 XT | 700W | $70-$150 |
| $1500-$2000 | RTX 4070 Ti, RX 7800 XT | 750W | $70-$200 |
| $2000-$3000 | RTX 4080, RX 7900 XT | 750W | $100-$200 |
| $3000 or above | RTX 4090, RX 7900 XTX | 1000W | $150+ |