Introduction
Over the past six months we've seen a exponential increase in the amount of high wattage power supplies. Following NVIDIA's most recent RTX 4000 series of graphics cards, there is a clear necessity for more system wattage, and this is only likely to increase as components become more powerful.
However, plugging in a plethora of power connectors when building your PC can be a frustrating task at times. Due to the size of power supply chambers, it requires the vast majority of consumers to cram their hands into a tiny space, in order to plug in the connectors they need to power their build. This takes away from the PC building experience, and can be a bit of a 'turn-off' for many first time builders.
But it seems Corsair may have found a solution. Their brand new range of SHIFT power supplies switches the orientation of power connectors to the side, providing easy access for your cables. In this review we're taking a look at Corsair's brand new 1200W variant, which sports an 80+ Gold rating, along with PCI-E 5.0 compliance.
Buy the Corsair RM1200x SHIFT on:
Suggested Article: Best 1000W Power Supplies to Buy (PCIE Gen5 & ATX 3.0 Options)
Is 1200W Needed?
For the most part, no. But in the future, it may be. As we've seen, since the release of RTX 3000, and NVIDIA's most recent RTX 4000 cards, there has been a definitive increase in power consumption. The top-end graphics cards often require 1000W as a minimum, and this doesn't change drastically when we look at GPUs like the 4080, or 4070Ti. With this in mind, you can clearly see that high wattage power supplies are a necessity for plenty of consumers.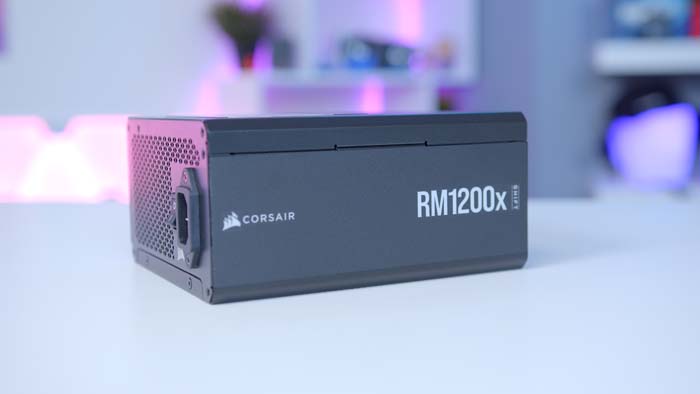 But in the current market, a 1200W power supply is rather niche in of itself. There are few people that will need a power supply with this many watts, and the ones that do are likely running top-end workstation systems with multiple graphics cards. But if we think about the future for a moment, it is quite likely that these high wattage power supplies will be needed for mid-range graphics cards.
I'm not saying that NVIDIA's potential 5060 cards, or AMD's Radeon 8000 GPUs will need a 1000W PSU. But based on the performance increases we've seen recently, this could become the normality in three to five years. Does this mean you should get ahead of the curve and pick up a 1200W PSU to future proof your PC? No, it doesn't! But I would definitely expect PSUs of this calibre to become more common (and hopefully cheaper) in the next few years. And if you're the kind of user that needs 1200W for an extremely powerful PC, I imagine this market will become more competitive with better prices in the near future.
RM1200x Shift Efficiency Rating
A big selling point of any power supply is the efficiency rating, and this should be taken into account before purchasing. If you're buying a higher wattage power supply, efficiency becomes all the more important, as we can assume that you'll likely be reaching higher loads. And with the ongoing rise in energy costs, efficiency is vital here.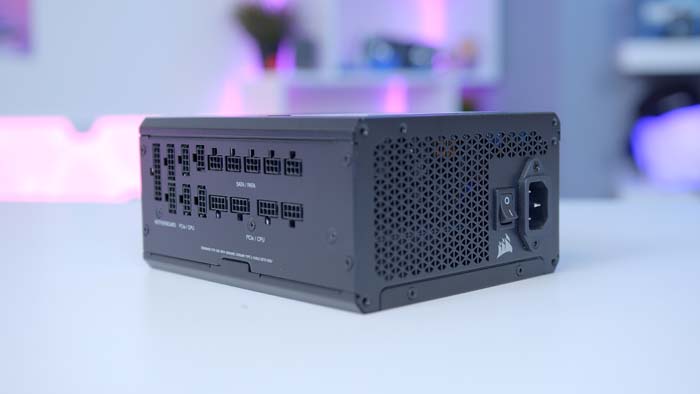 Corsair's RM1200x SHIFT sports an 80+ Gold efficiency rating, which is also backed up by a Cybenetics ETA score. Ultimately, we'd like to see power supplies with a a wattage of 1000 or higher sport a better efficiency. However, 80+ Gold still remains very efficient even at 100% and 20% loads. This ensures that less power is lost as heat and noise, which is ideal for consumers that want a quiet and thermally efficient system.
80+ Rating
Efficiency Level
80+ Gold
20% Load: 87%
50% Load: 90%
100% Load: 87%
80+ Platinum
20% Load: 90%
50% Load: 92%
100% Load: 89%
80+ Titanium
20% Load: 90%
50% Load: 92%
100% Load: 94%
Side-Mounted Power Connectors
The main feature of the RM1200x SHIFT is the side-mounted power connectors. Corsair has taken a somewhat unique approach to this PSU by moving all of the power connectors to face the side panel of your case. Doing this provides unhindered access to all of your power connectors, allowing consumers to easily plug in cables without having to jam your hands into a tight space.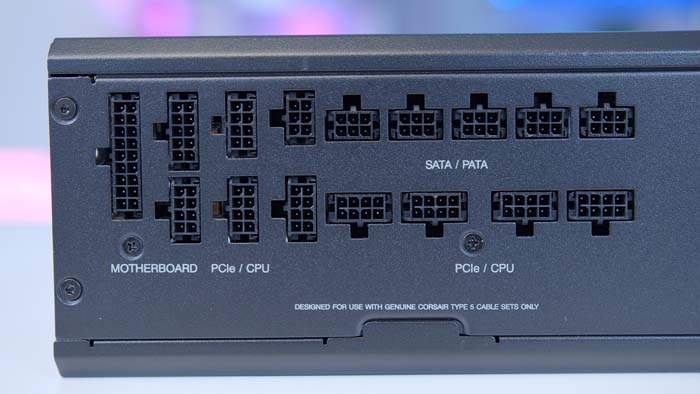 This does offer some benefits. Being able to easily access all of your cables, makes upgrading (and building a new PC) much easier. You can simply remove the side panel, and perform the maintenance as needed. Dependent on the size of your case and PSU chamber, this can also aid users when managing cables. All of the cables can be more streamlined with various cable ties and channels, which is a major advantage for those that dislike managing cables.
Overall, the side-mounted design is extremely useful. It is advantageous for us here at GeekaWhat, as we often have to disassemble and reassemble PC builds. Having easy access to cables makes this process much easier. But our use-case is obviously very specific. For many consumers that just want to build a PC, the significant increase in cost might not be worth it, just to shave some time off building the PC. However, if you find yourself constantly needing to swap out components, there are major benefits to having a PSU with side-mounted connectors.
Protection Mechanisms
The protection mechanisms of any power supply are designed to keep your PSU running smoothly, but to also ensure that the consumer or any other components aren't damaged in certain circumstances. These are put in place so that your power supply turns off instantaneously, preventing any further damage from happening.
The Corsair RM1200x SHIFT features a range of protection types, that cover a variety of situations that could cause damage to the PSU or any other components. We've noted down all of the main protection mechanisms below:
| | | |
| --- | --- | --- |
| Abbreviation | Protection Mechanism | What it Does |
| OVP | Over Voltage Protection | Shuts off power is voltages exceed specification. |
| OCP | Over Current Protection | Shuts off power is any given rail is overloaded beyond safety. |
| SCP | Short Circuit Protection | Shuts off power in the occurrence of a short circuit. |
| OPP | Over Power Protection | Shuts off power if the total output of the PSU exceeds safety. |
| OTP | Over Temperature Protection | Shuts off power if temperatures exceed a specified value. |
Power Connectors
24-Pin Motherboard Power
In terms of power connectors, the first cable you should expect in the PSU box is the 24-Pin ATX motherboard power. This cable is just to power your motherboard, and it only goes in one way. You'll hear an audible 'click' sound, once the cable is properly installed.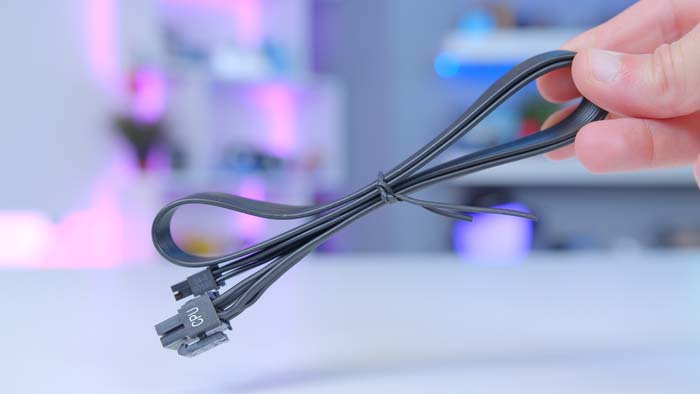 8-Pin EPS CPU Power
Next up is your CPU power. The RM1200x comes with two of these 8-pin cables, which need to be plugged in towards the top left of your motherboard. Not all boards come with two 8-pin power connectors, so you'll need to check this before plugging in your cables.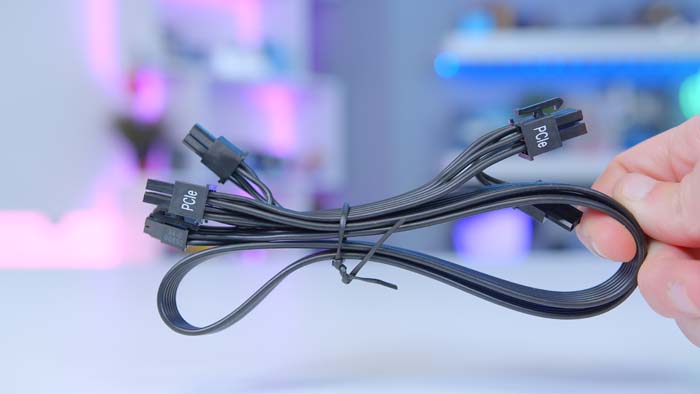 16-Pin PCI-E 5.0 GPU Power
We've seen an influx of power supplies sport the new Gen5 power connector, which is designed to pipe up to 600W. This removes the need for pesky adapters, and allows consumers to use one cable alone for their GPU. This makes cable management more seamless, and much easier to deal with.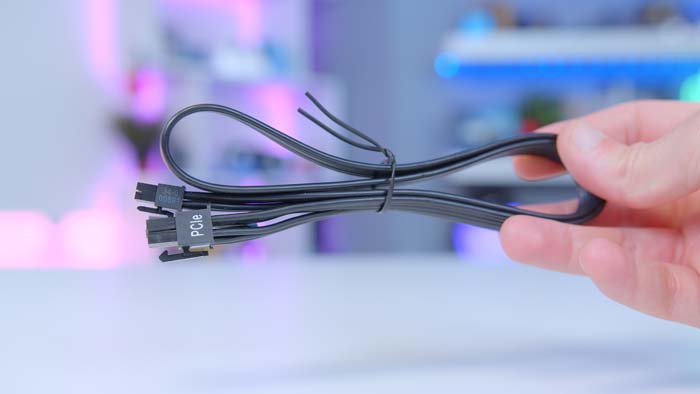 8-Pin PCI-E GPU Power
Although we've seen a significant rise in the number of PCI-E 5.0 cables, many consumers still haven't had the chance to upgrade. If you're still sporting an older GPU, you'll be able to install them using the included 8-pin cables with no problems. In the box you'll find three cables to choose from, which provides plenty of options.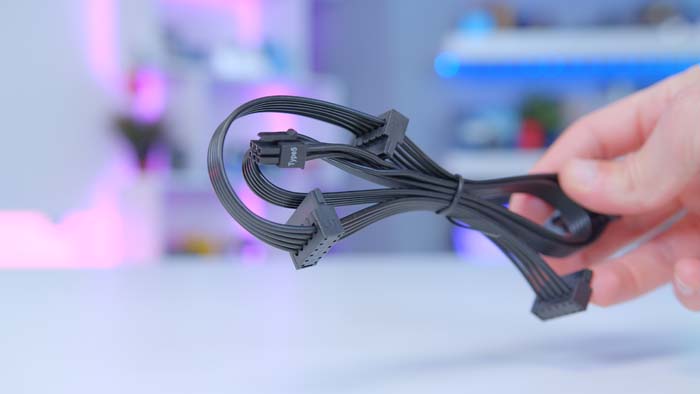 SATA Power
Although M.2 drives are the go-to standard for many consumers in the current market, SATA SSDs are still very common, and much cheaper than their NVMe counterparts. If you're still using an older SATA drive, you'll need to power it with one of the four included SATA power cables.
Conclusion
Corsair RM1200x SHIFT
Product Name: RM1200x SHIFT
Brand: Corsair
Features

Design

Efficiency

Value For Money
Summary
I have to commend Corsair here, the design change that the SHIFT comes with is useful. Providing easy access to your power connectors makes the PC building process much simpler, and overall – I like the change. However, I think the market here is quite niche. Picking up this PSU requires consumers to choose a case that has a larger PSU chamber in terms of depth, which already rules out a huge amount of options. Not only this as well, other than testers and hobbyists, most consumers aren't going to be worried about having 'easier access' to cables. When building a PC, it is likely you won't touch your power connectors until you decide to upgrade, and even then, this is dependent on whether you're rebuilding the entire system or not. I get what Corsair are doing here, and for us at GeekaWhat it makes perfect sense to have this usability feature because we constantly need to chop and change parts to benchmark and test components. But for the average consumer, the significant price increase won't be worth it. And if you don't have a case that has a deeper PSU chamber, your power connectors are going to be under some serious stress, and at worse, they could get damaged. Overall, I think Corsair have done a great job here at offering a usability feature that definitely does benefit the end-user. But the average user won't want to pay in excess just to save some time building or rebuilding their system.
Pros
✅ Side mounted power connectors are useful.
✅ Supports the PCI-E 5.0 standard.
✅ Comes with a plethora of cables.  
Cons
❌ Very expensive.
❌ Only 80+ Gold efficiency.
❌ Overall demographic is pretty niche for now.