Introduction
Retro console refreshes, emulations stations, and OSSCs are all the rage these days. These pieces of hardware allow us to re-live our childhood and play the games that we grew up with, but in the modern age. Nintendo kicked this off a few years ago with their NES Mini, allowing consumers to play all of their classic games through a HD capable television.
Nintendo's initiative has spurred on other manufacturers to throw their hat in the ring, opening up the suite of retro consoles that consumers have available to them.
More recently, Atari has hopped on board the retro refresh train, bringing their famed 2600 console back to life. This is the console that we'll be taking a look at in today's review – the Atari 2600+. We'll be doing a deep dive on the modern take of the Atari 2600, analysing its various features, and the gameplay experience that this console provides.
Buy the Atari 2600+ on: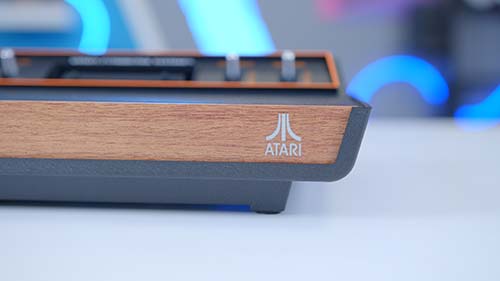 Those of you who grew up in the 1970s will remember going to the arcade to get your video game fix, prior to the Atari 2600's release. The reason why the 2600 became so popular, was down to its quality of games, colourful graphics options, and sharper sound compared to other systems and arcade cabinets. Consumers who were looking to play an awesome set of games at home, the 2600 was the go-to option.
And the popularity of the 2600 was relatively long-lived too. The Atari 2600 was in production for fifteen years, due to its abundance of gaming titles, affordability and general popularity. But in the wake of 8-bit third generation video game consoles, Nintendo started to beat out Atari in this market with the release of the Famicom and the NES bringing popular characters like Mario, Donkey Kong, and Zelda into the limelight.
Despite the subsequent disappearance of Atari in the modern video game console market, the 2600 has gone on to inspire a myriad of reproduction consoles, emulating the popular games that the original 2600 offered. The behemoth toy manufacturer LEGO has also gone on to create an Atari 2600 ICONS set, allowing consumers to build their own system, similar to the size of the original. And in recent years, Atari themselves have created a new wave of cartridges with updated packaging, and consoles using a similar colour scheme to the 2600. Needless to say, the Atari 2600 is a console that has a significant legacy that will remain in the history books for a long time.
Suggested Article: Gigabyte Aero 16 OLED BSF Laptop Review – A 4K Laptop for Creators and Gamers!
Atari 2600+ Design & Aesthetic
Upon opening the box of the Atari 2600+, you're greeted with a small but familiar design. All of the main design elements, including the colours of the original Atari 2600 have followed through on the 2600+, especially the wooden-style front panel with a printed Atari logo. I was happy to see that the design is more or less the same, but the overall quality does feel somewhat cheaper.
The 2600+ is much more lightweight compared to the original 2600, weighing in at 1lb and 9oz (or 708g). This is likely down to the smaller PCB, and higher use of plastic (which does result in a much cheaper feel). There's noticeably less metal on the 2600+ which is great if you plan on turning your 2600+ into a more portable system.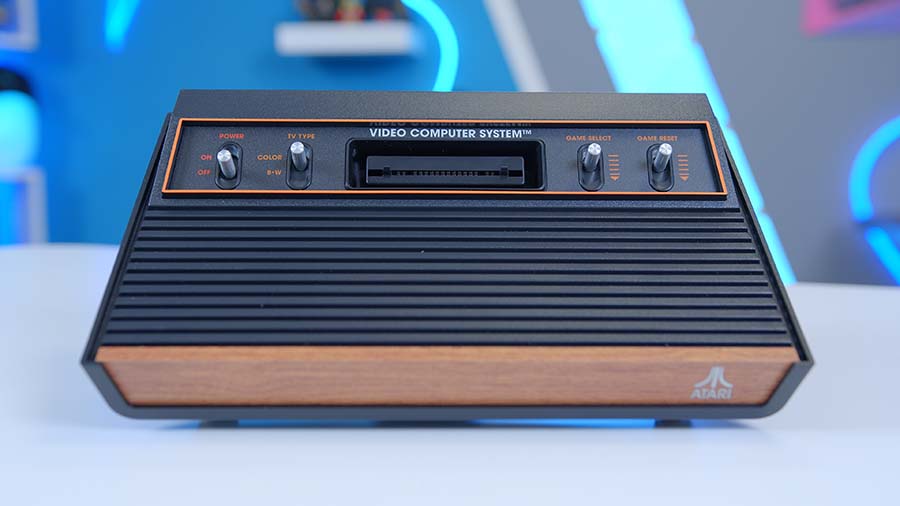 Despite being a console that came out nearly fifty years ago, the 2600+ still looks quite modern. The black and brown contrast will blend in very well with a wooden TV stand or unit. The four-switch panel that appeared on the original model has remained the same. All four of said switches have a similar amount of spring-loaded feedback compared to the original 2600, which is a nice touch.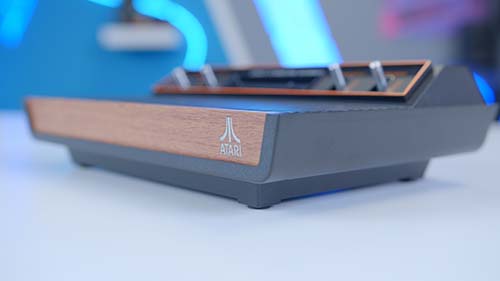 On the rear of the 2600+, consumers will find their various ports and connectors that they'll need to plug in, to get the 2600+ setup. Fortunately, there's no requirement for you to tune your TV with a RF cable, because the 2600+ uses HDMI as its video output, and USB-C for power. This is a modern twist that we're grateful to see, although I do somewhat miss the days of using a CRT while I'm firing up a console. Sadly, those days are long gone, as CRTs are very difficult to secure in the modern age.
Alongside the HDMI and USB-C ports, Atari have retained the original serial DB9 ports for the controllers. We'll touch on this briefly later, but this is an awesome feature that we're very happy to see. On the rear, consumers will also find a switch to change the aspect ratio from 16:9 to 4:3, along with the difficulty switches for both player one and player two.
To summarise, I'm pretty happy with the design. Atari have definitely slimmed things down, removing some of the heft of the original Atari 2600 while maintaining all of the important qualities and aspects that made me fall in love with this console as a child. It does feel a bit cheaper overall, but as we'll discover later, based on the price and some of the neat features, this is a relatively small price to pay.
Features We Like
The Atari 2600+ is jam-packed with a vast array of awesome features. Despite being a modernised and revitalised 2600, there are some awesome twists here that Atari have implemented making it the perfect choice for those looking to re-live their childhood. We've highlighted the features that we like and dislike below.
Backward Compatibility
The most exciting and impressive feature of the 2600+ is the fact that the original Atari hardware, (including the cartridges) can be used with the 2600+, and this also works both ways. Despite using different software from an open source Github project, consumers can plug in their original copy of Asteroids or Centipede and they should work with no issues.
This means for those of you who have some old Atari 2600 cartridges buried in a box in your attic, dust them off, and plug them into the 2600+. It is also worth noting that 2600+ plays 7800 game carts too. Although this console wasn't as popular in comparison to the 2600, there's still a vast range of awesome games to choose from.
I feel this is the most impressive feature here, and I do have to give some credit to Atari. They could have just lumped a load of cartridges onto their online store, requiring you to pick up a proprietary cartridge, but being backwards compatible is incredibly useful. Those who just want the console with a modern output, but have all of the games, this is an incredibly useful feature.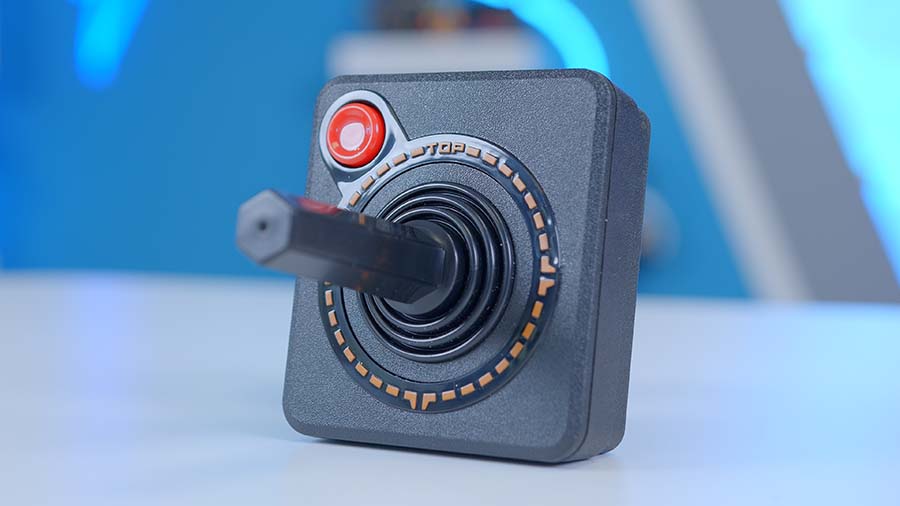 Utilises a Modern Display Output
We touched on this briefly in the design section, but one of the other modern features that appears on the Atari 2600+ is the fact that it uses a modern output for your display. Instead of an RF cable, or S-Video, consumers can leverage HDMI. This means you can use the Atari 2600+ on a modern TV, as long as it has an HDMI output. The inclusion of a switch for 4:3 or 16:9 also allows consumers to alternate between a widescreen or smaller display.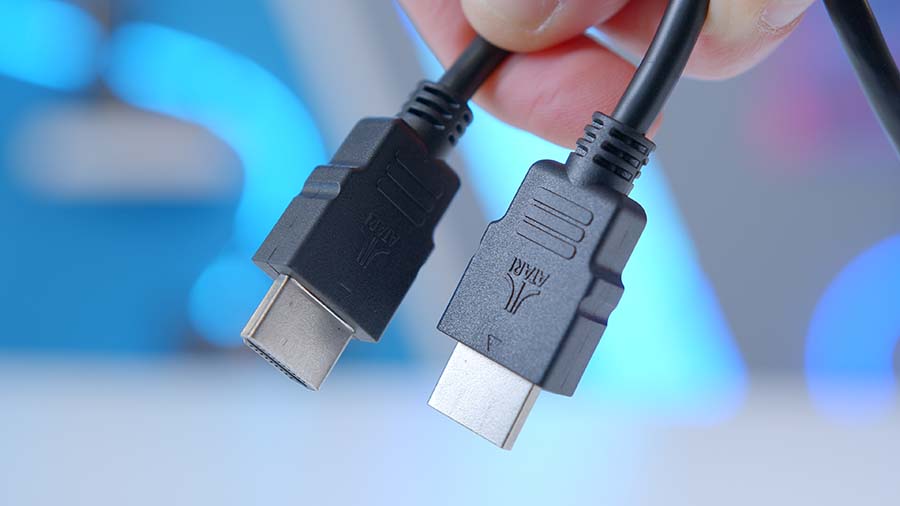 Comes with a 10-in-1 Game Cartridge
For those consumers that weren't fortunate enough to buy an original Atari 2600 back when it released in the 70s, or the games have been lost to time. Worry not! The Atari 2600+ comes with a 10-in-1 game cartridge alongside the console. This means for those of you looking to get your retro fix, you can plug in the cartridge and play games straight away with minimal hassle.
The included cartridge comes with some classics, such as Combat, Adventure, Yars' Revenge, and more. To access the various games available on this cartridge, you'll have to change the switch configurations on the back. This threw me off initially, but its relatively simple to change to a different game. Just make sure you hit the reset switch once the game has booted!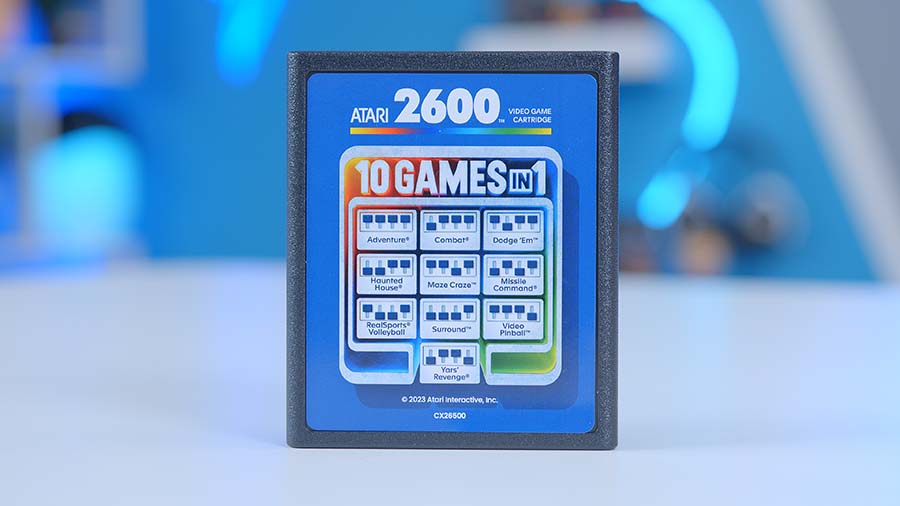 Features We Don't Like
Forced to Use Cartridges
While I love that Atari has retained the original cartridges, it is a bit of a double-edged sword. For those of you who have original Atari 2600 or 7800 cartridges, you can simply plug them in and play your games. But those consumers who don't have any of these cartridges, you're likely going to be spending a significant amount of money to secure them.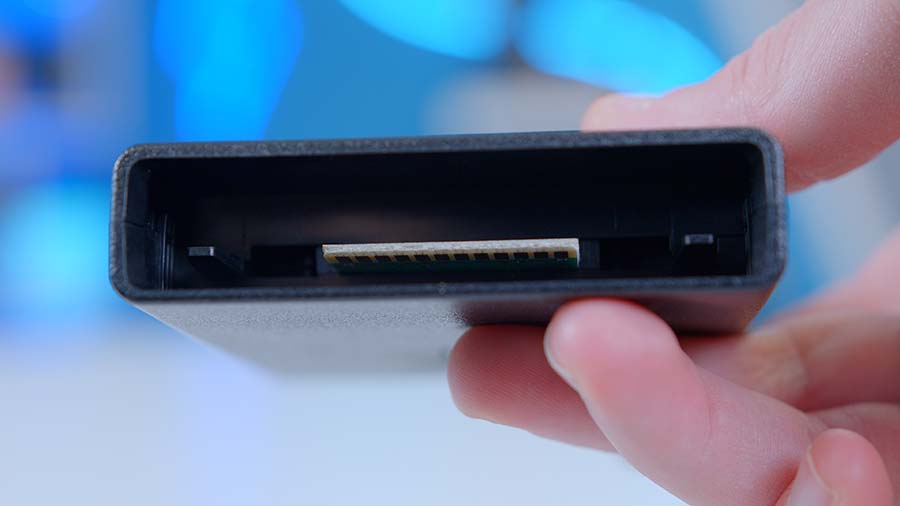 I feel Atari could have made the 2600+ multifaceted, and provided a way for consumers to emulate their games, as well as being able to plug in the original cartridges. I understand that there are both legality and R&D problems here, but as a consumer who doesn't have all of the good Atari games, this could have been a good move from Atari that is quite an appealing selling point.
Is the Experience the Same?
While the Atari 2600+ is pretty close in terms of the design to the original, is the gaming experience similar? In my experience, yes – overwhelmingly similar. As someone who has an original Atari 2600 (hopefully still) at home gathering dust, I get the same feeling of nostalgia using this revitalised version as I did with the original. Everything about the Atari 2600 has pretty much stayed the same, apart from the dimensions and weight.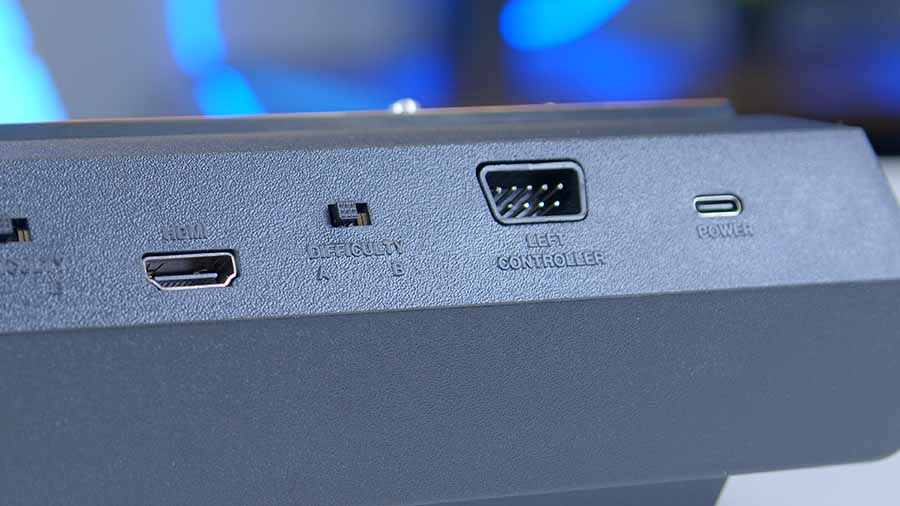 The modern changes, such as the widescreen switch, USB-C power, and HDMI output just enhance all of the qualities of the original by allowing users to play on a modern TV or display. Admittedly, the hassle of having to plug in your cartridge, and reset the game every time it boots up is still there, but this is just part of the experience of owning an Atari.
So is the experience the same – mostly. For those of you looking to play your favourite Atari games but with minimal hassle factor, the 2600+ will definitely provide the nostalgia factor you're looking for.
Conclusion
Atari 2600+
Product Name: Atari 2600+
Brand: Atari
Features

Design

Performance

Value For Money
Summary
So is the Atari 2600+ worth the price tag? Or are consumers worth steering clear of this modernised retro refresh? My answer is yes, and no. The Atari 2600+ gives me the exact same experience that I had playing the original Atari 2600 – pure nostalgia. The Atari 2600 is one of my favourite consoles as it revolutionised the home game console industry, so being able to re-live and replay all of my favourite games on a modernised version is exceptional, and I commend Atari for redesigning the 2600+ while maintaining the qualities that consumers loved about the original.
Despite my love for this nostalgic refresh, I do feel Atari have missed a beat here. The 2600+ is extremely affordable, which is what makes it such a compelling option, but I'd argue it is only worth picking up if you are a consumer that has a multitude or 2600 or 7800 games lying around. Because without these games, you're either going to be spending a lot more than $129.99, or you're going to be saddened because you don't have many games to play. The reason why I say Atari have missed a beat here is because there's no way to play the games without having the cartridge. There's no multifaceted emulation station with Linux here, just 'plain old' plug and play, which is great if you have the games, but not so great if you're a person that wasn't fortunate enough to have an Atari when you were younger.
For this reason alone, the target demographic is a bit more niche. Consumers who want to re-live 'the good old days' and play their favourite Atari games on their fancy HD TV or monitor – this console is for you. The 2600+ is gorgeous and accurately reproduces all of the things that I love about the original console, with a modern twist. But for those of you who don't have the games and aren't willing to shell out a significant amount of money for them, stick to a PC emulator.
Pros
✅ Overwhelmingly similar to the original Atari 2600+.
✅ Offers backwards compatibility with original cartridges and hardware.
✅ Allows consumers to play on a modern display.
Cons
❌ The continued use of cartridges is a double-edged sword for consumers that don't have any.
❌ No way to emulate games you don't have.
❌ Heavy use of plastic does make the design feel a bit cheaper.