Introduction
Spider-Man Miles Morales, the follow-up to the widely popular Marvels Spider-Man, has finally made its way over to PC. PlayStation have continued to re-release a number of their best-selling titles on PC game stores such as Steam and Epic Games over the last year or so, and to much fanfare. Here at GeekaWhat, we figured now would be a better time than any to dive back in to a GPU test, and see just how well some of the latest GPUs perform in Marvel's latest PC port. With Spider-Man Miles Morales being a favourite here in the office we were keen to see just what performance improvements were made over the initial console release, and what level GPU is required to run this title at 1080, high settings. In this guide, we'll be talking over all things GPU based, including hardware requirements and recommended PC specs, and even a few of our top GPU picks for good measure.
Want to skip straight to our recommended GPU choices? Take me there!
Spider-Man Miles Morales Hardware Requirements
Without spoiling our top picks for GPUs, we have essentially disregarded the minimum specs supplied by Sony, as we feel that in today's day and age that 720p at 30FPS is simply not good enough, and something even the PlayStation 4 was more than capable of achieving. The recommended specs make for better reading, and by today's standards aren't asking for too much to play comfortably at 60FPS. A GTX 1060 or Radeon RX 580 are not going to break the bank, even if they fall a little short for anything above 1080, low or medium settings.
It's a similar story when looking at the recommended CPUs. Both options listed are fairly aged CPU generations, dating a few years back at this point, indicating more modern hardware will easily be able to cope with this new PC port.
Minimum Specs
Recommended Specs
Average Performance
720p @ 30 fps
1080p @ 60 fps
Operating System
Windows 10 – 64 Bit (latest update)
Windows 10 – 64 Bit (latest update)
Windows 11 – 64 Bit (latest update)
CPU
Intel Core i3-4160 or AMD equivalent
Intel: Core i5-4670
AMD: Ryzen 5 1600
GPU
NVIDIA GeForce GTX 950 or AMD equivalent
NVIDIA: GeForce GTX 1060 6 GB
AMD: Radeon RX 580
RAM
8GB
16GB
Storage
75GB
75GB
Graphic Drivers
NVIDIA: Version 528.98
AMD: Version 22.11.2
(We would always recommend updating to the latest GPU drivers, even if these are not strictly required)
NVIDIA: Version 528.98
AMD: Version 22.11.2
(We would always recommend updating to the latest GPU drivers, even if these are not strictly required)
Minimum and Recommended Specs for Spider-Man Miles Morales (Source: PlayStation.com)
Testing Methodology
When testing any new title, we look to match components with other balanced parts to ensure our testing remains fair. In aid of full transparency, we also record and upload all of our full benchmark runs to our benchmarking YouTube channel, 'Benched! by GeekaWhat'.
During our testing of Spider-Man Miles Morales, we benchmarked a number of AMD and NVIDIA GPUs at 1080P, ranging from the budget-oriented RTX 3050 graphics card all the way up to the more expensive AMD Radeon RX 6950 XT and the newly released RTX 4080. For 1080p, a number of the cards we tested are simply overkill, and act simply as a a reference point.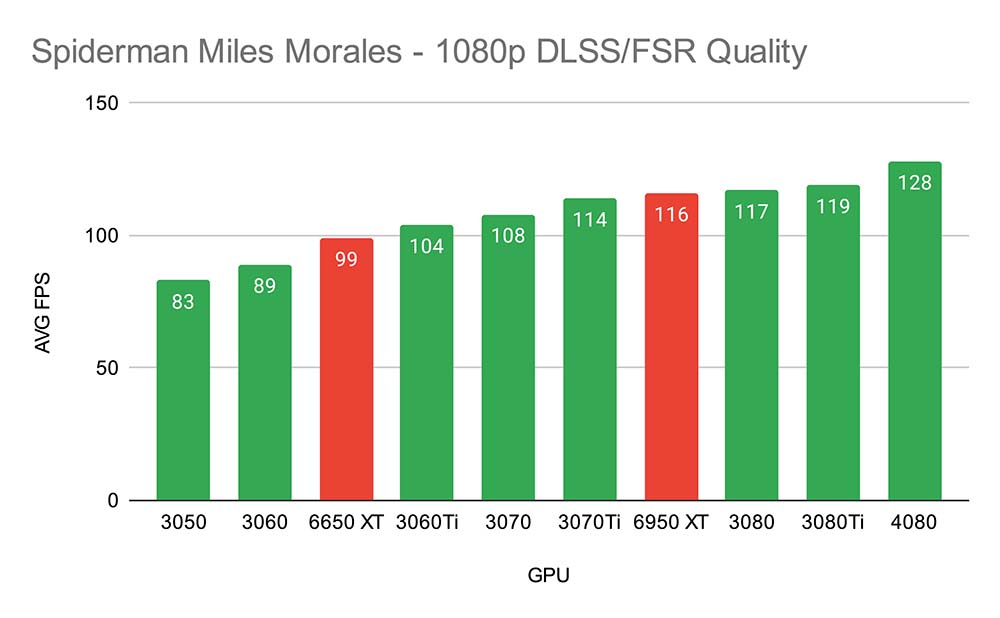 Best GPUs for Spider-Man Miles Morales:
1. Nvidia GeForce RTX 3060Ti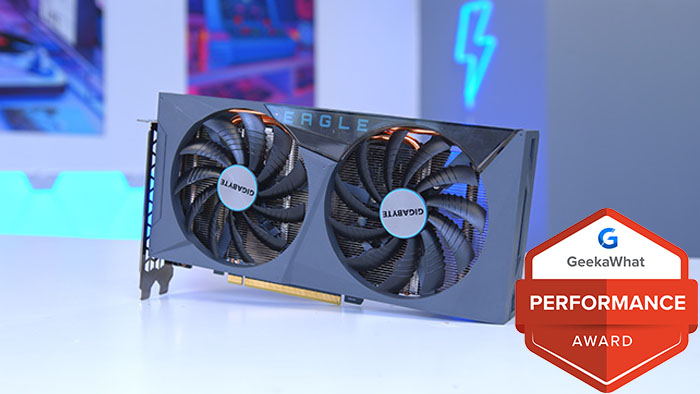 The ever-present RTX 3060Ti is a staple choice for our GPU roundups. It simply sits at a great price point with performance to match. Few, if any, GPUs offer similar performance at such an affordable price and for that reason we can't help but to yet again recommend the RTX 3060Ti.
We're big fans of the RTX 3060Ti, with quite a few people in the GeekaWhat team daily driving this card in their systems. In Spider-Man Miles Morales it didn't let us down, with performance rivalling the RTX 3070.
With DLSS set to Quality, and the settings cranked to High, the RTX 3060Ti averaged a mightily impressive 104 FPS. Losing out to the RTX 3070 by only four frames whilst coming in at an MSRP of $100 cheaper, and the results speak for themselves. Pick up a top range AIB model of the RTX 3060Ti and chances are the extra four frames could quite easily be regained for little extra cost.
The RTX 3060Ti is a GPU that also comes with some legroom to play at consistent 1440p frame rates, too, something that some of our other choices today lack. Overall, the RTX 3060Ti more than earns its top spot in our list today and simply cannot be beaten on price to performance at 1080p.
Pros
DLSS support
Best value RTX card
Room to play at higher resolutions
Cons
On the slightly older side, with an RTX 4000 refresh expected
A little light on video memory (VRAM)
Buy the Nvidia RTX 3060Ti on:
2. AMD Radeon RX 6650 XT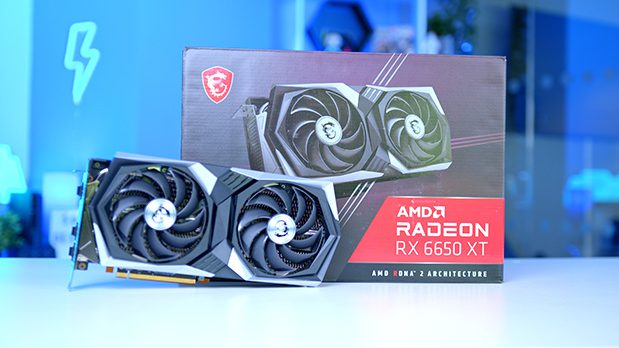 AMD's answer to the RTX 3060Ti, the RX 6650 XT, is our second pick and a card that ran the RTX 3060Ti mightily close. During our recent benchmarking sessions across a number of different titles, the battle between these two cards has been nail bitingly close at times. It was no different is Spider-Man Miles Morales.
Unfortunately, on this occasion, the RX 6650 XT did lose out slightly on the performance front, but only by roughly five frames per second – not bad!
Regardless, we still think the RX 6650 XT is a really solid card and somewhat of a dark horse in this race, rarely seeing the same praise of its NVIDIA counterparts, whilst producing performance to rival at a lower cost. AMD's AI scaler FSR also impressed us during our testing. The image quality was noticeably sharper than what we have seen in previous titles and much closer to the industry topping visuals of Nvidia's DLSS.
An average FPS of 99 isn't anything to turn your nose up at and placed the RX 6650 XT in a strong position in the price-to-performance market. AMD's RX 6650 XT, similarly to the RTX 3060Ti, provides performance to rival some of the big boys of the GPU world, without costing an arm and a leg… a worthwhile investment in my book!
Pros
Room to play at higher resolutions
Fantastic value for money
Very Strong Performer
Cons
Image quality suffers with Fidelity FX more than with DLSS
AMD Radeon Adrenaline Software is less refined than GeForce Experience
Buy the AMD RX 6650 XT on:
3. Nvidia GeForce RTX 3050
Our most budget-friendly option, and final pick today, is Nvidia's RTX 3050. For those looking purely to game at 60FPS, 1080p, the RTX 3050 is amongst the best, if not the best option out there.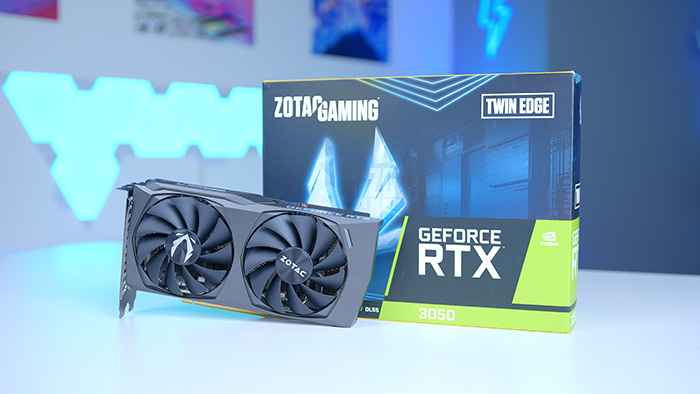 The RTX 3050 surprised us during testing and exceeded expectations, cruising past the previously mentioned 60 FPS mark and averaging 83 FPS. The performance wasn't a million miles off the RTX 3060 either, falling only six frames shy.
Nvidia's lowest-priced 30 series GPU may just be the perfect GPU for the average 1080p gamer. For those not fussed with playing FPS titles at ultra-high frames, the RTX 3050 does a great job at providing consistent performance and is greatly suited to games like Spider-Man Miles Morales.
The RTX 3050 makes great use of DLSS, too! It's an area that helps to redeem the RTX 3050s reputation against other budget-oriented rivals. DLSS provides a great boost to performance without reducing visual fidelity and enables the RTX 3050 to consistently provide smooth gameplay without huge stutters.
Pros
Cheapest MSRP
Drivers are very refined
DLSS compatible
Cons
Stronger performing alternatives available
Weakest performance
Buy the NVIDIA GeForce RTX 3050 on: