Introduction
120mm AIO CPU coolers are a popular choice amongst PC builders looking for budget solutions, and for good reason. They are cheap, compact, good-looking, and provide more than enough cooling for entry-level and some mid-range CPUs. To help builders looking for the perfect AIO to pair with the rest of the system, we have put together a roundup of some of the best choices on the market right now.
Suggested: Best Budget CPU Coolers to Buy (Under $100)
Our Top Choices
Keep reading to learn more about the exact rationale behind each of our selections!
Hardware Considerations
While AIO coolers featuring only a 120mm radiator and fan may seem ill-prepared for cooling more demanding CPUs, in truth, all of these solutions will more than suffice for most lower-end, mainstream chips. As a rough guide, these solutions work best with CPUs with a TDP of 100W or less. Though, of course, the rest of the cooling setup, including the choice of case and number of fans installed in it, will also impact the overall efficiency of the AIO.
A great benefit of 120mm AIOs is the fact that they can fit in most PCs, even more compact ones. Clearance shouldn't be an issue in all but the most cramped cases. However, just in case, we do cover the size requirements as well for each of these options. Different AIOs also have varying tube lengths which is something else to consider to help plan out its positioning within a build.
Best 120mm AIO Coolers to Buy
Cooler Master Master Liquid Lite 120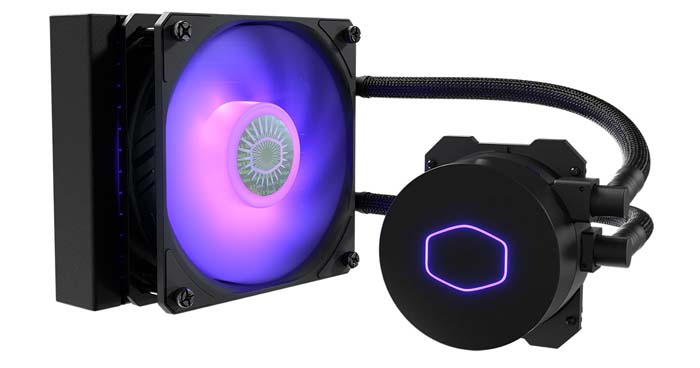 This company's name is no hyperbole, as Cooler Master truly makes some amazing cooling solutions. The Master Liquid Lite 120 allows anyone to enjoy their specific brand of cooling performance in a small form-factor.
On the surface, this AIO may look a lot more 'basic' than many of the others we've gathered here. The CPU block features no RGB or stand-out aesthetics, while the fan is also very simple. It's clear that Cooler Master decided to put function before form here.
The CPU block features a very simple and round look, with an illuminated white Cooler Master logo on top. It's compatible with all the standard sockets from AMD, aka. Team Red, however customers with CPUs based on the Intel LGA 1700 socket should be made aware that an additional mounting bracket must be purchased from Cooler Master in order to accommodate that socket.
The radiator is once again 27mm thick and connected up to the CPU block with 300mm tubes, which should give users enough flexibility in terms of placement within their system.
The included Cooler Master MasterFan Pro 120 PWM fan features a maximum RPM of 2000, and maximum airflow of 66.7 CFM, making this cooler more than adequate at cooling the CPU. The maximum noise levels of 30 dBA also mean it shouldn't be too distracting. At 25mm thick, it brings the total thickness of the setup to 52mm, meaning that clearance concerns shouldn't arise in most cases.
This is by far the cheapest solution on offer that we've prepared in this article, making it a great option for people who want a cheaper cooler that doesn't take up too much space.
Pros
Great value option
Neutral design will suit most builds
Great choice for small form factor builds
Cons
Fan is weaker than on more expensive options
Look and feel is a little dated compared to some alternatives
Buy the Cooler Master MasterLiquid Lite on:
NZXT Kraken 120
Buyers who already have other components from NZXT in their PCs, such as the case or motherboard, will find this cooler matches the rest of the build very well. It features the same, minimalist look that NZXT is well known for.
The CPU block, while fairly standard and inoffensive in terms of looks, features a fully-customisable RGB logo atop. This makes this one of the more affordable solutions that has a full-RGB block. It's also fully compatible with all of the most popular sockets from Intel and AMD, including their latest LGA 1700 and AM5 sockets respectively.
The radiator the Kraken comes with is 32mm thick, making this one of the thicker rads on this roundup. While still small enough that it should fit in most people's builds, the extra few mm should also aid in keeping the CPU cool. The extra thickness allows for more fins, and the liquid coolant to disperse further and cool more effectively. It's connected to the main block with 400mm long tubes, which are on the longer side for 120mm AIOs, giving the user more flexibility in their setup.
The 120mm fan intended for the radiator is an in-house NZXT Aer P120 model. It features a PWM connector, a maximum RPM of 2,000, and its maximum rated airflow sits at 73.11 CFM. That makes it a very effective fan at dissipating heat away from the radiator, even if it's quick to remind you of its presence with noise levels at 36 dBA at max speeds.
Pros
Signature NZXT design is sleek
Great integration with NZXT Cam
RGB is easily customisable
Cons
Expensive compared to other options on the market
Thicker radiator may reduce compatibility slightly in small cases
Buy the NZXT Kraken 120 on:
Corsair Hydro H60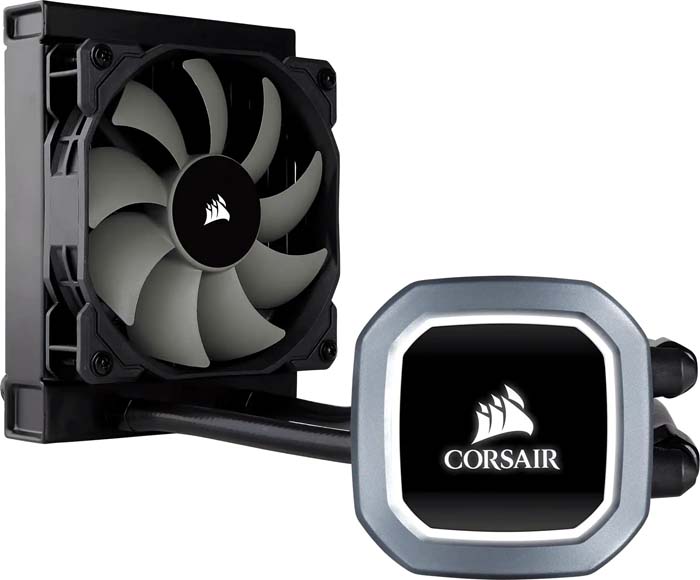 Corsair is probably the best known cooling brand in the world, and that's for good reason. They offer some amazing cooling solutions, even at lower prices. The Hydro H60 is one such product, being one of their most popular SKUs.
The CPU block itself is relatively simple, while still keeping with Corsair's signature style. Lighting is limited to just a white LED giving the block a nice glow. However, this light can't be controlled or turned off at all, not even with Corsair's iCUE software. On the brighter side, the lack of multi-colour RGB also means that no additional cables for the RGB have to be connected up to the block, making it easier to set up and resulting in a cleaner look.
In terms of the radiator, it features a 27mm-thick Corsair design, which should fit most setups. The 330mm tubes, connecting the rad to the CPU block should also suffice in all but the most extreme PC cases.
The included fan is a Corsair SP series fan, meaning that the high-standard of quality and cooling from Corsair is to be expected. The fan can spin as fast as 1700 RPM, with its maximum airflow of 57.2 CFM being very respectable. It manages all of that while keeping the maximum noise levels to around 28.3 dBA.
While the CPU block does support the latest AM5 socket from AMD, given it's same mounting positions as AM4, it doesn't support the Intel LGA 1700 socket. That means that for anyone who wishes to partner this cooler up with an Intel 12th Gen or 13th Gen CPU will need to purchase an additional mounting bracket from Corsair.
The fan itself is 25mm, meaning that coupled with the rad, the setup's total thickness comes to 52mm.
Pros
Great temperature and fan control in Corsair iCUE
Quiet fan with fair RPM capability
Simple, easy to install design
Cons
Always on lighting design
Lack of RGB for customisation in Corsair iCUE
Buy the Corsair Hydro H60 on:
Corsair iCUE H60i RGB Pro XT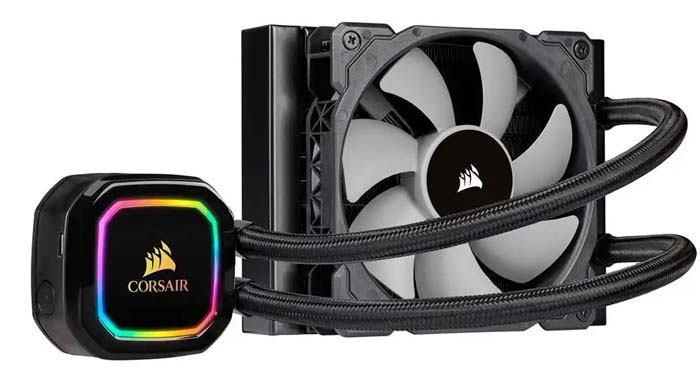 As the name suggests, the H60i RGB Pro XT from Corsair is a step-up product to the H60. While coming with a price increase, it justifies it with several additions.
In terms of the CPU block, it features an all-black look this time, matched with fully-customisable RGB lighting, controlled with the iCUE software. This addition however requires running an internal USB cable to the block, taking up an additional precious connector on the motherboard.
The radiator maintains the same dimensions as the H60, with 27mm of thickness. The tubes running to it from the CPU block are also once again 330mm long, which once again should be more than enough in most cases.
The fan has also changed, with Corsair deciding to pair this AIO with their incredible ML Series fan. While still being a 120mm PWM fan, the more efficient design, and the much higher 2400 RPM, result in maximum airflow reaching 75 CFM. While the noise levels from the fan can reach 37 dBA thanks to its higher maximum speed, customers should bear in mind that this will only be the case in the rare instances when the fan has to reach its maximum RPM. The maximum noise of this fan is also just slightly higher than that on some of the other AIOs in this roundup. As this ML fan is still just 25mm thick, the overall footprint of this AIO remains identical to that of the base H60.
Pros
Improved looks over the non-RGB H60 cooler
Polished design that looks great
Top-tier performance for a 120mm cooler
Cons
Expensive price may make 240mm alternatives more compelling options (where space constraints are not a factor)
Lack of RGB for customisation in Corsair iCUE
Buy the Corsair iCUE H60i Pro XT on:
ASUS ROG Strix LC 120 RGB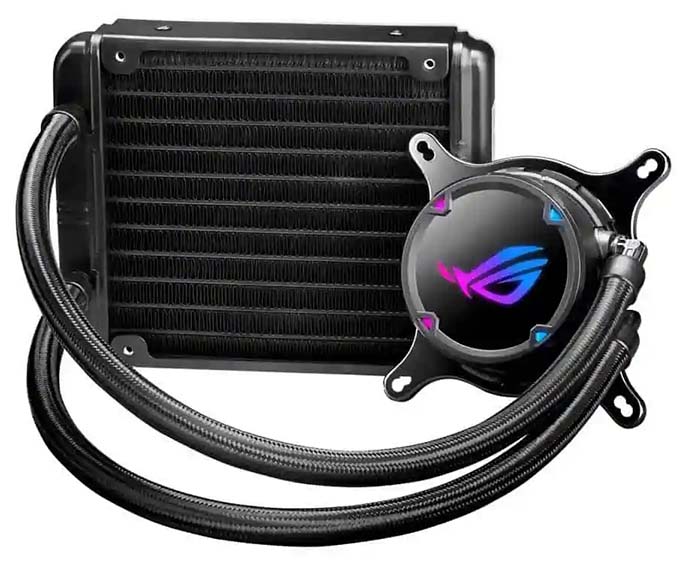 While relatively new to the AIO market, ASUS already have some amazing offerings that combine style and performance. The ROG Strix LC 120 RGB is a cooler that should be on the radar of anyone interested in keeping their builds as stylish as possible.
The CPU block itself is probably the most interesting of all of the AIO coolers we've prepared for today, though that of course depends on what individual buyers want from their AIO. It features a great rounded design, with an RGB ROG logo at the top and additional illuminations round the sides. It's compatible with most CPU sockets from Intel and AMD, though once again a mounting bracket will be required for mounting it to a motherboard with Intel's latest LGA 1700 socket.
The radiator the LC 120 RGB comes with also features a unique style that sets it apart from many other AIO coolers. With a thickness of 27mm, it will help keep the CPU very cool while also not causing too many clearance issues. The tube length of 380mm should also suffice for most customers.
The fan included with this AIO is an ASUS ROG 12 Series fan. Featuring a maximum speed of a whopping 2500 RPM, and its maximum airflow rated at 80.85 CFM, its by far the most efficient fan in this roundup. While the noise at max RPM may seem rather high, at 37.6 dBA, its overall efficiency should mean that very rarely would the fan have to reach its highest speeds. Combined with the rad, this 25mm fan brings the thickness of this solution from ASUS to 52mm, fairly standard for 120mm AIOs. To make this AIO cooler stand out even more, ASUS even added addressable RGB lighting to the fan itself, making it the most RGB-rich cooler we have covered in this article, for those interested in keeping their PCs filled with colour and light.
While the ROG Strix LC 120 RGB is by far the most expensive solution we have prepared, the amazing performance, unique style, and great features will certainly make it worth it for some. Though do keep in mind that for those who just wish to keep their CPUs as cool as possible, at this price range certain 240mm AIO coolers start to appear. Those that could make space in their case for a larger radiator like that thus may want to consider one of these larger AIOs instead. For any potential buyers that are more space-constrained however, this is about as good as 120mm AIOs get.
Pros
Huge RPM speed on included fan
Addressable RGB lighting
Unique, well-performing design
Cons
Very expensive for a 120mm cooler
Styling won't to be to the taste of everyone
Buy the ASUS ROG STRIX LC120 on: