Introduction
As the days near ever-closer to the Ryzen 7000 release date, anticipation builds with concerns to AMD's newest platform. We've kept our ears low to the ground in order to scoop up any new information with regards to the kind of features and specs these new motherboards are going to have.
But one key question still stands. What is the difference between the X670 and B650 chipsets? Today we'll be breaking down the major differences and similarities between two of the chipsets on the Ryzen 7000 line-up. We'll also be covering our expectations in terms of specs, pricing, and performance.
Chipsets & Motherboards
One of the most important questions that we get asked is 'what are the differences between chipsets and motherboards'? Many consumers tend to muddle up the definition of a chipset or motherboard because they both work together, while being distinctly (and confusingly) very different. A motherboard is the physical PCB that all of your components and power connectors will slot into. Whereas, a chipset is both a traffic controller, and the determiner for the kind of features you should expect on your motherboard.
As a general rule, AMD have always kept three different chipsets with every major CPU release. These are: 'X#70', 'B#50', and 'A#20'. For Ryzen 7000, the A#20 chipset has been dropped as far as we know, so it is unlikely we will be seeing a return. However, both the new X670 and B650 chipsets are a mainstay that have moved onto the next generation of CPUs.
The previous X570 chipset was generally at the top of the line, offering the most amount of features available with Ryzen 5000 CPUs. However, based on the fact that we've gotten a new X670E chipset it is unlikely AMD have followed suit. For the 'B' range of chipsets, these were designed to offer a more budget oriented approach while still providing consumers with great performance and plenty of features. We're expecting the B650 chipset to follow the same standard AMD outline previously, but instead with DDR5 compatibility.
X670 & B650 Major Differences
Before we delve into the technical front on these chipsets, we first want to make a brief note. Despite the fact that we have plenty of information about the Ryzen 7000 CPUs themselves, the information for the motherboards is still a little light. AMD are definitely focusing on pushing their X670E flagship boards, and for this reason the other chipsets have been neglected somewhat in terms of publicly available information. We expect to see more information about the new motherboards as we get closer to the release date, but it must be noted that this article is both a combination of speculation, educated guesses and titbits of data we have about the AM5 chipsets!
Overclocking Support
First off is overclocking support. AMD have told us that overclocking won't be limited to any specific chipset, which is good for both enthusiasts and first-time builders. However, the amount of VRM power phases you have, along with cooling and CPU capability will be different between chipsets and motherboards.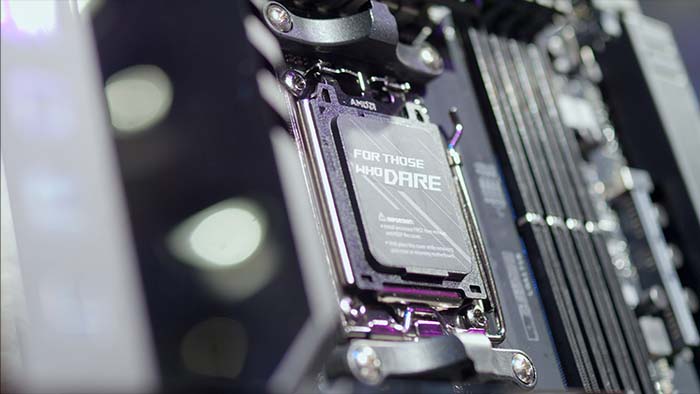 We're expecting X670 motherboards to have better overclocking support across the board, behind X670E and B650E. This means you'll likely have access to powerful VRMs, along with ample cooling. As the B650 chipset is geared more towards budget and less costly builds, you won't necessarily be able to overclock as well on these motherboards compared to the other available chipsets. As an example, MSI's X670-P motherboard has a 14+2+1 power design making it great for overclocking CPUs in the mid-range market with room for higher-end Ryzen 7000 CPUs too.
PCI-E 5.0 – GPUs & SSDs
For both X670 and B650 motherboards we're going to see a mixture of PCI-E Gen5 and Gen4. The less expensive motherboards on the X670 chipset are likely to only feature one element of PCI-E 5.0 in the form of an x16 or x4 slot. Although we don't have a mass of information about B650 boards, we're expecting to only see PCI-E Gen5 features on the more mid-range and top-end boards. This is ultimately to keep down costs for this budget chipset.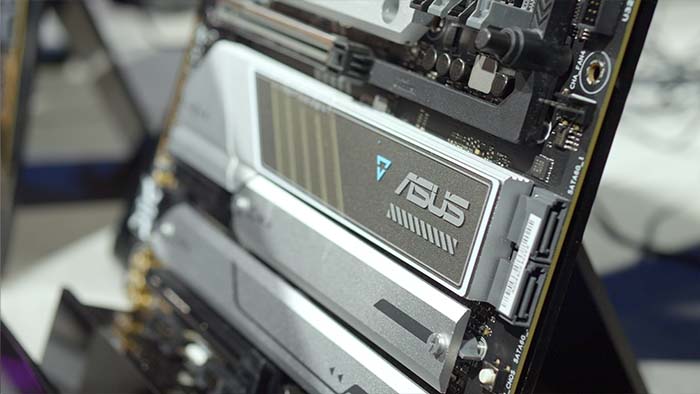 As we can see on the MSI X670-P WiFi, you've got access to two PCI-E Gen4 slots on the GPU front. And in terms of storage you've got one Gen 5 M.2 slot, and three other Gen 4 slots. This is a massive amount of speedy storage slots, and we believe other top-end X670 motherboards will offer a lot more. Although we don't have any B650 motherboard product releases at the moment, we expect the amount of slots to be halved, but still retain PCI-E 5.0 on certain boards.
Memory Overclocking Support
During AMD's Ryzen 7000 press conference we received some news about their new EXPO memory technology. This new technology allows consumers to use a 'one-click' overclocking profile which enhances the clock speed and decreases the latency for a performance boost.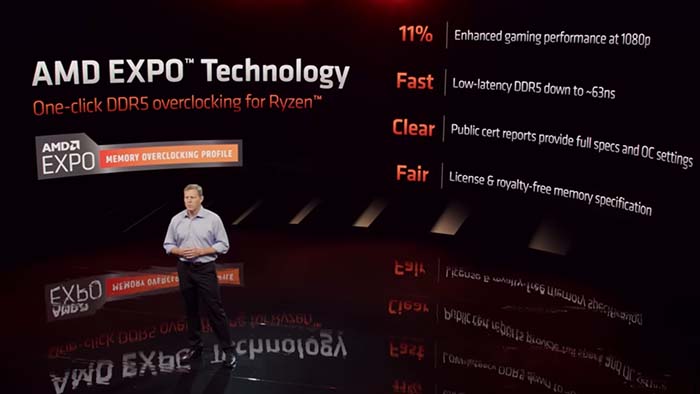 All of AMD's new chipsets are going to have access to this technology, and over 15 kits will be available on launch with this new memory profile, improving DDR5 memory. DDR5 does at the moment suffer from poor latency while having an extremely high clock speed. So being able to enhance your PC's performance on any of the chipsets with a simple setting is very consumer friendly!
Rear and Front IO
The amount of available IO tends to differ quite significantly between chipsets due to both costs and power requirements. As a general rule, the top-end boards will house the most amount of IO. On X670 boards this means we'll likely get access to some USB 4 Ports, along with some other high speed USB 3.2 ports, and potentially 2.5 Gigabit LAN.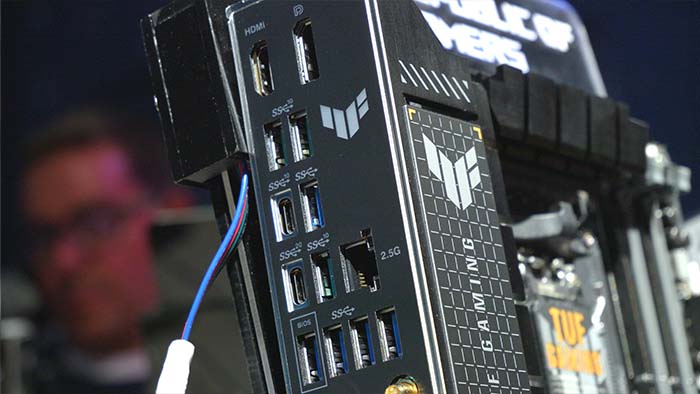 B650 boards may suffer somewhat on this front. Although we expect there to be plenty of USB3.2 ports, it is unlikely that USB4 and high speed internet will be a commonality shared on these motherboards. We may see some of these more high-end features on expensive B650 motherboards, but with B650 boards sitting in a budget bracket, these IO options will likely be scarce based on cost.
Our Pricing Expectations & Comparison
Without pricing data we've attempted to give a reserved but realistic estimate. X570 and B550 motherboards released at a very reasonable price, but as these motherboards are DDR4 compatible, there is an expectancy for them to have a lower cost on average compared to Ryzen 7000 boards. For B650 we've kept the price the same compared to B550 options. Despite being DDR5 compatible, this is only the biggest difference between B650 and B550 boards, with the inclusion of PCI-E 5.0 as well. AMD board partners tend to offer great prices when it comes to budget options, so we don't believe they'll veer entirely off the mark for the lower-end chipset.
For X670 boards we expect the lower bound of these boards to fall around the $300 mark. Although X670 motherboards could be priced lower, it is unlikely the price will be much less due to how feature rich these boards are expected to be. At the top end of the spectrum we've predicted around $600. Again this is just an average price, but these board will be geared towards enthusiasts that don't want to pay an extra premium for X670E options. These boards are going to be somewhat expensive, but based on the features, overclocking support and aesthetic the prices are likely justifiable.
| | | | |
| --- | --- | --- | --- |
| X670 | B650 | X570 | B550 |
| $300 – $600 | $150 – $300 | $200 – $500 | $150 – $300 |
Note – This pricing guide is based on a rough estimate of the expected priced for the X670 and B650 chipsets. No prices have currently been announced for any available motherboards and therefore can be subject to change.
Table of Specs Comparison
Features
X670
B650
CPU Overclocking Support
Yes
Yes
CPU PCI Express 5.0 Lanes
20?
18
PCI-E 5.0 Slots
1 x16 Slot
1 x4 M.2 Slot
1 x16 Slot
or
1 x4 M.2 Slot
VRM Power Phases
20+
16+
Chipset PCI Express 4.0 Lanes
10?
10?
PCI-E 4.0 M.2 Slots
2 x4 M.2 Slots
Up to 2 x4 M.2 Slots
Chipset PCI Express 3.0 Lanes
10?
10?
Max Number of USB Ports
20?
16?
Max USB 4.0 Ports
2?
1?
Max USB 3.2 Gen 2×2 Ports (20Gbps)
10?
8
Table of Expected Differences between X670 & B650 Chipsets
Overall Differences Breakdown
The table we've created above lists the specifications that we expect from both the X670 and B650 chipsets. Much of the specs that we've written down is speculation as we're waiting to see official product releases from AMD's board partners to see what the boards look like and the kind of features on each of them.
First off we can talk about PCI-E lanes, GPUs and SSDs. X670 boards are likely going to very specced out in terms of features (besides X670E), so these boards will probably have a lot of options when it comes to GPU slots, and SSD slots. We're likely looking at multiple PCI-E x16 Gen5 slots, with a mix of Gen5 options for x4 slots too. As B650 boards are going to be more of a barebones option, it is likely we'll only see one Gen5 slot, with the rest being PCI-E Gen4.
For IO and other features, B650 boards again will be somewhat more limited in terms of choices. This means we're unlikely to see much in the way of USB4, and there will be less high speed USB ports across these motherboards. For overclocking, although the B650 motherboards may have the capability of overclocking, but we're expecting VRM power phases to be on the lower end to keep down costs. By contrast, it is very likely that X670 motherboards will be perfect for overclocking offering more VRM phases and better cooling. IO will also be on similar standing where these boards will have more options for high speed USB ports, and other features.
Where to Buy
With X670 motherboards we've been given an official release date of September 27th, so we imagine pre-orders will be available soon. For B650 and B650E motherboards AMD has announced that these will release around October, so we don't know when exactly pricing, specs and pre-orders will become available. If you're wanting to keep updated we recommend checking back on this article (as we'll be updating it over time), or we've provided links to the manufacturer pages below.
Conclusions
In today's article, we've spoken at length about the differences and similarities between the X670 and B650 chipsets. We've dived into the features, and spoken about our expectancies for pricing and specs in relation to these new boards on the AM5 platform. From the information we have, and based on AMD's previous product launches, we're expecting the B650 board to be more of a barebones price conscious offering, providing consumers a gateway to the new Ryzen 7000 CPUs, but without having to spend a fortune.
For the X670 chipset, these boards are going to be top of the line, providing consumers plenty of features to sink their teeth into while boasting a relatively high price too. With the release date in tow we expect X670 pricing, product announcements and specs list to be available very soon. Whereas, with B650 motherboards we'll see some announcements as we progress through to the end of September. Regardless, we're excited to see what AMD and their board partners have in store for us for the AM5 platform!