Introduction
Since the release of AMD's Ryzen 7000 CPUs, we've seen motherboards and CPUs slowly trickle into the market. All of the new motherboard chipsets have released so we've scooped up any new information with regards to the kind of features and specs these new motherboards have.
But one key question still stands. What is the difference between the X670 and B650 chipsets? Today we'll be breaking down the major differences and similarities between two of the chipsets on the Ryzen 7000 line-up. We'll be delving into the features, and pricing to see what is on offer in terms of value.
Suggested Article: MSI MAG B650M Mortar WiFi Review – MSI's Cheapest DDR5 Board?
Our Recommendations At a Glance
Keep reading for a more in-depth coverage of each motherboard in this roundup!
Chipsets & Motherboards
One of the most important questions that we get asked is 'what are the differences between chipsets and motherboards'? Many consumers tend to muddle up the definition of a chipset or motherboard because they both work together, while being distinctly (and confusingly) very different. A motherboard is the physical PCB that all of your components and power connectors will slot into. Whereas, a chipset is both a traffic controller, and the determiner for the kind of features you should expect on your motherboard.
As a general rule, AMD have always kept three different chipsets with every major CPU release. These are: 'X#70', 'B#50', and 'A#20'. For Ryzen 7000, the A#20 chipset has been dropped as far as we know, but recent rumours do suggest the potential return of an A620 chipset as a budget offering. However, both the new X670 and B650 chipsets are a mainstay that have moved onto the next generation of CPUs.
The previous X570 chipset was generally at the top of the line, offering the most amount of features available with Ryzen 5000 CPUs. However, based on the fact that we've gotten a new X670E chipset it is unlikely AMD have followed suit. For the 'B' range of chipsets, these were designed to offer a more budget oriented approach while still providing consumers with great performance and plenty of features. The B650 chipset has followed in the footsteps that AMD outlined previously, but instead with DDR5 compatibility.
X670 & B650 Major Differences
In this section we'll be jumping into the major technical differences between the X670 and B650 chipsets. The new motherboards have primarily saturated within the market, so consumers have access to a plethora of options at varying price points. These chipsets are rather different, and we'll be delving into the contrasts below:
Overclocking Support
First off is overclocking support. AMD have told us that overclocking won't be limited to any specific chipset, which is good for both enthusiasts and first-time builders. However, the amount of VRM power phases you have, along with cooling and CPU capability will be different between chipsets and motherboards.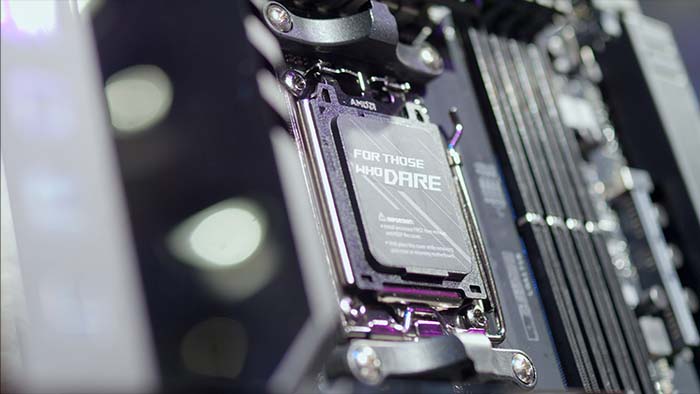 Both X670 and B650 motherboards do support overclocking, but the state of how far you can push your CPUs will be determined by the power phases and quality of the board. As a general rule, both of these chipsets are not necessarily designed for overclocking, and thus, they will have weaker power delivery. As an example, MSI's X670-P motherboard has a 14+2+1 power design making it great for overclocking CPUs in the mid-range market with potential room for higher-end Ryzen 7000 CPUs too.
PCI-E 5.0 – GPUs & SSDs
For both X670 and B650 motherboards we've seen a mixture of PCI-E Gen5 and Gen4. The less expensive motherboards on the X670 chipset only feature one element of PCI-E 5.0 in the form of an x16 or x4 slot. B650 boards follow a similar situation, whereby Gen5 support is the same. But PCI-E lanes have decreased for Gen4 and Gen3 on this lower-end chipset. This is ultimately to keep down costs for this budget chipset.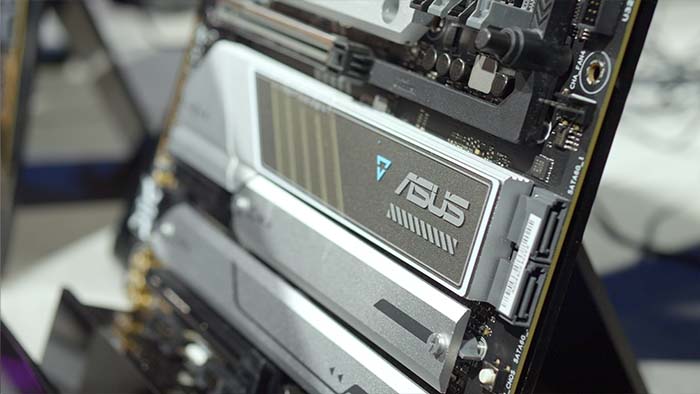 As we can see on the MSI X670-P WiFi, you've got access to two PCI-E Gen4 slots on the GPU front. And in terms of storage you've got one Gen 5 M.2 slot, and three other Gen 4 slots. This is a massive amount of speedy storage slots, and other top-end X670 motherboards will offer a lot more. B650 boards have received a similar treatment, but there are less available features comparatively.
Memory Overclocking Support
During AMD's Ryzen 7000 press conference we received some news about their new EXPO memory technology. This new technology allows consumers to use a 'one-click' overclocking profile which enhances the clock speed and decreases the latency for a performance boost.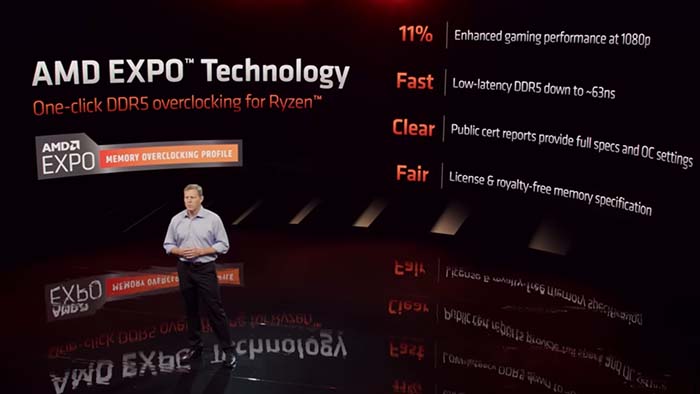 All of AMD's new chipsets are going to have access to this technology, and over 15 kits will be available on launch with this new memory profile, improving DDR5 memory. DDR5 does at the moment suffer from poor latency while having an extremely high clock speed. So being able to enhance your PC's performance on any of the chipsets with a simple setting is very consumer friendly!
Rear and Front IO
The amount of available IO tends to differ quite significantly between chipsets due to both costs and power requirements. As a general rule, the top-end boards will house the most amount of IO. On X670 boards this means we might get access to some USB 4 Ports, along with some other high speed USB 3.2 ports, and high speed networking options.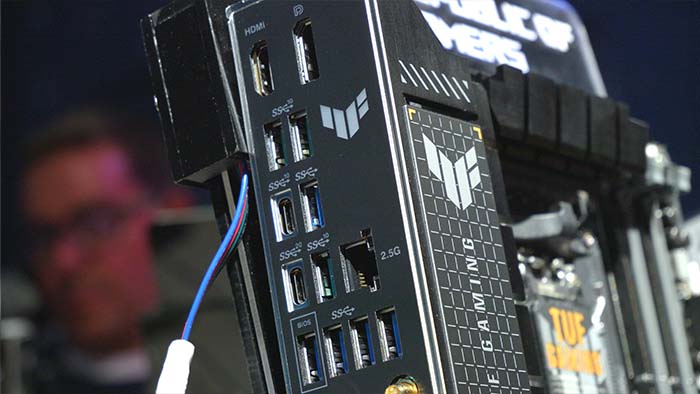 B650 boards have suffered on this front to some extent due to the budget-oriented nature of the chipset.. Although consumers can expect plenty of USB 3.2 ports, high speed networking and USB4 is entirely dependent on the manufacturer's discretion. Some of these more high-end features do appear on more expensive B650 motherboards, but with B650 boards sitting in a budget bracket, these IO options are somewhat more scarce to keep costs down.
Our Pricing Expectations & Comparison
X570 and B550 motherboards released at a very reasonable price, but as these motherboards are DDR4 compatible, there is an expectancy for them to have a lower cost on average compared to Ryzen 7000 boards. For B650 we've priced these boards slightly higher than their B550 counter parts. Despite being DDR5 compatible, this is only the biggest difference between B650 and B550 boards, with the inclusion of PCI-E 5.0 as well. AMD board partners tend to offer great prices when it comes to budget options, and this has remained mostly the same when it comes to the newest AMD platform.
For X670 boards the lower bound of these options fell around the $300 mark. Although X670 motherboards could be priced lower, it is unlikely the price will be much less due to how feature rich these boards are, and until we get a new generation of chipsets. At the top end of the spectrum we've said the price could sit at $600. Again this is just an average price, but these boards will be geared towards enthusiasts that don't want to pay an extra premium for X670E options.
| | | | |
| --- | --- | --- | --- |
| X670 | B650 | X570 | B550 |
| $300 – $600 | $200 – $300 | $200 – $500 | $150 – $300 |
Note – This pricing guide is based on a rough estimate of the prices for the X670 and B650 chipsets.
Table of Specs Comparison
Features
X670
B650
CPU Overclocking Support
Yes
Yes
CPU PCI Express 5.0 Lanes
8
4
PCI-E 5.0 Slots
1 x4 M.2 Slot
1 x4 M.2 Slot
(Optional)
VRM Power Phases
20+
16+
Chipset PCI Express 4.0 Lanes
44
36
PCI-E 4.0 M.2 Slots
5 x4 M.2 Slots
Up to 4 x4 M.2 Slots
Chipset PCI Express 3.0 Slots
8
4
Max Number of USB Ports
12
10
Max USB 4.0 Ports
2
1
Max USB 3.2 Gen 2×2 Ports (20Gbps)
2
1
Table of Differences between X670 & B650 Chipsets
Overall Differences Breakdown
The table we've created above lists the specifications that we've seen from both the X670 and B650 chipsets. First off we can talk about PCI-E lanes, GPUs and SSDs. X670 boards offer a reasonable set of options when it comes to GPU and SSD slots, with consumers getting access to one Gen5 option, with the majority of the board offering Gen4 and Gen3 where needed. B650 motherboards are in a similar situation when it comes to Gen5, whereby the available slots are down to the discretion of the manufacturer.
For IO and other features, B650 boards are somewhat more limited in terms of choices. This means USB4 ports won't be making much a major appearance here, and there are less high speed USB ports across these motherboards. For overclocking, although the B650 motherboards may have the capability of overclocking, VRM power phases are weaker on this chipset option. By contrast, X670 motherboards will be perfect for overclocking offering more VRM phases and better cooling. IO will also be on similar standing where these boards have more options for high speed USB ports, and other features.
Best X670 Motherboards
Below we've included the best X670 and B650 motherboards to buy right now. We've covered some of the specs of each board, and there is more in-depth coverage on our website!
1. Gigabyte X670 AORUS Elite AX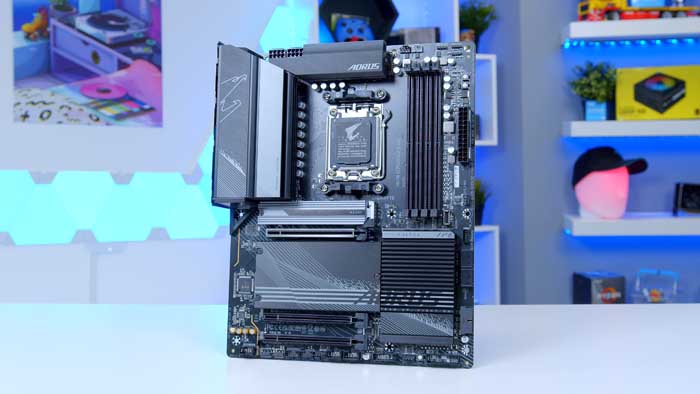 First off is Gigabyte's AORUS Elite AX, which is a motherboard we've reviewed in full on the website. This board offers a great aesthetic with gunmetal heatsinks covering much of the PCB, with some RGB lighting located on the rear IO heatsink. This board does lack Gen5 slots due to the lower PCI-E lane count on this chipset, but this is made up by the excellent set of rear IO, where consumers get access to excellent networking, alongside a number of USB 3.2 ports. For the price point, this is an excellent pick-up for mid-range systems.
Buy the Gigabyte X670 AORUS Elite AX on:
2. ASUS Prime X670-P WiFi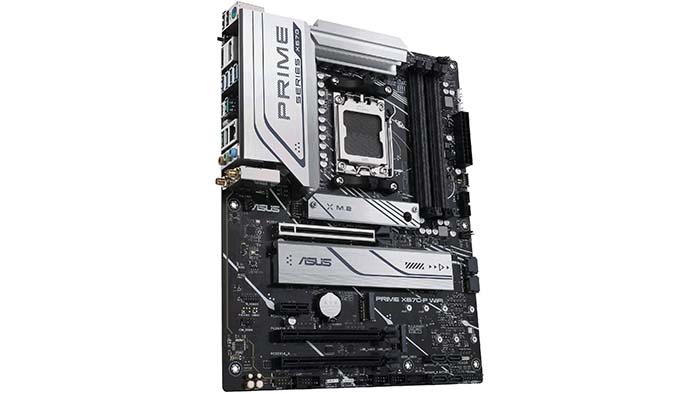 Next up is the Prime X670-P WiFi motherboard from ASUS. This board offers a more barebones design, so consumers can expect to see less heatsinks and RGB. But even though this board doesn't look as good, this board offers plenty of great features to make up for the weaker design. Consumers have access to WiFi 6 and 2.5 Gigabit LAN, providing the option between wired and wireless connection. Rear IO is also great, with the majority of available ports offering high transfer speeds. Overall, this is a great budget board with plenty of good features.
Buy the ASUS Prime X670-P WiFi on:
3. MSI Pro X670-P WiFi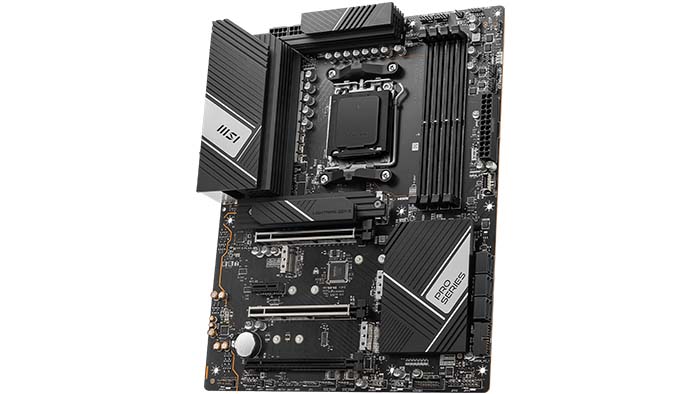 The last board that we've picked out on the X670 chipset is MSI's X670-P Pro WiFi. This is another excellent board from MSI, offering a more well-rounded design approach, alongside plenty of good features. This board provides integrated WiFi, which is ideal for those that don't want to run cables to their router. Consumers can also utilise the Gen5 SSD slot providing lightning-fast speeds when the new generation of storage drops. The X670-P also has a great set of rear IO, which includes 20Gbps USB ports providing excellent transfer speeds.
Buy the MSI Pro X670-P WiFi on:
Best B650 Motherboards
4. MSI MAG B650M Mortar WiFi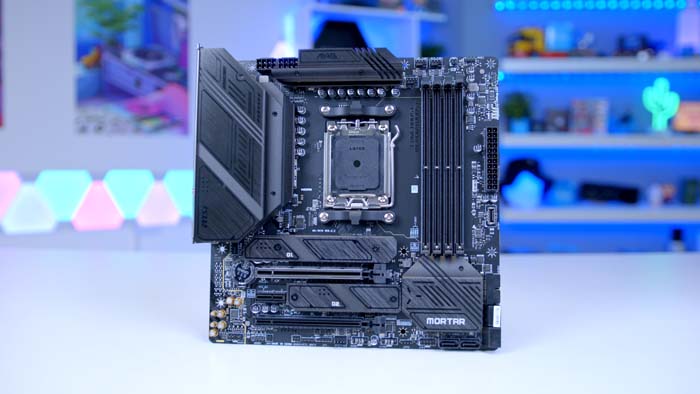 MSI's MAG B650M Mortar is another board that we've taken a look at in a full review on the website. This Micro-ATX design offers a full-black aesthetic that looks great in any PC build. The B650M Mortar also comes with an integrated IO shield which features a plethora of high speed USB 3.2 ports, alongside WiFi 6E, Bluetooth 5.2, and 2.5 Gigabit LAN. Although this board doesn't feature any Gen5 compatibility, for the much lower price point this won't be a deal-breaker for the majority of consumers.
Buy the MSI MAG B650M Mortar WiFi on:
5. ASUS TUF Gaming B650-Plus WiFi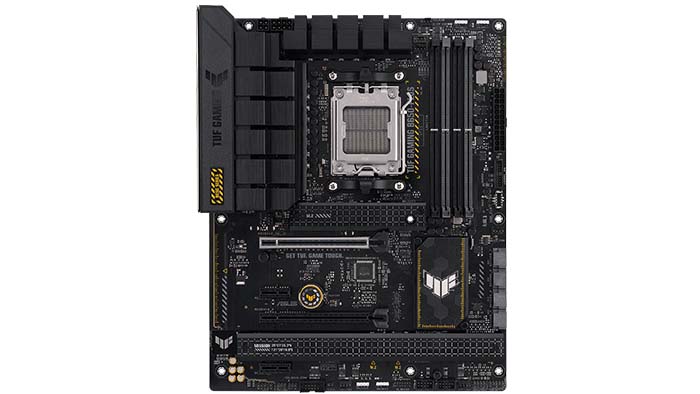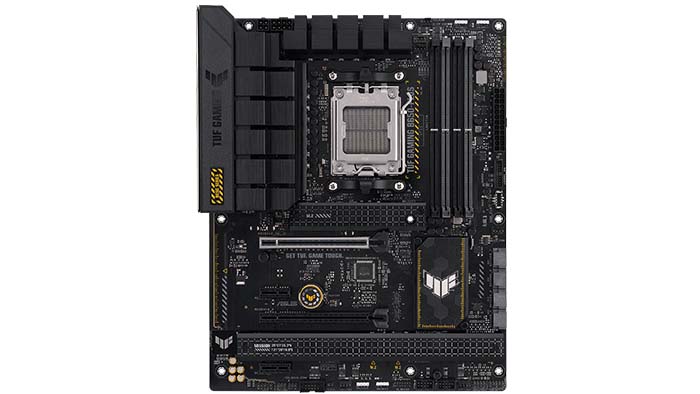 The ASUS TUF Gaming range is one of the best looking sets of boards out there, and this B650 option is no exception. In terms of features, rear IO is excellent with consumers getting access to 7.1 channel audio, alongside BIOS flashback, with plenty of high speed ports. The TUF B650 also looks excellent too with less of the physical PCB exposed, and covered up by a range of industrial-looking heatsinks. The TUF B650 does also feature a Gen5 slot, providing upgradeability for those that plan on picking up a new drive when they release.
Buy the ASUS TUF Gaming B650-Plus WiFi on:
6. Gigabyte B650 AORUS Pro AX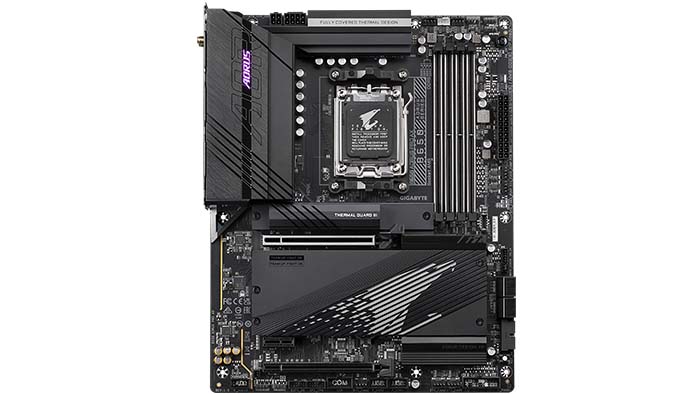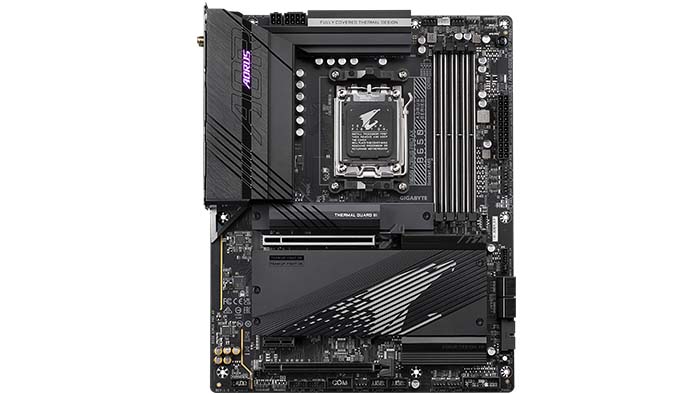 Gigabyte's B650 AORUS Pro AX is another excellent board bearing the signature AORUS design that we're all to familiar with. Gigabyte have covered up more of the PCB on this board with a variety of gunmetal heatsinks that show off the signature AORUS logo. Looking at the features, this board does feature a Gen5 SSD slot, ready for the next generation of storage when it releases. Consumers also get access to a PCI-E 4.0 graphics card slot, which supports the full bandwidth of AMD's and NVIDIA's latest GPU ranges
Buy the Gigabyte B650 AORUS Pro on:
Conclusions
In today's article, we've spoken at length about the differences and similarities between the X670 and B650 chipsets. We've dived into the features, and spoken about our pricing and specs in relation to these new boards on the AM5 platform. It is clear from the information that we have that the X670 chipsets are geared towards consumers that want the benefits of the X670E chipset but without the significant price jump included.
The B650 chipset on the other hand provides an option for consumers to gain entry to the Ryzen 7000 platform without having to spend a fortune. There is an inherent lack of features between the chipsets, but this is ultimately to reduce cost on the motherboards. If you're building a mid-range or top-end system, the X670 chipset will be a better suited option. But for the more price conscious buyer, the B650 chipset is a better alternative.