Introduction
AMD's latest Ryzen 7000 platform offered somewhat impressive metrics with the new range of CPUs. But the biggest caveat to the latest AM5 CPUs was the significant price hike that followed. Many consumers were left feeling disheartened by the rising motherboard prices, but the B650E and B650 chipsets are the solution to this rather costly problem.
The 'B' series chipsets are set to offer a cheaper entry point to the AM5 platform, whilst still offering a multitude of the new features that came with the generational upgrade. But there are still some questions that need to be answered, such as, what are the differences between these cheaper chipset options?
In this article we'll be providing the answer to this very question, with a chipset versus guide. We'll be delving into the key features that differ between these motherboards, including pricing, with some recommendations at the end!
Suggested Article: AMD X670E VS X670 Motherboards – Key Differences & What To Expect
Our Recommendations At a Glance
Keep reading for a more in-depth coverage of each motherboard in this roundup!
What is a Chipset?
Before we delve into the major differences between each chipset, we should briefly delve into what exactly a chipset is. Both a chipset and a motherboard go hand-in-hand, but certainly they're not the same. Your motherboard is a PCB, a physical circuit that houses all of your components, like your RAM, GPU, CPU etc. However, your chipset is a a traffic controller and data communication centre. Your chipset will also determine the number and types of features available to you, such as PCI-E lanes, CPU and memory overclocking support, rear IO and more.
AMD has kept to the same naming scheme for their chipsets since the first generation of Ryzen CPUs. There were three main chipsets available for the first range of Ryzen CPUs, these were: 'A#20', 'B#50', and 'X#70'. The flagship chipset has always been X#70, offering a 'no compromises' motherboard with the maximum amount of features available on the platform. B#50, and A#20 offered consumers a more price conscious set of motherboards, for those that want the best bang for buck.
This has since changed with Ryzen 7000, with many assuming that the 'A#20' chipset was disappearing entirely, but recent light suggests it may be making a return. With the latest generation of CPUs, we're effectively getting two chipsets, with an 'E' variation of each one.
These variations are designed to be the best at overclocking, while maximising the amount of PCI-E 5.0 for both GPUs and SSDs across the board. The non-E variants will still offer a range of features, but are geared towards a consumer aiming to build a mid-range of budget system. These motherboards are likely to have some PCI-E 5.0, but less of it as a whole.
B650E & B650 Major Differences
In this section we'll be delving into the major technical differences between the B650E and B650 chipsets. This provides some idea on the kind of things you'll be sacrificing when choosing one chipset over the other.
Overclocking Support
As a general rule of thumb, the B-series AMD Ryzen motherboards have always had overclocking as an available feature. AMD has only ever limited overclocking support to A#20 chipsets on the AM4 platform. This means that both the B650E and B650 chipsets have unhindered overclocking. However, there will be a clear difference between B650E and B650 in terms of their overclocking capability.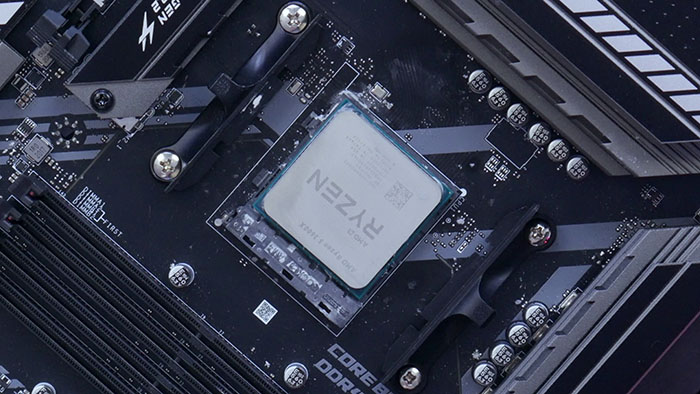 The B650E chipset is designed with overclocking in mind, so many of the motherboards have increased VRM power phases for this reason. However, the quality of the components used and how many VRM phases there are, is dependent on the decision of the manufacturer. For B650 motherboards, overlocking is not the main intention of this chipset, so finding boards with high quality VRMs will be harder to accomplish.
PCI-E Gen 5, GPUs & SSDs
Looking at the technical information concerning these chipsets, B650 motherboards have access to the Gen5 standard optionally, but these motherboards have more PCI-E 4.0 inclusions. Gen5 M.2 SSDs are supported on the chipset, but this is entirely down to the discretion of the manufacturer.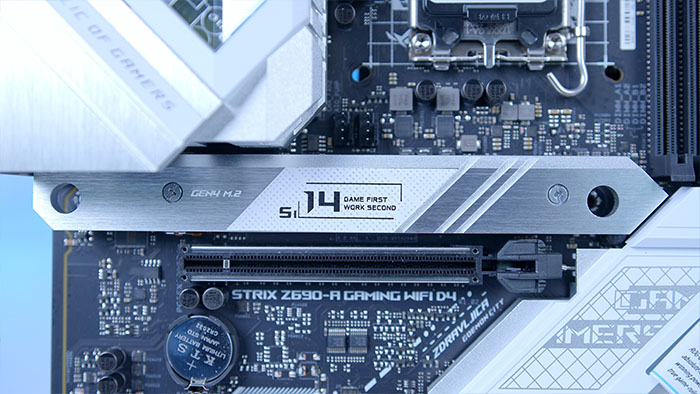 For B650E, your options for PCI-E 5.0 will be slightly better, as these motherboards have access to more PCI-E 5.0 lanes. B650E motherboards will be able to support Gen5 SSDs and GPUs, providing plenty of options in terms of upgradeability when they eventually release. This does make the B650E chipset a better bet for those that plan on upgrading in the relatively near future. Although B650 motherboards are weaker in terms of PCI-E 5.0 support, the cost difference will be a big go-to for many consumers.
DDR5 Memory Overclocking Support
One of the biggest areas consumers are most worried about with the new AM5 platform is the push towards DDR5 memory. This technology is still in its infancy, and doesn't offer much by way of a performance boost compared to DDR4. However, AMD is boasting that their EXPO technology will improve latency and offer a much need performance improvement with EXPO support DIMMs.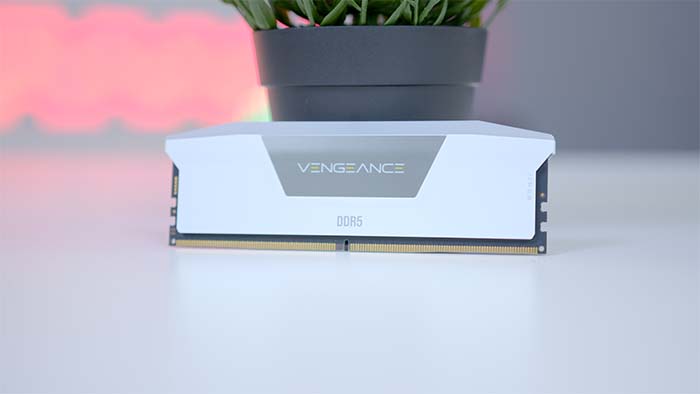 AMD's EXPO technology is a 'one-click' memory overclocking profile that is said to enhance gaming performance at 1080p by 11%, while also increasing DDR5 memory latency to 63 nanoseconds or less. Over 15 kits are going to support this awesome memory profile, and hopefully will make the DDR5 upgrade worth the rather eye watering cost.
Rear and Front IO
With the release of the AM5 platform we're getting access to some of the fastest IO support that we've ever seen. Across the board, many of the USB ports are USB 3.2 Gen1 or higher. And with the increase of PCI-E lanes we're also getting support for the latest USB4 ports, boasting speeds of 40 Gigabits per second.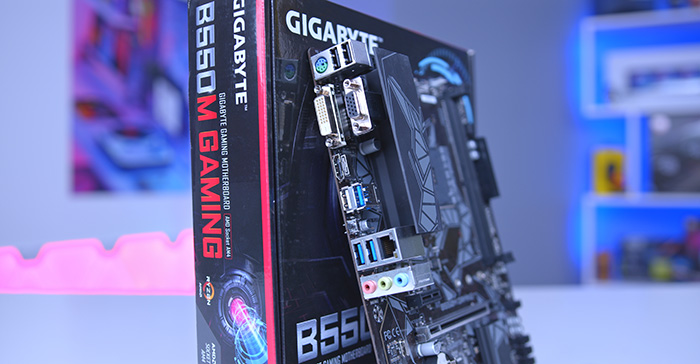 Although the B650E and B650 motherboards are cheaper, features such as USB4 have popped up on some of the boards, alongside a multitude of USB 3.2 ports. Many of the latest X670E boards are also offering support for WiFi 6E, which is the same for the majority of B650 and B650E options. As for front IO, many cases will receive upgrades for the latest USB ports, along with support for Thunderbolt 4, and USB Gen4.
Our Pricing Expectations & Comparison
First off, you'll see that the B650E chipset is sitting at a higher price on average compared to AMD's current B550 boards. The B650E chipset is closer to X570 on release in terms of price, instead of the more budget oriented B550 chipset. This will primarily be down to the overclocking support, along with the DDR5 push, PCI-E 5.0, and newer high speed rear IO. The new features available on the AM5 platform are offering very impressive performance metrics, which will be causing the price bump.
Moving onto the B650 chipset, here you'll see that the price has primarily remained the same. Although yes, these boards are offering more in terms of expensive features, it would be difficult for AMD and their board partners to increase the price or they could risk losing customers. The B650 chipset (much like the B550 chipset) is pointed more towards consumers that want to build a PC with the latest Ryzen 7000 CPUs, but are more price conscious. Both chipsets will have less features contrasting to the X670 chipsets due to costs, and less PCI-E lanes.
Ultimately, all of the features are entirely dependent on the discretion of the manufacturer, and what they want to offer based on the price that has been set. This means cheaper boards will have less features, and expensive boards will have more. We would recommend checking out the available features on the manufacturer's website, to get a better idea of what's available versus the attached price tag.
| | | |
| --- | --- | --- |
| B650E | B650 | B550 |
| $300 – $500 | $200 – $300 | $150 – $300 |
Note – This is a rough guide on the average price range of the available motherboards on AMD chipsets, and can be subject to change based on availability and region
Table of Specs Comparison
Features
B650E
B650
CPU Overclocking Support
Yes
Yes
CPU PCI Express 5.0 Lanes
24
4
PCI-E 5.0 Slots
1 x16 Slot
Up to 2 x4 M.2 Slots
1 x4 M.2 Slot
VRM Power Phases
20+
16+
Chipset PCI Express 4.0 Lanes
36
36
PCI-E 4.0 M.2 Slots
Up to 4 x4 M.2 Slots
Up to 4 x4 M.2 Slots
Max Number of USB Ports
12
10
Max USB 4.0 Ports
1
1
Max USB 3.2 Gen 2×2 Ports (20Gbps)
1
1
Table of Expected Differences between B650E & B650 Chipsets
Overall Differences Breakdown
The table above lists the available specifications on the B650E and B650 chipsets. Firstly, let's talk about PCI-E lanes. The amount of PCI-E lanes available on each chipset will dictate the amount of slots on your motherboard. Effectively the more PCI-E lanes, the more slots you'll have. On the B650E chipset there will be more support for widespread PCI-E 5.0 support, with Gen5 compatibility for both GPUs and SSDs. For the B650 chipsets, Gen5 compliance is entirely option, and down to the choice of the manufacturer.
B650E and B650 chipset are very similar when it comes to USB ports. Again, this is down to the choice of the manufacturer, but as a general rule the B650E boards will be better equipped when it comes to ports. This does mean that there will be a slight price hike compared to B650 offerings, but not drastically.
As a general rule of thumb, the available features on your board will be determined by how much you're willing to spend. However, for those that want more of the new features that arrived with Ryzen 7000, the B650E chipset is a better bet. For price conscious buyers, B650 motherboards are definitely a cheaper but decent option!
Where to Buy
Below we've broken down the best motherboards on the B650E and B650 chipsets. We've covered a vast range from budget options all the way up to high-end designs with a heftier price tag.
Best B650E Motherboards
1. ASRock B650E PG Riptide WiFi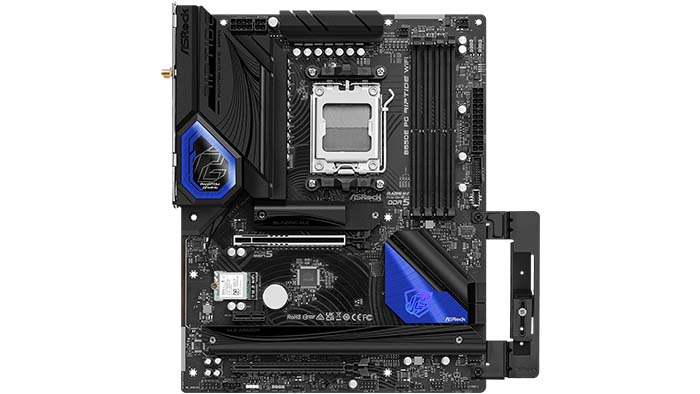 First off if ASRock's B650E PG Riptide. This motherboard offers an alternative black and blue design which we're a huge fan of. This provides a nice range of colours that contrast quite nicely. The PG Riptide is also one of the first motherboards that I've seen to come with an integrated GPU holder. If you've bought one of NVIDIA's or AMD's latest graphics card, you'll be aware that these cards are massive. Having an integrated GPU holder helps alleviate the stress on your PCI-E slot, by supporting the heft of modern cards. Definitely a worthwhile purchase for those looking to pickup a new GPU.
Buy the ASRock B650E PG Riptide WiFi on:
2. ASUS ROG STRIX B650E-F Gaming WiFi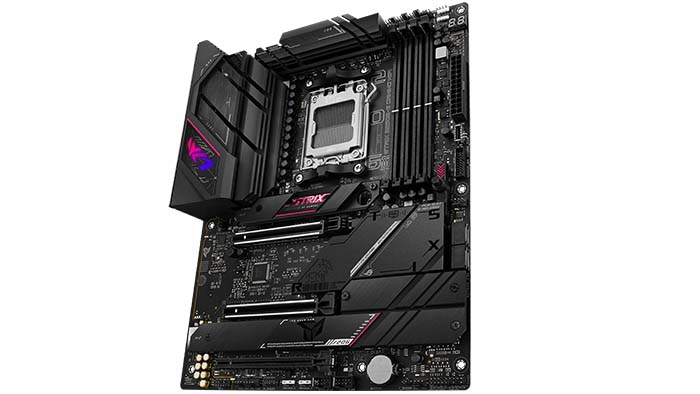 Next up is the ROG STRIX B650E-F from ASUS. This ATX board features plenty of RGB (which is not uncommon for ASUS boards) and offers plenty of excellent features on top of the great aesthetic. The STRIX B650E-F boasts compatibility with the Gen5 standard for SSDs and GPUs, unlocking plenty of upgradeability for the next generation of components. On the rear IO, consumers have access to a vast amount of ports featuring numerous high speed options with only four USB 2.0 making the cut. This board is an excellent choice for those looking to build a mid-range system!
Buy the ASUS ROG STRIX B650E-F Gaming WiFi on:
3. Gigabyte B650E AORUS Master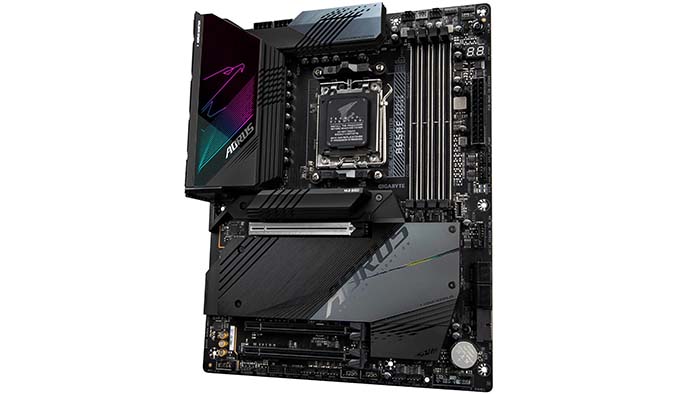 Gigabyte's B650E AORUS Master is an excellent motherboard that comes loaded with heatsinks ideal to keep thermals low. Much of the PCB is left unexposed and covered in heatsinks showing off the AORUS logos in all their glory. The top of the rear IO also features an RGB LED that can be fully customised using Gigabyte's RGB Fusion. The AORUS Master also has a vast amount of power phases (16+2+2 to be specific), making it perfect for overclocking AMD's latest top-end CPUs. An expensive option, but you definitely get what you pay for here.
Buy Gigabyte B650E AORUS Master on:
Best B650 Motherboards
4. Gigabyte B650M Gaming X AX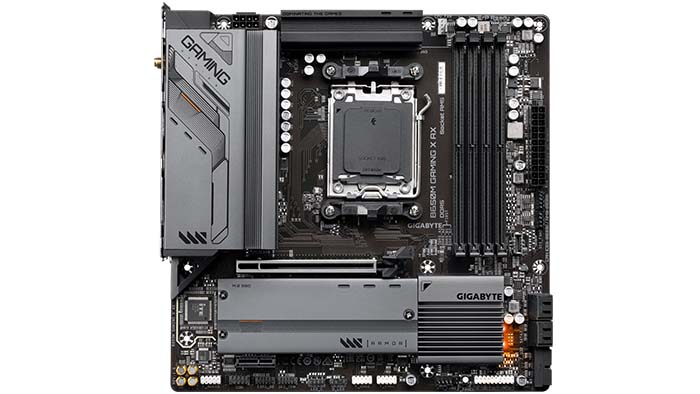 Gigabyte's B650M Gaming X AX, is a Micro-ATX design with an awesome aesthetic. The Gaming X range features a grey-steel heatsink design that features throughout. Gigabyte place various logos across the heatsinks, and overall they look awesome. Looking at features, this board is predominantly PCI-E 4.0 compatible, featuring two Gen4 M.2 SSD slots, and a Gen4 x16 slot for your GPU. Rear IO is pretty strong, with numerous high speed USB 3.2 ports providing excellent transfer speeds.
Buy the Gigabyte B650M Gaming X AX on:
5. MSI MPG B650 Edge WiFi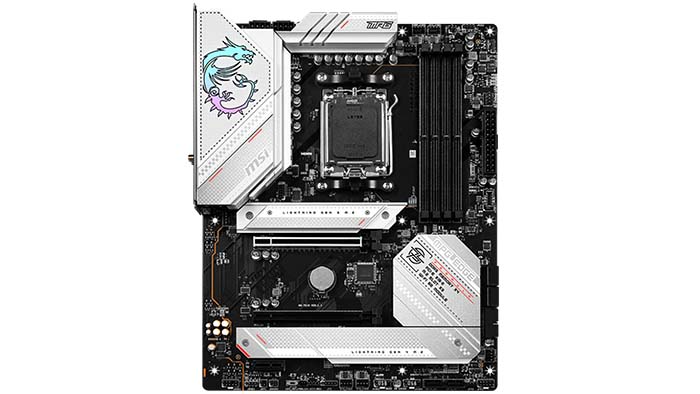 Next up is MSI's MPG B650 Edge WiFi board. This ATX board employs a silver-white design scheme offering an alternative look, contrasting to the traditional black and grey designs that we're used to seeing. The Edge WiFi offers Gen4 slots for both GPUs and SSDs, making this board compatible with NVIDIA's and AMD's latest range of graphics cards. In terms of networking, the Edge WiFi also features WiFi 6E, and 2.5 Gigabit LAN providing a stable wireless and wired option for consumers. Overall, a great choice for those adopting a different colour scheme.
Buy the MSI MPG B650 Edge WiFi on:
6. ASRock B650 LiveMixer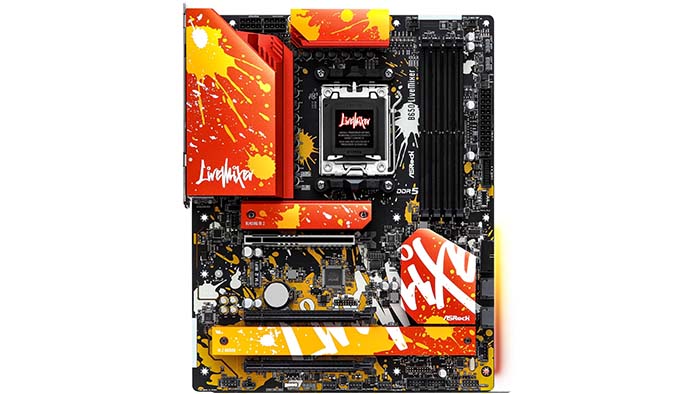 For our final recommendation, we've picked out ASRock's B650 LiveMixer. This motherboard offers a unique aesthetic that comes in the form of a graffiti design. The LiveMixer boards offers a splash of colour that provides a refreshing look contrasting to other boards we regularly see on the market. The LiveMixer range is more geared towards content creation by offering a significant range of USB ports and audio option for consumers to plug in microphones, peripherals and accessories.
Buy the ASRock B650 LiveMixer on:
Conclusions
In this article we've spoken about the biggest differences between the B650E and B650 chipsets, along with the latest features that we're getting access to with the AM5 platform. The B650E chipset stands to offer consumers plenty of the new features that came with the AM5 platform, but at a much cheaper entry point. B650E boards offer a similar feature-set to their X670E counterparts, but due to the reduced PCI-E lanes, these boards do come in at a lower cost. This means you can gain access to features such as PCI-E 5.0, or high VRM phases without having to spend a fortune.
B650 motherboards on the other hand, are the cheapest option sitting at the budget end of the market. These boards are more expensive compared to DDR4 options on Intel's side, but for the most part, consumers can pick up one of these boards for a reasonable price dependent on their preferences. Consumers will have to tune down their expectancies when it comes to features such as Gen5 compliance, or USB4. But due to the lower price point, I imagine most consumers won't care about having these options as much.