Introduction
The RTX 4090 is a powerful and rather large graphics card. It offers excellent performance in pretty much everything you can throw it at, games and workstation applications alike. But all of the RTX 4090 options, AIBs included are pretty large, which means you'll need a PC case to handle the size of this gargantuan graphics card. Which is why we've set out to find the best PC case for the RTX 4090 in our latest buyers guide.
To do this, our benchmarking and writing team have come together to test and analyse a range of cases from manufacturers like: Lian Li, NZXT, Thermaltake, Corsair, and Cooler Master. Our benchmarking and testing takes into account size, airflow, and versatility features of each case, allowing us to assess which is the right option for the RTX 4090.
Our in-house team of PC hardware experts individually review every product featured on this site, and in buyer's guides like this one. Learn about why you can trust our independent reviews and product recommendations.
Best PC Case for 4090: Lian Li O11D Mini
After various bouts of testing and analysis, we've concluded that the best case for the RTX 4090 is Lian Li's O11D Mini. While this case doesn't have the most space compared to other options in this roundup, it is easily the most feature rich, while coming in at a very competitive price point.
This is one of the most modular designs on the market, catering to a range of different build configurations, and it does this without breaking the bank. The O11D Mini offers plenty of space for a massive range of components, whilst maintaining an awesome design, which makes it an awesome pairing for the RTX 4090.
Suggested Article: Nvidia GeForce RTX 4090 Review (Founders Edition Benchmarks)
All Cases in Our Testing Roundup
Our Recommendations
1. Lian Li O11D Mini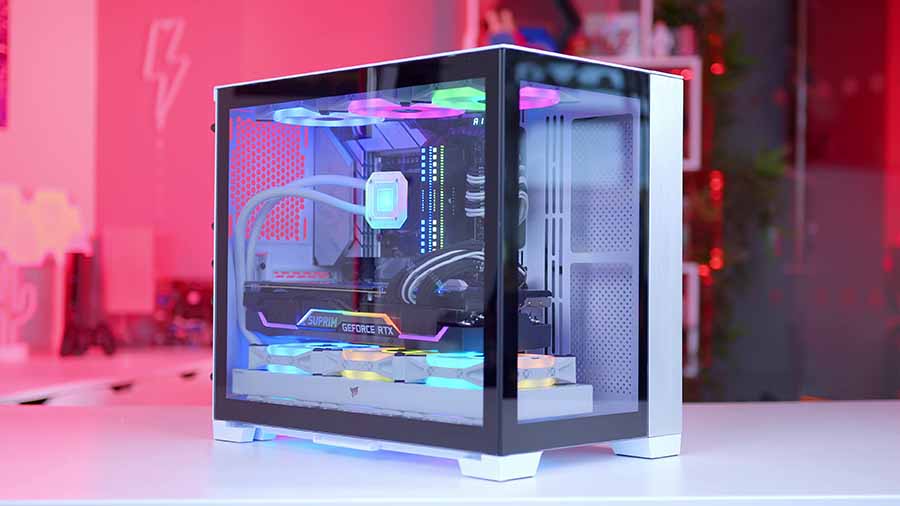 Lian Li's O11D Mini is one of the best cases for the RTX 4090, offering 395mm of GPU clearance and a huge range of features. This chassis puts a big focus on airflow and modularity, offering consumers a number of ways to configure a PC build. The dual-chamber design allows you to keep design in the front and business in the back, minimising any visible cable mess. Although it doesn't have the most amount of clearance versus some alternatives, the O11D Mini offers plenty of space for a range of RTX 4090 GPUs, whilst providing a number of ways to keep everything cool. Consumers can mount nine fans in total on the side, top, bottom, and rear of the case, maximising your airflow options. What's more, the two tempered glass panels provide you with an unrestricted view into your build, with minimal hindrances.
While I do love the O11D Mini, this case isn't the most friendly option for first-time builders. There's plenty of space for an RTX 4090 GPU, but many consumers may find themselves screwing in a number of additional parts to get all of their components installed. Although this chassis is slightly more advanced versus other options, it is well worth considering for an RTX 4090 PC build, especially if you're looking to minimise spending.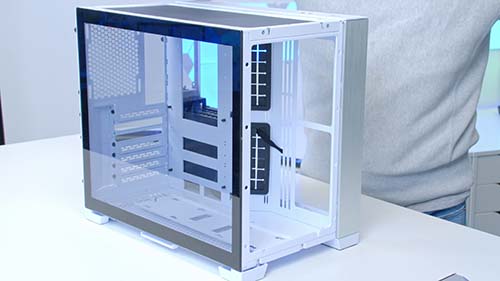 Buy the Lian Li O11D Mini on:
2. NZXT H7 Flow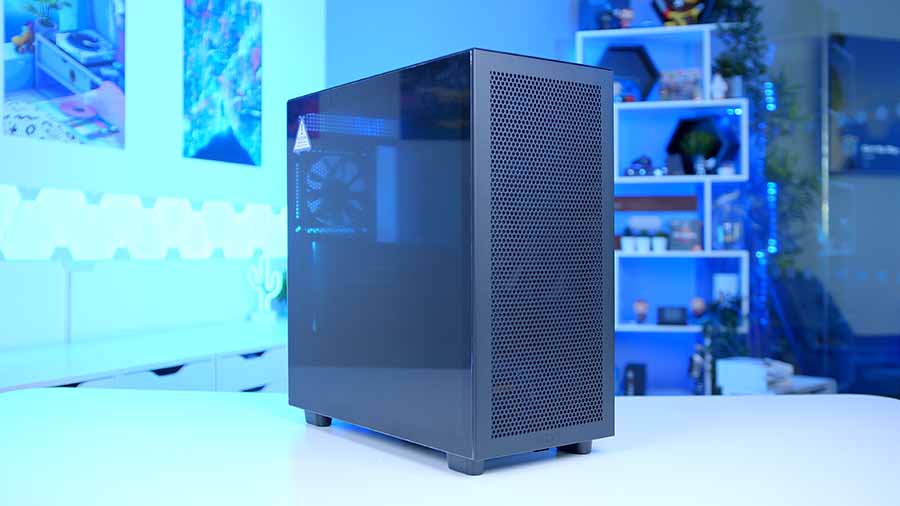 The NZXT H7 Flow is a case we've looked at before in a full review, and because we were pretty impressed with where NZXT have taken their new cases, it is a solid option for an RTX 4090 PC build. The H7 Flow case, has airflow prioritised at its centre, with more ventilation and the front, top, and rear, to ensure that your RTX 4090 and the rest of your components stay cool even when under pressure. The thing that I love about this case, is how easy it is to build in. If NZXT have gotten anything right over the years, its ease of use, as the vast majority of their cases provide a solid building experience above all else.
And installing the RTX 4090 posed no issues, as this case has up to 400mm of clearance, so even the bigger RTX 4090 AIB cards had plenty of extra space at the front of the case.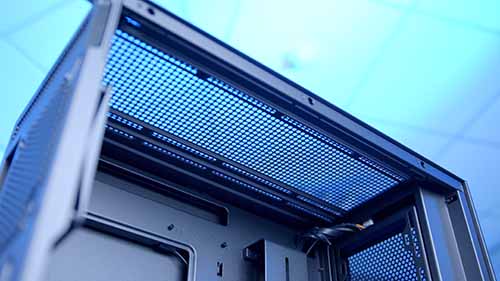 Unfortunately though, the biggest caveat is the value-proposition. While I do think that NZXT have done a pretty good job overall this case comes in at a pretty high price point considering the available features. However, if you're willing to shell out a little bit of extra cash for this chassis, you won't be disappointed, as the H7 Flow is a solid option to house your RTX 4090 graphics card.
Buy the NZXT H7 FLow:
3. Thermaltake Core P3 TG Pro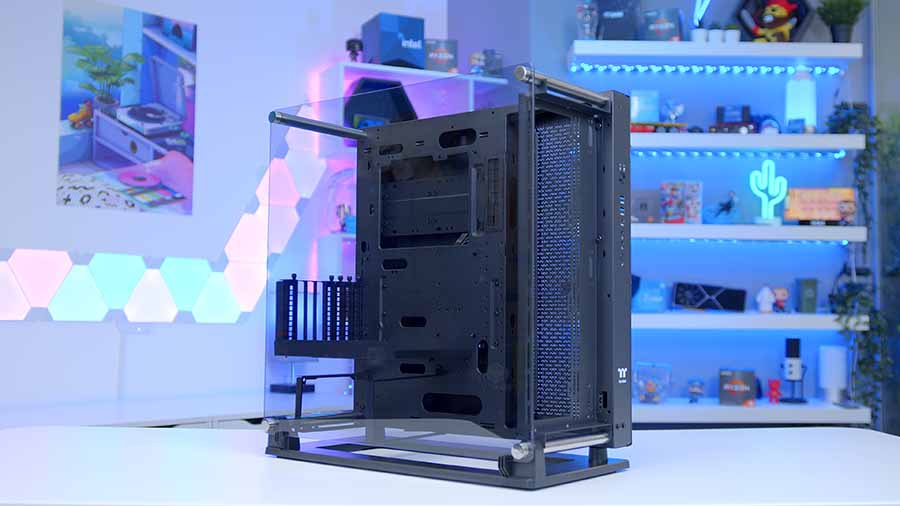 Thermaltake's Core P3 TG Pro is one of the coolest cases we've had in the office. The open test-bench style design offers plenty of airflow whilst keeping the aesthetic fresh. On the GPU clearance front, you've got 450mm to play around with, which is more than enough room for an RTX 4090, with plenty of extra space for accessories, or even a large 360mm radiator. The open-frame design of this case is a spectacle to behold, and is a rather unique chassis. You're able to orient the Core P3 TG Pro in a number of different ways, including mounting it on a wall, and placing it down flat on top of a desk or table.
And because of the open-style, it offers excellent airflow, as there is very little that can block the air moving around the case. The largest weakness of this chassis is that because of the open-airflow design, there's not much protection from dust and debris.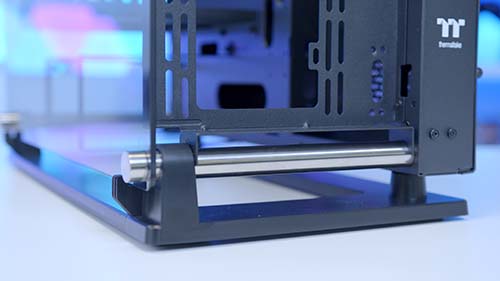 The glass panel on the top of the case does provide some shielding, but when your fans are running at high speeds, expect this case to draw in a fair amount of extra particles. Despite this, the Core P3 TG Pro is a massively unique chassis that will pair extremely well with an RTX 4090 GPU.
Buy the Thermaltake Core P3 TG Pro:
4. Corsair iCUE 5000T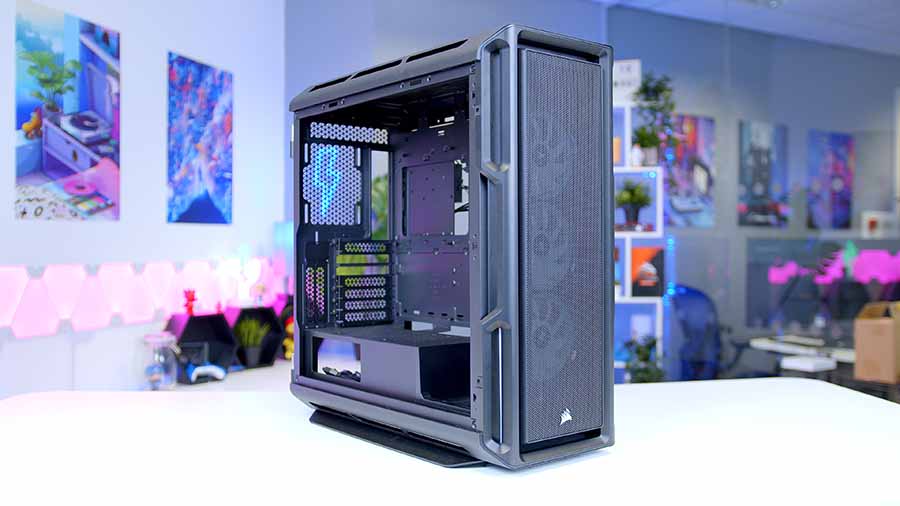 The iCUE 5000T from Corsair is one of the most RGB-crazed cases on the market, and thus, is a great option to house the RTX 4090. You can expect RGB everywhere around the entirety of the case, including the little metal slits that go around the chassis. And along with the vast majority of other Corsair cases, airflow is very solid, which ensures your RTX 4090 will stay nice and cool even under load. Corsair's 5000T case is RGB mad, as we've mentioned above, but it is also one of Corsair's stronger cases when it comes to component spacing. Due to the larger size of this chassis, you've got plenty of room for E-ATX motherboards, 360mm radiators, and a whopping ten 120mm fans in total.
Although the 5000T is a very strong case, it is also one of the most expensive options too. Coming in around the $400 mark, the iCUE 5000T is definitely not a cheap options versus the alternatives. While this chassis will be worth it for many, those looking to secure a chassis without breaking the bank will want to avoid this case. However, if you've got the extra cash to spend, the iCUE 5000T is an awesome case to consider picking up, especially if you're a fan of the RGB madness.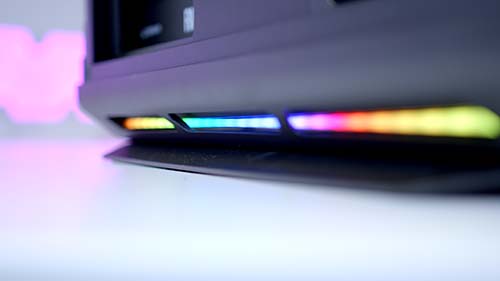 Buy the Corsair iCUE 5000T:
5. Cooler Master HAF 700 EVO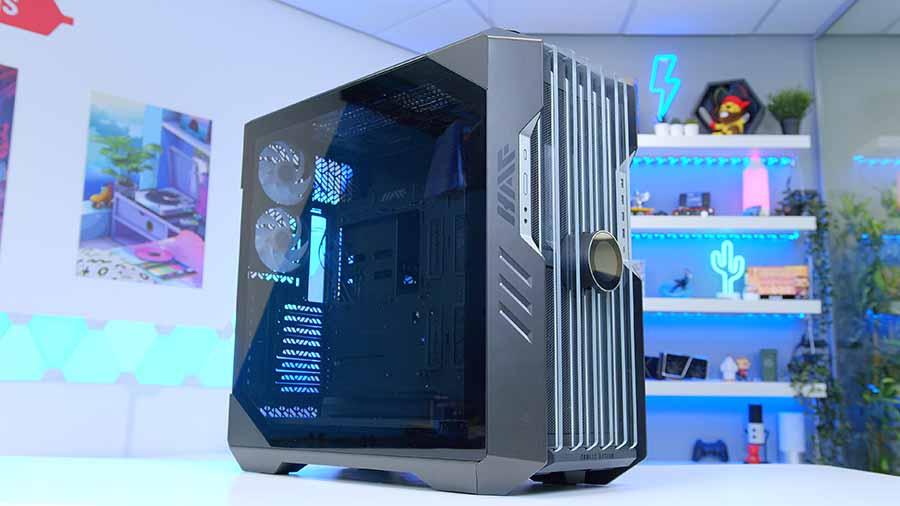 Cooler Master's HAF 700 EVO is one of the most insane cases on the market, which makes it a perfect option for the most powerful GPU right now – the RTX 4090. This chassis is an 'enthusiast-level' option, so the vast majority of the features are pretty ridiculous, and the most you'll ever need, like support for 20 120mm fans, or 490mm of GPU clearance, or even an LCD screen on the front! The Cooler Master HAF 700 EVO is an extremely strong case when it comes to features. You'll have access to pretty much everything you'll ever need here, such as support for massive radiators, an infinity mirror on the side, with room for two whole PC builds if you're keen on a challenge.
But much like the iCUE 5000T, the HAF 700 EVO is overkill and priced highly for this reason. You'll have to spend around $500 or more to secure this case, so although it is a pretty awesome pairing for the RTX 4090, the vast majority of consumers won't need a chassis like this. But regardless of the pricing, if you're an enthusiast looking to build an insanely feature-rich RTX 4090 PC build, the HAF 700 EVO is a worthwhile case to consider.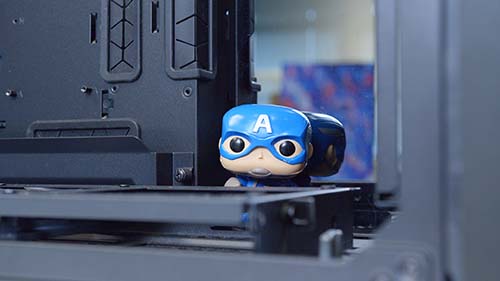 Buy the Cooler Master HAF 700 EVO:
How Big is the RTX 4090?
If you're still in the buying process and you're figuring out which RTX 4090 you want, it is worth nothing that some are bigger than others. Many of the AIBs (brands like MSI, ASUS & Gigabyte) have created new shrouded designs that end up being chunkier and bigger than that of the Founders Edition. Below we've created a table that shows the dimensions of a variety of RTX 4090 cards, so you've got an idea of how big they are.
The AIB designs are often larger to facilitate better cooling and higher clock speeds, better facilitating overclocking.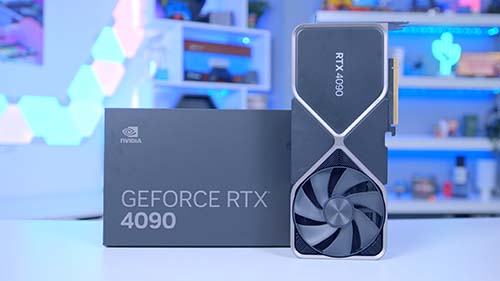 How We Benchmark and Test PC Cases
To determine which cases are the best option for the RTX 4090, our benchmarker Harry Coleman has collaborated with the writing team to analyse each PC case. This involves building up a system with each chassis, checking how much clearance there is for the GPU and other components, assessing the overall set of features and design, and determining the value-proposition versus the rest of the market. The primary factors that we take into account when testing cases are:
GPU Clearance
Motherboard Support
Size
Overall Features
Aesthetic
Airflow
Value-Proposition
Frequently Asked Questions
Do I Need to Worry about Motherboard Support?
Yes! Although most cases tend to support Mini-ITX, Micro-ATX, and ATX motherboards, not all chassis' follow the same design. You'll want to check the manufacturers website to check your motherboard is supported in your chosen case.
What Power Supply Do I Need for the RTX 4090?
As a general rule of thumb you'll want a 1000W power supply as a minimum for the RTX 4090. However, the size of your PSU will be dictated by the case of the manufacturer. Most cases support ATX as standard, but you may need an SFX or SFX-L PSU in your case instead.
How Much Clearance Do I Need?
We normally like to say that 50mm-100mm is the ideal amount of clearance you'll need for your graphics card. But this ultimately depends on your other components. If you've got plenty of radiators or fans, you may need more.
What is the Difference between Mid-Tower and Full Tower?
Quite simply – the size. Mid-Tower PCs are more common and will only reach a certain size. The iCUE 5000T is a good example of a large mid-tower case. A Full Tower is the biggest chassis you can buy which will be able to fit the most amount of components. The HAF700 EVO is a prime example of this.
Conclusion
Best Case for the RTX 4090: Lian Li O11D Mini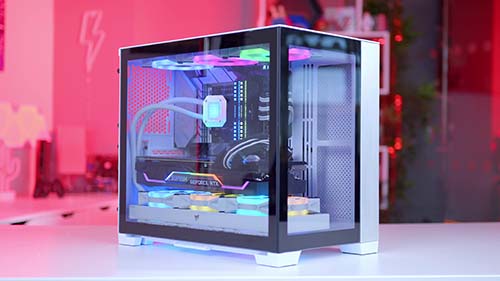 After delving into our results and analysis of each PC case, we've determine that the best case for the RTX 4090 is Lian Li's O11D Mini. The reason why we've picked out the O11D Mini stems from its value-proposition versus other options. This modular design has ample space for an RTX 4090, puts a massive focus on modularity for consumers, and comes in at a solid price point.
Although all of the options that we've recommended for the RTX 4090 are excellent, the Lian Li O11D Mini is the best option that strikes a fine balance between features, aesthetic, and pricing.
Read our full Lian Li O11D Mini coverage, or buy the Lian Li O11D Mini on Amazon