With AMD now having a full line-up of next generation GPUs we've decided to test the RX 7700 XT vs RX 6750 XT to determine the price to performance king.
Whilst the RX 6750 XT is still cheaper than its Radeon 7000 series replacement, the RX 7700 XT looks to provide major boosts to gaming performance whilst keeping the price point within reaching distance of its previous-gen counterpart.
But does the RX 7700 XT have the additional performance required to justify its higher price tag? Or will the RX 6750 XT maintain its position at the top of the value for money mountain? There's only one way to find out… with a good old GeekaWhat versus battle!
Suggested Article: RX 7700 XT vs RTX 4070 – Which Mid-Range GPU is Better?
Our Recommendation: RX 7700 XT
Our head to head battle of the RX 7700 XT vs RX 6750 XT leads us to conclude that the RX 7700 XT the winner. AMD continue to get it right with their Radeon 7000 range with the RX 7700 XT being no different.
Packaging strong rasterisation performance with a solid MSRP of $449, we find the RX 7700 XT does a great job of making the 1440p market accessible without sacrificing performance. This was one of the closer GPU versus battles we've carried out, but the RX 7700 XT does enough to win out vs the RX 6750 XT.
AMD Radeon RX 7700 XT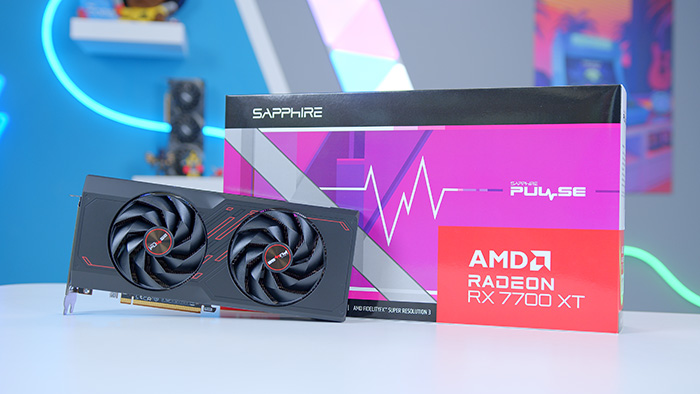 AMD have been fairly relaxed when releasing their Radeon 7000 series graphics cards, that was until they decided to release the 7700 XT and 7800 XT in tandem. With doing so AMD have fleshed out their line-up, and have options for budget 1080p Gaming PC builds right up towards high end 4K Gaming PC builds.
As a graphics card with 12GB VRAM that targets stellar 1440p performance in a range of titles, the RX 7700 XT fills a gap in the market that will appeal to a large audience of gamers. Boasting a base clock speed of 2.27GHz and boost clock speed of 2.54GHz, the 7700XT we found the RX 7700 XT to have no issues running the latest titles at 1440p during our testing.
Buy the AMD Radeon RX 7700 XT on: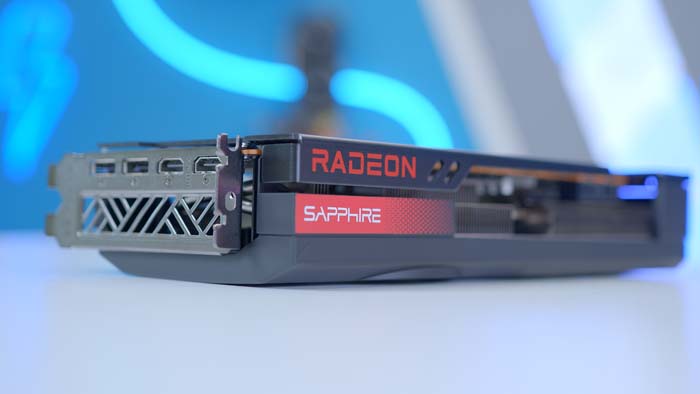 AMD Radeon RX 6750 XT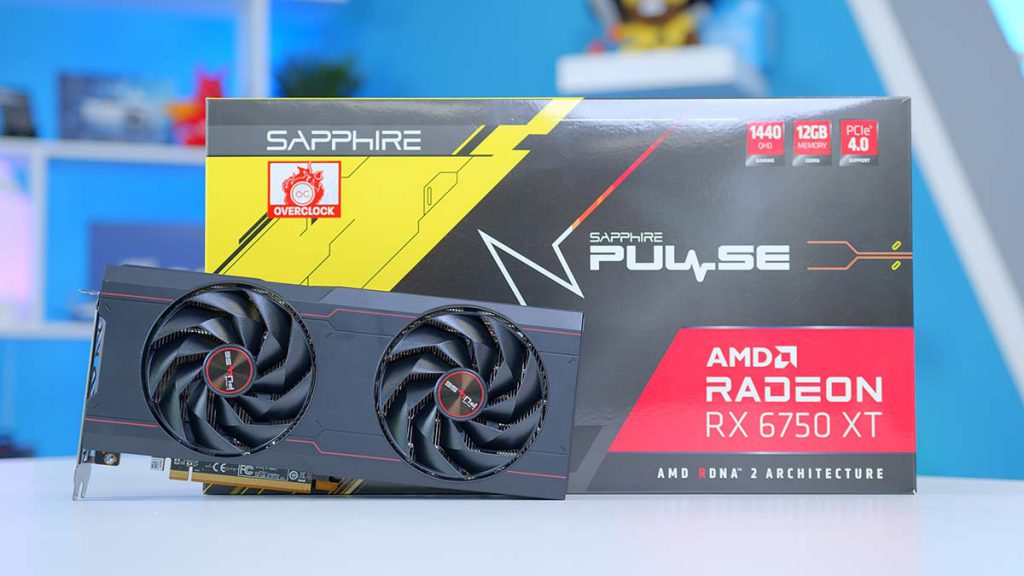 After AMD dropped the prices of their Radeon 6000 series GPUs, the RX 6750 XT became one of the best deals in PC gaming. As one of the best cheap graphics cards that's capable of running an array of games comfortably at 1440p, the 6750 XT is one of the best options for budget or mid-range gaming PCs.
With clock speeds of 2.61GHz, the RX 6750 XT is still one of the fastest mid-range offerings on the market. Additionally, it is one of the only options within its price range to offer 12GB VRAM,. As a result of this we found it still held up by todays standard during our testing.
Whilst the arrival of AMD's collection of mid-range Radeon 7000 series cards puts the 6750 XT in a position of jeopardy, this GPU is bound to be a popular option for consumers looking to build a 1440p gaming PC on a tight budget. This graphics card has all the tools needed to give consumers a solid 1440p gaming experience in most titles for a very affordable price.
Buy the AMD Radeon RX 6750 XT on: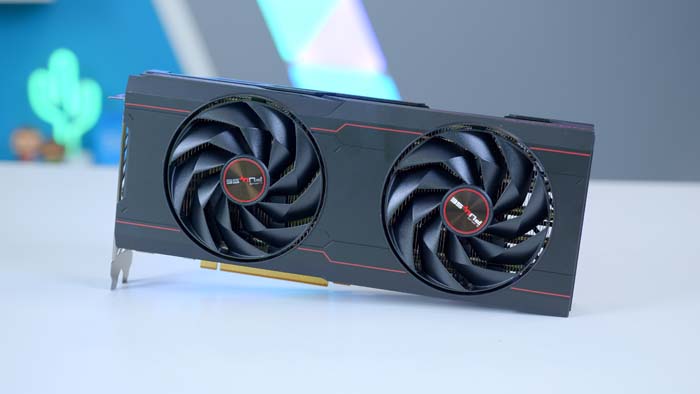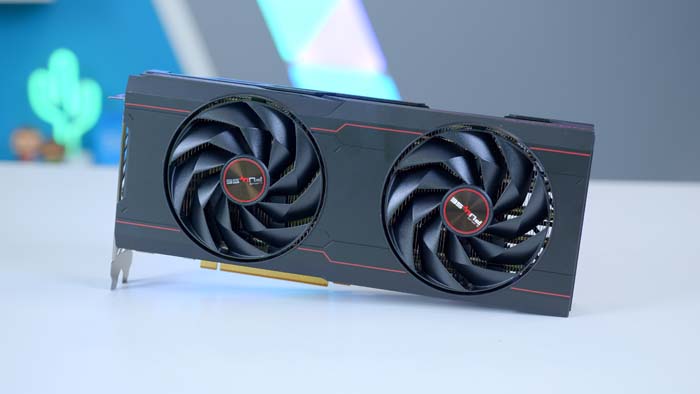 RDNA 2 vs RDNA 3 – What's the Difference?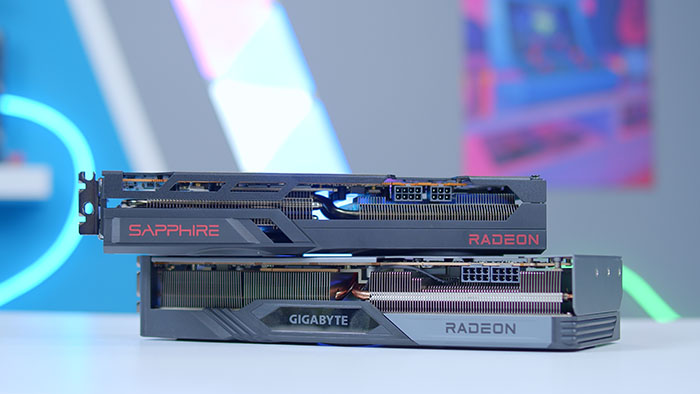 As you'd expect, RDNA 3 develops upon the foundations set by the previous RDNA generations to provide improved performance and efficiency. With these advancements, RDNA 3 includes AI acceleration and improve raytracing technology for a greater visual output.
Radeon 7000 GPUs use RDNA 3, whilst the Radeon 6000 series GPUs are built on RDNA 2. However, one feature that Radeon 7000 and Radeon 6000 graphics cards have in common is the resolution scaling technology, FSR 2.
AMD have announced that FSR 3 is set to arrive early in 2024, which will introduce AMD's Fluid Motion Frames technology to provide a major improvement to framerates. This upgrade will be available on both RX 7000 and RX 6000 series card, meaning both the RX 7700 XT and RX 6750 XT can take advantage of this upgrade when it arrives.
How We Tested the RX 7700 XT and RX 6750 XT
Our benchmarking expert Harry Coleman tests all of the GPUs recommended here on the website, and on our YouTube channel across a range of titles. All of Harry's GPU reviews can be read right here on GeekaWhat.com, including the latest generation of NVIDIA and AMD cards. The RTX 4070 and RTX 3070 Ti were tested across a range of the following titles for the purpose of this GPU comparison:
FPS Games: Apex Legends, Fortnite, COD MW2 Remastered, Warzone 2.0
RPG Games: Hogwarts Legacy, Starfield, GTA V
Simulation Games: F1 2022
Our benchmarking test rig utilises a 13th Generation Intel Core i9 13900K processor, running at stock speeds on an MSI Z790 motherboard, with 32GB of DDR5 memory. You can learn more about our detailed GPU testing methodology here.
RX 7700 XT vs RX 6750 XT – Fortnite
Settings: 1080p, Anti-aliasing & Super Resolution TSR High, Temporal Super Resolution Performance, View Distance Far, Textures Low
During our testing of the RX 7700 XT vs RX 6750 XT in Fortnite we found AMD's RX 7700 XT took an early lead with an average framerate of 295FPS at 1080p competitive settings. The RX 6750 XT pulled in a respectable average of 280 FPS
The 7700 XT holds a comfortable gap over its predecessor, Whilst the RX 6750 XT does very well to outperform the RTX 3090Ti and 6800 XT, the noticeable difference from the 7700 XT means it's not enough to take the win in this scenario.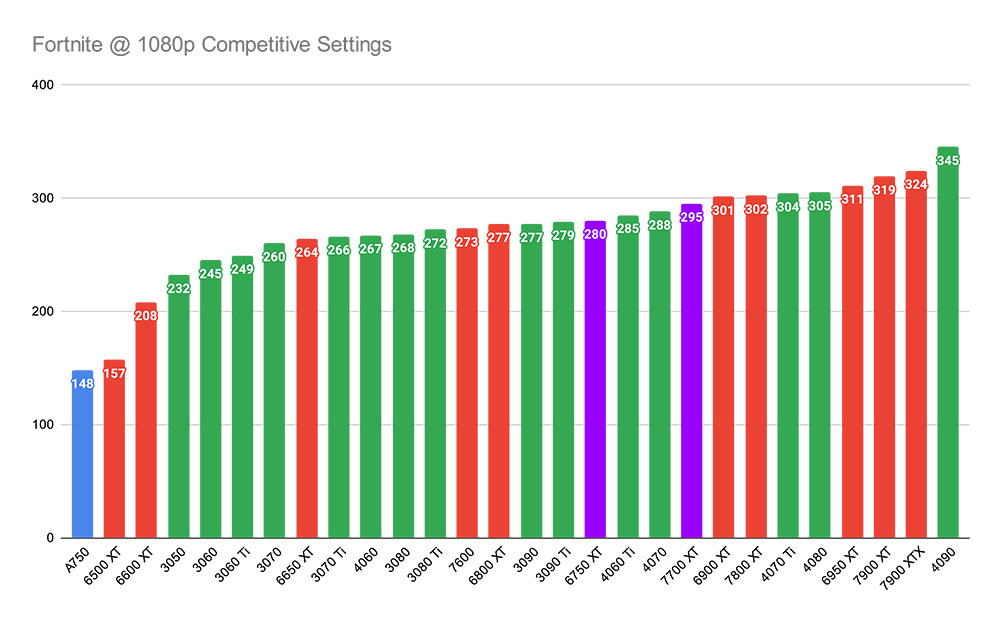 RX 7700 XT vs RX 6750 XT – Warzone 2.0 (1080p)
Settings: 1080p High, Upscaling/Sharpening FSR 2.1 Quality, Texture Resolution Normal, Texture Filter Anisotropic High, Level of Detail High
In Call of Duty Modern Warzone 2.0, the 7700 XT offered an average framerate of 145FPS with FSR 2.1 enabled. Despite this game not being the most optimised, the 7700 XT was still able to offer a more than reasonable average, surpassing that 144Hz sweet spot.
Unfortunately, the RX 6750 XT does lose out in this benchmark, offering up an average of 132FPS instead. Although the difference in framerates here isn't massive, the disparity causing the 6750 XT to drop below 144FPS is a shame, and will definitely be noticeable in terms of overall smoothness.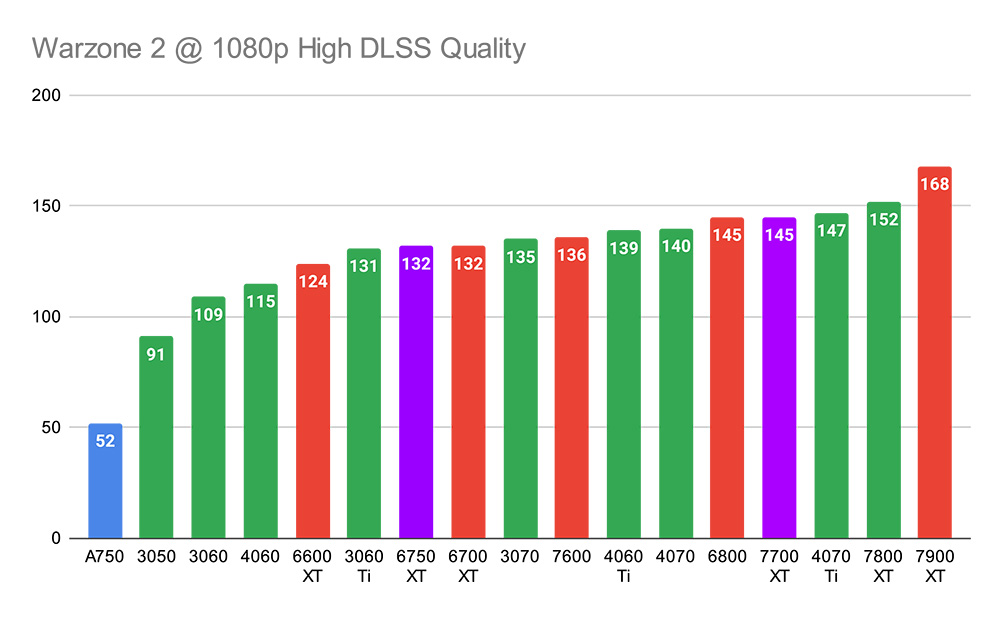 RX 7700 XT vs RX 6750 XT – Warzone 2.0 (1440p)
Settings: 1440p High, Upscaling/Sharpening FSR 2.1 Quality, Texture Resolution Normal, Texture Filter Anisotropic High, Level of Detail High
When boosting the resolution up to 1440p, the results were very similar in Warzone 2.0. Once again, the 7700 XT held a convincing lead over the 6750 XT, with the 7700 XT offering 137FPS on average. This was solid performance at this resolution, and we're only seeing a slight dip in framerates despite the overall amount of pixels being displayed doubling.
The 6750 XT does fall even further here, with an average of 121FPS. We're moving even further away from that 144Hz sweet spot, which will be much more noticeable versus the 7700 XT. But we imagine playing around with some settings and dialling back to medium should increase the framerate.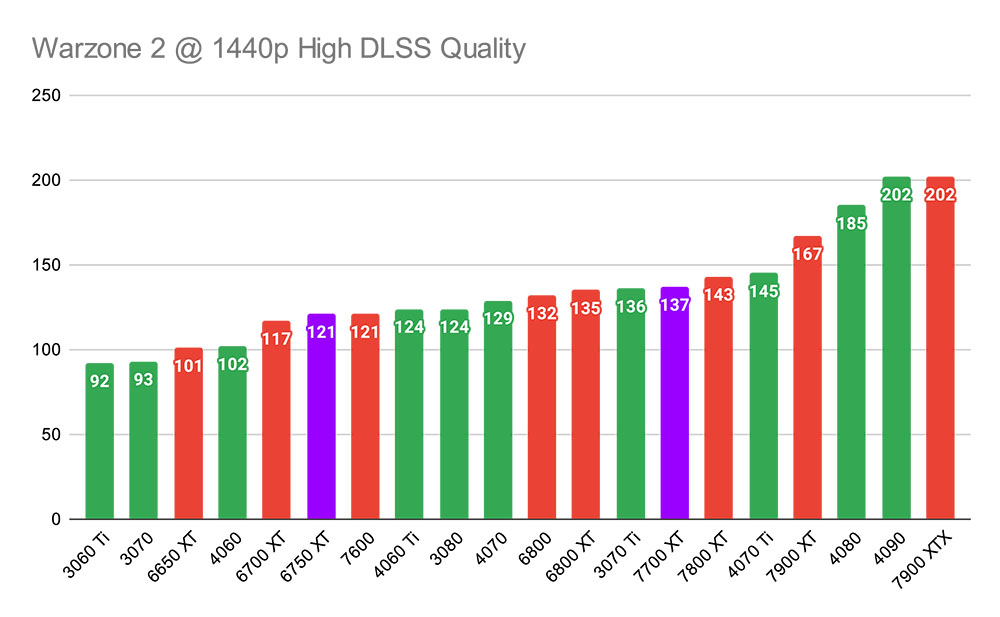 RX 7700 XT vs RX 6750 XT – Overwatch 2
Settings: 1440p Ultra, High Quality Upsampling FSR 1.0, Texture Quality High, Antialias Quality High- SMAA Medium, Ambient Occlusion Medium
For our final benchmark, we ran Overwatch 2 at 1440p ultra settings with FSR enabled, and as you can see, the 7700 XT offered a hefty lead here, with an average output of 270FPS. This is more than most players will ever need when it comes to framerates, but its great to see that even those with crazy high refresh rate monitors can benefit from the output of this card.
The 6750 XT although sitting at 230FPS in comparison still offered very solid performance. At framerates this high, the difference between the two would be almost negligible, but its great to see that the 6750 XT is still able to provide smooth gameplay at 1440p regardless.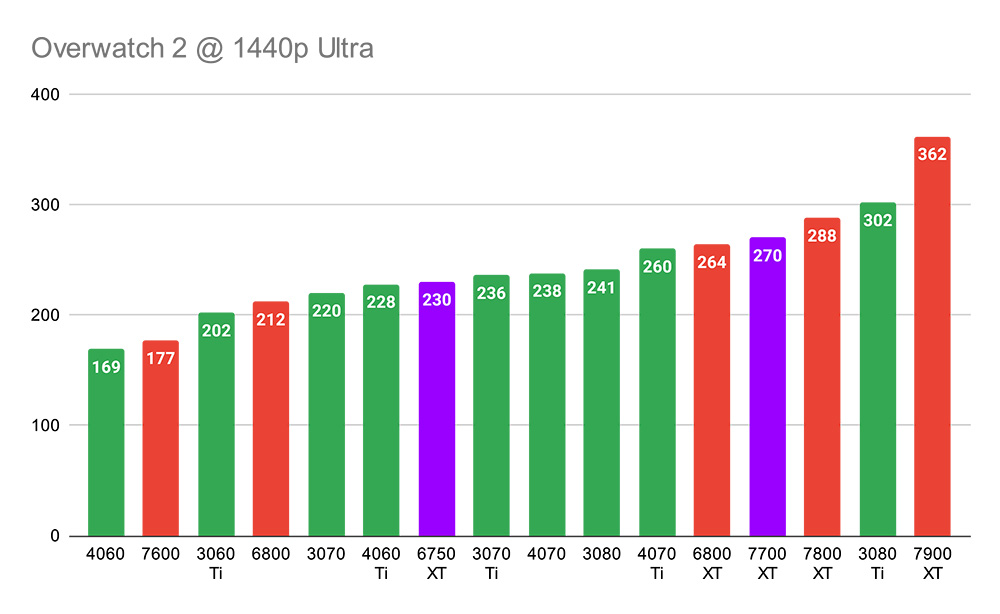 Our Verdict: RX 7700 XT
After all of our testing and comparing both the RX 7700 XT and the RX 6750 XT side by side, the 7700 XT is the clear winner overall. This GPU blows the 6750 XT out of the water in pretty much every benchmark, outperforming the 6750 XT in every game we've tested.
And although the price of the 7700 XT is higher in comparison, you're paying for the significant performance improvements at higher resolution. The 6750 XT has been a strong card for quite some time, but its modern counterpart (the 7700 XT) provides better hardware that really gives it that extra edge in comparison. And with 4K now being a viable option in certain titles, the RX 7700 XT is our definitive recommendation for those looking build an awesome mid-range gaming PC.