Introduction
One of the philosophies that we love at GeekaWhat is manufacturers and brands being 'pro-consumer' by providing a multitude of options to the market. Well, today NZXT is tuning into that philosophy massively. Meet the NZXT H7 case line-up, specifically the H7 Elite. These cases come in three different options, with each of them being designed for specific types of builds.
This review will be focusing specifically on the H7 Elite, which is NZXT's top-end, most premium case that looks to showcase the best of what NZXT have to offer in 2022.
Buy the NZXT H7 Elite on:
Suggested Article: Cheap PC Cases VS Expensive PC Cases – What are the Differences?
NZXT H7 Line-Up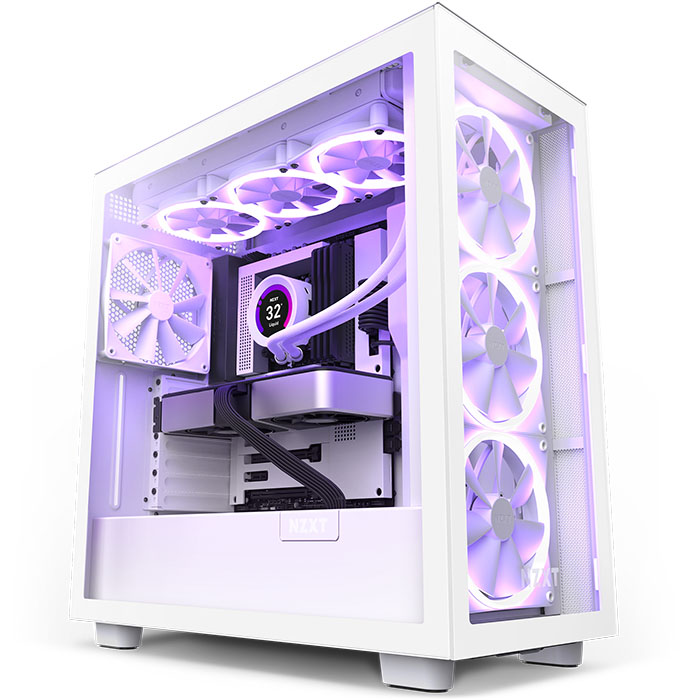 The H7 Elite is the best looking out of the bunch, and despite being slightly pricier than the other two models, you get what you pay for. The main goal of the H7 Elite is to provide a premium look for those wanting some more flair in their build, and I'd say they definitely meet this goal.
Although the MSRP is just shy of $200, we feel the price point is warranted given the additional included features and more premium materials used over the other H7 options NZXT have released. We'll dive into exactly what these are and why they warrant a near $80 price increase on the H7 Elite later on in this article.
| | | | |
| --- | --- | --- | --- |
| | H7 Base | H7 Flow | H7 Elite |
| Form Factor | Mid-Tower | Mid-Tower | Mid-Tower |
| Max CPU Clearance | 185mm | 185mm | 185mm |
| Max GPU Clearance | 400mm | 400mm | 400mm |
| Motherboard Support | Mini-ITX, Micro-ATX, ATX & E-ATX (Up to 272mm) | Mini-ITX, Micro-ATX, ATX & E-ATX (Up to 272mm) | Mini-ITX, Micro-ATX, ATX & E-ATX (Up to 272mm) |
| MSRP | $129.99 | $129.99 | $199.99 |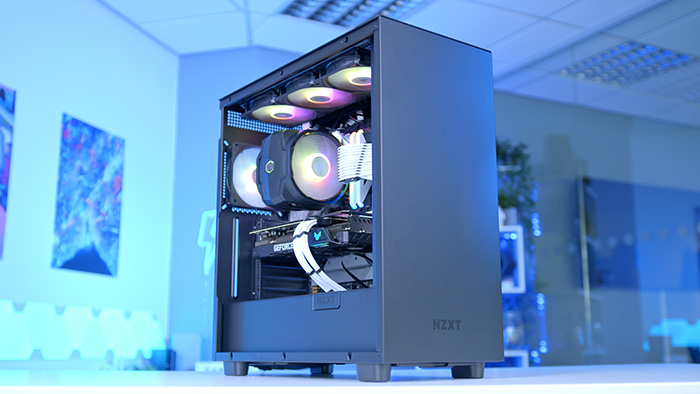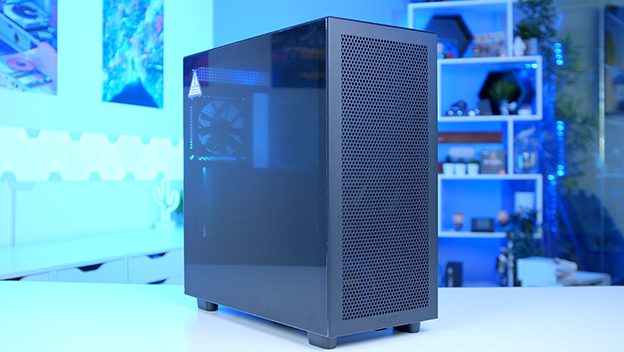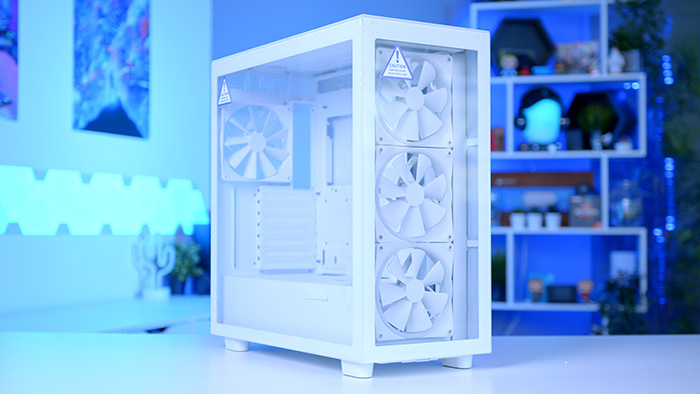 [adrotate banner="7″]
NZXT H7 Predecessors
Technically the previous range of cases that NZXT produced were the H710 and H710i. However, they never made an 'Elite' model for this range. For the H510 series of cases NZXT did release an 'i' variant, and an Elite case that saw an upgrade by way of some RGB and a tempered glass front panel.
With the H7 Elite, we're seeing a similar treatment, with a more premium look and design that changes the aesthetic and bumps up the price somewhat. The biggest difference between the H7 Elite and the H510 Elite is that the glass spans the entirety of the front. Instead of being cut off by the power supply sized block at the bottom, we get a whole sheet of glass.
The other major difference is ventilation and airflow. All of the H7 cases have improved ventilation with the perforations that feature on the top panel of the case. Naturally, the glass panel used on the front of the Elite design stifles airflow somewhat, but its a compromise we're happy to make for the aesthetic edge that comes with it.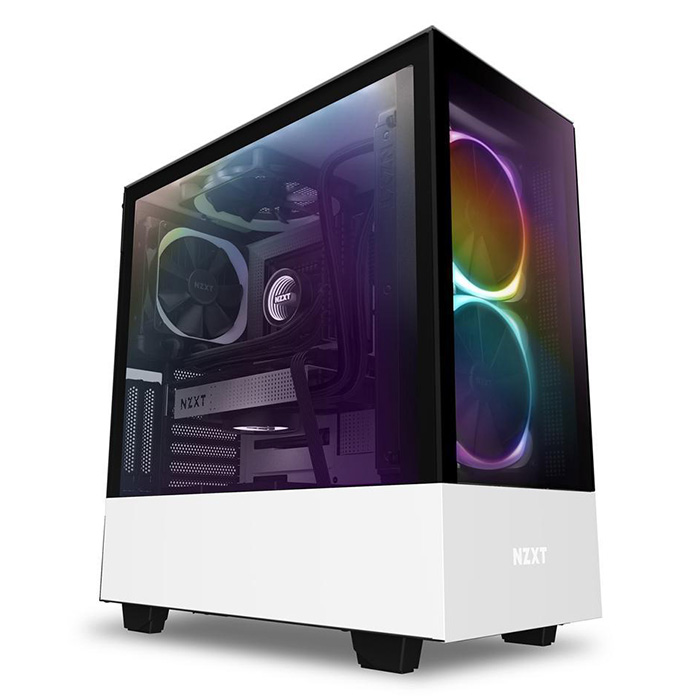 NZXT H7 Elite Design & Aesthetics
Aesthetically this case is beautiful. As much as I've loved the previous NZXT case designs, this Elite model really takes the cake. Looking at the front panel, you have a sheet of tempered glass that spans the entire height of the case, showcasing three of NZXT's brand new RGB fans behind it. We're also incredibly pleased to see that these are 140mm units, providing better airflow and aesthetics than the cheaper 120mm units NZXT could've included.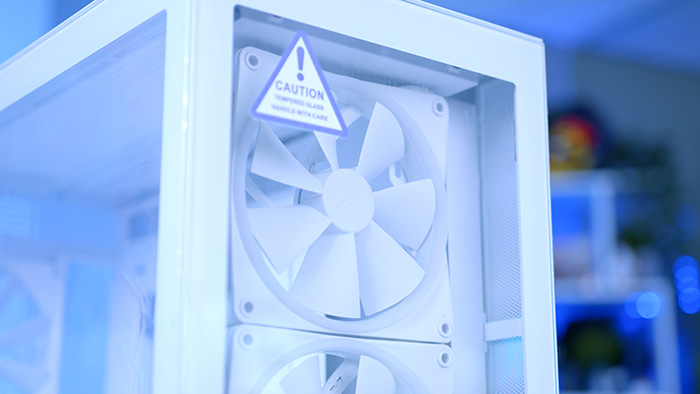 With the white version of the case (which is the design we have here) the tempered glass side panel is fully clear. On the black version, NZXT provides slightly tinted glass, which matches the darker aesthetic of the case.
The rest of the case remains mostly similar to the H7 Flow and base model. The top of the case has the perforations previously alluded to, which provide better airflow throughout the case. On the inside we have the iconic NZXT cable management bar, perfect for those wanting to carefully sort their cables. The H7 Elite also has an included PSU shield allowing you to hide any further cable mess.
Features
Are you looking for plenty of support for RGB? Or do you want a case that offers a sleek but modern aesthetic? Well look no further! The H7 Elite has all of this and more. Below we've broken down the biggest standout features of this particular case to see what's on offer.
NZXT Cam Controller
The first feature we should take a look at is the included fan controller. NZXT has their own software that works with their accessories and peripherals. If you're wanting to put together a full NZXT system, then you'll definitely want to add this case to that list. This built-in controller is fitted on the panel with all of your cable management and storage expansion. Here you can plug in the three included RGB fans, and any extras you might pick up (up to 6). And then once you've booted your PC you can sync your lighting across all of your NZXT accessories!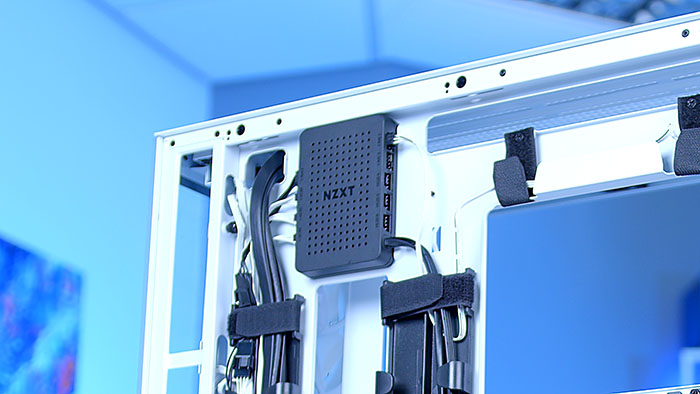 RGB Fan Support
Leading on from the Cam controller, this case features a range of support for different fan configurations and radiators. If RGB takes your fancy, then you won't be disappointed here. In the box you're given three included 140mm RGB fans which is a huge bonus. And if you're wanting to add more RGB you have plenty of room across the board for 140mm or 120mm fans that you can personalise and sync up with the NZXT Cam software.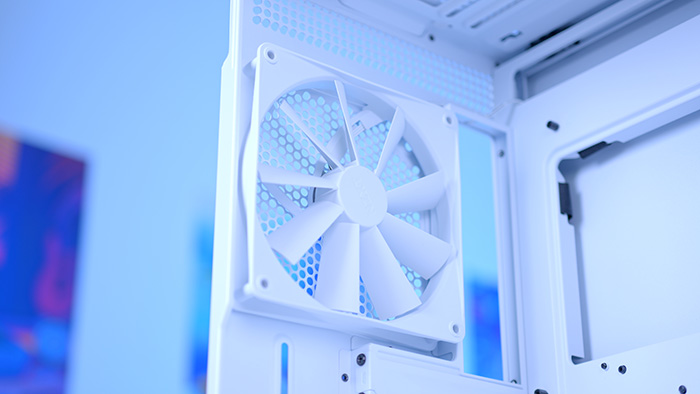 [adrotate banner="7″]
Versatile Motherboard Support
Despite the fact that the H7 Elite is only a Mid-Tower case, you have support for all consumer desktop motherboard sizes including E-ATX boards up to 272mm. For those of you pushing the boat out and picking up a larger board for more PCI-E lanes, you are catered for with the H7 Elite!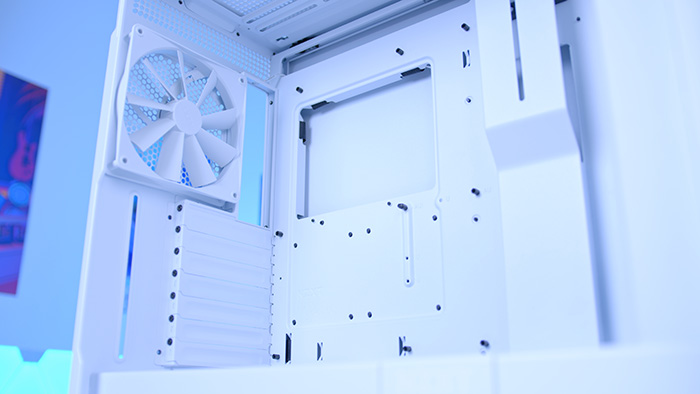 Easier Cable Management
Its always extremely frustrating putting together a build and then having to organise the cables, especially when the manufacturer doesn't include a simple way to clean things up. With the H7 Elite you don't need to worry about this. Once you've put together your build you can just jam the cables into the wide cable channels. Or, if you find cable management cathartic, then the included hooks and routing should make this easier.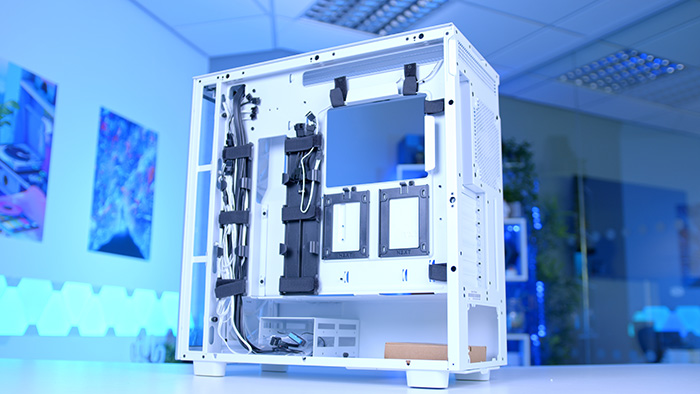 Alternatives
The H7 Elite is the top-end case releasing in this particular range, and what better way to compare it by providing some alternatives that fall into a similar price bracket with some of the same features. Below we've provided some of our favourite high-end cases that have an abundance of features, but also provide consumers with an awesome look to add flair to a PC build.
Corsair 4000D QL RGB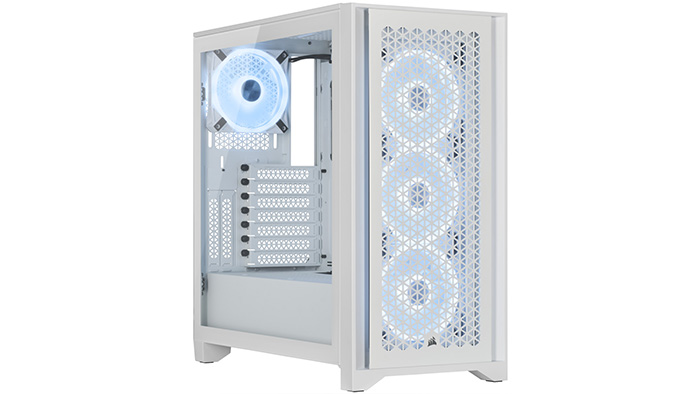 Corsair's 4000D QL RGB is one of the top-end cases of the 4000 range. This case sports an all white design, with 4 included RGB fans and a mesh front panel for optimal airflow. Not only is this case ideal for great cooling, but with all of the included RGB you'll be able to have a lightshow in your room. You can check out this case in action in a high airflow build that features on the website!
Buy the 4000D QL RGB on:
---
Lian Li O11D Mini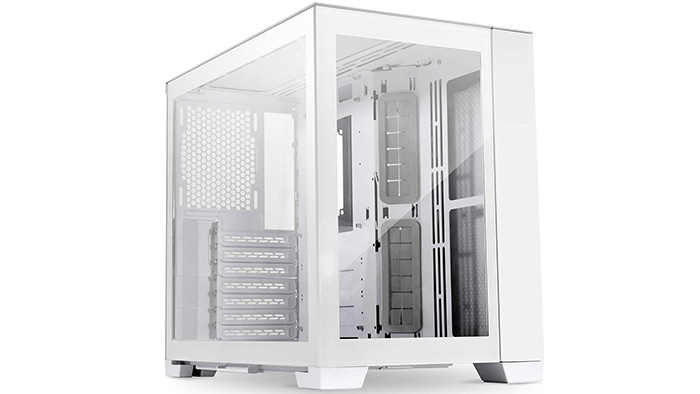 Lian Li's O11D Mini is a case that we've looked at before in our Best Cases of 2022 article. This particular case looks small from a distance, but its features and support are definitely not. For those wanting to go all the way with water cooling, the O11D has a modular pump stand. With the two glass panels you get a clear view into your build- what's not to like!
Buy the O11D Mini on:
---
Corsair iCUE 4000X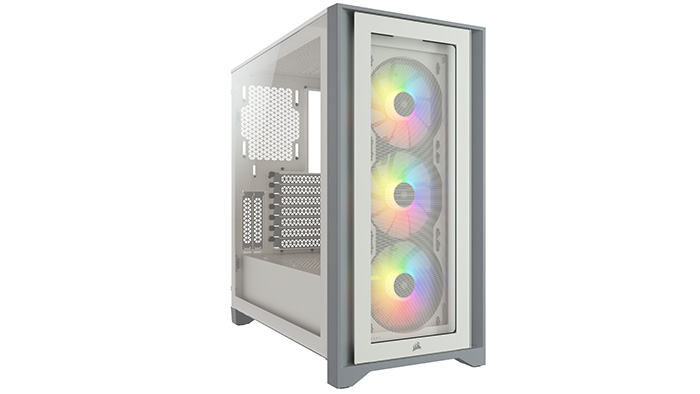 The iCUE 4000X features tempered glass front and side panels, which are tinted dependent on the colour of the case you've picked. The included RGB fans and iCUE controller allows you to customise lighting and sync up with other Corsair products. This case has featured in a high-end build article on our website. Check it out to see a breakdown and gaming benchmarks.
Buy the iCUE 4000X on:
---
[adrotate banner="7″]
Conclusion
NZXT H7 Elite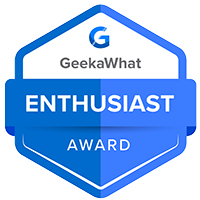 Product Name: H7 Elite
Brand: NZXT
Features

Design

Versatility

Value For Money
Summary
The H7 Elite is a new, but also familiar addition to the H7 range of cases that NZXT is releasing. The glass front panel and included RGB add a 'wow' factor to builds that will standout against the competition. Not only this, with better airflow and a wide range of support for storage expansion, cooling solutions and extra RGB, the price tag starts to become more bearable. Overall, its brilliant to see NZXT changing things up in the case market, and I imagine the H7 Elite will offer some steep competition against other brands.
Pros
✅ Very premium design.
✅ Included RGB fans and controller is a nice bonus.
✅ The white colour option looks awesome.
Cons
❌ Quite expensive.
❌ Not all E-ATX motherboards are supported.
❌ Some different colour options would be nice.