Introduction
The RTX 4070Ti launches today at CES, yet somehow it has already experienced a turbulent start to life. Originally launched as the 'RTX 4080 12GB' back in September 2022, this card was pulled by Nvidia at the last minute due to widespread media and consumer criticism. The criticism was centred around the GPU die used in this card. Originally adorning the RTX 4080 12GB name, it was fitted with a less powerful GPU die than its 16GB RTX 4080 bigger brother – despite the naming scheme implying only the memory was different. Some argued that this was to draw people in with the flashy 4080 naming scheme, while others argued pitching this card higher allowed Nvidia to command a bigger price tag for an inferior GPU die.
Regardless, Nvidia made the right call to pull the card and relaunch it as the RTX 4070Ti. The issue was never that different cards boasted different dies, it was that when doing so, they should always have a different SKU name. But that's enough about controversy for now, let's look at the RTX 4070Ti at face value, and determine whether this is a worthwhile buy.
Boasting 12GB of GDDR6X video memory, a speedy 2.6GHz boost clock speed, and Nvidia's latest RT and Tensor cores, the RTX 4070Ti boasts an impressive spec list in line with the other Ada Lovelace GPU releases to date. Nvidia are pitching this card as a prime option for 1440p gaming, and from our testing, it also shows plenty of power at 4K. Ray Tracing is ever present, as is Nvidia's latest DLSS 3.0 technology – both of which provide a marked improvement over AMD's equivalent technologies.
Buy the Gigabyte Eagle OC RTX 4070Ti on:
Architecture
Much like the RTX 4080 and RTX 4090 that we have seen so far, the RTX 4070Ti is built around Nvidia's newest ADA Lovelace architecture. The architecture has been very impressive in our testing of both of these GPUs, showing a solid uplift in performance over the Ampere RTX 3000 cards that came before it.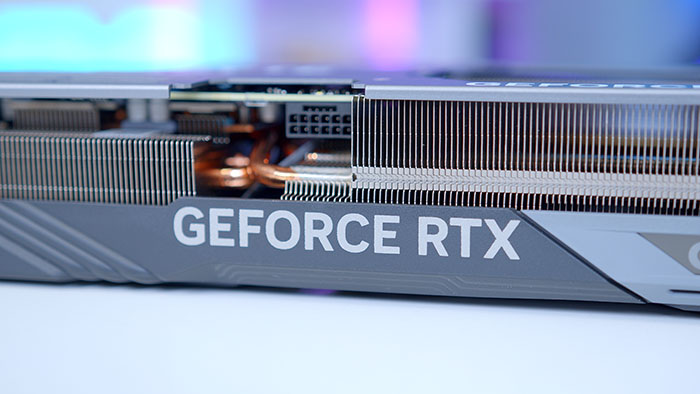 If anything, the architecture has been pretty faultless in our testing so far, with our criticisms of the 4080 and 4090 more centred around price instead of performance or architectural capability, which brings impressive performance gains over previous generation GPUs.
With it, ADA Lovelace ushers in a vast array of improvements to Nvidia's pillar technologies: Ray Tracing and DLSS. The newest version of DLSS, DLSS version 3.0, provides the largest uplift in performance of the resolution scaler yet. DLSS essentially uses AI to transform the traditional resolution scaler. This allows the GPU to render an image (in our case the frame of a game), at a lower resolution, while powerful AI tech upscales it back to your displays native resolution. This means you get the additional frame rate provided by rendering at a lower resolution, with less pixels, but with minimal visual fidelity loss. In the case of this GPU, it allows for solid 4K performance with Ray Tracing, something which would have otherwise been out of reach in many titles without DLSS 3.0.
DLSS 3.0 brings a new price of technology called Frame Generation in to the mix. Frame Generation takes things a step further by using two consecutive frames to determine a natural midpoint between the two. This essentially drops in extra frames in realtime, allowing for an even greater frame rate upside. The only major catch with DLSS 3.0 is that you must have an RTX 4000 GPU, the hardware required doesn't feature in 3000 series cards, and it isn't supported by a huge array of games yet. Thankfully, adoption of DLSS 1.0 and 2.0 was pretty rapid by game developers, and we aren't at all concerned about DLSS 3.0 uptake amongst game developers. It is a case of when, and not if.
Ray-Tracing is also improved with Ada Lovelace, and while the uplift isn't quite as strong as with Ampere, performance is still improved and sizeably better than AMD in this regard. This is something which can only be a good thing for Ada Lovelace, as well as the RTX 4070Ti's consumer appeal when weighing it up against the competition.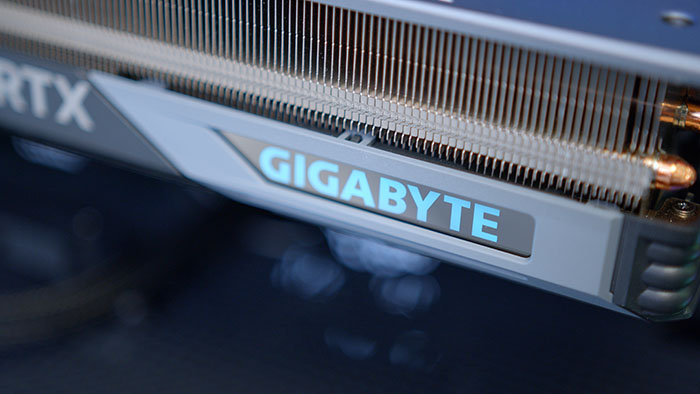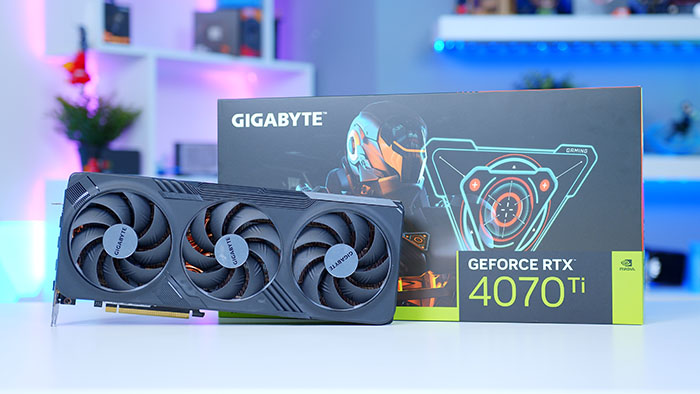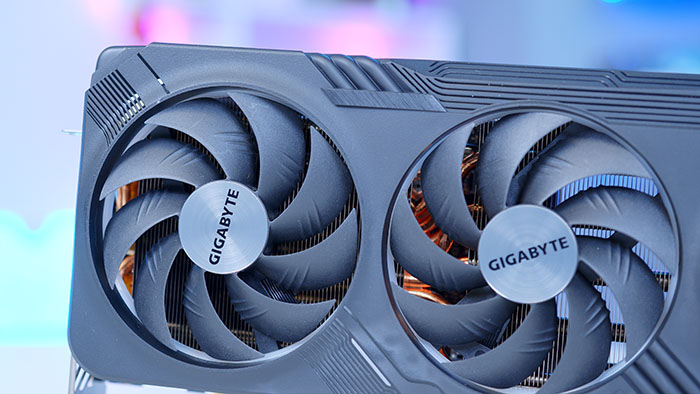 Specifications
The RTX 4070Ti's specs stack up well on paper, and should equate to high frame rates in benchmarks. You can view a table below that highlights the key hardware differences between the 4080 and other cards on both the RTX 4000 and RTX 3000 architectures.
Spec
RTX 3070Ti
RTX 3080
RTX 4070Ti
RTX 4080
Video Memory
8GB
12GB/10GB GDDR6X
12GB GDDR6X
16GB GDDR6X
Memory Bus
256-bit
384-bit / 320-bit
192-bit
256-bit
Core Clock Speed
1.57GHz
1.26GHz / 1.44 GHz
TBC
2.21GHz
Boost Clock Speed
1.77GHz
1.71Hz
2.61GHz
2.51GHz
CUDA Cores
6144
8960/9704
7680
9728
Power Consumption
290W
(Founders Edition)
350W / 320W
(Founders Edition)
285W
(Reference Design)
320W
(Founders Edition)
RT Cores
2nd Generation
2nd Generation
3rd Generation
3rd Generation
Tensor Cores
3rd Generation
3rd Generation
4th Generation
4th Generation
PCI-E Generation
PCI-E Gen 4
PCI-E Gen 4
PCI-E Gen 4
PCI-E Gen 4
All clock speeds and memory specifications are based off Reference designs or Founders Edition cards where available. Clock speeds for cards like this Gigabyte design are often higher.
Design
The RTX 4070Ti launches without any Founders Edition design, something which ties back in to the RTX 4080 12GB debacle touched on earlier. This card was originally designed to be a cheaper RTX 4080 option, and as such, Nvidia reserved the FE cooler for the higher end 16GB model. This means lovers of Nvidia's signature in-house GPU design will need to spend extra cash on an RTX 4080, or wait for an RTX 4070 card that should (in theory at least) launch alongside a Founders SKU.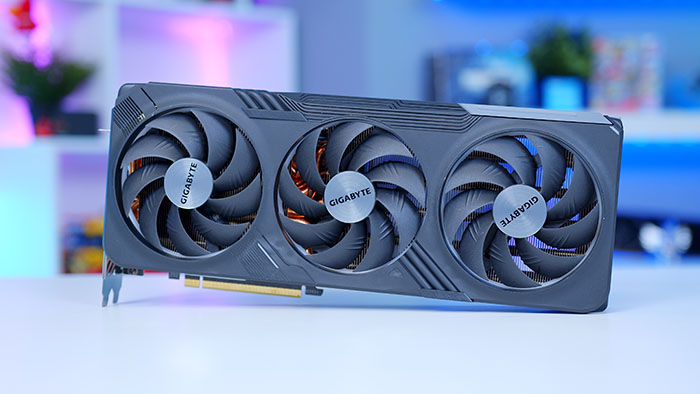 Nevertheless, we've got in a pretty dashing design from Gigabyte that shows what AIC's are all about! With a great three fan cooler that keeps a lid on temperatures, a thankfully more compact form factor than the RTX 4080, and a solid backplate design, this card is a great shout. The PCI-E 5.0 connector sits pretty inland on this card, something which is due to the very compact PCB design underneath. More than half of this card by length is heatsink only, showing how beefed up the cooling is on this Gigabyte factory overclocked design.
The integrated PCI-E 5.0 connector hasn't been without controversy, but we like its compact nature and think it is a step in the right direction for GPU design. The fairly low 285W TGP of this card also means power delivery should be less of an issue than before, and the included splitter turns into a pair of 6+2pin PCI-E connections, rather than the three and four found respectively on the RTX 4080 and RTX 4090.
Behind the three large fans on this GPU sit RGB rings which give the card a solid aesthetic edge, while an RGB Gigabyte logo finds its home on the right hand size of the card. We'd also expect higher-end AORUS designs from Gigabyte, but think this particular model does a more than good enough job of keeping temperatures down and facilitating overclocking.
Performance
Nvidia's RTX 4070Ti sits in an interesting spot performance-wise, in that its hard to tell where exactly it sits in the GPU line-up. Nvidia have long been known for the consistency of their GPUs across titles but we found the RTX 4070Ti to be less so. There were a number of results that shocked us during our testing, for both good and bad reasons, the RTX 4070Ti really seems to be an 'all or nothing' card. No doubt Nvidia will rectify these issues with further optimisations and driver updates, but for now, it seems that the 4070Ti isn't quite sure how it should be performing.
Nevertheless, as usual we put the card through its paces in over 15 game titles during our testing. The games tested includes Fortnite, Apex Legends, Warzone 2.0, Overwatch 2, GTA V and many more! We tested at a number of resolutions and setting variations across each title to figure out both the strong and weakpoints of the card, but less chat and onto the numbers!
Apex Legends
The inconsistencies were apparent from the start during our testing of the RTX 4070Ti. In Apex Legends, the 4070Ti pulled a respectable 145FPS at 4K High settings, beating out all of the previous generation Nvidia GPUs. Tune the resolution down to 1440p however, where in theory the RTX 4070Ti should be stronger still, and a number of previous generation cards (RTX 3090, 3090Ti, RX 6900 XT) all surpass the 202 FPS averaged by the 4070Ti.
Now in defence of the RTX 4070Ti, there are some clear gains made over its predecessor, the RTX 3070Ti. Over 50 FPS at 1440p is a sizeable improvement, but to have the legs to beat out last generations GPUs at 4K only to then stumble over itself at 1440p makes me question just how refined this GPU is at this moment in time.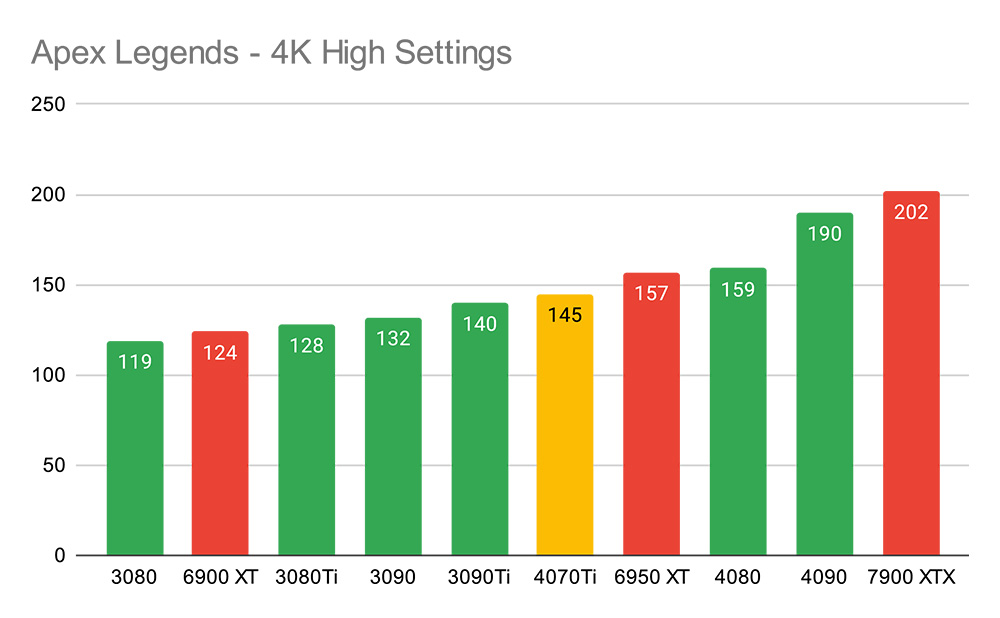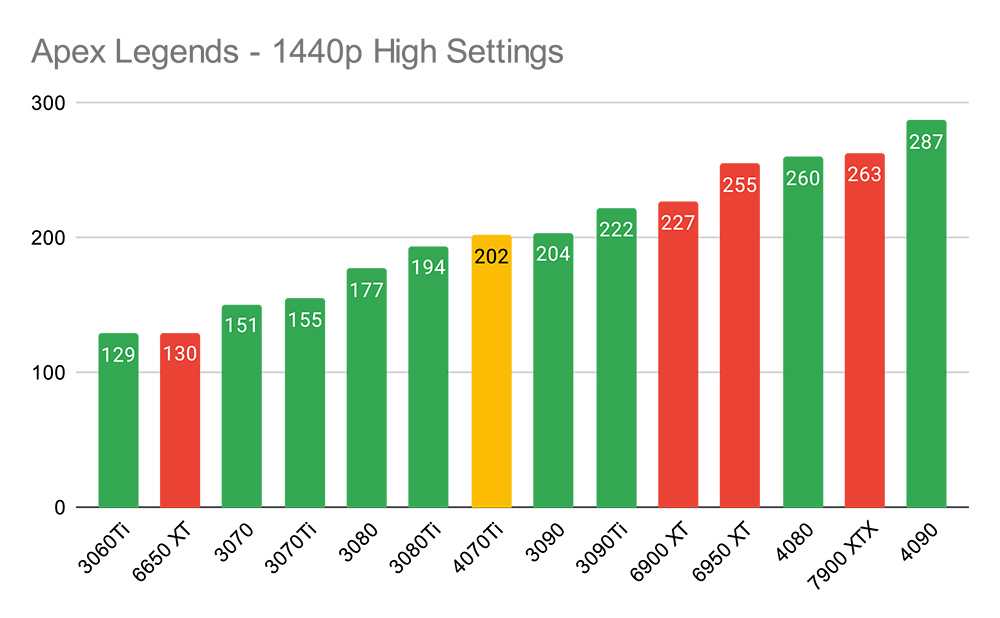 COD Warzone 2.0
COD Warzone offered similarly underwhelming results, at 1440p especially. 142 FPS on average at 1440p High Settings is a noticeable falloff in performance between itself and the RTX 4080 – a card that the RTX 4070Ti was originally a variant of. The same could be said for the performance at 4K, where the RTX 4070Ti struggles to feel like a 40 series card at times given how strong the previous two releases are in comparison.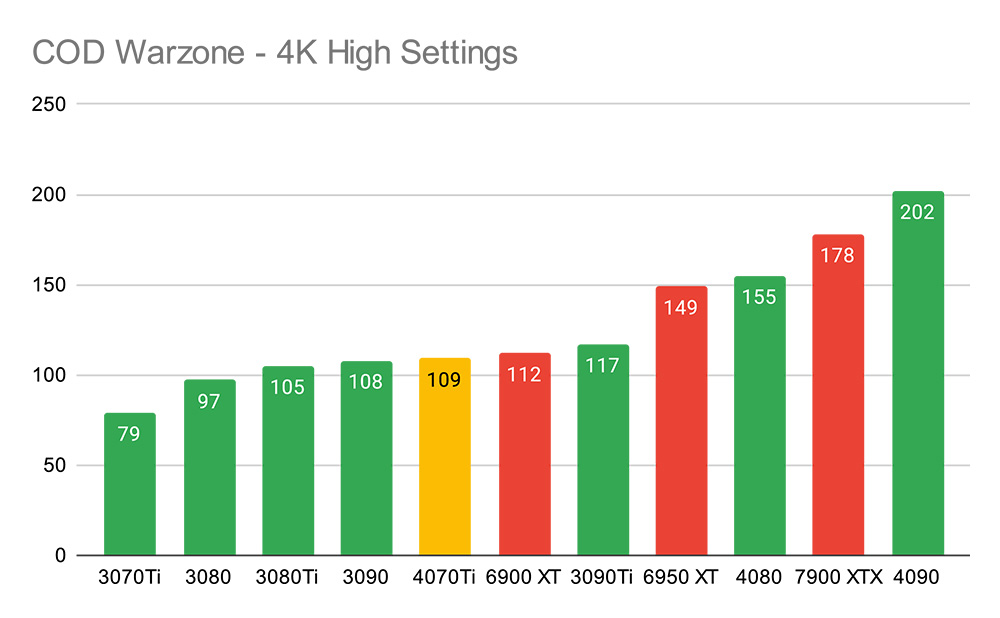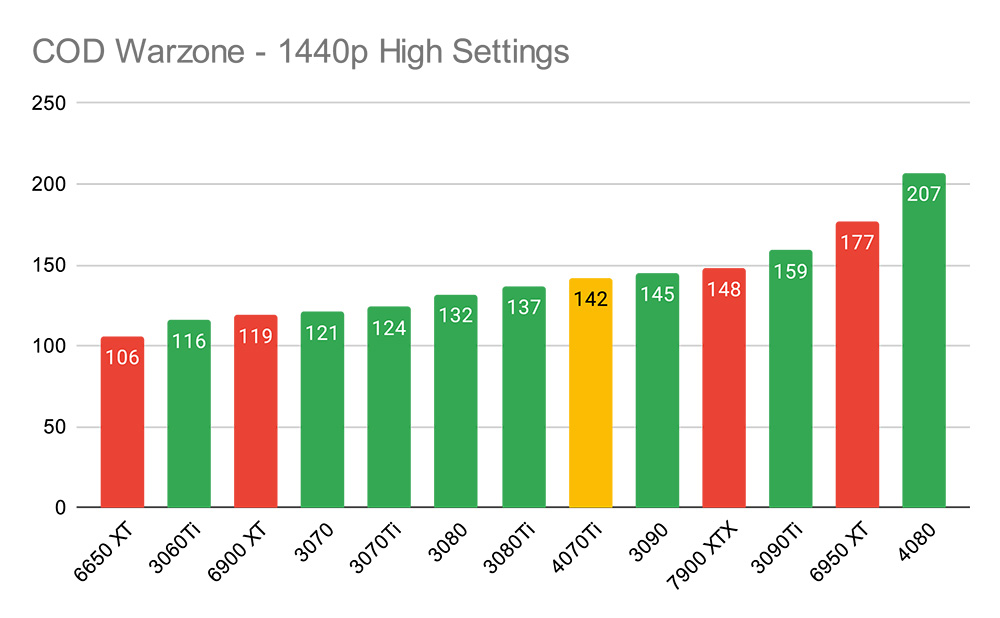 Fortnite
The RTX 4070Ti did impress in the final of our battle royale titles however. In the ever-popular Fortnite, the results averaged results that align more clearly with the other 40 series RTX cards. The RTX 4070Ti also gives the RX 6900 cards a good run for their money, two cards that are renowned for performing very well in the Epic games title.
Battlefield 2042
Battlefield 2042 provided another showing for the RTX 4070Ti, with solid results at both 4K and 1440p. The 4070Ti started to find its footing as we dived deeper into our testing protocols. 127 FPS on average at 1440p is a very strong result for the 4070Ti, just two shy of the RTX 4080, finally proving that it can indeed hang with the bigger boys of the GPU world.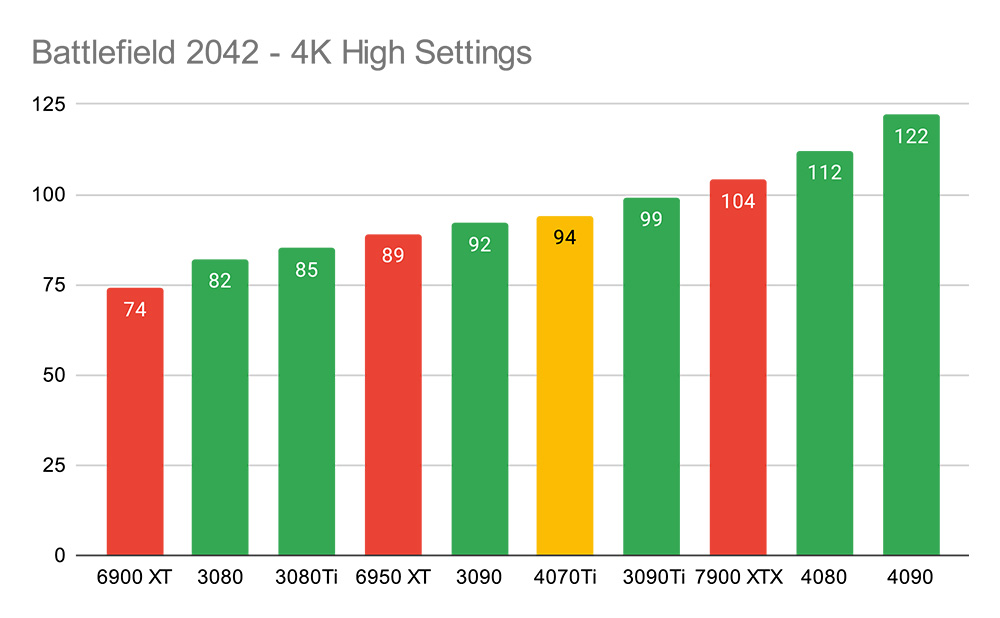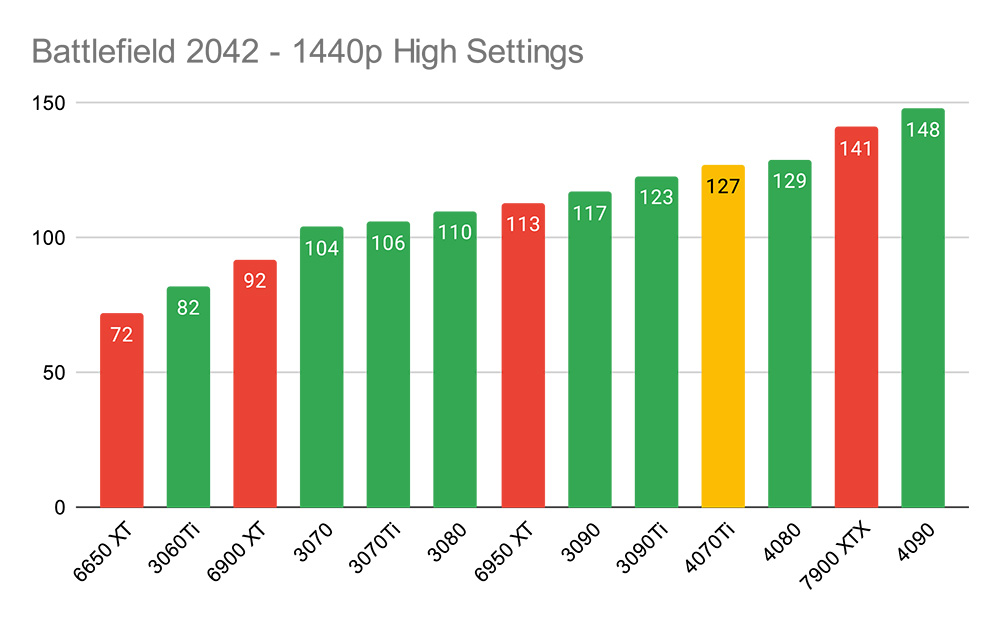 GTA V
An old but gold title is up next, GTA V. The RTX 4070Ti once again through a curve ball in our direction, with a relatively stronger performance at 4K High Settings than that of 1440p. Coming in just shy of both the 7900 XTX and RTX 4080 at 4K with 158 FPS, the RTX 4070Ti seemingly prefers to run maxed out. Lower the resolution down to 1440p and we gain only 7 FPS, whilst the 7900 XTX and 4080 both gain in excess of 10-15 fps. Granted these aren't massive gains in the grand scheme of things, but it's still double the amount gained by the RTX 4070Ti.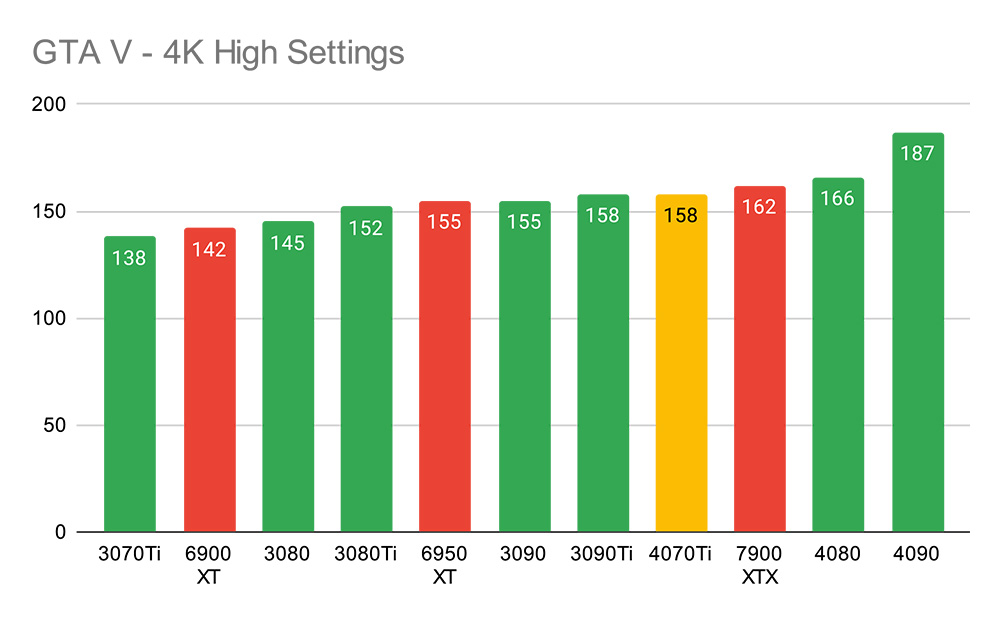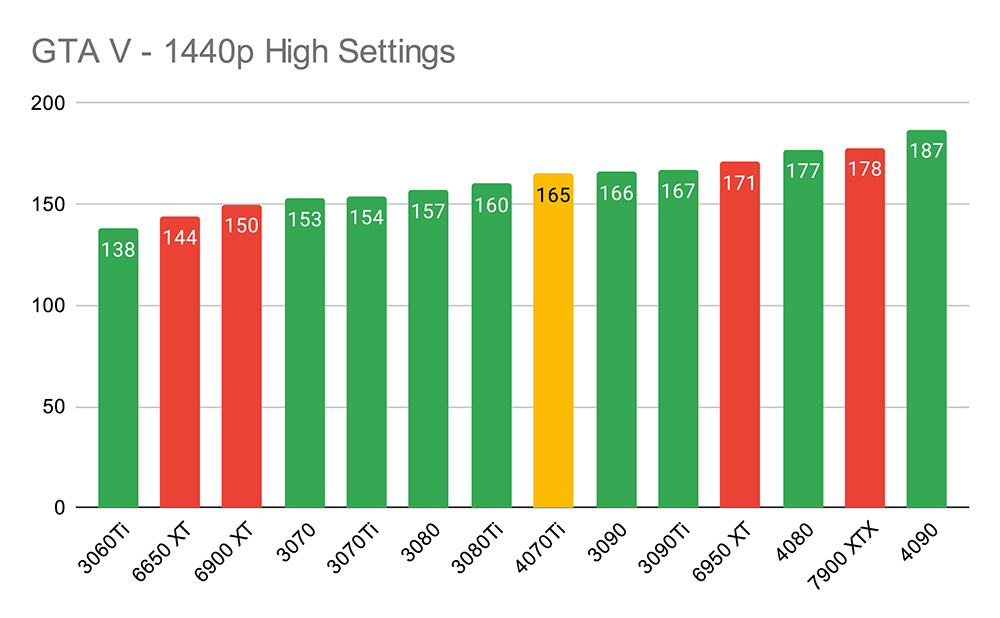 Halo Infinite
Halo Infinite again provided some great and some weaker results. The latest addition into the Halo series has however been notoriously hard to run, so the RTX 4070Ti can be slightly excused, can't it?
1440p is definitely the better bet for Halo Infinite on a 4070Ti, with an additional 80FPS gained over the results at 4K High settings, averaging a strong 185 FPS. The numbers do still pale in comparison to that of the other 4000 series cards, but for around the same price-point as the 7900 XTX (we assume), the results in Halo at least are very positive.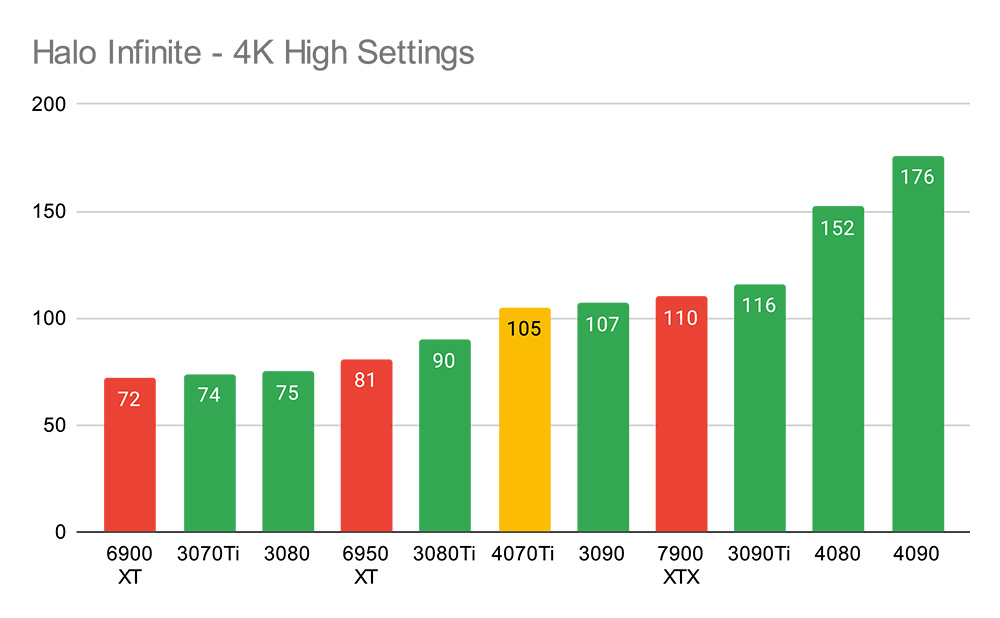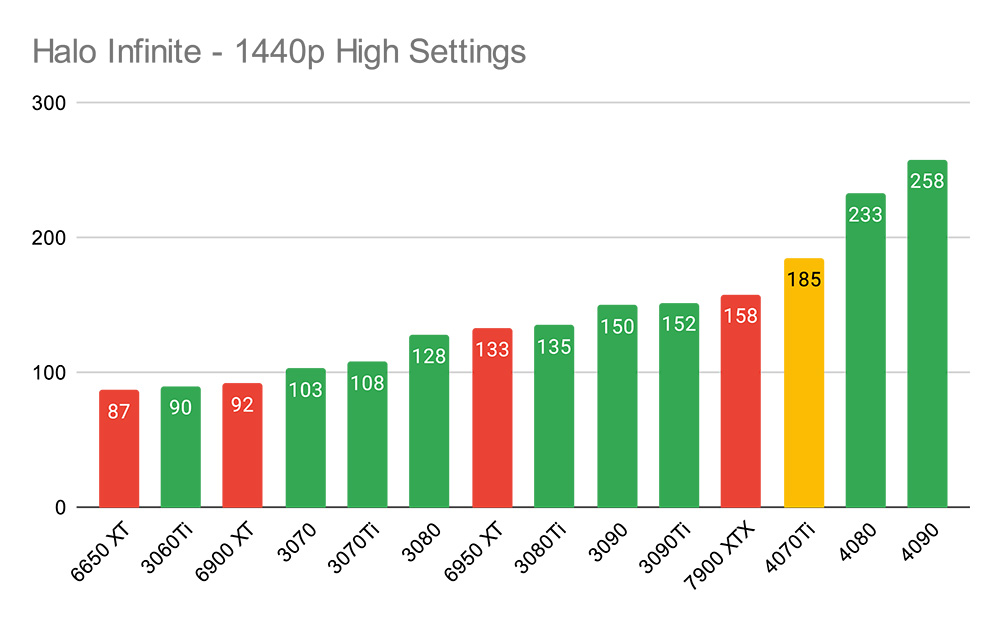 Valorant
Valorant was our final title during testing, admittedly one of the easiest titles to run, but a good comparison against other GPUs nonetheless.
Averaging over 400 FPS at both 4K and 1440p, frames wont be of much worry at all whilst using a RTX 4070Ti, with the card slotting in roughly right where we'd expect it to in our line-up of GPUs below. The RTX 4070Ti did however follow suit, being closer to the other 4000 series cards at 4K settings as opposed to 1440p, but with frames being so high, we don't see too much to worry us.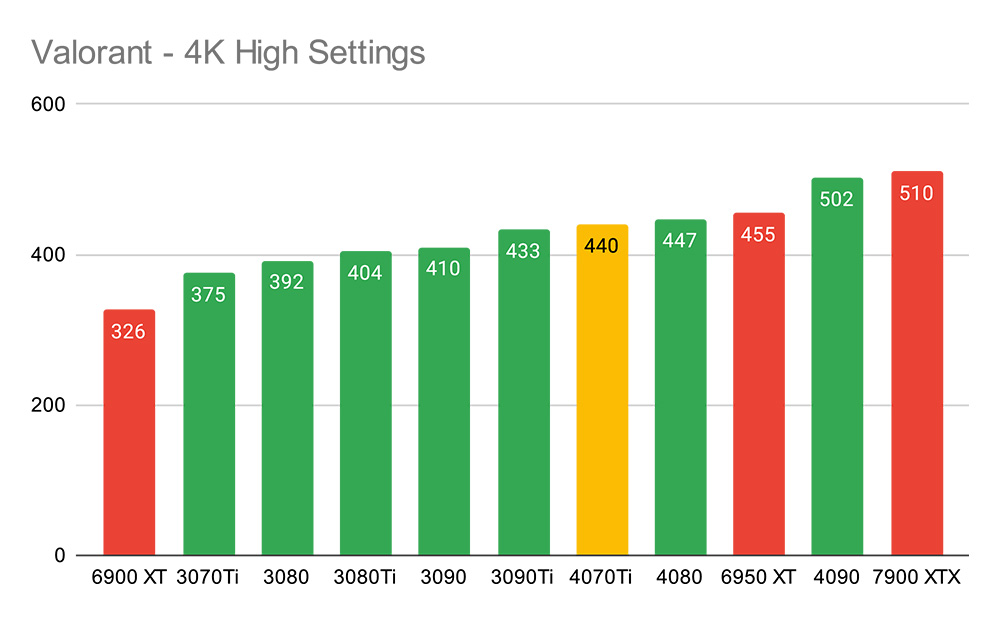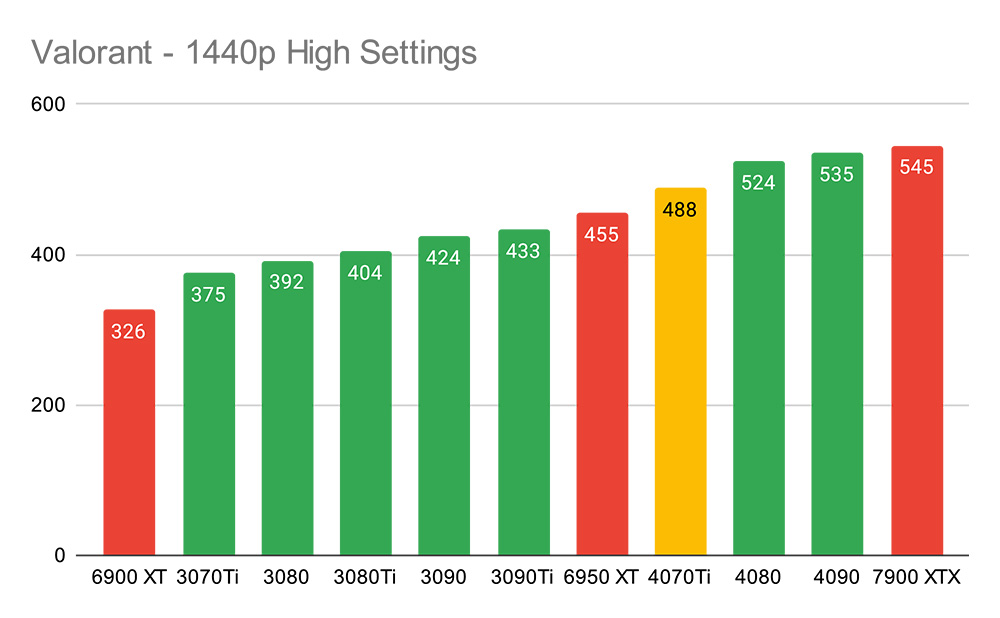 Conclusion
Gigabyte RTX 4070Ti Gaming OC
Features

Design

Performance
Summary
The turbulent launch of the RTX 4070Ti is seemingly going to last a little longer yet. With performance somewhat all over the place currently, it's hard to pin down exactly where this card sits in GPU line-ups currently, even more so when we know where it should be seated. However, Gigabyte have done a fantastic job with the design of this card and the overall aesthetic and size are worthy of any PC build. DLSS is another worthy note and is a strong selling point for the latest RTX cards. But with strong competition from AMD at a significant price reduction, it will be interesting to see where the general consensus lies for NVIDIA's latest card.
Pros
✅ DLSS 3.0
✅ Stronger Ray tracing performance than AMD equivalents
✅ Stunning design.
Cons
❌ Inconsistent performance
❌ Weaker performance than AMD counterparts
❌ Less refined than previous RTX launches