Introduction
After facing plenty of backlash due to a poorly priced and titled product, Nvidia decided to 'unlaunch' their somewhat unpopular RTX 4080 12GB graphics card. Since Nvidia made this decision, there have been plenty of rumours in the market as to when this newly renamed graphics card will release, along with the allocated price.
We've been hard at work since the start of December of 2022 to get the new RTX 4070Ti tested, with plenty of content covering the ins and outs of this controversial card. Despite the backlash for this GPU, we were pleasantly surprised with the performance. The RTX 4070Ti still sits at a ridiculous size compared to most other modern GPUs, whilst retaining the proprietary 12-Pin power connector.
Whilst performance seems to be relatively strong compared to Nvidia's previous RTX 3000 generation of graphics cards, the value proposition of this card ultimately comes down to the price. With AMD dropping their most recent 7900 GPUs at a sub-$1000 mark, there is an immense amount of pressure on Nvidia to bring down their current prices. But based on the cost of the RTX 4080 and 4090, there isn't a huge amount of hope for a much lower price tag than what was originally advertised for the RTX 4080 12GB. However, with the ever-looming lack of sales from the RTX 4080 SKU, this might push Nvidia to further lower their prices, appealing to a wider range of consumers.
Until AMD release a competitor to this GPU, it is difficult to ascertain the true value of this card within the market, but with Nvidia's exorbitant price tags, we might see Team Green land themselves in hot water yet again.
Buy the ASUS ROG STRIX RTX 4070Ti on:
Architecture
Nvidia's new ADA Lovelace architecture has been the major selling point of the RTX 4000 range, bringing with it entirely new technologies that improve framerates further within games, or export and render times in workstation applications. DLSS and Ray-Tracing have seen significant improvements thanks to the updated architecture, with the former now in its 3rd iteration – DLSS 3.0.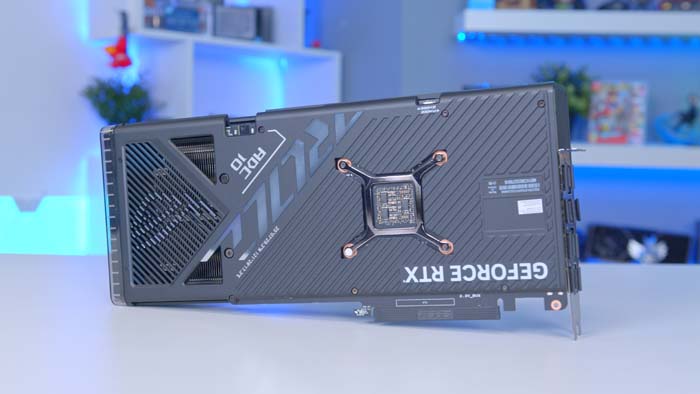 DLSS 2.0 gave consumers the ability to enjoy higher framerates at increased resolution with the minor caveat of decreased image quality. DLSS 3.0 further improves this by offering a technology known as 'Frame Generation'. This new integration uses AI to reconstruct three-fourths of a frame, and then reconstructs the entire second frame to significantly reduce overhead for your GPU and boost frames in CPU-bound scenarios.
Moving away from rasterization, Ray-Tracing has also been given some more love with performance improvements in a number of Ray-Traced games. The increased RT and Tensor core count improves processing for this technology without the loss of visual fidelity. Combined with the new DLSS 3.0 Frame Generation tech, consumers can experience high fidelity with hugely reduced performance overhead in some of the most demanding titles.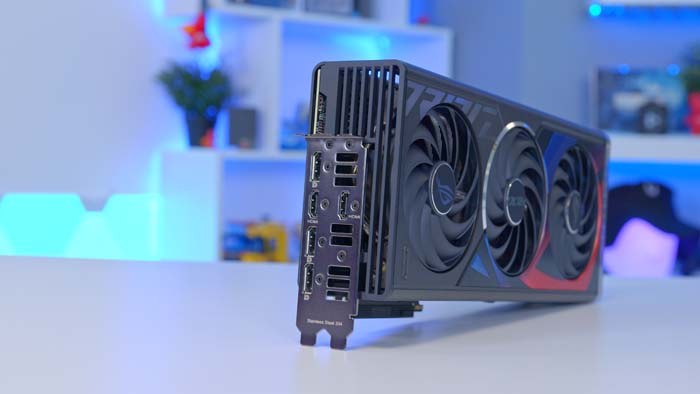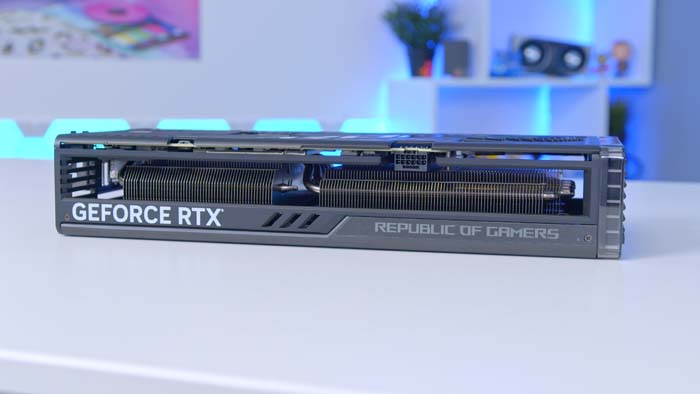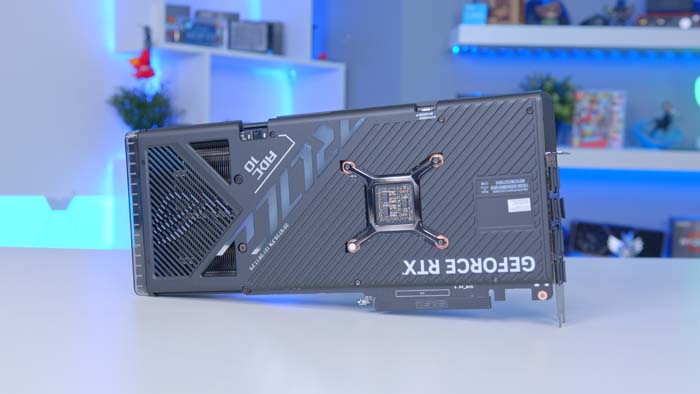 Specifications
The RTX 4070Ti offers relatively impressive specs that look good on paper, which should translate well when it comes to performance. You can compare the ASUS ROG STRIX RTX 4070Ti against Nvidia's other 4000 series SKUs, along with some RTX 3000 options below:
Spec
RTX 4090
RTX 4080
ASUS ROG STRIX RTX 4070TI
RTX 3090
RTX 3080
Video Memory
24GB GDDR6X
16GB GDDR6X
12GB GDDR6X
24GB GDDR6X
12GB/10GB GDDR6X
Memory Bus
384-bit
256-bit
192-bit
384-bit
384-bit / 320-bit
Core Clock Speed
2.23GHz
TBC (GHz)
2.31GHz
1.7GHz
1.26GHz / 1.44 GHz
Boost Clock Speed
2.52GHz
2.55GHz
2.61GHz
1.4GHz
1.71Hz
CUDA Cores
16384
9728
7680
10496
8960/9704
Power Consumption
450W
(Founders Edition)
TBC (W)
285W
350W
(Founders Edition)
350W / 320
(Founders Edition)
RT Cores
3rd Generation
3rd Generation
3rd Generation
2nd Generation
2nd Generation
Tensor Cores
4th Generation
4th Generation
4th Generation
3rd Generation
3rd Generation
PCI-E Generation
PCI-E Gen 4
PCI-E Gen 4
PCI-E Gen 4
PCI-E Gen 4
PCI-E Gen 4
Design
Before we jump into the design, it is worth quickly addressing the elephant in the room, which is the size of this card. When the RTX 4090 was released, it was almost laughable how big the card was. But based on the gargantuan size of the RTX 3090Ti, it was almost expected in some sense. The RTX 4080 unfortunately followed suit with the Founders Edition and AIBs, forcing a mass of users to purchase a new case alongside their already exorbitantly priced GPU.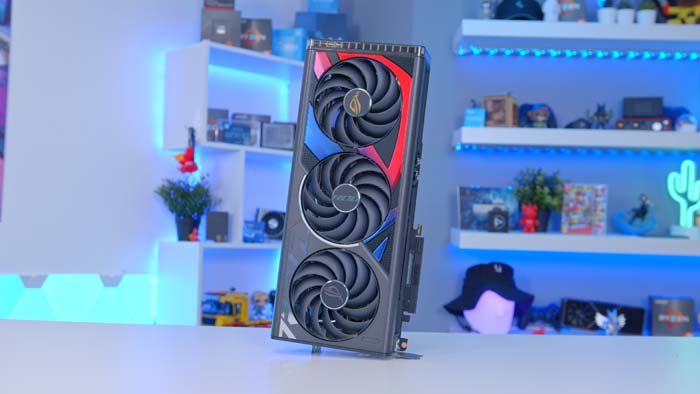 I'm afraid to say this again folks, but the RTX 4070Ti is still a gigantic card. I was expecting a size reduction nearer to that of AMD's most recent graphics cards, but Nvidia have unleashed yet again another behemoth GPU. We've put together a roundup of the best cases to pair up with this massive graphics card to alleviate the frustration of Nvidia releasing another gigantic GPU.
Moving onto the design of the ASUS ROG STRIX RTX 4070Ti, if we ignore that this card is too big for it's own good, ASUS have done a good job in designing a card that provides plenty of cooling alongside a nice aesthetic. The shroud overall is rather chunky and blocky, but the vibrant RGB provides plenty of customisation options. ASUS always deliver when it comes to flashy designs, and I'm a big fan of the overall look that this card offers.
Compared to the other 4070Ti variants, I'd argue that this ASUS card is my favourite. It is heavy on the RGB, but when it comes to lighting, I believe in a 'go big or go home' philosophy, and the ROG STRIX 4070Ti definitely tunes into this idea. The ROG STRIX 4070Ti offers a futuristic design that will look awesome in any PC build. It is a gigantic card, but if you're willing to deal with the gargantuan size of this GPU, you won't be disappointed with the aesthetic on offer.
Performance
The entire reason the original RTX 4080 12GB card was 'unlaunched' by Nvidia came down to the weaker die, alongside poor marketing plans and pricing. Despite the hot water that Nvidia landed themselves in, the performance of the RTX 4070Ti is promising. The RTX 4090 and 4080 offered significant generational improvements compared to the previous RTX 3000 cards, which sets a relatively high bar for the RTX 4070Ti.
During our benchmarking, we tested this card within a variety of games with a multitude of settings, including 4K with Ray-Tracing enabled. Overall, the performance sits in between an RTX 3090Ti and 4080, with the 4070Ti surpassing 100FPS in most titles at 4K. This is where we expected performance to lie, but it was good to see that despite the change in die and memory bus, that performance is still relatively strong regardless.
Although DLSS 3.0 isn't widely available in many titles as of yet, the slow increase in availability will improve the proposition of the RTX 4070Ti. DLSS 2.0 still holds relatively strong in today's market, somewhat reducing the performance overhead at higher resolutions, which gives consumers the ability to enjoy Ray-Tracing at better framerates.
To give you a clearer picture of the performance metrics on offer from the ASUS ROG STRIX RTX 4070Ti when it comes to framerates, we've provided a set of gaming benchmark graphs. All of the full benchmarking runs can be found on our YouTube channel 'Benched', where you'll find gameplay in a number of triple A and Esports titles testing the latest CPUs and GPUs.
Spider-Man Miles Morales
First off in Spider-Man Miles Morales, we saw the 4070Ti reach a high of 108FPS on average at 4K with DLSS enabled. This was extremely smooth, giving us the ability to swing through the city without any major hindrances or frame drops. In this title, we weren't too far behind the RTX 4080 with only a three frame difference overall. However, the RTX 4070Ti didn't offer a major lead against many of Nvidia's top-end RTX 3000 cards such as the 3080Ti, which doesn't demonstrate a major generational performance improvement.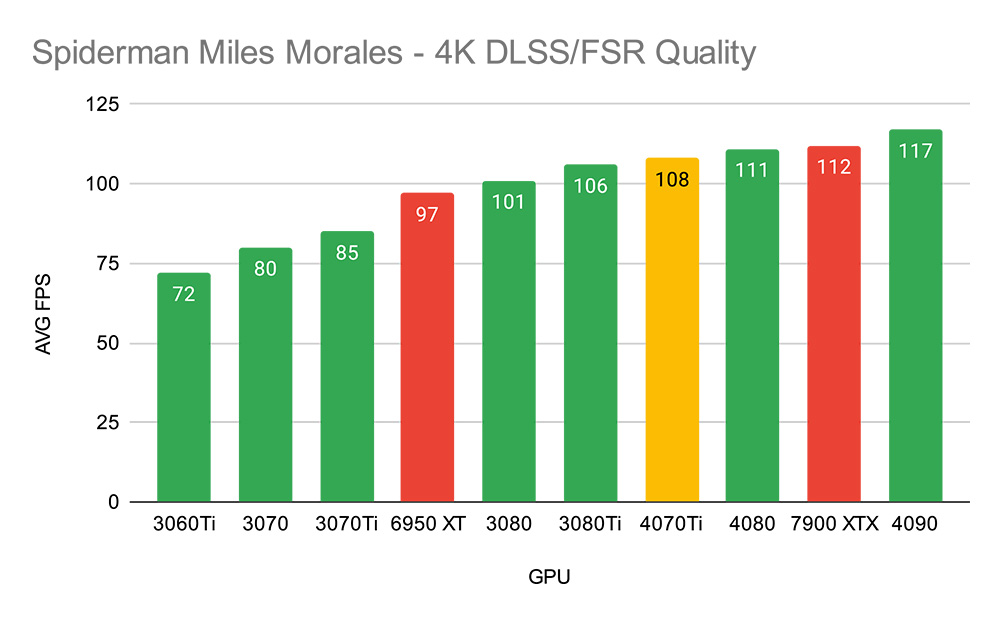 COD Warzone
In COD Warzone, performance yet again held strong at 4K with 109FPS on average, but compared to many of the other options available on the market, the 4070Ti isn't looking great. Here, we're seeing similar performance to that of the RTX 3090 and 3080Ti, again with minimal frame differences between each of these cards. This means that dependent on the price of the 4070Ti, its overall value could be fairly weak compared to Nvidia's older but still powerful RTX 3000 SKUs.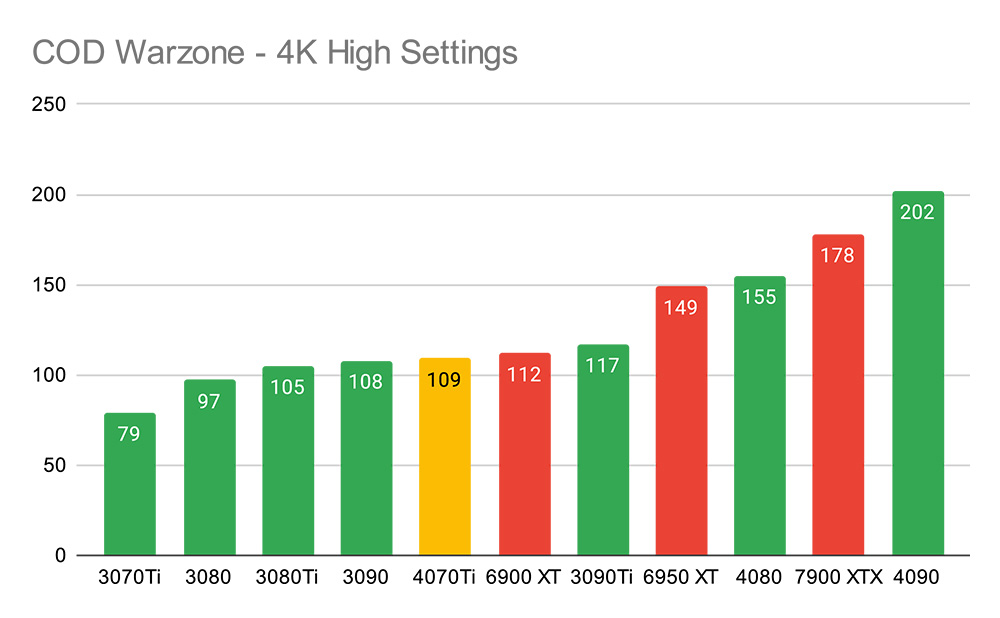 Battlefield 2042
In Battlefield 2042 at 4K, we saw performance drop somewhat, with many top-end GPUs not reaching the 100FPS mark. But despite the loss in performance, the RTX 4070Ti offered a relatively reasonable framerate, with 94 FPS on average. Here, we're seeing this GPU more closely aligned with the RTX 3090Ti when it comes to performance metrics, but the overall gap is only around five frames.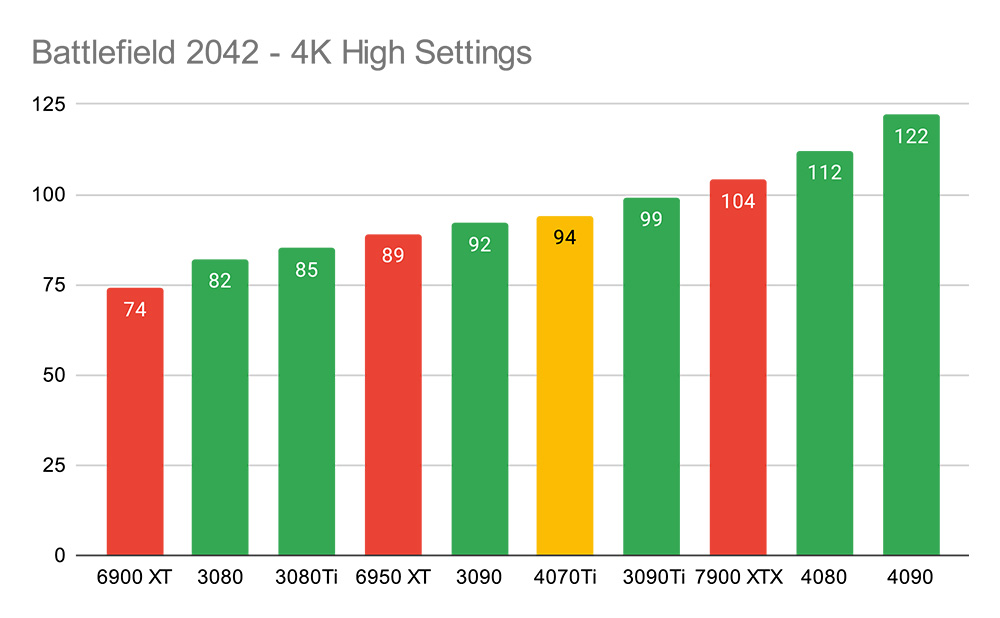 Apex Legends
In Apex Legends at 4K, performance jumped up above the 100FPS mark, which is ultimately down to the better optimisations within this title. Performance here sits slightly above the RTX 3090Ti, with a five frame difference sitting at 145FPS on average. Its great to see that the 4070Ti was able to reach the 144Hz sweet spot, as Apex is a relatively fast-paced title, thus needing a smoother experience. Again, the frame differences here aren't huge, but the 4070Ti is demonstrating value compared to the RTX 3090 SKUs.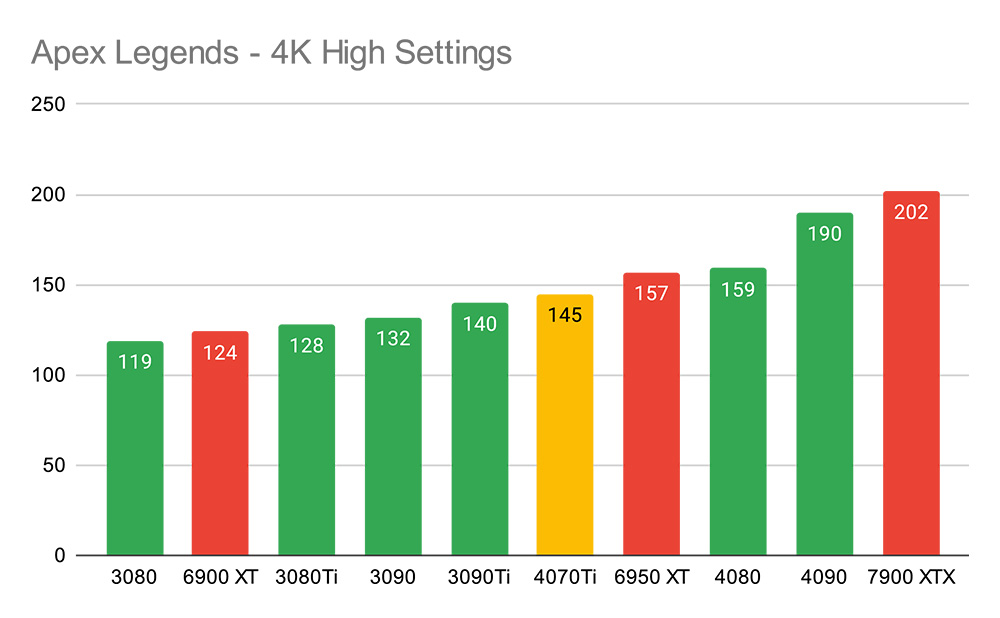 Fortnite
For our final game, we tested out Fortnite at 1080P Competitive settings to see what the maximum frame output was for the 4070Ti in a popular Esports style title. Unsurprisingly, the RTX 4070Ti was able to reach a high of nearly 300FPS on average. We saw this GPU reach 295 frames, which was more than enough to have a super smooth gameplay experience. At framerates this high, users won't really be able to notice a difference in frames, but it is still good to see that the 4070Ti stands strong compared to Nvidia's top-end RTX 3000 cards.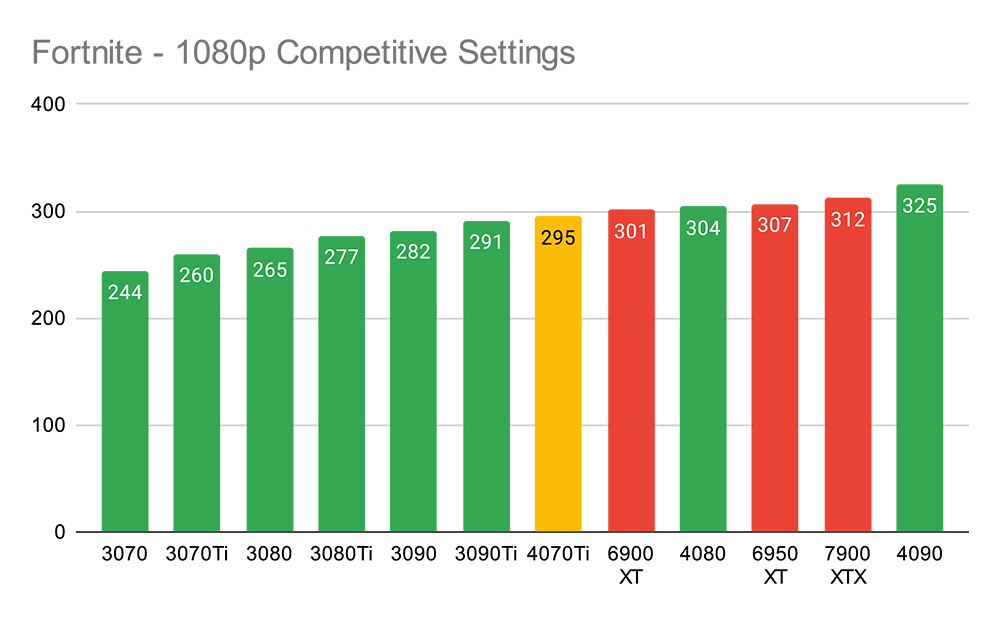 Conclusion
ASUS ROG STRIX GeForce RTX 4070Ti
Product Name: RTX 4070Ti
Brand: ASUS
Features

Design

Performance

Value For Money
Summary
The ASUS ROG STRIX RTX 4070Ti is an awesome looking card that will look great in a range of different build styles. When looking at performance, the RTX 4070Ti is good on paper, but when assessing the overall value, this starts to become questionable. The significant rise of GPU prices is clearly proving to be fruitless for Nvidia, leading to a lack of sales for the RTX 4080 SKU, and the 4070Ti may prove to be a similar situation. We would only recommend paying around $800 at maximum for this graphics card, as there are many other graphics cards (such as the RTX 3080Ti or 6900XT) that offer alike performance at this price tag. We want to love this card, as the performance is definitely strong when compared to its predecessors, but Nvidia can't seem to price their cards appropriately, pushing out a mass of consumers that just want to play games at high framerates without having to spend a fortune.
Pros
✅ ASUS ROG design is excellent.
✅ Strong performance compared to RTX 3090Ti.
✅ Good thermals.
Cons
❌ No Founders Edition model.
❌ Size will likely require a case upgrade.
❌ Weak value-proposition compared to RTX 3000 cards.