Introduction
Intel's new 13th generation CPUs have finally landed and we've got our hands on some of the SKUs to test and see how they perform. Intel's previous 12th Gen CPUs were heavy hitters when they released, and Intel set the bar pretty high for IPC and performance metrics.
But this begs the question, is Intel's Core i5 13600K any good, and worth the upgrade? Or is it worth sticking to your guns and picking up a tried and true CPU, the Core i5 12600K? We'll be answering both of these questions in a fashion you all recognise – a GeekaWhat versus battle. In this article we'll be breaking down the main features of both CPUs, while looking at market positioning and pricing. Then we'll jump into the nitty gritty with some benchmarks to see how both of these CPUs really perform!
Suggested Article: Intel Core i5 13600K Review – A Mid-Range Performance Titan
CPU Versus Battle
Core i5 13600K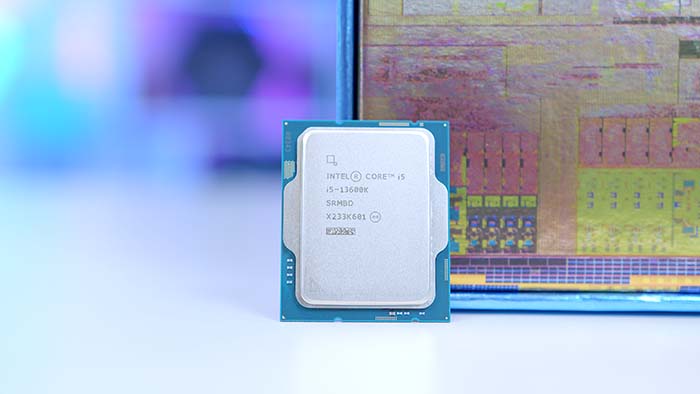 The new Core i5 13600K is Intel's primary mid-range option available on release. The refined processing node that we saw on Intel's Alder Lake CPUs has popped up here yet again, but with further improvements allowing Intel to add more cores and higher clock speeds to the new CPUs. This means that both single and multithreaded performance has seen a significant bump in this instance.
With regards to 13th Gen features, we haven't seen drastic changes to the motherboards. Many of the currently available 13th Gen boards are pretty much the same as their predecessors, but many of the newer features like PCI-E 5.0 and USB4 ports are starting to pop up on cheaper boards. Giving access to consumers building more budget oriented PCs is a nice touch and we're all for it! Intel has also retained support for DDR4 with the new motherboards giving users the opportunity to still build a powerful PC, but at a cheaper cost. DDR5 builds are still possible too, but you'll obviously have to swallow the premium that comes with the generational upgrade.
Performance wise, the 13600K offers great metrics at 1080P and 1440P at high settings. However, it does tend to falter at 4K based on the slightly weaker single core performance compared to the Core i7 and i9 ranges. Ultimately the 13600K isn't exactly designed to handle 4K, but I feel the vast majority of consumers will be very happy with the performance at 1440P. Most modern titles should run buttery smooth with no problems.
With regards to pricing, I'd argue that the Core i5 13600K is a bargain when comparing to other options. Intel could price these CPUs much higher if they wanted to, but sitting at under $350 is a steal. Intel have only bumped up the prices on these CPUs by around $30 or so which is tiny when you consider the performance improvements.
Key Specs
| | |
| --- | --- |
| Core Count | 14 |
| Thread Count | 20 |
| Base Clock Speed | 3.5GHz |
| Boost Clock Speed | 5.1GHz |
| Default TDP | 181W |
| Overclocking | Yes |
| Total Cache | 44MB |
Things We Like
Exceptional performance in games and workstation applications: One of the key strengths of the Core i5 13600K, is it's incredible performance across the board. The 13600K offers alike performance to a 12600K, which was one of the best CPUs from the Intel 12th-Gen line-up. Needless to say, this CPU is definitely a winner in gaming and workstation applications alike.
Reasonably priced: With the release of any new component, you expect there to be a bit of a jump in price compared to the previous generation, but the 13th-Gen CPUs don't seem to have followed suit. Pretty much all of the new 13th-Gen line-up can be purchased for the same price as 12th-Gen CPUs, if not lower.
Things We Don't Like
Workstation performance is better with top-end SKUs: Although the 13600K can definitely hold it's own when it comes to workstation performance, if you need the best of the best, this CPU can't quite deliver that. We're definitely happy with the performance that's for certain, but if you're in need of higher cores and threads, then a Core i7 or Core i9 will be a better bet.
4K can be a struggle at times: Modern titles have seen quite a leap in overhead when it comes to performance. Which essentially means that at higher resolutions, these games become more intense for your CPU and GPU to process all of the data. Although the 13600K can handle many games at a high resolution, 4K is just too intense at times for this SKU.
Summary
Intel's Core i5 13600K is one of the most impressive CPUs that we've seen release this generation. It outperforms the majority of it's new AMD counterparts, alongside the 12th-Gen range too. This processor is an absolutely powerhouse of performance sitting at a very reasonable price. Definitely a winner for those looking to build a modern and powerful system.
Pros
Great gaming and workstation performance.
Build cost is cheaper than Ryzen 7000.
Supported on 12th-Gen motherboards.
Cons
Can't outperform higher-end SKUs.
4K can be a challenge.
Where to Buy
Buy the Intel Core i5 13600K on:
Core i5 12600K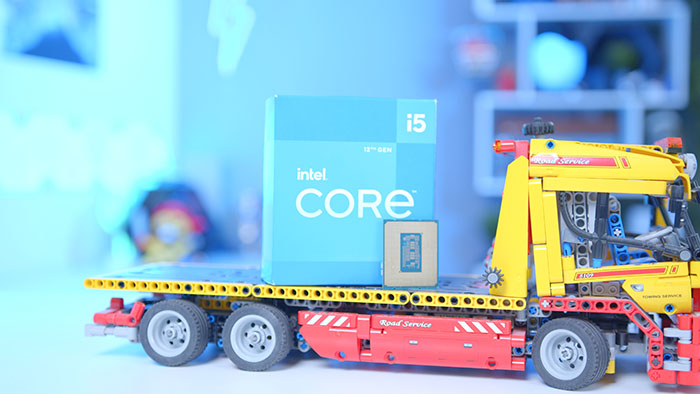 Intel's Core i5 12600K, was one of the new options in the 12th Gen range that stopped the proverbial ship from sinking. No CPU was remotely close to the 12600K in terms of price and performance making it one of the best mid-range CPUs you could buy. Although AMD's new Ryzen 7000 range has caught up, it seems that Intel still lead the fore when it comes to price to performance metrics
The new 12th Gen range of CPUs brought with them a whole host of new features for consumers to sink their teeth into. Gen5 and Gen4 SSD support, WiFi 6E, PCI-E 5.0 for graphics cards, and Intel were of course the first manufacturer to pioneer the consumer-based DDR5 standard. DDR4 was still available on the new motherboard chipsets, but many of the top-end Z690 boards utilised the new DDR5 DIMM slots. All of these new features were another major selling point alongside the significant performance improvements giving consumers the opportunity to build a feature-rich PC but without having to spend an absolute fortune.
Looking at performance, the Core i5 12600K was the best gaming CPU that money could buy. 4K does pose some issues even with a high-end graphics card, but it is a possibility even you're willing to put up with less frames compared to other options. We would recommend pairing up mid-range GPUs similar to what we've recommend for the 13600K to ensure you get the best value for money and performance.
If we take a look at pricing, the Core i5 12600K was priced very competitively at launch especially when you consider the performance. At under $300 you can't really argue with the price, and now that Intel 12th Gen is a little bit older, you'll be able to pick up this CPU for an excellent price, or much cheaper if you're willing to hold out for Black Friday/Christmas deals.
Key Specs
| | |
| --- | --- |
| Core Count | 10 |
| Thread Count | 16 |
| Base Clock Speed | 3.7GHz |
| Boost Clock Speed | 4.9GHz |
| Default TDP | 150W |
| Overclocking | Yes |
| Total Cache | 29.5MB |
Things We Like
Still a solid performer: Despite the age and slightly weaker processing node from 12th-Gen CPUs, the 12600K is still an incredible CPU. Mid-range gaming, will run buttery smooth, and consumers can expect to run some light workstation applications without too many problems. Modern games should still handle relatively well at 1440P and 1080P resolutions.
Excellent price point: Due to the age and the fact that we've seen a new generation of CPUs, the Core i5 12600K, is much cheaper than what it was at release. The 'KF' SKU is also definitely worth picking up if you're looking to secure an even cheaper CPU, but without any internal graphics capability.
Things We Don't Like
Not ideal for much more than gaming: Many new CPUs have entered the market since the release of the Core i5 12600K, and these options tend to be better for workstation usage. We're not saying this CPU won't be able to function as a workstation CPU, but there are definitely better options if you're needing more cores, threads, and better clock speeds.
Can't really handle 4K: Although we've seen improvements with the 13600K, the Core i5 12600K can't really cope at a 4K resolution. The slower clock speed does impede it's performance to a degree, so the higher the resolution, the weaker the performance will be. You'll want a more powerful option if you're looking to max out your games at 4K.
Summary
The Core i5 12600K is still one of 'the greats' when looking at price to performance metrics. This CPU is still very powerful despite being a bit older, and will be ideal for those building a mid-range gaming PC. It won't quite be able to withstand high intensity productivity software compared to other options, but it still can hold it's own in the majority of workstation applications.
Pros
Holds up well in modern games at 1440P.
Fully overclockable.
Can outperform many Ryzen 7000 SKUs.
Cons
Not ideal for a workstation system.
Can't handle 4K.
Where to Buy
Buy the Intel Core i5 12600K on:
Raptor Lake vs Alder Lake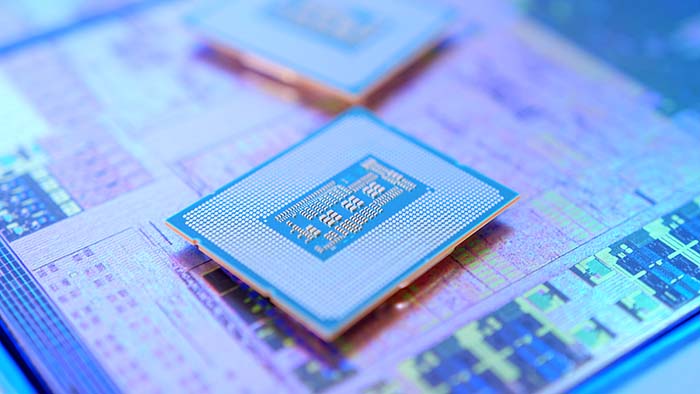 Intel Raptor Lake Architecture – 13th-Gen CPUs
Intel's Raptor Lake architecture is the refined and improved version of the 10nm processing node that we saw with Alder Lake, 12th-Gen CPUs. This architecture allowed Intel to create CPUs with higher clock speeds, more cores, and more threads. This means the 5GHz clock speed is more than viable, with the majority of the SKUs offering speeds of 5GHz upwards out of the box. Intel's Raptor Lake architecture is a perfect example of refinement at its best.
Intel have singlehandedly managed to prove that they are still the kings when it comes to performance, outperforming AMD's latest platform with ease. Single threaded and multi threaded metrics are strong across the board, even at the low-end, making these CPUs extremely competitive. The Raptor Lake architecture also refined many of the new motherboard features, making PCI-E 5.0 a widespread option on new boards, with Thunderbolt 4 popping up on higher-end options. DDR5 and DDR4 are also still an available option compared to 12th-Gen, with DDR5 speeds seeing a significant improvement compared to 12th-Gen and AMD's Ryzen 7000 boards.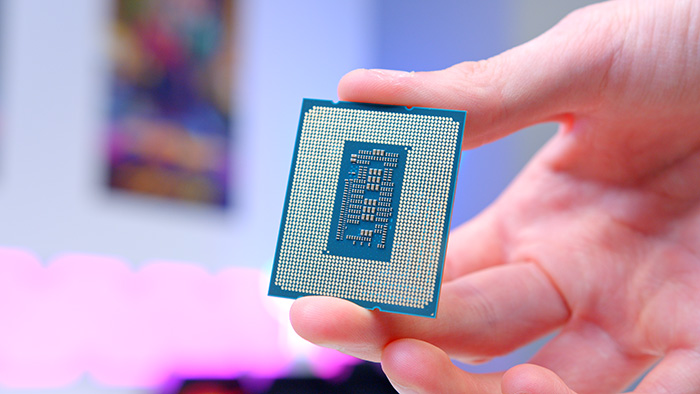 Intel Alder Lake Architecture – 12th-Gen CPUs
Intel's Alder Lake architecture, was the proverbial anchor that 'righted the ship' for Intel. After a range of losses due to AMD's previous Ryzen platform, the 12th-Gen set of CPUs was a big win for Team Blue. Alder Lake CPUs brought new technology, high clock speeds, more cores and more threads compared to previous CPUs that we've seen in the past. Alder Lake was also Intel's first 10-nanometer CPU, increasing efficiency and performance across the board.
The Alder Lake architecture was a big change for Intel. Consumers got access to a brand new socket, DDR5 memory support, PCI-E 5.0 support, alongside insane amounts of high speed USBs, and more. The Alder Lake architecture was a definitive winner for Intel, and Raptor Lake has only improved upon that even more so. Although Alder Lake isn't the winner when looking at performance, consumers can still expect incredible performance from Alder Lake CPUs, and prices are only likely to drop over the course of the year.
Intel 'K' and 'F' CPUs – What's the Difference?
Within Intel's range of CPUs, consumers can choose between 'K', 'F', and 'KF' SKUs. Although these CPUs are the same when it comes to specs, there are significant differences between each SKU, that might change which CPU you decide to pick up.
Intel 'K' CPUs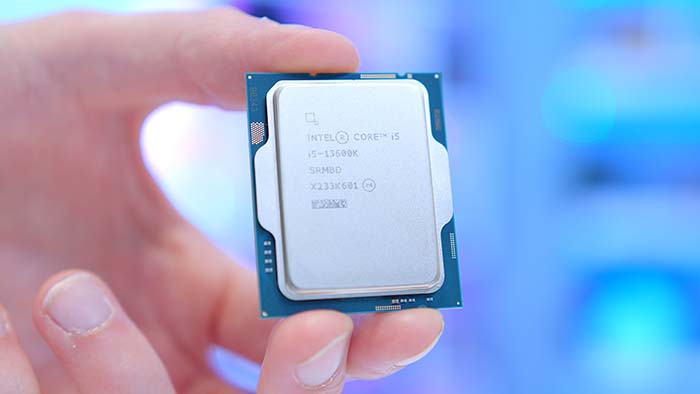 Intel 'K' CPUs are some of the most popular options within their respective ranges. These CPUs are overclockable, allowing consumers to push their clock speeds. The 'K' variants are generally more expensive than other options within the market, but it gives consumers the option of unlocking some extra performance. It is worth noting, that not all Intel CPUs have overclockable variants. The lower-end options such as the 13400, and 13100 (so budget CPUs), don't have overclockable versions.
Intel 'F' & 'KF' CPUs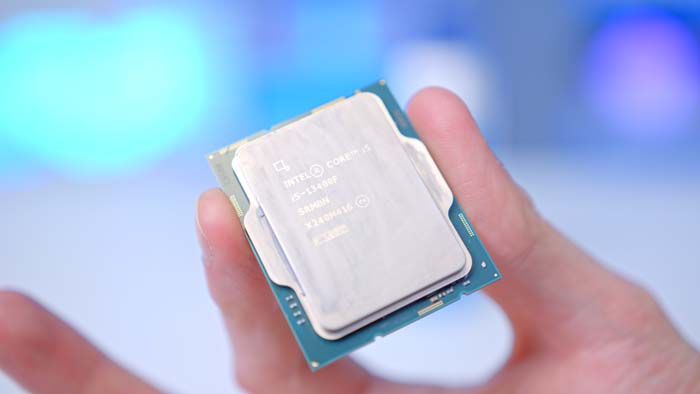 The Intel 'F' variants quite simply don't have an integrated graphics chip. As a general rule, Intel CPUs have a form of integrated graphics, allowing users to avoid buying a discrete GPU. But the 'F' versions lack this integrated graphics chip. This does mean you'll need to buy a discrete graphics card, but you get the benefit of improved overclocking, if you've picked up a 'KF' CPUs. Intel 'F' processors are also cheaper than their non 'F' counterparts, making them perfect for gamers that might be on a budget.
Buy the Intel Core i5 13600KF on:
Buy the Intel Core i5 12600KF on:
How We Tested the Core i5 13600K and Core i5 12600K
Here at GeekaWhat, we're fortunate to have a plethora of gaming components come through our doors each month. Because of this, we've had to devise a concrete testing and evaluation method to ensure each product we get our hands on performs as expect, and to determine what kind of value is on offer. After our initial review procedure we'll throw our chosen CPU into a range of different PC builds to see what kind of performance metrics are on offer at different levels for both gaming and workstation systems alike.
For CPUs, we fire up renowned benchmarking applications such as Cinebench R23, Prime 95, 3D Mark Timespy, Firestrike, and CPU profile, all whilst recording thermals and utilisation in HWInfo. We do all this to ensure thermals stay steady, and that performance isn't being bottlenecked during our benchmarks. We also do this to make sure that data is consistent across multiple different applications, whilst providing a range of different metrics so consumers know what the CPU's strengths and weaknesses are.
Alongside our productivity benchmarks, we use a suite of games to ascertain what resolutions our chosen CPU can handle. We normally pick a high-end GPU to ensure the graphical performance isn't hindered, and then test our CPU at 1080P, 1440P, and 4K. Our benchmarking suite consists of triple A and Esports titles such as: Apex Legends, Fortnite, F1 2022, and Spiderman Miles Morales. We always keep up to date with refreshing new games so consumers can see what the available metrics are in their favourite games. You can find all of the full gameplay benchmarking videos on our component testing YouTube channel – Benched!
CPU Benchmarks
In this section of the article we'll be delving into some gaming benchmarks for both of the processors in this CPU Versus Battle. We've provided two sets of graphs to show off workstation and gaming performance, and you can compare these against older CPU options. As always you can locate the full runs for these benchmarks on our Benched YouTube channel, where we test all of the latest components in a range of games and workstation-based applications.
Cinebench R23 Multi Core CPU Winner – Core i5 13600K
In our first benchmark, we fired up Cinebench R23 and utilised the multi core test to see how each of these CPUs would fare. Straight off the bat, the Core i5 13600K offered a score of around 23775 which places it in between the previous generation's Ryzen 9 5900X, and 5950X. The 13600K wasn't quite able to beat out the Core i9 12900K, which will be down to it's significantly higher core and thread count.
Looking at the Core i5 12600K, we saw a score of 17450 overall. This puts the 12600K in between the Ryzen 7 5800X3D, and AMD's newest Ryzen 7 7700X. With the 12600K being a previous generation processor, we weren't expecting performance to be much higher than this. The 12600K although impressive in gaming circumstances, is not a workstation processor by any means. It is great to see that the 12600K sits relatively close to the 7700X, but the overall performance is to be expected.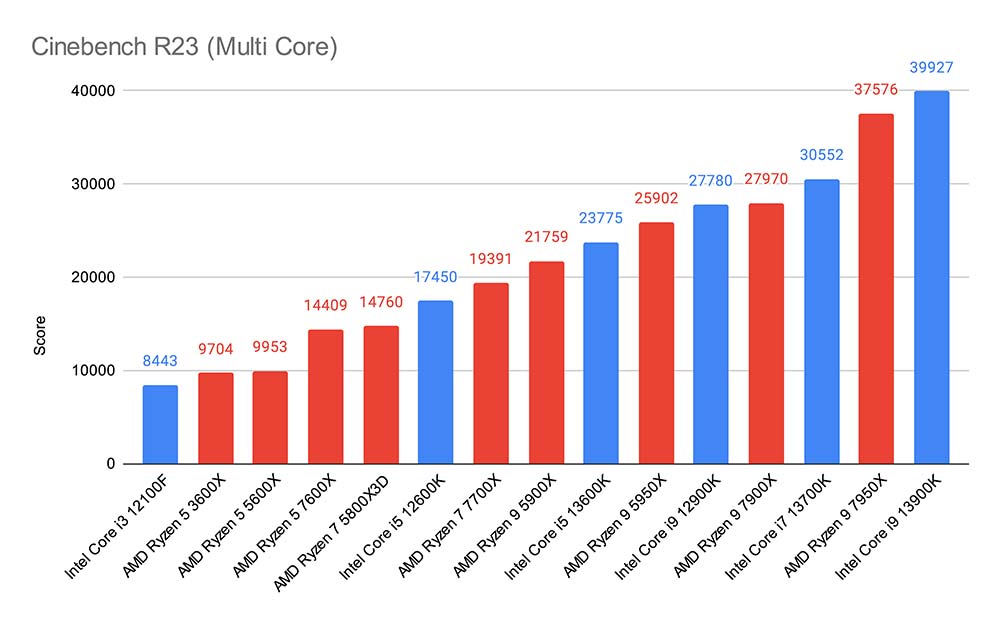 Cinebench R23 Single Core CPU Winner – Core i5 13600K
Next up is the single core benchmark in Cinebench R23. During this test, we saw incredible metrics from the 13600K, with the overall score sitting at 2026. This puts the performance in between the Ryzen 5 7600X, and the 13700K. We were able to see the 13600K outperform the 12900K in this benchmark offering an uplift of over 100 points. Single core benchmarks are usually a good metric for how the CPU will handle games, so if the 13600K is able to beat out the 12900K, performance should be very impressive overall.
The Core i5 12600K led an equally impressive benchmark, offering a score of 1917 in total. This puts the Core i5 12600K in between the Ryzen 9 5950X, and the newest Ryzen 7 7700X for single core metrics. Again, we were glad to see that the 12600K holds up well in single core performance, as the high clock speed allows the CPU to process data much quicker comparative to other options. Consumers can expect solid gaming performance overall from this CPU, with performance close to a Ryzen 7 7700X.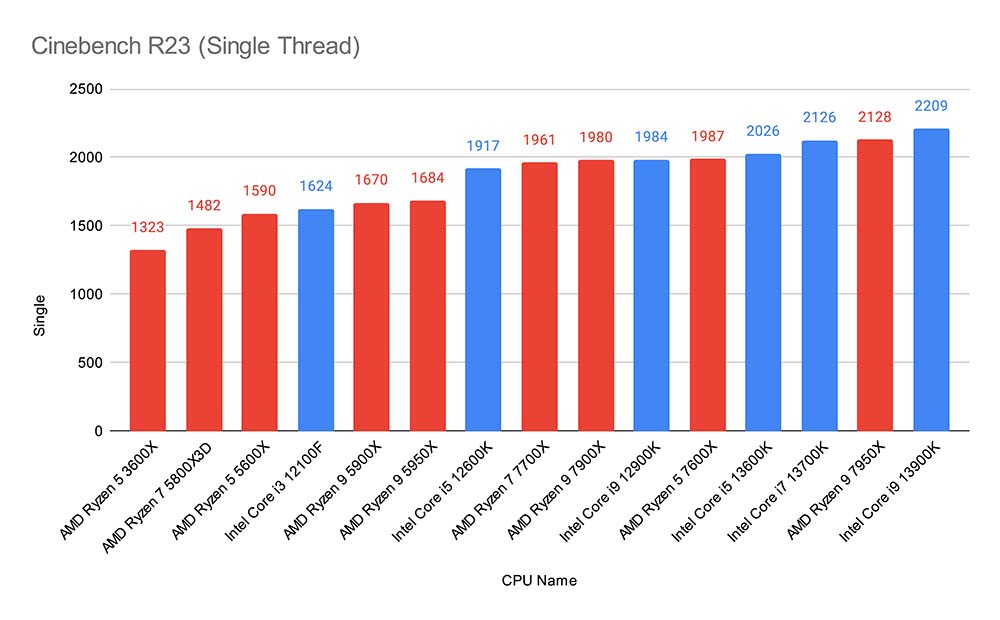 3D Mark CPU Profile CPU Winner – Core i5 13600K
Next up is 3D Mark's CPU Profile benchmark, which is a renowned way to test CPUs in different thread configurations. The 13600K sits just below the Core i9 12900K in this particular test, offering a range of different scores. At max threads, the 13600K isn't able to outperform the 12900K, which will be down to the superior number of cores and threads in the Core i9. However, the 13600K beats out the 12900K in terms of score from 8 threads and below. Performance is very close overall, and is a very impressive showing from the 13600K.
Looking at the 12600K, the performance is a fair bit weaker in comparison. In this benchmark we're seeing the 12600K, yet again sit just below the Ryzen 7 7700X. Unfortunately the 7700X has definitely cemented it's place about the 12600K, as all thread configuration scores are better. However, the 12600K still can hold it's own in the majority of these tests, where scores are pretty close overall. This goes to show that despite being an older CPU, the 12600K is still a strong competitor in the modern market.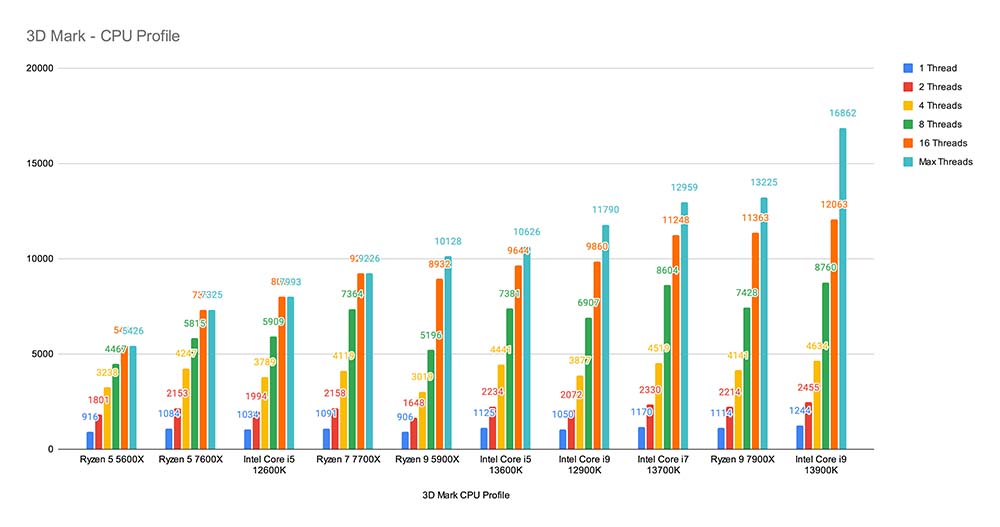 3D Mark's Timespy Extreme and Firestrike CPU Winner – Core i5 13600K
In TimeSpy Extreme, the 13600K and 12600K were relatively on par with one another. Neither of these CPUs are specifically designed for 4K, so while they still outperformed the Ryzen 5 7600X, the overall score difference wasn't much. The 13600K was able to beat the 5900X in this benchmark, but unfortunately both of these CPUs are let down by having less cores and a slower clock speed compared to high-end options.
In 3D Mark's Firestrike, we start to see the performance metrics differ quite significantly. Unfortunately, the Core i5 12600K was left in the dust sitting at the bottom of the leaderboards with a score of 35111. This is somewhat saddening to see, but its worth noting that the physics (or CPU) score was still higher than the 5600X and nearing the 5900X. The 13600K yet again blew most of the other options out of the water, soaring up to the top sitting in third place. Both the overall and physics score of the were very high, and further demonstrates how capable this CPU is at 1080P!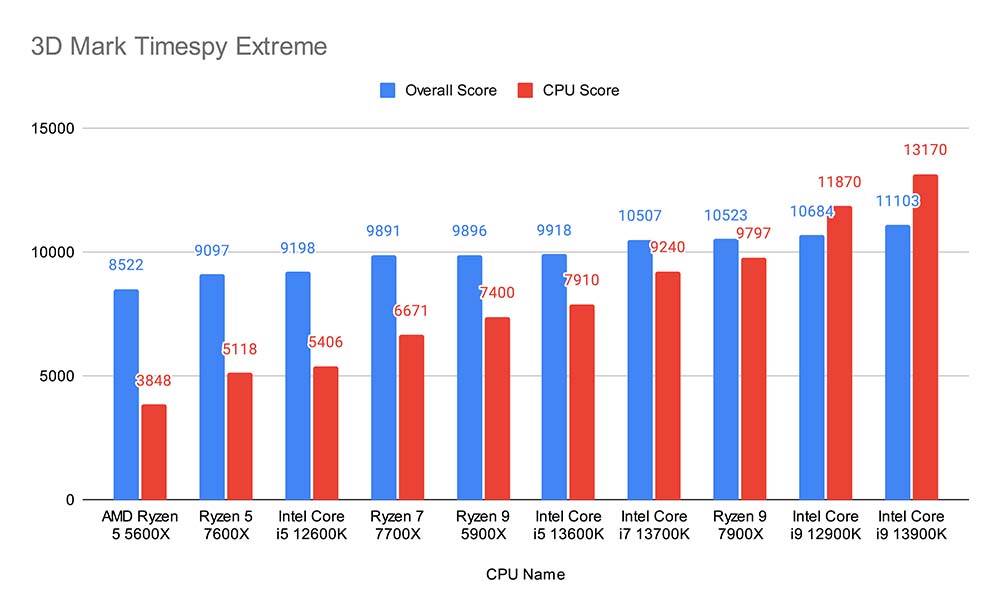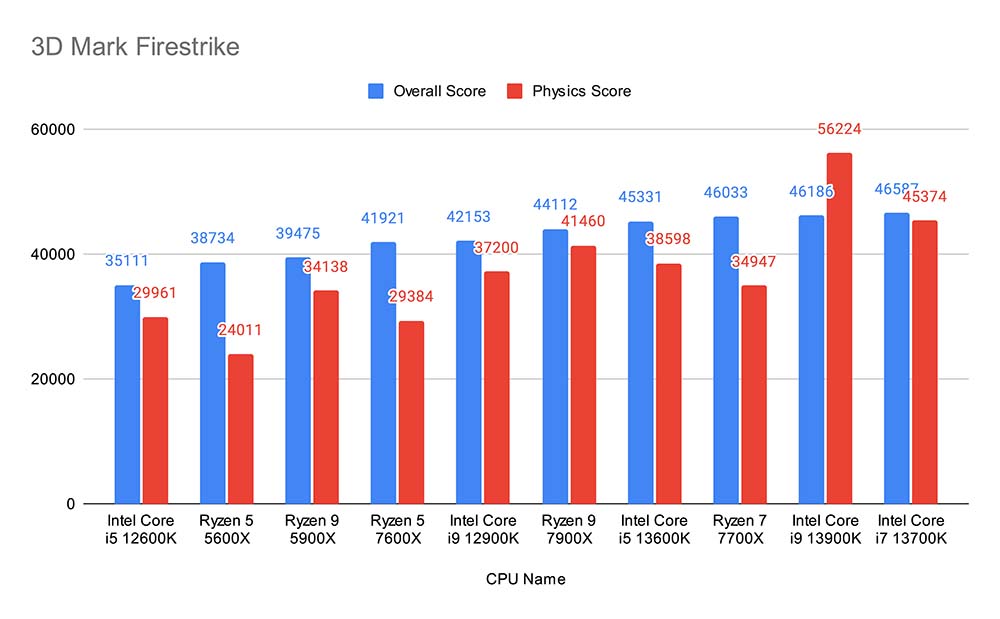 Marvel's Spiderman Remastered
For our gaming benchmarks, we decided to test out Marvel's Spiderman Remastered at 1080P. These CPUs aren't exactly designed for 4K, so we felt this would be an unfair metric to test them in a setting they're not meant for. Performance wise, the Core i5 13600K offered pretty strong metrics, sitting towards the top of the graph with it's other 13th-Gen SKUs. We saw an average framerate of about 159FPS, which is pretty good overall. At 1080P we were expecting somewhat higher, but the performance will be hindered by the capability of the GPU to an extent.
The Core i5 12600K on the other hand loses out to the 13600K by about 30 frames in total, leaving it with 122FPS on average. We were still happy with the performance here, as the framerate was more than enough to swing through the city with ease. But the 12600K wasn't quite able to 144Hz sweet spot that we would have liked to see in this title.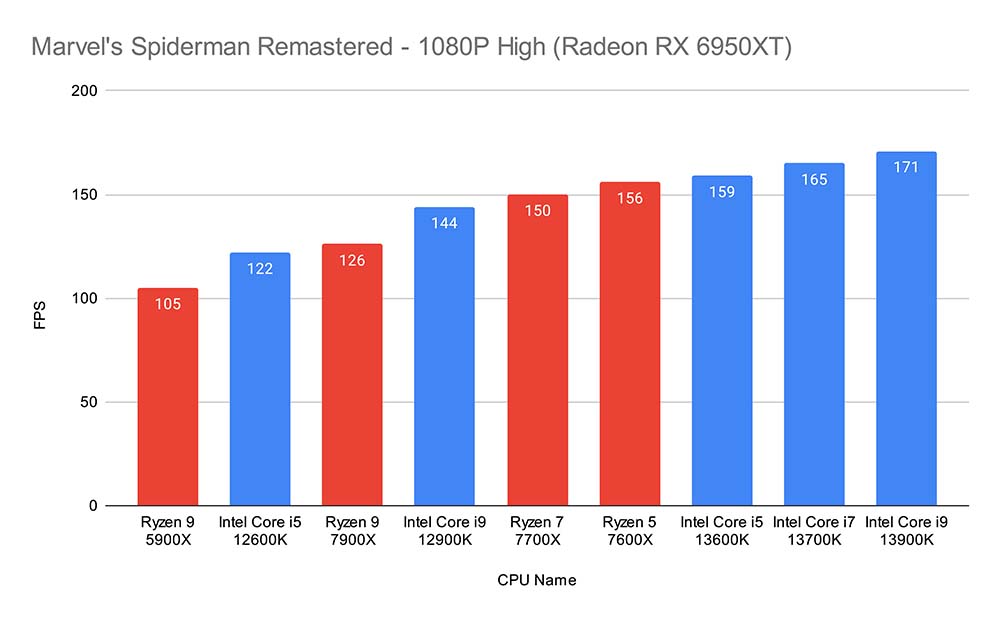 Apex Legends CPU Winner – Core i5 13600K
Next up was Apex Legends at 1080P high settings. In this game, framerates were relatively grouped together, so performance was very similar between processors. The Core i5 13600K sat towards the middle of the graph, again we're seeing performance be somewhat outshined by the 7700X. The 13600K still led very impressive metrics overall, with an average framerate of 281, which is well above the 144Hz sweet spot, making this CPU ideal for those with very high refresh rate monitors.
The Core i5 12600K does unfortunately sit at the bottom of our graph, but despite this, performance is still very strong overall. Apex tends to be a rather forgiving game even on older CPUs, which is why the 12600K was able to output around 236FPS on average. This is plenty to enjoy a buttery smooth refresh rate with few hindrances or stutters. It seems the 12600K might still be a winner if you don't need the most amount of frames possible for this game.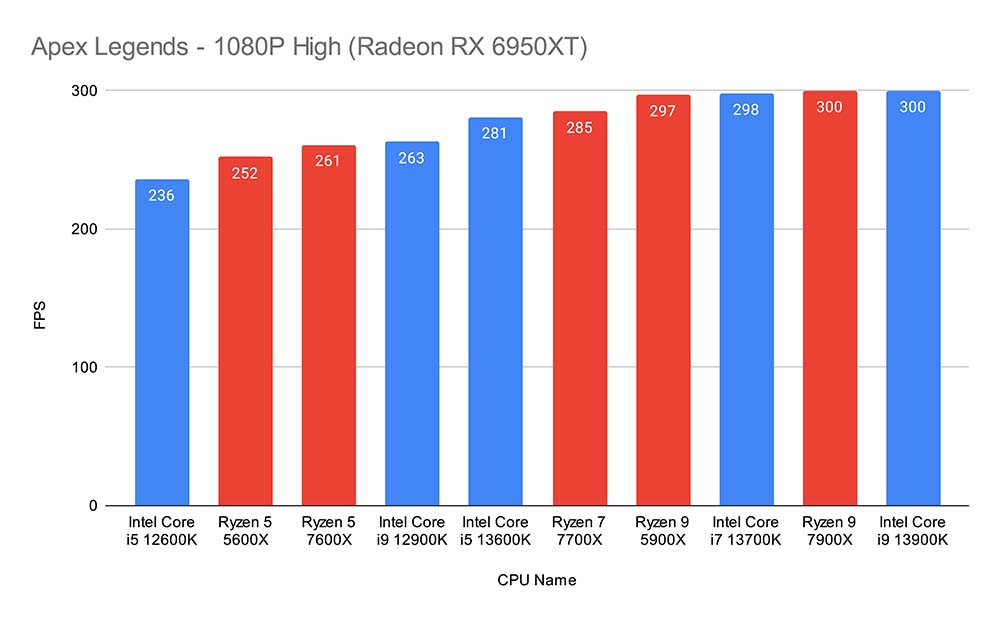 Battlefield 2042 CPU Winner – Core i5 13600K
Next up is Battlefield 2042. In this game, we saw the Core i5 13600K soar back up the graph, putting it in fourth place compared to the rest of the options that we can see. It seems that modern titles is where the 13th-Gen seems to shine, as there is a much higher demand for improved clock speeds, especially at the 5GHz and above mark. The 13600K was able to sit at around 181FPS on average, which is plenty to enjoy a super smooth refresh rate. Battlefield 2042 can be quite an intense title at times, so having a high refresh rate, is ideal for this game.
The Core i5 12600K yet again, sinks to the bottom of the graph, leaving us with an average framerate of 110FPS. This definitely was a weaker showing from a 12th-Gen CPU, especially at 1080P. Although this framerate will still be rather smooth, we were primarily expecting better. If anything this almost concludes the theory that we mentioned earlier, that Battlefield 2042 needs a higher clock speed to cope with the demand, and we're seeing the effects of what happens if you don't have that with the 12600K.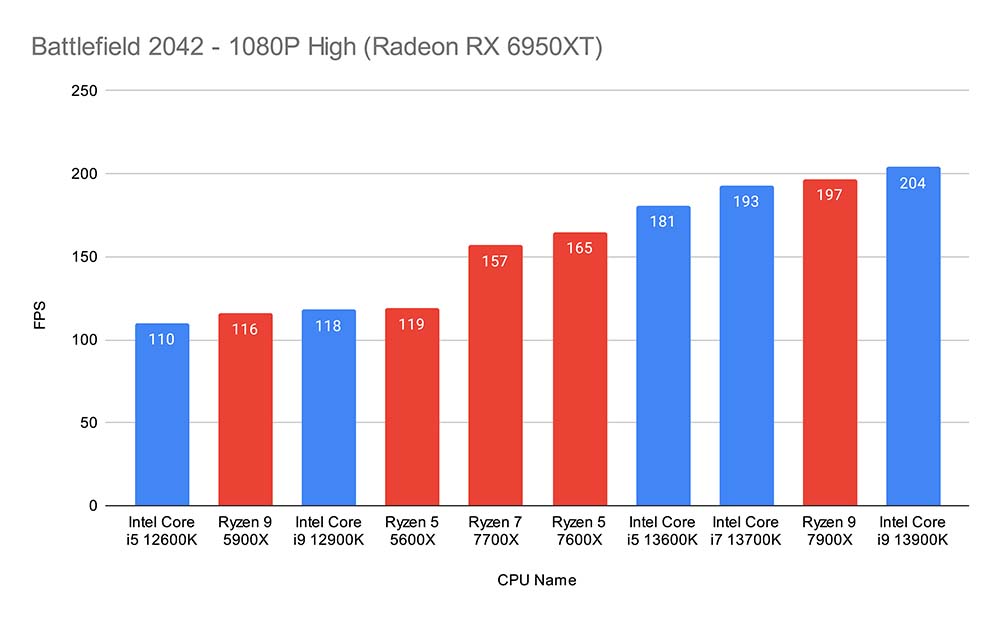 F1 2022 CPU Winner – Core i5 13600K
For our final game, we decided to test out F1 2022 at 1080P with Ray-Tracing enabled. Much like in Battlefield 2042, we're seeing similar performance metrics from the 13600K, where the more modern CPU tends to outshine the competition. The 13600K was able to sit at 182FPS on average which will provide an incredibly smooth experience overall.
Looking at the Core i5 12600K, performance does drop a fair bit here. Although the 12600K is able to output a fairly decent average overall, it is relatively clear that Ray-Tracing has a huge impact on performance with older CPUs. The Ryzen 5 5600X sits at a similar level to the 12600K in terms of hardware, and is outputting a relatively similar framerate. There's definitely a clear winner here if you're looking to maximise your frames with Ray-Tracing enabled.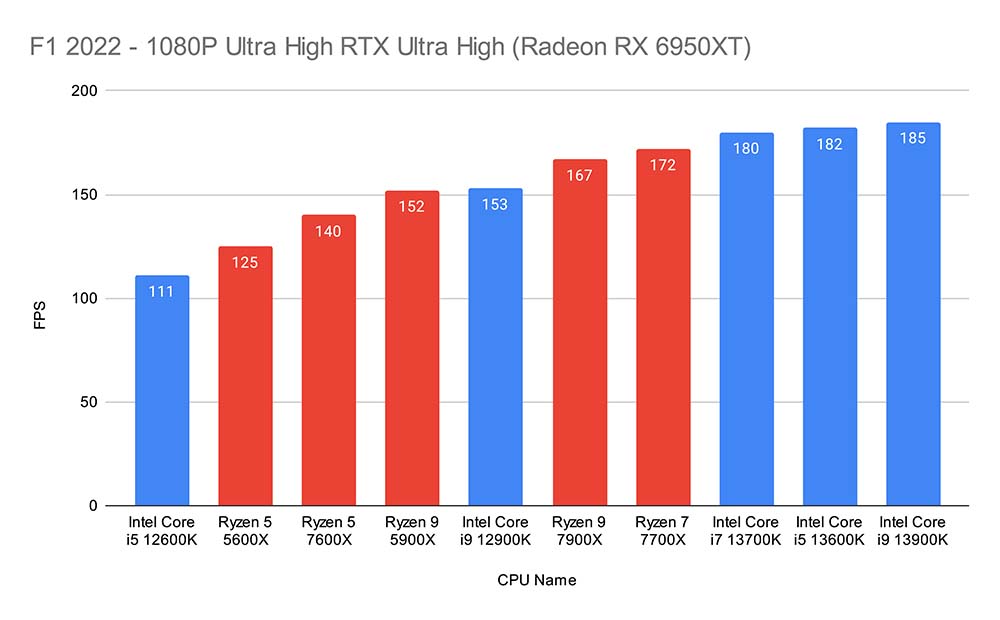 Conclusion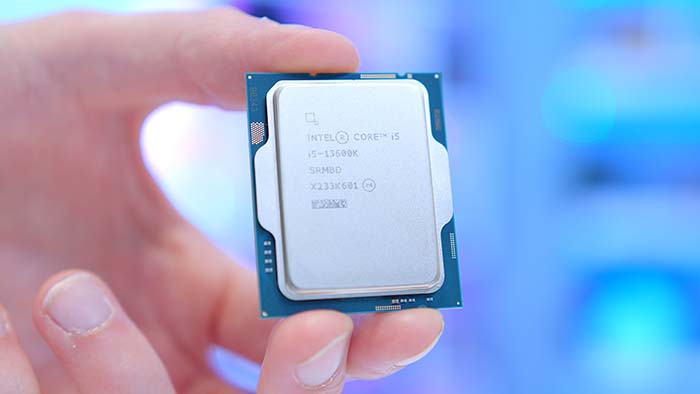 CPU Versus Winner – Intel Core i5 13600K
To conclude, our CPU versus winner of this battle, is the Core i5 13600K. The 13600K is probably one of the best CPUs that you can purchase right now when it comes to value for money. This CPU constantly sits at the top of any leaderboard when it comes to gaming, and comes in at an incredibly strong price point. It is slightly weaker when it comes to multithreaded applications, but it can still hold it's own in these circumstances anyway. We definitely recommend picking up the Core i5 13600K if you're looking to build a modern mid-range system that holds up well in today's triple A titles.
The Core i5 12600K is definitely the weaker out of the two, but still a great pick regardless. Performance won't be as good as the 13600K in any situation, but the 12600K can still output great framerates in modern and older titles. Currently the 12600K isn't priced amazingly, but as this price tag gets lower over time, this CPU will definitely increase in terms of it's value. A definitive winner, for those on a budget!
Buy the Intel Core i5 13600K on:
Buy the Intel Core i5 12600K on: