Introduction
Cooler Master is renowned in the PC components market for creating excellent cases, along with a myriad of other accessories and parts. One of their most popular lines of cases is the 'MasterBox' range. There are a variety of these cases geared towards both the budget and mid-range ends of the market with a plethora of features on offer in terms of fans, adjustable panels, and cooling configurations.
Today is exciting for us here at GeekaWhat as Cooler Master have kindly sent us their two new MasterBox 520 PC cases to take a look at and play around with. In this review we'll be looking at both of the MasterBox variants, the Masterbox 520, and the Mesh edition.
Buy the Cooler Master MasterBox 520 on:
Buy the Cooler Master MasterBox 520 Mesh on:
Suggested Article: Cheap PC Cases vs Expensive PC Cases – What are the Differences?
MasterBox 520 Revisions
Upon a brief glance at Cooler Master's website it seems that there have been many variants of a MasterBox 520 case. For the sake of not overcomplicating this review, we've picked the closest looking case (the MasterBox MB520 ARGB) in terms of features and design to compare against the new MasterBox 520 cases.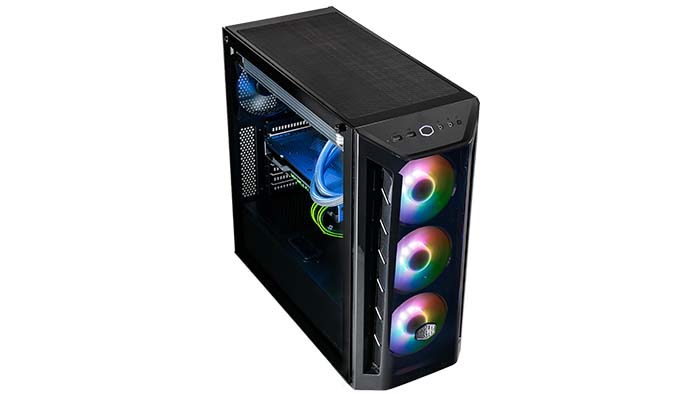 Comparing them side-by-side, we can clearly see that the new MasterBox 520 is much more refined in terms of its features and design. We've still got the same amount of included fans, but the older edition comes with three SickleFlow RGB fans mounted on the front, providing slightly better airflow and pressure. One the front panel of the MB520 we have a smoked glass design with some mesh vent intakes on the side. The tempered glass on the front is said to provide a sharper contrast of the ARGB fans, which is not a feature on the newer designs.
The rest of the design doesn't seem to be hugely different comparatively. I think the contoured edges of the new MasterBox 520 cases is sharper providing a subtle and sleek alternative look, which isn't as standout on the MB520. In terms of fan configurations we're looking at the same amount of support for fans and radiators in all of the mounting positions.
The only major difference that we've seen is of course the Mesh variant on offer. We've seen a shift in the market towards airflow oriented cases, and Cooler Master is demonstrating this here with their new cases, which I'm a big fan of. Despite these cases not having any drastic changes to the aesthetic it'll be interesting to see how Cooler Master has refined their design.
MasterBox 520 Models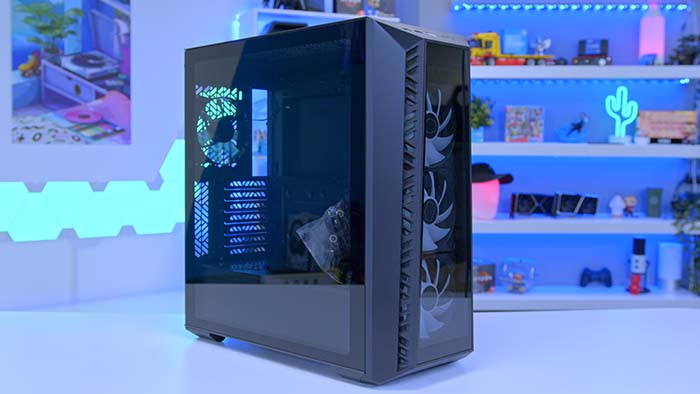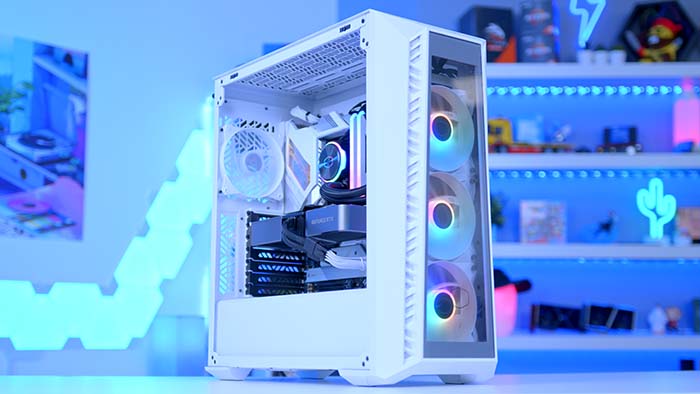 The MasterBox 520 has two separate models. The first is the standard MasterBox 520 ARGB, sporting a tempered glass front panel with three included ARGB fans. The other model is the MasterBox 520 Mesh ARGB which is effectively the same case, but the front panel is instead a mesh design. Both of these cases come in black and white which is a nice bonus if you want some alternative colour options. The MasterBox 520 ARGB also has a fourth non-RGB fan mounted on the rear providing some extra airflow, whereas the MasterBox 520 Mesh does not.
Besides this, both of the case variants are pretty much the same throughout. We believe the marginal price difference between them is warranted. The only major difference between them is the mesh front panel, and the fact that you lose one fan if you pick the mesh case.
| | | |
| --- | --- | --- |
| | MasterBox 520 ARGB | MasterBox 520 Mesh ARGB |
| Form Factor | Mid-Tower | Mid-Tower |
| Max CPU Cooler Clearance | 165mm | 165mm |
| Max GPU Glearance | 410mm | 410mm |
| Motherboard Support | Mini-ITX, Micro-ATX, ATX, SSI CEB, E-ATX *(up to 12″ x 10.7″ motherboards) | Mini-ITX, Micro-ATX, ATX, SSI CEB, E-ATX *(up to 12″ x 10.7″ motherboards) |
| MSRP | $89.99 | $84.99 |
Note – Prices may vary subject to availability and region
MasterBox 520 Aesthetics & Design
Moving onto the aesthetics, I quite like both designs. The tempered glass front panel allows you to showcase your lighting effects and colours from the three pre-installed ARGB fans at the front. The large mesh intake allows for the same while also providing unrestricted airflow and excellent thermals. Moving around to the side of the case, both options have a full-sized tempered glass panel spanning the entirety of the case. I like that Cooler Master have opted for a tempered glass panel that covers the entirety of the case instead of one that's blacked out at the bottom. This gives you a true window into your build.
Moving back around to the front panel, you'll also notice the angular edges and mesh vents. The accents on the front provide an alternative futuristic look, while the vents also provide slightly better airflow, acting as an intake. At the top of both case variants, we also have more ventilation with a dust filter. Again providing plenty of airflow for any top mounted radiators or fans. The top panel is also removable improving access to each individual component when building (but we'll cover that in more depth in the features section).
Looking at the internals, there are an ample amount of rubber grommits around the motherboard tray, making cable management sleek and easy. Similar to the CMP520 the PSU shroud also has ventilation giving you the ability to orientate your PSU as you choose. Otherwise, both the mesh and standard MasterBox 520 offer relatively minimalist designs. There's a range of options for airflow and cooling configurations while also offering some usability features to making building much more pleasant and simpler.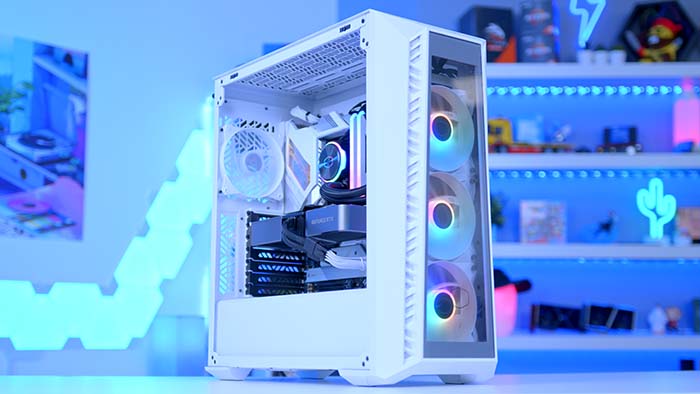 Features
Both of the MasterBox 520 cases have plenty on offer when it comes to features. You're given loads of modularity and customisation options, while also allowing you to upgrade to more powerful component choices in the future.
Included ARGB Fans & Hub
One of the main standout features of these cases are the included RGB fans. Both the mesh and standard designs come with three front mounted ARGB fans out of the box. The MasterBox 520 non-mesh edition also comes with a 120mm MasterFan Lite mounted on the rear providing some extra pressure and airflow throughout the case.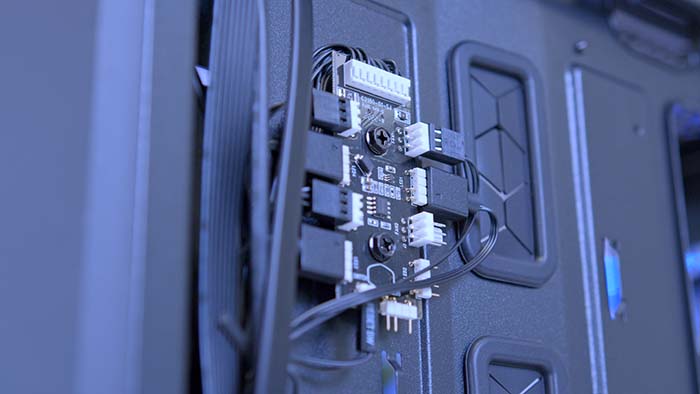 Along with the ARGB fans, you also get access to an included ARGB/Fan hub. Here you can plug in four PWM style headers, along with five RGB LED headers allowing you to maximise your lighting effects and colours. The hub is managed independently from hardware configurations too, meaning you can customise all of the lighting options with various pieces of software such as Cooler Master's MasterPlus+ suite.
Removable Top Panel
A rather frustrating area when building any PC is when you're having to jam your fingers into small crevices to connect cables. With the MasterBox 520 you needn't worry about this as the top panel can be removed entirely. By doing this you get unhindered access to your build allowing you to install your components with ease.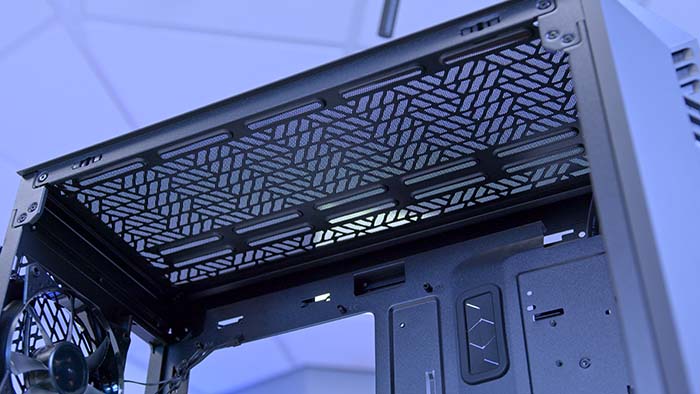 Versatile Cooling Options
Going hand-in-hand with the included ARGB fans, you've got plenty of options and upgrade paths when it comes to fans and radiators. Regardless of the model you've got loads of different options for mounting within the MasterBox 520 case.
| | | |
| --- | --- | --- |
| Position | Fans | Radiators |
| Front | 3x 120mm, 2x 140mm | 120mm, 140mm, 240mm, 280mm, 360mm |
| Rear | 1x 120mm | 120mm |
| Top | 3x 120mm, 2x 140mm | 120mm, 140mm, 240mm, 280mm, 360mm |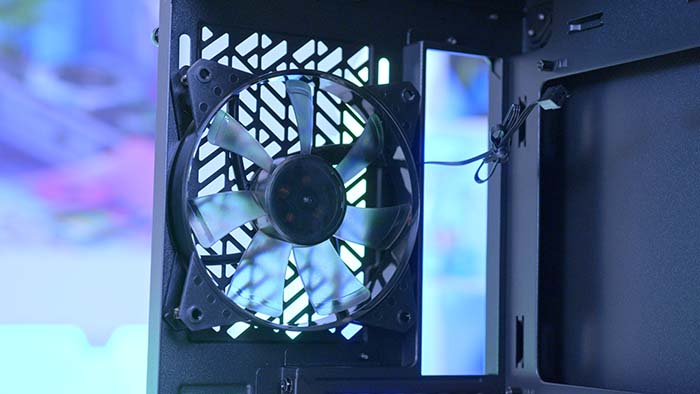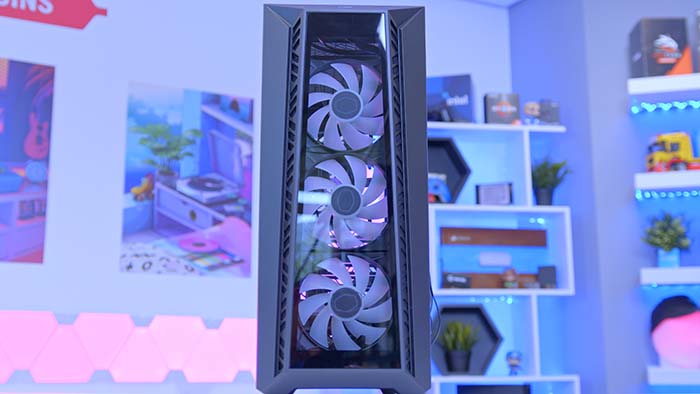 Rich Front IO Connectivity
The final feature we'd like to touch on are the front IO connections. Looking at the IO, the MasterBox 520 has a USB Type-C USB 3.2 Gen2 port, along with a USB Type-A 3.2 Gen1 port. This along with a dual audio and microphone jack, is plenty for most. I think Cooler Master including high speed USB ports on the front IO is quite generous considering this is a relatively cheap and affordable case.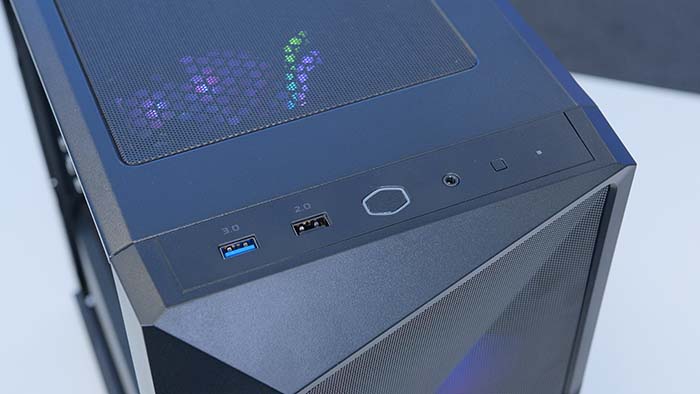 Alternatives
Cooler Master's MasterBox 520 is very reasonably priced and is positioned more within the mid-range market, but could be denoted as a slightly more expensive budget case. When it comes to case designs that sport mesh front panels, and come with plenty of RGB, there is a myriad of options out there. For that reason we've decided to include some alternative options that compare well against the MasterBox 520 case.
Corsair iCUE 4000D RGB Airflow QL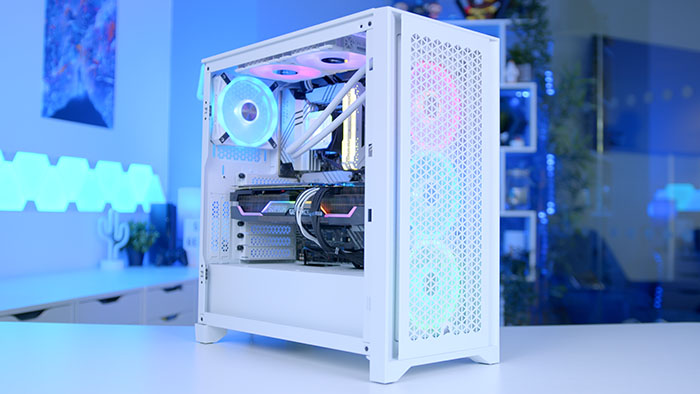 Corsair's 4000D Airflow edition is amongst one of the most popular mid-tower cases you can buy. Sporting a mesh front panel design with an included four 120mm RGB fans, this case is perfect for users that want to maximise airflow and optimise thermals. The 4000D has a spacious interior offering a range of orientations for cooling, and various configurations for motherboards and GPU mounting.
Buy the Corsair 4000D Airflow on:
Lian Li O11 Dynamic Mini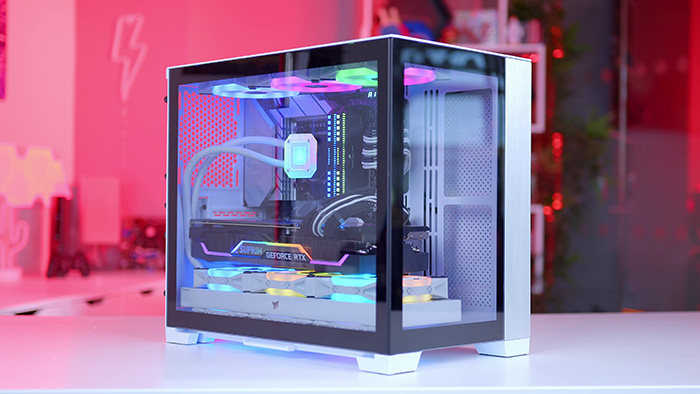 Lian Li's O11D Mini is an incredible case featuring and insane amount of modularity when it comes to motherboards, fans, radiators and even custom liquid cooling loops. The front and side panels are both tempered glass giving you a perfect unhindered view into your build. The case also comes in three different colour options with the full white-out version looking incredible with other white components and peripherals!
Buy the Lian Li O11D Mini on:
DeepCool CK560 Mid-Tower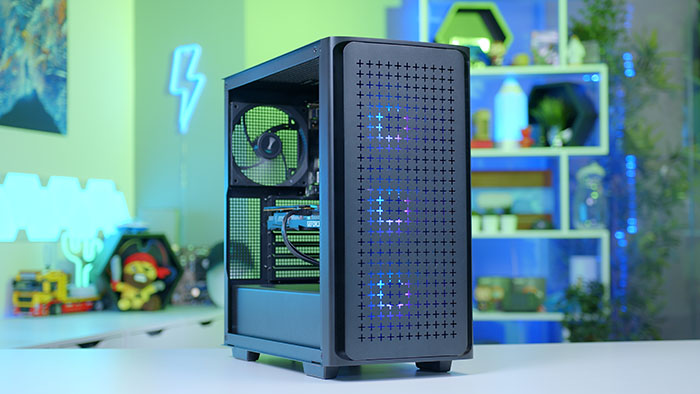 Our final alternative is DeepCool's CK560. Another mesh design sporting a unique front cross-hatched front panel allowing you to see the vibrant RGB fans included with the case. The CK560 while being great for airflow has versatile motherboard support allowing you to fit a range of sizes from the smallest Mini-ITX options, to the largest E-ATX motherboards available! Needless to say this is an excellent minimalist mesh case.
Buy the DeepCool CK560 on:
Conclusion
Cooler Master MasterBox 520
Product Name: MasterBox 520
Brand: Cooler Master
Features

Design

Versatility

Value For Money
Summary
Cooler Master's MasterBox 520 mid-tower cases are a great addition to the market, providing consumers with some different options for airflow and aesthetics. The included ARGB fans and hub are very generous allowing you to customise your build to your heart's content, and the usability features make this case very easy to build in. Besides this, the MasterBox 520 cases don't have much else to offer that stands out. I like both of the designs and they seem to be priced appropriately, but with cases like Corsair's 4000D sitting around the same price, it might make sense for some to opt for an alternative. Cooler Master haven't done a bad job at designing a case here, as either of the MasterBox 520 variants will be perfectly suitable for an entry-level builder. But if you're an enthusiast looking for something a little bit more unique, it might be worth doing some prior research. However, if you want a study and simplistic affordable case, either of the MasterBox 520 variants are great choices.
Pros
✅ Mesh and tempered glass designs look awesome!
✅ Included ARGB fans is very consumer friendly.
✅ Removable top panel makes the case easy to build in.
Cons
❌ One less fan with the mesh design.
❌ Doesn't support E-ATX.
❌ No colour options other than black and white.