Introduction
With the prices of 3000 series cards getting closer and closer to MSRP, now is the perfect time to save up some money and build yourself an awesome gaming PC. Today we've put together a great build ideal for consumers wanting to game at 1080P high settings.
We've put our greatest efforts into finding the best components money can buy, striving for optimal performance while being price conscious at the same time. This build today features a Gigabyte Eagle OC RTX 3060, along with one of Intel's latest 12th gen Core i5 12400F CPUs. We'll be covering all of the individual parts, along with some benchmarks and peripherals to finalise the build!
| | | | |
| --- | --- | --- | --- |
| Game | Resolution | Settings | AVG. FPS |
| GTA V | 1080P | High | 155 |
| Battlefield 2042 | 1080P | High | 87 |
| COD Vanguard | 1080P | High | 115 |
| Forza Horizon 5 | 1080P | Ultra | 86 |
| Halo Infinite | 1080P | High | 112 |
| Apex Legends | 1080P | High | 152 |
| Valorant | 1080P | High | 464 |
| Fortnite | 1080P | Competitive | 224 |
Check out the benchmarking section for a more in-depth look at our full runs of the latest triple A and Esports titles!
Suggested Article: Nvidia RTX 3050 vs Nvidia RTX 3060 – Which Card is Better?
Main Components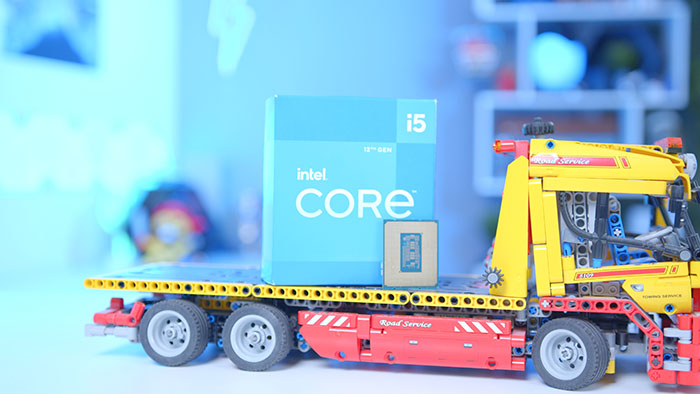 CPU: Intel Core i5 12400F
Intel's Core i5 12400F is an excellent CPU designed to bring optimal performance but at a very reasonable price point. On the 12th generation platform Intel has brought a whole host of features for consumers to sink their teeth into, such as: Gen4 SSD support, PCI-E 5.0 for next generation graphics cards, DDR5 and more. This CPU definitely fits the bill when it comes to raw power at a more budget-oriented price.
Buy the Intel Core i5 12400F on:
---
Key Facts:
Boost Clock Speed: 4.4GHz
Core Count: 6
Thread Count: 12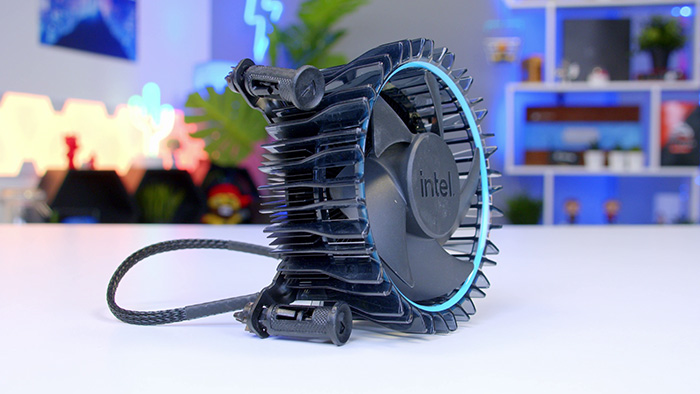 CPU Cooler: Intel RM1 Stock Cooler
The CPU cooler that we've chosen today is ideal to minimise cost so we can put in some other awesome parts. The Intel RM1 stock cooler is perfect for builds that aren't worrying about overclocking, or using higher-end chips from the Core i7 or i9 range. This CPU cooler will be fine for this system to have some nice thermals while reducing the overall cost.
---
Key Facts:
Max RPM: 3150
Connector Type: 4-Pin
RGB: No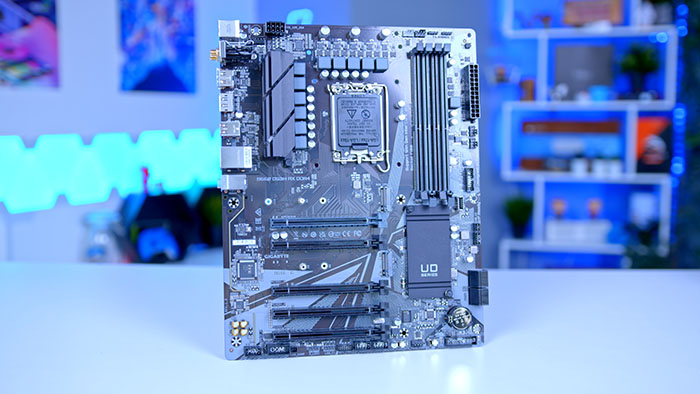 Motherboard: Gigabyte B660 DS3H AX DDR4
Gigabyte's B660 DS3H AX is a motherboard we've looked at, and recommended plenty of times because this board truly tunes into the budget philosophy that we believe in. We've done a full in-depth review of this board covering its principal features, like its use of PCI-E 4.0 M.2 support, integrated WiFi, and high speed memory overclocking.
Buy the Gigabyte B660 DS3H AX DDR4 on:
---
Key Facts:
Form Factor: ATX
Built-in IO Shield: No
Max Memory: 128GB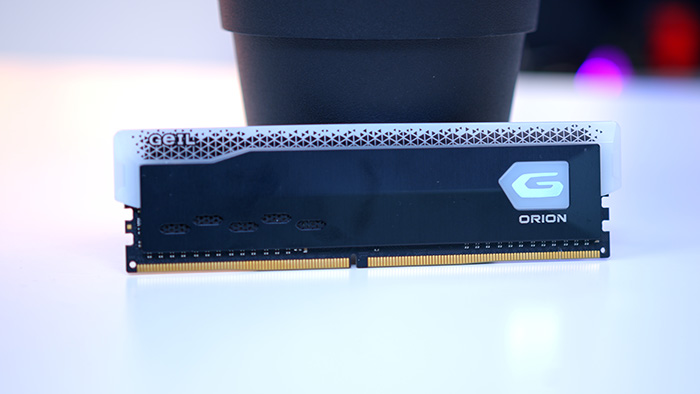 RAM: GeIL Orion RGB DDR4 16GB
So far the parts we've picked have been a little bit lacklustre on aesthetic, so the RAM we've picked should provide some flair and flashiness to our build. The GeIL Orion 16GB DDR4 kit is a very speedy 3600MHz pairing with our CPU quite nicely. It also has a unique lighting bar design with addressable RGB giving us some extra customisation options!
Buy the GeIL Orion RGB DDR4 16GB on:
---
Key Facts:
Capacity: 16GB
Clock Speed: 3600MHz
CAS Latency: 18-20-20-40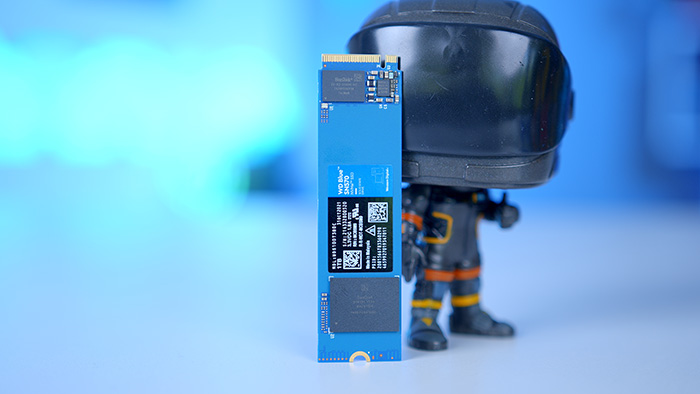 SSD: WD Blue SN570 1TB
Western Digital is always dressed to impress with their storage options, and the SN570 is one impressive drive. This 1TB M.2 SSD utilises the Gen3 PCI-E interface giving it the ability to reach very high read and write speeds. The SN570 will give us some super fast load times in our games so we don't have to wait around to start gaming!
Buy the WD Blue SN570 on:
---
Key Facts:
Capacity: 1TB
Read Speeds: 3500MB/s
Write Speeds: 3000MB/s
Interface: PCI-E Gen3 x4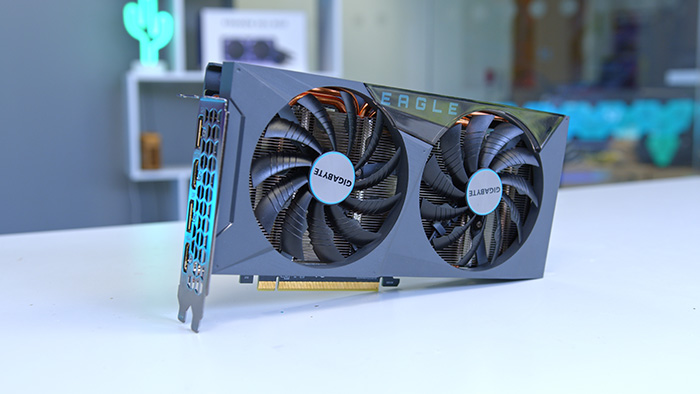 GPU: Gigabyte RTX 3060 Eagle OC
Now we've gotten to the main part of the build, the GPU. Today we've picked one of Gigabyte's cards, the RTX 3060 Eagle OC edition. This card sports a minimalist dual fan designed to keep your GPU cool, but also bringing excellent performance in 1080P gaming.
Buy the Gigabyte RTX 3060 Eagle OC on:
---
Key Facts:
CUDA Cores: 4864
TDP: 200W
RT Cores: 28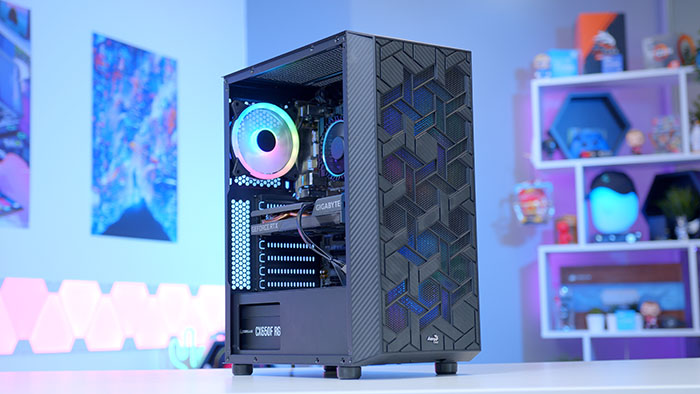 Case: AeroCool Hive
The AeroCool Hive is an excellent case bringing some additional flair to this build for a very reasonable price. The front of the case sports a hive mesh design where you can see the glow of the included three ARGB fans. This case also has plenty of support for different fans and radiator configurations for great cooling.
Buy the AeroCool Hive on:
---
Key Facts:
Form Factor: Mid-Tower
Fan Support: 7
Motherboard Support: Mini-ITX, Micro-ATX, ATX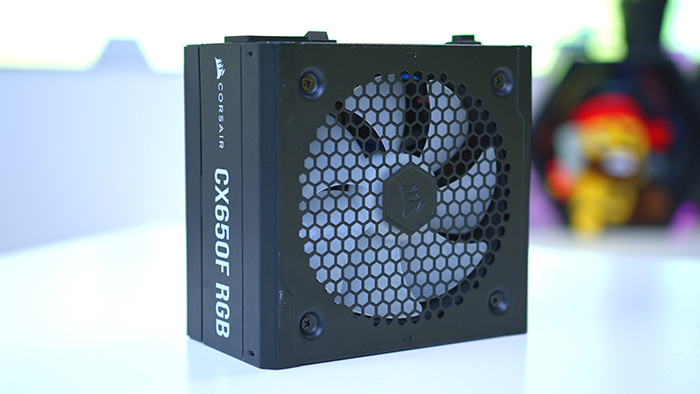 PSU: Corsair CX650F RGB
And finally, to power this build we've grabbed a Corsair CX650F. This PSU is fully modular, so you can choose which cables you want and where you want them. The PSU fan is also RGB and can sync up with other Corsair iCUE products bringing a sleek design elements to finish off our build!
Buy the Corsair CX650F RGB on:
---
Key Facts:
Wattage: 650W
Modular: Yes
Efficiency: 80+ Bronze
Budget Peripheral Picks
As always, to round off our build we've picked out some peripherals that we think provide a great experience for gaming, but we've also put budget at the forefront of our mind. The peripherals below have a range of different features, but each of them fits within a lower price range so that you can secure some peripherals without having to pay a fortune.
Logitech G203 RGB Mouse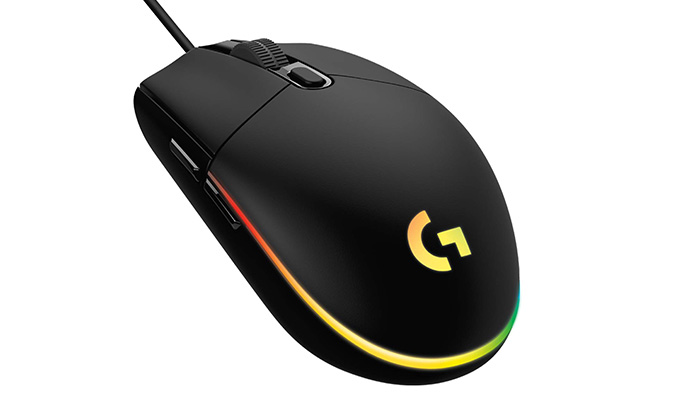 The Logitech G203 is a brilliant wired mouse that we've covered in our 'Best Gaming Mice to Buy in 2022' article. It is by far my favourite gaming mouse, and for its price point you can't really argue. You get loads of RGB (which is fully programmable) in Logitech's G Hub app. The gaming-grade sensor has an adjustable sensitivity rated up to 8000 DPI, which is plenty if you play lots of intense first-person shooter titles. And to top it off, you can pick from a multitude of colours to spice up your setup even more.
Buy the Logitech G203 RGB Mouse on:
---
SteelSeries Apex 3 TKL Keyboard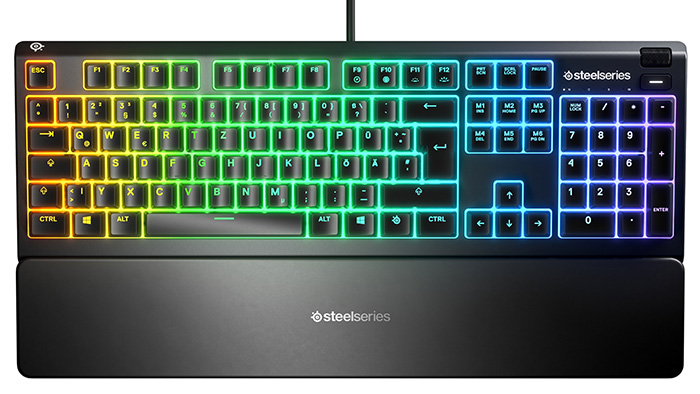 The Apex 3 SteelSeries keyboard is part of their budget range perfect for long sessions of gaming while also adding some additional flair with the RGB lighting zones. This keyboard is also IP32 water and dust resistant, so you'll minimise any damage to your keyboard if you spill anything on it. SteelSeries also has their own application for their products, so you can personalise the RGB illumination to your heart's content. Overall this is an excellent gaming keyboard for a very reasonable price if you're building on a budget.
Buy the SteelSeries Apex 3 TKL on:
---
HyperX Cloud Stinger Core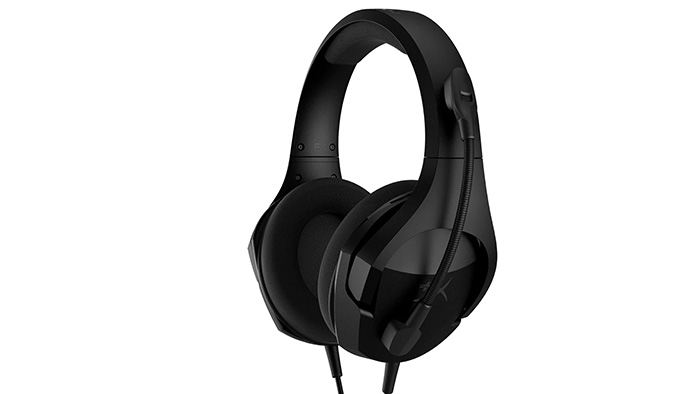 HyperX's Cloud Stinger Core is an excellent headset utilising DTS Headphone:X Spatial Audio perfect to locate quite footsteps or silenced gunshots. This headset also features soft and breathable ear cups allowing you to playing games for hours without being uncomfortable. As a bonus, the Cloud Stinger Core is also compatible with multiple platforms. So if you're looking to switch between your PC and perhaps your PlayStation or Xbox, you can do this. It also works with mobile phones ideal for listening to music.
Buy the HyperX Cloud Stinger Core on:
---
Benchmarks
As part of our PC builds, we always benchmark the system with games to give you a concrete idea of how the PC will perform, but also to provide some real-life context too. We have a dedicated YouTube channel called 'Benched' which houses all of our full benchmarking runs with fancy stats and graphs. You should go and check it out to see how current generations graphics cards perform in popular triple A and Esports titles!
Gallery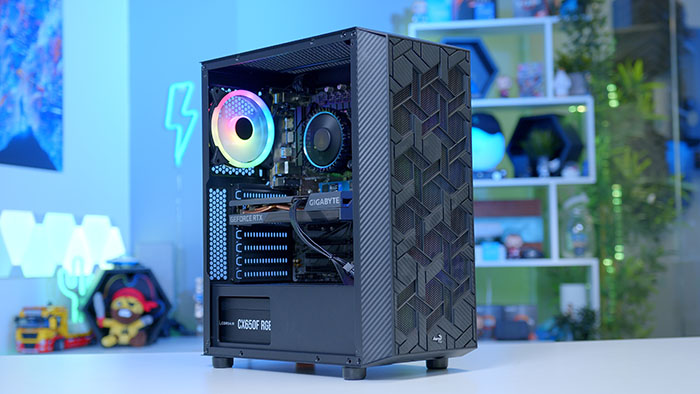 Video