Introduction
AMD's Radeon RX 7800 XT graphics card is one of the best mid-range 1440p graphics cards we've seen in a long time, providing fantastic performance at 1440p in the latest titles. But, with a plethora of cards to choose from, just which is the Best AMD Radeon RX 7800 XT graphics card of them all?
Our team have tested a wide range of RX 7800 XTs, from brands such as ASUS, PowerColor, Gigabyte and Sapphire determine which is the best 7800 XT on the market. Our first-hand testing takes into account performance in Apex Legends, Fortnite, Starfield, Boulders Gate 3 and COD Warzone 2, alongisde cooler designs, value for money and availability.
Our in-house team of PC hardware experts individually review every product featured on this site, and in buyer's guides like this one. Learn about why you can trust our independent reviews and product recommendations.
Our Recommendation: Sapphire Pulse AMD Radeon RX 7800 XT
Our comprehensive first hand testing of a range of RX 7800 XT graphics cards lead us to recommend the Sapphire Pulse RX 7800 XT as the best GPU to buy. It builds solidly upon the RDNA 3 architecture in a compact form factor, with a nice clock speed boost and sufficient cooling.
Importantly, it also does so at a great value price point that makes it accessible to those after building a 1440p gaming PC on a budget.
All Cards in Our Testing Roundup
Powercolor RX 7800 XT Red Devil
Sapphire Pulse Radeon RX 7800 XT
---
Our Recommendations
1. PowerColor Red Devil Radeon RX 7800 XT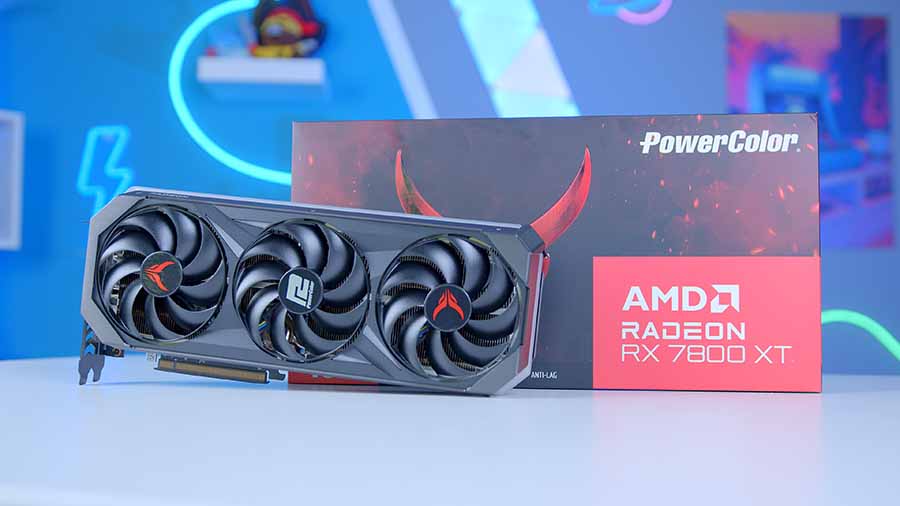 The PowerColor Red Devil RX 7800 XT is one of the best in the 7800 lineup. With a sleek three fan cooler, modest 90MHz increase to the boost clock (when compared with the reference design) and a striking design it's a great bet. The beefed up heatsink design, with 7 heat pipes for optimal heat dissipation, also allow for increased overclocking headroom, especially when paired with the cards 16 phase power delivery. As such, PowerColor's 7800 XT designs builds on the solid RNDA 3 base of this card, adding to an impressive 16GB memory allocation and strong rasterisation performance. An adjustable RGB light-bar surrounding the card, and large (if not disproportionate) 332mm form factor gives it a strong in system presence for mid and high end gaming PC builds.
The outlandish design of this card will appeal to the some in the gaming segment, but not to all. We also think PowerColor could have pushed the factory overclocks on this GPU a little further when looking at other market options, especially for the price bump this cooler demands over the reference MSRP design.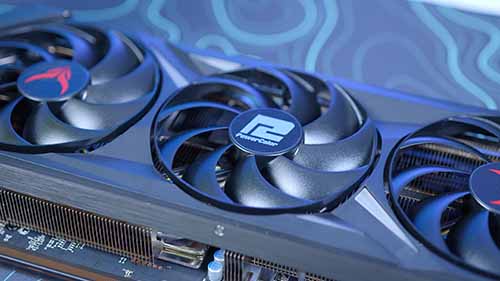 Buy the PowerColor Red Devil Radeon RX 7800 XT on:
2. Gigabyte Gaming OC Radeon RX 7800 XT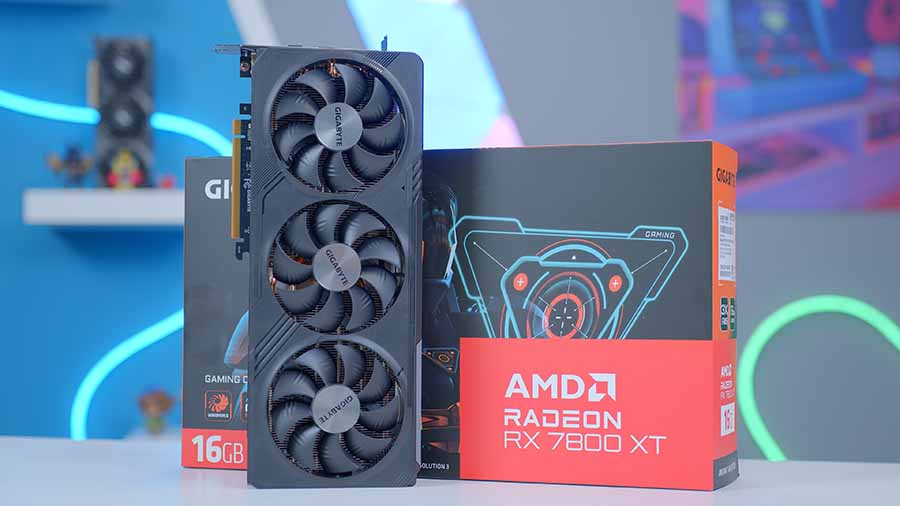 The next RX 7800 XT we tested is the Gaming OC 7800 XT from Gigabyte. We've taken a look at a number of Gaming OC cards in previous launches, and they've always been a mainstay in the enthusiast space for those looking for more performance gains. This particular model offers a healthy upgrade to the boosting capability, which will provide some bonus performance to a number of applications and games. The Gaming OC card is also another triple-fan model that features alternate spinning fans, which should offer decent thermals alongside solid performance metrics. Gigabyte's more recent gaming OC cards feature alternate spinning fans, increasing airflow pressure to ensure your GPU stays cool.
This graphics card also offers a 3D active fan, which offers semi-passive cooling, keeping noise levels at a minimum when load is lower. Unfortunately, the Gaming OC 7800 XT doesn't sit at an MSRP price point. If you're looking to leverage the fact that the new cards are reasonable priced, the Gaming OC might be one to avoid. Additionally, size is is also something to bear in mind with this GPU. Although this card is smaller than the PowerColor Red Devil model, it still comes in at 302mm in length, meaning those looking to build a smaller PC may run into some problems when it comes to clearance.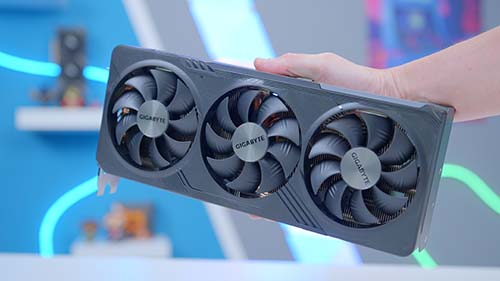 The Gigabyte Gaming OC 7800 XT is an excellent card offering a solid boost speed versus other AIB models, whilst still maintaining decent thermal capability too. Yes, this option is expensive, but well worth it for those looking to enjoy the best performance money can buy.
Buy the Gigabyte Gaming OC Radeon RX 7800 XT on:
3. Sapphire Pulse Radeon RX 7800 XT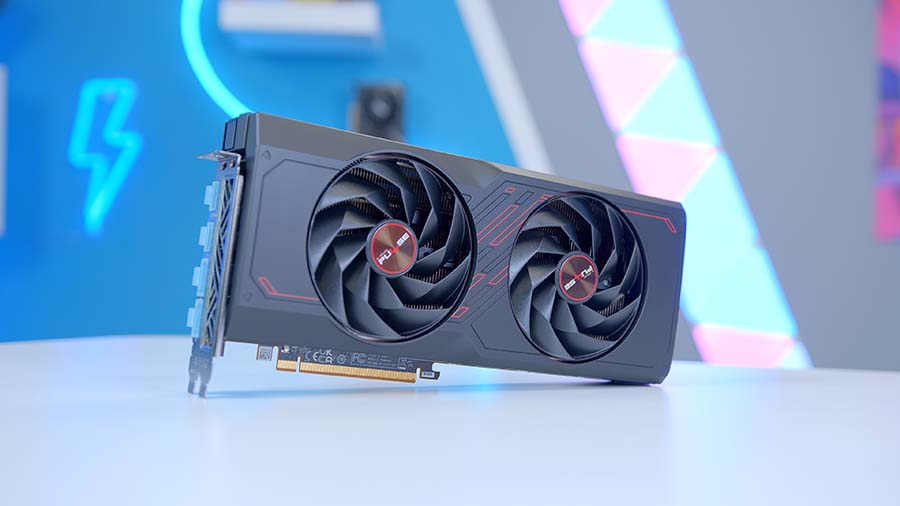 Our third selection is the Sapphire Pulse variant of the RX 7800 XT. Sapphire has always been one of the best AIB partners, offering excellent GPUs that come in at that highly important MSRP price point. While they do offer other awesome GPUs, such as the Nitro+ Vapor models, or even the standard Nitro+ cards, this Pulse variant is likely to be the go-to for many consumers. This GPU isn't the fanciest, the most thermally capable, or the best performing option buy any means, but it enters the market with that vital MSRP price tag that makes the 7800 XT such a solid graphics card. The Sapphire Pulse card comes in at a length of 280mm, which I'd argue is much more acceptable than larger variants. This allows consumers with smaller gaming PC builds to easily install this GPU without any problems.
It also does so at MSRP, making it a worthwhile options for those looking to spend the least amount possible for this brilliant card. From our experience, there are some downsides to this GPU. Sapphire Pulse GPUs are not known for their wild or particularly interesting design, and the 7800 XT model unfortunately follows suit.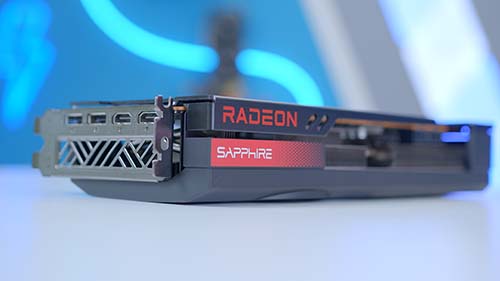 Although the black and red will appeal to some, it is quite plain and boring, which is part of why this GPU will sit at MSRP. Additionally, many of the cards we've looked at in this roundup feature increased boost clock capability, but the Sapphire Pulse is lacking this bonus. Consumers looking to get the best performance possible out of their 7800 XT will want to look at other options if maximum out of the box performance is of concern.
Sapphire's Pulse Radeon RX 7800 XT is the most competitive models within the entire 7800 range, and we imagine will be the go-to choice for most consumers. The 7800 XT is a good card because of its value-proposition, and this is why the Sapphire Pulse is such a solid option for those looking to leverage AMD's strong hardware.
Buy the Sapphire Pulse Radeon RX 7800 XT on:
4. ASUS TUF Gaming RX 7800 XT
The final GPU we tested was the ASUS TUF RX 7800 XT design. This card is particularly interesting due to it's range-topping boost clock speed when running in OC mode. This enabled by the outlandish 2.5-3 slot TUF cooler that we'd certainly regard as being a little overzealous in our experience. That isn't necessarily a bad things for those wanting to push their RX 7800 XT to the max, but is not so positive for those looking to prioritise value for money. Otherwise, this TUF card does what other ASUS TUF GPUs do best – looking and performing good, without costing the earth. We like the colour neutral design, that makes this card easy to colour match to most builds, alongside the beefy heatsink for plenty of overclocking headroom.
Much like the other cards in this test, we also like the 16GB of VRAM on this card that helps to future proof the design for 1440p gaming. We don't like the pure size that this large and bulky design creates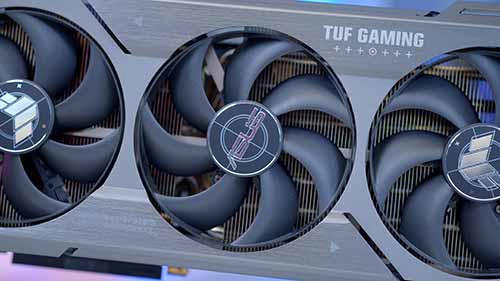 . While good for cooling, it doesn't hold up so well in smaller form factor systems where GPU size constraints are more prominent. The TUF gaming design of cards also lack RGB and other standout design features when compared to other cards at this price point.
Buy the ASUS TUF RX 7800 XT on:
RX 7800 XT Performance Benchmarks
In order to determine which is the best RX 7800XT, our in house benchmark wizz Harry Coleman put all of these cards through their paces. That involved benchmarking them against the current stack of both NVIDIA 40 series and Radeon 7000 series GPUs in a range of titles. Our test suite includes modern AAA titles like Starfield and Baldur's Gate 3, to popular Battle Royale titles like Apex Legends and Fortnite. The main factors taken in to our testing were:
Gaming & Workstation Performance
Thermals
Size
Power Consumption
Aesthetic
Value for Money
Starfield @ 1440p
For our first benchmark, we ran Bethesda's brand new title – Starfield. This title is pretty unoptimised, so it is worth noting that performance is slightly hindered versus other games. But regardless of this, the 7800 XT still held up pretty well offering up an average framerate of 85FPS. Ultimately, we'd love to see higher framerates in this title, but because of the disparities in framerates dependent on the area that you're in, I'd say this framerate is perfectly fine.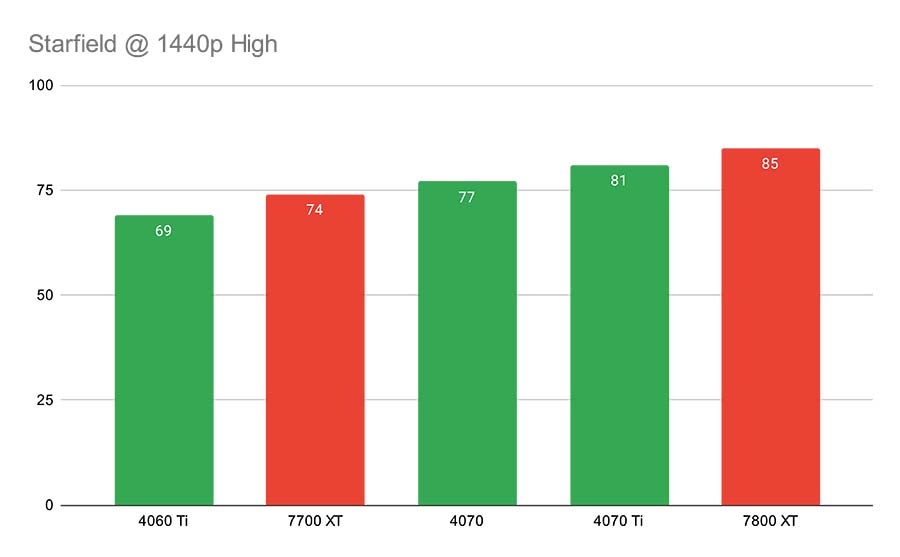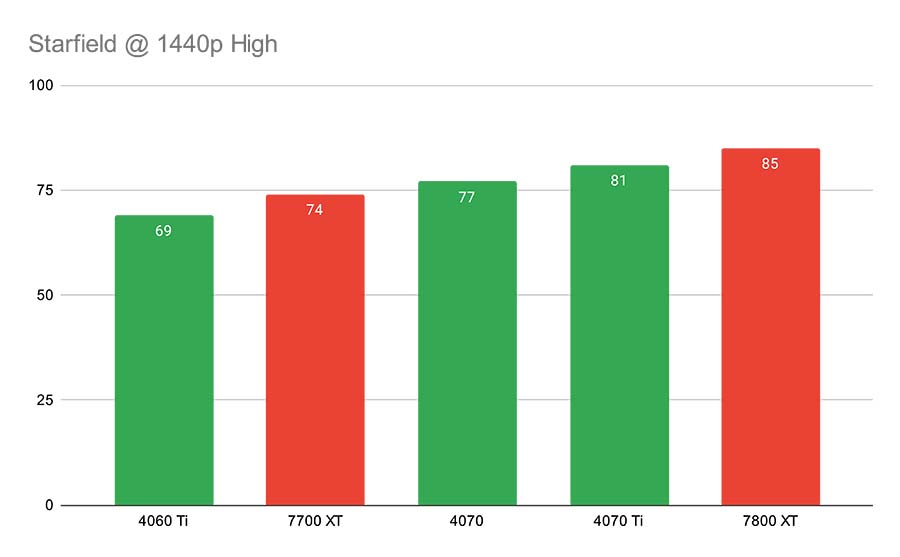 Apex Legends @ 1440p
In Apex Legends at 1440p, the 7800 XT offered up around 256FPS on average which puts this card in the upper echelon of performance versus the rest of the market. Apex is a pretty well optimised game, which is why framerates are so high. Consumers can enjoy a buttery smooth refresh rate in this game, allowing them to respond at a moment's notice during moments of intense action. The 7800 XT is really stretching its legs at 1440p, demonstrating how capable it is at this resolution.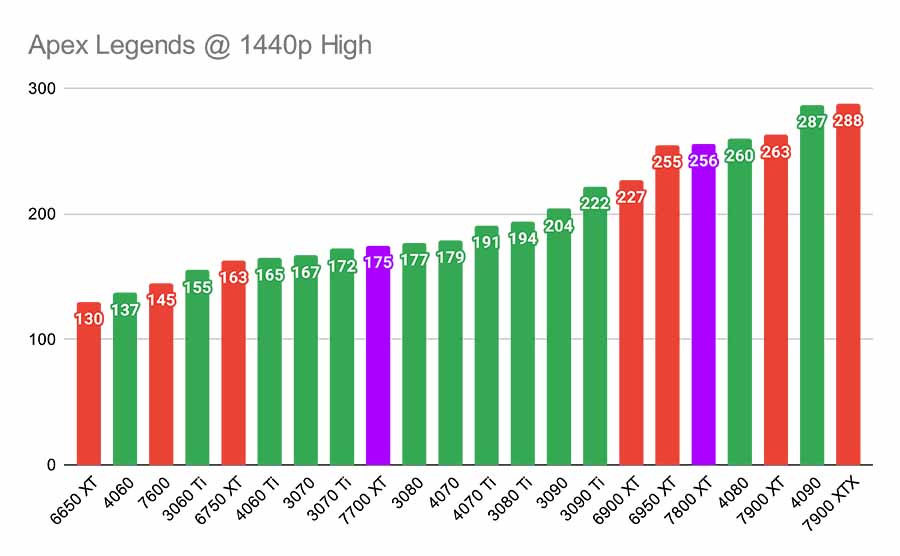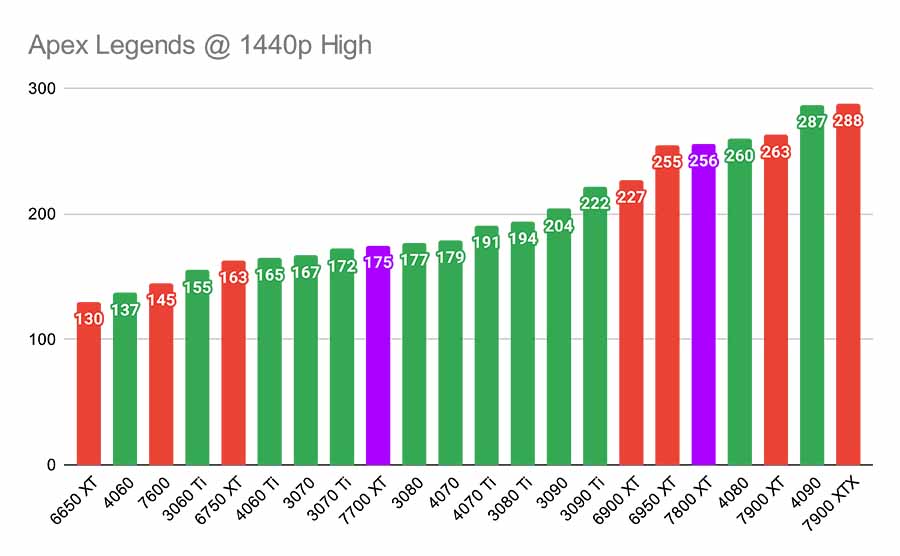 Apex Legends @ 4K
At a 4K resolution, performance did dip slightly, with the 7800 XT dropping below the 200FPS mark, but I imagine the majority of consumers won't notice a huge difference between 148FPS and 200FPS. We were still pretty happy with the performance in this game, the 7800 XT maintained frames above that 144Hz sweet spot, allowing consumers to enjoy the smoothness of a high refresh rate monitor. This goes to show how capable the 7800 XT is when you're playing a pretty well optimised title.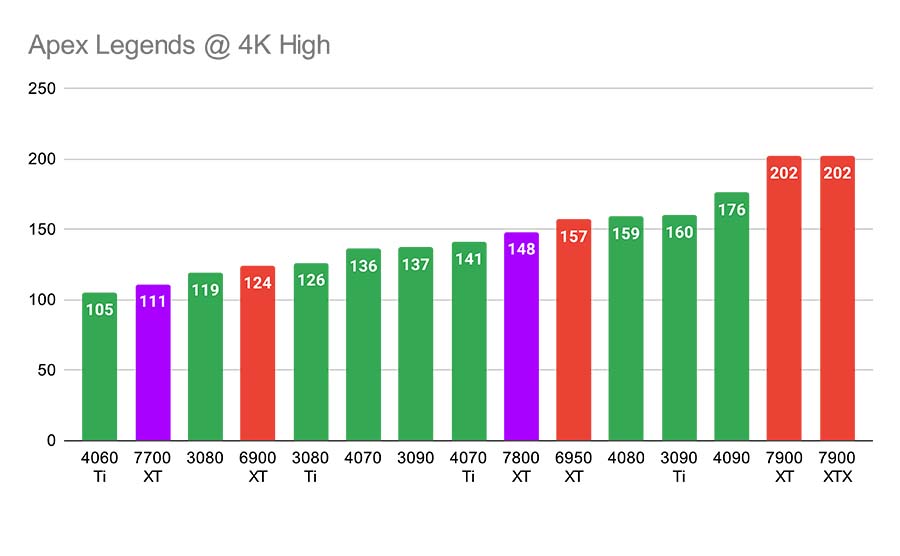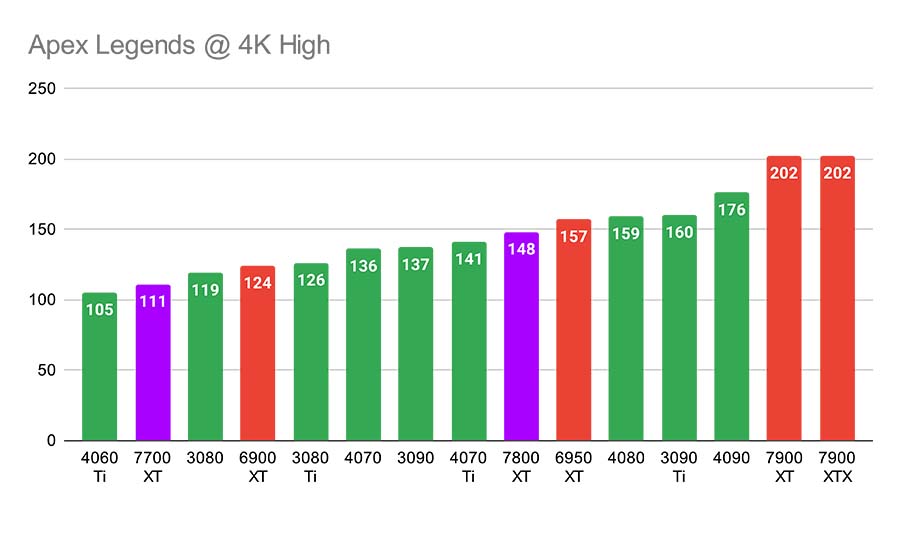 Warzone 2 @ 1440p
And finally in Warzone 2, we saw the strong performance continue through in this game. Warzone 2 isn't the most optimised title out of our benchmarking suite, but the 7800 XT still maintained a high framerate in this game, offering up an average of 146FPS. This sits just above that 144Hz sweet spot, which is particularly important for this game, as you'll need to be able to respond to the action at lightning-fast speeds. Although we've hoped for slightly higher framerates in this title, I feel most consumers will be pretty happy with the achievable framerates using the 7800 XT in this game.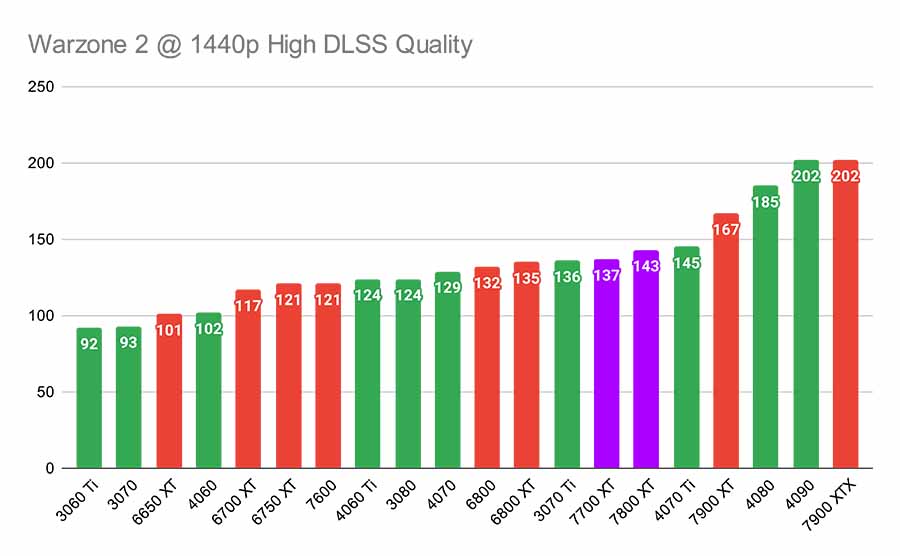 Conclusion
Best Radeon RX 7800 XT GPU: Sapphire Pulse Radeon RX 7800 XT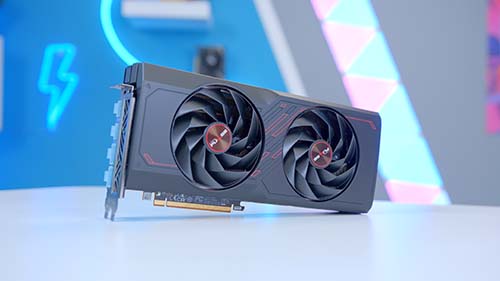 Following our test of some of the most popular RX 7800 XTs on the market, we've concluded the best RX 7800 XT to be from Sapphire, under their 'Pulse' range. The primary reason we determined this card to be the best is due to its strong price and performance metrics. Other, pricier cards throw away AMD's price competitiveness when they stray too far from the MSRP. As soon as you do this, NVIDIA's cards start to look more compelling, based on better RT performance and the advent of DLSS 3.
Read our full AMD Radeon RX 7800 XT review, or Buy the Sapphire Pulse Radeon RX 7800 XT on Amazon
Frequently Asked Questions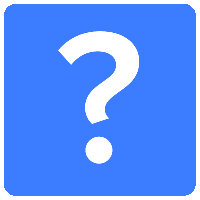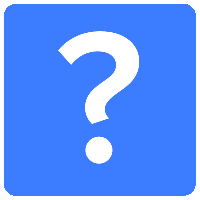 Is the 7800 XT Capable at 4K?
Yes. Although this card is more geared towards 1440p, it can handle 4K gaming pretty well. There will be some performance dips in some titles, but generally, it holds up in this resolution.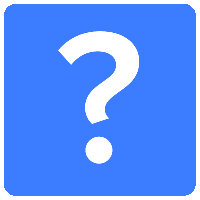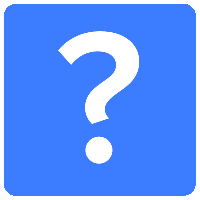 Should I Worry About Clearance?
Clearance is important, especially in the wake of graphics cards becoming rather massive. Although some of the GPUs in this roundup are quite big, we've tried to avoid picking gigantic options that will cause issues. Regardless, always check the specs of your case to see if your GPU will fit.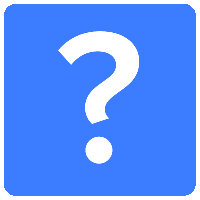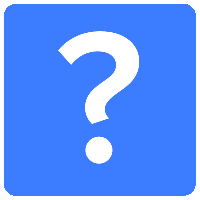 Is a Dual-Fan or Triple-Fan Card Better?
Dual-fan cards will be smaller, while triple-fan cards generally offer better cooling. We'd advise a triple-fan card if it will fit in your case, but be aware of the clearance issues beforehand.