Introduction
After building a brand-new PC, the next logical step towards creating the ultimate setup is to upgrade your peripherals. There are a number of products that can make day-to-day productivity and leisurely tasks easier, but keyboards are arguably the most important of them all.
However, finding the right mechanical keyboard for you can be quite the challenge. With the complexity that comes with designing a keyboard, there are a lot of factors to consider, including the budget.
But never fear, as GeekaWhat HQ has done all the hard work for you. We've been busy scouring the internet for the best mechanical keyboards at varying price points.
In this buyers guide, we'll be showing you our recommendations for the best mechanical keyboards for under $150, along with some advice on how to pick the right keyboard for you.
Suggested Articles: Best Mechanical Keyboards Under $50
Our Recommendations At a Glance
Keep reading for a more in-depth coverage of each keyboard in this roundup!
What Makes a Gaming Keyboard Good for 'Gaming'?
Before we dive into our favourite mechanical keyboards, it is important to understand what features will suit your daily needs. Whilst almost every task on a PC requires a keyboard at some stage, they can be separated into two categories, productivity and gaming. Productivity tasks mainly refers to typing documents or articles, but also includes any other work-related task, whereas gaming is strictly focussed on having fun!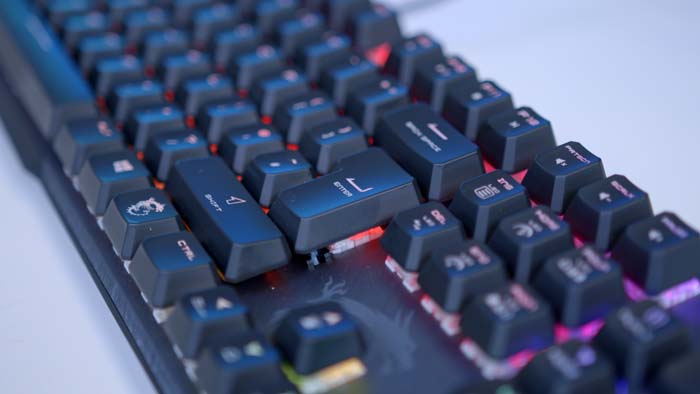 If you are focussed on gaming, the main priority is performance rather than functionality. In order to reach your full gaming potential, a strong connection that provides a high polling rate and ultra-fast response times is a must-have. In addition, a smaller layout such as 60% or 65% is a great way of freeing up desk space for a greater range of mouse movements. Finally, don't forget about the all-important RGB!
Want to look at more Gaming Keyboards? Check out this article: The Best Gaming Keyboards to Buy in 2023
For those wanting the best of both worlds, we would suggest leaning towards gaming keyboards. From our experience, good gaming keyboards are likely to include the features needed to complete work-based tasks anyway, whilst non-gaming keyboards fail to provide the performance needed for competitive titles.
Keys Features of A Mechanical Keyboard
Understanding the differences between gaming and non-gaming keyboards is crucial, but there are a lot more factors to consider before picking up the first option you see. With mechanical keyboards being made up of so many different parts, knowing how each component will affect the final product will improve the chances of finding the perfect choice for your needs. Here is our list of key features to consider when choosing a mechanical keyboard:
Layout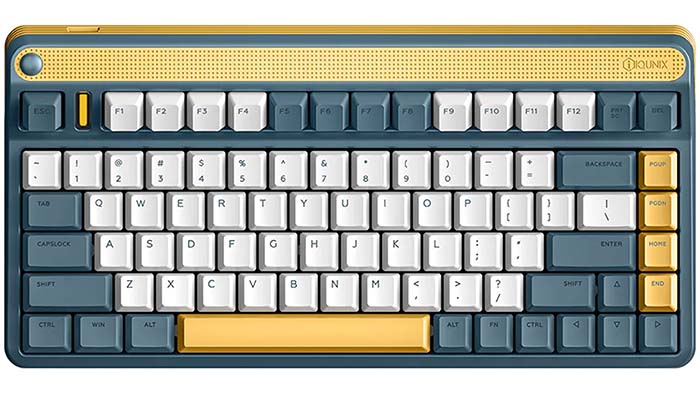 The first thing to consider is the layout, as this will have a major impact on not only the rest of the keyboard, but how it fits into the rest of your setup. As mentioned earlier, larger layouts are typically better for typing and productivity, whilst smaller layouts are more popular amongst gamers. However, other factors such as portability, the amount of desk space available, or need additional inputs can affect the ideal layout too.
Key Switches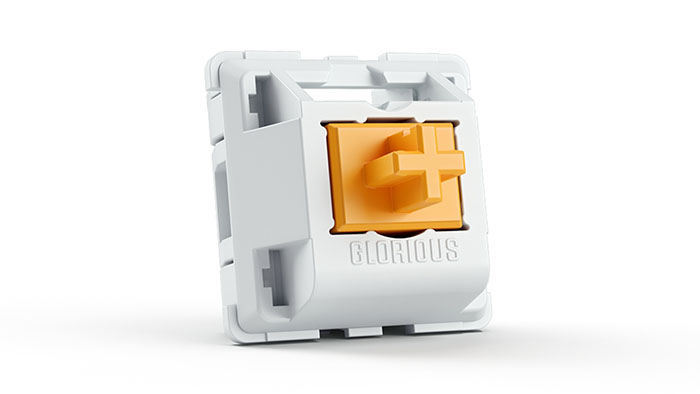 Another important factor when picking a mechanical keyboard is the switches, as it often determines the typing experience. There are a wide range of switches on the market, but they can be put into three categories: clicky, tactile, and linear. Clicky switches offer the most responsive feedback, whilst linear switches are quieter with more force required to register an input, and tactile switches sit somewhere between the two.
Macros & Media Controls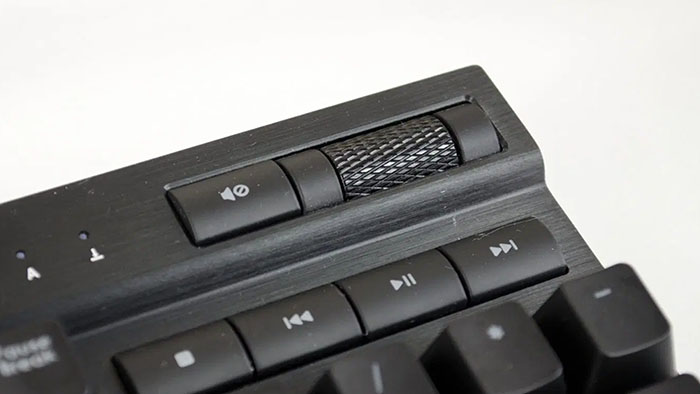 Whilst having macros and media controls is by no means a priority for most consumers, it is always a nice option to have. These additional controls offers the ability to adjust settings such as volume or lighting on the fly, without having to pause or exit the task you are currently on. This feature is going to be more beneficial to those using their keyboard for productivity reasons, but it can also be very useful in the middle of a gaming session.
Connectivity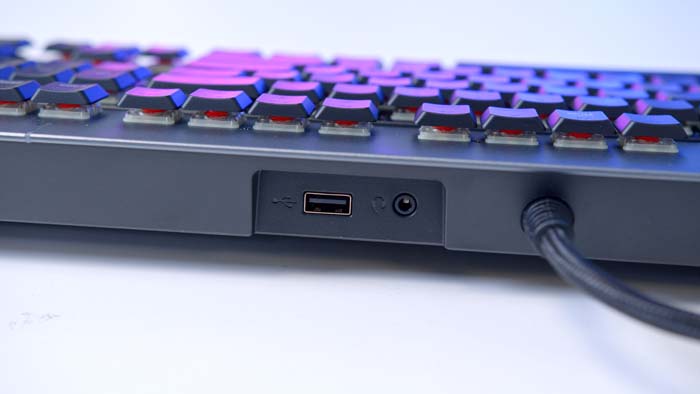 One of the first decisions to make when picking a mechanical keyboard is the type of connection you want it to include. Choosing between a wireless or wired connection in particular can have a major influence on the performance and functionality of a keyboard. Wireless is the better option if you have the funds, as most wireless keyboards include wired connectivity as well, but it always worth double-checking.
Software Compatibility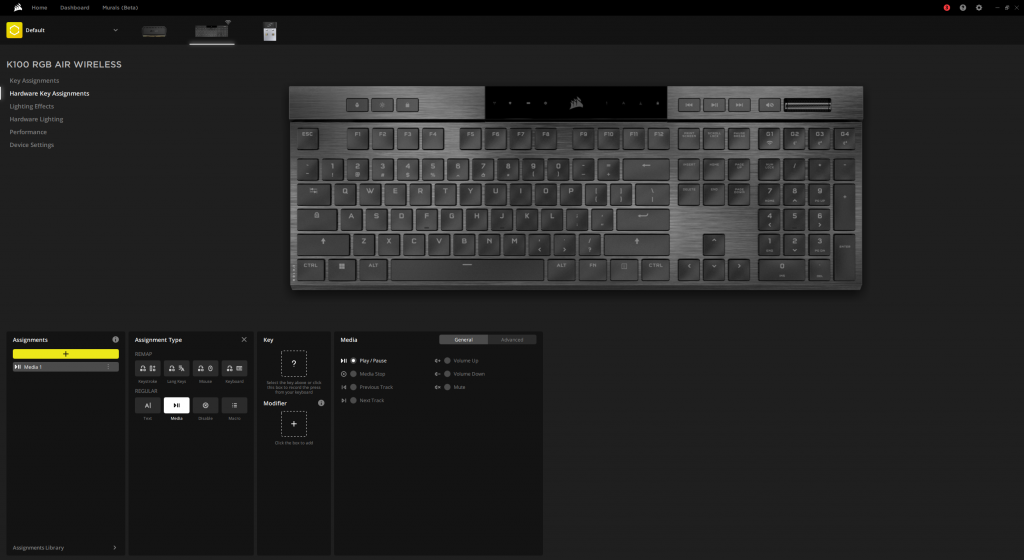 Another nifty feature that is usually included with mid-range and high-end gaming peripherals is software compatibility. This software allows you to unlock more customisation options and settings that can't be altered on the keyboard itself. Big brands such as Logitech and Corsair have their own software that supports a range of their products, making it possible to synchronise your setup's lighting effects.
Hot-Swappable Parts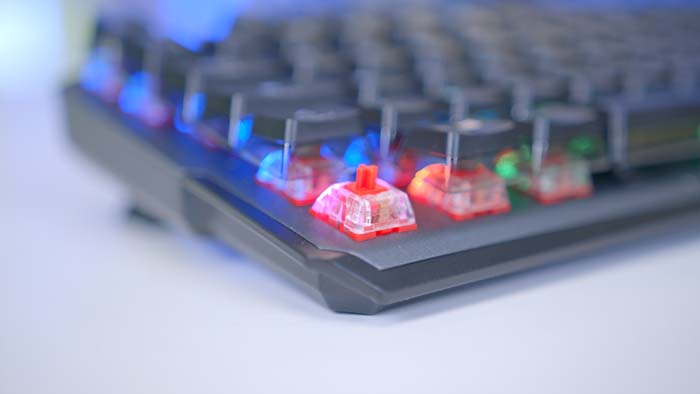 And finally, for those wanting a bit of a DIY project, or just looking to increase their keyboard's longevity, it is worth considering a hot-swappable option. Hot-swapping has become a popular feature on gaming keyboards specifically, as it allows users to change the switches and keycaps without having to tear the entire keyboard apart. This significantly reduces the chance of damages, whilst also making upgrades a lot cheaper.
Best Gaming Keyboard Manufacturers
With such a vast amount of options available on the market, it can be hard to decipher which products are worth buying. One of the easiest ways to reduce the chances of picking a poor quality keyboard is by selecting a product from a reputable brand. Here is a list of all the manufacturers that we believe are the most reliable options right now.
Our Recommendations
If you need more of a nudge in the right direction, then don't worry, as we have provided some recommendations of specific models below. We have tried to include a range of products that offer varying sets of features that will be ideal for different types of keyboard users.
1. Keychron K2 V2 Wireless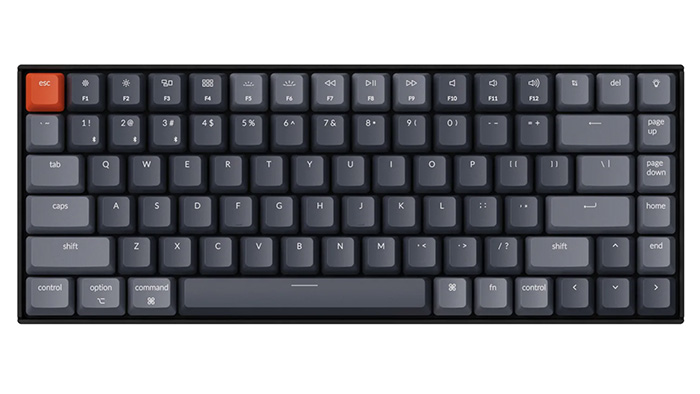 We're starting things off with a keyboard that could quite easily go under the radar of general buyers, the Keychron K2 V2. Keychron are a good example of how relying on already established brands can sometimes lead to you missing out on a hidden gem. Whilst they offer a wide range of keyboards with various form factors, we've gone for the Keychron K2 V2, as the 75% layout offers a perfect blend of compactness and functionality. But what makes this keyboard truly great is the amount of variations available. Whilst the appearance doesn't change much between each model, the functionality varies quite a bit, with little change to the price.
Key Facts: Layout: 75% // Hot-Swappable: Yes // Connectivity: USB-C & Bluetooth // RGB: Yes
The specific model we suggest picking up is the RGB backlit, hot-swappable version with an aluminium frame, as this will ensure the highest possible quality. The aluminium frame means this keyboard can easily take a bump or two, and the adjustable kickstand will improve the overall ergonomics when typing on the K2. And if the design is a bit bland for your liking, you can easily switch out the keycaps and switches out for something a little more unique.
In terms of the connectivity, the K2 V2 can be hooked up to a system with a wired USB-C cable, or wirelessly via Bluetooth. This means the K2 is incredibly versatile, and can be connected to multiple devices at once for increased portability. And with up to 240 hours of battery life, you shouldn't have to worry about the K2 constantly running out of charge.
Pros
Hot-swappable
Lots of model variation
Long battery life
Cons
Boring design
Weak gaming performance
Minor upgrades needed
Buy the Keychron K2 Wireless on:
2. ASUS ROG Falchion MX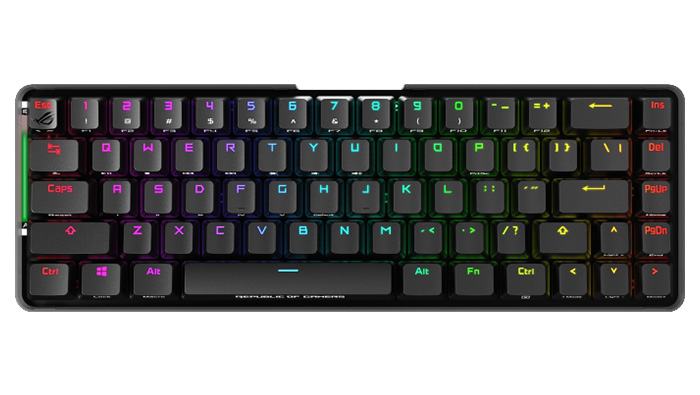 For those looking for something a little bit smaller, we have the ASUS ROG Falchion MX. This keyboard has a compact 65% form factor, a layout that keeps the essential inputs but reduces desk space, leaving more room for your gaming mouse or other accessories. In addition, the Falchion MX includes 2.4GHz wireless connectivity via a USB dongle, which makes it an incredibly portable choice.
Compared to the Keychron K2 V2, this keyboard has a heavier gaming theme throughout, with a black and dark grey design that includes ASUS' trademark Aura Sync per-key RGB lighting.
Key Facts: Layout: 65% // Hot-Swappable: No // Connectivity: USB & 2.4GHz Wireless // RGB: Yes
In both wired and wireless mode, the Falchion MX provides reliable gaming performance, offering gamers a 1ms response time. The MX variant in particular uses Cherry MX switches -hence the name- but the Falchion comes with a wide range of switches to choose from, which means there should be an option for everyone.
However, the ROG Falchion MX has a few tricks up its sleeve. The first of which is an interactive touch panel that can be used to adjust volume, create shortcuts, and check battery status. A feature like this is a rare find on a compact keyboard, and makes quick adjustments mid-game an absolute breeze. On top of this, this keyboard comes with a keyboard cover for added protection.
Pros
Innovative design
Great for gaming
Extremely portable
Cons
Not Hot-swappable
No Bluetooth
Not for typists
Buy the ASUS ROG Falchion RX on:
3. Logitech G PRO TKL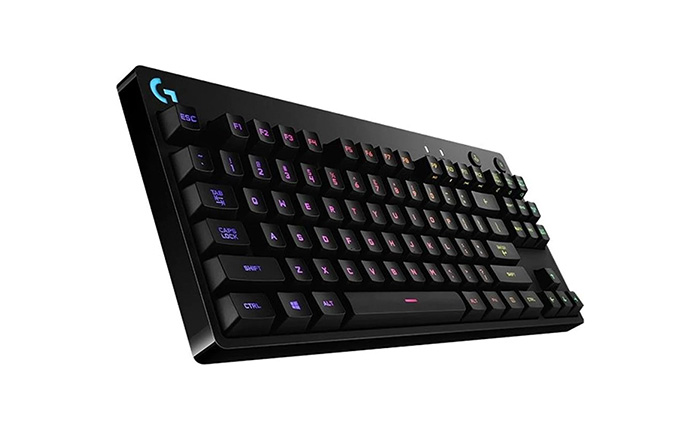 Next up, we have a gaming keyboard with a larger layout, the Logitech G Pro. TKL keyboards have been traditionally been considered the gold standard for competitive gaming. This is because the layout has enough space to fit all the necessary keys, along with some extras programmable buttons, but also clears some room for mouse movements. The Logitech G Pro adopts this mentality, and looks to provide the best gaming performance possible. As a wired keyboard, the G Pro doesn't have the versatility of the other options on this list, but looks to make up for it with quality.
Key Facts: Layout: TKL // Hot-Swappable: No // Connectivity: micro USB // RGB: Yes
The G Pro's all-black aesthetic gives this mechanical keyboard a stealthy and professional feel. However, those looking for a bit more colour will be happy to hear the G Pro includes Logitech's LIGHTSYNC RGB lighting, which can be customised with the onboard controls, or through the G HUB software. If custom RGB isn't enough, then there is special League of Legends design of the G Pro available too.
Performance is where this keyboard truly shines though, as the wired connection provides lower latency, which results in stable and reliable inputs during demanding gaming sessions. Whilst the cable utilises an outdated micro USB port, it is detachable, which helps increase the longevity and durability of the G Pro. To improve reactions further, the G Pro is available with the responsive clicky blue and tactile brown switches, and a kickstand for better ergonomics.
Pros
Stealthy aesthetic
G HUB compatibility
Good for gaming
Cons
micro USB port
Lack of connectivity
Limited switch choice
Buy the Logitech G PRO TKL on:
4. Corsair K70 RGB CHAMPION SERIES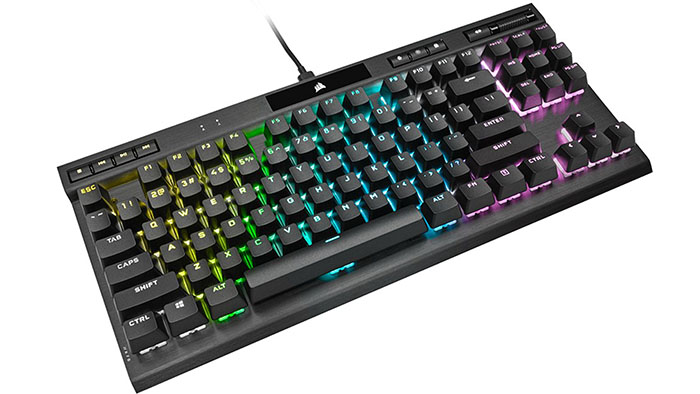 Moving onto a direct competitor to the G Pro, we've picked out Corsair's K70 RGB CHAMPION SERIES. Although the K70 shares a TKL layout and similar purpose to the Logitech G Pro, there a lots of design choices that differentiate the two products. For example, the aluminium frame on the K70 offers a distinct look that alters the effects of the RGB lighting. In addition, the K70 has a taller frame that most TKL keyboards in order to cater for a row of dedicated media controls. Similar controls can be found on most Corsair keyboards, but they are always a welcomed addition to a setup, as it makes adjustments mid-game or in general day-to-day use quick and hassle-free.
Key Facts: Layout: TKL // Hot-Swappable: No // Connectivity: USB-C // RGB: Yes
In terms of performance, the K70 RGB CHAMPION SERIES lives up to its name by providing high-end performance in all the latest competitive titles. Powered by Corsair's AXON technology, this keyboard boasts a polling rate of 8000Hz, resulting an incredibly low response time of 0.25ms. Also, the strictly wired USB-C connection keeps input lag to a minimum, and the detachable cable increases the longevity and portability.
Along with dedicated media controls, the K70 includes a tournament switch, which is one of the most innovative features on the market for competitive gamers. This switch allows users to disable macros and change to static lighting instantly. This helps to avoid any mishaps during an intense round of gaming, and lets gamers focus on the task at hand.
Pros
Innovative Design
Detachable USB-C cable
Corsair iCUE compatibility
Cons
No wireless connectivity
Limited switch choice
Not hot-swappable
Buy the Corsair K70 RGB CHAMPION SERIES on:
5. MSI Vigor GK71 Sonic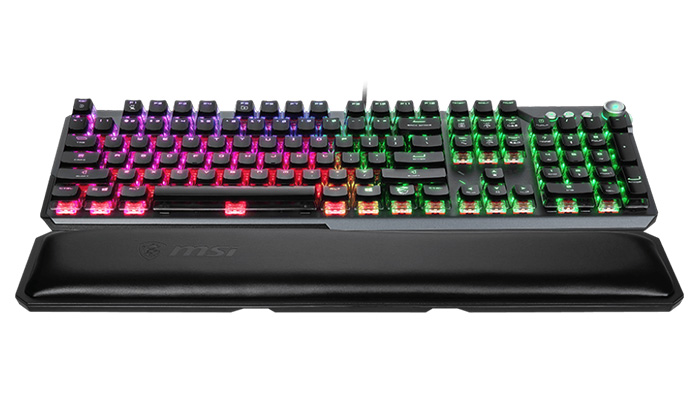 For those looking for a full-sized keyboard that makes a statement, then look no further than the MSI Vigor GK71 Sonic. Whilst the design of the GK71 Sonic is more of an acquired taste than the alternatives on this list, it is an absolute dream for lovers of RGB. The functionality of a full-sized layout is more suited to productivity, but the aesthetics on this keyboard is definitely tailored towards gamers. The combination of brushed metal and black plastic on the frame makes for a smart and durable base, but this gets quite literally outshined by the pudding keycaps. These keycaps possess the traditional solid black look on the top, but the clear plastic on the sides makes the GK71 Sonic extremely vivid and colourful.
Key Facts: Layout: 100% // Hot-Swappable: No // Connectivity: USB // RGB: Yes
But MSI's ClearCaps are not only designed for style purposes, they also contribute to the lighter feel of the GK71 Sonic. In combination with MSI's linear Sonic Red switches, the keys on the GK71 Sonic feel very lightweight, leading to a smooth and bouncy typing experience. Some additional features that enhance the typing experience further includes an adjustable kickstand and included wrist rest.
However, the major downside to the GK71 Sonic is that the strictly wired connection lacks a detachable cable. With this on top of the heavier frame and full-size layout, the GK71 Sonic is not very portable, meaning it would work better in a permanent setup.
If you want to learn more about this keyboard, check out our in-depth review of the MSI Vigor GK71 Sonic.
Pros
Bright RGB lighting
Good build quality
Smooth typing experience
Cons
No detachable cable
No wireless connectivity
Large & heavy design
Buy the MSI Vigor GK1 Sonic on:
6. Ducky One 3 Mini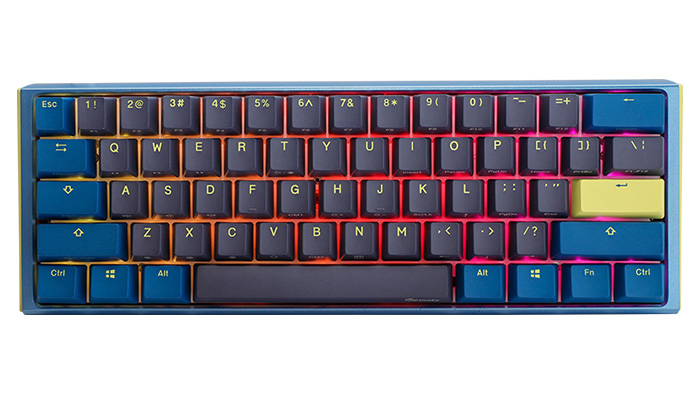 To round off our list, we have the Ducky One 3 Mini. Another brand that purely focusses on gaming peripherals, Ducky have built a reputation for producing high-quality keyboards. Their One 3 Mini is a popular choice in particular, due its the small form factor and customisation options. With a 60% layout, the Ducky One 3 Mini is a better choice for gamers, as it is missing key inputs required for general productivity tasks. However, the integrated function key does offer a way round the limited keys featured on the design, which helps make the portable nature of the One 3 Mini slightly more appealing.
Key Facts: Layout: 60% // Hot-Swappable: Yes // Connectivity: USB-C // RGB: Yes
But perhaps the most appealing aspect of the One 3 Mini is the potential for customisation. Whilst the included switches and keycaps are satisfying enough to pick this keyboard up, the ability to hot-swap switches gives consumers complete control over how this keyboard feels. Also, being able to remove damaged keys helps increase the One 3 Mini's lifespan, which adds to its overall value.
As for connectivity, the Ducky One 3 Mini is a wired keyboard that is connected via a USB-C port, which results in a reliable connection that is capable of competing with most gaming-based keyboards on the market. And whilst the lack of wireless connectivity stops the One 3 Mini from being the one of the best portable options on the market, the detachable cable makes it very easy to travel with.
Pros
Unique, compact design
Hot-swappable
Detachable USB-C cable
Cons
No wireless connectivity
Limited functionality
Additional costs to upgrade
Buy the Ducky One 3 Mini on: