Introduction
When building your first PC, choosing out a cooler for your system can be a difficult task at times. The market is saturated with a myriad of options suited for all types of builds. There are a number of CPU coolers ideal for overclocking, ensuring your build is nice and cool whilst you're pushing performance to the maximum. But due to the fact that there's a significant premium that comes with liquid cooling, what are your options if you're building on a budget?
Are there any options for you if you've only allotted a small amount to spend on your CPU cooler? Today we'll be answering these exact questions with a roundup of the best budget liquid CPU coolers to buy under $100. We're rounding up a variety of choices with different sizes and aesthetics whilst still providing excellent performance whilst giving you extra options for design and flair.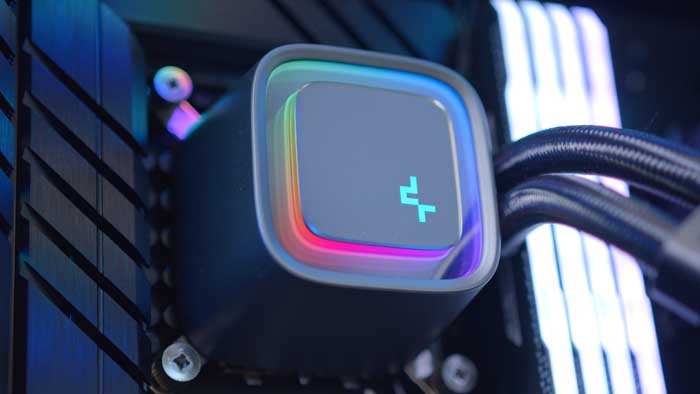 Suggested Article: The Best CPU & CPU Cooler Combos to Buy in 2022!
Air vs Liquid Cooling
Air vs liquid cooling is an age-old argument that always comes into discussion when picking out a CPU cooler. Instead of arguing which is better I'll instead argue the use-case for liquid cooling over an air cooler. Liquid coolers have become a more mainstream option for several consumers due to the increase in CPU performance, and the associated heat output.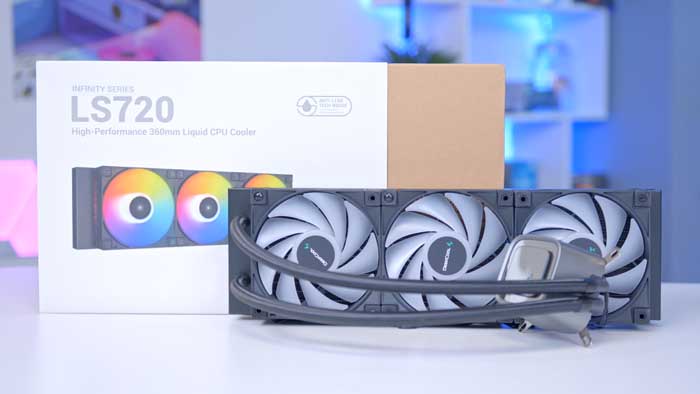 If you were to look back at CPUs that were being released five or so years ago, you'd see a significant difference in clock speeds and total wattage output. Most older CPUs didn't demand the need for a liquid cooler because the CPU thermals were easily dealt with by a decent air cooler. But, due to significant performance increases in the past few years, CPUs have become hotter and hotter. And if we look at overclocking, a practice whereby you run a CPU faster than its default speeds, the demand for more efficient coolers increases exponentially. This is clearly demonstrated by the boosting behaviour of AMD's latest Ryzen 7000 processors, where the fundamental design of the chip necessitates a good CPU cooler to handle the temperatures output.
Which Radiator Size Do I Need?
After you've determined a budget for your CPU cooler, you'll next need to pick out a radiator size. There are a few main sizes, based around the standard 120mm and 240mm fan sizes.
120mm-based Designs
Use Case
140mm-based Designs
Use Case
120mm
– Budget systems
– Small form factor systems
– Fairly inefficient for cooling
140mm
– Small form factor systems
– Less efficient than a 240mm design
240mm
– Best mi-range option
– Widest variety of designs
280mm
– Best compact option for high-end systems
360mm
– Best high-end option
– High-end systems
420mm
– Fairly Niche
– Very high-end Systems
We'd recommend
| | | |
| --- | --- | --- |
| CPU | Heat Rating | Recommended Cooler Size |
| Intel Core i3 Series | 🔥 | 120mm |
| AMD Ryzen 3 Series | 🔥 | 120mm or 240mm |
| Intel Core i5 Series | 🔥🔥 | 240mm |
| AMD Ryzen 5 Series | 🔥🔥 | 240mm |
| Intel Core i7 Series | 🔥🔥🔥 | 360mm |
| AMD Ryzen 7 Series | 🔥🔥🔥🔥 | 240mm or 360mm |
| Intel Core i9 Series | 🔥🔥🔥🔥 | 360mm or 420mm |
| AMD Ryzen 9 Series | 🔥🔥🔥🔥🔥 | 360mm or 420mm |
You'll also need to take stock of which radiator sizes the case you have selected supports. Smaller form factor cases won't support all radiator form factors, while some chassis will better accommodate 120mm-based designs, rather than the larger 140mm alternatives. Radiator support in a case might also impede on GPU clearance, something to be mindful when spec'ing your system for the first time.
Socket Compatibility
Another major point to touch upon is socket compatibility. Although most modern CPU coolers tend to have updated mounting hardware, not all coolers will be compatible with your choice of CPU. To avoid not having compatible components we'd recommend checking out the manufacturers website to ensure it supports your CPU socket.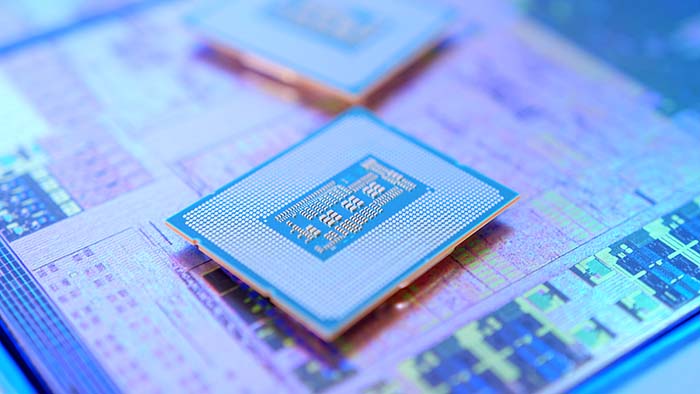 Best Budget CPU Liquid Coolers
Now for the main section that you've been waiting for, here are the best budget liquid coolers to buy on a budget. We've covered a wide range of options that feature a variety of different budgets and sizes for a plethora of builds. P
1. Cooler Master MasterLiquid Lite 120
The best option for those on an ultra-budget.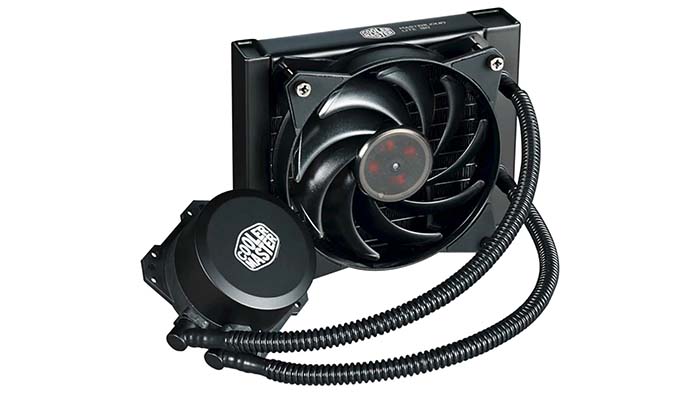 Key Specs:
Size: 120mm
Pump Connector: 3-Pin
Max Fan Speed: 2000RPM
RGB: No
CPU Socket: LGA1200, AM4, LGA1700 (upgrade kit required)
Cooler Master's MasterLiquid Lite 120 is a discrete 120mm design perfect for smaller systems, or for those that want some excellent cooling but have a limited budget. The robust and strong tubing minimises any potential evaporation while ensuring that your tubes don't accrue any kinks or bumps after installation. The smaller design also gives you plenty of options for mounting, as pretty much every case should be able to support a 120mm fan as a minimum.
The fact that this is such a small radiator also makes it perfect for a smaller build. If you've picked up a Mini-ITX case but you're trying to be a bit more price conscious, this cooler will be excellent to fit in a small build. Not only is it a silent cooler, but moving heat away efficiently and quickly is no issue for the MasterLiquid Lite 120, making it ideal for a multitude of different PC builds!
Buy the Cooler Master MasterLiquid Lite 120:
2. Best Budget 240mm Cooler – Deep Cool GAMMAXX L240 V2
The best option for those looking at a budget 240mm option.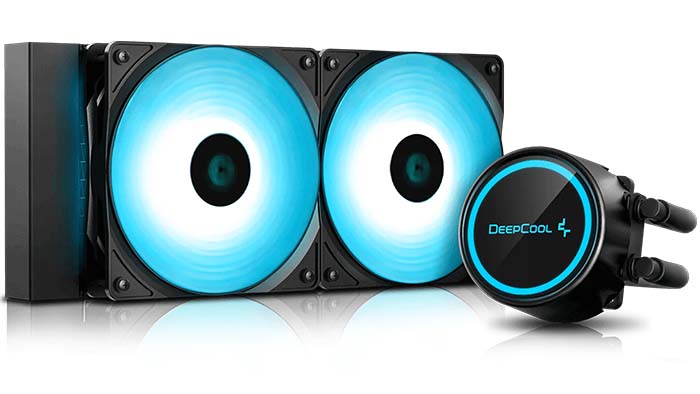 Key Specs:
Size: 240mm
Pump Connector: 3-Pin
Max Fan Speed: 1800RPM
RGB: Yes
CPU Socket: LGA1700, LGA1200 AM5, AM4
We've looked at the Deep Cool GAMMAXX L240 V2 in a number of buyers guides, and needless to say it doesn't disappoint. This CPU cooler comes kitted out with Deep Cool's renowned anti-leak technology bringing relief to those worrying about water spilling out into their system. This technology helps achieve an automated pressure balance while improving the operating safety of AIO liquid coolers to ensure that your cooler isn't damaged easily.
Not only does the GAMMAXX L240 V2 bring excellent thermal balance but you've also got the added flair of an RGB fan and CPU block. The water block and fans can be plugged into a 12V RGB header which can be controller with a variety of different RGB software such as AURA Sync, Mystic Light and more. This gives you the opportunity to customise your lighting effects and sync up any other RGB components you've decided to install in your build. You get the benefit of silent cooling, whilst also being able to show off your build in style with an excellent cooler.
Buy the Deep Cool GAMMAXX L240 V2 on:
3. Cooler Master MasterLiquid ML240L RGB V2
The budget option with a white colour way.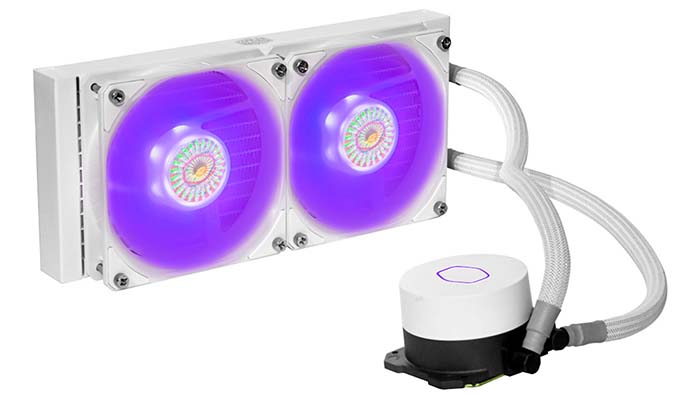 Key Specs:
Size: 240mm
Pump Connector: 3-Pin
Max Fan Speed: 2400RPM
RGB: Yes
CPU Socket: LGA1200, AM5, AM4, LGA1700 (upgrade kit required)
Cooler Master's ML240L V2 RGB is another liquid AIO that we've recommended in a number of buyers guides, but this time we're taking a look at the white version. The ML240L brings awesome performance alongside excellent aesthetics giving you the ability to reinforce the aesthetic of your build with a white cooler. This 240mm design features a dual pump with improved housing designed to boost thermal dispersion, whilst remaining efficient and quiet removing any annoying buzzing or whirring that comes with fans and cheaper pumps.
The ML240L V2 also comes with Cooler Master's SickleFlow RGB fans designed to bring impressive airflow and the additional RGB lighting that we love to see with components. The unique SickleFlow design maintains constant air pressure while giving you the ability to create a near-silent system due to the premium rifle bearings found in the fans.
Buy the Cooler Master MasterLiquid ML240L RGB V2 on:
4. Corsair iCUE H60i RGB PRO XT
The best overall 120mm AIO cooler.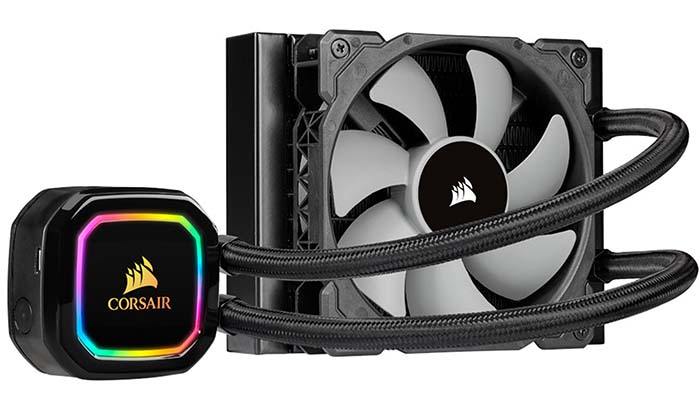 Key Specs:
Size: 120mm
Pump Connector: 3-Pin
Max Fan Speed: 1800RPM
RGB: Yes
CPU Socket: LGA1200, AM5, AM4, LGA1700 (upgrade kit required)
Corsair's iCUE coolers, as a general rule of thumb, are excellent, and the H60i RGB PRO XT definitely follows suit. This 120mm design takes Corsair's signature iCUE RGB technology alongside their renowned magnetic levitation fans creating a high performance but compact cooler. The high performance cold plate and pump gives users the opportunity to push the clock speeds of their CPUs ensuring that your system is kept nice and cool whilst under load.
The pump also features dynamic multi-zone RGB lighting offering stunning and vibrant customisable effects that match the style and aesthetic of your build. This can all be synced up and configured using Corsair's industry leading iCUE software which has intuitive and simple controls whilst also letting your customise lighting and fan curves to your heart's content!
Buy the Corsair iCUE H60i RGB PRO XT on:
5. MSI MAG CORELIQUID P360
The best budget 360mm AIO liquid cooler.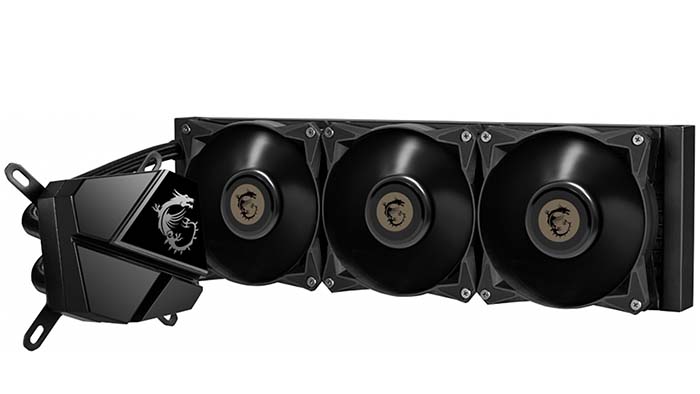 Key Specs:
Size: 360mm
Pump Connector: 3-Pin
Max Fan Speed: 2000RPM
RGB: No
CPU Socket: LGA1200, AM5, AM4, LGA1700
For our final budget cooler in this round up we've picked out MSI's MAG CORELIQUID P360. This 360mm cooler is perfect for a variety of different systems and will be ideal for those building a budget or higher-end system. Despite the performance and size, the CORELIQUID P360 is exceptionally cheap and brings a lot of value to the table versus performance.
The unique design of the CORELIQUID P360 makes it ideal for those trying to push the performance boundary with overclocking. The pump of the P360 is integrated into the radiator to reduce noise, but also to increase the life expectancy by moving it away from the core heat source. The split pathway design of the radiator then allows heat to dissipate heat rapidly with cooled liquid pumping back into the loop. With three fans you'll also retain high air pressure keeping the rest of your system cool and near-silent.
Buy the MSI MAG CORELIQUID P360 on: