Introduction
Over the course of 2022, AMD suffered from quite a few losses in both the CPU and GPU spaces. This resulted in their competitors (Intel and NVIDIA) dominating their respective markets, somewhat pushing AMD out of the equation. However, the end of 2022 saw Team Red 'rise from the ashes', with a brand new GPU launch and a well matured 6000 series GPU line-up that benefited from price drops and driver improvements.
The latest Radeon RX 7900XTX was received extremely well in the PC building community, due to it's impressive performance metrics, and competitive pricing. Although AMD's initial RX 6000 series has aged like fine wine, Radeon 7000 is the proverbial anchor that AMD have needed to properly right their GPU ship.
With the brand new Radeon RX 7900 XTX offering similar performance metrics to NVIDIA's very own RTX 4080, but at a lower MSRP price point, now is a great time to secure one of these cards for a brand new PC build, or a system upgrade. But this begs the question, what cards are available on the market right now? Is it worth securing an AMD reference card to lower your expenditure? Or is an AIB graphics card a better option to ensure better thermals? In this buyers guide, we'll be answering these very questions with a GeekaWhat graphics card roundup!
Suggested Article: Best Cases for AMD Radeon RX 7900 XTX & XT
The Best Radeon RX 7900XTX GPUs to Buy
Now for the most important part of this article – the recommendations! We've rounded up the best RX 7900XTX graphics cards to buy, including the initial reference card, alongside some AIB options. We've given each GPU an award based on it's various features, aesthetics, and pricing.
1. AMD Radeon RX 7900XTX Reference Card
👑 The best value RX 7900 XTX.
Introduction
Much like NVIDIA, the best all-rounder option is usually the Founders Edition, or in this instance, AMD's reference models. The reference models serve as a baseline for manufacturers to build up from when it comes to cooling, and clock speeds. Thus, the reference cards are the cheapest options available and will always remain the closest to the original MSRP.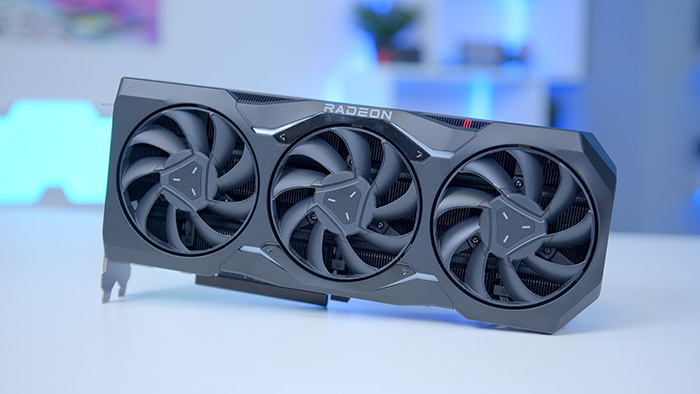 When it comes to the aesthetic, I'm actually a big fan of the AMD reference cards. Unfortunately RGB lovers will want to look at our other recommendations, but actual shroud and design looks great. This card is much thinner and not as chunky compared to the majority of the RTX 4000 series GPUs. Overall it looks very sleek, and will blend in well with a multitude of different build styles.
In terms of performance and thermals, 7900XTX offers metrics similar to that of a 4080, which means it is excellent at 4K, and can handle Ray-Tracing as well. Thermals on this card are also relatively strong, with temperatures sitting close to 60 degrees dependent on the title being played, and how hard you're pushing the card. Ultimately this reference card won't be incredible in terms of thermal output, but AMD have done an excellent job in ensuring that their 'Founders' card offers strong thermals.
Key Specs
| Key Specs | AMD Radeon RX 7900XTX Reference Card |
| --- | --- |
| Video Memory | 24GB GDDR6 |
| Memory Bus | 384 bit |
| Base Clock Speed | 2.3GHz |
| Boost Clock Speed | 2.5GHz |
| CUDA Cores | 16384 |
| Power Consumption | 355W |
| RT Cores | 96 |
| PCI-E Generation | PCI-E 4.0 |
| GPU Length | 287mm |
| Fans | 3 |
| RGB | No |
Things We Like
Cheaper option: As the reference card for AMD's latest premium offering, this card is one of the cheapest ways to get your hands on a RX 7900 XTX. Whilst gamers shouldn't expect a bargain, being able to save a couple of quid is always welcomed when spending a lot of money on a single component, as the costs of a high-end PC build can add up quite quickly.
Great base design: Normally, the base variants of GPUs can look pretty bland when compared to other choices gamers can choose from. However, the aesthetics on this card look great, offering a sleek and futuristic look to any gaming PC it is slotted into. Whilst the reference card still lacks the additions that can be found on the RX 7900 XTX SKUs, it will be enough to get the seal of approval from even the most design-conscious gamers.
Things We Don't Like
Lack of RGB: Though we'd say that the overall design of AMD's RX 7900 XTX looks great, there are a few missing design choices that will upset a few high-end gamers. The main exclusion is the lack of RGB lighting, which has become a standard feature on lots of modern GPU designs. Some consumers may like the stealthier look of this design, but having the choice of RGB would have made this a much more appealing option to those wanting their GPU to stand out.
Large form factor: A common issue with a lot of the latest generation of GPUs is the larger form factor. As cards have become more powerful, they have increased in size to cater for this, and it has now got to the point where these cards struggle to fit into a lot of PC cases. Whilst this card isn't the largest design, it is still fairly big, and may cause issues with smaller PC builds.
Summary
AMD's reference card is a great option for high-end gamers looking to get the most out of their high-end components. With solid gaming performance, a sleek-looking design, and impressive thermals, this GPU is a great choice for those wanting to make a high-end gaming system in the most cost-effective manner. Whilst there are some exclusions and size issues to consider, it will be a similar story for the other options on this list.
Pros
The cheapest option on the market.
Strong thermals overall.
Very good performance compared to NVIDIA counterparts.
Cons
Not much in the way of RGB.
Still quite a big card.
Where to Buy
Buy the AMD Radeon RX 7900XTX on:
2. ASRock AQUA OC Radeon RX 7900XTX
👑 The best water-cooled RX 7900 XTX.
Next up in our roundup is the ASRock AQUA OC RX 7900XTX. As you can see, this particular model is a liquid cooled variant, that comes with a preinstalled block. The front of the card features a metal finish which opens up towards the middle of the card where consumers will be able to see the liquid move throughout the channels in the block.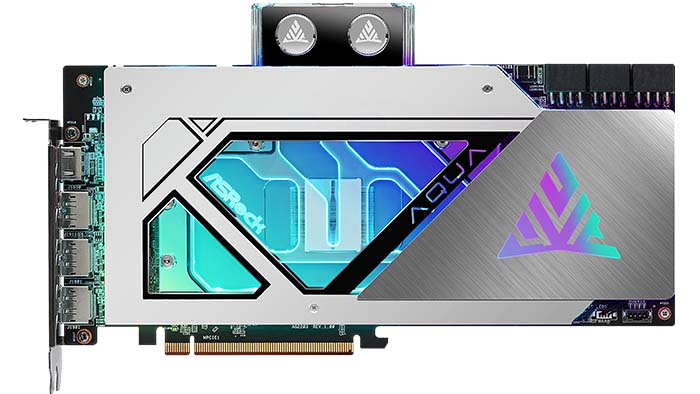 The biggest caveat to this card, is that consumers will be expected to provide their own liquid cooling loop, alongside a pump and radiator to keep the GPU cool. Fortunately, this should be relatively easy to do, as ASRock have already done the hard part, by removing the shroud and fitting their own block to the card. We would recommend only enthusiasts pick up this GPU, based on the extra legwork that needs to be done to get this GPU running. However, if you're looking for a unit that has excellent thermals, ASRock has definitely provided on this front.
Key Specs
| Key Specs | ASRock AQUA OC Radeon RX 7900XTX |
| --- | --- |
| Video Memory | 24GB GDDR6 |
| Memory Bus | 384 bit |
| Base Clock Speed | 2.3GHz |
| Boost Clock Speed | 2.68GHz |
| CUDA Cores | 16384 |
| Power Consumption | 355W |
| RT Cores | 96 |
| PCI-E Generation | PCI-E 4.0 |
| GPU Length | 257mm |
| Fans | 0 |
| RGB | Yes |
Things We Like
Great thermals: Due to this variant featuring a design that is strictly for a water-cooled system, it is no surprise to see the cooling benefits this GPU possesses. The immense amount of power that high-end GPUs use often leads to overheating issues when paired up with the conventional air cooling systems. But this design tackles the problem directly at the source, meaning that gamers should never have to worry about their GPU getting too hot ever again.
Smaller size: Another issue with modern graphics cards that the ASRock AQUA variant gets rid of is the ridiculously large size. Whilst this design isn't the most compact, it does provide a serious size downgrade from other RX 7900 XTX options, meaning those with smaller cases will have more luck fitting this card into smaller systems. Although, most PC builds featuring this card will need enough space for a custom loop, it is only a small win in the grander scheme of things.
Things We Don't Like
Difficult to install: There is no doubt that a high-end graphics card with improved thermals and a smaller form factor is going to appeal to most consumers, but be careful what you wish for before deciding on this model. This is because the water-cooled design on this RX 7900 XT requires a lot of care and expertise to be installed correctly, and can very easily result in a huge waste of money. Because of this, less experienced builders should stay way from this design, or get someone more experienced to help them out.
Very expensive: Along with the additional effort needed to install this GPU, it also requires a lot of extra funds. Not only is the model itself significantly more expensive than the other options on this list, but the water-cooling add-ons needed to take full advantage of the enhanced thermals on this design will soon add up. Because of this, high-end gamers that are not accustomed with building PCs and are looking to save time or money will want to look elsewhere.
Summary
The ASRock AQUA OC RX 7900 XTX is a an exciting design that is bound to raise a few eyebrows amongst PC building enthusiasts. The water-cooled design provides some much-needed improvements to thermals and form factor, whilst also looking great with a heavy helping of RGB. However, these rewards come with plenty of risks if not handled with care, risks that will be too large for most gamers.
Pros
Excellent thermals.
Looks awesome.
Mild overclock on the boost speed.
Cons
The most expensive AIB option.
Doesn't come with fans or a radiator.
Buy the ASRock AQUA OC Radeon RX 7900XTX on:
3. Sapphire Nitro+ Vapor-X Radeon RX 7900XTX
👑 The best RGB RX 7900 XTX.
For the best RGB option, we've picked out Sapphire's Nitro+ Vapor-X model. Although this particular variant doesn't have the best naming scheme, it offers an awesome RGB strip that can be seen across the entire GPU from top to bottom. This means that users who prefer vertical mounting, can also make use out of the excellent RGB lighting that comes with this GPU.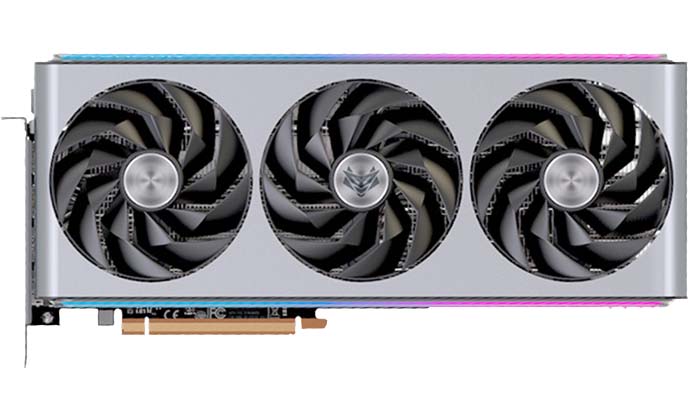 This model is slightly larger in terms of length, which does mean consumers will need to choose a case that has enough clearance and airflow to ensure good thermals. The RGB bars located on the top and bottom of the GPU can be entirely controlled using the TriXX software application, allowing consumers to change lighting effects accordingly. Overall, if you're looking for a card that has a huge amount of RGB, then the Vapor-X model from Sapphire is a great choice. But be aware that you may have to pick out a bigger case due to the increased size.
Key Specs
| Key Specs | Sapphire Nitro+ Vapor-X Radeon RX 7900XTX |
| --- | --- |
| Video Memory | 24GB GDDR6 |
| Memory Bus | 384 bit |
| Base Clock Speed | 2.3GHz |
| Boost Clock Speed | 2.68GHz |
| CUDA Cores | 16384 |
| Power Consumption | 420W |
| RT Cores | 96 |
| PCI-E Generation | PCI-E 4.0 |
| GPU Length | 320mm |
| Fans | 3 |
| RGB | Yes |
Things We Like
Great for RGB lovers: Any RGB lovers will be more than thrilled with the design of this GPU. Whilst the overall aesthetic remains fairly simplistic – and not that great in our opinion – the heavy use of RGB is perfect for bright and colourful gaming PCs. And with the ability to customise these lighting effects allows gamers the chance to easily integrate their GPU into the rest of their PC build.
Good thermals: As a larger variant of the RX 7900 XTX, this GPU has more room to play around with to improve the thermals and efficiency. Featuring a triple-fan layout, this graphics cards is provided with plenty of airflow, reducing the chances of overheating, even when this card is a bit tight for space.
Things We Don't Like
Higher power consumption: One of the biggest concerns that stands out with this graphics card is the increased power consumption, as this could catch out consumers that are expecting the requirements to be similar to the reference design. This increase in demand may also require a greater power supply in order to avoid efficiency issues, and raises questions over whether the performance benefits justify the extra power demands.
Large design: This graphics card is one of the biggest casualties of the size increase that has come with the latest generation of GPUs. As a triple-fan design, this GPU is always going to struggle to fit into smaller micro-ATX and mini-ITX cases. However, this design is large enough to cause problems for most mid-tower cases too, meaning those with pre-existing cases may need to consider an upgrade if they want to pick up this GPU.
Summary
For RGB lovers looking to pick up a high-end graphics card for their custom PC, the Sapphire Nitro+ Vapor-X Radeon RX 7900XTX is definitely worth considering. This design features more than enough RGB lighting to make the internals of a system bright and colourful, with some good thermals to boot. Although, this focus on RGB does come at the cost of a larger design that needs more power to run efficiently.
Pros
RGB lighting looks excellent.
Lighting can be fully customised using TriXX software.
Triple-fan design ensures better thermals.
Cons
One of the larger AIB options.
Front of the card doesn't look amazing.
Buy the Sapphire Nitro+ Vapor-X Radeon RX 7900XTX on:

4. MSI Gaming Trio Classic Radeon RX 7900XTX
👑 The best looking RX 7900 XTX.
For our final recommendation, we've picked out MSI's Gaming Trio. This particular has been a mainstay design from MSI for quite some time. I'm a huge fan of the classic look of the Gaming Trio aesthetic, and this a design many consumers will be familiar with if you've been building PCs for a few years.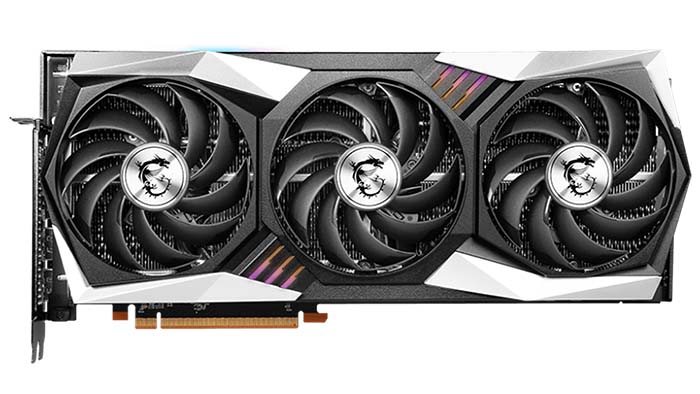 This particular version features the greyed angular accents at the top and bottom of the card, which gives the look some depth and texture. The fans unfortunately aren't. RGB, but there are some minimal strips that can be seen towards the top right and bottom left of the GPU, with some on the top as well. Thermals are relatively strong on this card too, the triple-fan design should be more than capable of providing enough airflow throughout your system. Although this design might not be for everyone, I believe the simplicity of the Gaming Trio card looks excellent, and will blend in well with a multitude of builds.
Key Specs
| Key Specs | MSI Gaming Trio Classic Radeon RX 7900XTX |
| --- | --- |
| Video Memory | 24GB GDDR6 |
| Memory Bus | 384 bit |
| Base Clock Speed | 2.3GHz |
| Boost Clock Speed | 2.5GHz |
| CUDA Cores | 16384 |
| Power Consumption | 355W |
| RT Cores | 96 |
| PCI-E Generation | PCI-E 4.0 |
| GPU Length | 350mm |
| Fans | 3 |
| RGB | Yes |
Things We Like
Striking design: In terms of looks, this is arguably the one variant that shares the most similarities with AMD's reference card. However, this design adds a numbers of enhancements to the original to create an aesthetic that is more suited to a high-end gaming PC. With custom RGB and silver accents surrounding the triple-fan layout, this GPU is a great choice for those gamers wanting their gaming PC to turn heads.
Affordable pricing: The aesthetic isn't the only area in which this design comes close to the base design from AMD, as this graphics card is also one of the more affordable RX 7900 XTX options on the market. It's hard to say that any high-end GPU is cheap, but you'll struggle to find a card that offers a top-tier 4K gaming experience for less, especially one that looks as good as this one!
Things We Don't Like
Very large: Just like the other RX 7900 XTX designs featured on this list, the MSI Gaming Trio comes with the caveat of a rather large form factor. As the biggest card out of all the options on this list, this design is not an ideal pick for anyone that is concerned about fitting a larger GPU into a smaller case.
Lacking performance benefits: A typical benefits of picking up a SKU of a particular graphics card is the slight bump in performance. Unfortunately, those hoping for any improvements with this card are going to be left disappointed, as this card has almost identical specs to the base model. Whilst the few frames gained won't be a big loss to anyone, especially given the higher price tag that often comes with these marginal gains, it is worth considering for those wanting the best performance possible.
Summary
Overall, the MSI Gaming Trio Classic Radeon RX 7900XTX is the perfect choice for those wanting a more aesthetically-pleasing version of the AMD's original card for only a small bump in price. As one of the more affordable variants, this graphics card won't provide much in terms of performance, but it does boost the visual appeal significantly. If you have enough space to fit this card in your PC build, then it is worth taking a look at.
Pros
Design looks awesome.
Comes with customisable RGB lighting.
One of the cheaper AIB options.
Cons
Card size will limit case options.
Aesthetic won't be for everyone.
Buy the MSI Gaming Trio Classic Radeon RX 7900XTX on:
Is the RX 7900XTX Worth It?
With the release of NVIDIA and AMD's latest graphics cards we've had to ask this question more than often. When buying PC components, the biggest question every consumer should ask, is whether the performance is worth the overall cost. This allows users to ascertain value, and find alternative options too. With the ever-increasing cost of graphics cards in today's market, value becomes even harder to distinguish.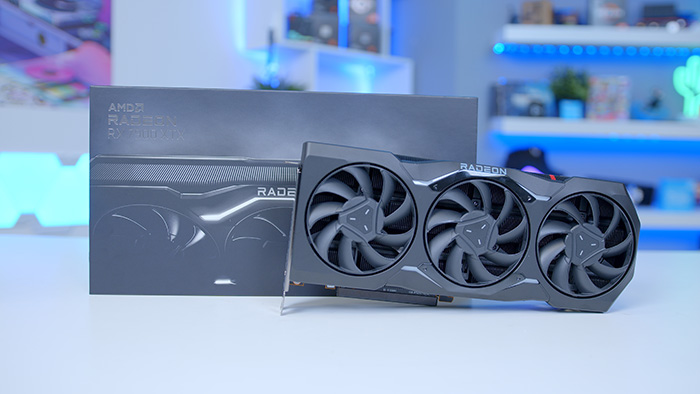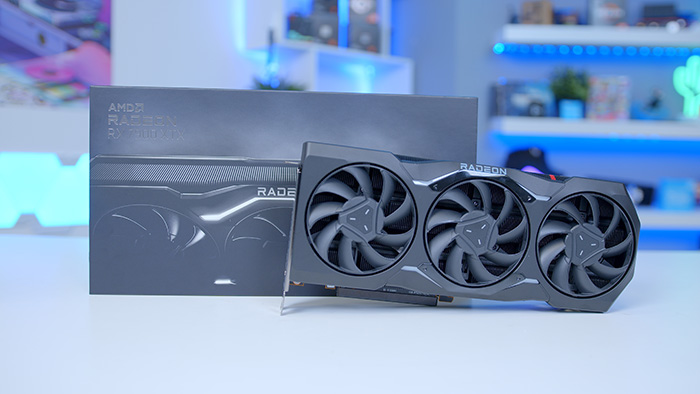 NVIDIA's most recent cards (namely the 4080 and 4070Ti) have been a write-off for many consumers due to the exorbitant price tag, but do AMD's new cards follow suit? Although the Radeon RX 7900XTX is definitely an expensive card, I'd argue that there is excellent value. With performance sitting near the RTX 4080, the vast majority of consumers will not be disappointed with the performance.
You're effectively paying for a GPU that can sit on par with the RTX 4080 for $200 less. The Radeon 7900 XTX can't quite perform at the same level when it comes to Ray-Tracing. But much like the 6000 range of cards, we're expecting the top-end AMD GPUs to become better with time, and Ray-Traced titles will likely see improved performance later down the line.
AMD Radeon RX 7900XTX Dimensions
Much like the increased prices that we've seen with AMD's and NVIDIA's most recent graphics cards, the dimensions of these cards also seem to have increased slightly. AMD's most recent cards haven't received the extreme treatment that NVIDIA's RTX 4000 series has, far from it. The in house design from AMD sits at 287mm, which is a nice decrease from the 300mm+ that NVIDIA's smallest Founders Edition GPUs occupy.
This allows consumers to pick up a mid-tower case that isn't gigantic, and build a system that looks better proportioned. The smaller size is more accommodating when it comes to clearance and airflow, and provides more options when it comes to cases. To provide some more context on dimensions and clearance, we've provided a table that covers the size of some AIBs, alongside the case clearance we recommend for each GPU.
Radeon RX 7900XTX GPUs
GPU Dimensions
Recommended Case Clearance
Founders Edition (Reference Card)
GPU Length: 287mm
GPU Width: 135mm
320mm – 350mm
ASUS TUF Gaming Radeon RX 7900XTX
GPU Length: 352mm
GPU Width: 158mm
400mm+
MSI Gaming Trio Classic Radeon RX 7900XTX
GPU Length: 325mm
GPU Width: 141mm
380mm+
Sapphire Nitro+ Vapor-X Radeon RX 7900XTX
GPU Length: 320mm
GPU Width: 135mm
380mm+
Gigabyte AORUS Elite Radeon RX 7900XTX
GPU Length: 335m
GPU Width: 137mm
380mm+
ASRock AQUA OC Radeon RX 7900XTX
GPU Length: 257mm
GPU Width: 157mm
300mm+
As you can see from the table we've created above, the Radeon 7900 XTX GPUs tend to vary in size quite significantly. The reference card sits at 287mm which is actually smaller than the RTX 3090 and 3090Ti. Its great to see that AMD have managed to keep the size down of their reference cards. As we start to look at the AIBs, these cards do get quite big. The biggest card it seems is also from ASUS, with their TUF edition card sitting at 352mm in length.
Overall, you can see that some of the available AIBs will cause some restrictions when choosing a case to house your components. However, these cards on the whole are smaller than their NVIDIA counterparts. This might open up some options when it comes to clearance, but consumers will want to ensure they do the necessary research on their chosen case so that thermals don't suffer.
AMD Radeon RX 7900 XTX Benchmarks
In terms of raw gaming performance, the RX 7900 XTX usually jostles for position with the RTX 4080, which is fairly impressive given that AMD's card is available for $200 less at MSRP. But in some cases, such as Apex Legends at 4K, the AMD Radeon RX 7900 XTX is manage to outperform the RTX 4090, a card that a lot more expensive in comparison.
This shows just how valuable this card is to high-end gamers, as it can outperform Nvidia's more expensive 4000 series GPUs in a number of different scenarios. Though this graphics card is still one of the more expensive choices on the market, and suffers from the lack of DLSS 3.0, these benchmarks show why so many high-end gamers looking for the best 4K gaming experience are picking up the RX 7900 XTX.
Why You Can Trust Us
Before we head into the individual recommendations, we wanted to explain why you can trust our decision-making. Our team of PC hardware experts spend a lots of time testing every product that come through our doors, to make sure we know how they perform in a wide range of gaming and productivity scenarios. For those wanting to learn more about the members of the GeekaWhat team, check out the About Us section, which is where you'll find more information our editorial promise.
How We Picked the Best AMD Radeon RX 7900 XTX Graphics Cards
Here at the GeekaWhat offices, we test a wide range of components on a daily basis, including a lot of graphics cards. During our time with each GPU, we run them through a number of benchmarks on all the most popular competitive titles. On top of this, we place each card into numerous PC builds, which gives us a solid understanding of the usability and performance for that specific product.
After extensive use, we bring all of these elements together to form our verdict over the quality of the graphics card in question, along with considerations on what type of gamers would benefit from the features and performance that particular card has to offer. Our way of relaying this information to you is either through our YouTube videos, or via detailed reviews and buyers guides like this one.
When looking at graphics cards in particular, the key factors we take into consideration are the performance, design, thermals, and for compatibility reasons, size. Referring to these key factors, we can then provide an overview on how the features included or excluded on each GPU will impact the user experience, and more importantly, how it will impact gaming.
For more insight into our assessment methods and procedures, take a look at some of our in-depth reviews on some of the latest GPU releases below:
Conclusion
Despite all of the options considered in this list, we believe that the AMD's reference card is the best RX 7900 XTX you can buy right now. Whilst the other variants all bring something extra to the table, the base design looks great and offers one of the best value for money deals on the market for high-end gamers. If you can get your hands on one, then you won't regret picking up this GPU.
For those looking for a graphics card that does offer more in terms of aesthetics, then the MSI Gaming Trio Classic Radeon RX 7900XTX is a great alternative that enhances the original design.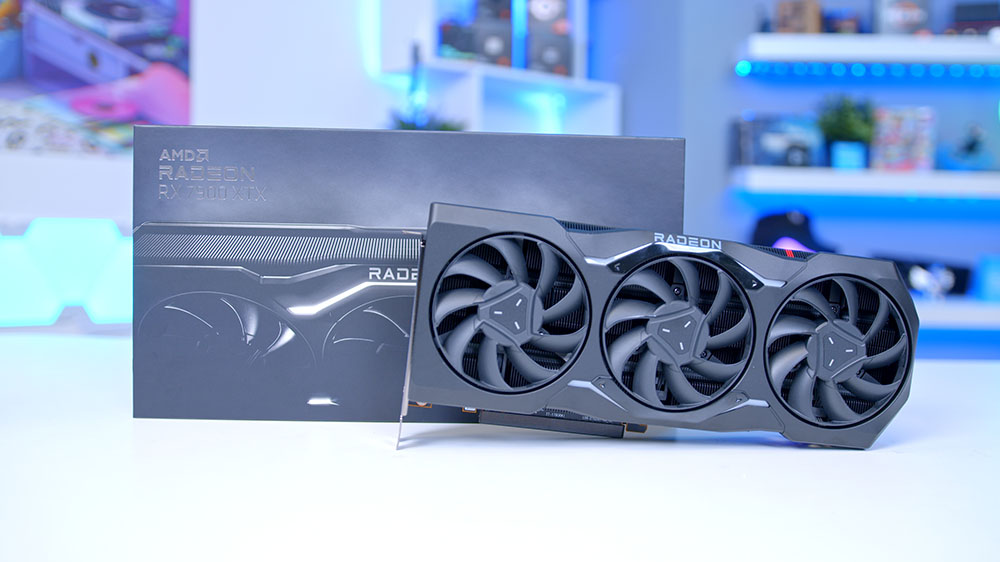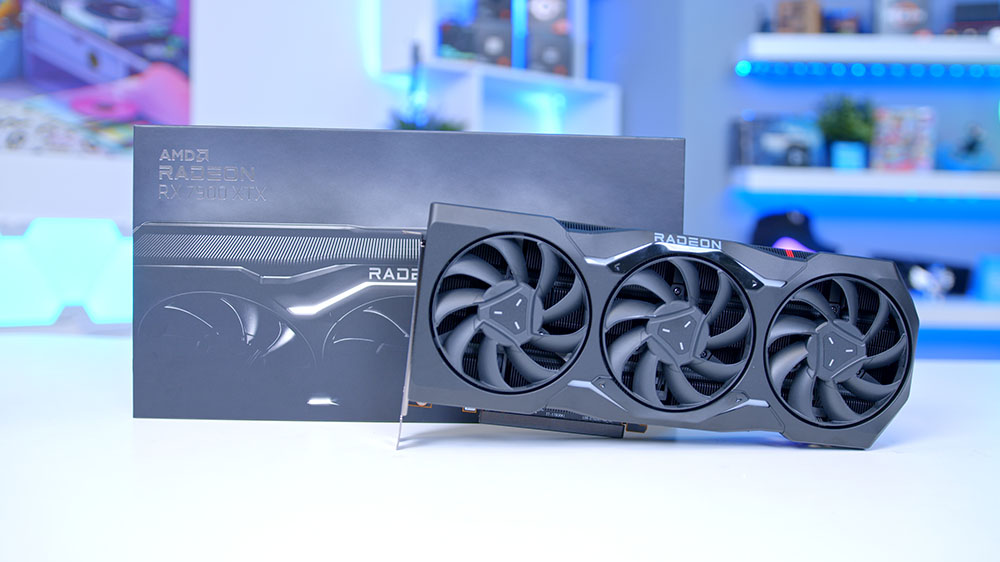 Frequently Asked Questions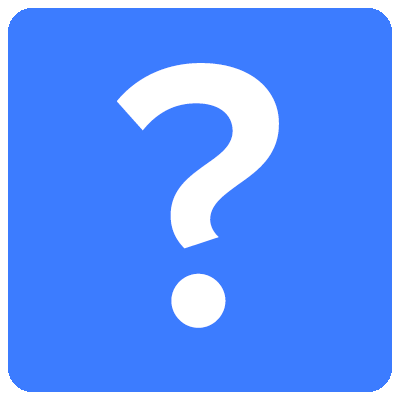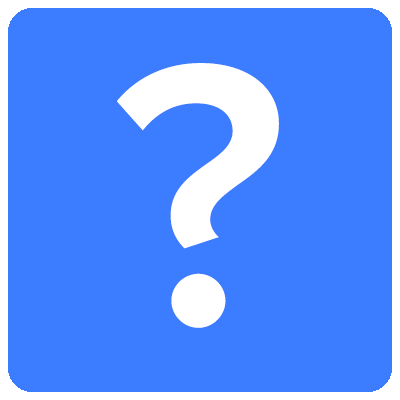 Is the RX 7900 XTX good for gaming?
The AMD Radeon RX 7900 XTX is one the best-performing graphics cards that gamers can get their hands on right now, with solid 4K performance in even the most demanding of titles.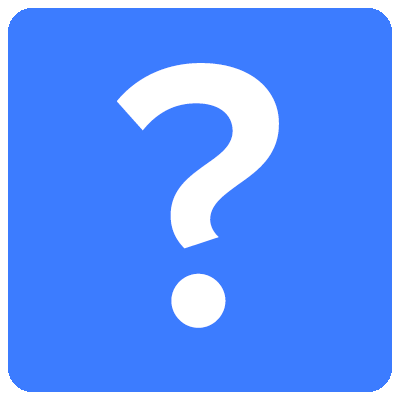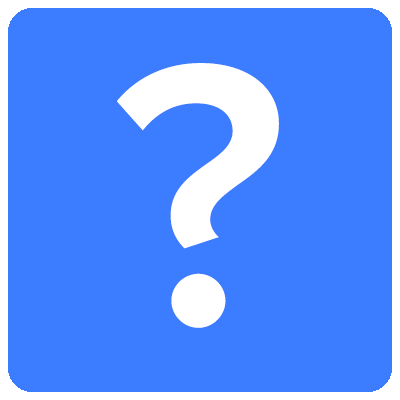 Is the RX 7900 XTX overkill?
Most PC gamers won't need the power of the RX 7900 XTX to play the latest titles. Unless you are planning on running every game at 4K, a cheaper graphics card will be more than enough for 1440p or 1080p gaming.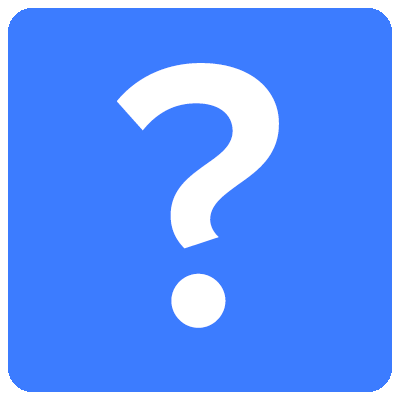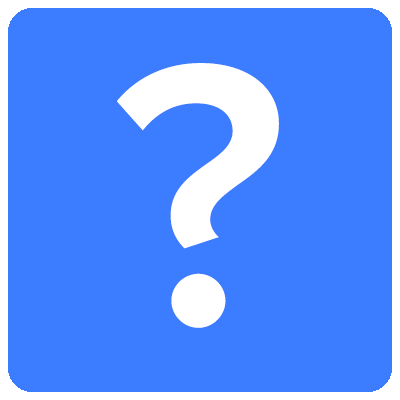 What are the minimum requirements for the RX 7900 XTX?
According to AMD, the recommended PSU requirements for an RX 7900 XTX is a minimum of 750W. However, we'd recommend picking up at least a 1000W power supply to provide enough room for a powerful CPU and future upgrades.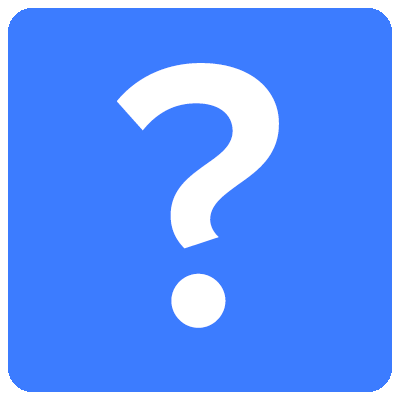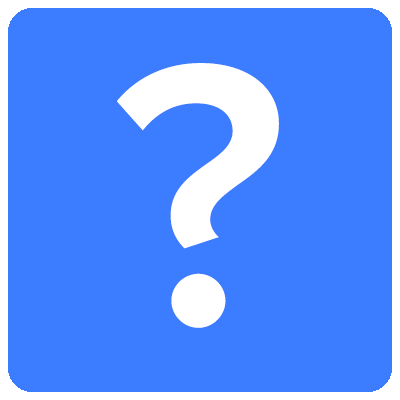 Is the RX 7900 XTX future proof?
Due to the RX 7900 XTX being a part of AMD's latest generation of GPUs, it is currently in a good position to last for years to come. However, no graphics card will be able to keep up with gaming requirements forever, meaning this GPU will have to be replaced eventually.