Introduction
In light of Intel's 12th Generation CPU launch, consumers have seen a range of brand new features introduced to the market. With widespread Gen 4 SSD compatibility, PCI-E 5.0, and even support for DDR5 RAM, manufacturers have been given plenty of options to make incredible motherboards.
Leveraging some of this new technology is the ASUS ROG Strix Z690-A, a pretty strong motherboard that we've got our hands on here at the GeekaWhat office. Today we'll be delving into the features and design of this motherboard, along with providing some alternatives to discover if this Z690 board is worth its price.
Suggested Article: Best Z690 Motherboards to Buy in 2022
Chipset
The ASUS ROG Strix Z690-A utilises the Z690 chipset, a chipset which allows you to take full advantage of all of the features available with Intel's 12th Gen CPU launch. One big inclusion is support for CPU and high-speed memory overclocking. If you're looking to learn more about this particular chipset versus others on the Intel 12th Gen platform, we recommend giving our Z690 vs B660 comparison article a read.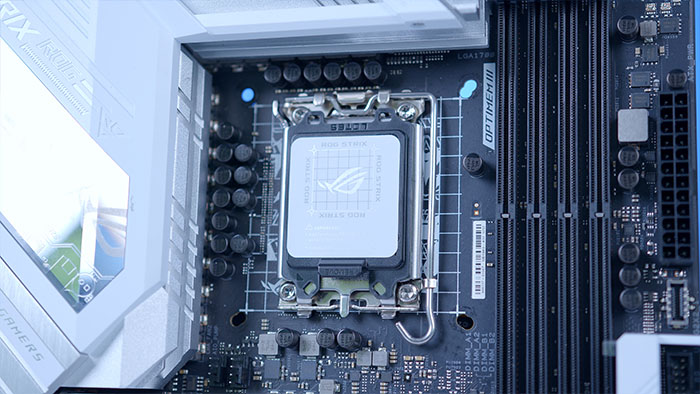 Z690 boards are ideal for users that want to make the most out of the features that come with the latest generation of CPUs from Intel. The 'Z' lineup has long been the top-dog for Intel, and is perfectly placed for consumers who want the best of the best.
One of the biggest upgrades that came with this new generation was the support for DDR5 memory usage. Although DDR5 tech is still in its infancy, as the technology matures over time, picking up a DDR5 compatible motherboard will be worth it for the performance bump. These new sticks offer much more bandwidth by comparison to DDR4 along with much higher clock speeds and larger capacity DIMMs.
Another significant addition to Z690 boards is the usage of PCI-E 5.0 slots. Many of these boards include a singular x16 slot for a next-gen GPU, with some of the top-end boards even providing x4 M.2 slots for SSDs. There aren't technically any components that are Gen 5 compliant as of today, but for the sake of future proofing, having one of these slots will be useful. If you're looking to pick up one of Nvidia's rumoured RTX 4000 cards or one of the next-gen SSD releases, you'll need a boards with a PCI-E 5.0 slot.
A final addition to touch upon is the utilisation of Gen 4 PCI-E for M.2 SSDs. These storage options are currently the fastest options on the market, boasting up to 7GB/s on sequential read and write. Drives such as a FireCuda 530 will pair very nicely and synergise well with the speeds and bandwidth required to run a top-end system.
Table of Differences
As a point of comparison, we've put a table together that demonstrates the biggest differences between the motherboard we're reviewing today and a similar board on the B660 chipset. This will give you an idea of the features that you could be sacrificing between different motherboards, and what you can gain by spending extra.
Features
ASUS ROG Strix Z690-A
MSI MAG B660M Mortar
CPU Overclocking Support
Yes
No
PCI-E 5.0 Slot
Yes
No
DDR5 Memory Support
No
No
Memory Overclocking Support
5333MHz
4800MHz
M.2 Connectors
4x Gen4 M.2 x4
2x Gen4 M.2 x4
USB 3.2 Connections
1x USB 3.2 Gen2x2 Type-C
3x USB 3.2 Gen 2
4x USB 3.2 Gen 1
3x USB 3.2 Gen 2
1x USB 3.2 Gen2x2 Type-C
2x USB 3.2 Gen1
LAN Type
2.5 Gigabit LAN
2.5 Gigabit LAN
Integrated WiFi Support
WiFi 6
WiFi 6
Price
Check Price on Amazon
Check Price on Amazon
Comparison of Features
To briefly breakdown our comparison, we can see that MSI's MAG B660M Mortar holds up rather well against its Z690 competition, but does fall flat in some key areas. The biggest area is CPU overclocking support. Intel has always limited their CPU overclocking to their high-end chipset, so if this is a deal-breaker for you, you'll need to pick up a Z690 board.
As another point to note the B660 board we've taken a look at has less features overall compared to the Z690-A board. You're getting two less M.2 slots, and less high speed USB connections. We think that the amount of USB connections on this board is an ample amount for most people, but if you've got loads of USB peripherals this could be a problem. The same story goes for the M.2 slots, although we think two spots for drives is normally plenty, you might be better of grabbing a Z690 board if this isn't enough for you.
Aesthetics & Design
In terms of aesthetics we can wholeheartedly say that this is an awesome looking ATX motherboard. Many of the 'ROG' branded products tend to be a bit heavy on RGB and heatsinks, but this board hits the right spots in that regard.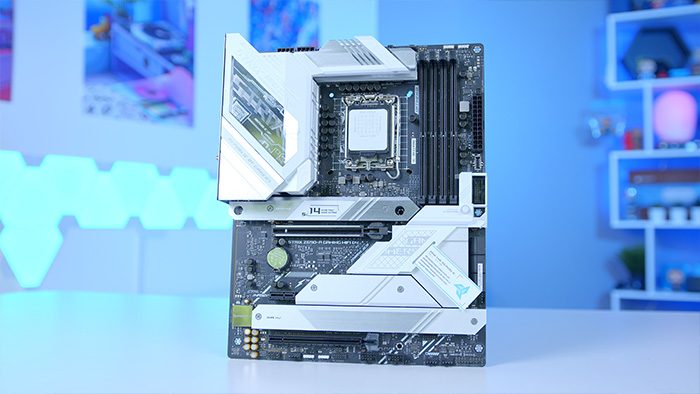 Spanning much of the board is an extended heatsink design that has a grey/silver brushed steel look. The design is quite futuristic, but also simplistic at the same time. There's a small amount of exposed PCB here and there and at the top of the integrated IO shield you can see an RGB panel that boasts compatibility with AuraSync, allowing you to customise the colours to your heart's content.
Overall we're pretty happy with the design of this motherboard. Lots of manufacturers push for the 'all-black' look and it can become quite boring to see. With this in mind, it's nice to see an alternate and lighter design scheme to this board for consumers to sink their teeth into. The minimal RGB is also a nice touch bringing some additional flair and customisation to your build.
Features
Now for the most important part – the features. Despite this board sitting in the mid-range market, there is a wide range of features giving you plenty of choice for your build. This motherboard is slightly more expensive due to it being on the Z690 chipset, but the price tag determines the sheer amount of options on this board which we'll be covering below.
Power Phases & Overclocking
As the Z690 chipset supports overclocking we should first take a look at the VRMs and power phases. The ROG Strix Z690-A comes with 16+1 DrMos power phases ideal for stability and prolonged voltages. This board also has plenty of cooling with a heatsink that spans the VRMs allowing the heat to disperse efficiently.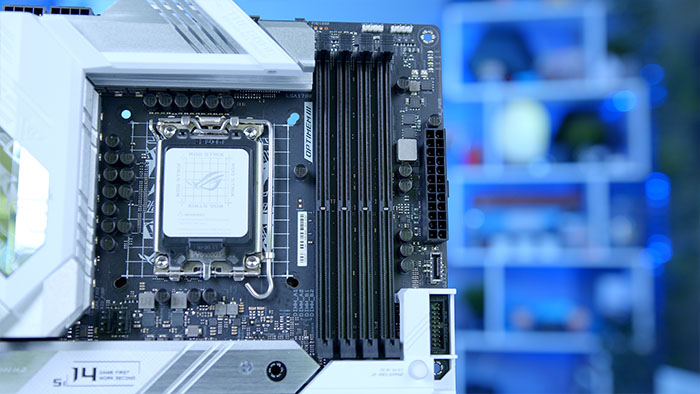 Intel 12th Gen CPUs are brilliant for overclocking, and the amount of power phases should be ideal to get a medium overclock underway for a nice performance boost with your games and some work-based applications.
PCI-E 5.0 Support
PCI-E 5.0 slots are going to be a requirement for the latest generation of graphics cards when they release, especially the higher end models. This motherboard features a Gen 5 slot, ideal for those of you holding out for RTX 4000 cards or AMD's next gen GPUs. Although we don't have access to these components yet, they'll be needed eventually and will provide incredible speeds and bandwidth once available.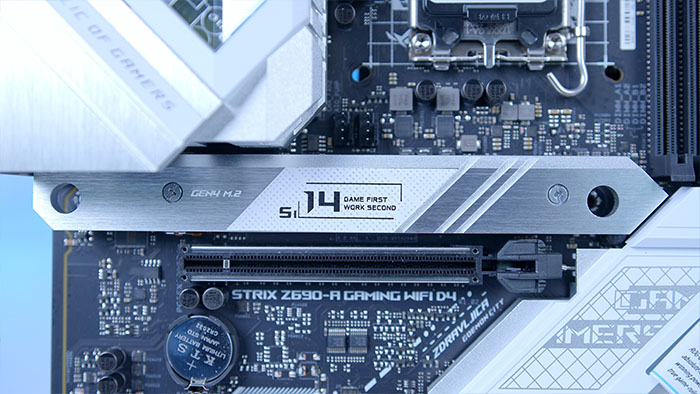 Rear IO
For rear IO there's plenty of choice on this motherboard in relation to USBs, audio, and extra features. The ROG Strix Z690-A features nine USB ports, with only one of them being USB 2 and the rest of them being 3.2 Gen 1 or above. For audio you've got a full suite minus SPDIF which is a little bit of a shame. You've also got access to a clear CMOS and BIOS flashback button making your build and troubleshooting a little bit easier.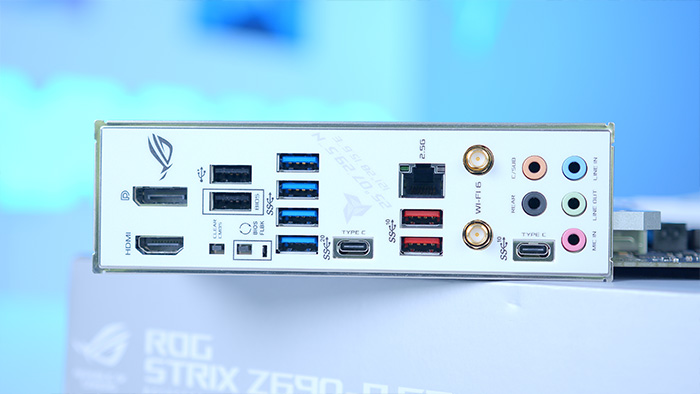 AURA Sync Compatible
AURA Sync is an industry leading RGB software that competes against Corsair's own iCUE suite. This software will allow you to sync up any other AURA Sync compatible products providing plenty of customisation for your motherboard and any other RGB lighting you have.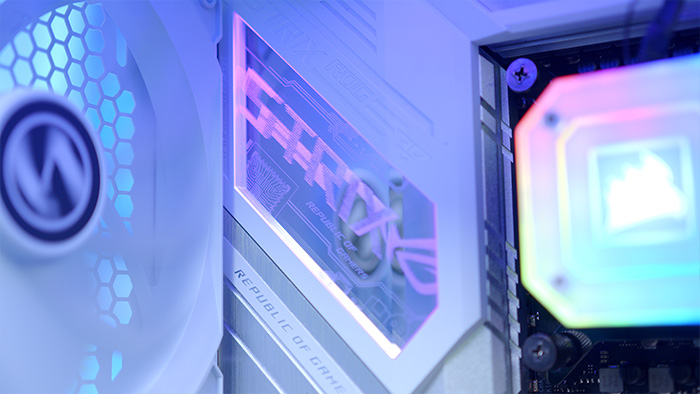 PCI-E Slot Q Release
An awesome feature on ASUS motherboards is a simple mechanism that releases the graphics card. If you've got a particularly big GPU or a larger cooler it can be difficult to jam your hands into your PC in order to release the latch for your GPU. This little button simply releases the latch for you allowing you to take your graphics card out with relative ease.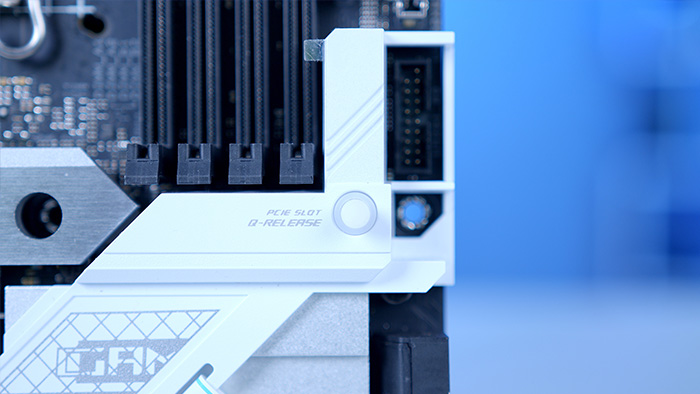 Compatible Processors
The ASUS ROG Strix Z690-A boasts compatibility with all of the currently available chips on Intel's 12th generation range of CPUs. However, despite this board being able to use all of the CPUs, we recommend sticking to the Core i5 and Core i7 range. Any CPU under this performance level will if anything be rather underpowered, and you'd be better off picking up a cheaper motherboard. Choosing the right CPU and motherboard combo is crucial to get the best value for money for your components!
Suggested: Best Motherboards for Intel 12th Gen & Ryzen 5000 – Motherboard Compatibility Guide
| | | |
| --- | --- | --- |
| CPU Name | Compatibility | Do We Recommend? |
| Intel Core i9 12900KS | ✅ | ❌ |
| Intel Core i9 12900K | ✅ | ❌ |
| Intel Core i7 12700K | ✅ | ✅ |
| Intel Core i7 12700KS | ✅ | ✅ |
| Intel Core i5 12600KF | ✅ | ✅ |
| Intel Core i5 12600K | ✅ | ✅ |
| Intel Core i5 12400F | ✅ | ❌ |
| Intel Core i3 12100K | ✅ | ❌ |
| Intel Core i3 12100F | ✅ | ❌ |
Where to Buy
---
Alternatives
While the ASUS ROG STRIX Z690-A is a great board, it's always worth considering the alternative options on the market. We've broken down some of our favourite mid-range motherboards on the Z690 chipset giving an alternative to the ASUS ROG Strix Z690-A.
MSI MAG Z690 Force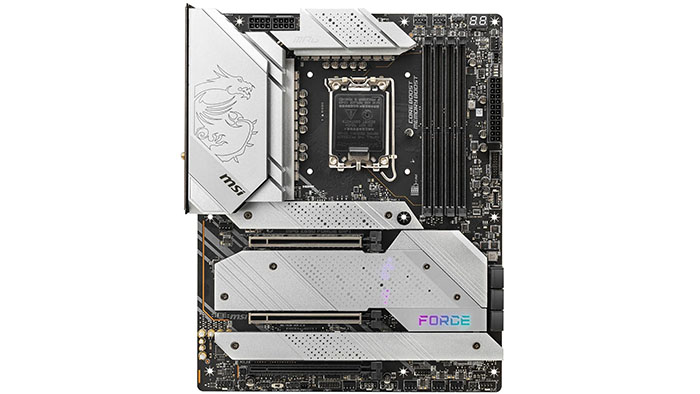 MSI's Z690 Force WiFi is a motherboard we've taken a look at before in more detail and we can say that its a great mid-range Z690 board. Featuring PCI-E 5.0, Gen 4 SSD support and plenty of rear IO, you can't go wrong for features. Not too dissimilar from the ROG Strix Z690-A, it also has an alternative aesthetic that we love.
---
Z690 AORUS Elite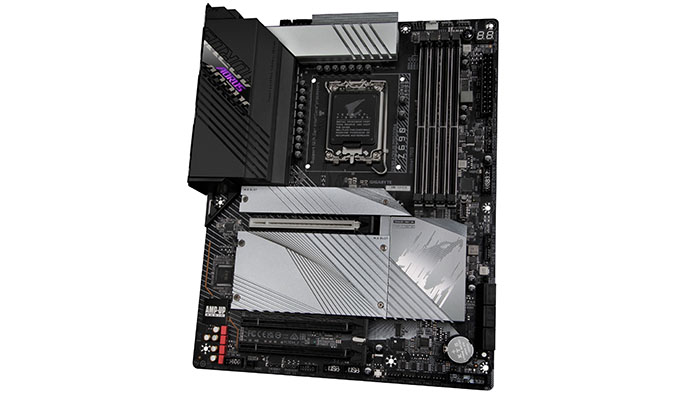 Many of Gigabyte's AORUS range tend to be DDR5 compatible, but this AORUS Elite is an excellent DDR4 motherboard providing users with a wide range of features. On this board you're looking at a PCI-E 5.0 slot, 19 power phases ideal for overclocking, and as much rear IO as you could possibly ask for. This is definitely an excellent board for the price!
---
ASRock Z690 Extreme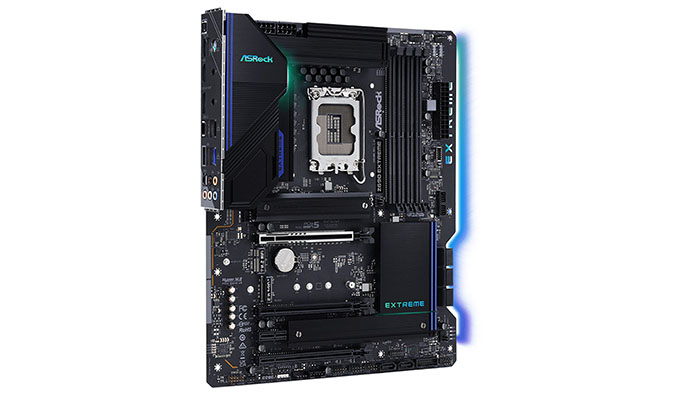 The ASRock Z690 Extreme combines features with aesthetic. ASRock's boards provide a premium and sleek aesthetic that we absolutely adore, and needless to say, this is one of those boards. Combined with the very cool futuristic look, the Z690 Extreme also has plenty of support for the latest PCI-E generation and a wide range of rear IO.
---
Conclusion
ASUS ROG Strix Z690-A DDR4
Product Name: ROG Strix Z690-A DDR4
Brand: ASUS
Features

Design

Performance

Value For Money
Summary
The ASUS ROG Strix Z690-A is an excellent board utilising much of the latest 12th Generation features to the full extent. This board is a great bet for your average consumer and enthusiasts alike with a wide range of features in terms of connectivity, IO, and overclocking support. The only major caveat to this board, is that it is still rather costly compared to a board on the B660 chipset. We would recommend erring on the side of caution to some extent and make sure you shop around first before making a decision.
Pros
✅ Wide range of latest generation features.
✅ Awesome alternative design.
✅ Ideal for mid-range and high-end systems.    
Cons
❌ Quite expensive.
❌ Strangely missing some quality of life features.
❌ Alternative aesthetic may not be for everyone.