Introduction
Finding a keyboard that offers versatility on both the gaming and typing front is a difficult task. As a keyboard enthusiast, I find it hard to choose a good OEM keyboard that has the correct feel for all of the various tasks I do throughout the day. These keyboards often end up being priced crazily expensive, or they have a cheaper design that brings too many sacrifices to the fore.
Today, I believe I have found one of my favourite OEM keyboards, the ASUS ROG Strix Scope RX TKL Wireless Deluxe. Although the name isn't particularly catchy, this keyboard has definitely caught my interest. We'll be covering all of the awesome features of this wireless keyboard, along with the design, and switches.
Buy the ASUS ROG Strix Scope RX TKL Wireless Deluxe on:
Suggested Article: Best Mechanical Keyboards to Buy under $200
What Makes a Good Mechanical Keyboard?
As we alluded to in the introduction, choosing a mechanical keyboard that is multifaceted in its versatility can be complicated. Faced with a multitude of options in the market, different pricing, and a whole range of features to contend with – just how do you choose? I have a few key ways to identify what makes a good keyboard, but keep in mind this will be different per-person.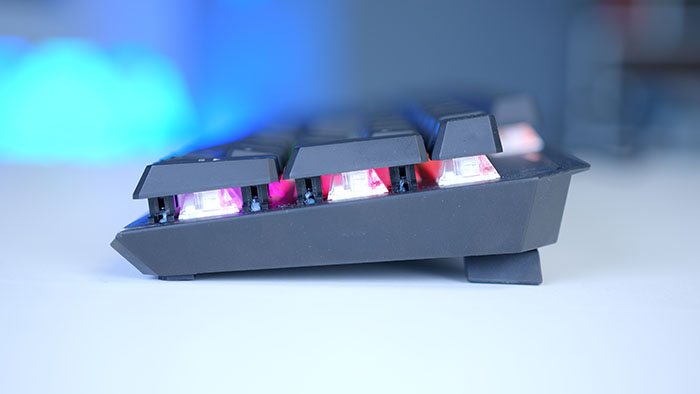 First is the switch choice and type. Switches are of course the main makeup of the keyboard, giving the keys themselves a specific feel. I'm not a big fan of Cherry MX switches are they're relatively generic, and many manufacturers don't lube them making them creaky and just not feeling great. The main question I ask when evaluating a keyboard switch is: do the switches feel good? Do they make a 'thunk' sound? Can you use them for typing and gaming? How do they sound, are they loud, or quiet? These are the kind of questions I ask myself, when picking out a keyboard, because if the switches are rubbish its probably worth saving your money.
The next important point are keycaps and ergonomics. I tend to avoid keyboards that don't have some form of wrist rest (or an option to add one), as having longer typing or gaming sessions can become uncomfortable without one. Keycaps are another area that add to the feel of the keyboard. Some are too big, some are too small, some have weird dips and divets. Finding a keycap that is right for you can be difficult, so I tend to recommend sticking to a standardised design, like OEM, or Cherry as these are the most common and popular styles.
Design
Starting off with the design, the form factor of this keyboard is TKL (otherwise known as tenkeyless). This means that the keyboard has the numpad removed and sports a more compact design. As a general rule, I'm not normally a fan of TKL keyboards. I type a lot writing GeekaWhat articles, and it is difficult to type with full accuracy on a keyboard that makes you have your hands closer together.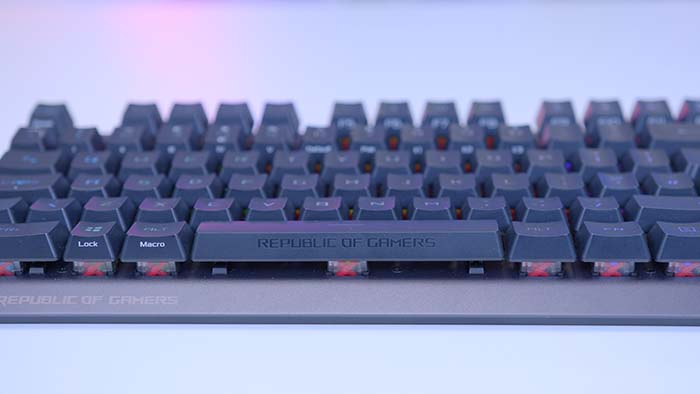 However, I think this is the first TKL keyboard I'm actually in love with. The compact design uses an ISO layout, so you've got a full sized enter key, and normal ISO spacing around the rest of the keyboard. The keycaps have a granite look with the legend being hollowed out for per-key programmable RGB backlighting. The keycaps also have a anti-slip grip texture making it much easier to accurately hit your keys even during a long session of gaming or typing.
The chassis of the keyboard is quite hefty weighing in at around 854g without the use of a cable. I prefer heavier keyboards on the basis that they won't shift around on a desk as much. Alternatively, if you plan on taking this keyboard on the road, it should stay in place on a train or a plane for example. Looking at the top of the keyboard, the TKL design means that there's much less visible chassis across the keyboard.
The top-plate of the keyboard has a similar look to the keycaps, but has hues of purple and grey by contrast to the much darker grey on the keycaps. I'm a big fan of this more conservative and minimalist design, and ASUS have hit the nail on the head when it comes to designing an awesome looking keyboard.
Keycaps & Switches
The ROG Strix Scope RX TKL Wireless uses ROG RX Optical mechanical switches. The particular type of switch in this keyboard is a linear style switch meaning they'll bottom out, so you won't hear a click or tactile bump. They offer a superfast 1ms response time, along with a 100 million keystroke lifespan.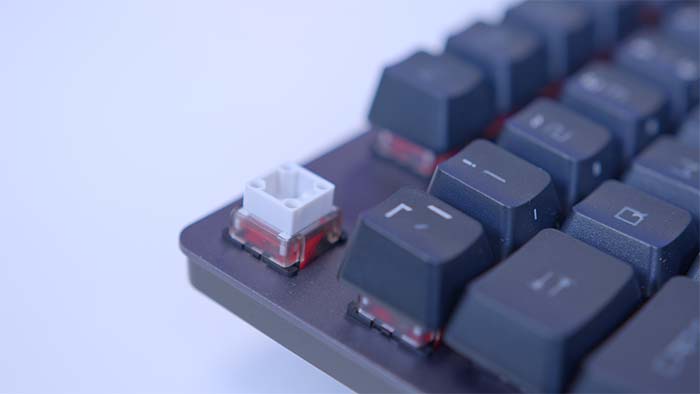 I'm a big fan of the switches that ASUS have used. The actuation force required to get a response is very low. They feel very light and bouncy to press while also minimising any annoying clicks or extra sounds that come with cheaper keyboards. The typing experience using them is wonderful. I'm easily able to transition from key to key, without any frustrating feedback or poor accuracy. I'm not normally a fan of linear switches, but you can tell that much care and time has been used to create an awesome switch feel.
The keycaps also provide a great feeling too. The slightly 'grippy' yet smooth matte texture adds to a typing and gaming experience. The ROG keycaps also use the PBT doubleshot moulding process giving them a more premium feel, along with offering long-lasting durability.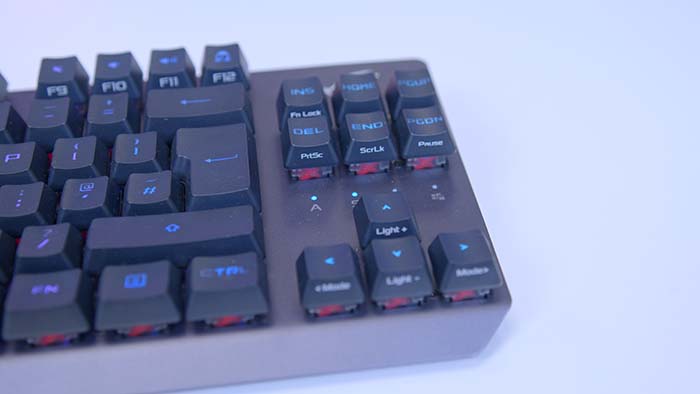 Features
The ROG Strix Scope RX TKL Wireless Deluxe has got plenty of features on offer crammed into this smaller TKL design. Below we've broken down the most standout ones.
Tri-Mode Connectivity
Out of the box, the ROG Strix Scope offers three types of connectivity, providing plenty of versatility for a variety of different setups. The first is a 2.4GHz RF mode. This mode utilises an included dongle which can be found in the back of the keyboard. This type offers 76 hours of stable near-zero latency gameplay even with the RGB lighting.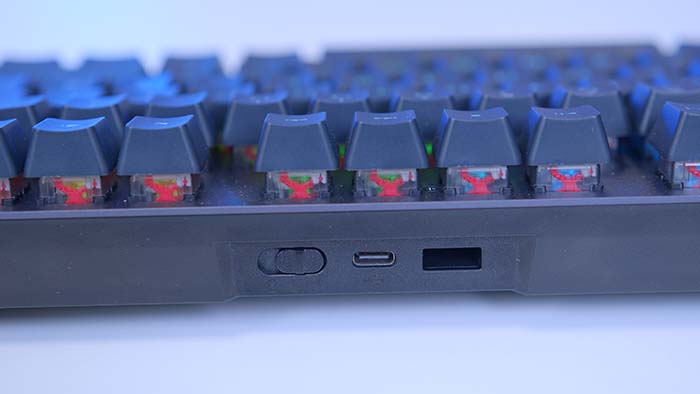 Alternatively, if you don't have any spare ports, or you'd like to use this keyboard with your phone, you can pair it via the Bluetooth mode. By simply holding the Function key (FN) and the 7 key, you can pair your keyboard up with a Bluetooth compatible device, this allows you to easily use your keyboard on the go. If you prefer a traditional connection with no latency problems whatsoever, you can also plug the cable in charging the keyboard and providing function.
Function Keys
A mainstay feature of the Strix Scope series are additional function keys adding quality of life to your keyboard experience. You can use the Insert (ins) key as a quick toggle function, while the F12 key also acts as a Stealth Key hiding apps and muting any audio instantly. You can also use the Function key to change any dedicated media controls, along with RGB lighting and modes.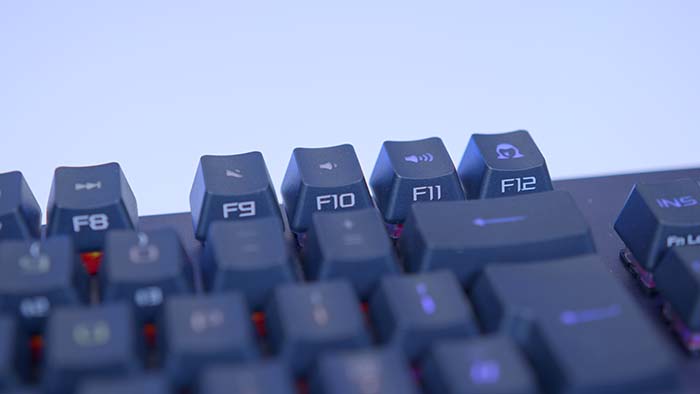 Magnetic Ergonomic Wrist Rest
In the box of the ROG Strix Scope comes an included leatherette cushioned wrist rest that can be attached to the keyboard magnetically. You'll feel a satisfying click as you place the wrist rest down on the keyboard. I must add, this wrist rest is excellent! It is very well cushioned and makes both typing and gaming a great experience without any wrist strain.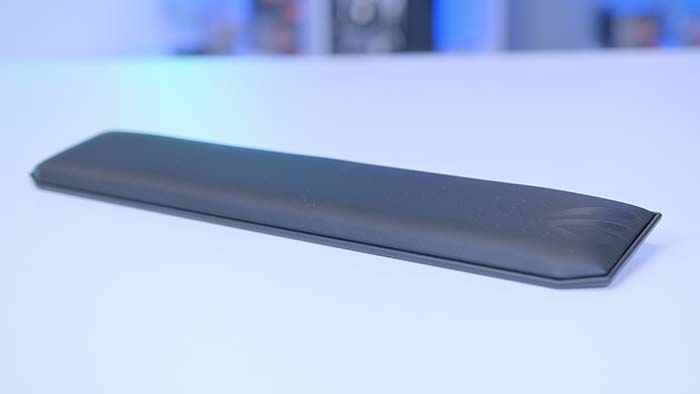 Wireless AURA Sync RGB
A feature that we love to see on any peripheral or component is some extra RGB. The ROG Strix Scope utilises wireless per-key RGB backlighting which can be customised and synced up using ASUS AURA Sync. AURA Sync is very simple and easy to use, giving you plenty of freedom and choice when it comes to various lighting effects and colours.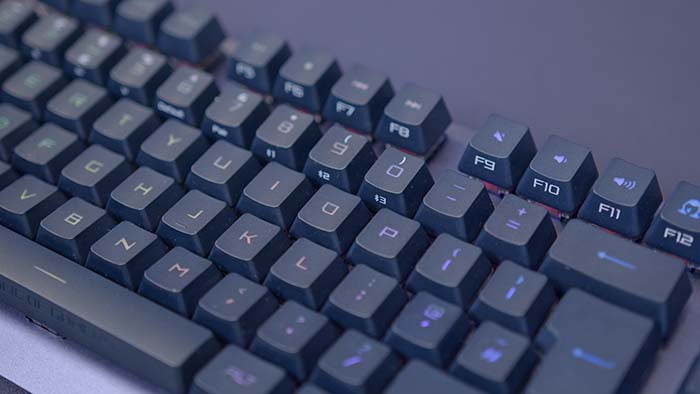 AURA Sync Customisation
We've provided a video of some of the customisation options you can choose from with the AURA Sync software.
Alternatives
While the STRIX scope is a great choice, there are undoubtedly some other great designs which should be considered. We're not saying that these designs are necessarily better, but certainly worth a cursory glance if nothing else!
Also, it is rather expensive keyboard, making the purchase hard to justify for non-enthusiasts. If that is the case, then it is worth looking at our budget mechanical keyboard recommendations before making a decision.
NZXT Function MiniTKL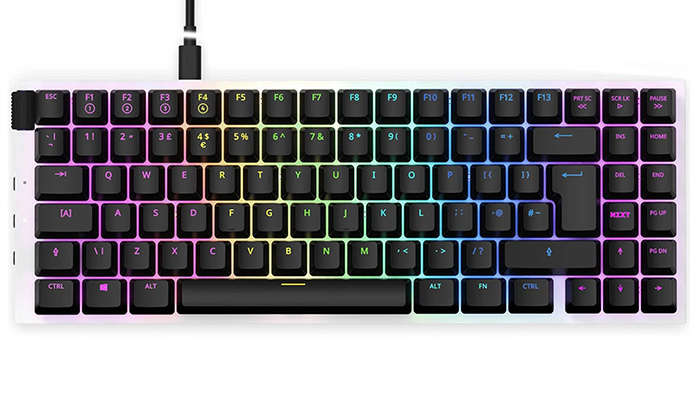 The NZXT Function MiniTKL is the first of it's kind. Offering hot-swappable switches on an OEM design. The compact layout makes this a great option to stow and take to tournaments, or if you travel a bit. The keys are fully programmable both in terms of RGB and function. If you want to change what each key does this can be customised in the NZXTCam software. Overall, the Function MiniTKL is an awesome design, providing plenty of customisation but at an affordable price point.
Buy the NZXT Function MiniTKL on:
Corsair K70 RGB TKL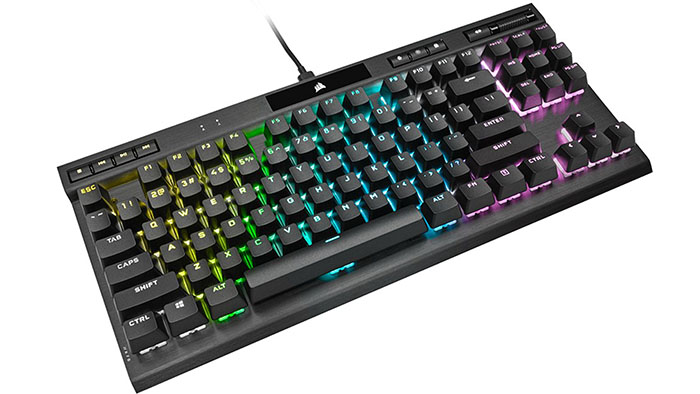 Corsair's K70 Champion edition is an excellent RGB keyboard sporting renowned CherryMX speed switches, optimised for fast actuation and pure accuracy. The linear switches provide lightning-fast response times, and combined with the Tournament mode switch, you can minimise any distractions fully focus on your game. With Corsair's iCUE software, you can entirely customise the RGB backlighting, allowing you to change any lighting effects and colour options per each key!
Buy the Corsair K70 RGB TKL on:
DeepCool KB500 TKL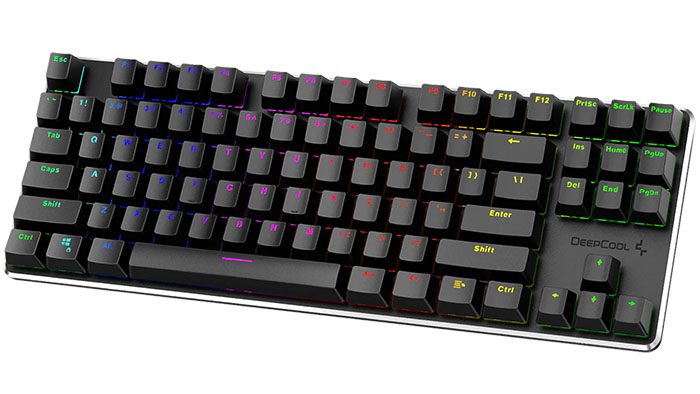 DeepCool's KB500 is a cheaper TKL option with vivid and bright RGB along with lightweight linear switches. The compact and light design allows you to easily transport the KB500 to your destination while stowed in a bag. In terms of RGB, you have per-key illuminance, which can be customised within DeepCool's software. The keycaps used are doubleshot ABS, providing a glossy feel that is durable making this keyboard last in many gaming sessions to come.
Buy the DeepCool KB500 TKL on:
Conclusion
ASUS ROG Strix Scope RX TKL Wireless Deluxe
Features

Design

Versatility

Value For Money
Summary
The ASUS ROG Strix Scope RX TKL Wireless Deluxe is my favourite linear switch small form factor keyboard. Despite it's not-so catchy name, this keyboard has massively caught my interest. The linear switches feel well designed and you can tell that they've been lubed properly based on how smooth they are. The matte textured finish to the durable keycaps provides an equally refreshing experience coupled with the awesome switches that makes typing an absolute dream. I'm not normally a fan of TKL designs, but the ROG Strix Scope takes the cake when it comes to this form factor. This keyboard gets a GeekaWhat recommendation from us, and we're excited to see any later revisions of this product with more features.
Pros
✅ Linear switches are well designed and have a great feel.
✅ The included wrist rest feels very comfortable.
✅ Tri-Mode connectivity provides plenty of versatility.
Cons
❌ Quite expensive.
❌ TKL designs aren't for everyone.
❌ RGB backlighting seems quite dim.