Introduction
When building a PC from scratch, you want to make sure the build feels unique and looks as good as it performs. However, one area that has felt surprisingly uninspiring over recent years has been PC cases. Whether its rehashed versions of popular cases, or elite models with a whacky gimmick, it seems like lots of brands are missing a golden opportunity.
Luckily, it seems like some manufacturers are finally catching on, as we've seen a number of budget-friendly cases arrive at GeekaWhat HQ, all of which provide PC builds with a distinct aesthetic or characteristic.
Suggested Article: Best PC Cases to Buy Under $200
The latest addition comes from APNX, who have unveiled their C1 case. This chassis is available in a variety of colours, including the ChromaFlair special edition that is best described as a bluey-purple. To see what this PC case brings to the table, we'll be taking an in-depth look at the APNX C1, evaluating the practicality, versatility, and visual appeal of this design.
Buy the APNX C1 on:
Should You Buy a Mid-Tower PC Case?
Generally, Mid-Tower cases are consider the most conventional choice for modern gaming PCs. This is mainly because this form factor provides the best balance of size and compatibility, acting as the middle ground between Full-Tower and Mini-ITX designs.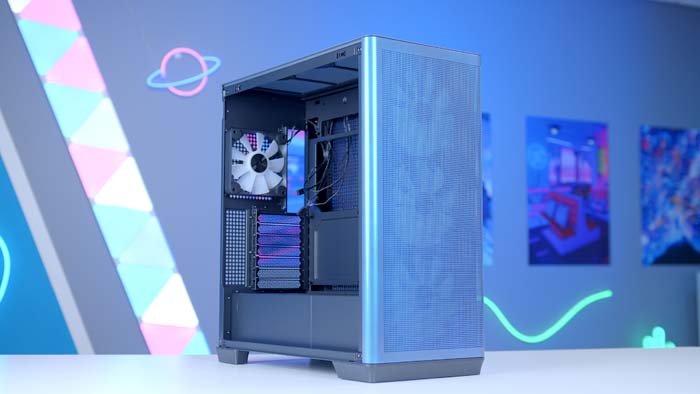 The vast majority of components will fit into a mid-tower chassis without raising concerns about airflow, making them a safer choice than compact Mini-ITX designs for most builders. On the other end of the scale, these cases should be small enough to fit under or on top of most desks with ease, which can't be said with most of the Full-Tower PC Cases on the market.
But the biggest strength of a Mid-Tower case is also its biggest weaknesses, as the attempt to cover all grounds mean these designs don't tend to excel in any particular areas. Therefore, high-end builders looking to build a PC packed with premium parts will likely need a Full-Tower chassis to accommodate them, and consumers looking to build a compact gaming PC will need to find a smaller case.
APNX C1 Design & Aesthetic
Looking at the APNX C1 in more detail, this design has plenty of features that will appeal to a broad PC gaming audience. When we heard that we'd be getting our hands on the ChromaFlair edition of the C1, it was pretty exciting. With most of the cases that arrive at the office being either a traditional black or white PC case, having a simple change in colour allowed this design to be way more memorable, which in turn makes the APNX C1 less likely to fall to the wayside after release.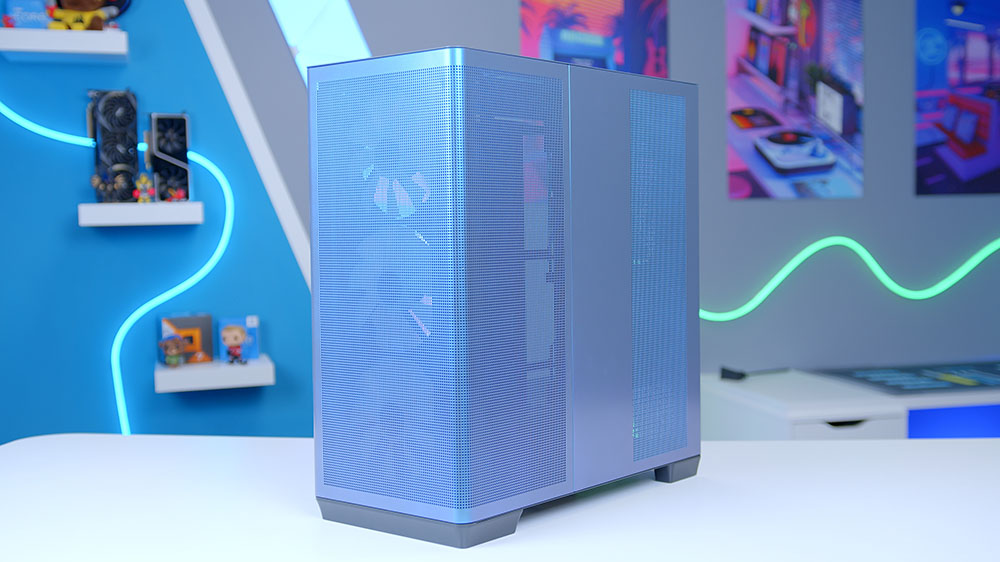 That being said, a fancy colourway isn't the only feature this chassis has to offer, as it also includes a number of details that are designed to break the mould. For example, the edges of the APNX C1 are very round compared to most PC cases. Instead of adopting the fully boxed nature that comes with most Mid-Tower designs, this case covers the corners with a smooth metal plate. This compliments to the metallic exterior quite well, as it allows the plate to catch the light, adding a nice shimmer to design.
From a practical point of view, the APNX C1 puts a heavy focus on airflow, with most of the frame and exterior being perforated to allow air to move freely through the system. Airflow optimisation has become an important aspect of modern PC builds, with power-hungry components raising concerns about temperatures. Fortunately, the ventilation on offer here should mean that users will have nothing to worry about when it comes to cooling their components.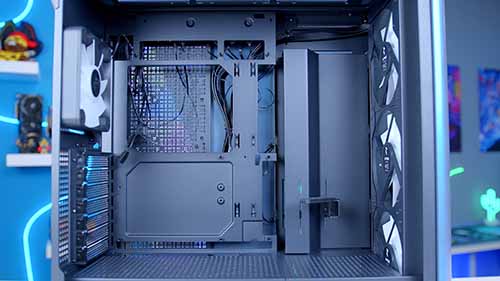 Features We Like
45 Degree Mesh Panel
One of the most unique aspects of this case is the 45 degree mesh panel, which is used to optimise the ventilation of your build, whilst also offering a unique look that shimmers in mysterious ways. Not only does this make the APNX C1 fairly eye-catching despite its fairly one-note shape and appearance, but it also makes the front panel incredibly robust. The 0.8mm anti-scratch metallic covers feel fairly thick compared to most front panels on the market, which means consumers shouldn't be too worried if they do knock into their PC case on the odd occasion.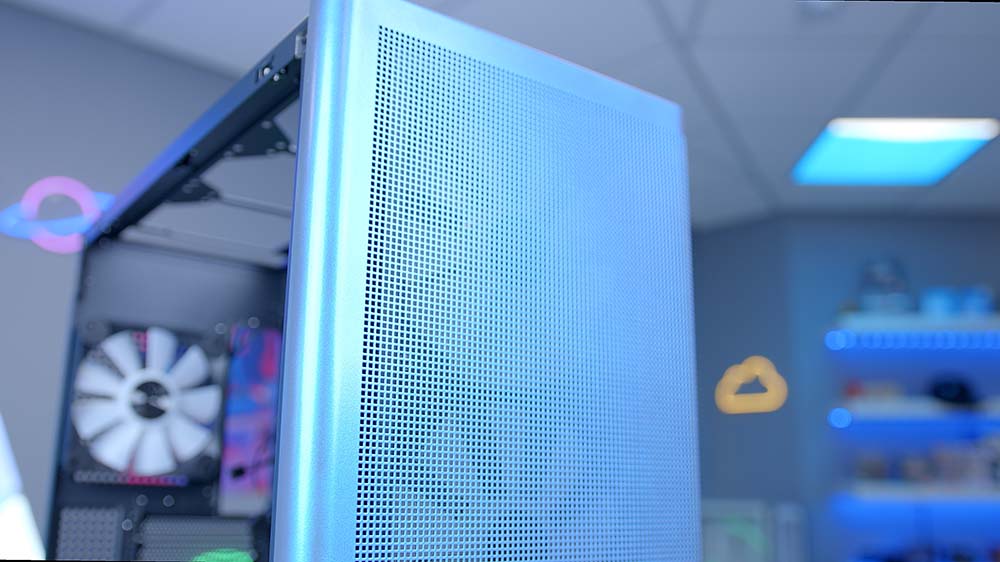 Extensive Fan Support
With this chassis maintaining such a heavy emphasis on airflow, it's no surprise to see that the APNX C1 comes with an abundance of support for fans and other cooling solutions. Offering support for CPU Coolers with a radiator of up to 360mm, along with 8 slots for 120mm fans, this case should have no issues keeping most PCs nice and cool. On top of this, the APNX C1 comes with 4 included fans, which is enough to start combating high temperatures out of the box.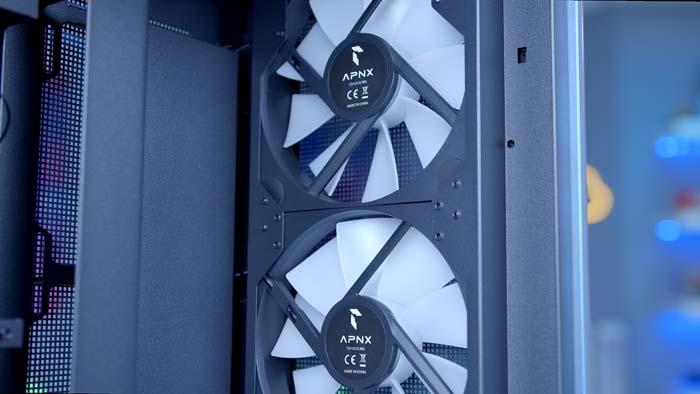 Tool-Free Mechanisms
With PC cases, practicality has always been as important as appearance. After all, what's the point in having a case that looks good if you can't build a PC in it? It seems as though APNX C1 have understood this message, as there are several design choices that cater towards easing the difficulty of building a PC. The main feature is the the tool-free mechanisms on the various panels and covers, which makes it fairly simple to remove the exterior. Tool-free designs are slowly becoming the standard, but it is not always guaranteed, especially on cases that sit towards the lower-end of the price spectrum.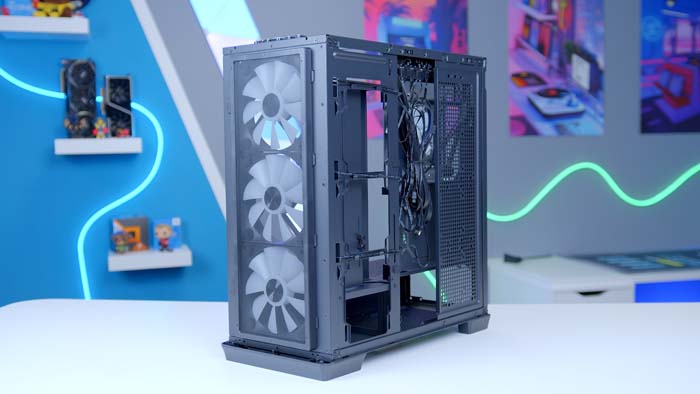 GPU Clearance
Since the release of NVIDIA's RTX 4000 series graphics cards, PC cases have been battling with clearance issues, as even Mid-Tower designs can have some troubles fitting these huge GPUs into their main compartments. Luckily, the 395mm of GPU clearance available here should be more than enough to house most of the latest cards, including the gigantic RTX 4090.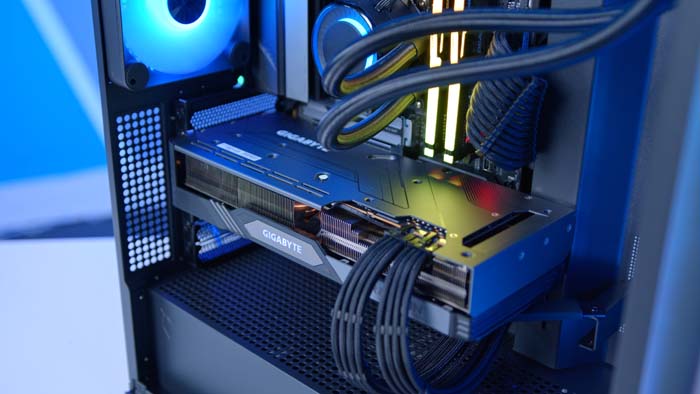 Features We Don't Like
Simplistic Appearance
Apart from the unique colour-scheme, the rest of the design is fairly lacklustre, which means the APNX C1 fails to capitalise on a strong starting point. With the ventilated panels surrounding most of the design, with only a glass panel to separate them, the overall shape of the design is lacking any standout features to make this chassis truly stand out. You could argue that the cleaner look helps emphasise the unique colourway, but this won't apply to all the variations of this case.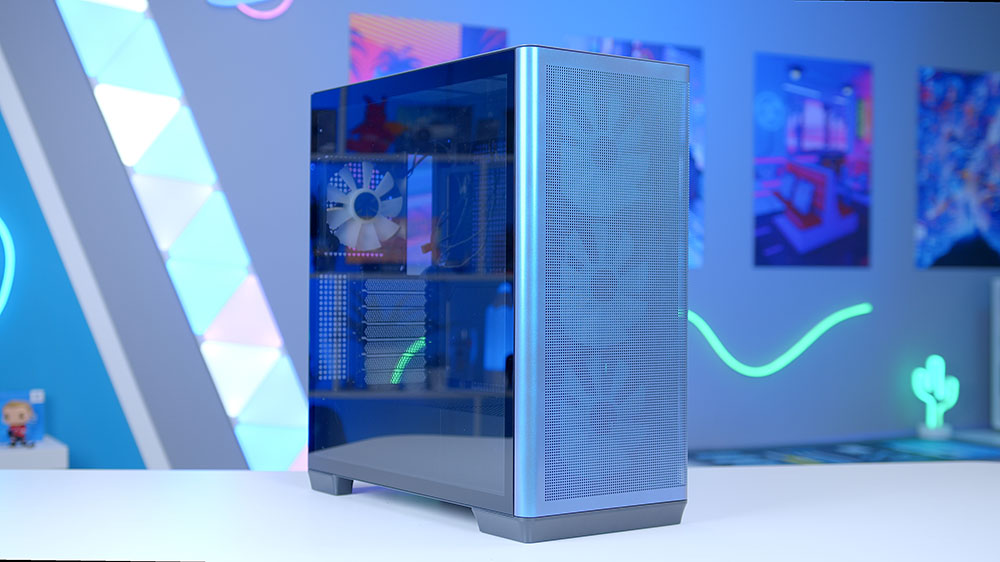 Motherboard Support
Admittedly, this is an issue that is fairly common on Mid-Tower cases, but the APNX C1 lacks the ability to support E-ATX motherboards. As a result, this chassis might not be the best choice for high-end builders, as the most premium motherboards on the market typically adopt this layout to maximise their connectivity. But for most PC builders, an ATX motherboard should be more than enough to provide the support you need for a PC build.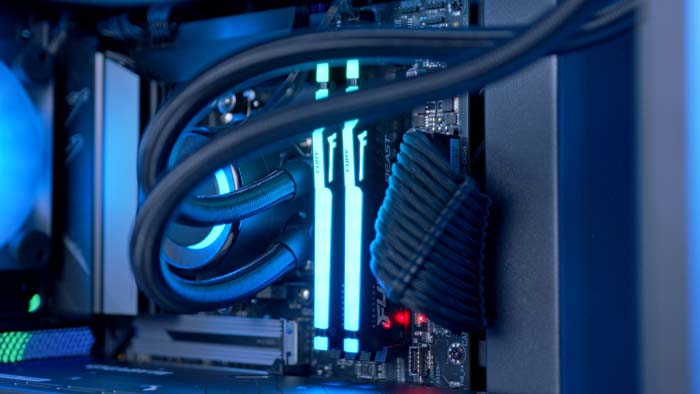 Alternatives
Cougar DUOFACE Pro RGB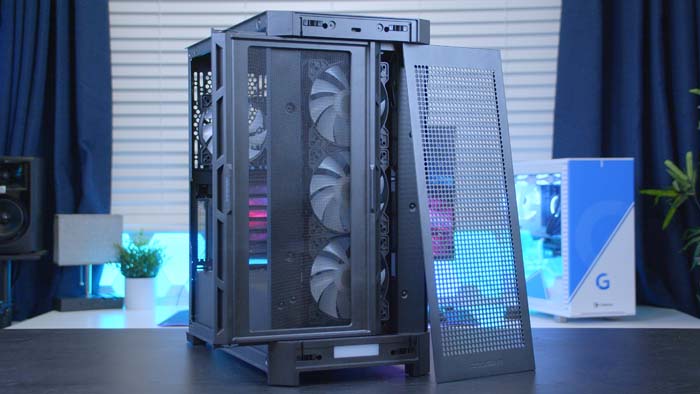 If you're looking for a fairly affordable Mid-Tower PC case that comes with a unique trait, then the Cougar DUOFACE Pro RGB is another chassis to consider. This case is all about versatility, with the swappable front panel offering consumers the choice to prioritise airflow with a mesh panel, or aesthetics with a tempered glass panel.
Buy the Cougar DUOFACE Pro RGB on:
Montech Air 903 MAX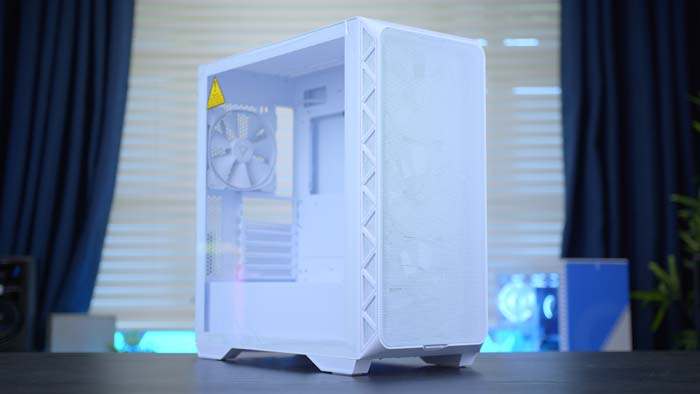 Montech's Air 903 MAX is one of the cheapest Mid-Tower PC cases on the market, offering exceptional airflow for budget and mid-range gaming PCs. Including an entirely mesh front panel, along with plenty of support for CPU coolers and fans, this chassis will have no problem keeping temperatures down to a minimum.
Buy the Montech Air 903 MAX on:
Conclusion
APNX C1
Product Name: C1
Brand: APNX
Features

Design

Versatility

Value For Money
Summary
As a starting point for the APNX brand, the C1 lays a strong foundation for them to develop upon with future iterations. It's great to see a brand put such a heavy focus on colourful designs, as more ways to make a PC build stand out from the crowd are always welcome. From the design choices used for this chassis, it seems as if APNX knew that the appearance was the biggest strength of this design, doing as much as possible to showcase the distinct metallic colourway. The rounded edges and thick metal plating lets this case truly shine, giving this design a rather premium look to go with its unique complexion.
Unfortunately, the focus on the unique colours leaves the shape and designs found on the rest of the chassis feeling rather bland and boring. The perforated metal plates remain a constant throughout the C1's design, with very little to indicate when one panel starts and another ends. Whilst this uniform nature could be perceived as smooth and sophisticates, to me it looks a bit dull and dampens the overall appeal of this case. Because of this, I would stay clear of the white or black colourways, as there are better-looking options already on the market for cheaper.
As for functionality, the APNX C1 does well to provide budget and mid-range consumers with all the necessary tools and quality of life features we've come to expect on modern PC cases. With plenty of tool-less mechanisms, a design that optimises airflow, and plenty of clearance for current-gen GPUs, building inside of this case is fairly straightforward and hassle-free. The only caveat is the lack of support for E-ATX motherboards, but this will only effect high-end builders.
Pros
✅ Lots of colourways is great for build variety.
✅ Offers optimal airflow.
✅ Suitable for novice PC builders.
Cons
❌ Rest of design is lacking creativity.
❌ No E-ATX motherboard support.
❌ Cheaper options available.