Introduction
Cougar is a manufacturer that has dipped in and out of popularity over the years in this PC building space. If you've been building PCs for a few years, you might be aware of Cougar Gaming, but as a general rule, they're one of the lesser known brands. We're all avid fans of Cougar in the GeekaWhat office, and have been quite excited to take a look at their new range of products for a while.
Cougar has been known for manufacturing power supplies and coolers, but they're generally more well known for specialising in cases. We've seen a number of their more fanciful chassis', like the Conquer and Cratus cases, but today we're going to be taking a look at a more grounded option.
Meet the DUOFACE Pro RGB, a robust and modern case that prioritises versatility and airflow above all else. In this review, we'll be delving into the features, and design choices of the DUOFACE Pro, while also looking at some alternative case options too.
Buy the Cougar DUOFACE Pro RGB on:
Suggested Article: Cooler Master Hyper 622 Halo Review – An Aesthetically Pleasing Design
Tips on How to Get your Components Installed in your Case
When you're building a PC, one of the biggest parts that you'll do, is install all of your components within your case. At times, this can be the easiest part of the build, but dependent on the chassis, it may also be the hardest. For this reason, it is worth briefly delving into the best practices so you can avoid any installation hassle.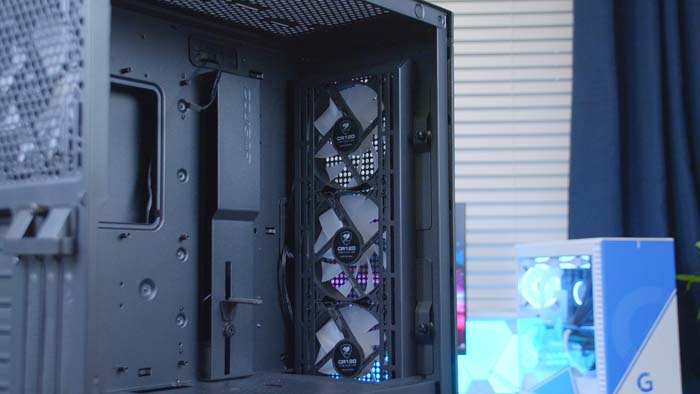 Firstly, is take your time. While it can be super exciting to go quickly and rush to get your board in and everything else, it isn't a race. Take your time, throw on some music and enjoy the experience of getting your motherboard seated, installing a liquid cooler, and managing any cables you need to.
Secondly, make sure to get a long Phillips head screwdriver. If you've started to screw things down, you'll notice that with a smaller screwdriver, this is a massive hassle. We advise picking up a longer (preferably magnetic tipped) screwdriver, that allows you to delve into the various nooks and crannies that your fingers won't be able to reach. Doing this is a must, because you'll avoid the pain of not having a long enough screwdriver for your motherboard standoffs, or your cooler.
Thirdly, when installing component, seat your cables before you screw them in. One of the biggest pains is screwing everything down, and then realising you'll have to undo all of your hard work to get the cables managed properly. Whether you're installing your CPU cooler, fans, hard drives, RGB hubs, and more, manage the cables before. Get them where you want them, and with some care, you'll get your components screwed down easily enough.
Finally, cable management is optional. While I admire the effort that consumers go into, to manage their cables and make it look all nice, you don't have to do this. As long as your case has enough airflow, and the variety of cable mess that you've got doesn't hinder this airflow, or block any major areas of ventilation, you don't have to worry about it. Most modern cases will hide cables well enough that you can plug everything in, jam the cables into a place where they're hidden, and call it a day.
Cougar DUOFACE Pro Design & Aesthetic
Taking a look at the design of the DUOFACE Pro, this mid-tower chassis is a robust case that comes in both black and white. On the front of it, it does look like a pretty standard ATX size case, but there's some cool design features that give it the edge versus the competition. The front panel of the DUOFACE can be customised with a tempered glass, or perforated panel. The glass adds some cool flair to the case, while the perforated metal design will nicely contribute to airflow, which I imagine will be the go-to option for most consumers.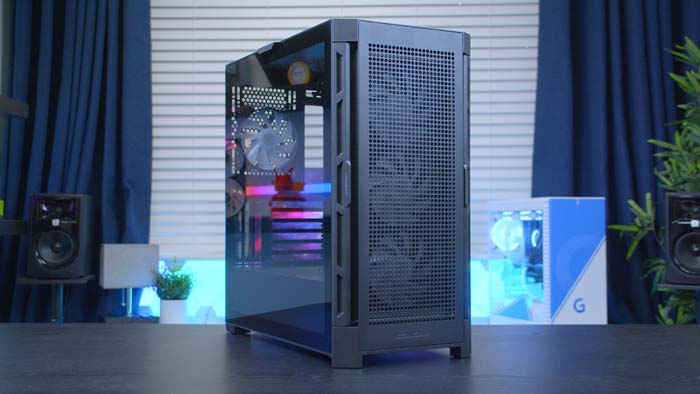 Moving around to the side, you'll find a typical tempered glass panel, providing a window into your build. This side panel is magnetic, so as soon as you've lined it up with the side, it should connect with the magnetics pretty easily, which is a nice touch when it comes to disassembly. There's also a neat little hinge at the top, which will allow you to pull out the side panel too. I do somewhat prefer the magnetic design, to push-latch, which is what we've been seeing with a few newer options that we've reviewed recently.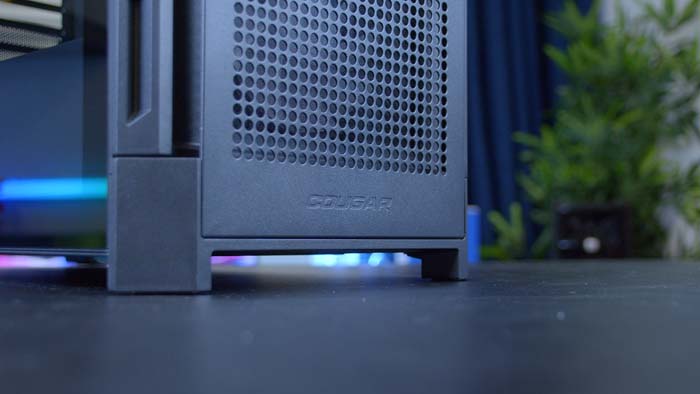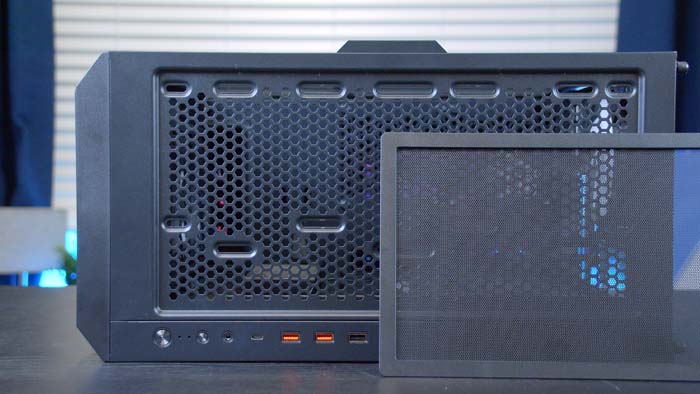 Looking around the rest of the case, there's not much to be said else in terms of aesthetics. Cougar have taken more of a simplistic approach to this mid-tower design, but despite this, I feel simplicity can often be a better option at times. You can choose between black and white, which tends to be the standard nowadays, but nonetheless, its great that consumers can pick a more clean white chassis as opposed to the standard dark design. But despite the more simple approach to the design, the features of this case is most exciting part.
Features We Like
In this section we'll be taking a look at the features that we're a big fan of. The DUOFACE Pro is pretty jammed pack with some awesome design choices, so we'll be highlighting them below.
Easily Disassembled
One of the coolest features of the DUOFACE is that the top panel and front panel bracket are entirely removable. Mid-Tower cases can be difficult to build in without the bonus of versatility features at times, so removable panels can alleviate some of the hassle factor. By removing the top panel, you'll get access to all of the innards of your case, which can just streamline the building a process a bit more.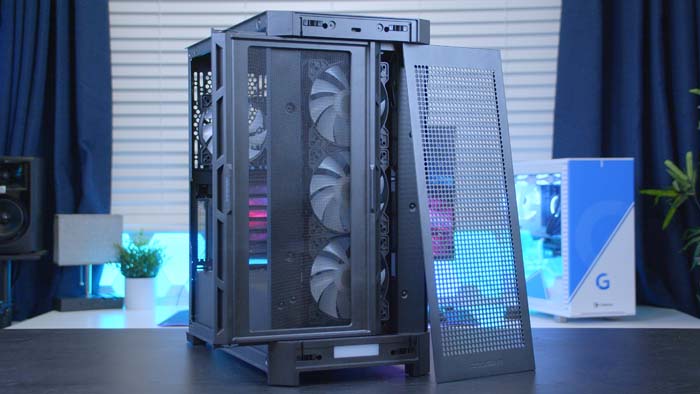 Sports an Adjustable GPU Holder
GPUs have gradually gotten bigger over the past couple of years, resulting in quite a few options that might cause some clearance issues. However, the DUOFACE has plenty of space, and also comes with a GPU support bracket, alleviating the worries of GPU sag. It is fully adjustable, allowing you to accommodate for different sizes of graphics cards.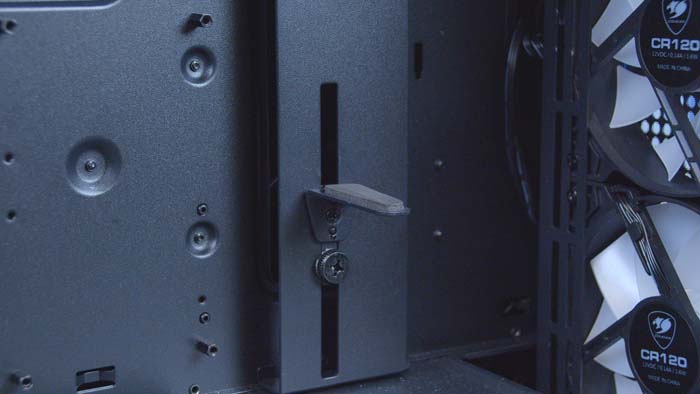 Has Space for E-ATX Motherboards
Mid-Tower cases have a varying amount of space for motherboards, with the vast majority of them, supporting up to ATX boards as a general rule of thumb. However, the DUOFACE goes a step further, and can support E-ATX boards. These larger boards come with a vast amount of features, and are a great pairing with a top-end build.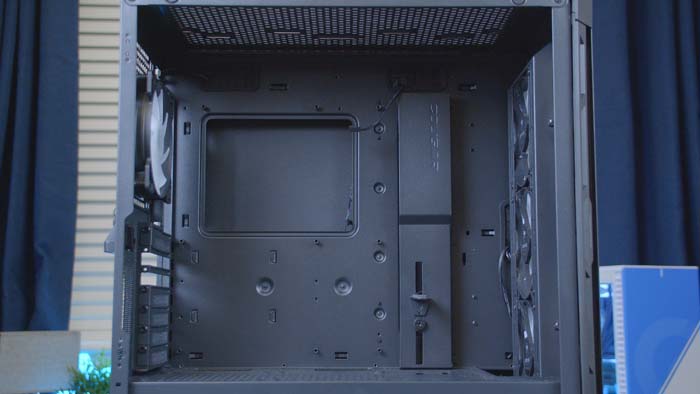 Modern IO Options
On the IO front, the DUOFACE is one of the more feature-rich cases. In terms of USBs, there are four in total. You've got access to two USB 3.0 options, along with a USB 2.0 in the type-A format. There's also a USB 3.2 Gen2 type-C port too, designed to offer fast transfer speeds. You can also utilise the 3.5mm headset jack as well, for those that have a non-USB headset.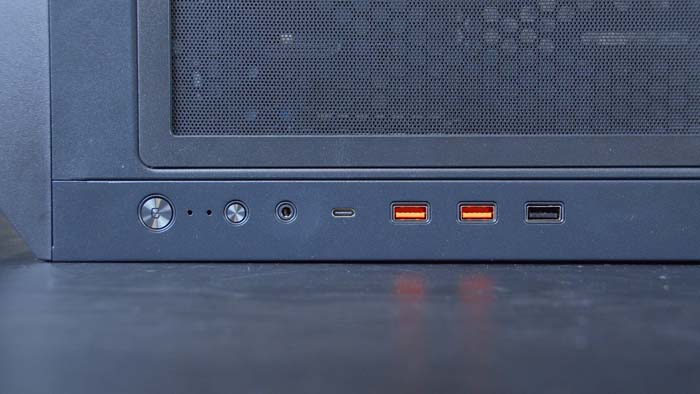 Features We Don't Like
Although the DUOFACE Pro is a solid case, there's a couple of features that this chassis offers that aren't great, or we'd recommend that Cougar changes slightly. We've discussed them all briefly below.
ARGB Hub Can't Power Fans
ARGB hubs are a nice inclusion, but I feel that because of how well RGB tech has developed, an only-RGB hub isn't really necessary. Most coolers will come with some form of adapter regardless, so I'd much rather it would support fan power. Fan power is much more necessary in comparison, and there's a limited amount of headers on your board, so it would be nice to see support for fan power as well as RGB.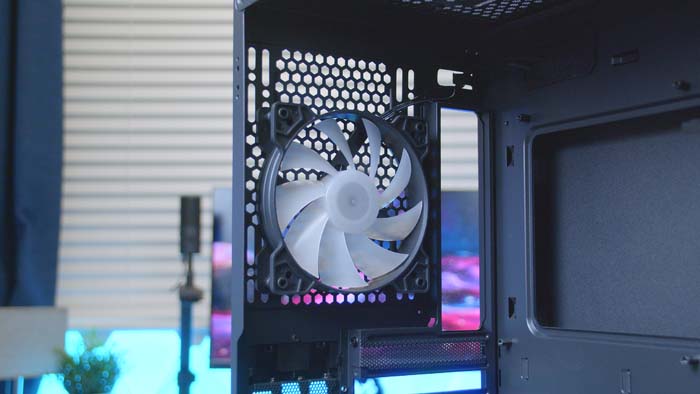 Won't Support the Biggest GPUs Vertically
This isn't the biggest problem for me, but it is worth highlighting. The DUOFACE supports both vertical and horizontal GPU configurations, allowing you to choose between the two. However, there are only 3 PCI-E slots on the vertical side. Although there aren't any 4 slot GPUs thus far, large 3.5 slot cards do exist, which means you might run into potential clearance issues if you've picked up one of these larger cards.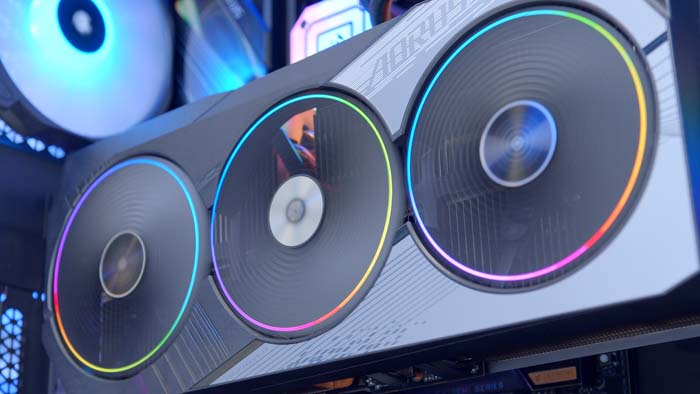 Alternatives
Because the DUOFACE is such a solid value-proposition, it was quite difficult for us to find that many alternatives that come in at both a similar price, and offer a similar set of features. However, MSI recently released their 300R Airflow, which I believe to be a strong competitor.
MSI MPG Gungnir 300R Airflow
The 300R Airflow is MSI's brand new case offering, focusing on versatility on airflow. This is one of my favourite cases that MSI has released recently, as they've clearly prioritised value-proposition. The mesh design massively helps with thermals and airflow, and there are a number of great features that will ease the building process, along with a simple way or re-orienting your graphics card from horizontal to a vertical configuration. Needless, if you'd like a clean case that's jam packed with features, the 300R Airflow is a solid alternative.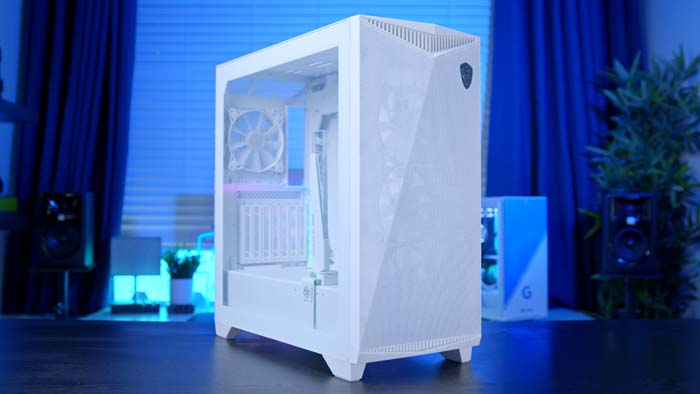 Buy the MSI MAG 300R Airflow on:
Conclusion
Cougar DUOFACE RGB Pro
Product Name: DUOFACE RGB Pro
Brand: Cougar
Features

Design

Versatility

Value For Money
Summary
Cougar's DUOFACE Pro RGB case is one of the strongest and most competitive options on the market right now. There are very few other chassis' that offer such strong versatility options, while also providing a case that minimises hassle factor and maximises airflow. Although the aesthetic of the case is pretty plain in comparison to some of Cougar's fancier cases, I feel like the simplicity of it is a small price to pay for how much customisation is on offer here. If I was to nitpick, there are a couple of design choices that I think could be improved, but I feel these don't impact the overall pros of this case, which is why it is such a great option. 
Pros
✅ Massive focus on quality of life and versatility.
✅ Huge configuration options in terms of components.
✅ Very capable when it comes to airflow.
Cons
❌ ARGB hub doesn't offer fan power.
❌ May not be enough space for larger GPUs oriented vertically.
❌ Aesthetic is a bit plain.