Introduction
With an official AMD Ryzen 7000 CPU launch date, and a close look at some of the newest AM5 motherboards at Gamescom, we've had a very exciting few weeks here at GeekaWhat. With every new range of CPUs comes different motherboards, chipsets, and an array of new features for consumers to sink their teeth into.
After AMD revealed their newest chipset (B650E), many were left wondering how this stacks up against other chipset options out there. To put these questions to bed, we'll be comparing what sets apart the X670E and B650E chipset designs.
Suggested Article: AMD B650E VS B650 Motherboards – Differences & What To Expect
The Importance of Motherboard Chipsets
It is important to note that a motherboard and a chipset are not the same thing. Although they work in combination with each other, there are key differences between them. Your chipset is both a data communication centre and traffic controller, while doubling as the determinant for the features you'll have access to on your motherboard. Many of these features can be deal-breakers for new builders and enthusiasts alike when picking out a motherboard, such as: PCI-E lanes and slots, CPU overclocking, the rear IO makeup and more.
AMD has retained the same pattern with chipsets since the start of their AM4 platform, and this is likely to remain the same for AM5, even if the names have changed a little. Since first generation Ryzen chips landed back in 2017, the top-end chipset has always been 'X#70'. Motherboards which utilise this chipset take a no compromises approach to features, whereby you're likely to have all of the available features that come with that generation of CPU.
For 'B#50' CPUs, the design philosophy is slightly different. These motherboards tend to sit within the budget and mid-range market, offering consumers plenty of features but reducing the amount to save on cost. B#50 boards are generally more affordable than X#70 boards, but both of the chipsets we're discussing today don't quite follow the traditional curve AMD has set out with previous generations. Both the B650E and X670E chipsets are the extreme versions providing more features with widespread PCI-E 5.0, along with better overclocking support too. And because of this, there is definitely a boost in price to be expected.
Major Differences
Before we jump into the differences, we'd like to make a small note. Although we have plenty of information and technical specs when it comes to AMD's flagship chipset (X670E), the B650E chipset was only announced on the 29th of August (as of publishing). Not only this, AMD has announced that these motherboards are expected to release in October, so the information we have in terms of technical specs is fairly light. We've pulled together as much information that we can, and made some educated guesses on the available features. We'll be updating this article as more content is released from AMD and their board partners.
CPU Overclocking Support
When it comes to overclocking, we already know that both of the 'E' variant chipsets are designed to be better suited for boosting the new Ryzen 7000 CPUs past stock speeds. This means that both X670E and B650E are going to have more power stages on the VRMs, better cooling, and improved stability to assist overclocking.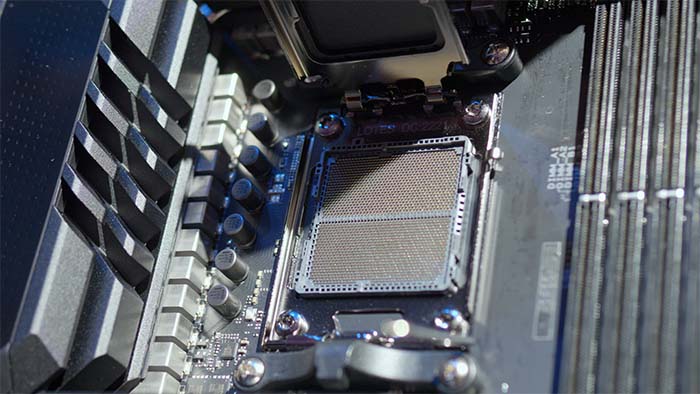 With X670E motherboards, we can take a look at some of the latest ASUS boards that featured at Gamescom this year. For example, the ROG Crosshair X670E Extreme features 20 + 2 power stages. This is effectively unheard of for mainstream motherboards, and goes to show that X670E boards are designed for top-end overclocking. Although we don't have the tech specs of any B650E boards quite yet, it is rather likely that these motherboards will follow suit with regards to performance. We believe that these boards will probably have a minimum of 16 – 18 power phases on average, with the most expensive boards levelling out at 20+ power stages. This is likely to blur the lines between X670 and B560E on the power delivery front, with some overlap inevitable.
PCI-E 5.0, Graphics Cards & SSDs
When it comes both GPUs and SSDs, AMD's latest platform is likely to be the go-to choice for many consumers. For X670E motherboards, we're looking at widespread PCI-E 5.0 support for multiple of the latest graphics cards and SSDs. Although we can't see many users opting for dual GPUs nowadays, this still remains a theoretical possibility.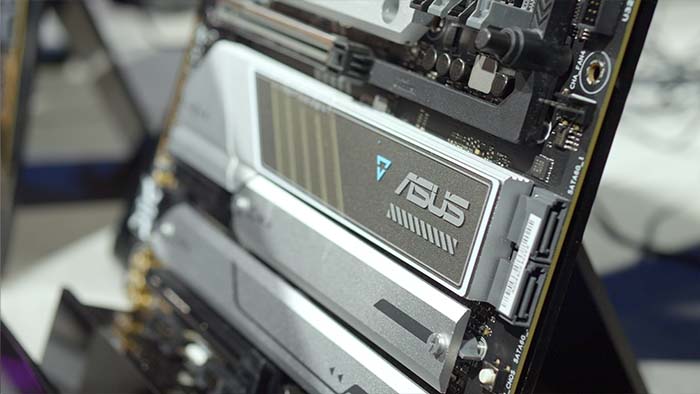 On the other side of the coin for B650E, we're looking at multiple options for PCI-E 5.0, but less overall. Despite these boards being heavy hitters when it comes to overclocking and other features, they're still geared towards a demographic that wants high performance at a lower cost. For that reason, B650E will be cheaper, but when it comes to PCI-E 5.0, we're probably going to see perhaps one x16 slot, and possibly two x4 slots. So you still get the best of both worlds, just less across the board.
Memory Overclocking
With memory overclocking, AMD announced that all of the chipsets will support their new EXPO memory technology. This one-click overclocking method improves performance at 1080P settings, along with making DDR5 memory latency better. Arguably this is needed for DDR5 DIMMs, as the latency is currently one of the only areas holding back a significant performance boost.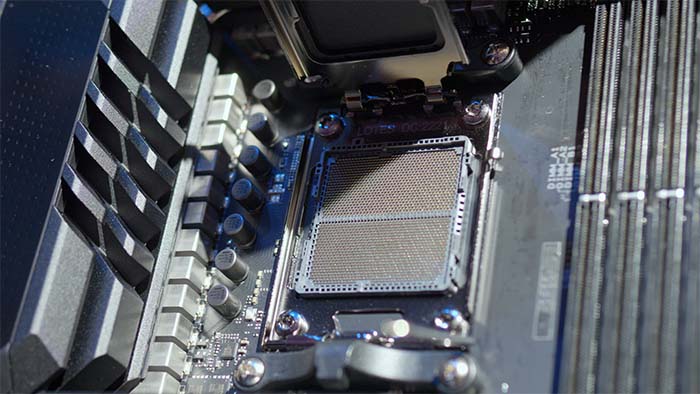 As for manual overclocking, this will also be supported, and can be tweaked in the various BIOS settings available with each board partner. This won't differ much between each chipset, but it may be that X670E supports a higher memory clock speed on average for better overclocking.
Rear & Front IO
Finally is the rear and front IO. The amount of IO you have is determined by a number of factors, with chipset being the main one. X670E motherboards are designed to spare nothing when it comes to features and will have more bandwidth. As such, we can imagine seeing a large amount of high speed IO, including multiple USB4 ports, WiFi 6E, and even 10 Gigabit LAN included here.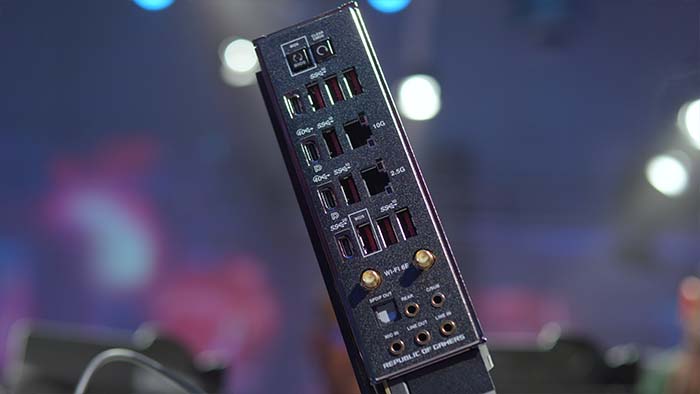 Although B650E is definitely an uncompromising chipset, it is likely that the amount of accessible rear and front IO will be reduced to save cost. This means we'll probably see one USB4 port instead of multiple, along with less USB 3.2 ports, slower LAN ports, and an earlier generation of WiFi. Connectivity is still expected to be strong, but will need to confide within the more affordable price tag of these boards.
Pricing Expectations & Comparison
For our pricing expectations, we've given a reserved, but realistic estimate for the kind of money you may need to spend to secure one of these new motherboards. First off, X670E is looking very pricey. This is a given, considering that these boards are the flagship, 'no compromise' designs, optimised to overclock the new CPUs to the max. Admittedly, $500 as a starting price is definitely a lot, but this is what rumours and reliable sources are suggesting to be the case.
B650E should be significantly cheaper, these motherboards are likely to cost around half as much, starting at the $300 or so mark.
If you're saddened by the cost of these boards, we'd recommend taking a look at the more budget oriented B650 boards. This chipset will have less features compared to the three other available chipsets, but you'll be paying less overall to secure one.
| | |
| --- | --- |
| X670E | B650E |
| $500 – $1000 | $300 – $600 |
Note – This is a very rough guide on the expected prices of available motherboards on the latest AM5 platform. The X670E and B650E chipsets do not have an official price and could be subject to change.
Expected Overall Differences
Features
X670E
B650E
CPU Overclocking Support
Yes
Yes
CPU PCI Express 5.0 Lanes
24
24
PCI-E 5.0 Slots
1 x16 Slot
1 x8 Slot
Up to 2 x4 M.2 Slots
1 x16 Slot
Up to 2 x4 M.2 Slot
VRM Power Phases
20+
20+
Chipset PCI Express 4.0 Lanes
20
12
PCI-E 4.0 M.2 Slots
Up to 4 x4 M.2 Slots
Up to 2 x4 M.2 Slots
Chipset PCI Express 3.0 Lanes
12?
8?
Max Number of USB Ports
16
14
Max USB 4.0 Ports
2
1
Max USB 3.2 Gen 2×2 Ports (20Gbps)
2
1
Table of Differences between X670E & B650E Chipsets
Overall Differences Breakdown
With the release of any new range of CPUs, the amount of features available to consumers takes a step forward. With Ryzen 7000, that step looks to be a very significant one. We've pulled as much information that we can in relation to the X670E chipset, but B650E motherboards remain to be unseen before we get to the October release window.
In relation to PCI-E lanes, both of these chipsets will offer the most, when compared to their X670 and B650 counterparts. Having more PCI-E lanes means both of these chipsets will undoubtedly support more graphics cards and SSDs. For X670E, we're looking at widespread compatibility, with this chipset offering the most in terms of PCI-E 5.0 ready slots, for both SSDs and graphics cards. Following second will of course be the B650E chipset, offering consumers less PCI-E 5.0 compatible slots and lanes, but providing consumers the option to utilise two or more components with this higher bandwidth generation.
X670E will utilise the highest amount of USB ports, with the most room for USB4 ports, and USB 3.2 Gen2x2. We're expecting B650E to also have a similar amount of rear and front IO, but there is also a possibility this will be reserved for X670 as the B650 chipsets are designed to be more budget. We've mooted 14 as the max number of USB ports for B650E, but this could be more or less dependent on manufacturer's own decisions. Regardless, we'll be listening out for any new technical information that lands in our laps.
Where to Buy
None of the new AM5 motherboards have been given official prices as of yet. Although we're aware of some of the X670E boards, we're expecting to get more information (and pricing) as we get closer to the Ryzen 7000 CPU release date. For the time being we'd recommend checking manufacturer websites to keep up to date on any new releases.
Conclusions
In this versus article, we've taken a look at both of the 'extreme' chipsets on the AM5 platform, and compared them to find out any differences and similarities. On the whole we know that the X670E chipset is going to utilise all of the new features, and the B650E chipset will be a budget version of the top-end chipset. However, as there has been no official information released to the public about the B650E chipset, much of what we've put together is speculation based on previous AMD chipsets, and using some of the data we already know.
X670E motherboards are more aligned with enthusiasts, overclockers, and those wanting to fit out a high-end system with the most features available. B650E chipsets will lean more towards consumers that want to utilise many features but aren't able to spend the same amount on a motherboard. With the release date in sight, we're gearing up to publish as much as we can about these new motherboards and CPUs to see if they're worth the money, and determine the kind of performance available for consumers!