Introduction
After much anticipation and waiting, AMD's elusive RDNA3 graphics cards are finally in-hand. AMD have kindly sent us their most powerful SKU (the RX 7900XTX) to take a look at, and without majorly spoiling the benchmarks, Nvidia may have their work cut out for them. AMD has needed a win after a culmination of losses in multiple markets, and RDNA3 may very well be the course correction that their ship needs to keep on sailing.
The Radeon RX 7900XTX is an excellent card, but how does it fare against other options on the market? Nvidia's RTX 3000 range have been the go-to for most consumers for a significant amount of time, so Team Green buyers will need a lot of convincing to jump ship over to Team Red. Is AMD's newest innovation the perfect win that they've needed, or are Nvidia's previous generation cards about to demonstrate why they are so popular?
We'll be answering this questions in typical GeekaWhat fashion with a GPU Versus Battle. We'll be putting both of these GPUs head to head, looking at specs, pricing, performance, and benchmarks to see which card is better and who reigns supreme in the current market!
Suggested Article: AMD Radeon RX 7900XTX Review
Versus Battle
AMD Radeon RX 7900 XTX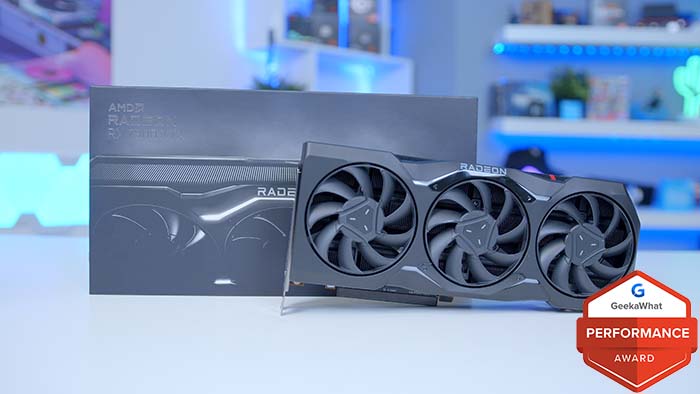 | | |
| --- | --- |
| Memory Capacity | 24GB GDDR6X |
| Boost Clock Speed | 2.5GHz |
| Ray Accelerators | 96 |
| Stream Processors | 6144 |
| TBP | 355W |
| Release Date | December 2022 |
| Price | Check Price on Amazon |
AMD RX 7900XTX Specs
The launch of AMD's Radeon 7000 cards has been a much anticipated wait since the release of Nvidia's RTX 4000 series. Nvidia has been holding steadfast in its exorbitant price points for the new cards, so many consumers are hoping that the competition will force Nvidia to drop their prices resulting in a more even playing field. Enter – AMD. The announcement of RDNA3 back in November was the spark of hope that we all needed to see, as the new AMD cards are priced significantly lower than what Nvidia has to offer. And if performance holds up, then we may see a leap over to AMD's side of the market when it comes to top-end graphics cards.
Speaking of performance, how does the Radeon RX 7900XTX hold up? Without spoiling the benchmarking section, the 7900XTX performs very well compared to the competition. A high resolution such as 4K doesn't pose much of an issue to this graphics card, and with FSR enabled, framerates can soar even higher. Ray-Tracing does pose somewhat of an issue in certain titles, but not so much that your frames drop below 60. And once the new FSR 3 technology drops in 2023 we're likely to see performance increase even more especially with the inclusion of Fluid Motion Frames. AMD has definitely demonstrated here that they can build a card that performs well, but there has to be a catch in terms of the pricing right?
The price is the big hitter for AMD, and may be the factor that makes the decision for many consumers. The 7900XTX and XT are priced near the $1000 mark which is over $200 lower than the RTX 4080, and over $600 compared to the RTX 4090. This is an extremely competitive price point, and if AMD's cards hold up well compared to the RTX 4000 and 3000 series, then we may see many consumers purchase an upgrade.
Buy the AMD Radeon RX 7900 XTX on:
Nvidia GeForce RTX 3090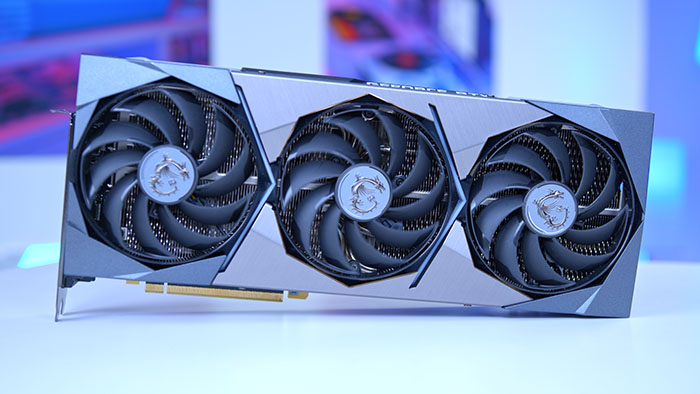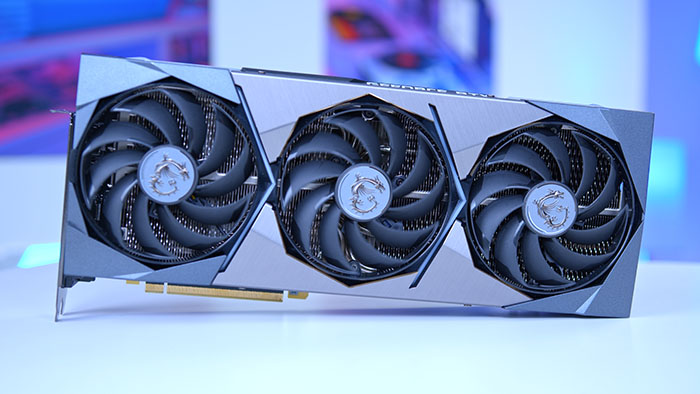 | | |
| --- | --- |
| Memory Capacity | 24GB GDDR6X |
| Boost Clock Speed | 1.70GHz |
| RT Cores | 82 |
| CUDA Cores | 10496 |
| TDP | 350W |
| Release Date | September 2020 |
| Price | Check Price on Amazon |
Nvidia RTX 3090 Specs
Nvidia's GeForce RTX 3090 graphics card was one of the first releases within the RTX 3000 range, launching back in September of 2022 amid the worldwide GPU crisis. The RTX 3090 is an interesting SKU, because this was the first '90' card we would see from Nvidia topping the tried and true '80' and '80Ti' designs. The RTX 3090 SKU was the first that we would see offering significantly increased hardware specs compared to other available options. This card offers 24GB of GDDR6X VRAM, alongside the most amount of RT cores and CUDA cores we've ever seen in a consumer card.
Performance wise, the RTX 3090 was one of the most powerful graphics cards to enter the market topping the charts in everything that it was thrown at. 4K and 1440P pose no issue to this card allowing you to enjoy high fidelity with minimal frame drops. The RTX 3090 also doubles as an excellent workstation graphics card, significantly cutting down render and export times compared to other RTX 3000 SKUs. The 3090 is also excellent when it comes to Ray-Tracing. Nvidia has absolutely nailed Ray-Tracing bringing excellent fidelity to a number of games, and combined with DLSS you're able to minimise some of the overhead that comes with Ray-Tracing technology.
Looking at pricing, this is where the situation changes for Nvidia. Despite this card offering incredible performance, the original MSRP and current price tag of this GPU aren't particularly competitive compared to AMD's newest GPUs. Although you can actually purchase these new cards now, the RTX 3090 is still priced above $1000. If the price for this GPU drops below $1000, AMD may find that the competition is about to heat up.
Buy the Nvidia GeForce RTX 3090 on:
Our Testing Methodology
The approach that we take to testing components follows a rigorous standard that aims to provide real-life context on how a system or product should perform. All of our testing runs are benchmarked within a game to demonstrate the kind of framerates at a variety of different settings. All of our benchmarks that we conduct are done in a way that can be repeated by external parties and can expect the same results. All of our components are paired with similarly performing options reducing any bottlenecking that could affect our results.
Any articles that we feature on our website are also edited entirely by our in-house team and are not subject to any external review or amendments by brands or manufacturers. We will always remain impartial and candid in our opinions and ensure that every component receives fair treatment when we are reviewing or testing them.
Benchmarking Performance
As with all of our GPU and CPU comparisons, we've compiled a set of graphs that showcase component performance in a number of games. All of the full benchmarking runs can be found on our very own YouTube channel – 'Benched', where you'll find a plethora of runs in numerous Esports and triple A titles showing off the settings we've used in each game.
COD Warzone
For our first title we decided to test out the popular game Call of Duty Warzone at 4K. From the graph you'll immediately be able to see that the Radeon RX 7900XTX is leading the fore with 178FPS on average. The RTX 3090 isn't quite able to keep up with AMD's titan, sitting at 108FPS overall. COD Warzone is a very fast-paced title and benefits from having a high refresh rate, so its great to see that AMD's card was capable of this, but Nvidia's 3090 wasn't entirely able to hit the 144Hz sweet spot. But both GPUs still provided a more than playable experience at this resolution.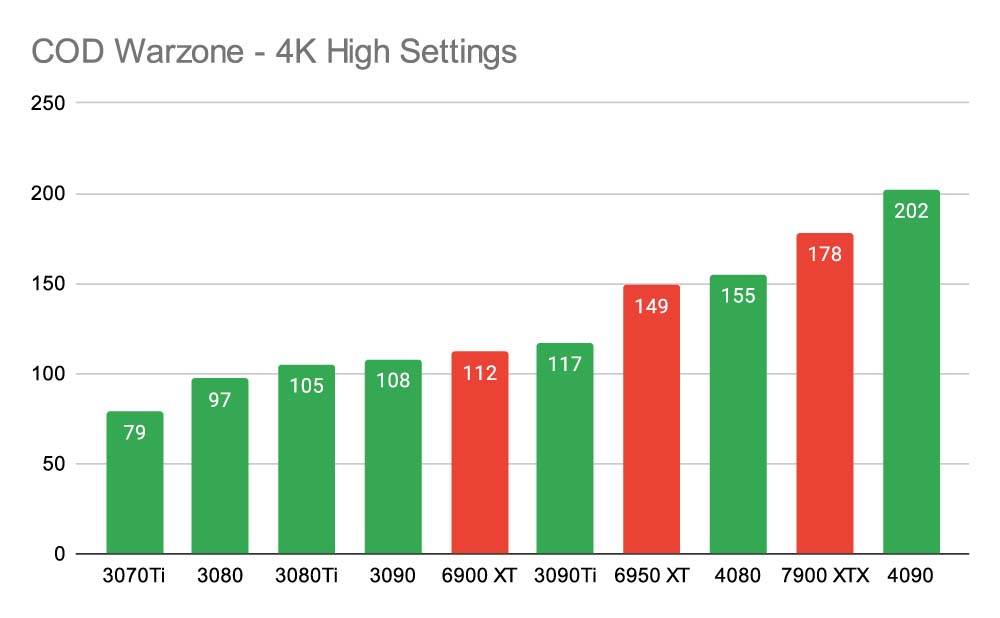 Battlefield 2042
In Battlefield 2042 we saw some performance dips from both of these GPUs, but the 7900XTX yet again sat towards the top of the graph offering 104FPS. The RTX 3090 was relatively close behind only losing out on 12 frames in total which is a relatively negligible difference. Battlefield 2042 is somewhat unoptimised, hence the lower average framerate from even the top-end cards, but both the 7900XTX and 3090 provided a playable set of matches with minimal frame dips.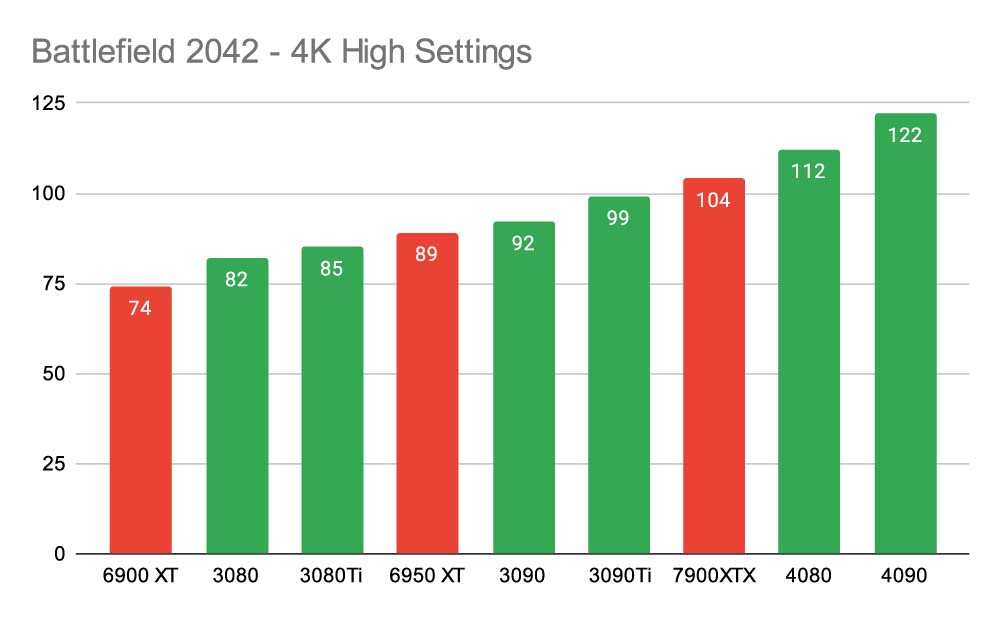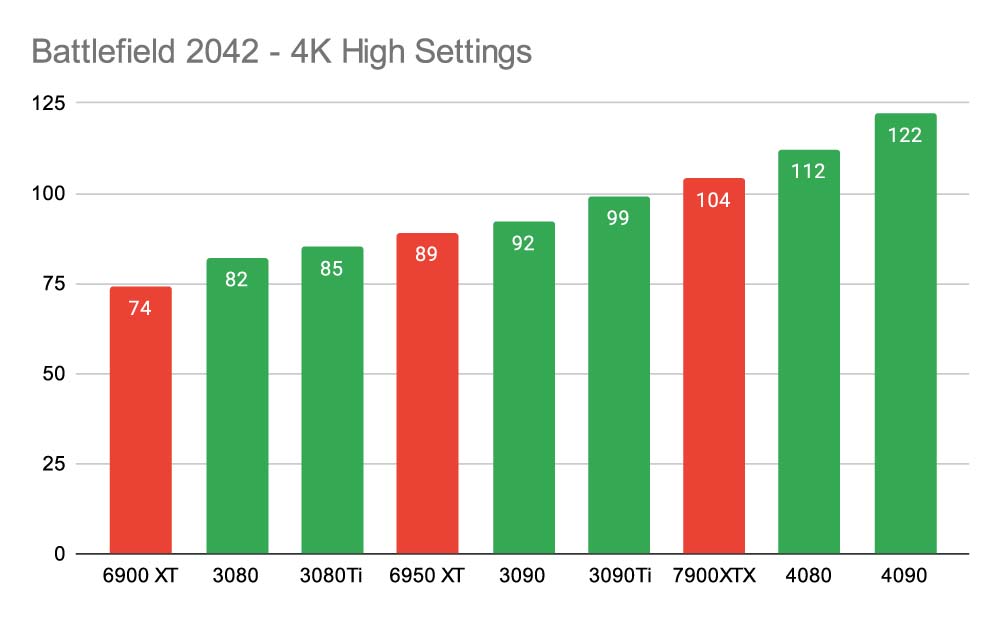 Apex Legends
In Apex Legends we saw framerates soar to an all-time high with the 7900XTX reaching 202 frames, which is the most we've seen with any GPU in recent times. The 3090 still performed incredibly well sitting at 132FPS on average, although this isn't quite at the high refresh rate sweet spot that we'd love to see, the 3090 still provided enough frames for a stutter and lag-free game.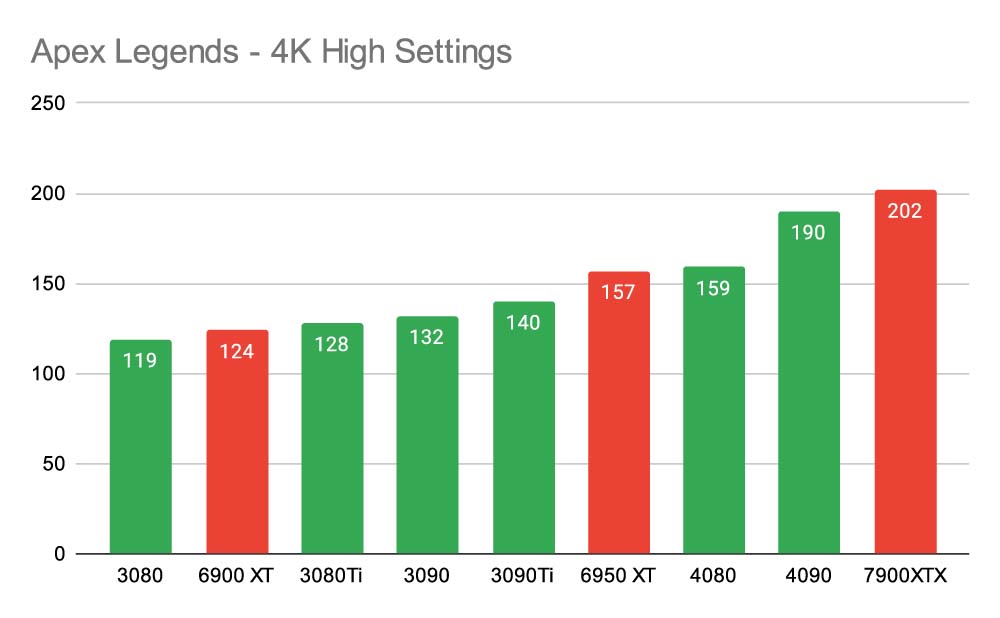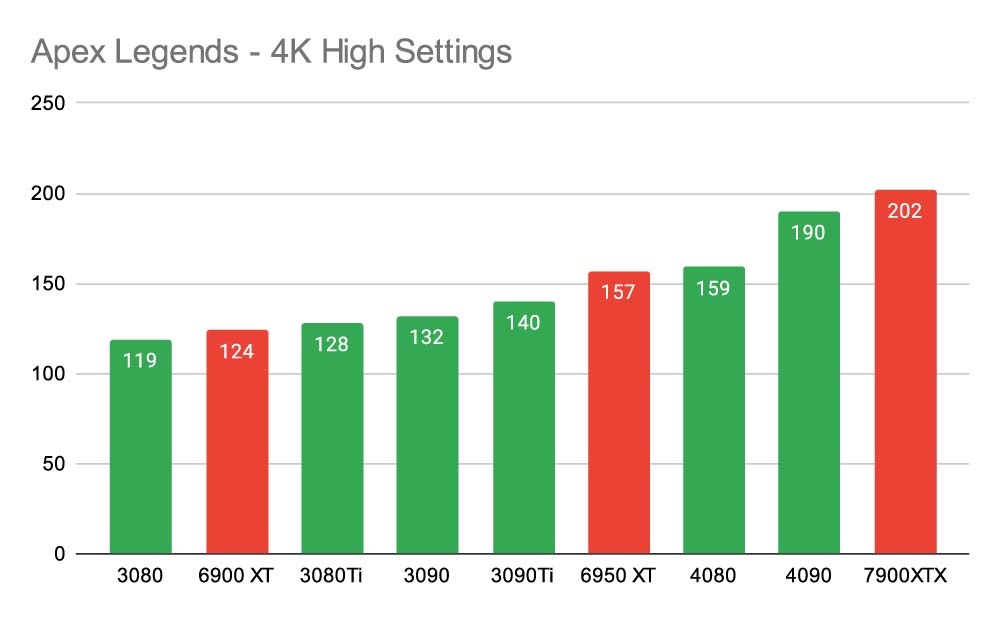 Fortnite
For our final game we decided to test out Fortnite at 1080P competitive settings, which is commonly used in Esports environments to ensure maximum frame output. The 7900XTX sat at the top of the graph reaching over 300FPS which is an insane amount, but also to be expected due to the lower resolution. The 3090 wasn't extremely far behind sitting at around 282FPS on average. Both of these cards get a pass when it comes to 1080P, giving consumers the opportunity to enjoy very high refresh rate monitors with minimal frame drops.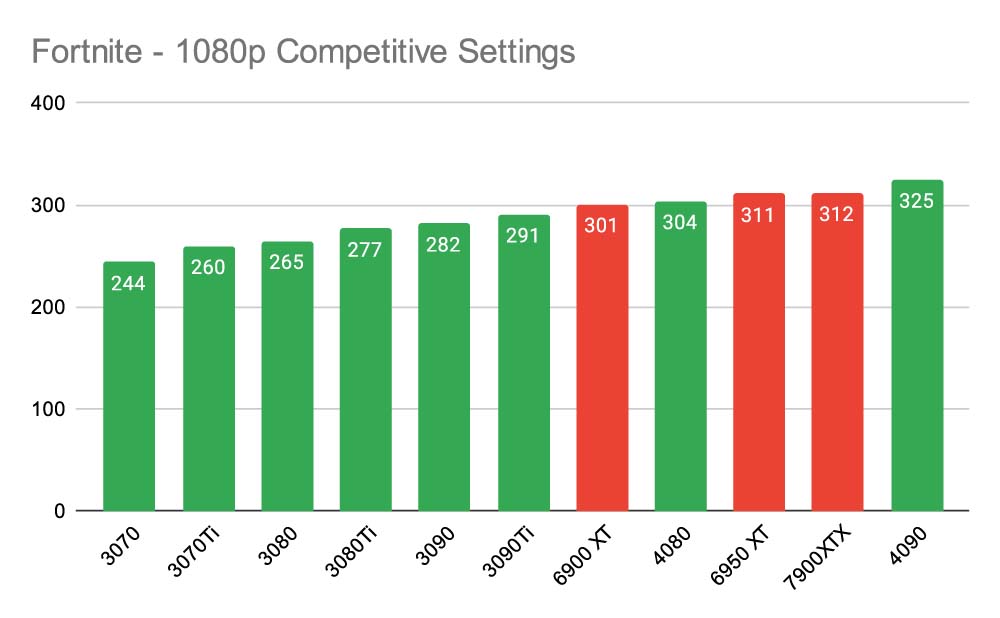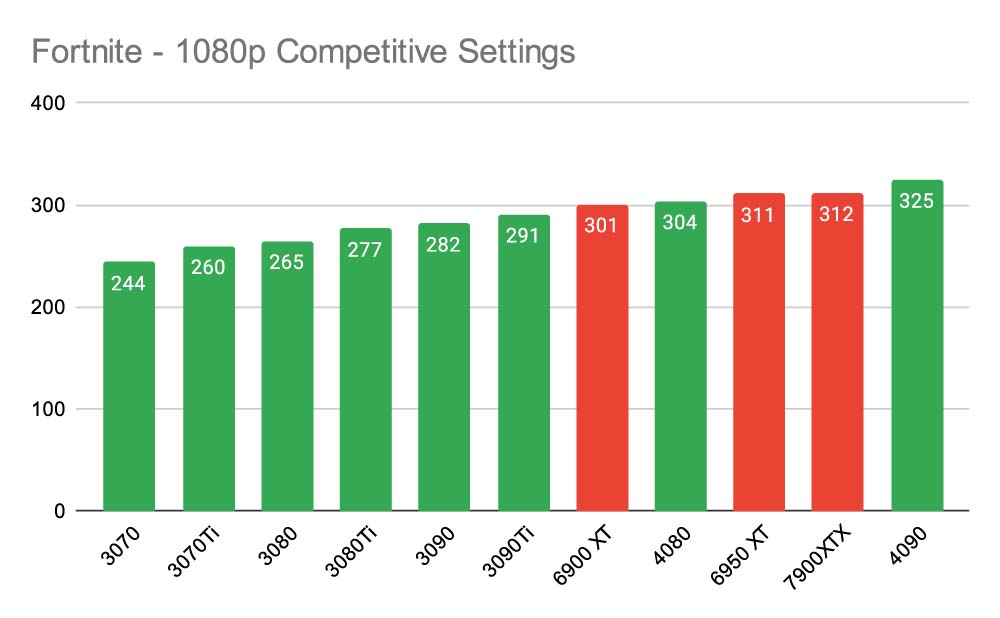 Conclusions
So where do both of these GPUs stand when it comes to value and performance? Has AMD's latest card been bested by older hardware in the RTX 3000 series, or is the Radeon 7900XTX a definitive purchase for those looking to build a high performance PC at the end of 2022? So far, it seems the latter is definitely true. Although the RTX 3090 still holds up very well in today's market with modern titles, the 7900XTX consistently beat out the 3090 with no issues.
When it comes to performance however, the difference between them isn't huge. Although there are definitely performance gains in certain titles, the RTX 3090 still shows how brilliant it is time and time again with consistently high frames all across the board. But the pricing is what sets these GPUs apart. The 7900XTX is still cheaper than the RTX 3090 at launch giving it a much better value-proposition compared to the RTX 3090. However, once the 3090 drops even further in price I'd definitely recommend picking it up for a high-end build, as the performance will not disappoint!