Introduction
AMD's Radeon 7000 graphics cards are here, making it a better time than ever to see how AMDs options hold up against Nvidia's tried and true RTX 3000 series. Does the Radeon RX 7900 XT hold up against the popular, and powerful, RTX 3090Ti, or do Nvidia still hold the fort for top end GPU performance?
To determine the outcome of this comparison test, we'll be breaking down each of these cards to see what kind of value they offer today, along with performance metrics and pricing on offer! We recommend also reading our full review of the RX 7900XT and RTX 3090 rundowns for more detail on individual card performance and architectures.
Suggested Article: AMD Radeon RX 7900 XTX Review
Versus Battle
AMD Radeon RX 7900 XTX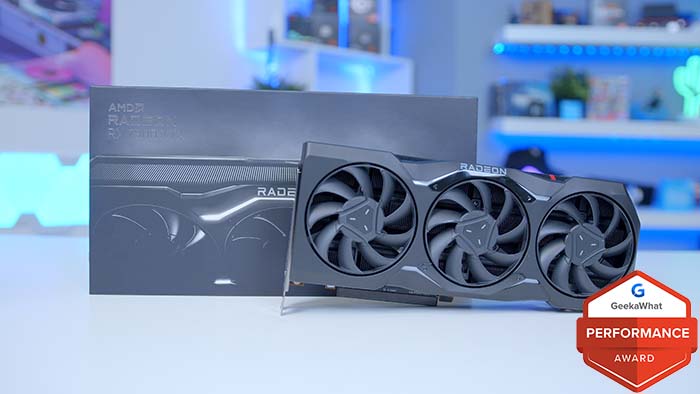 | | |
| --- | --- |
| Memory Capacity | 24GB GDDR6X |
| Boost Clock Speed | 2.5GHz |
| Ray Accelerators | 96 |
| Stream Processors | 6144 |
| TBP | 355W |
| Release Date | December 2022 |
| Price | Check Price on Amazon |
AMD RX 7900XTX Specs
AMD's new Radeon 7900XTX is Team Red's answer to Nvidia's latest range of RTX 4000 cards. After a culmination of losses in the form of their CPUs, and the Radeon 6000 GPUs, which made great progress, but didn't exactly dominate at the high-end, this is the proverbial win that AMD need. AMD's press conference back in November of 2022 was definitely an indicator that these new cards could be the big push that AMD need, compounded by AMD's competitive pricing. RDNA 3 offers big performance improvements, and once we get access to FSR3 next year, we are likely to see further progress in AI-backed upscaling performance with the 'Fluid Motion Frames' technology.
So far, everything seems relatively promising, and performance definitely follows suit. Without giving away the game in our benchmarking section below, the 7900 XTX is a very impressive card when compared Nvidia's latest options. 4K games pose no issue to this card, and productivity workloads are also massively improved with this new GPU. This is leaps and bounds ahead of RDNA 2, and the chiplet design delivers increased performance-per-watt which further demonstrates how far AMD has come generationally. It seems Nvidia really have their work cut out for them, and if they can't compete on pricing they may be left in the dust to some extent.
Speaking of pricing, the RX 7900 XTX is probably one of the best priced GPUs that we've seen this year. Nvidia pulled rank and priced their new RTX 4000 cards at a fairly crazy level, something which will only help AMD look to be the better value proposition. Make no mistake, this is still an expensive GPU, but you won't be able to find better price-to-performance metrics with any other GPU, making the 7900 XTX a worthwhile pickup for a top-end PC build. We were impressed that AMD managed to keep prices down, and this is likely to be the key factor that pushes consumers over to AMD.
Buy the AMD Radeon RX 7900XTX on:
Nvidia GeForce RTX 3090Ti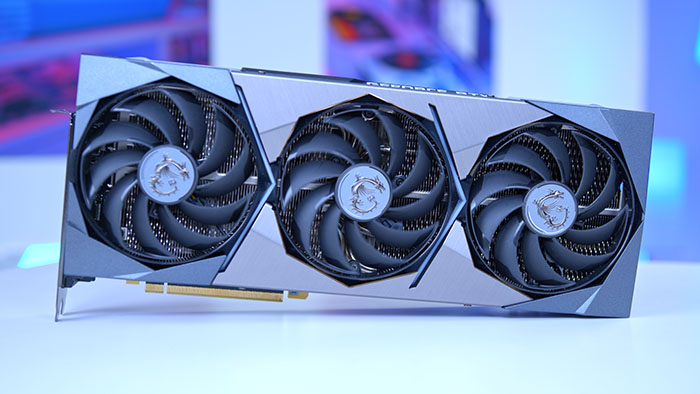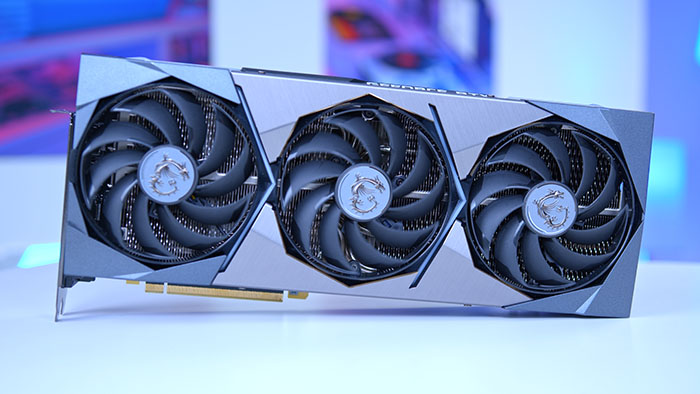 | | |
| --- | --- |
| Memory Capacity | 24GB GDDR6X |
| Boost Clock Speed | 1.86GHz |
| RT Cores | 84 |
| CUDA Cores | 10752 |
| TDP | 450W |
| Release Date | March 2022 |
| Price | Check Price on Amazon |
Nvidia RTX 3090Ti Specs
Nvidia's RTX 3090Ti was the first time Team Green offering a '90Ti' SKU within their GPU lineup. This card helped to push performance to the max, delivering top-tier performance in all metrics. At the time of launch, the 3090Ti was the most powerful gaming graphics card that money could buy – a title it held on to for quite some time. Nothing offered alike performance at 4K or with Ray-Tracing enabled, which would deliver Nvidia the performance crown (and lots of sales in the process!). The RTX 4090 has since taken said crown, but the RTX 3090Ti still offers incredible performance.
This leads me onto my next question, what should you expect from the 3090Ti? Well, much like the 7900 XTX, this card has no issues with gaming at 4K, and even with Ray-Tracing enabled you should still see great performance. The Ampere architecture provided huge gains over the previous Turing series (RTX 2000 cards), and the RTX 3090Ti demonstrated this clearly. The inclusion of DLSS 2 also gave consumers the opportunity to enjoy higher resolution upscaling with much less performance overhead resulting in more frames. Needless to say, the 3090Ti is an all-rounder in performance and is extremely capable with much more intensive workloads.
When we look at pricing, this is where the situation becomes complicated. Although the price of the RTX 3090Ti is much better than what it was at MSRP, you're still expected to pay over $1100 to secure one of these GPUs. This puts the 3090Ti in a strange position compared to the 7900XTX, especially when looking at the performance metrics. We can only hope that the price drops further over time, improving the value proposition of the RTX 3090Ti. I'd recommend this card to those looking for an excellent 4K and Ray-Tracing capable GPU, but until the price drops, AMD's latest GPU definitely seems like a better purchase for the improved performance.
Buy the Nvidia GeForce RTX 3090Ti on:
Our Testing Methodology
In order to ensure that products and components are tested fairly we've developed a rigorous and repeatable testing methodology. This method involves benchmarking the components we have access to everything from popular Esports and Triple A titles. This gives you an idea of exactly what performance to expect when using similar settings in an alike system. We also ensure that every component we test is put into a system with components that offer similar performance to minimise any bottlenecking and incompatibility issues.
The second part of our methodology is ensuring that we stick to our editorial promise which can be found in our 'About Us' section on the GeekaWhat website. This editorial promise ensures candidness and impartiality when it comes to products and components, and we will always stick to this. This also involves only having our articles edited by an in-house team making sure they are not subject to any external review or amended by brands or manufacturers.
Benchmarking Performance
As per all of our articles, any data that we've compiled or graphs that feature are courtesy of our very own YouTube channel – 'Benched'. There you'll be able to find full benchmarking runs in a variety of Esports and triple A titles showcasing the settings we've used in-game with a range of components.
Battlefield 2042
For our first benchmarking run we decided to test out Battlefield 2042 at 4K high settings. Despite performance not looking incredible, the 7900XTX sat towards the top of the graph offering up 104FPS on average which was enough for a smooth gameplay experience. The RTX 3090Ti was close behind sitting at 99FPS on average. Ultimately, the frame rate difference between both of these GPUs isn't huge, but AMD still deliver the better result at a lower price point.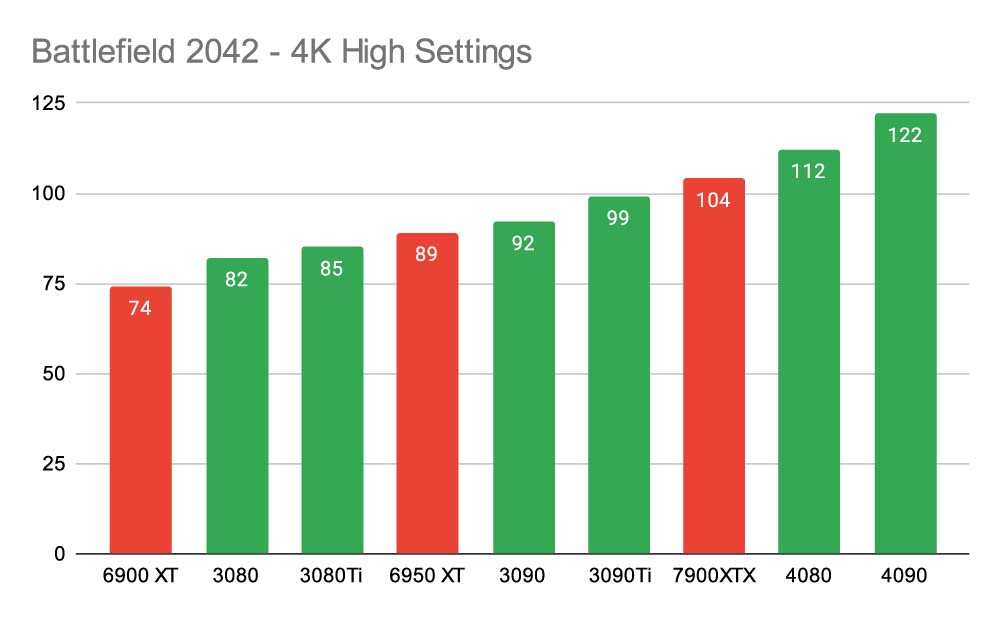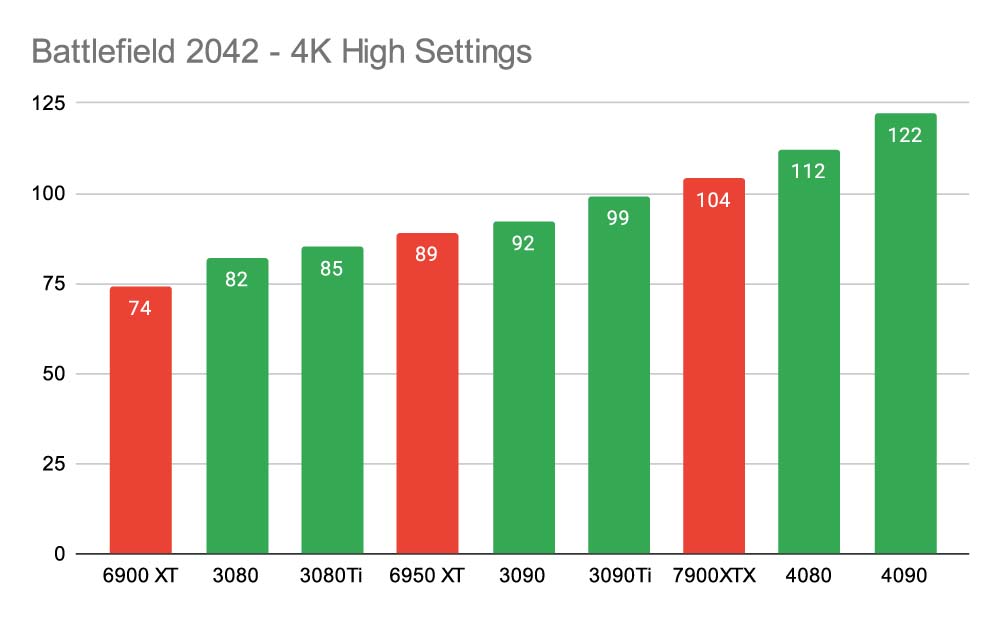 COD Warzone
In COD Warzone, testing at 4K high settings, the 7900XTX stormed into a strong lead, delivering a very impressive 178 frames per second, on average. This is an ideal framerate for competitive gaming, and is leaps ahead of the RTX 3090Ti which sits at a deficit of over 60 frames per second by comparison.
Smooth gameplay was delivered from both cards, but AMD clearly take the win in this test.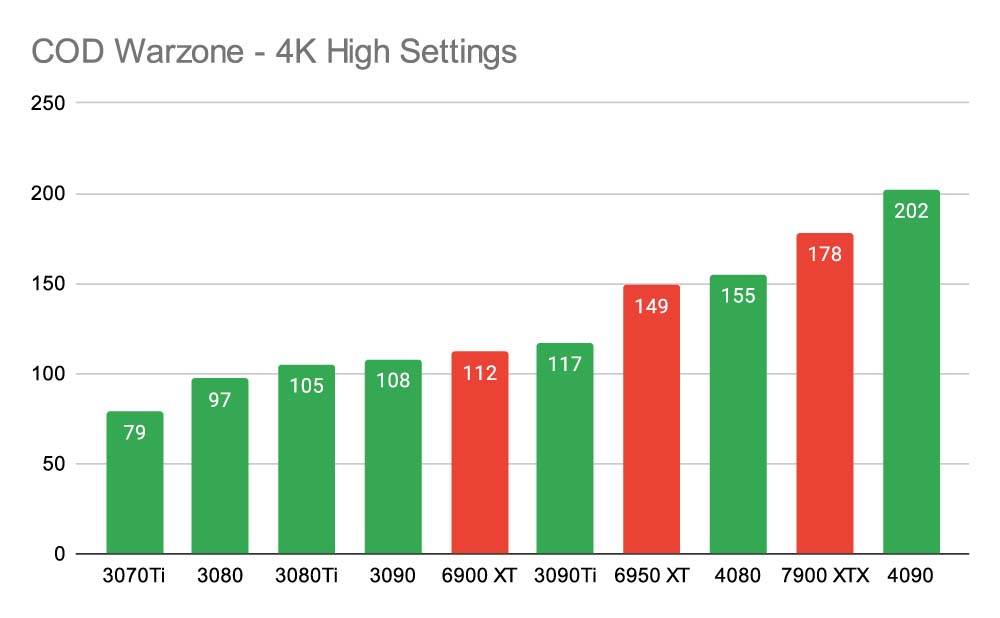 Fortnite
We tested Fortnite at 1080P competitive settings, a configuration which is commonly used in an Esports environment, to ensure you can get the best frame rate possible. AMD cards typically perform very well in this title and this is clearly demonstrated by the frame rates we were able to hit with the 7900 XTX. The 3090Ti still offered excellent performance with a 291FPS average, but the 7900 XTX delivered a decisive lead once again at 312FPS.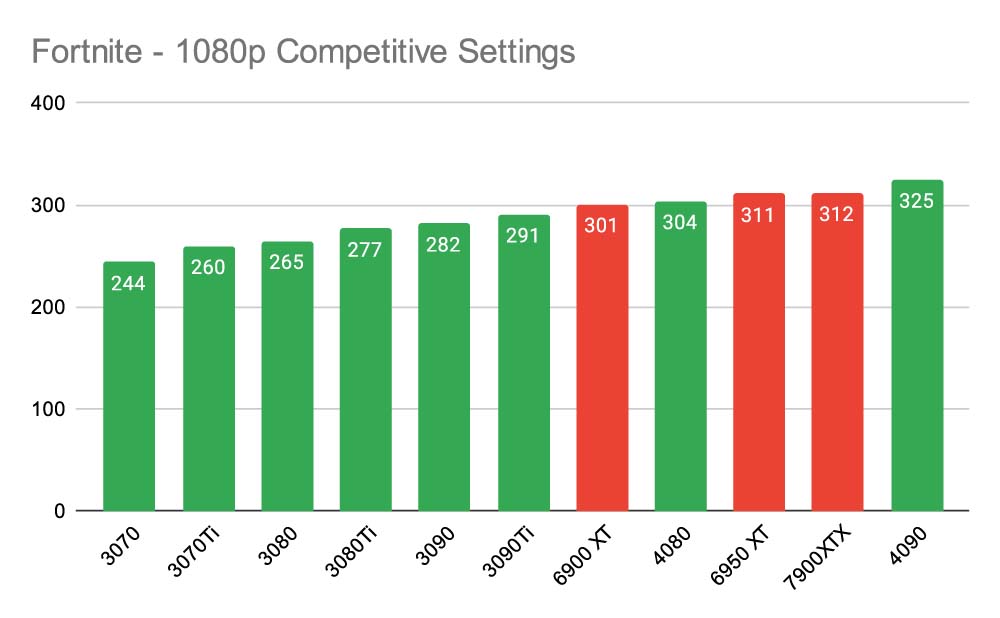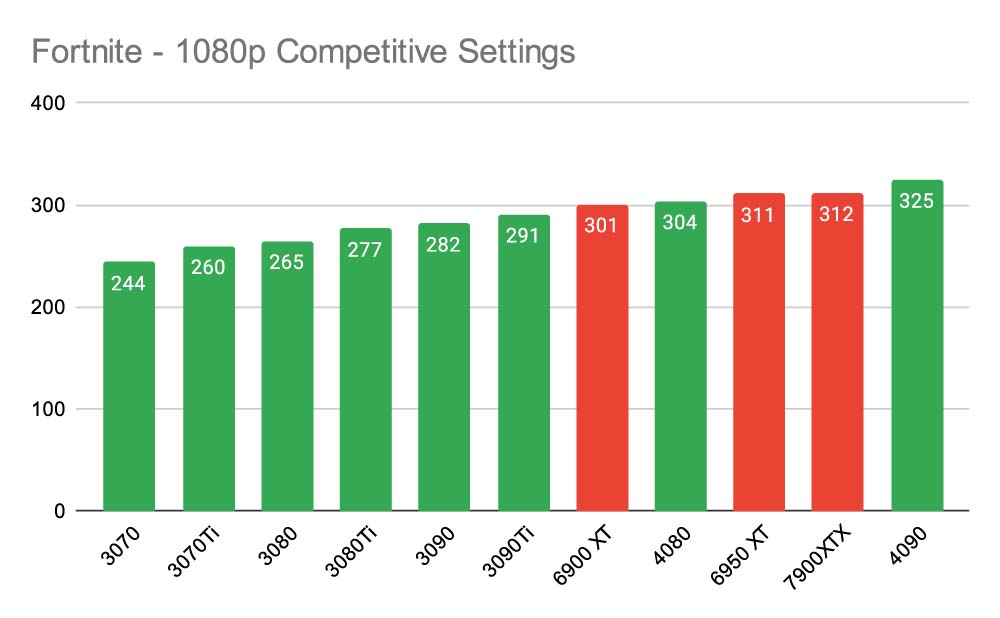 Apex Legends
Apex Legends is a relatively well optimised title, but we were surprised at the overall performance of the RTX 3090Ti. At just* 140 frames per second, it sat a whopping 62FPS behind the AMD card in this title, showing AMD once again pulling a clear lead.
*to be clear, 140 frames per second at 4K is still mightily impressive, but the higher frames of the competition make it a sweeter pick!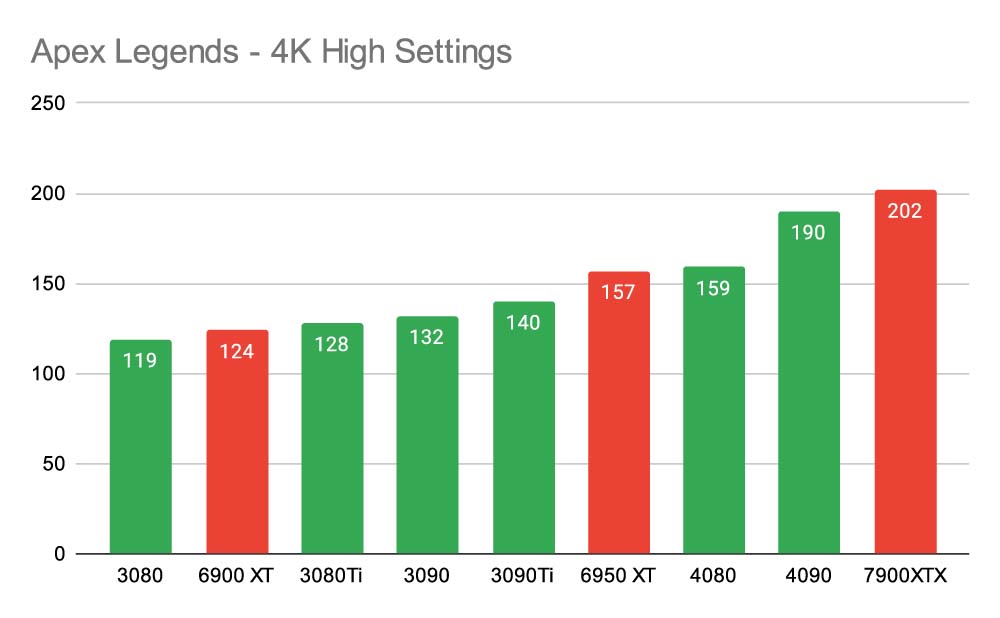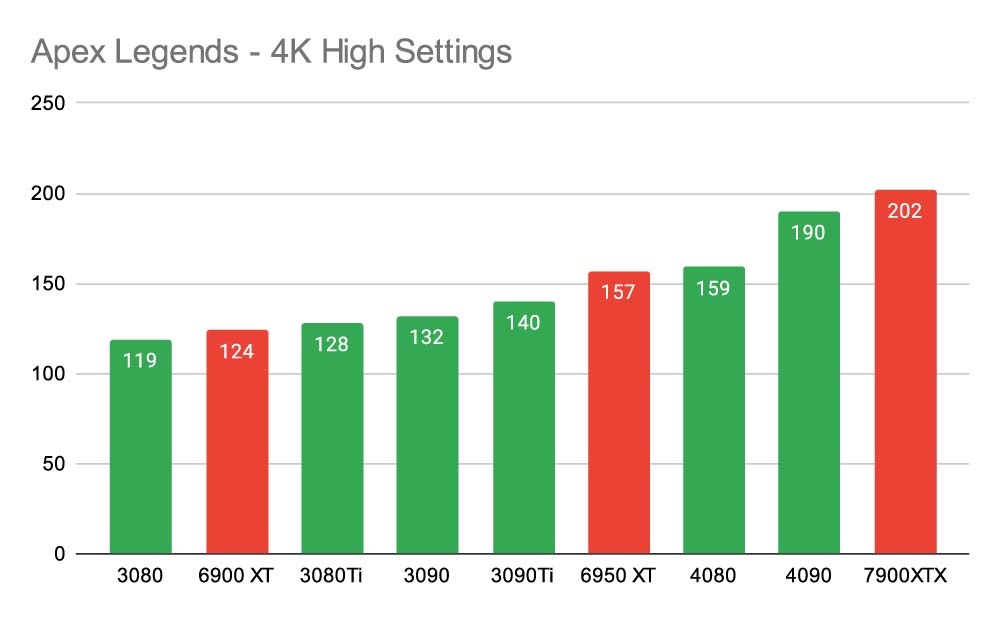 Conclusions
So where do both of these graphics cards sit in terms of value and performance? Is the RX 7900XTX a worthwhile purchase due to the newer hardware and significant performance gains? Or can the RTX 3090Ti still cut the mustard in today's ruthless market?
If we're looking at raw numbers, the 7900 XTX wins outright compared to most of its Nvidia counterparts, including the RTX 3090Ti. Sprinkle in future access to the FSR 3 technology, and frames are set to fly even further than before. While we shouldn't be overly surprised to see AMD beat out Nvidia's last generation offering, the 7900 XTX is clearly the better bet in this comparison test.