Introduction
Ever since the original launch of AMD's Ryzen series of CPUs, AMD have continued to innovate and push the limits of computing. Following this launch in 2017, AMD once again became a competitor against Intel, forcing them to innovate faster in a bid to keep up, bringing competition back into the stagnant CPU market. This put them back on the map, once again making AMD CPUs a viable choice.

If AM4 is anything to go by, AMD will likely continue to innovate with their new platform – AM5. Currently, Intel's Alder Lake CPUs are the only options on the market which have support for the newest technologies, such as DDR5 RAM and PCI-E Generation 5. This is all set to change with AMD announcing their answer to Alder Lake – Ryzen 7000 at Computex 2022.
Suggested Article: AMD X670E VS X670 Motherboards – Key Differences & What To Expect
New Ryzen 7000 Processors
While AMD did not give us much information on actual specifications of the new CPUs, they did provide significant insight around the platform and general direction of travel for Team Red in 2022. For those wondering why they skipped Ryzen 6000 series on the desktop side – 6000 series processors are going to be mobile CPUs used in laptops and other small-form factor devices.
CPU Socket
As expected AMD have decided to move from the current AM4 socket, to an all new AM5 socket. Like Intel, these new AMD chips are going to use an LGA socket, specifically LGA 1718. Unfortunately, due to this new socket, older consumers with current Ryzen boards or CPUs won't be able to bring those forward. This socket change is an unfortunate necessity, given how fundamentally these chips will differ from the first couple of Ryzen architectures.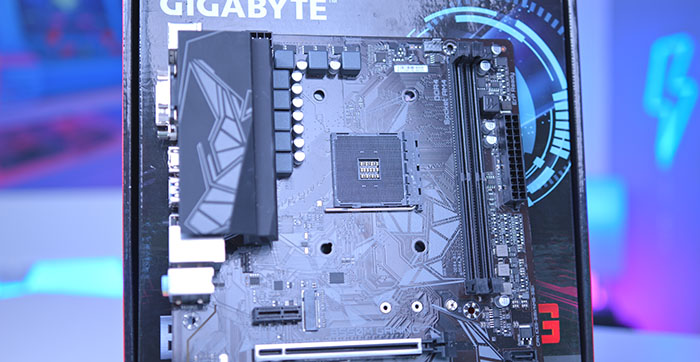 With this new socket change comes higher power support, up to 170 Watts. This is 28W more than what the AM4 socket delivered. With this added wattage we could see higher core count AMD CPUs, or higher clock speeds, something witnessed with Intel's latest 12900KS chip.
While the physical socket has changed, AMD are designing to allow backwards compatibility with older generation AM4 CPU coolers. This pro-consumer move will allow consumers to bring forward perfectly good coolers, with very little hassle.
RDNA 2
Another great feature announced for these new AMD CPUs is the integrated graphics support. Just like AMD's current line of APUs, we can expect new Ryzen 7000 CPUs to have some form of RDNA 2 graphics built onto the CPU. This will undoubtedly give more people the chance to dabble with PC gaming on the cheap. Intel have been including integrated graphics on their consumer line of CPUs for a long, long time, and it's nice to see AMD follow here.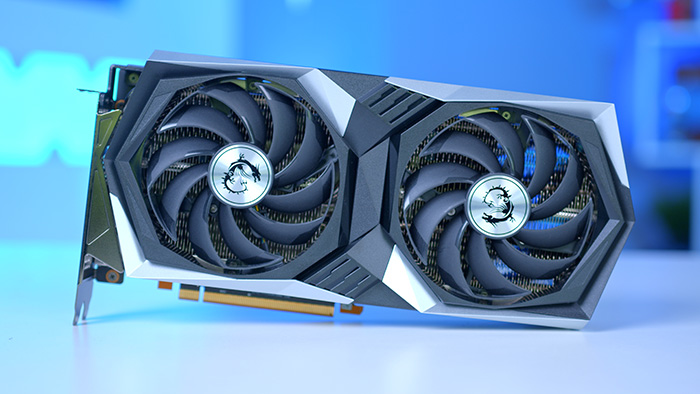 Zen 4
With the new architecture, AMD are adding more cache and "Expanded Instructions AI Acceleration" to boost the performance of their next-gen chips. AMD have also mentioned a 15% performance boost in single core performance compared to their own Ryzen 9 5950X. This should help the new line-up to compete against Intel's latest 12th generation offering, where the i9 12900K excels by comparison to the 5950X in gaming.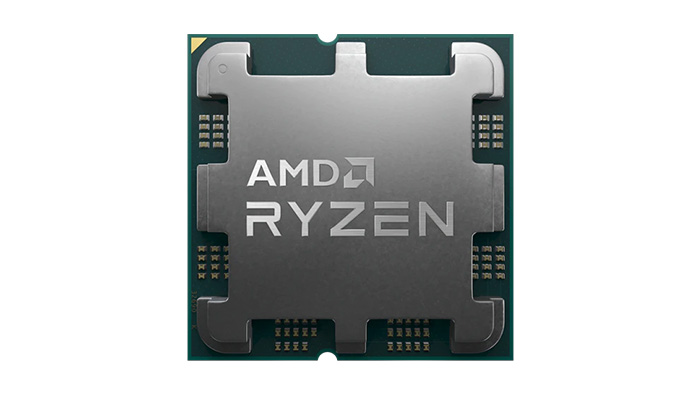 Chipsets
In addition to the new CPUs, AMD have also announced three new chipsets to take full advantage of these new CPUs. These chipsets are named X670E, X670 and B650, with each one targeting a different audience and price bracket. One of the main features of these new chipsets are their widespread support for PCIe Gen 5.0, something we have already seen with Intel's Alder Lake line-up.
X670E
Starting off with the highest end chipset first, AMD have unveiled the big guns, in the form of X670E. For anyone wondering, the 'E' stands for extreme, because of course it does! It is predominantly the same as the X670 chipset (which we'll come to shortly) but with everything dialled up to 11.
With the X670E chipset, you will have access to 2 sets of PCI-E 5.0 x16 lanes across two slots. This means that even the most demanding GPU setups won't be bottlenecked by the motherboard. You'll also be able to have one NVMe drive run at the new PCIe 5.0 speeds (once these SSDs land). Because new PCI-E specs double the bandwidth with each generation, we could in theory see SSDs with read and write speeds up to 14GB/s.
Finally, X670E is going to come with 'the most extreme' memory overclocking available and more power phases. This should equate to faster DDR5 memory being supported – something which has lacked so far on Intel's 12th Generation, Alder Lake platform.
X670
Next, we have the X670 (non E) chipset. This is what most people are expected to buy to take advantage of next-gen, Ryzen 7000 CPUs. You get lots of the same features from the X670E chipset, but cutdown to be just a little more price conscious! Rather than two x16 PCI-E 5.0 slots, you only get 1 PCIe slot on the motherboard at Gen 5.0 speeds.
This one is the one you'll use for the GPU. As with all chipset designs, a chipset lays out the maximum specification of a motherboard. Some manufacturers may choose not to include a PCI-E Gen 5.0 slot, with not all X670 motherboards boasting this support for the GPU. You'll also only get support for one NVMe drive to run at 5.0 speeds at maximum.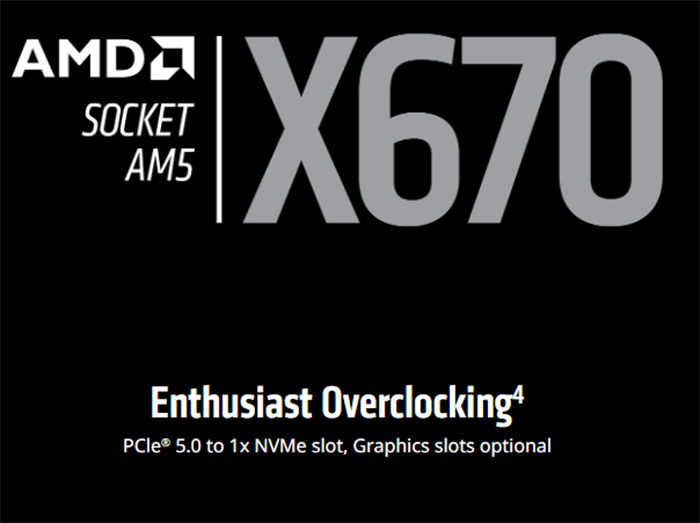 Much like X670E, there is going to be strong overclocking support here too. You'll be able to overclock the memory and the CPU to hit maximum speeds. Again, we also have strong power delivery, should you wish to drop in a top of the line Ryzen 7000 chip, or try your hand at a bit of overclocking
B650
Finally, we have B650. This is going to be aimed towards the budget group of gamers. If you want to save some cash and you don't need all the features from the other chipsets, B650 might be the one for you. Looking at the spec sheet makes it clear that this chipset is a clear cutdown from the others. You only get PCIe 5.0 on 1 NVMe SSD, with no PCI-E 5.0 for your graphics. AMD didn't specifically mention it, but we can assume that the other PCIe slots will run at 4.0, rather than 3.0 – but only time will tell here.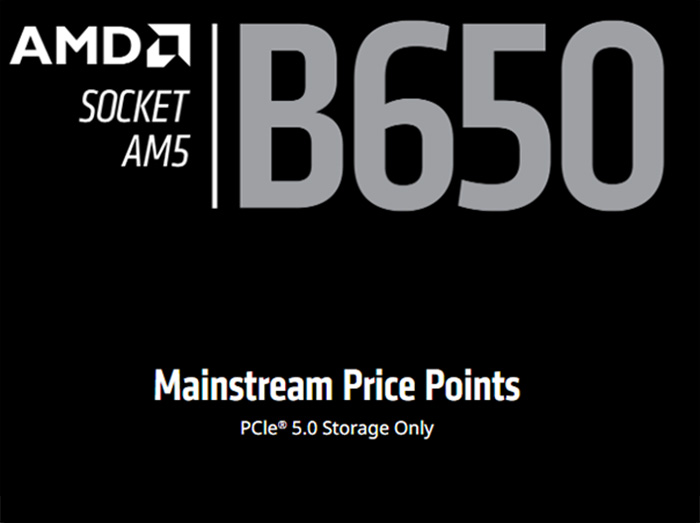 Currently there is no confirmation if this chipset will allow for overclocking, be it on the CPU or the memory. If previous B-series chipsets are anything to go by, we expect there to be overclocking support on the memory at very least, but likely the CPU too.
Oddly, there was no mention of an A-series chipset. Currently, we don't know if that means AMD are not going to release one, or whether AMD are going to make it an OEM only chipset. They may also be leaving its release for later on, once their budget stack of Ryzen 7000 CPUs eventually hits the market.
X670E
X670
B650
Price
$$$$
$$$
$$
PCI-E
GPU x 2
NVMe x 1
GPU x 1 (optional)
NVMe x 1
NVMe x 1
Overclocking
Yes
Yes
Nothing confirmed
Connectivity
AMD did tell us what we could expect in terms of maximum I/O on the new platform. 24 x PCIe 5.0 lanes for the GPU and SSDs is solid from the chipset only. Up to 14 x 20/Gbps Super Speed USB ports and Type-C will also feature as the maximum spec of a high-end connectivity.

Wi-Fi 6E and Bluetooth Low energy 5.2 support will also be available for motherboard manufacturers to include as they see fit. Finally, to complement the RDNA 2 graphics support, you'll be able to output to up to 4 X HDMI 2.1 ports or 4 X DisplayPort 2.0 ports.
Benchmarks
During the keynote, AMD shows off a 16 core Ryzen 7000 series CPU, running GhostWire: Tokyo. In this benchmark AMD gave us the clock speed of the new CPU, running at a very healthy 5.5GHz. What AMD did not tell us was what GPU it was running and if this was an all core boost. Blender was the other benchmark shown. They compared their 16 core CPU against the Intel Core i9 12900K (non S). Here AMD demonstrated a clear victory and claimed that their chip was 31% faster at productivity-oriented tasks. These benchmarks should always be taken with a pinch of salt, even if they do show promise.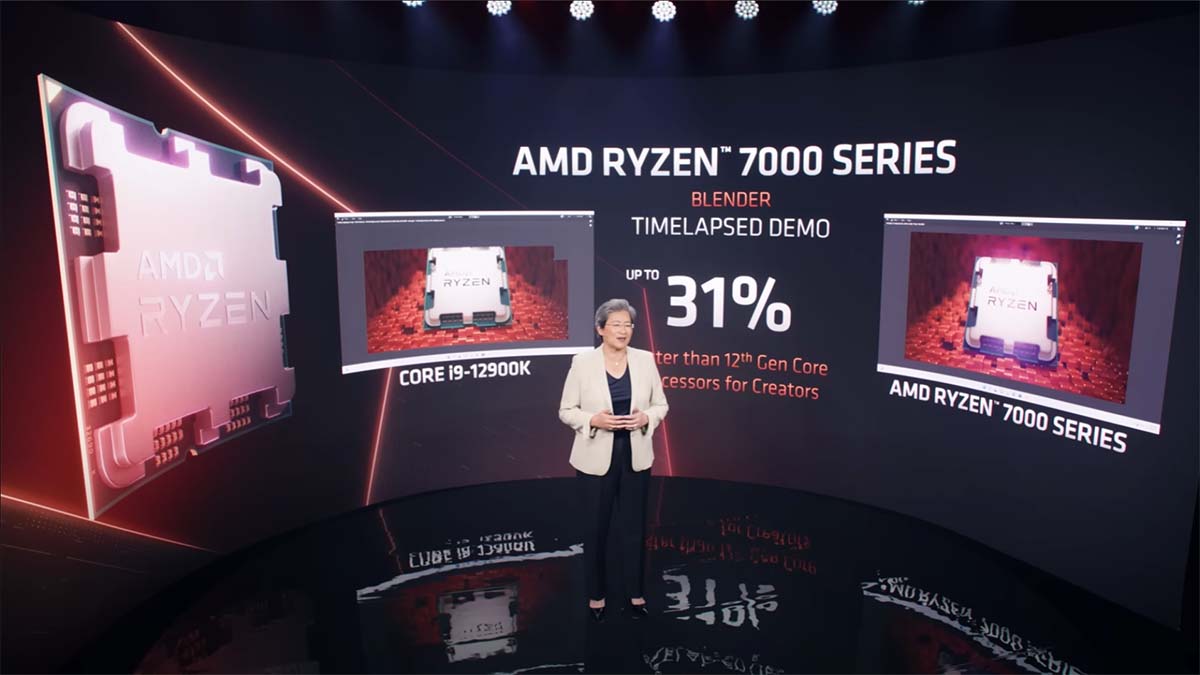 Conclusion
The AM4 platform ran for over 5 years and showed the world what AMD was capable of, and their new Ryzen 7000 line is a clear indication that AMD are here to stay as a tough competitor to Intel in the CPU market. The new information couldn't come at a better time for AMD, as Intel start to pull back a lead with their widespread support for next gen tech. DDR5 and Wi-Fi 6E are great additions to update the platform, but ultimately PCI-E 5.0 is what we're waiting for to provide competition to Intel.
If you're in the market to build a new PC, it might be worth waiting around for a little bit longer as we should see these new CPUs and chipsets dropping in the Autumn of 2022. Previous releases indicate towards the end of September or early October, but in this market, anything goes. We are so excited for the new CPUs and chipsets to be released by AMD. Stay tuned to the website for the moment we put these new products through their paces.