Introduction
With Intel's 13th Gen processors now here, PC gamers are starting to ask questions relating to the differences between the new chipsets and CPUs. Is 13th Gen going to be any good? What is the difference between last generation's proven Z690 and Z790 chipset designs? Do I need to buy a new motherboard to use these new 13th Generation processors?
All of these questions are valid, and important to ask when you're exploring building a PC using these new 13th Gen processors. We'll be breaking them all down, and finalising the important details that sets Z790 apart from Z690.
Suggested Article: Z690 vs B660 Motherboards – What are the key differences?
Our Recommended Picks At a Glance
Keep reading for a more in-depth coverage of each motherboard in this roundup!
Is Z790 Much Different to Z690?
Before answering the main question at play, we should first briefly jump into the importance of the 'Z' branded chipsets. Z chipsets have always been the top-end offering from Intel and generally give the end-user access to all of the usable features that come with the new platform. This usually manifests itself in more connectivity, more bandwidth, overclocking support and top-end design features.
This design philosophy was apparent when looking at the last-gen Z690 chipset. You'll immediately notice that these boards were very well equipped, loaded with PCI-E lanes, USB ports and supported next-gen DDR5 memory. The socket hasn't changed between 12th and 13th Gen processors, meaning boards are compatible with both CPU lineups. Older 600-series boards will need a BIOS in order to be compatible, but this is a relatively easy process on most modern designs.
Not only do boards share the same socket, but the feature set is very similar, showing 13th Gen's more mild 'tock' iteration over the last generation of CPUs. USB ports have been given a slight upgrade, where instead of upto four USB 3.2 Gen2x2, you now get one extra port. PCI-E lanes also haven't seen a massive change either, but PCI-E 5.0 support is now more widespread on boards other just the high-end options.
[adrotate banner="7″]
Major Changes
Although there aren't a huge number of changes between theZ790 to the Z690 chipsets, there are definitely some big differences with the new motherboards on the Z790 chipset. We've covered all of the main ones below:
Graphics Cards and SSD Slots
Although the amount of PCI-E lanes seems to primarily be the same, PCI-E 5.0 compatibility is more readily available this time around, especially on mainstream board designs. You were lucky to find a singular PCI-E x16 Gen 5 slot on Z690, and this is thankfully no longer the case. Z790 boards are well-equipped for next-gen GPU and SSD configs by comparison to Z690.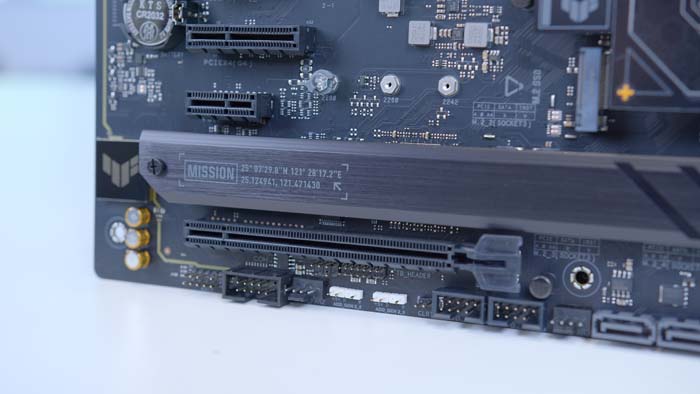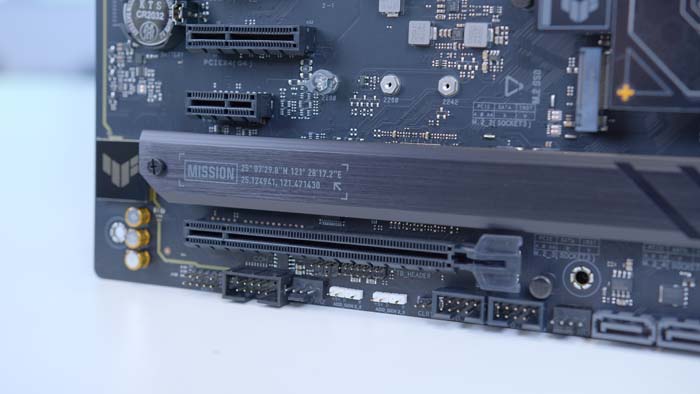 | | | |
| --- | --- | --- |
| Chipset | PCI-E 5.0 Lanes | PCI-E 4.0/3.0 Lanes |
| Z790 | 20 | 28 |
| Z690 | 20 | 28 |
It is worth noting that PCI-E 5.0 adoption has been relatively slow for both SSDs and GPUs, with late-2023 or early-2024 set to be the period this begins to change, but this support is handy from a future-proofing point of view.
DDR4 & DDR5 Compatibility
DDR4 has been the standard for a long time, and Intel was the first brand to fully incorporate the new generation of DDR5 memory into one of their platforms. The Z690 chipset has a wide range of motherboards, with the top-end more expensive options being DDR5 compatible. DDR4 choices still offered plenty of features, while allowing consumers to opt for cheaper, last-gen memory kits.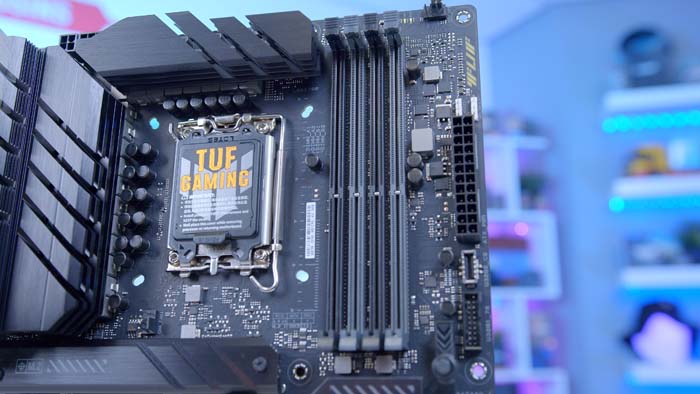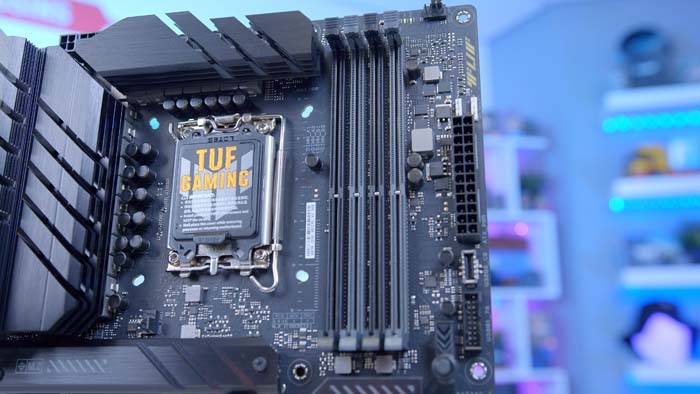 For the most part this has remained the same with Z790, with plenty of DDR4 and DDR5 options for consumers to choose from. We'd recommend sticking to DDR4 memory for i3, i5 and even select i7 configs, and only jumping up to DDR5 and i7 and i9 builds. The current performance gains of DDR5 are minimal, despite much higher memory costs on the next-gen standard.
[adrotate banner="7″]
Overclocking Support & VRMs
At a brief glance, overclocking doesn't seem to have changed drastically between these chipsets. The top-end motherboards have the highest number of VRMs, while cheaper boards on the Z790 and Z690 chipsets suffer with fewer power phases.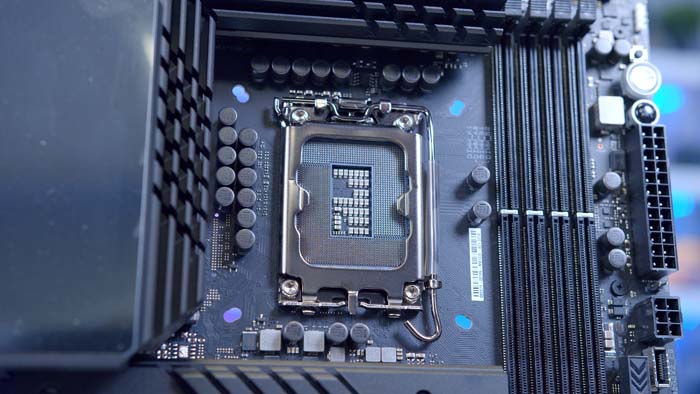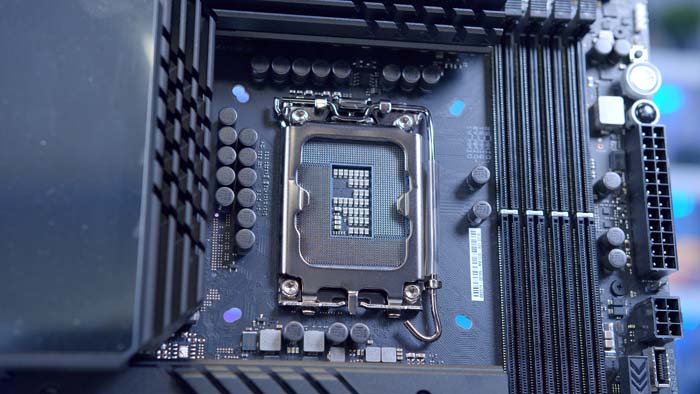 Ultimately finding a stable overclock entirely depends on the motherboard, but the more phases the better. This is an area where Z790 generally comes out on top, with more phases better suited the overclocking strong 13th Gen Alder Lake architecture.
Rear and Internal IO
Z790 motherboards have also provided incremental improvements in rear IO configs. The chipset gains one more USB 3.2 Gen2x2 port, but the difference seems to be marginal when looking at IO choices. The biggest change that we've seen with concerns to IO is the inclusion of Thunderbolt 4 ports. USB 4 on the Z690 chipset was reserved for the most expensive boards, and very few of them even had access to this form of rear IO.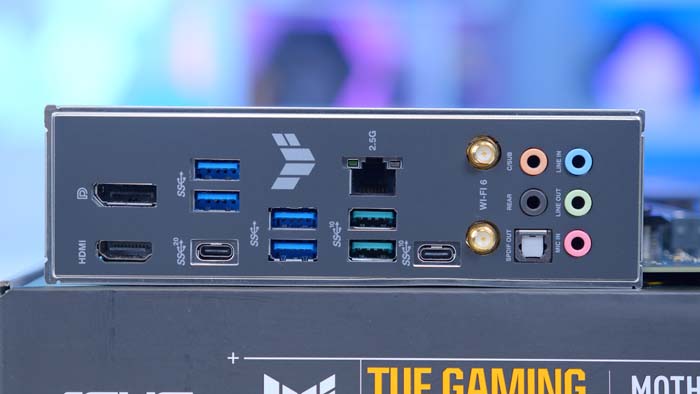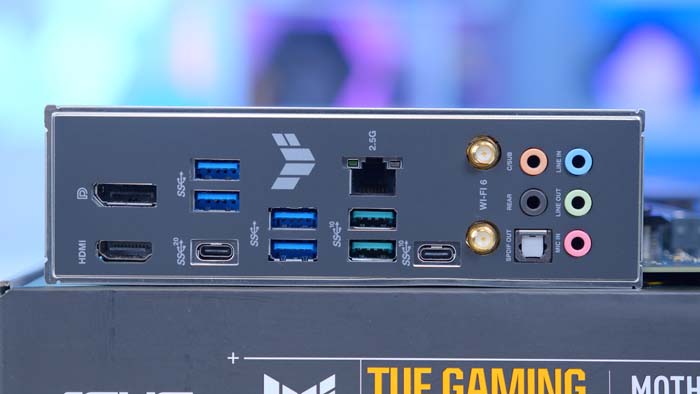 However, we're starting to see this very fast connection surface on less expensive boards which I'm a big fan of. There also seems to be support for 60W fast charging as well with select cases and boards, which is another great selling point. Although the rear and internal IO doesn't seem to have changed much here, there are definitely some worthwhile changes that could make the upgrade to Z790 preferable.
[adrotate banner="7″]
Overall Differences
As we've mentioned above, there aren't a huge number of changes to the Z790 chipset, versus last-gens Z690 chipset designs. We've broken down the main differences below:
| | | |
| --- | --- | --- |
| Features | Z790 | Z690 |
| CPU Overclocking Support | Yes | Yes |
| CPU PCI Express 5.0 Lanes | 20 | 20 |
| Max Number of Chipset Lanes PCI-E 3.0/4.0 | 28 | 28 |
| DMI 4.0 Lanes | x8 | x8 |
| Max Number of SATA 6.0 GB/s | 8 | 8 |
| RAID Support | PCIe / SATA – 0, 15, 10 | PCIe / SATA – 0, 15, 10 |
| Max Number of USB Ports | 14 | 14 |
| Max USB 3.2 Gen 2×2 Ports (20Gbps) | 5 | 4 |
| Max USB 3.2 Gen 2×1 Ports (10Gbps) | 10 | 10 |
| Max USB 3.2 Gen 1×1 Ports (5Gbps) | 10 | 10 |
| Max USB 2.0 Ports | 14 | 14 |
Table of Differences between Chipsets
Where to Buy
If you're looking to pick up a new Z790, or older Z690 design, you have plenty of great options available to you. You can find some of our favourite Z690 and Z790 motherboards linked below.
Best Z790 Motherboards
1. MSI MEG Z790 ACE Motherboard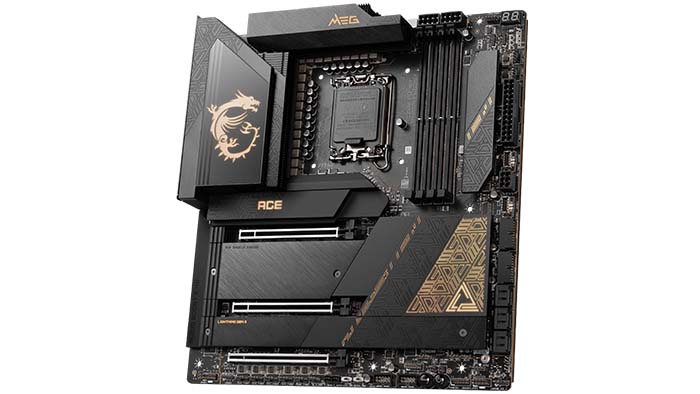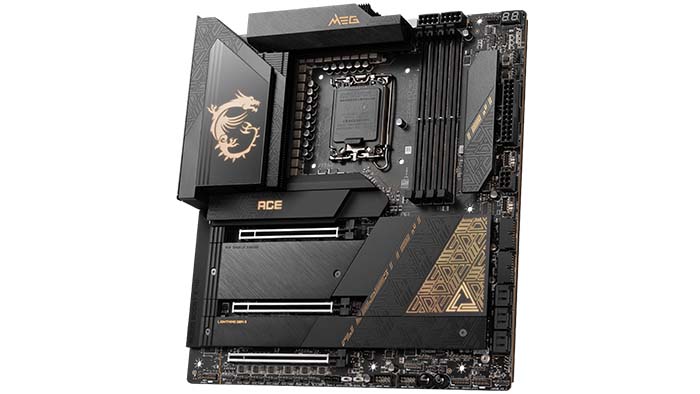 The MSI MEG Z790 ACE board is one of the coolest looking boards out of the range, sporting a black and gold aesthetic that radiates sophistication. On top of this sick design, this board is absolutely loaded with next-gen features that make it a worthy entry. Dual Thunderbolt 4 ports, Dual 2.5 Gigabit LAN, WiFi 6E, Dual PCI-E 5.0 x16 slots (there seems to be two of everything on this board), and a whole lot more on offer. Needless to say, if you're looking for a top-end board equipped with an insane amount of specs, the Z790 ACE from MSI is likely to be your go-to choice.
Buy the MSI MEG Z790 ACE on:
2. ASRock Z790 Taichi Carrara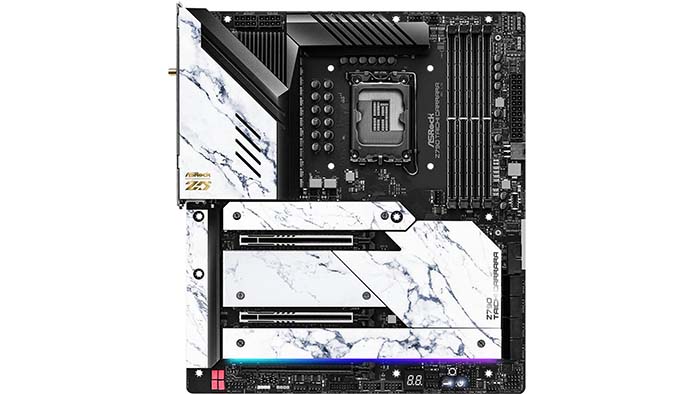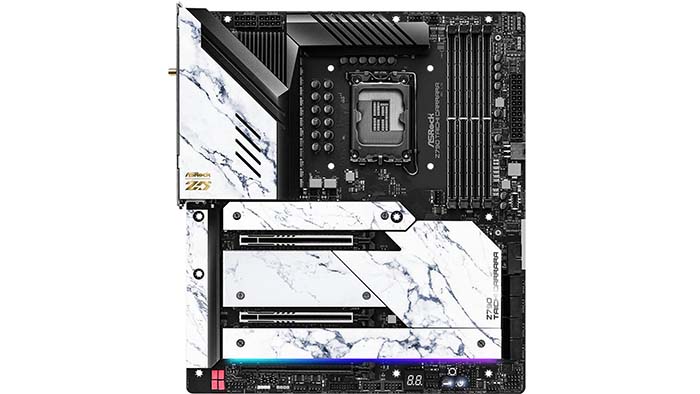 We saw the first introduction of the Taichi Carrara boards from ASRock with AMD's latest AM5 platform. This board, like it's AMD X670E counterparts, looks incredible and offers a white alternative marbled design that will make any build look clean. Not only that, but this board is equipped with some insane specs, a 27 phase power design on the VRMs, widespread PCI-E 5.0 for GPUs and SSDs, Dual LAN ports, and it also comes with its own cooling fan… what's not to love!
Buy the ASRock Z790 Taichi Carrara on:
3. ASUS TUF Gaming Z790-Plus WiFi D4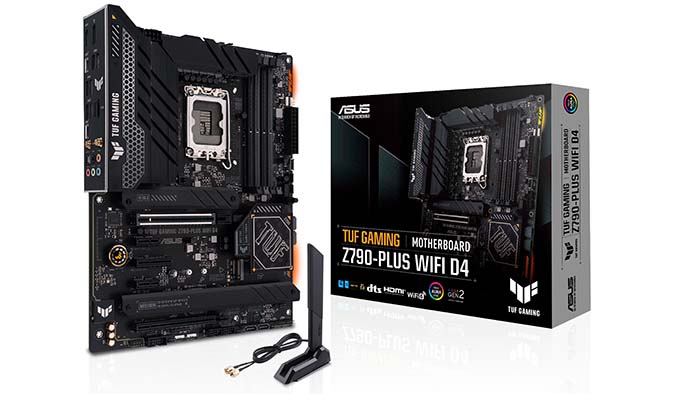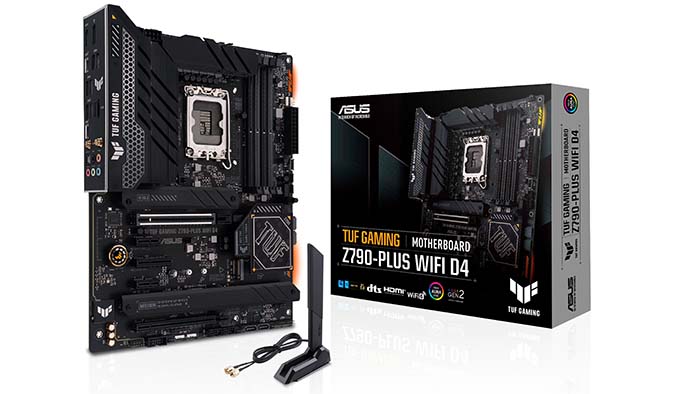 The ASUS TUF Gaming Z790 board is probably my favourite budget entry on the 13th Gen platform. These boards were excellent on the Z690 chipset and it seems ASUS have followed suit with an improvement on this new chipset revision. The TUF design gives off an awesome industrial look that I'm a big fan of, and this board has some excellent features for such a reasonable price. The front IO houses a USB 4 header providing blazing fast speeds, with a bountiful rear IO and PCI-E 5.0 for your next-gen GPU.
Buy ASUS TUF Gaming Z790-Plus WiFi D4 on:
Best Z690 Motherboards
1. MSI MEG Z690 GODLIKE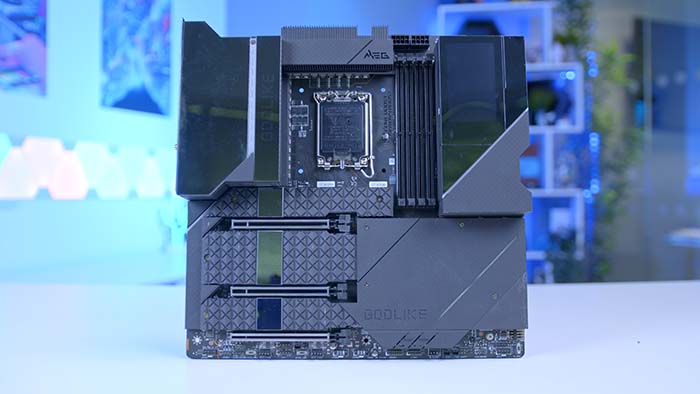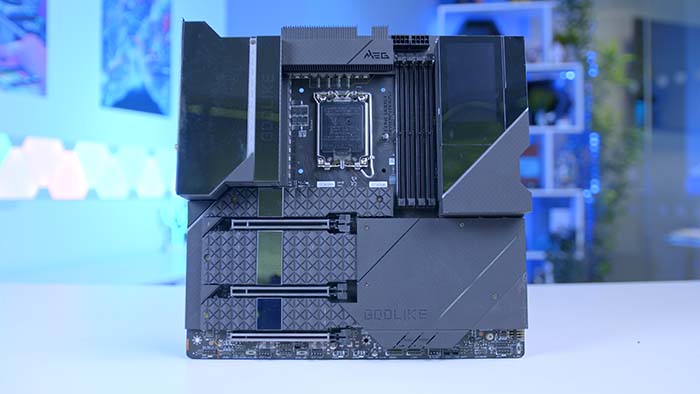 The MSI MEG Z690 GODLIKE is one of the most insane boards we've ever had in the office, and it is specced out like mad. This board comes with its own LCD display which can be configured with a variety of different timers, thermals or simple RGB lighting. This was also one of the first boards to house widespread PCI-E 5.0 in the form of both x16 and x4 slots. You've also got access to Thunderbolt 4, 10 Gigabit LAN, and a huge range of high speed USB ports too. This board is definitely overkill, but you definitely get what you pay for.
Buy the MSI MEG Z690 GODLIKE on:
2. ASUS Prime Z690-P D4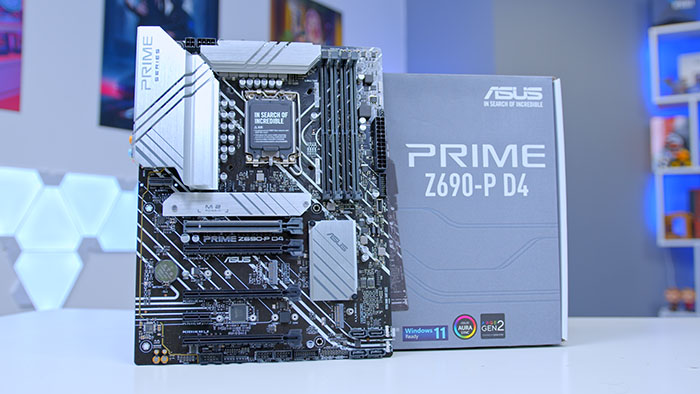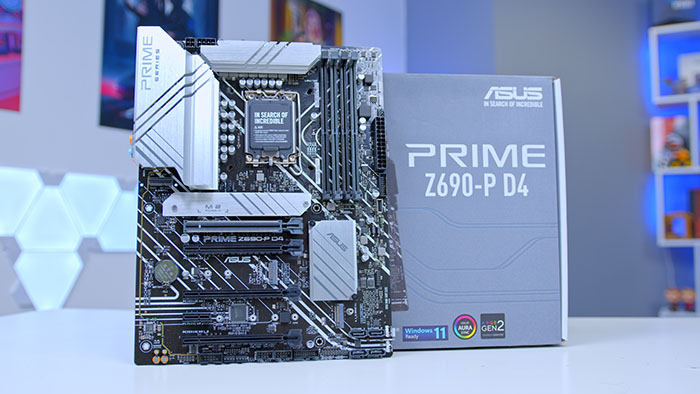 The ASUS Prime Z690-P is a motherboard that we've used in a number of budget PC builds, because it fully encapsulates everything a cost friendly design is about. The Z690-P is a slightly more plain and barebones looking board, but its features are not as such. The main PCI-E slot is 5.0 ready, giving you access to potential ugprade paths. Front panel USB supports Thunderbolt 4 with the rear IO offering plenty of USB 3.2 ports. There's also plenty of Gen4 M.2 slots, along with a number of usability features that make building a gaming PC much easier.
Buy ASUS Prime Z690-P D4 on:
3. Gigabyte Z690 Gaming X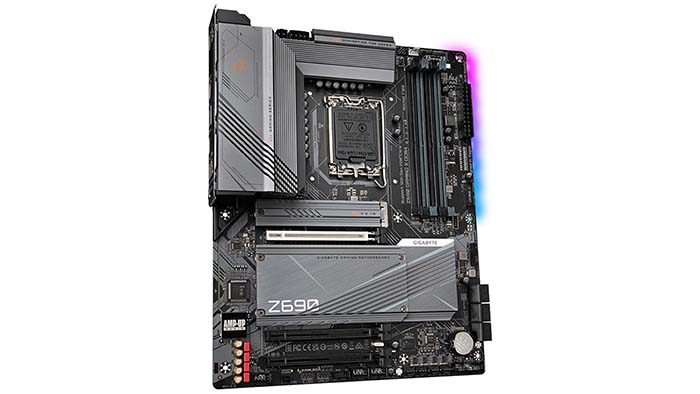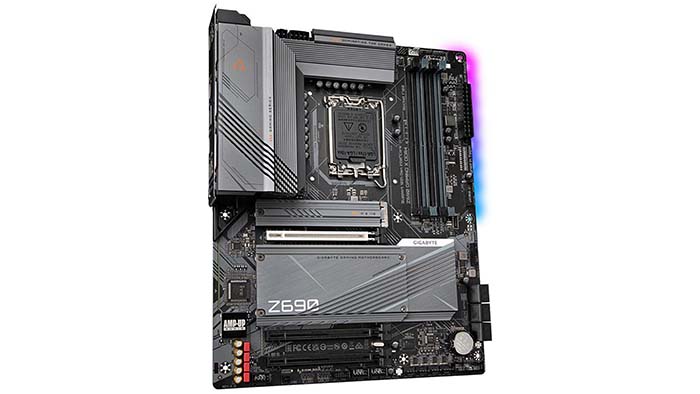 The last board that we've chosen today is an addition from Gigabyte and their Gaming X range. This board in particular has a 19 phase power design perfect for overclocking 12th (or 13th Gen CPUs), for extra performance. The Gaming X also supports memory overclocking up to 5333MHz which will synergise well with a fast CPU speed. To top it off, you've also got access to a number of Gen 4 ready M.2 slots allowing you to expand your storage to the max, and a PCI-E 5.0 x16 set to house the next generation of GPUs.
Buy the Gigabyte Z690 Gaming X DDR4 on:
[adrotate banner="7″]