Introduction
Gaming chairs have become a hot commodity in recent years, with lots of manufacturers emerging to provide gamers with the best sitting experience possible.
These chairs tend to share a lot of similarities with traditional office chairs, but with a design that is intended to stand out more. As a result, gaming chairs are designed to prioritise versatility and comfort over anything else, but also have a little bit of added flair.
Today, we're reviewing Thermaltake's ARGENT E700, a premium gaming chair that is designed to turn heads.
Buy the Thermaltake ARGENT E700 on:
Suggested Article: noblechairs LEGEND Review – Comfort is King
What Makes A Gaming Chair Different?
Before we get into the details of the ARGENT E700, let's outline what makes up a gaming chair, along with the key factors that are required for them to be considered high-quality. To put it simply, a gaming chair is a high back chair that features adjustable arm rests and casters on the frame, similar to conventional office chairs. However, these chairs have a few qualities that make them unique.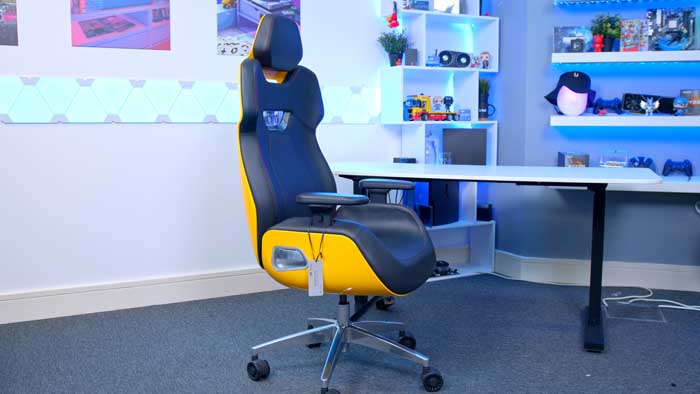 The first key distinction that differentiates a gaming chair from the likes of office chairs is the aesthetics. Whilst leather is a common material for all kinds of seats, gaming chairs tend to include more padding than traditional leather office chairs to maximise comfort and portray a premium look. To add to the leisurely appearance, these chairs are more colourful than those designed for an office, with brand detailing usually integrated into the design somewhere.
Gaming chairs are expected to recline further back to let gamers relax, something that is less of a priority within an office scenario – for obvious reasons!
Another key distinction within gaming chairs is the focus on versatility, with free movement being a top priority. Gaming chairs share a similar structure to premium office chairs, but typically possess a greater range of movement to allow consumers to be as comfortable as possible during long gaming sessions. For example, gaming chairs are expected to recline further back to let gamers relax, something that is less of a priority within an office scenario – for obvious reasons!
If the idea of a gaming chair sounds appealing to you, it is important to know what key features to look out for. With these chairs being tailored towards gaming, comfort is the main aspect to consider. The key factors that can influence how comfortable a gaming chair is the material, appearance, and included features. Whilst the material and appearance of a chair is ultimately down to personal preference, features such as 4D armrests, height adjustment, lumbar support, and a reclining backrest are desired inclusions that act as a good indicator of the chair's overall quality.
Thermaltake ARGENT E700 Design & Aesthetics
Now it's time to look at Thermaltake's latest entry to their collection of premium gaming chairs, the ARGENT E700. Designed in collaboration with Studio F.A.Porsche, this gaming chair is designed to provide the perfect balance of ergonomics and comfort, whilst donning a look that stands out and turns heads. And due to the reception this chair received from passers-by who saw us wheeling this chair into the GeekaWhat office, it's fair to say that the ARGENT E700 succeeds in this mission.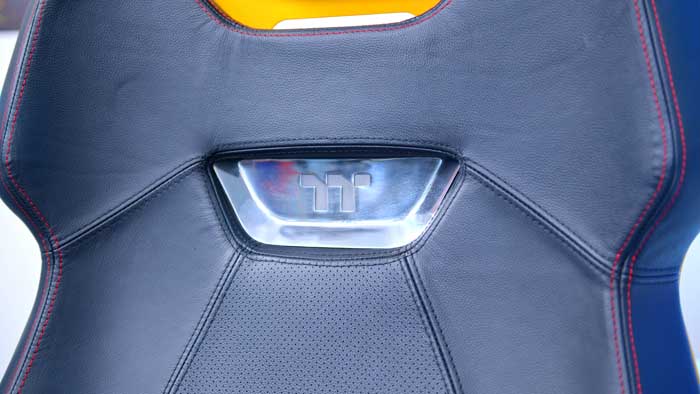 By just looking at an image of this chair, it was immediately clear that the ARGENT E700's appearance is a bit like marmite, you either love it or hate it. And to be completely honest, the latter came to mind when I first laid eyes on this chair. As a racing fan, I can appreciate the inspiration and reasoning behind such a striking design, but I just couldn't see how this chair would fit into an office or bedroom without looking ridiculous.
But in fairness to the ARGENT E700, it is purposely built to draw attention, no matter whether that attention is good or bad. In addition, the ARGENT E700 comes in a wide variety of colours, which can be used to match the colour of your setup, allowing it to blend in a little bit more than usual.
In terms of build-quality, this chair feels very sturdy and durable, whilst remaining comfortable. This is mainly thanks to the variety of materials used in the design, such as plastic, aluminium, and leather. Thermaltake kindly sent the chair used in this review over pre-assembled, meaning we can't provide the ins and outs of the assembly process. However, due to the sheer size and weigh of the ARGENT E700, we would suggest building this chair with at least one other person. This hefty weight significantly impacts the maneuverability of this chair, as adjustments and position changes require more force than more traditional gaming chair designs. Also, the combination of materials does cause the chair to creek a lot, which makes the build-quality sound a lot worse than it truly is.
Ergonomically, the ARGENT E700 does a fairly decent job in providing a satisfy experience for most gamers. First of all, the real leather used for the chair's interior feels very comfortable, especially when paired with high density foam to create a firm seat. Also, the large side handles make adjustments pretty straightforward. After just a few minutes of messing around, it felt almost effortless switching between each mode.
However, there are a few significant flaws in the design that raise concerns, especially when you take the price of this chair into consideration. As soon as I sat on the ARGENT E700 for the first time, there was an apparent lack of back support compared to other gaming chairs. Whilst the lighter back feels relaxing when reclined, I struggled to remain comfortable using the ARGENT E700 in the upright position, and the padded on the backrest felt underwhelming compared to the thick padding on the seat. On top of this, the restricted movement from the rigid plastic exterior and limited adjustment options significantly hinders the sitting experience of the ARGENT E700, making the premium price point a lot harder to justify.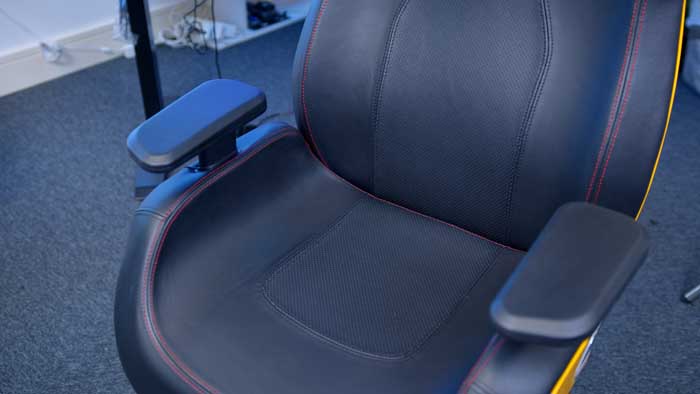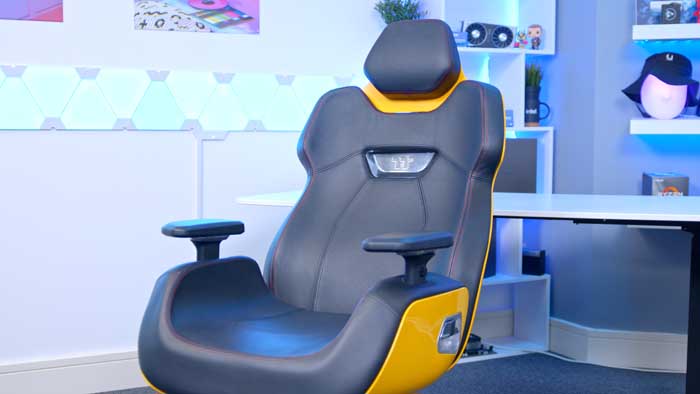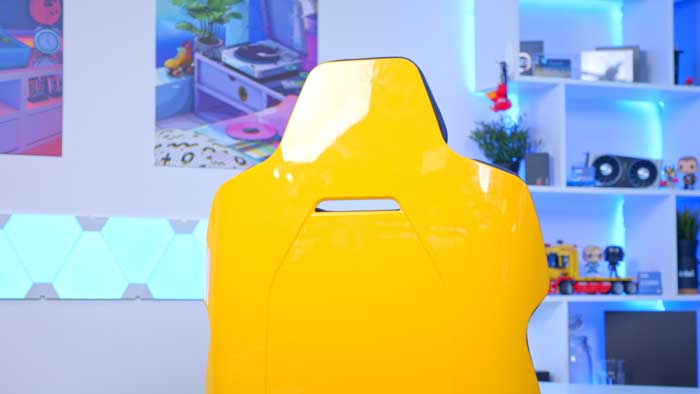 Features
4D Armrests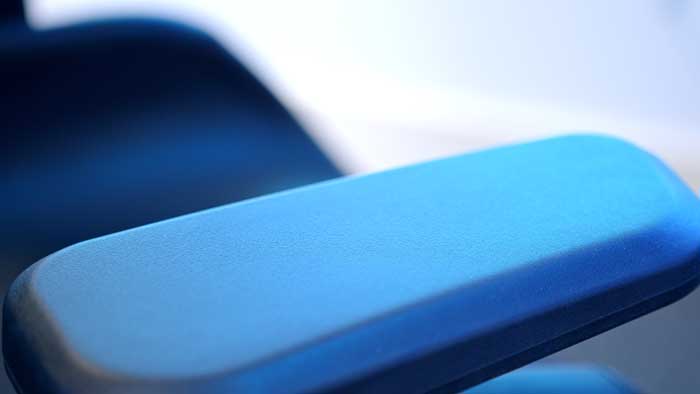 As the name suggests, 4D armrests allow you to move the armrests in 4 different planes of direction. This ensures that consumers can use the armrests in every position they end sitting on the chair in, which contributes to the comfort and versatility of a gaming chair. The ARGENT E700 adopts a 4D armrest design that is fairly slim compared to rest of the components on this chair, which makes them feel less intrusive. As a result, these armrests feel comfortable and are easy to adjust, almost too easy at times!
Adjustable Height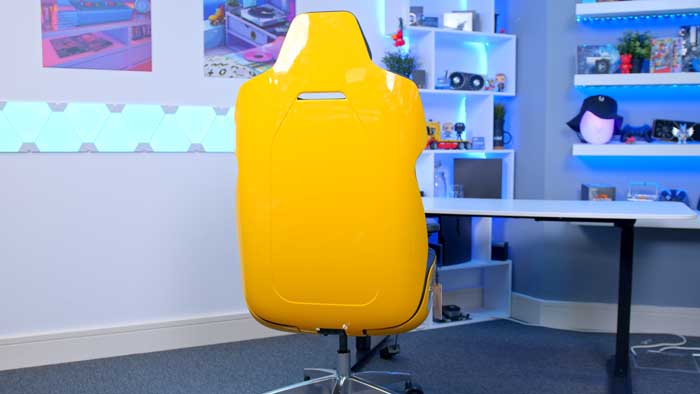 Another standard feature on most gaming chairs is the ability to adjust the height to make it level with a desk or display. It should come as no surprise then to hear that the ARGENT E700 includes height adjustment. However, the system used in this chair feels particularly smooth and is easy to use thanks to the large side handle. Despite the heavier frame of the ARGENT E700, the class-4 gas spring lifts and lowers the chair at a slow and steady pace with minimal issues, ensuring that height adjustments feel safe and consistent.
Reclining Backrest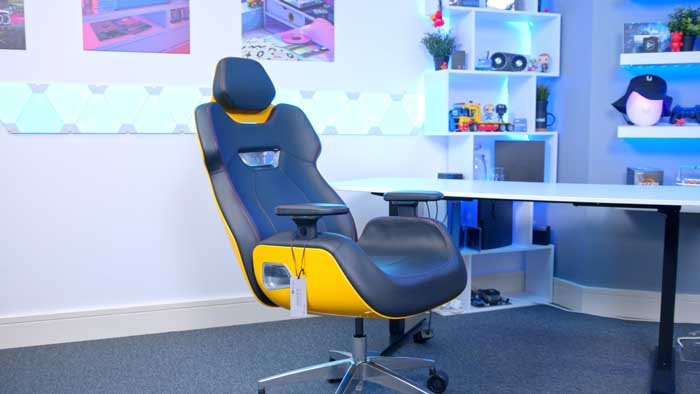 A method of adjustment that has added importance on a gaming chair is the reclining backrest. Lots of gaming chairs include extended reclining capabilities to offer a more relaxing position for gamers to chill out with. Thermaltake's approaches no different, as the ARGENT E700 includes a backrest that has four levels of adjustment. Opting for four set levels for the recliner makes switching between each level a breeze, but comes with the caveat of not being able to choose the exact position for perfect alignment with a display.
Aluminium Base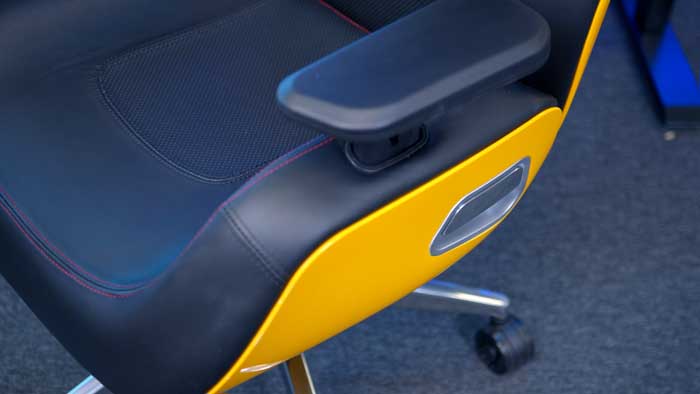 An aspect that can often be overlooked is the base. It may not affect the day-to-day use of a gaming chair as much as the seat or backrest, but a sturdy base drastically improves the longevity and structural integrity of a gaming chair. With the ARGENT E700, longevity shouldn't be an issue thanks to the durable aluminium base that sits on the five 7.5cm caster wheels. Whilst the heavy main body restricts the bases' movement, it still feels very stable.
Adjustable Headrest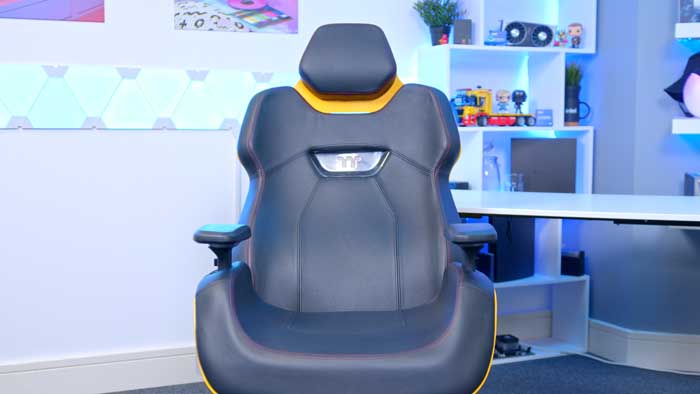 The final way to adjust the ARGENT E700 is by changing the height of the headrest. A feature that is less common on gaming chairs, this design choice seems to be inspired by the racing influence that appears throughout this chair. In a similar fashion to the headrests you'd find on a car, it can be adjusted by simply pushing the headrest up and down. Like the other adjustment features on this chair, moving the headrest around feels almost effortless.
Race Car Side Handles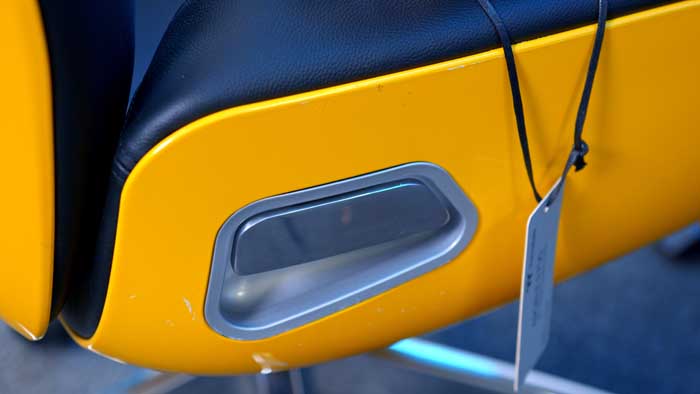 Another distinct feature on this chair that seems to be inspired by the collaboration with Studio F.A.Porsche is the handles. As stated by Thermaltake , these 'Race Car Side Handles' are designed to reflect the doors on a racing car. Not only do they achieve this look, I actually quite like how easy the handles make adjusted both the height and angle of the ARGENT E700. Due to the handles being fairly large, grabbing one for a quick change is almost as fast as the cars that inspired them.
Conclusion
Features

Design

Comfort

Value For Money
Summary
Overall, the ARGENT E700 possesses a design that succeeds in forming an amalgamation of a gaming chair and racing seat, but at a significant cost. There are quite a few positives that come from the innovative design features. For example, the large side handles are great for quick and smooth adjustments, and the combination of premium materials provides solid build quality throughout. However, the flaws are too substantial for the ARGENT E700 to be considered a valid choice for most consumers, which is not supported by the extortionate price tag. The proportions of the main body of the chair feels unbalanced, with the backrest lacking the support that is found in abundance on the seat. In addition, the heavy and rigid components restrict the chair's movement and limits the adjustment capabilities to a point where it begins to affect comfort during long gaming sessions. For a fraction of the ARGENT E700's price, you can find a more comfortable gaming chair that includes more features, and a design that is less likely to divide opinions. 
If you are a fan of the design and want a chair that is going to stand out in any setting, the ARGENT E700 might be worth the premium price point, but general consumers looking the best gaming chair available should do a U-turn and find an alternative route.    
Pros
✅ Unique design
✅ Good build quality
✅ Great for racing enthusiasts
Cons
❌ Very very expensive
❌ Limited back support 
❌ Restricted movement