We've tested the RX 7800 XT against the RTX 4070 Ti in a GeekaWhat vs GPU battle to determine which card is the best buy for a gaming PC build in 2023.
Both the RTX 4070 Ti and RX 7800 XT provide solid performance at 1440p, and leverage at 4K, but with nearly $200 between them, is the decision as clear cut as you first might predict?
We've tested both of these GPUs in a suite of gaming benchmarks that looks to evaluate performance across FPS, RPG and simulation titles at a range of resolutions. Our testing focusses around the 1440p resolution, to determine exactly which mid market GPU is the best buy in 2023.
Our Recommendation: AMD Radeon RX 7800 XT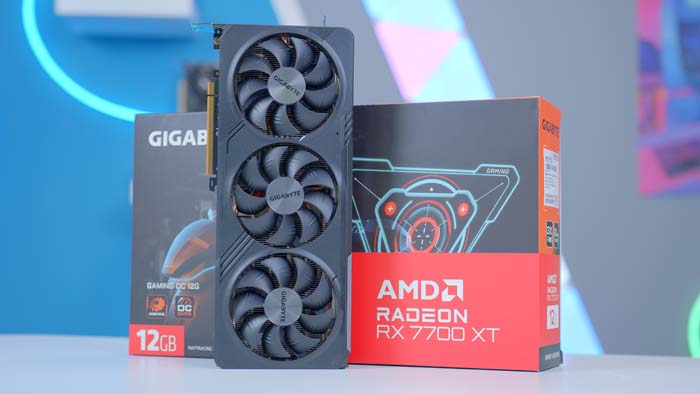 📸 View RX 7800 XT gallery.
Our testing of the RX 7800 XT against the RTX 4070 Ti leads us to declare the RX 7800 XT the clear winner. Not only does it generally provide better rasterisation performance, but it comes in at a far better MSRP price point of just $500. 
Improved ray tracing performance, and the latest FSR 3 technology help it to catch it's Nvidia RTX 4070 Ti rival in more titles than we first predicted, allowing it to win our clear recommendation for those looking to build a 1440p-oriented gaming PC build. 
AMD Radeon RX 7800 XT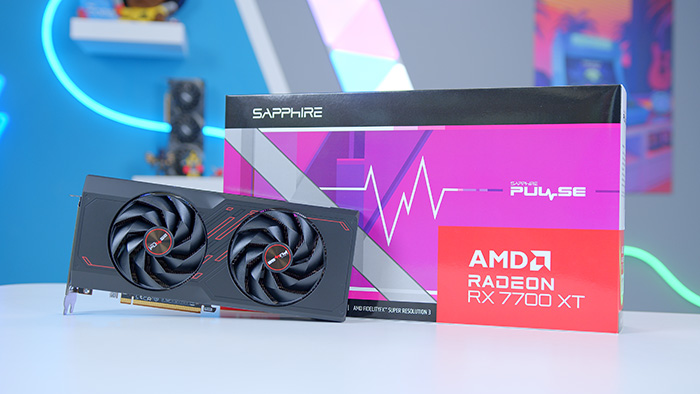 The Radeon RX 7800 XT from AMD is one of the most highly anticipated GPUs in recent history, as it looks to undercut NVIDIA's RTX 4070 Ti when it comes to pricing, in a bid to produce the best GPU for 1440p gaming. These cards are looking to be some of the last major GPU's in the Radeon 7000 lineup, and the 7800 XT is one of Team Red's strongest cards yet.
This particular model comes in with an MSRP of $499, which is actually $100 below the original price point of the previous generation RX 6800 XT card.
The RX 7800 XT is clearly geared towards 1440p gaming, but in our testing and evaluation of this card, 4K gaming is also a very viable proposition. This card really does thrive at a 1440p resolution however, and in our in-house testing of titles like COD MW2 and Starfield, this is a GPU that impressed our benchmarking team.
In terms of the RX 7800 XT specifications, the 7800 XT is a very well equipped graphics card. With 16GB of GDDR6 VRAM on a 256-bit memory bus you can be sure of sufficient memory bandwidth. This card has a boost clock speed of up to 2.43GHz, but it's worth noting that other models may vary. Powercolor's Red Devil model for instance has a boost clock 2.56GHz, a sizable upgrade.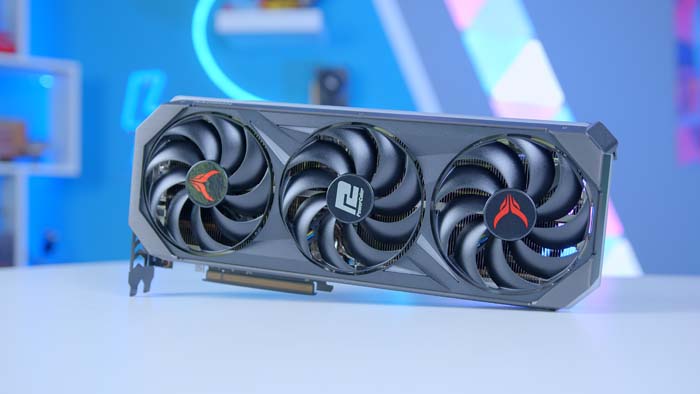 Buy the AMD Radeon RX 7800 XT on:
NVIDIA GeForce RTX 4070 Ti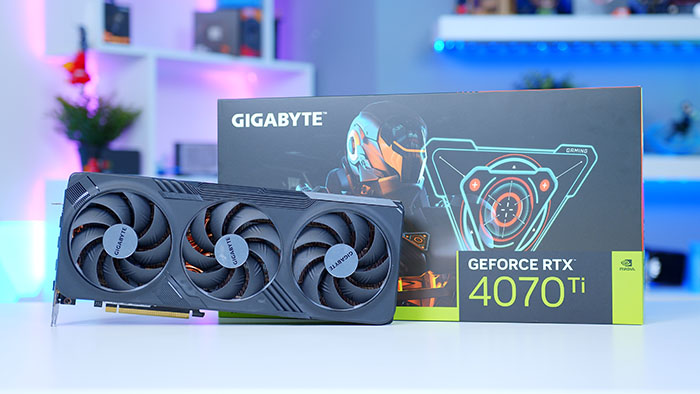 The RTX 4070 Ti from NVIDIA is one of their more controversial cards. This card originally was going to release as a weaker RTX 4080 model, before NVIDIA double-backed and re-released the card as the RTX 4070 Ti. Despite the poor marketing strategy, the RTX 4070 Ti is capable of solid performance and is geared towards strong output at 1440p in particular. During our testing we found the RTX 4070 Ti to be most at home at 1440p, whilst the RTX 4070 Ti's capabilities at 4K come as a pleasant surprise and prove to be a viable option.
Price to performance metrics, however, aren't so strong. With an MSRP of $799 the RTX 4070 Ti comfortably loses the pricing head-to-head vs the RX 7800 XT. For a GPU billed to be a top prospect for a mid-range 1440p Gaming PC build, we find the price to be closer to that of a high-end PC build.
Looking at hardware, the RTX 4070 Ti comes as standard with 12GB GDDR6X, 4GB less versus the 16GB GDDR6 on offer from the RX 7800 XT. A base clock of 2.31GHz and boost clock of 2.61GHz make for more positive reading however, and actually beat out the clock speeds offered by the RX 7800 XT. Again, specs vary between AIB partner models, MSI's Gaming X trio card for example has a boost clock of 2.74GHz, a healthy increase over the reference model.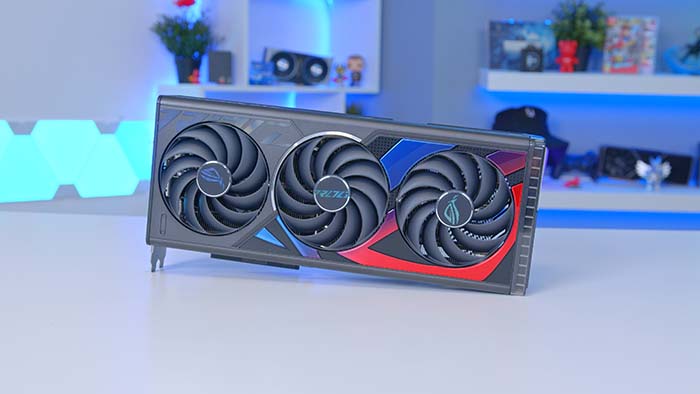 Buy the NVIDIA GeForce RTX 4070 Ti on:
Specs
Spec
RX 7800 XT
RTX 4070 Ti
Video Memory
16GB GDDR6
12GB GDDR6X
Memory Bus
256-bit
192-bit
Game Frequency
2.12GHz
2.31GHz
Boost Frequency
2.43GHz
2.61GHz
Stream Processors/CUDA Cores
3840
7680
Power Consumption
263W
(Reference Model)
285W
(Reference Model)
Architecture
RDNA 3
ADA Lovelace
PCIE-Generation
PCI-E Gen 4
PCI-E Gen 4
RDNA 3 vs Lovelace – Which is Better?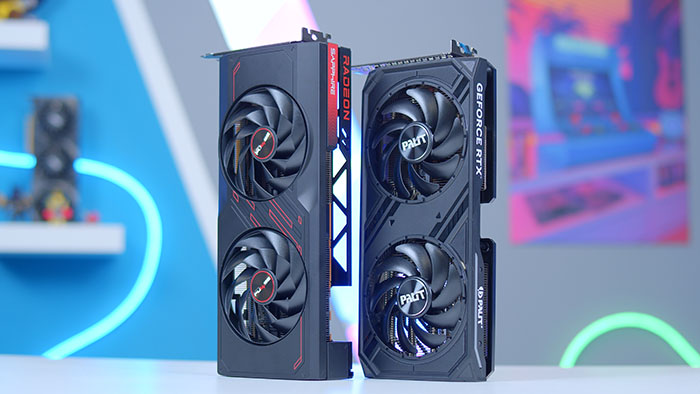 Both the RX 7800 XT and RTX 4070 Ti are built on the latest architectures from their respective brands. RDNA 3 for the RX 7800 XT and ADA Lovelace for the RTX 4070 Ti. Currently, we find NVIDIA's ADA Lovelace to be the superior architecture with their pillar technologies, DLSS 3.0 in particular, offering significant performance uplift.
AMD's RDNA 3 is by no means a bad architecture, but as of right now we are yet to see its final form with updates and additions still being rolled out.
AMD's resolution scaler FSR is still currently weaker than NVIDIA's DLSS, in our testing we found visual fidelity to be much sharper whilst using NVIDIA's platform. NVIDIA currently also boasting stronger Ray-traced performance and an overall more streamlined user experience.
How We Tested the RX 7800 XT and RTX 4070 Ti
Our in house GPU specialist Harry Coleman benchmarks each and every one of the graphics cards showcased here on the website, and on our YouTube channel. You can read Harry's comprehensive range of GPU reviews, including the latest generation of NVIDIA and AMD cards. The RX 7800 XT and RTX 4070 Ti were tested across a range of the following titles for the purpose of this GPU comparison:
FPS Games: Apex Legends, Fortnite, COD MW2 Remastered, Warzone 2.0
RPG Games: Hogwarts Legacy, Starfield, GTA V
Simulation Games: F1 2022
Our benchmarking test rig utilises a 13th Generation Intel Core i9 13900K processor, running at stock speeds on an MSI Z790 motherboard, with 32GB of DDR5 memory. You can learn more about our detailed GPU testing methodology here.
RX 7800 XT vs RTX 4070 Ti – Starfield
Settings: 1440p High, Reflections High, Crowd Density High, Motion Blur off, VSync Off
For our first benchmark, we fired up Bethesda's brand new game Starfield, and dialled the resolution up to 1440p. In this benchmark you can immediately see that the 7800 XT is leading the graph with an average of 85FPS.
Looking at the RTX 4070 Ti, NVIDIA's GPU lost out to the RX 7800 XT by roughly four frames, sitting at 81 FPS on average. Ultimately, you're not going to notice this difference, but the price per frame is considerably higher on the RTX 4070 Ti versus the RX 7800 XT. Again, we were happy with the performance from this GPU in Starfield, its just a shame that neither of these cards are able to flourish because of the state of the games optmisation.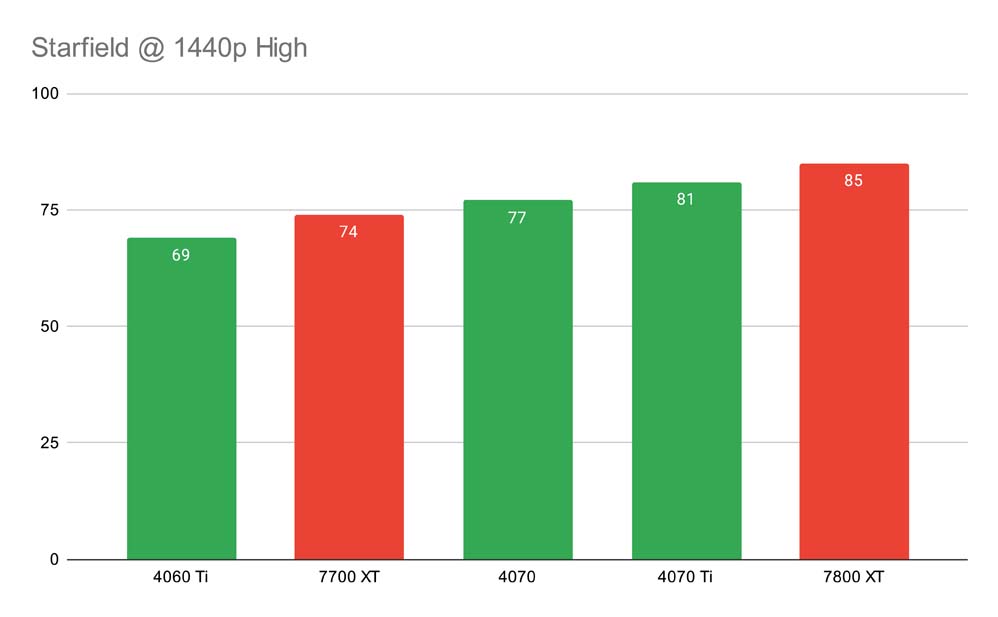 RX 7800 XT vs RTX 4070 Ti – Apex Legends (1440p)
Settings: 1440p High, FOV 110, Anti-aliasing TSAA, Texture Filtering 8X, Model Detail High
Moving onto Apex Legends. During our in-house testing at 1440p, we found the RX 7800 XT to be the winner, and by quite a margin too. In Apex, the 7800 XT offered an average framerate of 256FPS, which is overkill, but impressive regardless. Consumers can enjoy the benefits of a smooth refresh rate, with minimal hindrances or frame drops.
The RTX 4070 Ti unfortunately sees a pretty big disparity in performance versus the 7800 XT, with around 60 frames between them. This is one of those situations where AMD significantly manages to outperform NVIDIA cards, and as you can see from the rest of the cards in this graph, AMD really is king in this game. Regardless, the RTX 4070 Ti still offered a reasonable framerate, and consumers will be able to leverage a smooth gameplay experience but at a much higher cost per frame.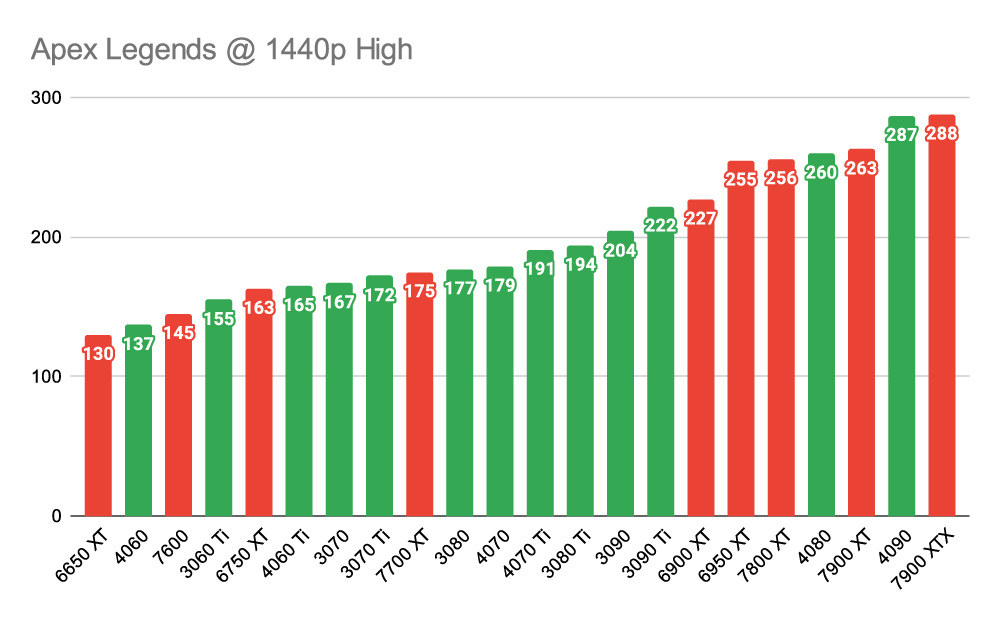 RX 7800 XT vs RTX 4070 Ti – Apex Legends (4K)
Settings: 4K High, FOV 110, Anti-aliasing TSAA, Texture Filtering 8X, Model Detail High
At 4K, and in Apex Legends once again, the 7800 XT proved to be the stronger performer during our testing. Offering an average framerate of 148FPS we're still surpassing that 144Hz barrier but the win is much less clear cut. The RTX 4070 Ti again loses out to the RX 7800 XT but by just the 7FPS this time around.
Similar to our Starfield benchmark, you really won't notice this performance difference, as seven frames is so minimal. The RTX 4070 Ti does miss out on that all-important refresh rate, but tweaking your in-game settings will allow you to benefit from a smooth display speed too.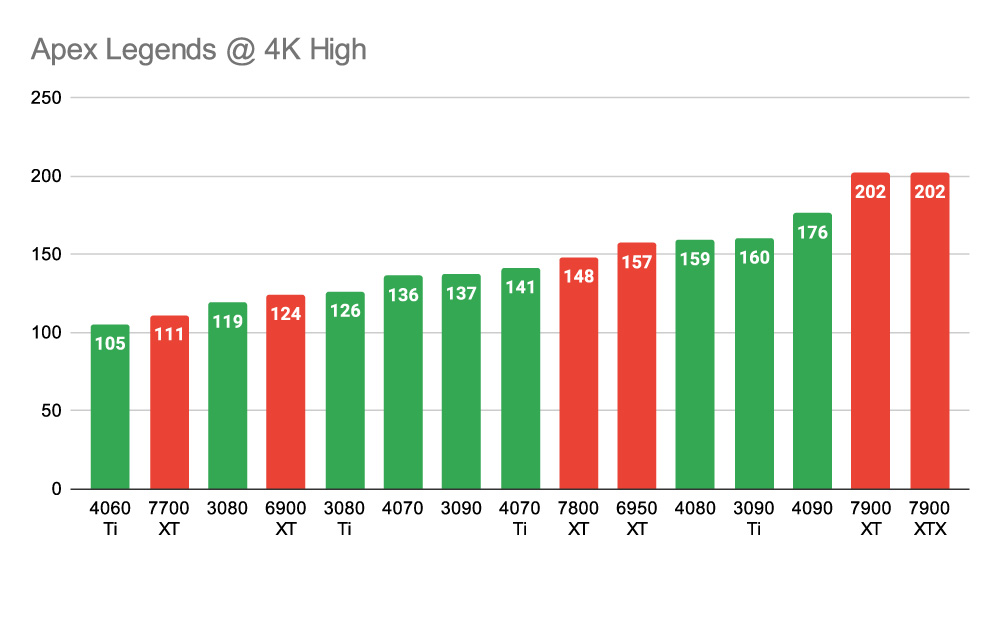 RX 7800 XT vs RTX 4070 Ti – Hogwarts Legacy
Settings: 1440p High, Rendering Resolution 100%, Anti-aliasing Mode TAA High, VSync Off, Textures High
Yet again, the 7800 XT was a winner in this benchmark during our testing offering an average framerate of 109FPS, which is pretty impressive. Hogwarts Legacy is a rather intense title, so we've found that not even the best cards on the market are able to offer framerates that sit over the 144Hz mark. Regardless of this, we were still happy with the overall performance from the 7800 XT, and gameplay was pretty smooth.
The 4070 Ti lost here, by 13FPS in total. As we start to go below 100FPS, framerates will start to become more noticeable. Although 96FPS is more than playable, frame drops here will be very apparent, so if you're wanting super smooth performance, the 7800 XT will be a better bet.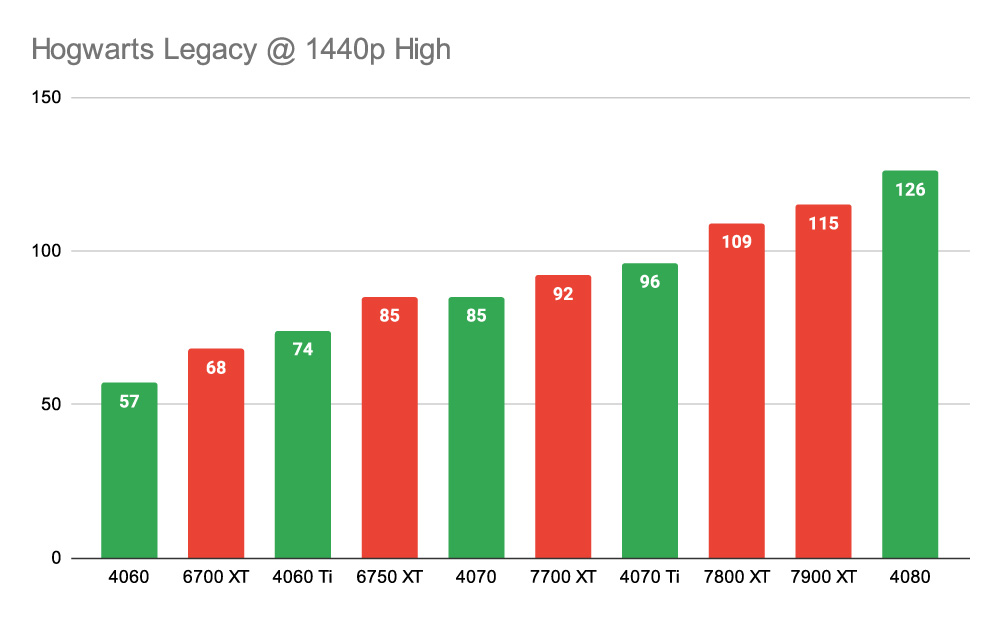 RX 7800 XT vs RTX 4070 Ti – Call of Duty MW2
Settings: 1440p High, Upscale Method FSR/DLSS Quality, Texture Resolution Normal, Texture Filter Anisotropic High, Level of Detail High.
And the final game that we looked at during our in-house testing was COD Modern Warfare 2 with DLSS and FSR turned on. In this benchmark, the 7800 XT offered an average framerate of 185FPS. Despite MW2 not being the most optimised game, the 7800 XT still pushed through, providing a more than reasonable average, allowing consumers to enjoy super smooth gameplay.
There was a noticeable difference in performance here with the 4070 Ti losing out to the 7800 XT by about 40 frames. Performance would be pretty negligible at frames this high, and regardless of the disparity, consumers can still enjoy super smooth gameplay with a solid 144Hz refresh rate too.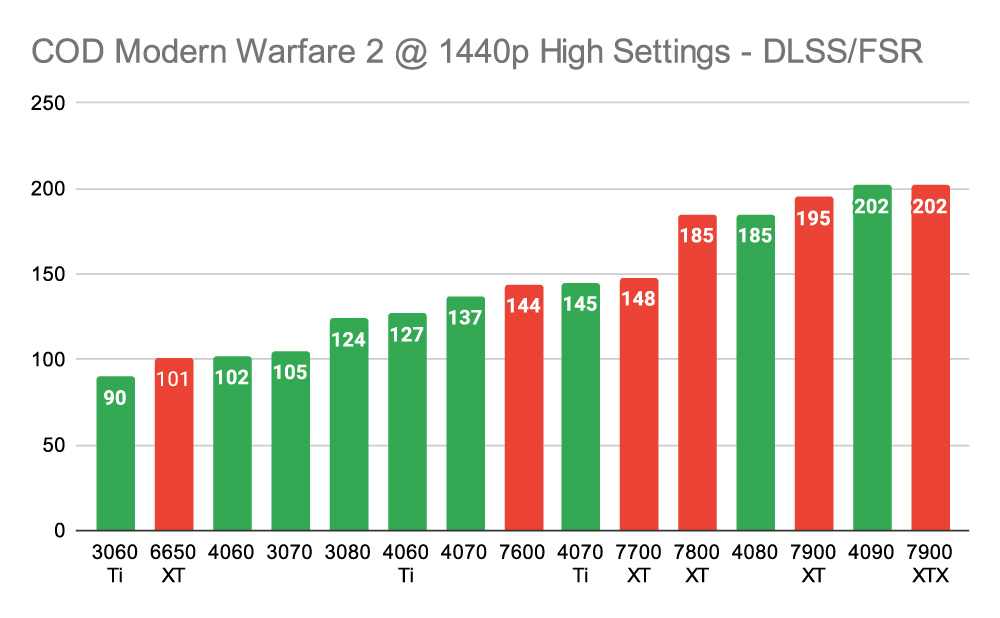 Our Verdict: AMD Radeon RX 7800 XT
As a result of our in-house testing we can conclude that the RX 7800 XT is the clear winner when it comes to the RX 7800 XT vs RTX 4070 Ti.
As seen during our testing, the RX 7800 XT beat out the RTX 4070 Ti in the majority of titles, whilst coming in at a much stronger MSRP of $499. The RX 7800 XT is a standout option for consumers looking to build a 1440p mid-range gaming PC build in 2023 and as we found out during our benchmarking, gaming at 4K on the RX 7800 XT is a viable proposition too.