Introduction
Over the last year we have seen an influx of GPU releases from both Nvidia and AMD, as the battle to make the best GPUs reaches the hottest point we've seen in a number of years. Last year we saw Nvidia release their 30-series cards, based on their brand new Ampere architecture. The cards ranged from the 3090, 3080 and 3070, down to a more budget oriented RTX 3060Ti. Now the latest contender has entered the ring, in the form of the RTX 3060. This is a GPU aimed at the mainstream PC gamer, and sits on Nvidia's most popular 60-series skew.
Unfortunately, it goes without saying that this card will sell out straight away on launch – but that isn't to say stock won't improve, nor does it mean its performance or MSI's efforts becomes less relevant. The RTX 3060 is the card which will set the benchmark for the masses of 1080p gamers out there, and puts down a large flag in the sand as to what AMD must come close to in order to compete.
One heartache felt by all GPU-buying gamers over the last 6 months has been the lack of stock, exacerbated by hugely inflated demand from Cryptocurrency miners. It is worth noting the recent announcement from Nvidia of a hash rate restriction on this card. Essentially, this is an advanced software fix, which utilises a combination of BIOS and driver changes to limit the productivity of this card in mining situations. Nvidia seem pretty steadfast in their confidence of this solution, and should it work it is potentially a huge light at the end of the proverbial tunnel for gamers out there. You can read Nvidia's article on this matter on their website.
Buy the MSI Gaming X Trio RTX 3060 on:
Architecture
Similarly to the 3060Ti, and higher end 3090, 3080 and 3070 cards that were released in 2020, the RTX 3060 is built off of Nvidia's latest Ampere architecture. The 7nm chips have proven themselves to provide a step change in performance, one that goes well above the usual 10-15% generational jumps we are used to seeing. This architecture also boasts Nvidia's 2nd generation 'RT Cores', with better support for Ray Tracing, alongside support for matured DLSS 2.0 and software suites like Nvidia Broadcast, which have proven popular in the streaming community.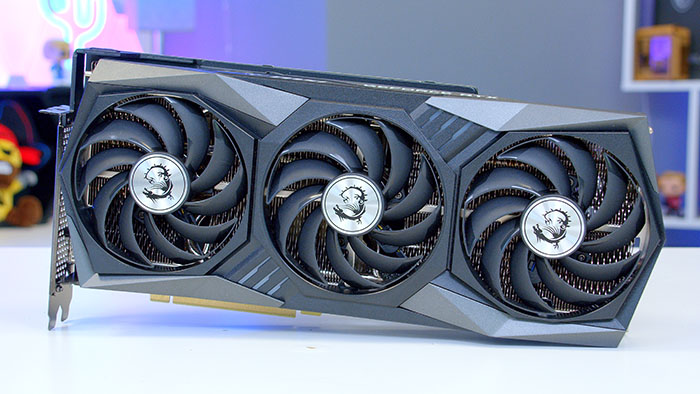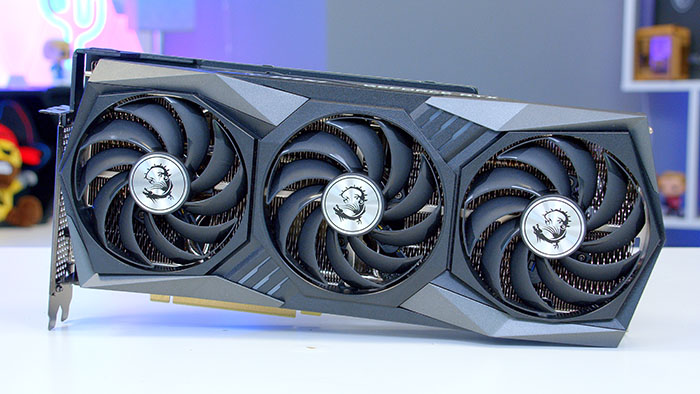 DLSS is worth a separate mention on the architecture front, as a standout RTX feature which perhaps has the most mainstream appeal. DLSS, which stands for Deep Learning Super Sampling, is an image scaling tech which is backed by AI to improve frame rate. Essentially, it allows for games to be rendered at a lower resolution, say 1080p, and upscaled to a higher resolution like 1440p.
While in principal this is nothing new, it has proven to provide really strong results, with a much more minimal visual fidelity impact than has been previously seen with resolution scaling tech. AMD does have competitive software to match Nvidia known as FidelityFX Super Resolution (or FSR for short). However AMD hasn't gotten their technology to flourish the way Nvidia has, and the amount of supported games is far less by comparison, but we imagine this will improve over the coming years.
This card also boasts 12GB of GDDR6 video memory, 4GB increase over it's 3060Ti bigger brother (up 50%). This move looks to be in anticipation of a budget AMD 6000 series GPU release, following their tendency towards higher amounts of video memory.
Power efficiency gains are another area where Ampere has been universally praised, and surprise surprise, an area which miners have come to love. Interestingly this MSI card has dual 8 pin power connectors, pointing to an increased amount of overclocking headroom for those wanting to push the GPU to its limits. This decision is interesting when you consider that the ASUS STRIX card, ASUS' range topping equivariant, only has a single 8 pin connector. Overkill from MSI here? Probably, but not a complaint!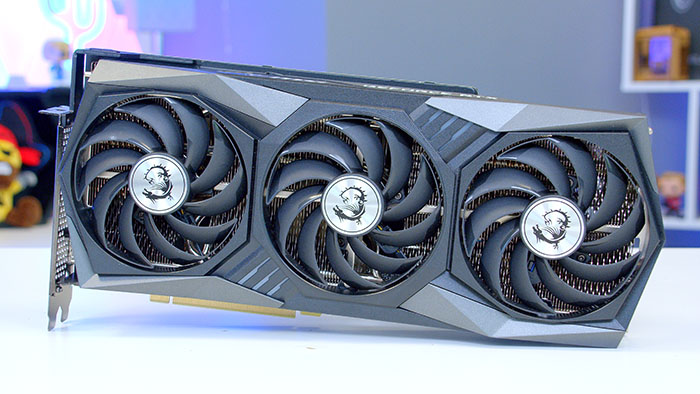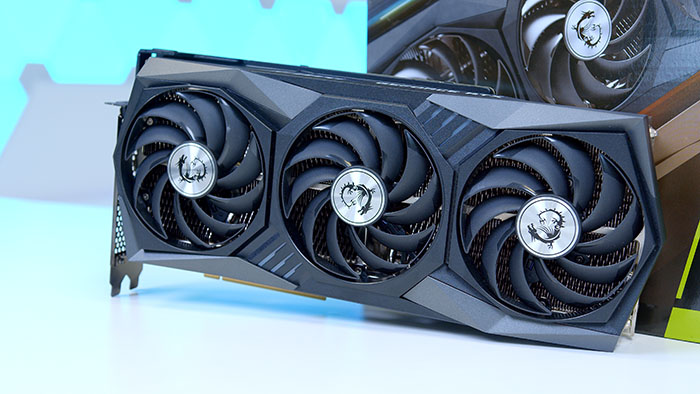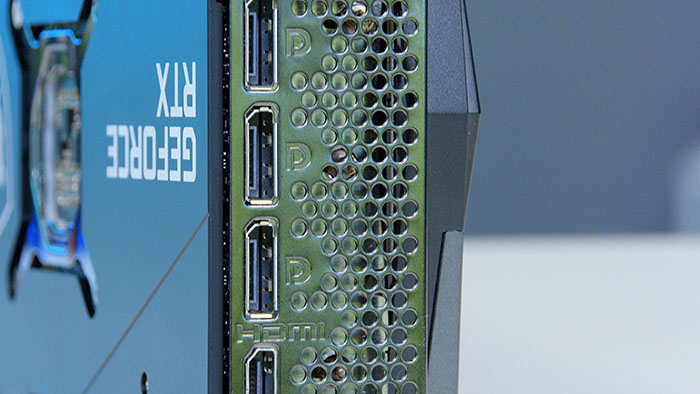 Design
Architecture aside, the whole reason you buy an aftermarket AIB card is because of the cooler design and extra features someone like MSI might add. Price is also a factor here, though comparing that point seems a little silly in the current climate, even if this is MSIs most expensive 3060 release in their stack.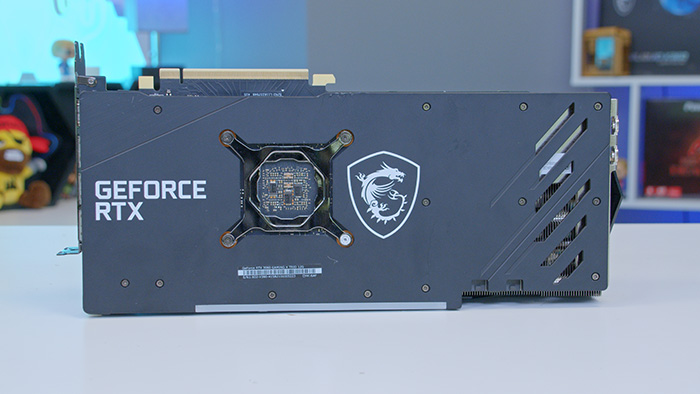 This card uses a seemingly identical cooler design to the 3060Ti, perhaps not surprising when you consider how closely these cards sit to one and other. The cooler performance is great, which reflects very well in the temperatures below. This is not surprising given the base 3060 design has a total power requirement of just 170W, so any extra cooling requirement MSI have added will be nicely absorbed by this huge triple fan cooling design.
Cable management obsessives will be pleased to learn of power connectors placed on the right hand side of the card, with no centre mounted connectors in sight. The card looks fantastic in my opinion – a solid metal backplate, plastic cooler that feels premium to the touch with a really nice build quality, and RGB lightbar up top on the GPU make for a great overall look and feel. While MSI's Gaming X Trio cooler is arguable overkill for this card, it does look fantastic and has proven itself to be rock solid across MSIs entire GPU line-up.
I wouldn't recommend using this card in a build where maximum price to performance is your utmost priority, but otherwise the design is pretty superb.
Performance
When it comes to straight performance, the RTX 3060 really impressed me. Perhaps the best thing about that statement is that I am not at all surprised by it. All of the 3000 series cards so far have been solid performers, and it slots well in to the Nvidia line-up. It gets very close to the 3060Ti in some titles, and for some the performance difference at times is nominal. The Ti card does flex its Ray Tracing legs a bit further, but all in they both perform really well.
We witnessed some really solid gains over the previous generation 2060, in the region of 25% to 35%, let alone the 1060 which was released in mid-2016 to great fanfare. I'd also be willing to bet that there are a huge number of GTX 960 and RX 480 users out there looking for an upgrade here, and users of either card will not be disappointed.
At Nvidia's recommended retail price of $329 upwards, this card would be astonishing value – though as we know seeing those prices on launch day or in the weeks following is not really going to happen. AIB cards, especially at this tier, also have a price premium which is worth bearing in mind too. As alluded to earlier, I think Nvidia's move to restrict hash rate on this card is a huge step in the right direction for gamers, but its impact will take time to realise, and with mining out of the equation for a moment, the amount of pent up demand from gamers out there is huge as well.
All of the 3000 series cards so far have been solid performers, and it slots well in to the Nvidia line-up.
When it comes to straight rasterization the card is very impressive, with titles like APEX Legends and Valorant performing incredibly well. It's a similar case for Doom: Eternal, a game which pushes non Ray Traced lighting to the limits.
Ray Tracing also looks great in several titles, and perhaps for the first time a 60-series card can support RTX gaming at 1080p, while largely maintaining the all important 60FPS at medium to high settings. For all of the recorded benchmark runs you can go and check out our very own YouTube channel 'Benched' where you can see all of the performance in the latest titles available.
Conclusion
MSI Gaming X Trio 3060
Product Name: Gaming X Trio 3060
Brand: MSI
Features

Design

Performance

Value For Money
Summary
The RTX 3060 is a really solid card, that knocks very closely on the door of it's own bigger brother, the RTX 3060Ti. While the Ti model definitely has a performance edge, I would argue for the RRP price that this card is a very good bet. Once again Nvidia has shown the power of the Ampere architecture, and as I've said in other reviews: the ball is in Nvidia's court to get these cards out there as fast as is possible. If you can get one of these cards for a reasonable price, you won't be disappointed.
Pros
✅ Very affordable card.
✅ Great 1080p performance.
✅ Prices close to MSRP.
Cons
❌ Unable to outperform the 3060Ti.
❌ Design is quite simplistic.
❌ Doesn't have great legs in 1440p.