Introduction
B660 boards are see as the go-to, budget solution for those looking to pick up one of the latest Intel 12th Gen processors, without forking out the large sums needed for a high-end Z690 motherboard. As much as this is true to some extent, consumers might forget that B660 boards don't just cater to the budget market. There are many mid-range and even high-end options that are currently available, but use the B660 chipset.
MSI's MAG B660M uses the B660 chipset, but opts to give users more features than budget boards, but at a lower price point than the price Z690 options out there. Offering up features like an integrated IO shield, 2.5 Gigabit LAN, WiFi and plenty of fast USB ports, it is hardly short on the feature front!
Buy the MSI MAG B660M Mortar WiFi on:
Suggested Article: Best B660 Boards to Buy in 2022
Chipset
The B660 chipset generally tends to offer a focus towards budget builds, however B660 boards can still be mid-range and even high-end in some instances! We've covered the ins and outs of the differences between the Z690 and B660 Chipsets in a thorough buyers guide. However, we'll briefly look into some of those features here to explain why the MAG B660M is such a great option.
The main takeaway from B660 boards is that they do not officially support CPU overclocking. All of the other main characteristics and features that would be available on the Z690 chipset, are accessible on B660 boards, but in less quantity. You still get access to SATA ports, USB 3 Gen 2 and PCI-E Gen 4 SSD slots, but due to the limited number of PCI-E lanes, you get less of them. Some boards even boast PCI-E 5.0 support, DDR5 memory, and even quality additions such as an integrated IO shield, or even WiFi capability.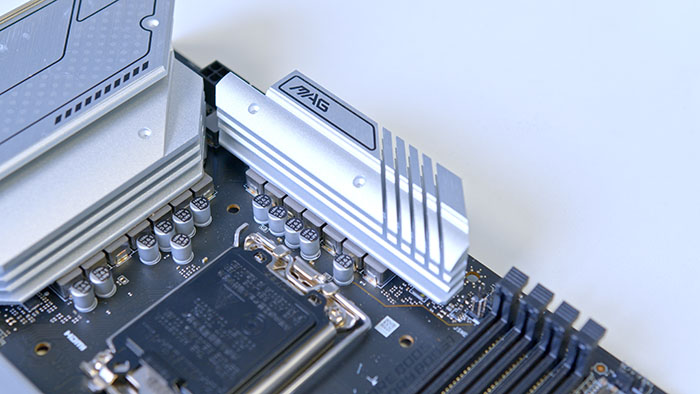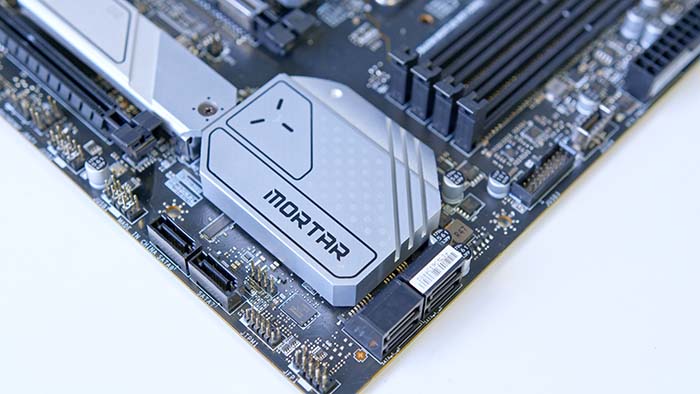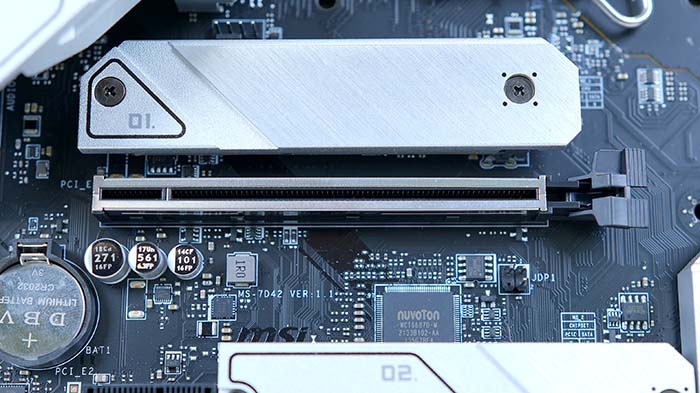 Table of Differences
To give you more context and a clearer view of the kind of features available on the MAG B660M versus a Z690 board, we've provided a table that compares them. For this example we've picked a mid-range board that we think offers a similar competition to the MAG B660M!
Features
MSI MAG B660M Mortar
MSI Z690 TOMAHAWK WiFi DDR4
CPU Overclocking Support
No
Yes
PCI-E 5.0 Slot
No
Yes
M.2 Connectors
2x Gen 4 M.2
3x Gen 4 M.2
1x Gen 3 M.2
USB 3.2 Connections
Front: 1 USB Gen 2 Type-C
2 USB Gen 1 Type-A

Rear: 1 USB Gen 2×2 Type-C
3 USB Gen 2 Type-A
Front: 1 USB Gen 2 Type-C
2 USB Gen 1 Type-A

Rear: 1 USB Gen 2×2 Type-C
3 USB Gen 2 Type-A
2 USB Gen 1 Type-A
LAN Type
2.5 Gigabit LAN
2.5 Gigabit LAN
Integrated WiFi Support
Yes
Yes
Memory Overclocking Support
Up to 4800MHz
Up to 5200MHz
Summary of Differences
While it was always likely the Z690 board was going to win out on features, the above table also highlights just how much you can still get on B660 motherboards. The only major loss on this MSI B660 Mortar board is the lack of a PCI-E 5.0 slot and CPU overclocking – not huge compromises to make for the inevitable cost savings you'll be making.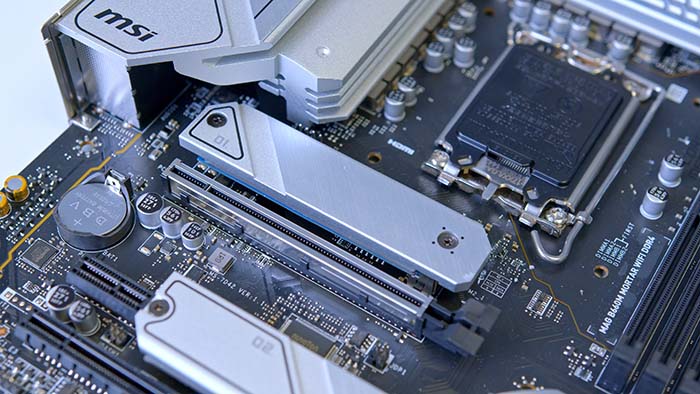 I think if you're willing to spend the money for Z690 chipset-based motherboards, then go for it. There's a whole host of features that come with that chipset that are honestly difficult to refuse. However, if you are more price conscious of your build, and want something with a mid-range cost that comes with effectively the same amount of features, then the MSI MAG B660M is the board for you! It also depends on your use case, if you are looking to rock multiple GPUs and 8 hard drives, Z690 is your go-to, but for a single GPU rig, like this RTX 3060Ti build, B660 makes the most sense.
Aesthetics & Design
The MAG B660M Mortar is actually one of the more pleasant boards on the market to look at. It opts for the more common black PCB that we see on most boards, but the extended heatsink design offers a little bit extra 'pazzaz'. The motherboard is filled out with plenty of heatsink cooling, and the myriad of included features make it look less 'empty' than rival B660 boards. The silver, steel look of the heatsink also offers a nice contrast to the black PCB which makes it stand out a little bit more.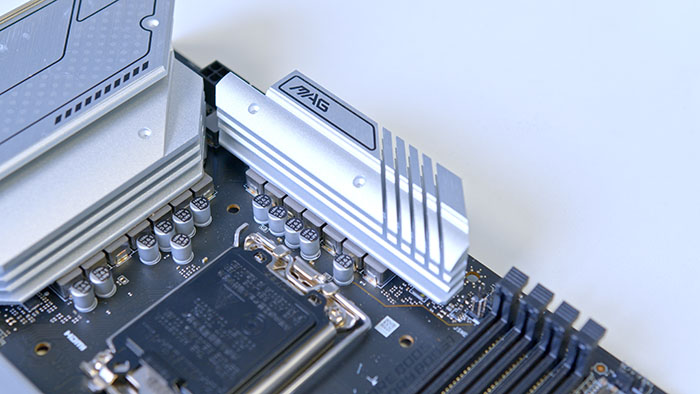 Otherwise, the MAG B660M offers a relatively simple design that provides some contrast to more common looking motherboards. The colour scheme is slightly different than other mass-market rivals, with the silver accents a nice change. Overall, this board looks pretty good for the price range, and its great to see cheaper alternatives offering the a nicer design!
Features
Despite B660 boards providing less features overall, the MAG B660M Mortar still comes with plenty of them! For this board, we've broken down some of our favourite features and covered them in more depth. Some of these features will be more important to you than others, and we recently explored the best features to look out for in a motherboard.
Rear IO
For a mid-range board, the MAG B660M Mortar is choc full of connections and interfaces that will suit most users! Equipped with 7 USB Type-A ports, with three of them being USB Gen 3 for great speeds. Also on the rear is a lightning fast USB Gen 3 2×2 connection, that supports up to 20Gb/s speed. There's also the option of integrated WiFi 6 if you don't want the added management of cables, or 2.5 Gigabit LAN. Finally, you also get an integrated IO shield included, minimising the frustration that comes with fitting one in your case. A brilliant selection!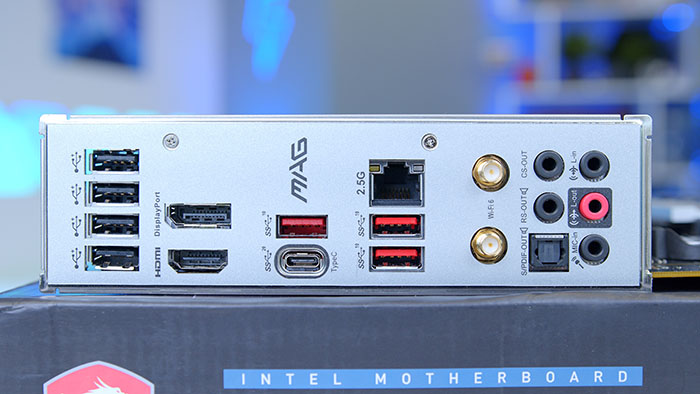 Internal IO
The option of internal IO is more variable compared to more budget solutions. Compatible with the MSI Dragon centre Mystic Light RGB, you're given the option of adding some extra lighting choices with RGB peripherals via 3 and 4 pin RGB headers. You also have some good variety for fans and water cooling, with 2 system fan headers, and a water pump connector as well.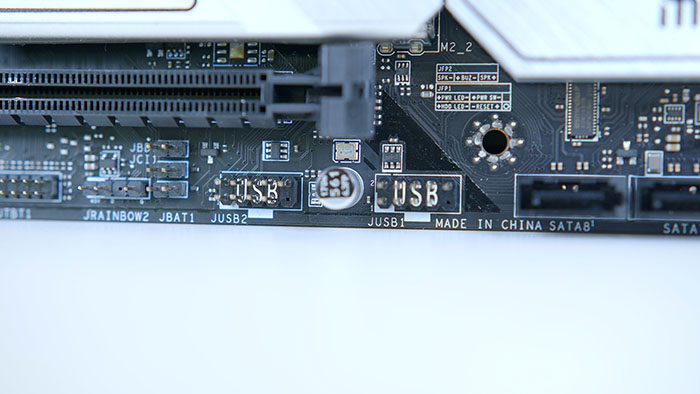 Full Audio Suite
For you audio lovers, the MAG B660M Mortar comes equipped with a studio quality audio suite. With a full range of line-in and out, you've also got the choice of SPDIF for a pure digital signal. For this audio suite, there's also a dedicated HD audio processor for ideal sound quality on stereo and surround sound outputs.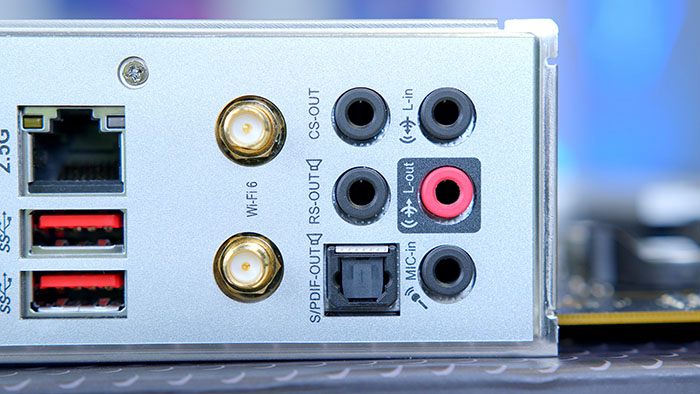 EZ M.2 Clip
M.2 SSDs are quite small components, that can add a level of tediousness when putting together a PC build. If you've already fit the motherboard into your case it can be even more of a pain to slot in your SSD, but MSI provides a solution! Instead of needing to screw down the M.2 to secure it, you can use the included EZ M.2 Clip which acts as a latch which will seat the SSD correctly.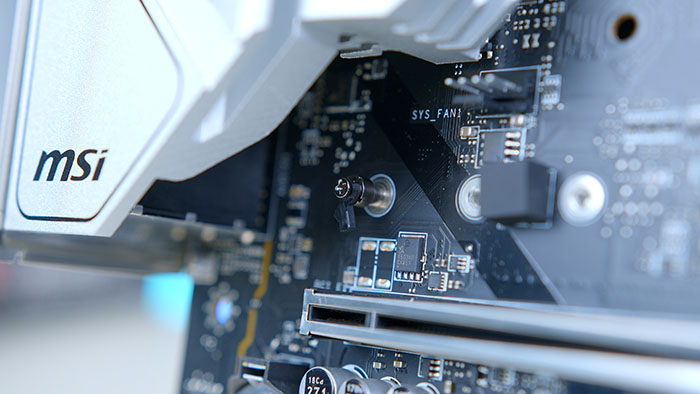 BIOS
When you first boot your PC you'll be greeted with a piece of software known as the BIOS. Each BIOS software differs between each board and may look confusing if you're used to another manufacturer's UI. MSI's BIOS is rather simple to use providing one click buttons that can change performance settings, boot order and even fan configuration. If you want a simple experience that has plenty of easy features to change, then this board is ideal!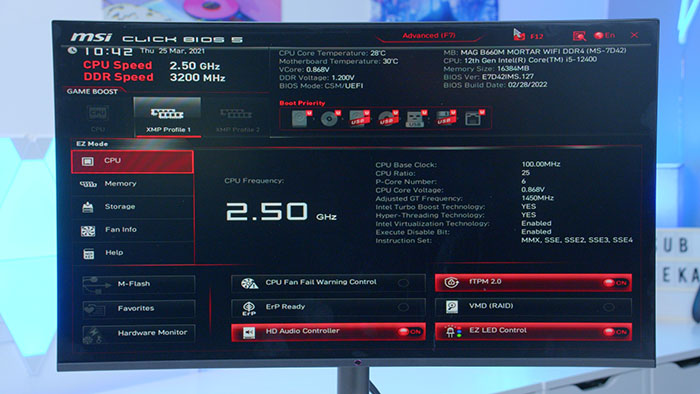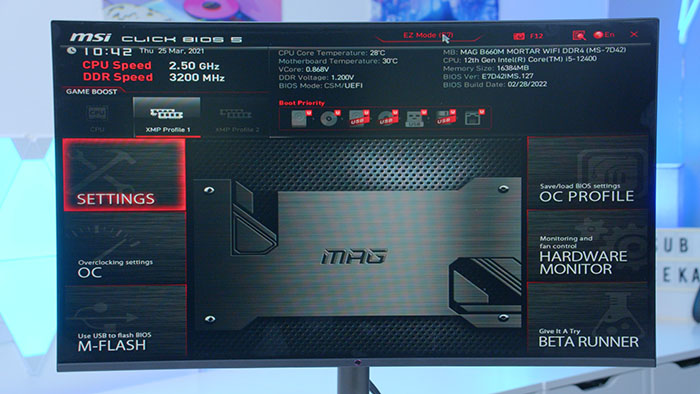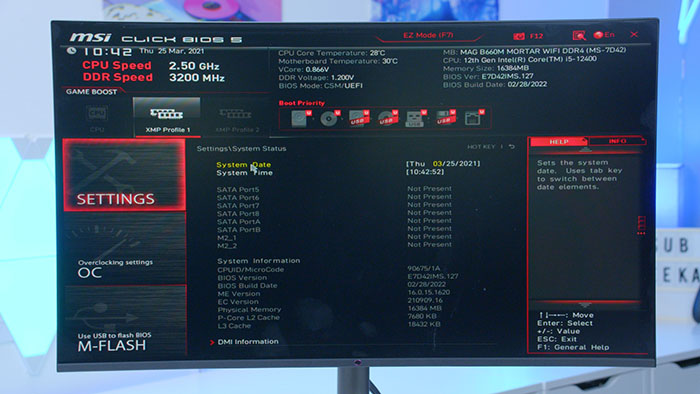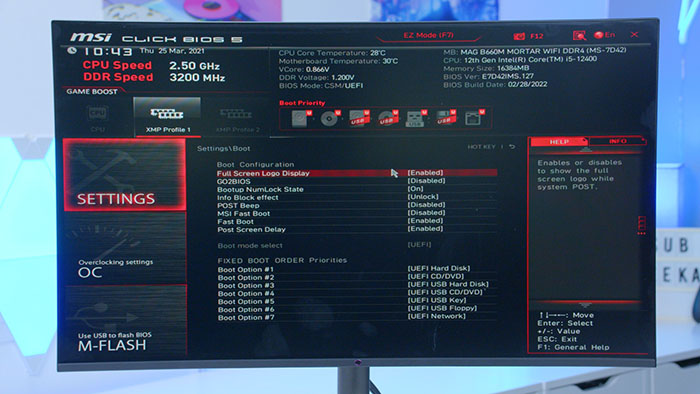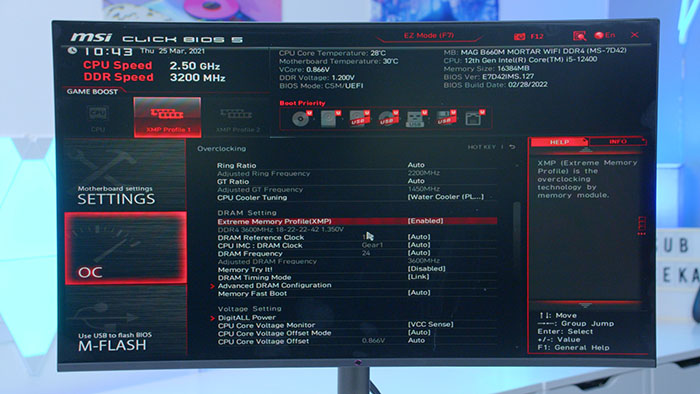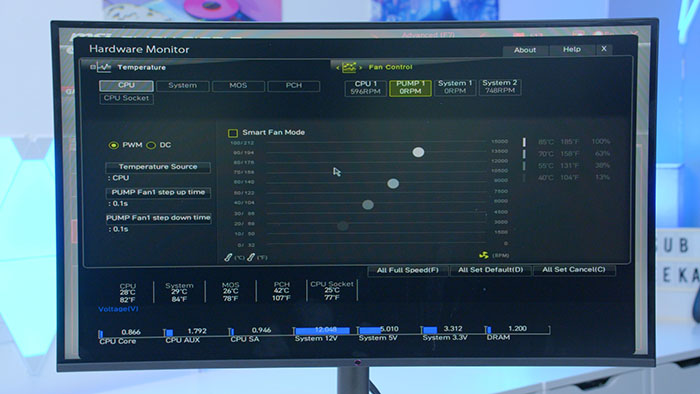 Compatible Processors
Often it can be confusing knowing what processors are compatible with which boards, but more importantly what processors you should and shouldn't use too. The MSI MAG B660M Mortar is compatible with Intel's latest 12th generation processors, but we wouldn't necessarily recommend you throw a Core i9 into this board. Systems that want to utilise the most powerful CPUs like the Core i9 and Core i7 processors will need a motherboard and components that match the performance output. However, for this mid-range board you would be best suited to stick to the Core i5 options, or if you're wanting to save money then Core i3 CPUs are also perfectly fine!
| | | |
| --- | --- | --- |
| CPU Name | Compatibility | Do We Recommend? |
| Intel Core i9 12900KS | ✅ | ❌ |
| Intel Core i9 12900K | ✅ | ❌ |
| Intel Core i7 12700K | ✅ | ✅ |
| Intel Core i7 12700KS | ✅ | ✅ |
| Intel Core i5 12600KF | ✅ | ✅ |
| Intel Core i5 12600K | ✅ | ✅ |
| Intel Core i5 12400F | ✅ | ✅ |
| Intel Core i3 12100K | ✅ | ❌ |
| Intel Core i3 12100F | ✅ | ❌ |
Conclusion
MSI MAG B660M Mortar WiFi DDR4
Features

Design

Performance

Value for Money
Summary
The MAG B660M Mortar takes a good design aesthetic and brings it to a market geared towards budget and mid-range builds. You are missing out on some of the features that are available on Z690 boards, like CPU overclocking, but overall this is a brilliant board. The B660 chipset is a brilliant alternative to the more expensive higher-end options that Z690 and H670 offer!
Pros
✅ Great rear-IO options
✅ Value for money
✅ Sleek aesthetic
Cons
❌ No CPU overclocking support
❌ Limited number of fan headers