Introduction
Lian Li have been known for their unique, premium case designs for a number of years. Now Lian Li are back with a brand new, ATX chassis – the LANCOOL III. This new case looks to bring some great features to the fold, for consumers readying up their systems for next gen graphics cards, and high-end cooling configurations.
In this review will be covering both iterations of the case, an RGB and non-RGB model. Is this large, ATX tower much the same of what we've already seen in the full-tower case landscape, or something a bit more special? The answer – a mix of both!
Buy the Lian Li Lancool III on:
Suggested Article: The Best PC Cases to Buy in 2022! (Budget, Mid-Range & High-End Case Options!)
Lancool III Predecessor
Prior to the Lancool III, there was – can you believe it – a Lancool II model! The new v3 variant sports a similar design, but differentiates itself with a much improved front panel.
The front of the Lancool II has a metal panel with some vents, while the Lancool III model goes all-in on the mesh front. This is a trend we have seen across the PC-case market in recent years. This is a great change, increasing the all-important airflow capability of the chassis.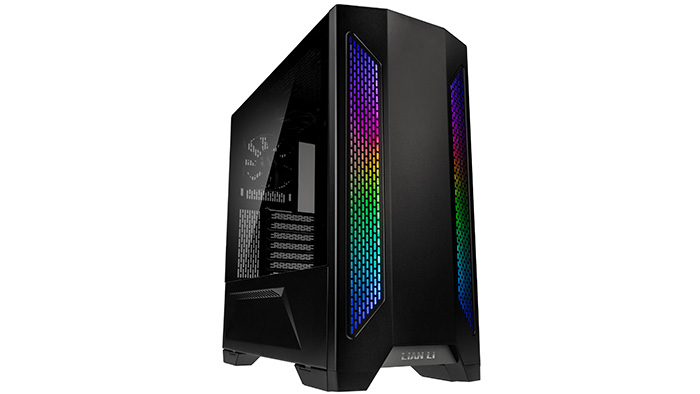 Most recently we've seen NZXT take the same approach by providing a case model (the H7 Flow) which has a perforated front to improve airflow. Although, as we discovered in our review on the H7 Flow, airflow-optimised vents are only worthwhile if they are paired up with enough, good case fans.
Other than this, the design doesn't seem hugely different. Lian Li are still opting to include the hinged tempered glass side panels which are a nice touch, and instead of having RGB out of the box, you get to choose the RGB model for a little bit more money. Despite there not being any drastic changes to the look, the Lancool II was a great case so it'll be interesting to see how Lian Li has improved upon a proven design.
Lancool III Models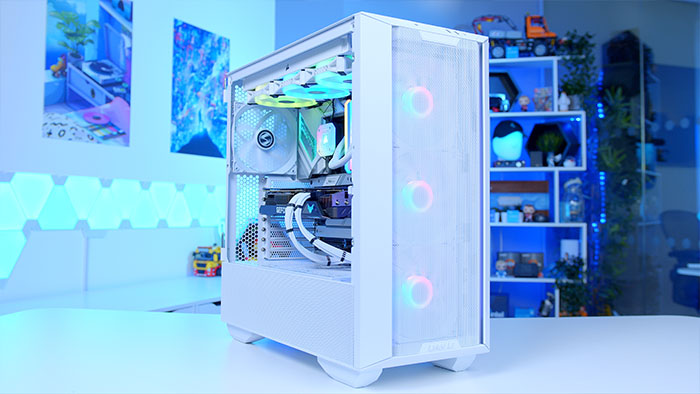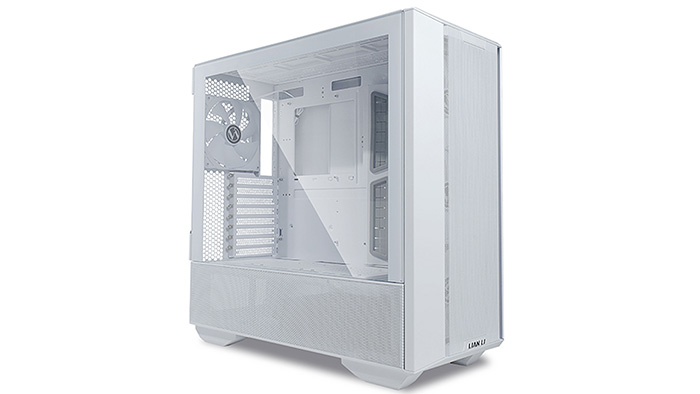 The Lancool III comes in two models, both of which are then available in black or white. The biggest difference between the two models is the use of included RGB fans. The RGB model comes with three ARGB PWM 140mm fans installed at the front of the case and one on the rear. On the non-RGB version, you get the same amount of fans, but they've been replaced with fans that don't utilise RGB lighting. Another point to note is that the RGB version comes with two buttons on the front IO (C and M) that control the colour and lighting mode of the RGB fans. On the non-RGB version of the case, there are no lighting effect buttons on the IO.
Although there isn't much difference between the RGB and non-RGB model, we feel the marginal price difference between them is warranted considering the change is just RGB fans and the colour of the chassis.
| | | |
| --- | --- | --- |
| | Lancool III | Lancool III RGB |
| Form Factor | Mid-Tower | Mid-Tower |
| Max CPU Clearance | 185mm | 185mm |
| Max GPU Clearance | 420mm | 420mm |
| Motherboard Support | Mini-ITX, Micro-ATX, ATX, EATX (under 280mm) | Mini-ITX, Micro-ATX, ATX, EATX (under 280mm) |
| MSRP | Black: $149.99 White: $159.99 | Black: $159.99 White: $169.99 |
Lancool III Aesthetics & Design
Aesthetically, this case looks great. It takes a very similar chassis design to the Lancool II but replaces the front panel with mesh, and removes the RGB vents. Both of the side panels are hinged tempered glass panels, making building easier, but also more aesthetically pleasing. It also encourages users to tidy up their side panel cables if they're visible.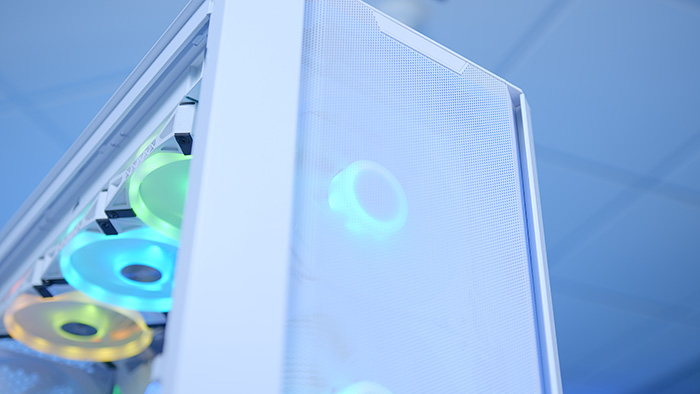 The fans are an awesome touch too. Alluding to a point made earlier, the H7 from NZXT left us a little bit disappointed with the lack of fans from the non-elite designs. With the Lancool III, all of the models come with 4 included fans which is awesome. It's great to see manufacturers including plenty of fans, saving consumers from needing to spend unnecessary extra cash. The best part is that these fans are the larger 140mm design, providing greater airflow capability at a quieter operating volume.
The rest of the case remains relatively minimalist throughout. Regardless of the model you've picked, the metal chassis is very sleek and gives off a futuristic look. We're pretty happy with the design overall. Although there isn't anything super outlandish in terms of the looks, the simple design that Lian Li has opted for will bring a great aesthetic to any PC build.
Features
The LANCOOL III doesn't just look the part, it has the features to match. You get plenty of modularity, to customise your build with your liking, and usability features which make the case easier, and more enjoyable to build in.
Moveable Front IO Panel
Have you ever thought that your front IO is in an awkward place? Well if that's the case, then Lian Li have provided a solution. If you prefer to have your case perhaps on a desk, you can relocate the front IO with relative ease to the top or bottom of the front panel. Providing this option is a nice feature that really demonstrates Lian Li's effective approach to consumerism.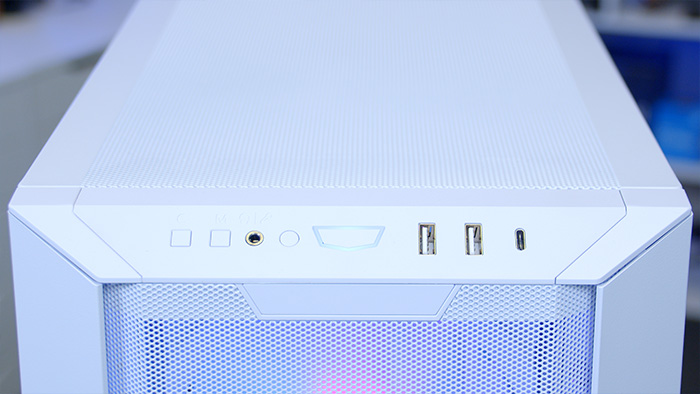 Fan and Radiator Support
One of the great parts about this case is the aforementioned included fans. If you've chosen the RGB or non-RGB model you still get four included 140mm PWM fans which are a nice bonus.
| | | |
| --- | --- | --- |
| Position | Fans | Radiators |
| Front | 3x 120mm or 3x 140mm | 360mm |
| Rear | 1x 120mm or 1x 140mm | N/A |
| Top | 3x 120mm or 3x 140mm | 420mm |
| Bottom (above PSU chamber) | 3x 120mm | 360mm |
The array of radiator and fan mounting support in the LANCOOL III is an impressive spectacle that is sure to satisfy custom loop builds.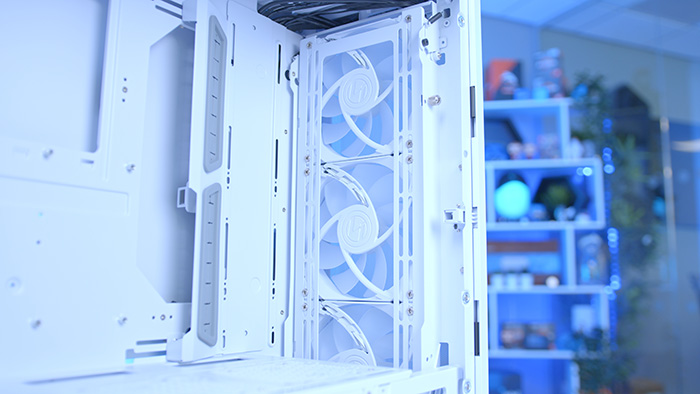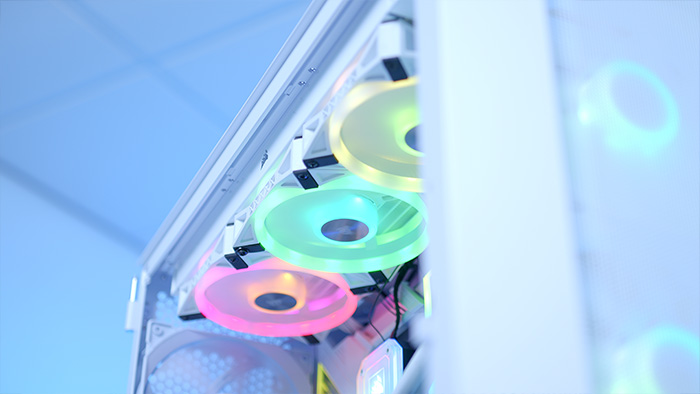 Custom Cooling Support
Continuing with the theme of cooling, the Lancool III has plenty of support for custom loops if you're trying to build a well cooled system. At the top of the case, the fan/radiator bracket comes with a fill or drain hole for a custom loop. You'll also find three mounting points for either storage or pump/reservoir combos in the case. It isn't very common to have support for custom water cooling loops, so this is a 'cool' addition to the case.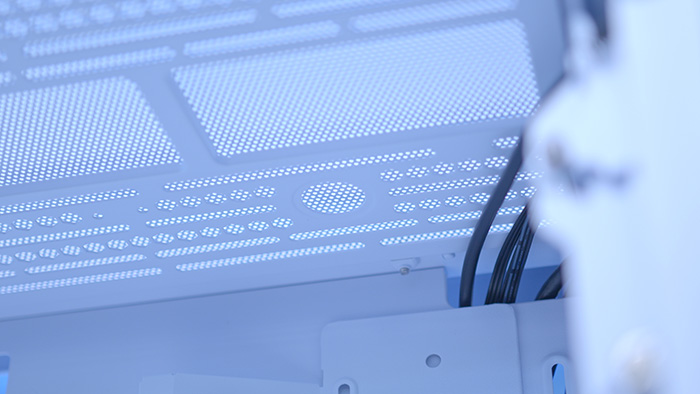 PSU & Storage Chamber
One of the awesome features that came with the Lancool II was the hinged magnetic PSU shroud, and it has returned with this case. The area where you'll install your PSU and any storage has two magnetic doors on either side of the case that can simply be opened by pulling on the door.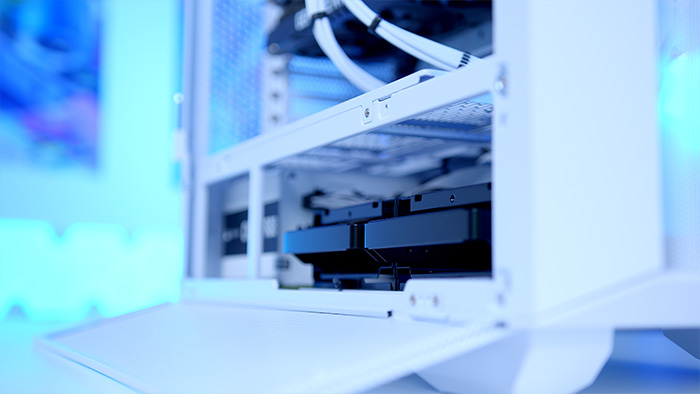 Advanced Cable Management
As we mentioned before, the right side of this case is not hidden due to the use of a tempered glass panel, so cleaning up your cables is almost a requirement. Personally, I'm not a fan of cable management, but Lian Li have made this so much easier with their cable management system.
Firstly are the cable hide panels. There are two hinged magnetic panels that act as shrouds for the cables, similar to a PSU shroud. You can easily hide your cables, or remove the panels if you're not a fan of them. Secondly are the Velcro straps. Lian Li have provided 8 Velcro straps which can be used to cleanly route your cables and get them from A to B. If you've decided to pick up an RGB hub, there are also multiple locations to mount these and clean up your cables in the process.
Our only criticism here would be the strength of the magnets on the cable hideaway covers. They aren't strong enough to keep the doors down, with the smallest resistance from your cables proving troublesome. We like the use of magnets, but here a more tradition clip retention mechanism would have been better.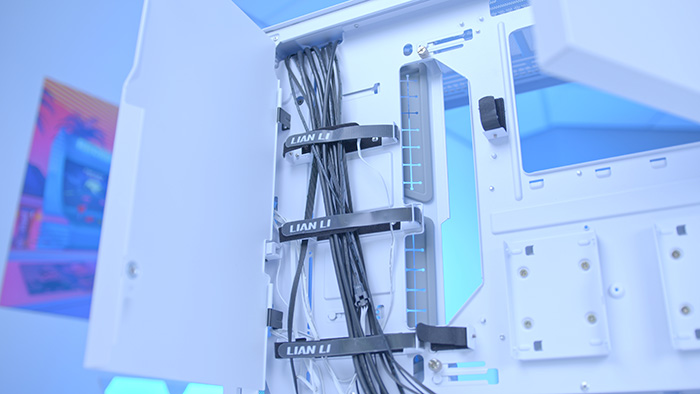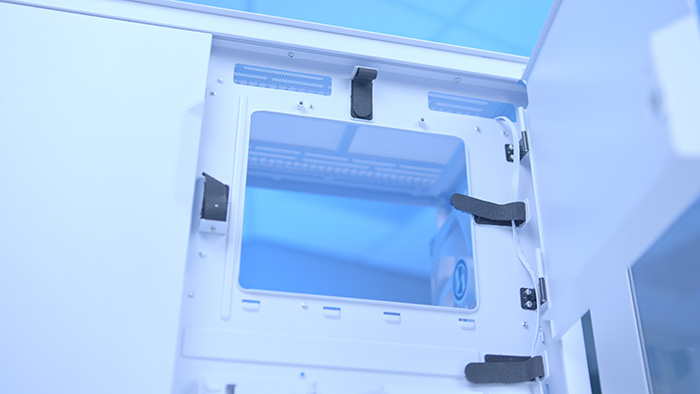 Our Hands-On Take
Lian Li kindly sent us the white RGB version of this case for us to play around with and take a look at. It's a hefty design that out of the box took us by surprise.
The Lancool III is a pretty great case that provides some nice upgrades over the Lancool II, especially with the sheer amount of included fans. Just ensure if you pick up this case for your next PC build that you're likely to fill it, as its deceiving size has the ability to make any component look small!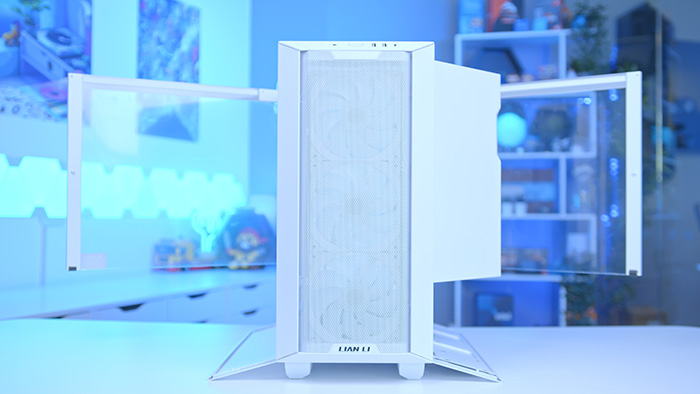 Alternatives
The Lancool III is a very reasonable priced case, and we would say it is positioned within the mid-range market. There are some other cases out there worth considering that stack up similarly well, which you can learn more about below:
Corsair 4000D QL RGB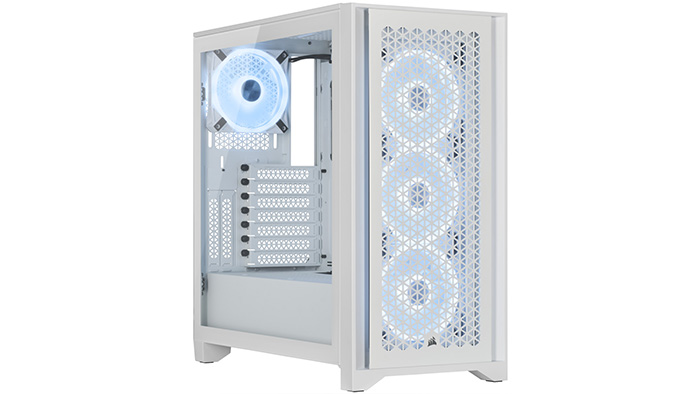 Corsair's 4000 series is an excellent range of cases that provide consumers with different options from minimalist to flashy RGB. The 4000D QL RGB comes with both excellent airflow and included RGB fans that add great aesthetic to the case. It also has a range of support for different cooling configurations, and storage expansion across the board.
---
Lian Li O11D Mini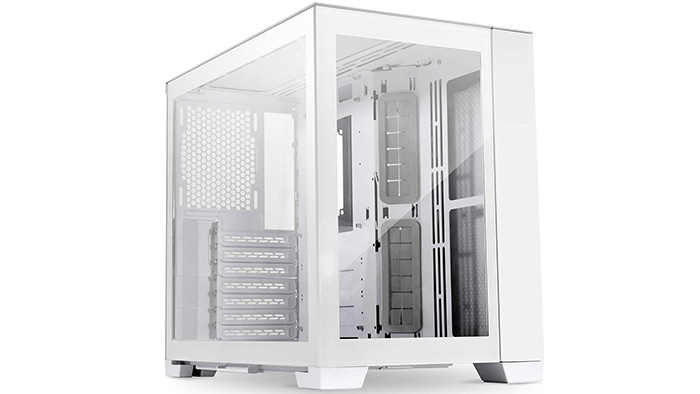 The Lian Li O11D Mini is one of Lian Li's most popular cases, giving us a good point of comparison. Although the O11D Mini doesn't come with RGB fans, there is a huge amount of modularity in this case, not too dissimilar from the Lancool III. The O11D Mini is an excellent case providing consumers with a great aesthetic, and plenty of customisation options.
---
DeepCool MATREXX 50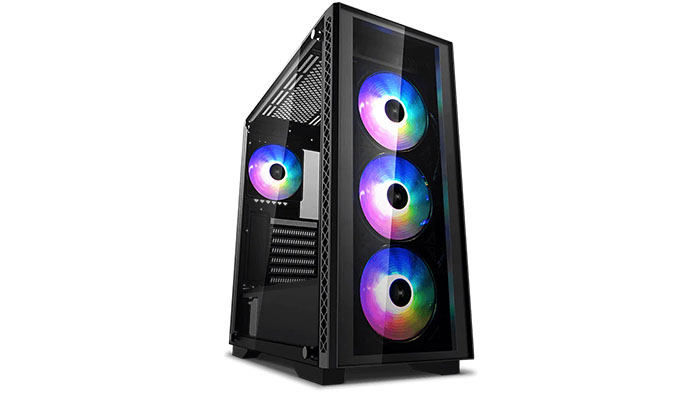 The DeepCool MATREXX 50 is a fantastic case that brings a sleek aesthetic to the market. The front and side panel are both tempered glass, and DeepCool provides four included RGB fans that can be customised through hardware of software control. If you're looking to pick up a brilliant, aesthetically pleasing case, the MATREXX 50 is a good choice!
---
Conclusion
Lian Li Lancool III
Product Name: Lancool III
Brand: Lian Li
Features

Design

Versatility

Value For Money
Summary
The Lancool III is one of Lian Li's newest models that takes a similar design approach to one of their previous models – the Lancool II, but with some upgrades. The hinged magnetic tempered glass panels are a nice touch, and the four included fans is honestly an awesome inclusion. Lian Li has put consumerism at the forefront of this design both in terms of the price and the versatility that this case provides. Although the design isn't hugely different from some of their previous models, other manufacturers could take a page out of Lian Li's book by including some of the excellent options and modularity that this case brings to the market.
Pros
✅ Premium and aesthetically pleasing design.
✅ Four included 140mm RGB fans is awesome.
✅ Very versatile and easy to build in.
Cons
❌ Doesn't support all E-ATX motherboards.
❌ Alternative colour options would be nice.
❌ Making consumers manage cables is a bit strange.