Introduction
Budget and mid-range gamers have had to wait patiently in order to get their hands on a new graphics card, but the time has finally come. With the release of the AMD Radeon RX 7600, along with Nvidia's RTX 4060Ti, gamers looking to spend money on a budget-friendly PC are spoilt for choice.
But what is the ideal configuration for a 1440p gamer looking to build a system with the brand-new RX 7600 on a budget? Allow us to show you our recommendation for the best PC build starring the RX 7600.
As well as breaking down all the positives and negatives of each of the components used within this build, we'll be offering suggestion for gaming peripherals, along with gaming benchmarks and key factors to consider.
Suggested Article: Best CPUs to Buy for the AMD Radeon RX 7600 in 2023
RX 7600 Performance Preview
Before getting into the details of the build, we wanted to offer a brief glimpse into the performance of AMD's latest GPU. We'll also be going into more details on the performance of the RX 7600 in our benchmarking section, so be sure to keep reading for more in-depth analysis and comparisons.
In summary, the RX 7600 provides very strong gaming performance at 1080p, comfortably surpassing the performance of previous budget and mid-range cards in a wide range of popular games. Considering the price this GPU is available for, it's a solid choice within a budget system. However, the performance at 1440p is somewhat limited, with results being less consistent compared to the alternative cards available.
As a result, we'd suggest gamers looking for a great 1080p gaming experience should seriously consider picking this card up, but anyone wanting to play titles at 1440p should invest into a more powerful mid-range alternative.

1440p, High Settings
Avg: 145FPS
Preset: High
V-Sync: Off
Anti Aliasing: TSAA
Texture Filtering: 8x
Ambient Occlusion: High
Volumetric Lighting: High
Dynamic Shadows: Enabled
Model Detail: High



1080p, Comp. Settings
Avg: 273FPS
Preset: Low
V-Sync: Off
Render Distance: Far
TSR: Off
Global Illumination: Off
Ray Tracing: Off
Effects: Low
Post Processing: Low



1080p, High Settings
Avg: 136FPS
Preset: High V-Sync: Off DLSS: Performance Textures: High Particle Quality: High Tessellation: Near Shaders: High

1440p, High Settings
Avg: ---FPS
Preset: High V-Sync: Off DLSS: Performance Textures: High Particle Quality: High Tessellation: Near Shaders: High
Main Components
GPU: Gigabyte Radeon RX 7600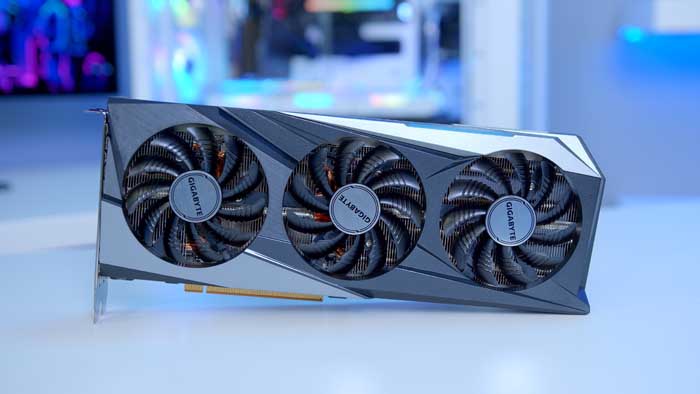 Introduction
Let's kick things off with the star of the show, introducing the Gigabyte Radeon RX 7600. With this card only just being released, it's hard to know exactly how this card is going to be received by the gaming community. However, our initial findings indicate that AMD's latest GPU is good value within the current market, offering consumers an affordable way to game at 1080p and 1440p.
Gigabyte's variant offers will offer similar performance to the reference card from AMD, but also tweaks the design to offer a more premium gaming experience. Most notably, the triple-fan layout brings some additional cooling power, which will allow this card to remain on top form for longer. Also, Gigabyte replaces the shroud with a shinier silver design that is etched with lots of angular edges to provide a futuristic look which fits nicely into a gaming PC.
Key Specs
| Key Specs | Gigabyte Gaming OC Radeon RX 7600 |
| --- | --- |
| Base Clock Speed | 2.25GHz |
| Boost Clock Speed | 2.62GHz |
| Stream Processors | 2048 |
| Ray Accelerators | 32 |
| TDP | 165W |
Things We Like
Enhanced aesthetic: Even though we're fans of the base design on AMD's Radeon 7000 series graphics cards, it's always nice to pick up a design that boasts an aesthetic that offers something more extravagant, which is something that this Gigabyte offering provides.
Improved thermals: As this GPU is likely going to be pushed to its limit when running titles at 1440p, its important to ensure that it has the best chance of performing optimally. The additional fan does just that, as it helps to keep the temperatures down, preventing this GPU from overheating in the process.
Things We Don't Like
Can't really handle Ray-Tracing: As this is a budget card, it's ray accelerator count is much lower compared to other options. If you plan on playing Ray-Traced games, I recommend looking at more powerful GPUs.
Not ideal for 1440p gaming: We'll touch on this more during our benchmarking later on, but the RX 7600 is a lot more comfortable at 1080p. Though it can provide solid frame rates in 1440p, the performance compared to other GPUs is pretty unreliable.
Where to Buy
Buy the Gigabyte Gaming OC Radeon RX 7600 on:
CPU: Intel Core i5 13400F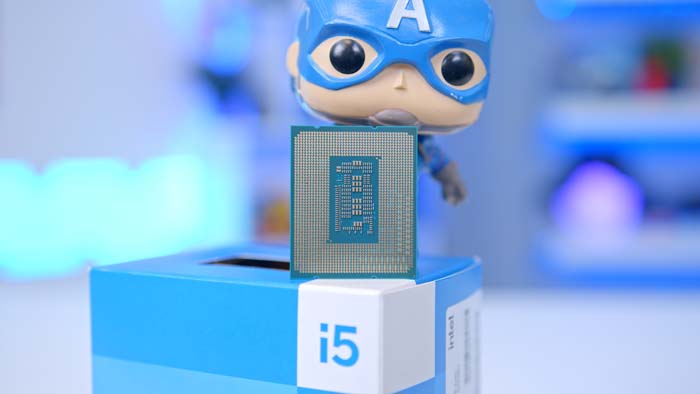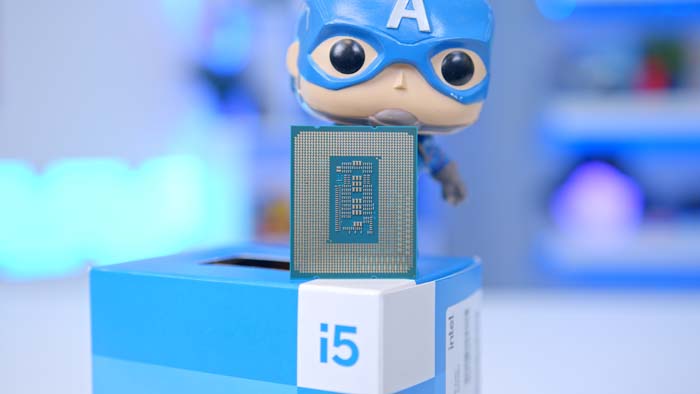 Introduction
To match the performance of AMD's latest graphics card, we have the Intel Core i5 13400F. This processor has quickly become our go-to choice within budget gaming PCs, as it is one of the most affordable CPUs that possesses enough firepower to run all the latest titles at both 1080p and 1440p. Though it lacks the multifaceted performance to excel in productivity applications, it has the gaming performance needed to fit into this system.
Equipped with a boost clock speed of 4.6GHz, this CPU is at its best running high frame rates at either 1080p or 1440p, but it can be pushed to 4K, which is very surprising considering how cheap it is. As a 'F' series SKU, the 13400F cannot be overclocked and doesn't include on-board graphics, but the reduction in cost as a result of these exclusions will be more beneficial within this budget-oriented build.
Key Specs
| Key Spec | Intel Core i5 13400F |
| --- | --- |
| Base Clock Speed | 2.5GHz |
| Boost Clock Speed | 4.6GHz |
| Core Count | 10 |
| Thread Count | 16 |
| Max Turbo Power | 148W |
| Overclockable | No |
Things We Like
Strong at 1440p: With the enhancements provided by the Raptor Lake technology, this processor has no issues running games swiftly at 1440p. This means budget gamers can finally access 1440p gaming without having to sacrifice too much money or performance.
Great value for money: As one of the cheapest 13th-gen processors available, the 13400F has become a popular choice amongst budget builders due to its great gaming performance at a very reasonable price point.
Things We Don't Like
Can't be overclocked: Like most budget processors on the market, the 13400F cannot be overclocked. This means that the performance out of the box is what you get, and this CPU cannot be pushed further for any additional frames or speed.
Not ideal for productivity: Though the gaming performance this CPU provides is pretty impressive for the price, it isn't the best in productivity-based scenarios. Therefore, this build is not ideal for the likes of streaming or video editing.
Want to know more? Check out our Intel Core i5 13400F review.
Where to Buy
Buy the Intel Core i5 13400F on:
CPU Cooler: Intel RM1 Stock Cooler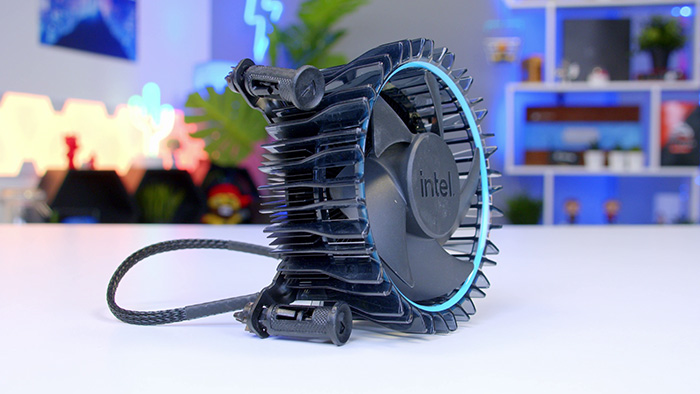 Introduction
Leading on from the processor, our CPU of choice is to stick with the RM1 stock cooler that comes with the i5 13400F, along with every over 13th-gen or 12th-gen CPU. Acting as the biggest cost-cutting method within this particular configuration, the stock cooler comes at no extra cost. Obviously, a larger cooling system would provide better thermal regulation, Intel's stock option is powerful enough to keep temperatures down.
In terms of design, this air cooler is pretty simple, but the single 3150 RPM fan puts in a stellar effort to offer a surprisingly strong amount of airflow when placed into a budget system. Those with the cash to spare may want to consider picking up a separate air or liquid CPU cooler to benefit from the enhanced performance and appearance that comes with it. But for those on a more restricted budget, the RM1 stock cooler is more than capable of keeping the CPU and other components within system nice and cool.
Key Specs
| Key Specs | Intel RM1 |
| --- | --- |
| Fans Included | 1 |
| Max RPM | 3150 |
| Connector Type | 4-Pin PWM |
| RGB | No |
| Size | 100mm x 100mm |
Things We Like
No additional cost: As this cooler is packaged with Intel 12th and 13th generation CPUs, gamers won't have to a pay any extra to receive cooling benefits. This makes for a welcomed addition CPUs for price-conscious, as they have one less part to worry about.
Easy to install: Unsurprisingly, the stock cooler fits in with Intel CPUs with ease. As a result, this cooler is an absolute breeze to install compared to other budget coolers on the market, especially liquid CPU coolers
Things We Don't Like
Limited cooling: Though Intel's stock cooler is more than capable of cooling most budget gaming PCs, dedicated CPU coolers from other manufacturers are better designed to keep the temperatures of components down.
Bland design: In all honesty, this cooler isn't the best-looking option to place inside of any gaming PC build. Most will see it as a worthy sacrifice for the money, but others will prefer a more visually appealing CPU cooler.
Motherboard: Gigabyte B760M Gaming X AX DDR4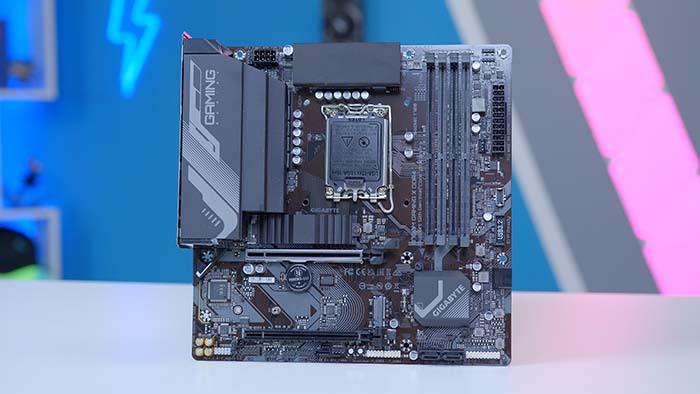 Introduction
For our motherboard of choice, we've decided to go with another component from Gigabyte, with the B760M Gaming X AX DDR4. Motherboards with a B760 chipset are the best companions for i3 and i5 13th-gen CPUs, as they are budget-friendly options that are specifically designed with Intel's latest generation of processors on the market. In addition, they provide the framework needed to pack a modern system with affordable components while providing solid gaming performance.
Gigabyte's B760M Gaming X DDR4 is a micro-ATX motherboard, meaning that is possesses a more condensed form factor than the common ATX layout. The more compact design makes it easier to fit this board into a variety of PC cases, but often comes with the caveat of less connectivity options. However, the capacity for 128GB DDR4 memory, a PCI-E Gen4x16 slot for a GPU, and two PCI-E Gen4x4 slot for storage, this motherboard should have no problems providing this build with all the connections it needs, along with some room for future upgrades.
Key Specs
| Key Specs | Gigabyte B760M Gaming X DDR4 |
| --- | --- |
| Form Factor | Micro-ATX |
| Max Memory | 128GB DDR4 5333MHz |
| PCI-E x16 Slots | 1 x PCI-E 4.0, 1 x PCI-E 3.0 |
| PCI-E x4 Slots | 2 x PCI-E 4.0 |
| Rear IO | 3x USB 3.2 Gen1, 5x USB 2.0 |
| Networking | 2.5 Gigabit LAN, |
Things We Like
Compact design: The reduced size of this micro-ATX design means builders will have no issues fitting this motherboard into a PC case. However, this layout is able to hold the latest components without any issues.
Lots of current-gen support: All of the connections included on this board will support a range of budget and mid-range components currently on the market, meaning gamers will have more freedom when picking their parts for a build.
Things We Don't Like
Rear IO connectivity: Whilst there are enough connections for gamers to wire up their gaming peripherals, the USB ports on this board lack a bit of quality. Most notably, the lack of a USB-C port will be an issue for some gamers, as it makes this design less future-proofed.
Lack of WiFi module: One of the biggest exclusions on this board is the absence of a Wi-Fi module. This limits the networking options for our build, meaning that an Ethernet cable will be required to connect to the internet.
Where to Buy
Buy the Gigabyte B760M Gaming X AX DDR4 on:
RAM: Corsair Vengeance RGB Pro SL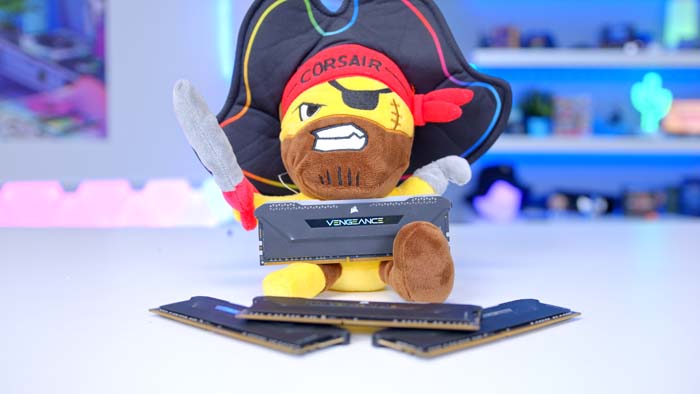 Introduction
For our memory of choice, we've opted for Corsair's Vengeance RGB Pro SL. Out of all the memory options available, the Corsair Vengeance kits are a consistent feature within our PC builds due to their reliable performance and strong design. Even though any of the variants could have been selected, we've opted for the RGB Pro SL, as it offers low-latency performance while adding some additional flair to the setup.
The 32GB capacity on this DDR4 RAM is more than enough to handle all the tasks needed to keep games running smoothly. On top of this, the 3200MHz speed and CL16 latency ensures this build will remain responsive, leading to shorter loading times and less chances of experiencing issues such as texture drop-in. In addition, the RGB lighting on the DIMMs add a nice splash of colour.
Key Specs
| Key Specs | Corsair Vengeance RGB Pro SL |
| --- | --- |
| Kit Capacity | 32GB |
| Memory Speed | 3200MHz |
| CAS Latency | CL16 |
| RGB | Yes |
| Colour Options | Black, White |
Things We Like
Responsive gameplay: The combination of 3200MHz speed and CL16 will provide enough performance to run all the latest titles at 1080p and 1440p with minimal issues. Though it isn't the fastest memory available, it is one of the best combinations for those on a limited budget.
Corsair iCUE support: Like most Corsair products, this memory can be customised with Corsair's iCUE software. This is a major positive in our opinion, as we believe that the iCUE software is one of the best options available.
Things We Don't Like
Pricier option: Whilst the difference in price between this RAM and other DDR4 kits is pretty small, the RGB lighting and lower latency does come with a larger price tag. Therefore, anyone looking to save as much money as possible should look elsewhere before committing to this kit.
DDR5 would last longer: As DDR5 memory becomes cheaper, the improved performance the new kits provide seems to be more of a worthwhile investment. Whilst this comes with a heftier price tag, it ensures this build wouldn't become outdated.
Where to Buy
Buy the Corsair Vengeance RGB Pro SL on:
SSD: Corsair MP600 GS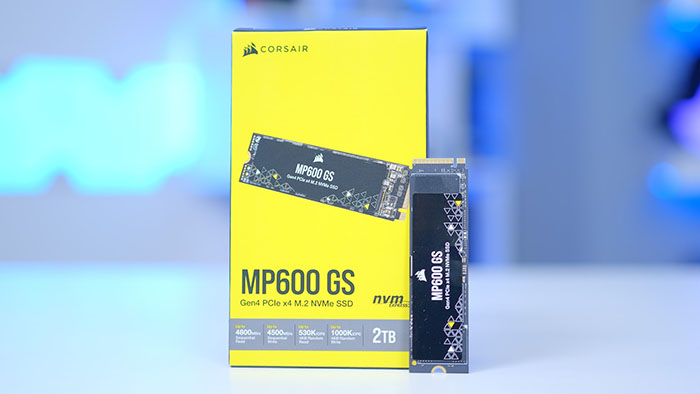 Introduction
Another Corsair product makes an appearance in this build, as our storage option is the MP600 GS. There are plenty of great SSDs on the market, all of which are slowly dropping in price, but this option from Corsair is one of the most affordable options which has the firepower needed to slot into our gaming PC. With an M.2 form factor, this SSD is very easy to install, and possesses the read and write speeds required to play modern titles with ease.
The 1TB capacity should be more than enough to store a handful of blockbuster titles, along with a plethora of indie games. Whilst gamers may want to consider adding or upgrading this storage over time, 1TB is a good starting point for any modern build. As a gen4 SSD, the MP600 GS has all the tools needed to optimise the performance of this build, whilst adding plenty of space for a collection of games and applications.
Key Specs
| Key Specs | Corsair MP600 GS |
| --- | --- |
| Capacity | 1TB |
| Read Speeds | 4800MB/s |
| Write Speeds | 4500MB/s |
| Interface | PCI-E Gen4 x4 |
| Form Factor | M.2 2280 |
Things We Like
Easy to install: The M.2 form factor on this SSD makes it incredibly easy to install. In fact, M.2 storage is arguably the easiest component to install when building a gaming PC.
Affordable price tag: Even though all gen4 SSDs appear to be dropping in price, the MP600 GS is still one of the cheapest options on the market. This makes it a great option for this build, as it is an easy way to keep the overall cost down.
Things We Don't Like
Faster option available: As a more affordable design, this SSD doesn't have the performance to match the expensive alternatives. Because of this, anyone wanting the best performance possible may want to spend more money on their SSD of choice.
May require additional storage: 1TB should be enough to store at least a handful of games at once, without the need to constantly move files around. However, gamers that enjoy playing lots of blockbusters, or just don't like moving games around, then more storage will be needed fairly quickly.
Where to Buy
Buy the Corsair MP600 GS on:
PSU: Corsair CX650F RGB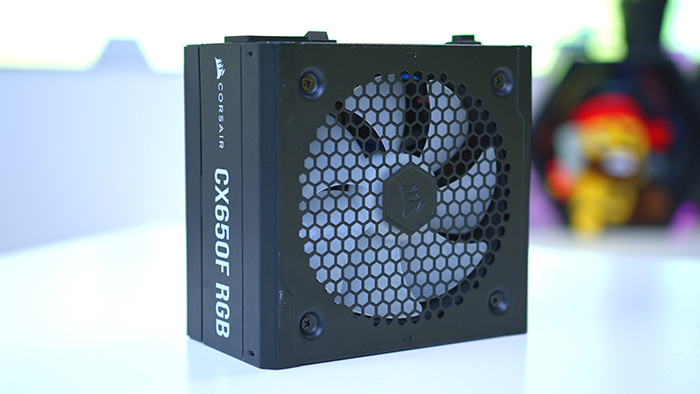 Introduction
To complete the Corsair hat-trick, we have the CX650F RGB. This 650W power supply is one of our favourite budget-friendly options available, as the fully modular design and inclusion of RGB can be difficult to find at such a reduced price point. The 650 Watts of power should be more than enough to keep all of the components within this build running without making too much of a fuss.
With this PSU being fully modular, builders have total freedom over which cables are connected, making the organisation within a build less complicated and frustrating. However, the most glaring feature is the inclusion of RGB lighting, which adds an extra dose of colour to our gaming rig.
Key Specs
| Key Spec | Corsair CX650F RGB |
| --- | --- |
| Wattage | 650W |
| Efficiency Rating | 80+ Bronze |
| Modularity | Fully modular |
| ATX Standard | ATX 2.0 |
| Zero Fan Mode | No |
Things We Like
Fully modular: Cable management can be one of the most difficult aspects of a PC build, so having a fully modular design which helps to reduce the hassle of tidying cables is always appreciated.
RGB lighting: It's pretty rare to see any form of RGB on a power supply, so to have it included on a budget-friendly option like this is a welcomed surprise. With Corsair iCUE compatibility included, the lighting effects on this PSU can be customised and synched up with our other Corsair products.
Things We Don't Like
80+ Bronze efficiency: Though this 650W power supply shouldn't be pushed too much in this build, a higher efficiency such as 80+ would be better at keeping this system as cool and quiet as possible.
Lack of zero-fan mode: In a similar fashion, the lack of zero-fan mode means this PSU will be constantly be making some sort of noise. On top of this, the fan always being on will reduce the longevity of this power supply.
Where to Buy
Buy the Corsair CX650F RGB on:
Case: Cooler Master CMP 320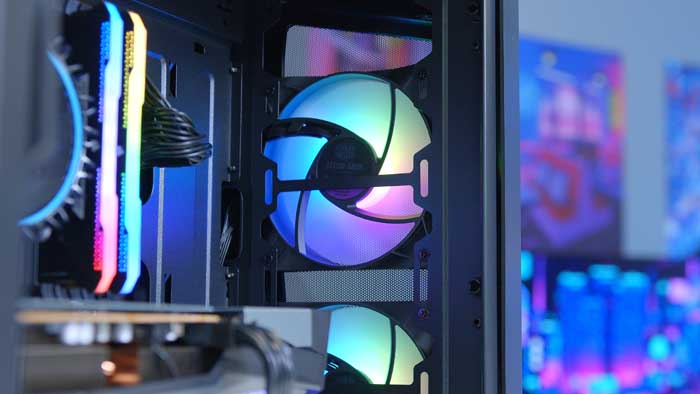 Introduction
Finally, it's time to a look at the case that will be keeping all of the components safe and in on top form, the Cooler Master CMP 320. Compared to the wide range of Cooler Master cases we've used in previous build, the CMP 320 is slightly more compact, but the overall design follows a similar quality and practicality to its larger counterparts.
Whilst the appearance of the chassis remains fairly straightforward, the mesh geode front panel offers a distinct look that is easy to integrate into a gaming setup. Plus, the mesh panel provides plenty of airflow, allowing our components to remain nice and chilly. As for compatibility, the choices of components are slightly limited compared to the typical Mid Tower designs, but most budget and mid-range gamers should be able to configure a strong build in this case.
Key Specs
| Key Specs | Cooler Master CMP 320 |
| --- | --- |
| Form Factor | Mini-ITX |
| Fan Support | 5 x 120mm, 2 x 140mm |
| Motherboard Support | Micro-ATX, Mini-ITX |
| Max GPU Length | 365mm |
| CPU Cooler Clearance | 163mm |
Things We Like
Great for cooling: The mesh design on the front panel and ventilation surrounding the chamber makes it easy for air to flow through the case. On compact designs like this one, having lots of airflow is important, as the reduced space leaves components at risk of overheating.
Compact design: One of the biggest advantages to picking up a smaller case is that it takes up a lot less space on a desk. More traditional cases require lot of space, so this case is a strong alternative for anyone with limited room within their setup.
Things We Don't Like
Limited component choice: The biggest weakness of the CMP 320 is the limited compatibility with components, which is due to the reduced form factor. Though most budget and mid-range gamers will be able to work around this pretty easily, high-end gamers will struggle to find parts that fit into this case.
Looks simplistic: Compared to a lot of cases available for a similar price, the aesthetic on this chassis lacks the design features needed to make it stand out from the crowd. As a result, those looking for some wow-factor may want to look elsewhere.
Where to Buy
Buy the Cooler Master CMP 320 on:
Budget-Friendly Gaming Peripherals
To match our cost-effective gaming PC, we've decided to pick up some budget-friendly gaming peripherals to go alongside it. Here's the mouse, keyboard, and headset that we believe are worthy investments for RX 7600 users.
Razer DeathAdder V2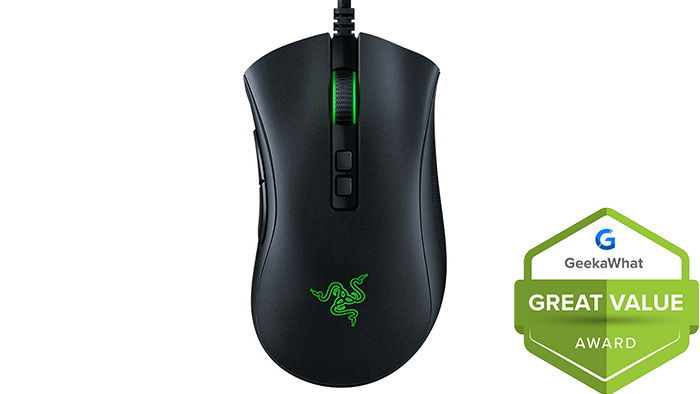 The combination of a 20,000 DPI sensor and a 1000Hz polling rate, the Razer DeathAdder V2 provides top-tier gaming performance at a very reasonable price point. Though this does come at the cost of a wired connection, the savings made to achieve such a reliable and versatile mouse at a budget price point is impressive, so much that we gave it a GeekaWhat Great Value award!
Buy the Razer DeathAdder V2 on:
Logitech G Pro TKL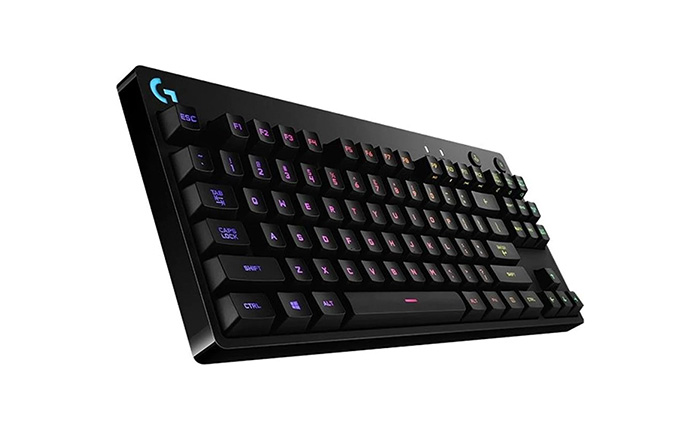 For our keyboard of choice, we opted for the Logitech G Pro TKL. Those familiar with this product may be wondering why it is featured as a budget peripheral? Well, this keyboard has been regularly available on sale, dropping it down to a price within the range of most budget gamers. When on sale, this keyboard designed for professional gamers acts as a great pick for those serious about upping their game.
Buy the Logitech G Pro TKL on:
Corsair VOID Elite RGB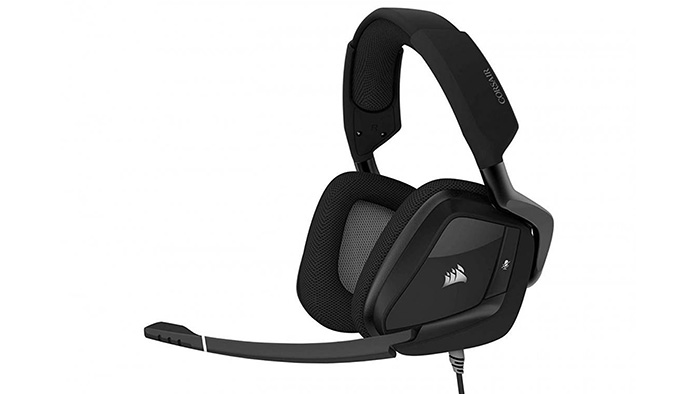 Adding to the Corsair influence within the build itself, our headset of choice is the Corsair VOID RGB Elite. Whilst it is slightly pricier than most budget-oriented consumers would like, this headset is one of the cheapest options to access a discord-certified headset that is also very comfortable and include 7.1 surround sound.
Buy the Corsair VOID Elite RGB on:
RX 7600 Gaming Benchmarks
Now that we've broken down all the parts used in this build, along with some suggestions for gaming peripherals to get the best performance possible out of it, the time has come to finally see how well it truly performs. As a graphics card that sits towards the lower-end in terms of pricing, we're not expecting this card to outperform any of the latest releases from either Nvidia or AMD themselves. However, we are hoping the RX 7600 can provide a significant bump in performance compared to the mid-range offerings from the previous generation of GPUs.
In this section, we'll be analysing the performance of the RX 7600 in a range of different titles, as well as experimenting with settings at both 1080p and 1440p, to see how this card stacks up against other budget and mid-range options on the market. This will then determine our thoughts on whether AMD's latest release is worth considering or not.
Warzone 2.0 – 1440p High DLSS/FSR
Starting off with Warzone 2.0 at 1440p high settings, the RX 7600 lives up to expectations here, sitting between the old and new generation offerings. Whilst FSR struggles to provide the same benefits that DLSS brings to Nvidia's GPU range, the 7600 stands its ground here, falling just a few frames shy of the new and more expensive RTX 4060Ti. Also, it achieves the 120FPS that is considered the standard for competitive shooters like Warzone 2.0, meaning RX 7600 gamers won't be left in the dust.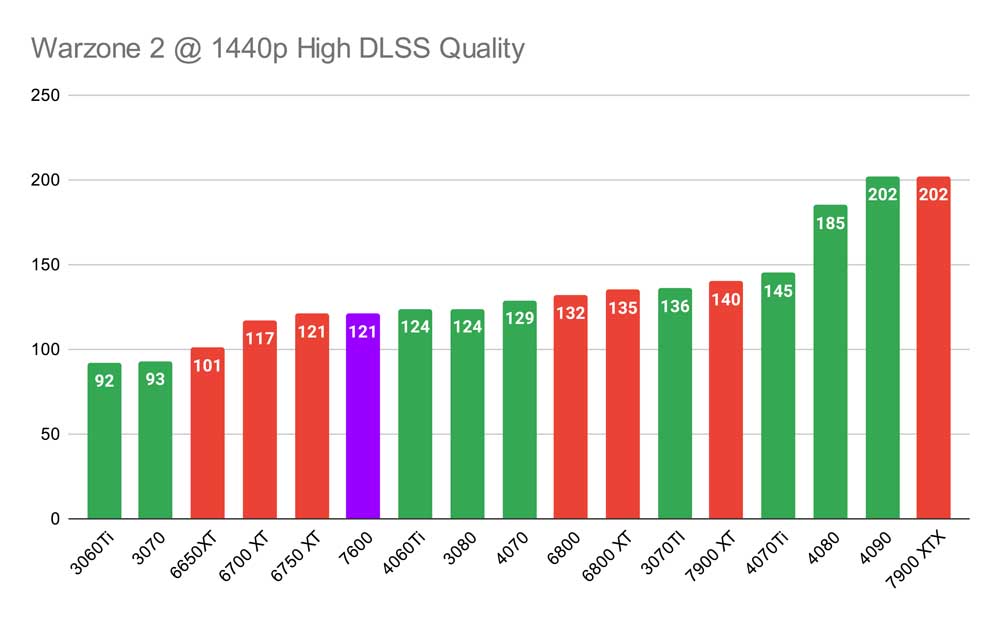 Spiderman Miles Morales – 1080p High DLSS/FSR
In Spiderman Miles Morales, the RX 7600 was on par with a lot of AMD's other offerings, including the high-end Radeon 7000 series cards. Whilst the 7600 being just a few frames shy of the 7900 XTX and 7900 XT seems to suggest that the game itself isn't optimised for AMD's FSR technology, RX 7600 users will be happy to hear that they aren't missing out on too much performance when swinging through the streets of New York.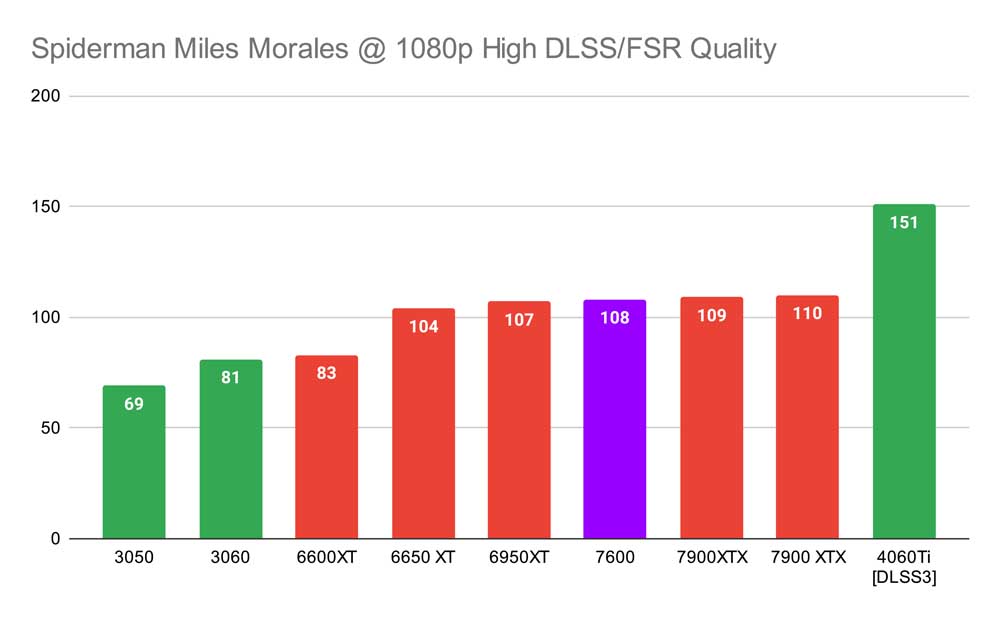 Overwatch 2 – 1440p Ultra
Moving back towards the competitive titles with Overwatch 2, and the performance of the RX 7600 at 1440p was disappointing at best. Producing frames per second that struggled to keep up with the likes of the RTX 3060Ti and RX 6750 XT, AMD's latest graphics card was miles off the pace in this one. But on the bright side, the 177FPS is still clear of the maximum 165Hz refresh rate that most 1440p monitors can display.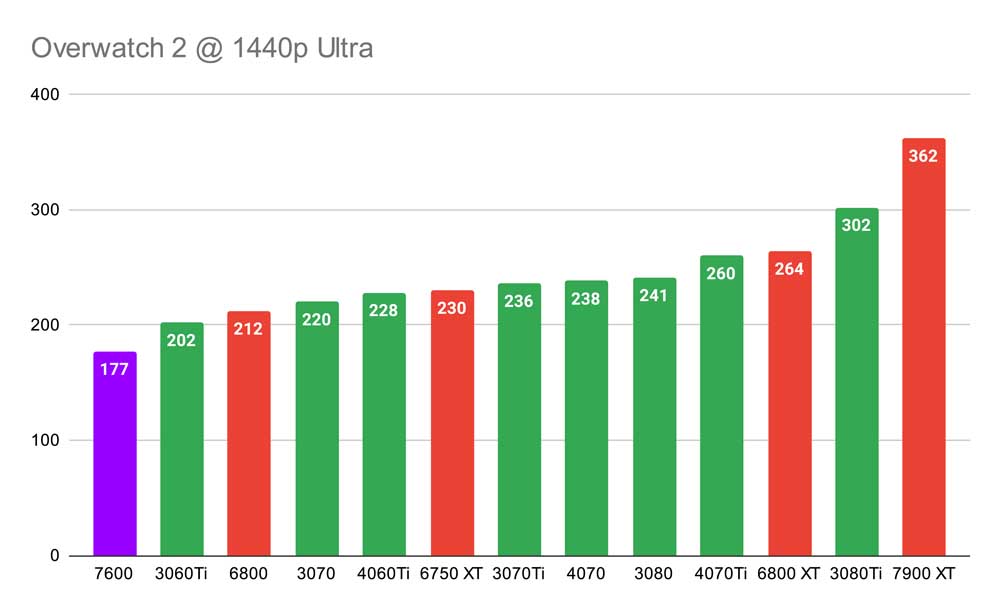 F1 2022 – 1080p Ultra High DLSS/FSR
Finally, let's take a look at F1 2022 on ultra high settings with FSR enabled. In this instance, the RX 7600 was back on track, comfortably overtaking the performance possible on most of the previous generation offerings. The 197FPS will be fast enough to provide budget gamers with a premium 1080p gaming experience. However, it struggles to compare with Nvidia's RTX 4060Ti, which performs well above the 240Hz mark found on lots of premium 1080p displays.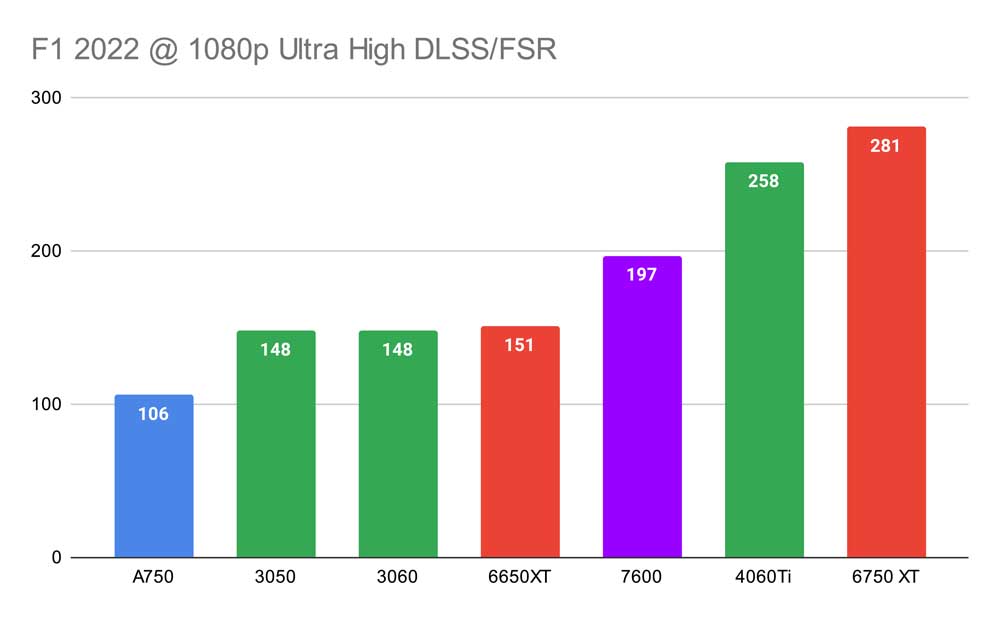 Conclusion
After looking at a wide range of benchmarks, including the examples above, we're still yet to be convinced that the RX 7600 has achieved its mission of providing a better gaming experience than the lower-end cards from the previous generations. Whilst the RX 7600 provides great gaming performance at 1080p, easily surpassing its predecessors, it struggles to provide consistency at 1440p.
But with that being said, the lower pricing of this GPU, especially compared to the other cards that have released this year, makes the RX 7600 a great option for budget gamers wanting the best 1080p gaming experience possible. On top of this, the budget market has been waiting for a card that truly provides an affordable entry-level into the latest generation of graphics cards, and the RX 7600 appears to have ticked that box.
Gallery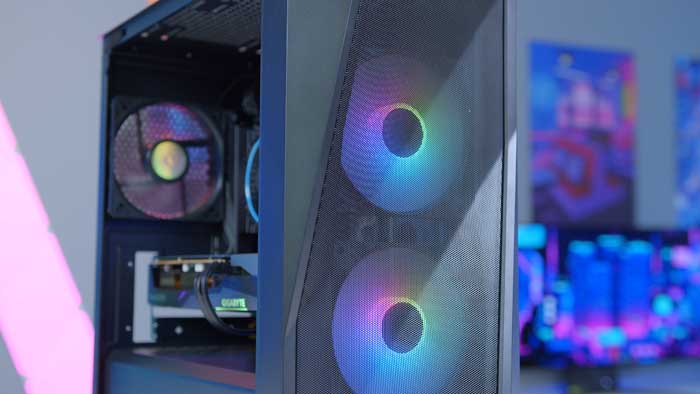 Video