Introduction
When it comes to building a Gaming PC, the hardest decision is always picking the best parts for your system. To do so successfully, you first need to look at what you want to achieve from your Gaming PC Build. Is it 1080p, competitive gaming you're after? Looking to boss the latest titles at 4K? Or instead, is the middle-ground of 1440p gaming for you? If so, we've got just the build for you. An awesome, 1440p Gaming PC build.
This system is perfect for playing the latest titles at 1440p, providing great frame rates in Battlefield 2042, COD Vanguard, Fortnite and many more. As usual, we'll delve into a more thorough look at performance further down, but the system presented some superb performance numbers in our testing.
| | | | |
| --- | --- | --- | --- |
| Game | Resolution | Settings | Avg. FPS |
| Fortnite | 1080p | Competitive | 234 |
| Apex Legends | 1440p | High | 138 |
| COD Warzone | 1440p | High | 97 |
| Battlefield 2042 | 1440p | High, DLSS On | 92 |
| COD Vanguard | 1440p | High | 110 |
| GTA V | 1440p | High | 152 |
| Forza Horizon 5 | 1440p | Ultra | 93 |
For a full run down of the performance, check out the benchmark section below!
Suggested Article: PC Building Checklist – How to Build a Gaming PC
Main Components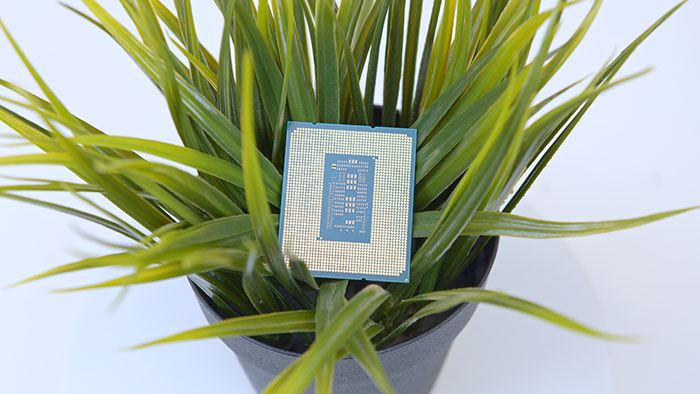 CPU: Intel Core i5 12400F
Intel's Core i5 12400F is a brilliant processor that will give you some wiggle room when it comes to squeezing the best performance out of games! The newest 12th generation range of CPUs have loads of new features, that provide plenty of options for your build. At the GeekaWhat office we're particularly fond of the i5 12400F – with a great price point and single and multi-threaded performance you can't go too far wrong.
Buy the Intel Core i5 12400F on:
---
Key Facts:
Boost Clock Speed: 4.4GHz
Core Count: 6
Thread Count: 12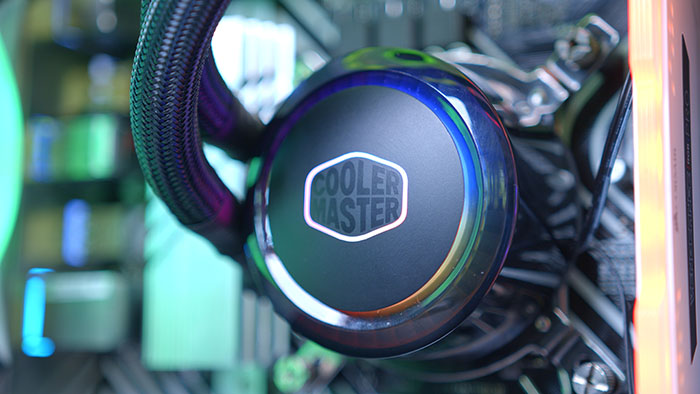 CPU Cooler: CoolerMaster MasterLiquid ML240R RGB
The CPU we've picked isn't unlocked to get some prime overclocking underway, but good thermals are ideal in any build. The ML240R CPU cooler is a a low profile dual chamber pump – impervious to oxidation and corrosion. The radiator comes equipped with 2 MF120R ARGB fans adding an awesome lighting display to the rest of the rig.
Buy the CoolerMaster MasterLiquid ML240R RGB on:
---
Key Facts:
Max RPM: 2000RPM
Connector Type: 4-Pin
RGB: Yes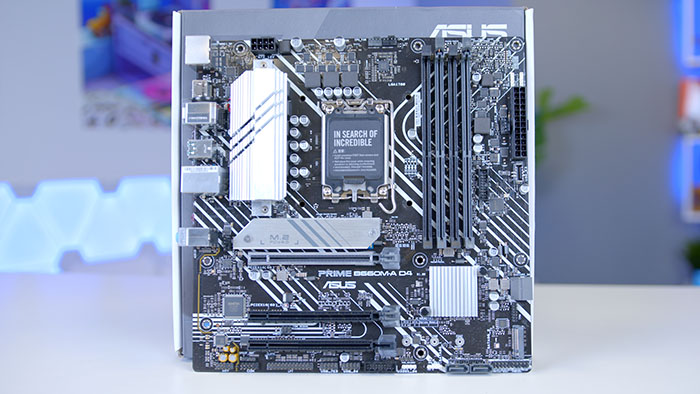 Motherboard: ASUS Prime B660M-A D4
The ASUS Prime B660M-A D4 covers one of the philosophies we believe in at GeekaWhat – bringing PC building to the mass market. We've looked at some of the features we love in more depth for this board, so be sure to go and check out our full write up.
Buy the ASUS Prime B660M-A D4 on:
---
Key Facts:
Form Factor: microATX
Built-in IO Shield: No
Max Memory: 128GB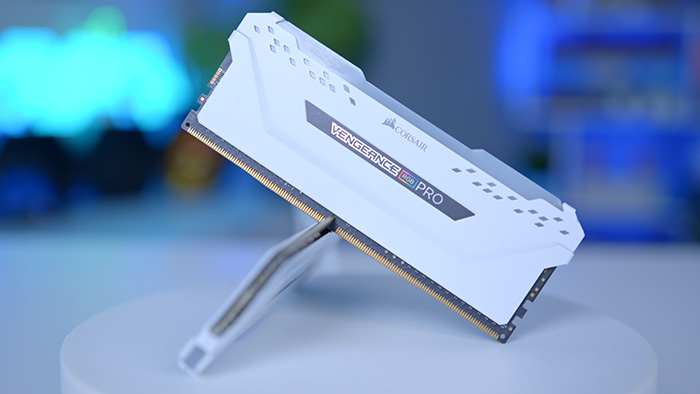 RAM: Corsair Vengeance RGB Pro White 16GB
Corsair's RAM options are rather varied, and do not disappoint! For this build we've picked the White edition of the Vengeance RGB line-up. This fits in quite well with the white aesthetic we've gone for, and adds some flair with the multi-zone iCUE compatible RGB.
Buy the Corsair Vengeance RGB Pro White 16GB on:
---
Key Facts:
Capacity: 16GB
Clock Speed: 3200MHz
CAS Latency: 16-18-18-36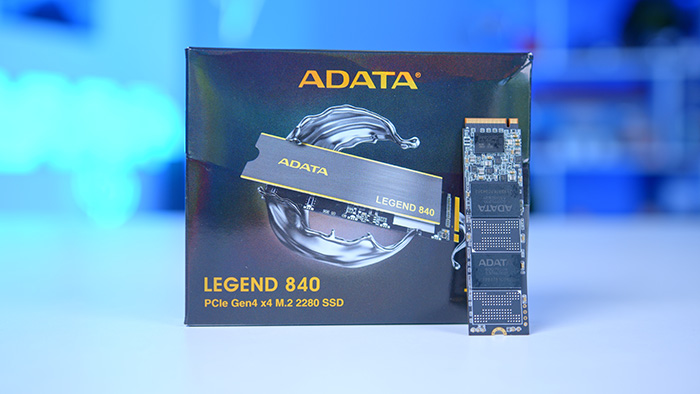 SSD: ADATA Legend 840 1TB
ADATA's Legend 840 is one of the new innovations that released with the upgrade to Gen 4 PCI-E M.2 SSDs. This drive has excellent read/write performance, has LDPC & AES 256-bit encryption and works in Sony's latest console – the PlayStation 5. A really solid addition to this balanced system.
Buy the ADATA Legend 840 1TB on:
---
Key Facts:
Capacity: 1TB
Read Speeds: 5000MB/s
Write Speeds: 4500MB/s
Interface: PCI-E Gen4 x4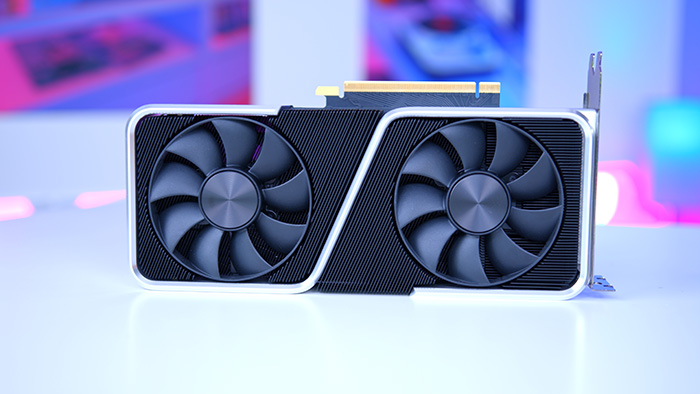 GPU: RTX 3060Ti Founders Edition
The Founders Edition 3060Ti is the first iteration of this specific RTX graphics card introduced by Nvidia. You can take on the latest games with the Ampere technology, featuring 2nd generation RT cores and more CUDA Cores than on the last gen. These cores work perfectly in combination with DLSS boosting performance in games with deep-learning AI tech. Perfect for gaming at 1440p, it is also a superb card for high frame rate 1080p gaming in the latest AAA titles.
Buy the RTX 3060Ti Founders Edition on:
---
Key Facts:
CUDA Cores: 4864
TDP: 200W
RT Cores: 38
Case: Lian Li Lancool 215
In this build we've opted for the white edition of Lian Li's Lancool 215. This PC case features mesh panels, which provide superb, unobstructed airflow. The Lancool 215 also has a wide range of support for multiple fans, radiators and every consumer motherboard!
Buy the Lian Li Lancool 250 on:
---
Key Facts:
Form Factor: Mid-Tower
Fan Support: 7
Motherboard Support: MiniITX, microATX, ATX, E-ATX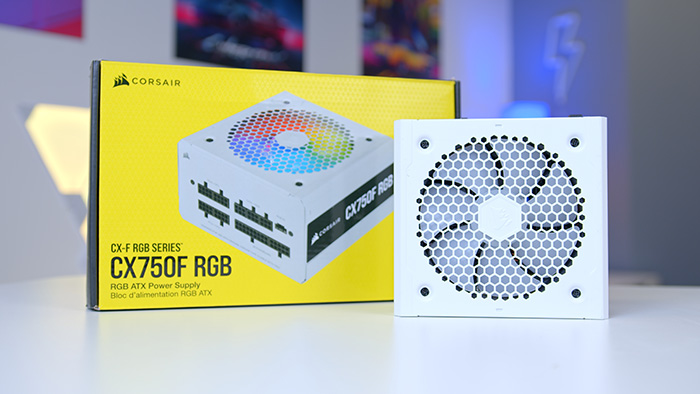 PSU: Corsair CX750F RGB
The PSU we've picked is a great fit for wattage in this build. The CX750F is fully modular allowing us to optimise our cable management. It also comes with the crisp RGB lighting that we love to see in PC builds. You can even sync the RGB lighting of the fans, RAM and PSU to go all-out on the lighting front.
Buy the Corsair CX750F RGB on:
Key Facts:
Wattage: 750W
Modular: Yes
Efficiency: 80+ Bronze
Extra Components
In this build, we really wanted to push the white aesthetic as far as we could, so we added in some extra fans to bring additional flair.
Corsair QL Edition RGB Fans
Corsair's suite of RGB fans certainly aren't cheap, but they look the part and operate quietly. Channeling some nice extra airflow into this build, they add an aesthetic and performance touch that is well worth the cash.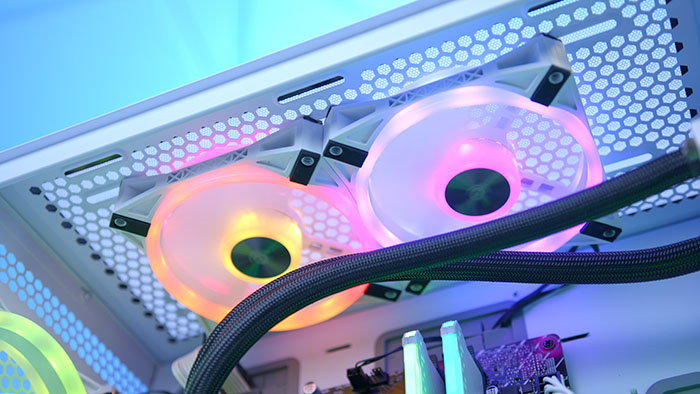 White Peripheral Options
To fit in with the overall design and colour scheme for the build we've picked 3 of our favourite white peripherals to finalise the rig we've put together. The peripherals we've chosen are well-rounded in terms of features, but the design is at the forefront. You'll still have an edge in all of your games, but we've also been price conscious to match the rest of the philosophy for the build.
DeathAdder Essential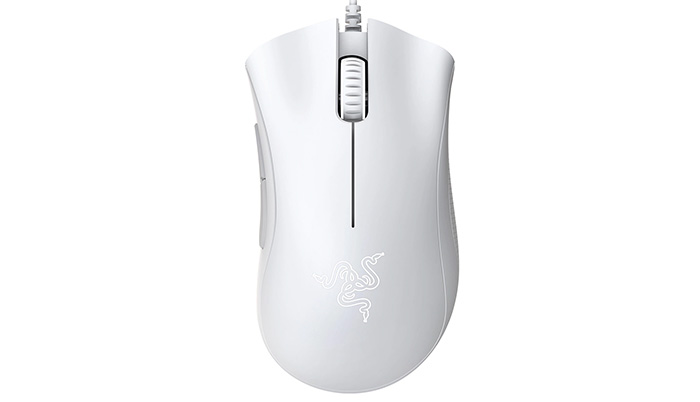 The DeathAdder essential is an ergonomic mouse with a sleek body designed for comfort. Combined with Razer's precise 6400 DPI sensor, the DeathAdder offers a competitive edge but at an excellent price point – something we love at GeekaWhat! Overall, this mouse is a brilliant white peripheral with a lower price tag and great performance to match.
---
Corsair K65 RGB Mini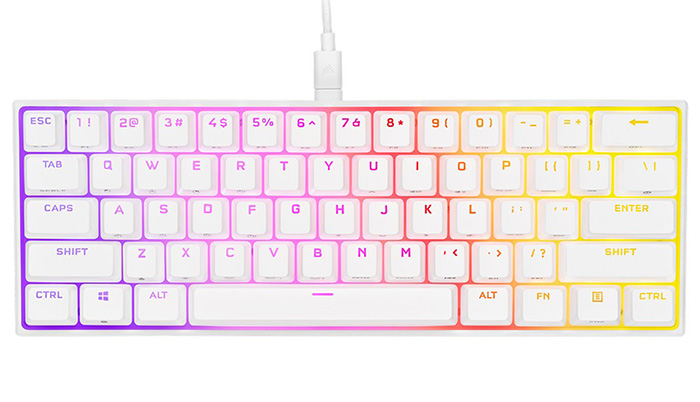 We've recommended this peripheral in our Stunning All-White 3070Ti Build, and we're recommending it again, because the K65 RGB Mini is an awesome keyboard. Ideal for portable builds due to its small form factor. The per-key lighting also works amazingly with Corsair's industry leading iCUE software, which will sync up your RGB for a lightshow spectacle.
---
Razer Kraken Mercury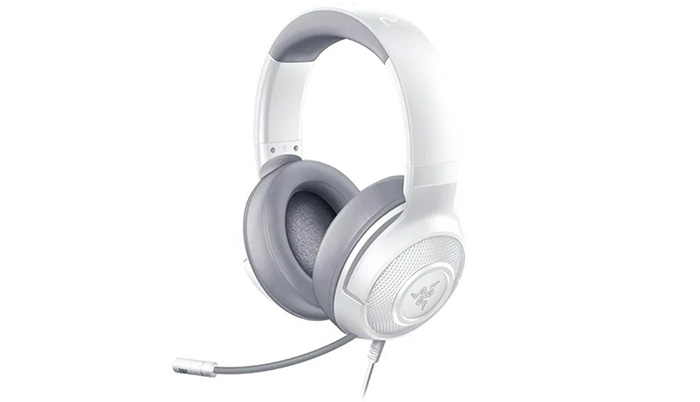 The Razer Kraken Mercury is one of the most popular multi-platform headsets. The cushioned headband and leather ear pads are a cosy and snug fit. With an omni-directional retractable microphone and a white colour scheme, this headset fits perfectly within the build we've put together today. Another awesome addition to today's build great for price conscious gamers!
---
Benchmarks
Did you know we have a gaming benchmarking channel? Well now you do! From our very own YouTube channel 'Benched' we have a wide range of different comparisons of graphics cards that we've reviewed on our website. We've looked at various triple A titles with these benchmarks to show the performance of GPUs available on the market. In this video we're looking at the Founders Edition 3060Ti on one of our favourite games- Apex Legends.
Gallery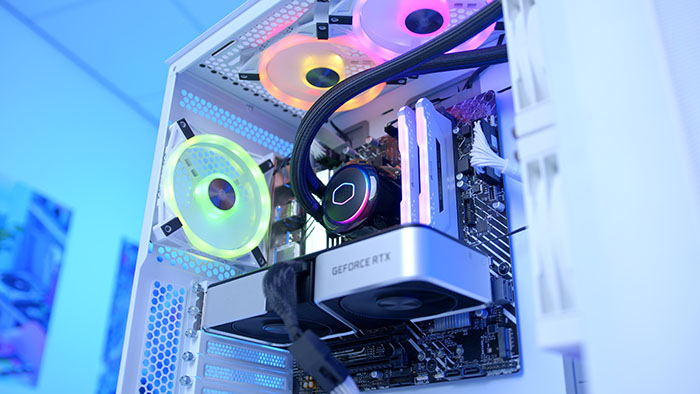 Video