Introduction
4K gaming has been a luxury for a number of years now, with many manufacturers using the buzzword to push sales on their high-end displays. And whilst premium monitors have started to drop in price, 4K gaming is still out of reach for the average gamer, with 1440p and 1080p being the preferred resolution.
Because of this, high-end 4K displays releasing nowadays require more premium features to make them stand out from the crowd and validate the higher price point. Does the Corsair Xeneon 32UHD144 do enough to impress, and set itself off from the rest?
Buy the Corsair 32UHD144 from:
Should I Buy a 4K Gaming Monitor?
As we mentioned earlier, playing games at 4K is more of a luxury than a necessity. Most gamers will be perfectly fine with 1440p and 1080p resolutions, as the lower performance overhead of driving this resolution often also results in higher game frame rates, but for some this higher resolution can be really worth it.
The first thing to consider when deciding whether or not you should buy a 4K panel, is your budget. If spending money is tight, gathering the right components for a 4K setup will be near impossible – and that's before you've actually purchased the panel itself. However, if you are ready to splash out on a number of upgrades or already have a powerful 4K-ready PC, then the bump in visuals is worth it.
Another consideration is the types of games you play and the settings they demand. Competitive gamers should prioritise increased performance, making the higher frame rates available at 1440p or 1080p a more viable option for fans of FPS games such as Call of Duty. However, story-driven games like God of War or Elden Ring will receive a major boost from the visual fidelity of 4K, with the improvements to textures and landscapes increasing immersion. Easier to run titles, like racing games and strategy titles, are also a viable option, as hitting the 60 or 100FPS required for a smooth gaming experience is possible at 4K.
Finally, anyone that is looking to use their display for a mixture of gaming and productivity will also benefit from an increased resolution. The clearer and more accurate image will make managing workloads and multi-tasking a lot easier. I also find 4K displays to provide a generally more pleasant user experience that over time helps to justify the added cost.
In summary, if you have the funds and are not fussed by potential losses in frame rate, then 4K is the way to go. But if you are looking for better gaming performance at a reduced price, you are better of sticking with 1440p or 1080p.
Suggested Article: Best 4K Gaming Monitors to Buy in 2022
Corsair Xeneon 32UHD144 Aesthetics & Design
Now that we've figured out whether 4K is the right option for you, it's time to look at the design of Corsair's Xeneon 32UHD144. At first glance, the aesthetic of the monitor itself is pretty simple compared to other premium monitors. The subtle design with ultra-slim bezels and matte finish is pleasing to the eye and lets the display take center stage.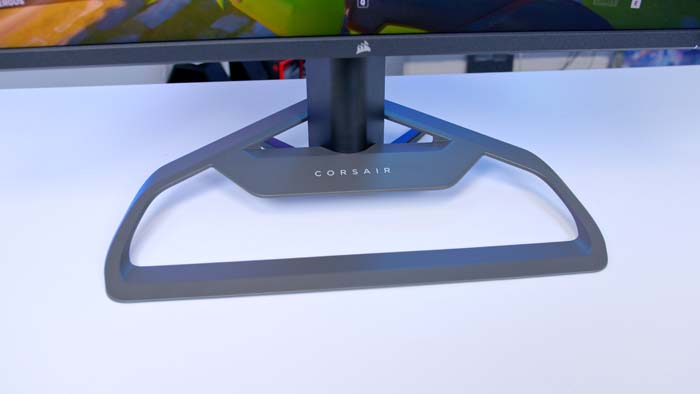 On the other hand, the design of the included stand is more outlandish. The hollow aluminium base continues the matte appearance of the monitor whilst offering a more innovative design that will make it stand out on your desk. The stand also offers plenty of durability and functionality, with adjustable tilt and height, integrated cable management, and a built-in mounting stand.
Whether the frame is to your taste or not, a major downside is the amount of desk space this monitor will take up. Whilst you can replace the stand with a monitor arm, this will remove a lot of functionality features from the overall package, as well as the key aesthetic.
Features
The Corsair Xeneon is packed with a lot of features which are designed to provide boosted performance and visuals in gaming and general tasks. Here is a list of all the features that impressed us during our time with the 32UHD144.
4K Resolution
Staring off with the main selling point, the Xeneon 32UHD144 offers a crisp 4K resolution. The 32-inch UHD display provides a clear image with a bright and bold colour pallet thanks to the quantum dot technology. The clarity of this display became particularly apparent whenever small text or emblems popped up in the corner of a game or web page. No matter how small the item in question was, the Xeneon 32UHD144 made it clear and easy to read, which made sure that I never missed any important details.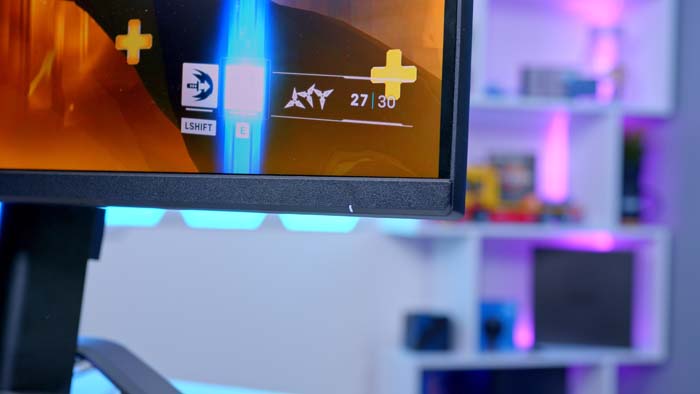 144Hz Refresh Rate
Whilst the resolution is undoubtedly the main reason for picking up the Xeneon 32UHD144, the 144Hz refresh rate is what makes this monitor premium. Cheaper 4K displays will often be capped at 60Hz, making the improved visuals harder to justify in comparison to similarly priced 1440p monitors that offer up to 165Hz refresh rates.
But the Xeneon 32UHD144 gives you the best of both worlds, with a perfect combination of smooth gameplay and striking visuals.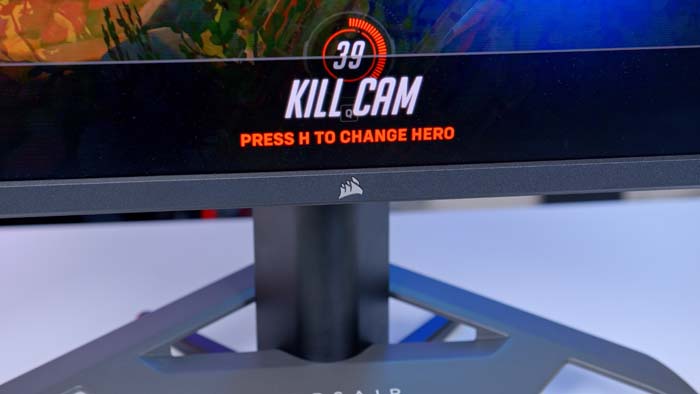 Whilst the HDR on the 32UHD144 is not HDR-1000 like some alternative 4K displays, the colours contrast and saturation is still top-notch, making landscapes and icons appear vibrant.
FreeSync & G-Sync Compatibility
To further enhance visuals and fluidity, both Nvidia and AMD users can make use of additional software. By enabling either AMD's FreeSync Premium or Nvidia's G-Sync technology, games are less likely to suffer from issues such as screen-tearing or low latency. As a result, the image will become clearer and response time will be reduced to create a smoother experience in demanding titles.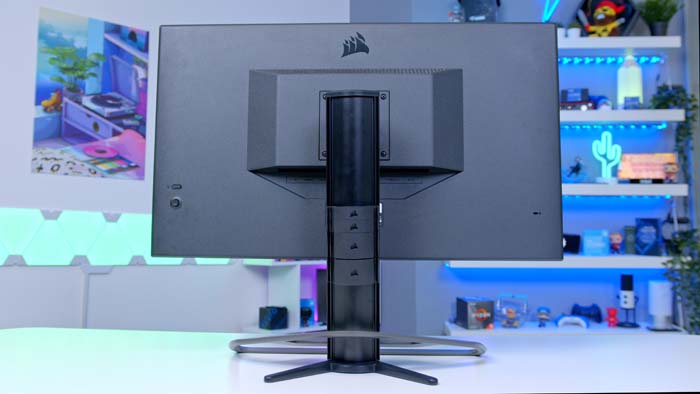 IPS Panel
One of the main benefits I've experienced when using Corsair's monitor is the impressive colour accuracy on the 32-inch display. A lot of this is down to the IPS panel, which provides a more consistent image that is affected less by viewing angles. To fit the Xeneon 32UHD144 into my current desk layout in the office, I spent most of my time viewing it at an angle, and I can confirm that the image remains clear and consistent.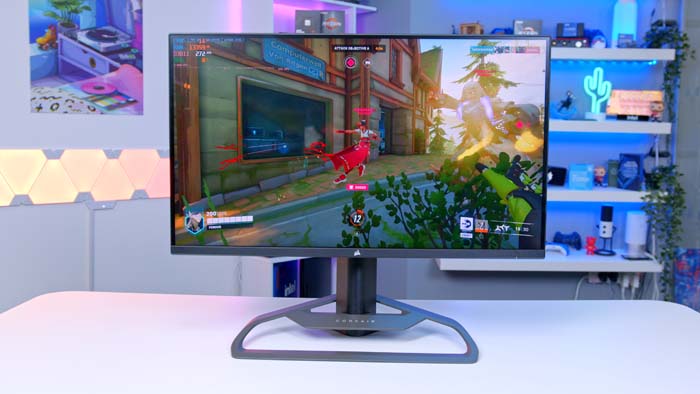 Corsair iCUE Integration
Another bit of software that you can take advantage of is the Corsair's iCUE interface. The iCUE software acts as a control for on-screen settings such as picture modes, source inputs, and audio. These features can also be accessed via the built-in controls on the back of the monitor, which possesses a very smart and easy-to-use interface, the iCUE adds some more advanced settings and lets you sync your display to other iCUE and Elgato devices.
Built-in Mounting Point
Speaking of Elgato devices, one of the unique hardware features on this monitor is the built-in mounting point on the top of the monitor stand. With the help of an external mount or adapter, you can attach a camera or light to the mounting point. This makes the Xeneon 32UHD144 a great option for streamers looking for a high-quality monitor, especially for those that already use Elgato streaming equipment.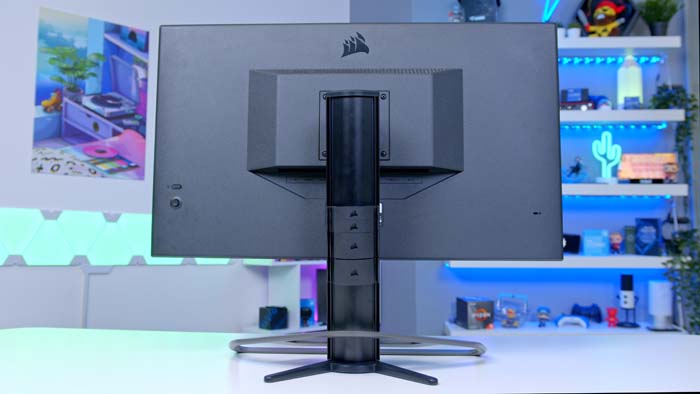 Connectivity
For more conventional connection capabilities, this monitor supports up to 4 visual inputs, with a choice of connecting via HDMI 2.1, DisplayPort 1.4, or USB-C. This versatility makes hooking up your PC or consoles to this monitor fairly simple, with plenty of space for multiple connections at once. Also, the additional 3.5mm audio and USB ports allow you to connect speakers and peripherals straight into your monitor.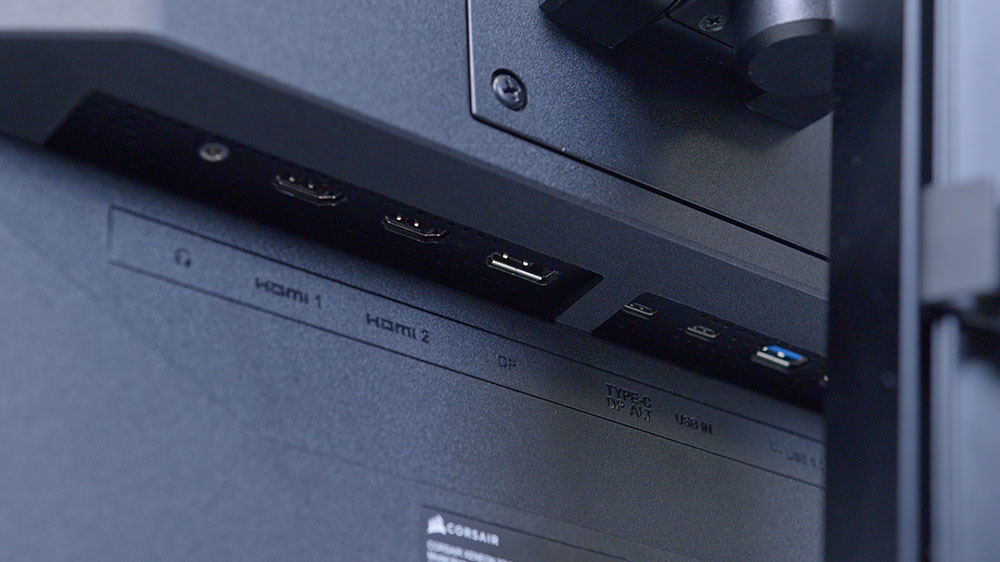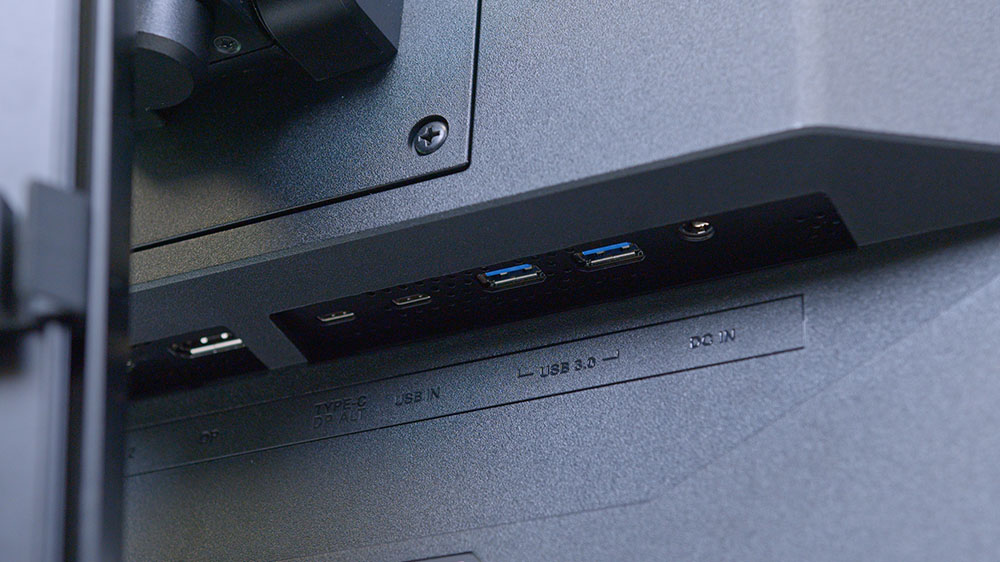 Buy the Corsair 32UHD144 from:
Conclusion
Corsair Xeneon 32UHD144 4K Gaming Monitor
Features

Design

Versatility

Value For Money
Summary
Corsair's premium monitor takes a no-nonsense approach that puts the spotlight on functionality and visual fidelity. The 4K resolution, 144Hz refresh rate, and 1ms response time on this display combine for a crisp and smooth gaming experience in even the most demanding titles. Also, the IPS panel ensures that the image provides a colourful image that is consistently high-quality, and is not hindered by changes in viewing angles. However, the functionality is where the Xeneon 32UHD144 truly shines. The graphical performance makes it an ideal pick for those looking to use their monitor for a number of different games and productivity tasks, and hardware features such as the built-in mounting point and cable management on the stand are great quality-of-life improvements. However, this does come at the sacrifice of a desk space, as the large frame is a requirement in order to get your money's worth. There is no denying that this monitor gets the essentials right, but some software and hardware improvements would go a long way in justifying the premium price point.   
Pros
✅ 4K display offers great visual clarity
✅ IPS Panel keeps image quality consistent
✅ Built-in mounting point is great for streamers
Cons
❌ HDR-1000 could have enhanced visuals
❌ Stand takes up a lot of desk space
❌ Rather expensive for features provided