Introduction
Cooler Master has been a mainstay manufacturer in the case market for quite some time. With renowned cases like the HAF 700 EVO, and the NR200P Colour, Cooler Master have set a high standard for PC components. However, much of Cooler Master's offerings are somewhat older and don't necessarily fit the standardisation changes that have arisen due to newer generations of PC parts.
But as we progress through 2023, we've started to see a number of new cases enter the market, each with refreshed designs. Today it is Cooler Master's turn in the spotlight, as we've got our hands on their brand new TD500 Mesh V2. Cooler Master has revitalised a familiar and popular design with some new features, and an upgraded aesthetic.
In today's review, we'll be taking a look at their brand new TD500 Mesh V2. We'll be delving into the background of the case, whilst looking at the refreshed design, features, and providing some alternatives at the end!
Buy the Cooler Master TD500 Mesh V2 on:
Suggested Article: Cooler Master MasterBox TD300 Mesh Review – Design, Features & Alternatives
The TD500 Mesh Case – Some Background
Cooler Master has been manufacturing cases for quite some time, and thus, they are well known in this particular space. They do manufacture other products, such as coolers and power supplies, but I feel Cooler Master offer a wider range of cases compared to their other components.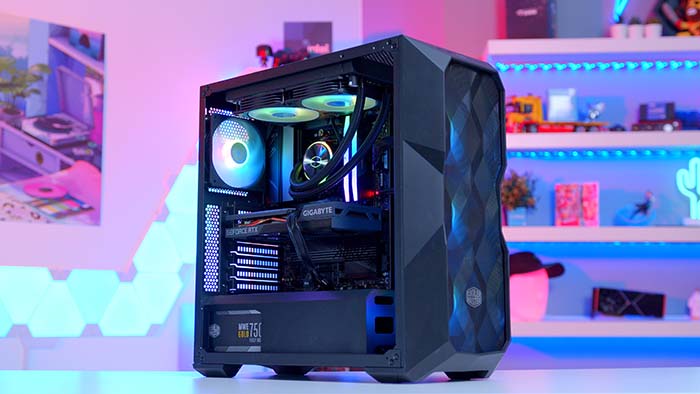 This is where the TD500 Mesh comes in. This particular model is one of Cooler Master's best-selling options, which is why they've decided to freshen things up with a second version. The original TD500 Mesh is a mid-tower design, featuring crystalline tempered glass, a ventilated mesh front panel with vast support for fans, radiators, and motherboards. This case is extremely easy to build in, and although the overall design is relatively simple, consumers have a significant amount of options to build an awesome bespoke PC.
One top of the awesome design, the TD500 Mesh was pretty damn good in terms of it's thermal capability. Although it isn't the best option by any means, adding an exhaust fan alongside a radiator or some more case fans at the top will lower temperatures by a couple degrees. The TD500 Mesh is pretty strong in terms of airflow thanks to the mesh front and ventilated top, so consumers have plenty of options when it comes to attaining good thermals. Overall, we can see why this is Cooler Master's best-selling case.
TD500 Mesh V2 Design and Aesthetics
Moving onto the aesthetic of this case, it doesn't seem like the overall design has been altered much compared to the original version. The TD500 Mesh V2 offers a full coat of colour across the entirety of the chassis. Consumers can choose a traditional matte black design, or a white model, for those building a lighter-themed PC. The side panel of the Mesh V2 spans the height of the case, which provides consumers with a full window into their build. The tempered glass side panel features the same crystalline patterns that the V1 did, so its great to see this return. The side panel is also tool-less, providing consumers quick access to their case internals.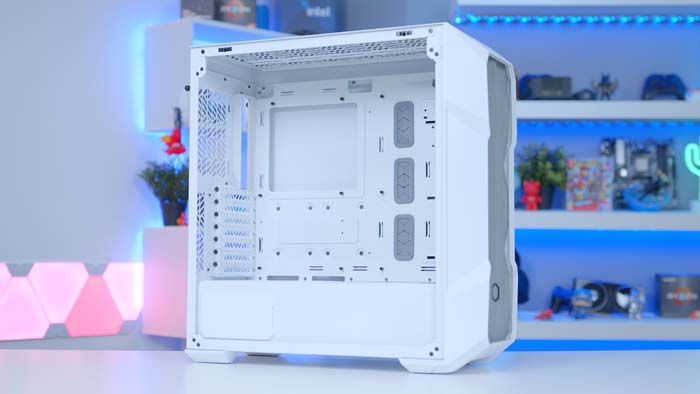 Moving around to the front, you'll be able to see the polygonal mesh design, which provides a way to filter dust while simultaneously offering improved airflow. Though I can't imagine the polygon design offers any improvements when it comes to airflow, it does add some extra depth to the overall aesthetic of the chassis. With concerns to the rest of the chassis, the TD500 Mesh V2 has pretty much remained the same. This new iteration has gained a few millimetres in length, leading to an increase in the overall volume that can hold up to 50L instead of 42L.
The design is simple yet effective, which is ultimately what made the first version of this case so popular. Although, it doesn't seem like Cooler Master have changed much in terms of the aesthetic, which is perfectly fine. This case improves upon the original design, but maintains the same aesthetic, which makes sense as gigantic changes would mean this case wouldn't really be a V2.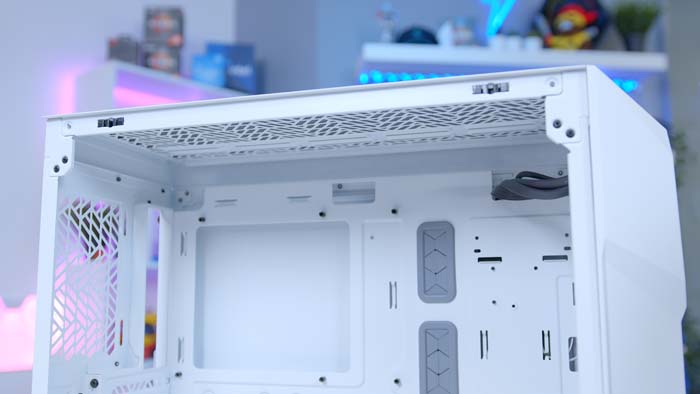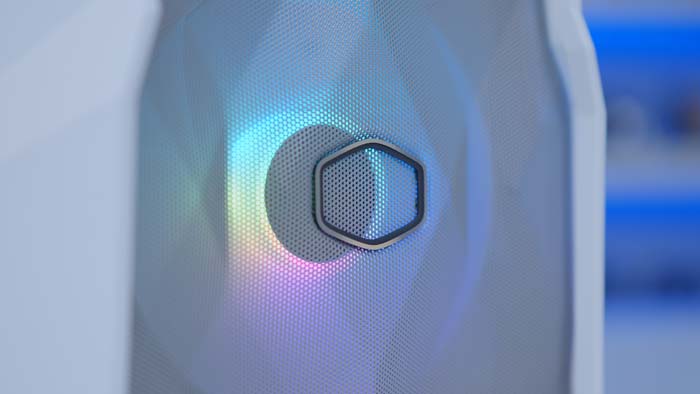 Features
The TD500 Mesh V2 comes with plenty of features that make it an awesome case. We've broken down all of the standout ones, with some detail on the changes that have been made compared to the V1 case as well.
Preinstalled Fans
We all love to see preinstalled fans in any case, because this saves consumers some money in the long run. Much like the TD500 Mesh V1, the new V2 also comes with triple CF120 ARGB fans. These are located at the front of the case, and on their own, they provide pretty good airflow and thermal capability. Because these are ARGB models, they also add some extra flair to a PC build, and can be fully customised using the MasterPlus+ software.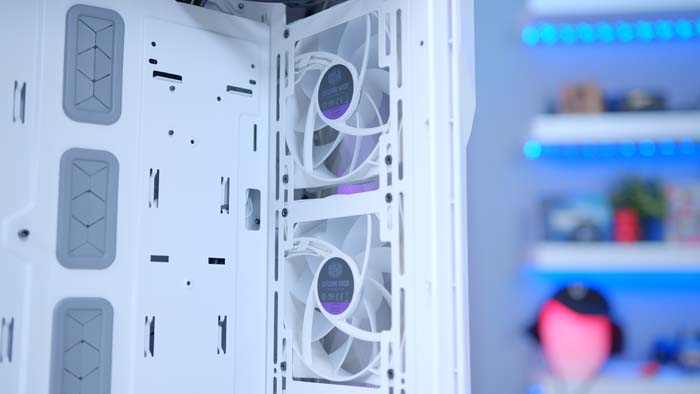 Removable Top Panel
One of the big changes to come with the TD500 Mesh V2 is the fully removable top panel. It can be frustrating when you're having to jam fingers into tight spaces during a PC build. But having a removable top panel gets rid of this problem entirely, allowing consumers to easily cable manage and install the components they need.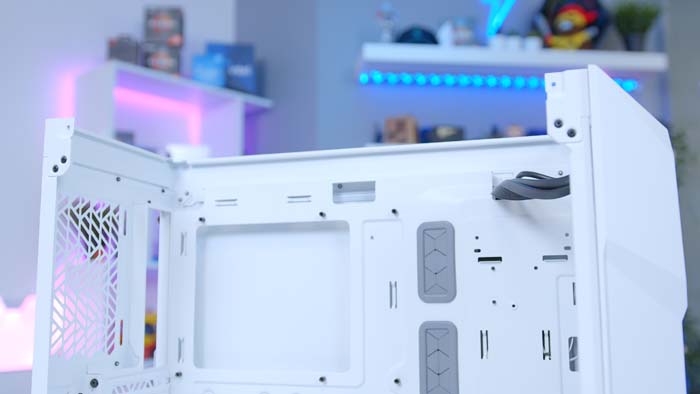 Front IO Support
Although the IO on the original TD500 Mesh wasn't bad, it is relatively outdated by today's standards. The new version improves on this by adding a USB Type-C port, which supports USB 3.2 Gen2, resulting in transfer speeds up to 10Gbps. The rest of the IO has remained the same, with the case providing two USB 3.2 Gen1 ports and an audio jack for either a microphone or headset.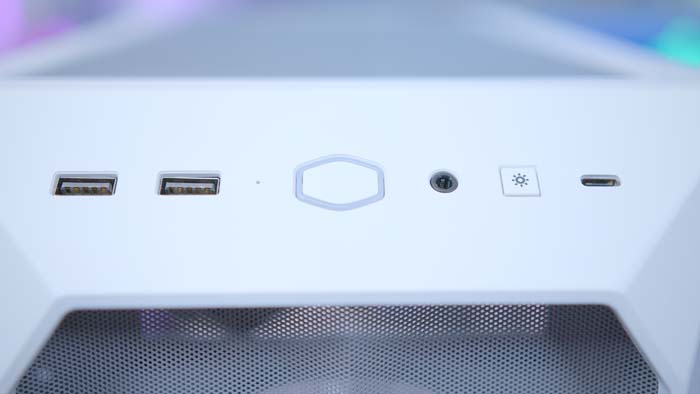 Large Component Support
With the size of components increasing significantly in the past few years, case manufacturers are having to keep up by offering cases that have enough space. The TD500 Mesh V2 has up to 410mm of GPU clearance, and can also house E-ATX motherboards up to 12″ x 10.7″. Although, you'll likely want a bigger case for gigantic components. If you're on a budget, then the TD500 Mesh V2 has plenty of space for the latest generation of graphics cards and motherboards.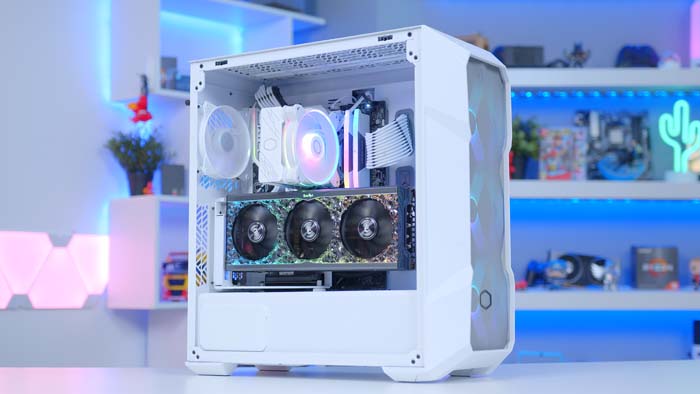 PSU Shroud Removable Cover
One final feature to touch upon is the removable PSU shroud cover. Although the majority of PSUs aren't particularly fancy, or offer much to look at, there are newer designs on the market that come with RGB and LCD panels. The TD500 Mesh V2 allows consumers to hide away their PSU, or gives you the option to show it off to the world with a simple shroud. This is a nice addition to the V2 that didn't feature on the original design.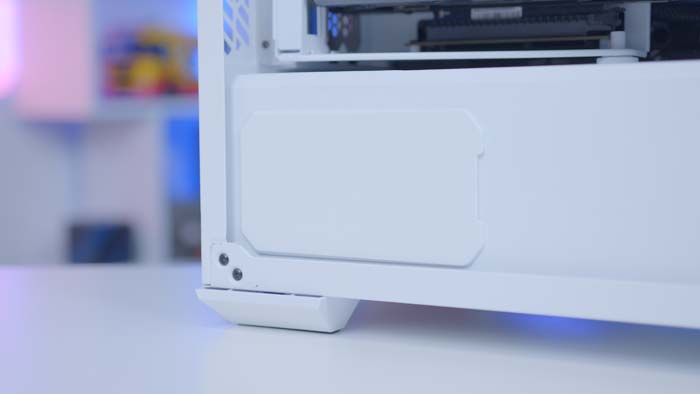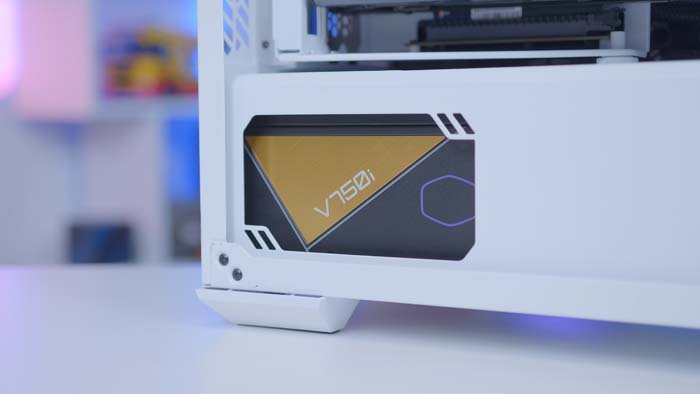 Alternative Options
Although the TD500 Mesh V2 is an excellent case, there are a number of other options on the market offering similar designs at reasonable price points. We've noted down three of our favourites below:
NZXT H7 Flow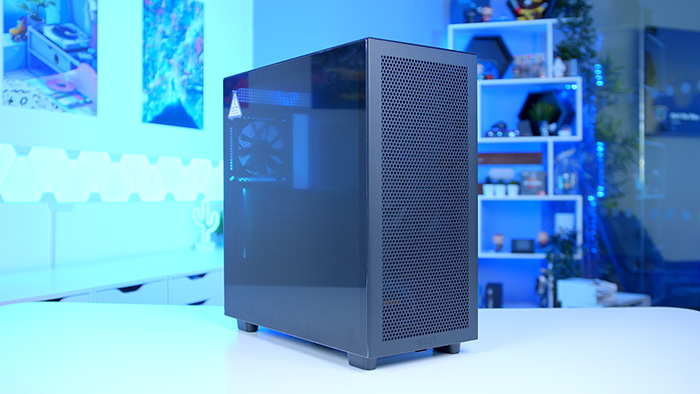 First up is a slightly more expensive option from NZXT, the H7 Flow. The H7 series offered three different chassis' suiting a range of use-cases. The Flow model was the airflow-oriented design that comes with a perforated mesh front panel. The H7 Flow follows the signature NZXT design, which provides a sophisticated and minimalist look. Users will need to buy some extra fans to aid with the airflow of this case. However, this is a great chassis for those that prefer a minimalist design with plenty of ventilation.
Buy the NZXT H7 Flow on:
Corsair 4000D Airflow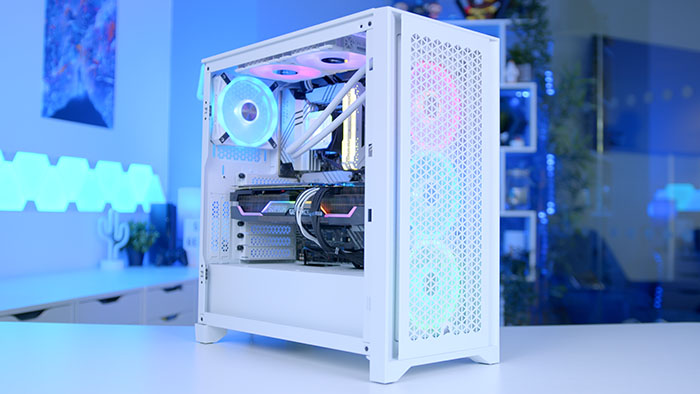 Corsair's 4000D Airflow is one of our favourite cases here in the office, so we've used it in a number of PC builds in the past. Corsair was one of the first manufacturers to pioneer the 'use-case approach' by offering three separate models of the same case that provided options for a range of consumers. The 4000D Airflow comes with a high airflow front panel, with two 120mm AirGuide fans preinstalled. The 4000D also offers excellent cable management and versatile support for a variety of different component configurations.
Buy the Corsair 4000D Airflow on:
Fractal Design Pop Air RGB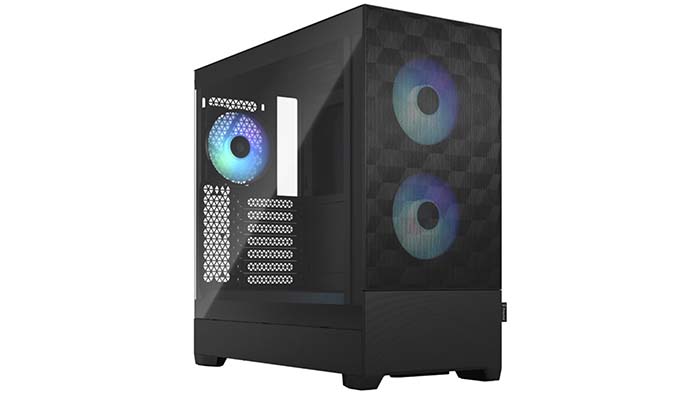 Fractal Design's Pop Air RGB is actually one of my personal favourites, and is an excellent case considering the price. The Pop Air series brought back the nostalgic 'colour-way' design that some consumers might be familiar with. Fractal Design offer a multitude of different colour options that spice up the internals of the case. The Pop Air RGB also comes with three Aspect 12 fans, providing some extra airflow and flair to your build. Overall, a worthwhile purchase for those that prefer an alternative design.
Buy the Fractal Design Pop Air RGB on:
Conclusion
Cooler Master TD500 Mesh V2
Product Name: TD500 Mesh V2
Brand: Cooler Master
Features

Design

Versatility

Value For Money
Summary
Cooler Master's TD500 Mesh V2 is a revised design that we weren't necessarily asking for, but we're happy that it exists. This particular case builds upon the success of the original chassis by keeping the design primarily the same, and throwing in some newer features here and there. I am slightly disappointed that this case is basically the same as it's original design, but based on the MSRP of this chassis, I can't really argue with that. Cooler Master have slightly upgraded a very popular case with some newer features here and there, whilst keeping prices competitive. Although this case won't be particularly ideal for builds prioritising large components, Cooler Master have clearly made an effort to provide as much space as possible to support a range of component configurations. I'd say if you're looking for a cheaper mid-tower case, the TD500 Mesh V2 is an awesome option and is relatively easy to build in. But keep in mind there are other excellent designs (that we've mentioned in the alternatives section) at similar price points.
Pros
✅ Great thermal efficiency.
✅ Vast support for larger components.
✅ Excellent price point.
Cons
❌ Only supports smaller E-ATX boards.
❌ No colour-way options.
❌ Not many new features with the revised design.