Introduction
With the launch of AMD's brand new Ryzen 7000 CPUs, there hasn't been a better time to start building a new gaming PC in a while. The market has received a massive new influx of components, freshening up the possibilities and options for consumers to sink their teeth into.
However, one of the big questions when putting together a build, is what kind of graphics card will work best? Today we'll be looking to take out some of the confusion, through a proven GeekaWhat roundup. We'll be covering the best GPUs to pair up with the Ryzen 9 7900X, with a range of options from both AMD and Nvidia!
Suggested Article: AMD Ryzen 9 7900X Review – Performance & Benchmarks
GPUs – Nvidia VS AMD?
When picking out a graphics card, you've got two choices at your disposal, Nvidia or AMD. Nvidia have dominated the market on the whole, since the RTX 3000 launch, with Team Green set to show further improvements with the RTX 4000 series GPUs. AMD answered back with a relatively lacklustre RX 6000 launch, but has improved greatly since through driver optimisations. That makes both AMD and Nvidia solid options – but who should you go for when buying a GPU?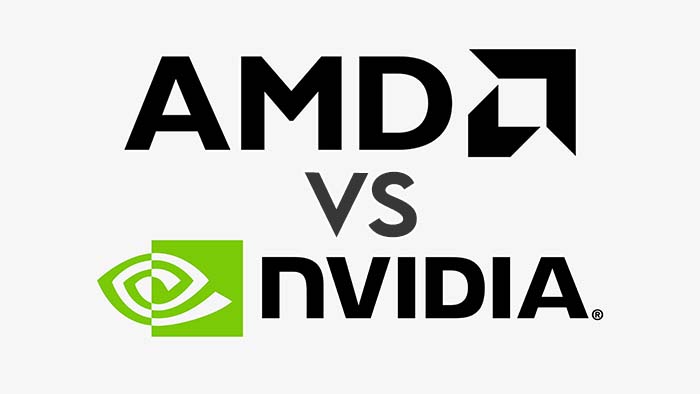 The answer isn't super definitive. Generally, Nvidia graphics cards provide incredible performance, with cards at the top-end pushing out a huge amount of frames and scores in synthetic benchmarks. You've also got the benefit of having access to the industry leading DLSS AI super-scaling, along with Nvidia's incredibly realistic Ray-Tracing technology. Nvidia's top-end cards offer extremely high performance metrics, and despite being expensive, arguably you get what you pay for.
Looking at the AMD side, and there are some great options out there, especially for those looking to save a bit of cash. With the introduction of FSR AMD has also hit back against Nvidia's DLSS, and while they haven't managed to surpass it, they are on a fantastic trajectory. Team Red do have one benefit in this roundup, though. This Benefit is a piece of technology called Smart Access Memory. It allows modern AMD CPUs to tap into the typically GPU-only memory for performance enhancements. This can be particularly beneficial as GPU memory is very quick, allowing your CPU to perform better.
Best GPUs for Ryzen 7900X
Below we've compiled a list of the GPUs that we believe to be the best when pairing up with a Ryzen 9 7900X CPU. All of our GPU recommendations are based on complex in-house testing, to ensure fairness in results. We have also selected cards which we believe to be a good match for the high-end, well performing Ryzen 9 7900X processor. For this reason, our roundup does not feature budget-oriented graphics cards, or those which will bottleneck the performance of the 7900X.
1. AMD Radeon RX 6950XT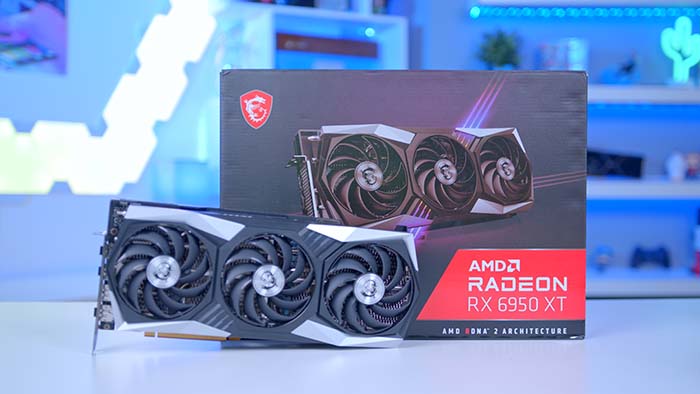 Our first pick of the day is the RX 6950XT from AMD. We used the 6950XT to test all of the latest Ryzen 7000 CPUs, and boy is this GPU powerful. With 16GB of graphical memory, 80 ray accelerators and 1890 stream processors, this GPU is beefy. The 6950XT is best positioned in THE high-end gaming market, bringing excellent performance at 4K gaming and absolutely dominating 1440P and 1080P resolutions respectively. This is one of the best GPUs to buy at the top end of the market, and also boasts a strong value for money metric for a high-end card.
Hardware Specs:
VRAM Capacity: 16GB
Boost Clock Speed: 2310MHz
Ray Accelerators: 80
Stream Processors: 1890
Buy the MSI Gaming X Trio RX 6950XT on:
2. Nvidia GeForce RTX 3090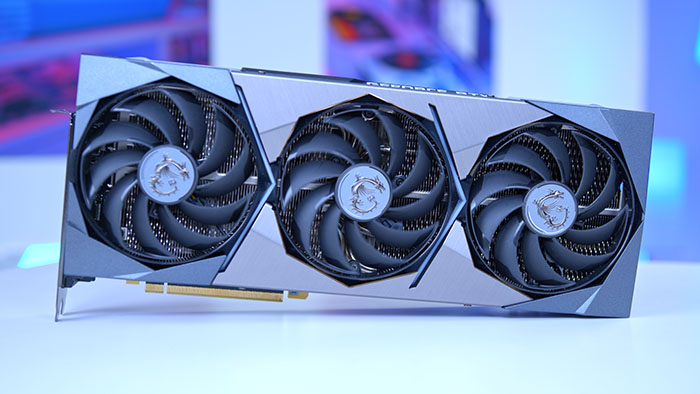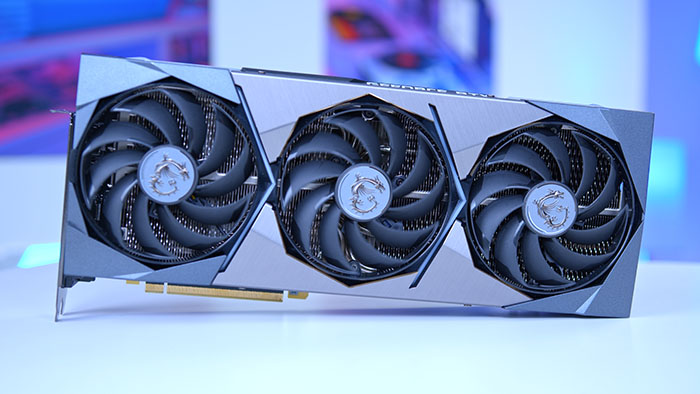 On the Team Green side, we've picked out the Nvidia RTX 3090. This GPU is one of the best options available from Nvidia's RTX 3000 range. The 3090 strikes a good balance between performance and pricing in the high-end market. You've got access to a mass of high performing hardware, fully capable of running Ray-Traced titles straight out of the box. The 3090 is a very capable graphics card, and is an excellent alternative to one of AMD's titans.
Hardware Specs:
VRAM Capacity: 24GB
Boost Clock Speed: 1.7GHz
RT Cores: 82
CUDA Cores: 10496
Buy the MSI Suprim X RTX 3090 on:
3. AMD Radeon RX 6800XT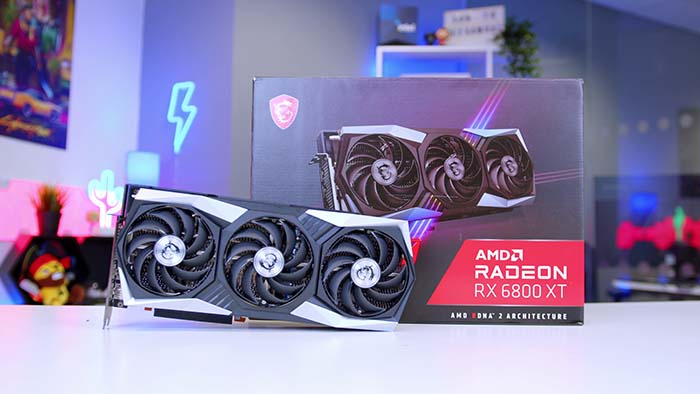 Moving back to AMD, as a slightly less expensive option, we've picked out AMD's Radeon RX 6800XT. This GPU offers equally impressive performance but at a slightly lower cost. You'll still be able to game at 4K settings, and you shouldn't have problems with any lower resolutions. The 6800XT does have slightly weaker hardware compared to the 6950XT, but at a lower cost you can save some money while still bringing in high performance metrics pairing well with our 7900X CPU.
Hardware Specs:
VRAM Capacity: 16GB
Boost Clock Speed: 2015MHz
Ray Accelerators: 72
Stream Processors: 4608
Buy the MSI Gaming X Trio RX 6800XT on:
4. Nvidia GeForce RTX 3080Ti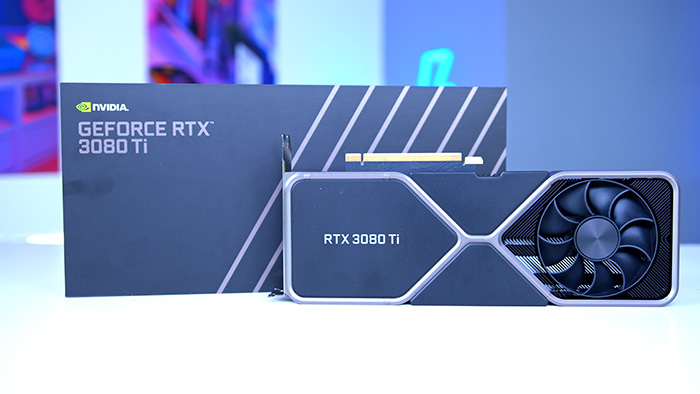 As an excellent alternative to the RX 6800XT we've picked out Nvidia's 3080Ti. This card just eeks over the $1000 MSRP mark, but for the money you get absolutely insane hardware. With 10240 CUDA cores, this card is perfect for maxed out gaming, along with some heavy workload applications, like 3D rendering or video editing. The 3080Ti is an absolute beast of a card and will complement the multithreaded performance of the Ryzen 9 7900X!
Hardware Specs:
VRAM Capacity: 12GB
Boost Clock Speed: 1.67GHz
RT Cores: 80
CUDA Cores: 10240
Buy the Nvidia RTX 3080Ti Founders Edition on:
5. Nvidia GeForce RTX 3080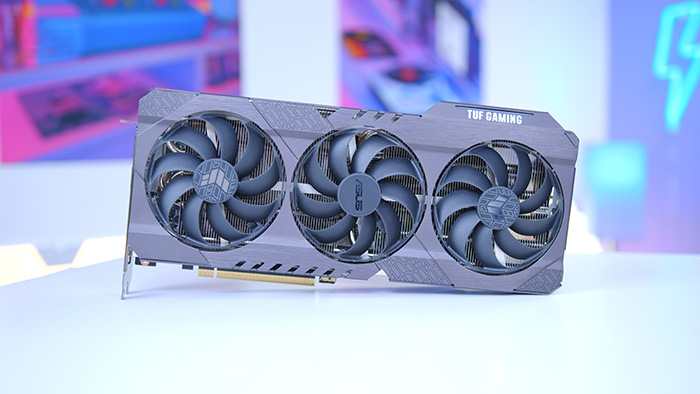 Another great option for the Ryzen 9 7900X is Nvidia's RTX 3080, Although the 3080 still sits in the high-end market, this GPU sits just below the $1000 mark and is a behemoth of a GPU. The 3080 is one of the best options when building a top performing gaming PC, and with the sheer amount of CUDA cores and memory capacity this card is an all-rounder when it comes to excellent performance metrics.
Hardware Specs:
VRAM Capacity: 10GB/12GB
Boost Clock Speed: 1.71GHz
RT Cores: 70
CUDA Cores: 8704/8960
Buy the ASUS TUF Gaming RTX 3080 on:
6. AMD Radeon RX 6800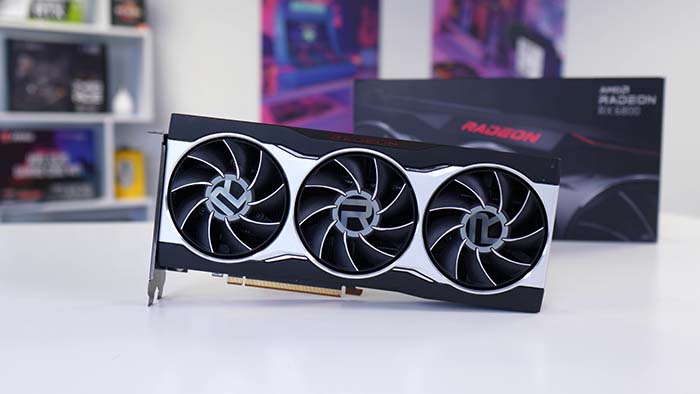 As our final graphics card choice, we've picked out AMD's Radeon RX 6800. This GPU has since been superseded by the 6800XT, but still offers great performance when considering value for money. This card has a massive VRAM capacity, equipped with 16GB of GDDR6 graphical memory, and a boost clock speed of just over 2.1GHz. This GPU is perfect for heavier workloads and shouldn't have any problems with games at 4K or lower resolutions.
Hardware Specs:
VRAM Capacity: 16GB
Boost Clock Speed: 2105MHz
Ray Accelerators: 60
Stream Processors: 3840
Buy the AMD Radeon RX 6800 on:
Ryzen 9 7900X Benchmarks
To give you an idea of the performance possible with the Ryzen 9 7900X we've provided some benchmarks of this brand new CPU to give you some context of how it performs. All of these tests were conducted using the AMD RX 6950XT graphics card, and full benchmark runs can be found on our 'Benched by GeekaWhat!' YouTube channel.